I figured it was about time I contributed to this blog too given that Ellie has done most of the work so far!  So I wanted to talk a little about Queenstown and why we chose it as our base whilst in New Zealand.
I've been to Queenstown before and loved the place.  It was the place where I did my first skydive and the first time I did a bungee jump.
1. Lake Wakatipu
Queenstown sits on the shore of one of the most stunning lakes I've ever seen and I'm struggling to find photos that do it justice.  But here is an attempt: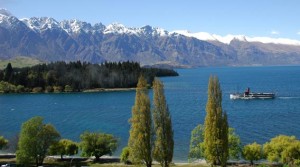 The boat that you see in this picture does tours of the lake and I was fortunate to go on this last time I was there.  Lake Wakatipu is also surrounded by a mountain range called the Remarkables: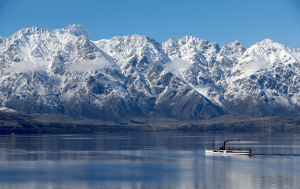 As Ellie posted earlier, we've been lucky enough to find somewhere to live where we will have views of the Remarkables and Lake Wakatipu.  I have to admit, the idea of sitting on our balcony with my laptop and a coffee is super appealing!
 2. Fergburger
Words cannot describe how good the burgers are at Fergburger.  I mean, even the menu makes my mouth water.  They are bloody huge too: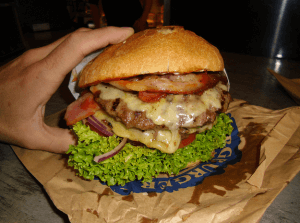 I made the mistake of ordering fries with mine when I went to Fergburger for the first time – suffice to say I didn't need them!
3. The adrenaline capital of New Zealand
Queenstown has over 300 activities available to keep anyone entertained, from relaxing boat trips right through to skydiving and jet boat rides. Ellie isn't as excited as me about the prospect of doing this again:
Neither is she keen on the idea of me doing this again:
Personally, I can't wait!