Are you wondering what a 'workcation' is? If so, keep reading!
Maybe you've heard the term 'workcation' being used around the office, or maybe a friend just told you she's headed out on her first 'workcation. Either way, you might be left there, wondering, what is a workcation?
Hopefully, you'll get all the information you need from this article, and maybe, a little inspiration to take your own workcation too!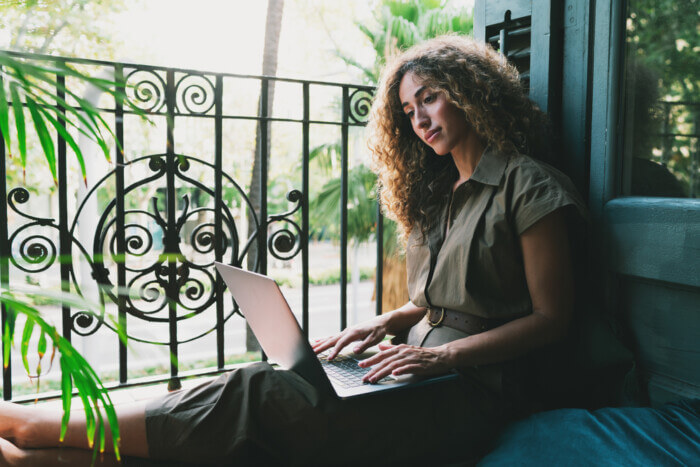 ---
So, what is a workcation?
A workcation might be one of two things:
The main way of taking a 'workcation' is as follows… You visit somewhere new, and work remotely during your working hours. Using your normal time off (evenings and weekends) as a chance to explore.
So, say there's somewhere you want to visit and experience (let's use NYC as an example here) but you don't want to use your vacation days (maybe you don't have any left!) and you'd also like to spend a little more time there than normal… A workcation could work perfectly here!
If you're lucky, and your company allow for remote working, you don't need to take any vacation days to do this, and you can rent a little place in NYC, and explore the city in your time off (evenings and weekend), whilst still fulfilling your working life and responsibilities!
In this situation, you can remote work from NYC during your regular working day (either in your accommodation or in cafes, or co-working spaces), whilst enjoying time exploring the city at the weekend and evenings. So it's essentially a mixture of 'remote working' and 'vacation'. Hence the name – WORKCATION!
A lot of people might take this kind of a workcation as a way to spend more time in a location that perhaps wouldn't ordinarily be possible in their 'vacation allowance'. Or maybe they just want to go to the location to experience life and work from a locals perspective.
Read more about traveling: Why do people travel?
For some people, they might tack this time on the end of a working trip, for example, if you were speaking at a conference in NYC, or pitching for business in NYC, you might then decide to stay in the city for another week, remote working, and tack the workcation onto the end of the business trip!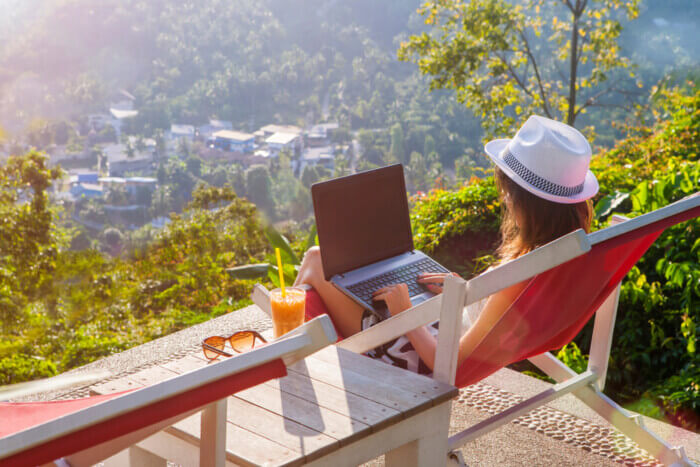 ---
Why are workcations on the rise?
Quite simply, because remote working is now becoming more commonplace. Workcations allow the freedom and flexibility of travel and living in different places, which (rightly) people are excited about and want to do. Taking a workcation allows someone to travel to somewhere they've always wanted, or somewhere they already love – without investing loads of vacations days.
It's a way to travel and see the world, whilst saving vacation days for special occasions or further-flung destinations. And it's a way to experience cities as the locals do – which is also amazing. It's a way to explore a new place, get a change of scenery, explore a different culture (or a different city), without having to use your vacation days, or completely disconnect from work.
For many people – this is an amazing work-life balance, and it lets' them experience way more of the world, than if they were limited to their vacation days alone.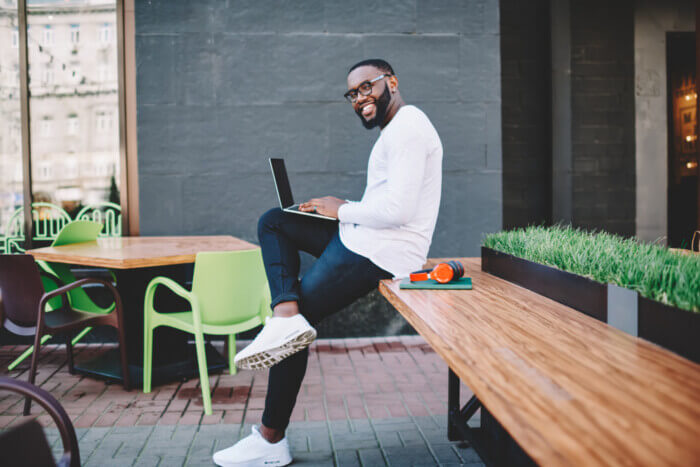 ---
Do workcations replace your vacations?
A workcation is something you'll (ideally) be doing alongside your vacations, not instead of.
We've noticed some negative reactions to the term 'workcation' – but that only seems to be in the context of workcations replacing vacations. No complimenting them.
Remember – A vacation is something you're doing for a rest, to switch off, to get away from work. You'll still need time for that, even with your workcations.
A workcation is a way of experiencing new things, seeing a new place, or exploring a new city – whilst still being able to work. It's a way to explore new places, without being limited by vacation days or 'official' time off.
A workcation isn't an escape from work – it's a way of making your working life a little more exciting!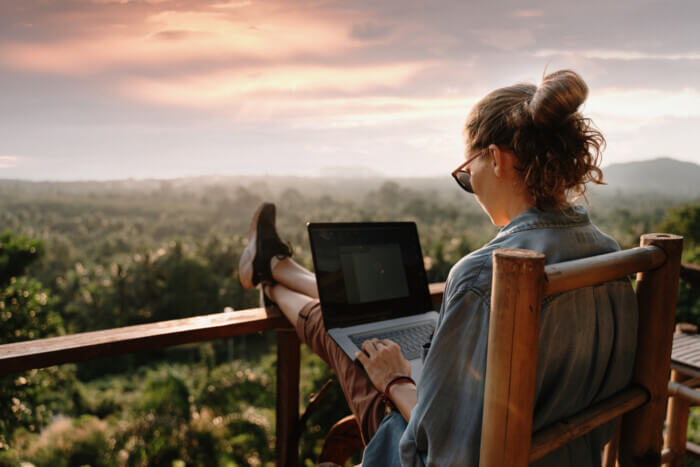 ---
Where should you workcation?
A workcation can also be tailored towards what you value, and what you need.
For example, if you live in the suburbs, and you're craving the hustle and bustle of the city – then a workcation in a city is a great idea. You can live that city-life for a couple of weeks (or longer) without making a permanent move, and you get to have your 'fix' of that energetic city lifestyle you were craving. In the evenings you can dine out in your favorite city restaurants, and at the weekends explore all your favorite parts of the city.
Or, perhaps you live and work in the city, and you can't wait to get away for a little peace and quiet. You don't have any vacation days left, so you decide to take a workcation out in the woods for a few weeks.
Read more travel tips: The best anti-theft travel bags
As long as there is power and WiFi, you can still do your job, and instead of being in the buzzing city, you'll be able to relax in the calm of the wilderness instead. You can spend your weekends and evening soaking in the calm environment and recharging.
Another situation where a workcation comes in useful is if you have family in a separate city, who you're dying to visit. You might not want to spend your vacation days visiting them (who wants to use their vacation days to spend 2 weeks in their childhood bedroom?) – but a workcation is an ideal solution.
Read more about traveling: 6 beautiful travel bullet journals (and ideas for using them!)
You could take a workcation, and work remotely from your family's house. During the day you'll be working your regular job remotely, but in the evenings and weekends you can catch up with friends and family in the area.
These are obviously just three examples or workcations and how you can make them work for you!
---
Things to remember when choosing to workcation…
There are a few important things you'll want to keep in mind when choosing and booking a workcation. We've put them into bullet points below…
You'll probably need a good internet connection for work. So make sure your accommodation provides this.
You'll be living like a local (so might not eat out every night, like on vacation). For this reason – a kitchen is important.
Try and stop somewhere with good transport links, if you're leaving the car at home.
Be sure to clear it with your boss first, just make sure they know you'll be working from a different location. If remote working is already a part of your culture – this shouldn't be an issue.
Remember time-zones! If you're suddenly 5 hours behind your colleagues, it could make the workcation tricky (and working could become difficult!). Make sure you're thought of this (and any solutions) beforehand.
If there are any in-person meetings during your time away on workcation, be sure you've organised alternative options or pushed them bacl.
Check visas if you're headed abroad! Especially if you're planning to workcation for more than a couple of weeks.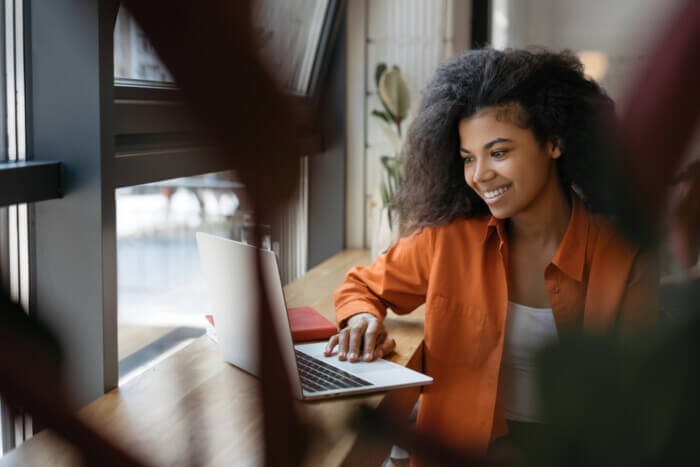 ---
Hopefully this guide to taking a workcation has helped you understand what it is, and if you need one!
Speaking as the Editor of The World and Then Some, I've been taking workcations for years, and it has allowed me to see so much more of the world than I ever would have imagined. Workcations might seem a little alien at first (of course, your instinct when visiting a new place is to explore everywhere instantly!) but once you get into the swing of a workcation it really is one of the best ways to work, and see the world.
You can experience life in new cities, experience new cultures, meet other remote workers, and generally just enrich your life so much more than a normal vacation allowance would!