Are you looking for the best kids travel tray for your next trip? If so, keep reading!
Kids travel trays are one of the best discoveries as a parent. A kids travel tray is an absolute must-have for any parent who frequently travels with their child. This list of kids travel trays will list out my favorite kids travel tray choices, so you can make sure you're picking a great kids travel tray that can withstand the chaos of children's playtime!
Kids travel trays are a life-hack for parents with young kids, so it's something you absolutely need to invest in! You can thank us later when you can do a 3 hours road trip with no tears or arguing! It's amazing!
---
What is a kids travel tray?
Not sure what a kids travel tray is? Let me paint a picture…
We all know how difficult kids can be to entertain, an hour-long roadtrip can feel 15 hours long when you haven't properly prepared for the impending boredom! A kids travel tray is an all-in-one entertainment area for kids, that keeps the activities, the mess and everything in one place. It's also a sturdy place for them to have fun in an environment that might not naturally provide much stability or space (like cars or planes).
A kids travel tray is an absolute life-saver for bored kids, and it's a great thing to purchase for any kind of journey, but especially helpful for long car journeys.
Read more kid-friendly travel: The best travel crib for every budget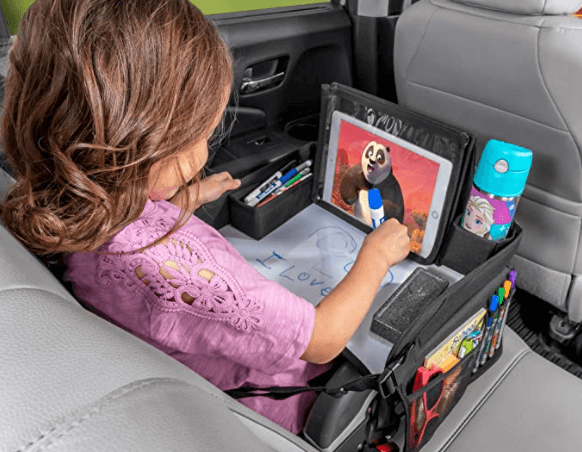 ---
My top 10 choices for a great kids travel tray…
Right, let's get into the good stuff! The following kids travel trays are my top choices! They're all available on Amaazon (hello super easy, next day delivery!) so they're a great solution even when you're short on time!
Kenley Kids Travel Tray
This first choice for the best kids travel tray, is by Kenley. This is a classic kids travel tray, and it has everything you'd need. There's room for a tablet, there's flat space for writing or drawing or coloring, and there are spaces and slots for things like toys and pencils, etc. It's a great all-rounder kinds travel tray, and comes in a few different patterns too.
---
Lusso Gear Kids Travel Tray
Next on my list of the best kids travel trays, is this choice by Lusso. It's plainer in design, but it's also all-black, which is great if your child tends to get messy or dirty quickly when they play. There is space for a tablet at the back, and the pockets you'd expect – but (what we love about this kids travel tray) is actually the whiteboard drawing space. Kids will love drawing on it, playing games on it, and then erasing it!
---
Kids Travel Tray with Brick Baseplate (for Lego!)
OK, I LOVE THIS ONE! This kids travel tray is an amazing option and so unique. For kids who love building lego – this kids travel tray provides you with a brick surface area for building on! It means their toys won't fall around and fall on the floor – and it's a perfect solution to toys falling on the floor mid-journey. It also has the pockets for goodies and toys, and the tablet holder too – so ticks all those other boxes!
---
Kids Car Seat Travel Tray
This next suggestion for the best kids travel tray isn't actually branded, but that means the price is great! I love the cute pattern on this kids travel tray, it's colorful and lively and smaller kids will love it. Your little one will be happy snacking, drawing, playing, and getting some tablet screen time on the go with this great choice of kids travel tray!
---
Boozane Kids Travel Tray
Ok, next on my list of kids travel tray choices is this lovely one by Boozane! If your little one loves pink and can't get enough of unicorns, they this kids travel tray is going to be PERFECT for them! It's bright, colorful and has lots of great storage and places for fun and games on the go. I love this choice for the soft-touch material and the anti-slip surface too, which makes this a great kids travel tray.
---
Toddler Travel Tray with Tablet Holder
This kids travel tray is slightly different to the others on this list, in that it hangs from the seat in front of your little one (instead of resting on their knees). It's just a different style of kids travel tray, but another great choice for keeping them entertained. In terms of features, the utilisation is very much the same, it's just the set up of this kids travel tray that is slightly different.
---
Children's Lap Activity Table
If you're after a super colorful and patterned kids activity tray, then this kids travel tray is the one for you! Look at those colors and patterns – it's so cute! And you definitely can't lose it with a color scheme like that! This is a little more compact than others on this list, and it also doesn't have 'tablet space' a lot of them have. So if you're trying to limit tablet time, or if you simply don't have one, this would be a great kids travel tray for you – because you get some of that tablet space back!
---
US Map Kids Car Seat Kids Travel Tray
If you're setting out on a US road trip with your little one… then I think they will love this option for kids travel trays! This kids travel tray features a map of the USA on the surface area, and it might be fun for them to follow along on the map when driving! It's also has the education angle to it that the other kids travel trays on this list don't have – so that's another advantage to this particular kids travel tray!
---
Childress Disney Baby by 3-in-1 Kids Travel Tray
We couldn't write a list of kids travel trays and not include this amazing Disney theme kids travel tray. If you little one loves Toy Story, then this is the kids travel tray you need to get for them! They'll be joined the whole journey by their favourite Toy Story characters! A lovely choice for kids who love cartoons and Disney!
---
Fun N' Fly Foldable Travel Tray 
If you're after a kids travel tray for a upcoming flight, then this Fun N' Fly travel tray is a great choice. It's perfect for stuffing into your hand luggage whilst you through customs and the airport, and then it can handily unfold once your onboard. This is definitely the most portable kids travel tray on this list – so perfect for journeys where space is an issue! Kids travel trays are amazing for flights because they stop toys from getting lost between or under seats, and keep the relatively small area clean and manageable.
---
Car Seat Table for Toddler Travel & Kids Travel Tray
And last on my list of the best kids travel trays, it's this colorful choice with extra storage. If your little one loves having options and wants tons of stuff to look at and play with – then this kids travel tray has so much space for them to play with. It also has a lovely jungle / animal theme, and fold into a cute little bag too, for when the journey is over!
Read more about family travel: 11 child-friendly hotels in NYC
---
Hopefully this list of kids travel trays has been helpful!
You'll never know the amazing-ness of a kids travel tray until you've bought one, so take the plunge and get one for your next road trip! It'll make the journey so much more tolerable and easier for you, and your little one will be constantly entertained!