Is seeing turtles nesting in the USA on your travel bucket list? If so, this guide to the best places to see nesting turtles will help you figure things out!
There's nothing cuter than a baby turtle, right? 
Though you might be more used to seeing their grown-up counterparts, baby turtles nesting is truly a sight to behold! If you're looking for the best places to see nesting turtles in the USA, this article should hopefully help!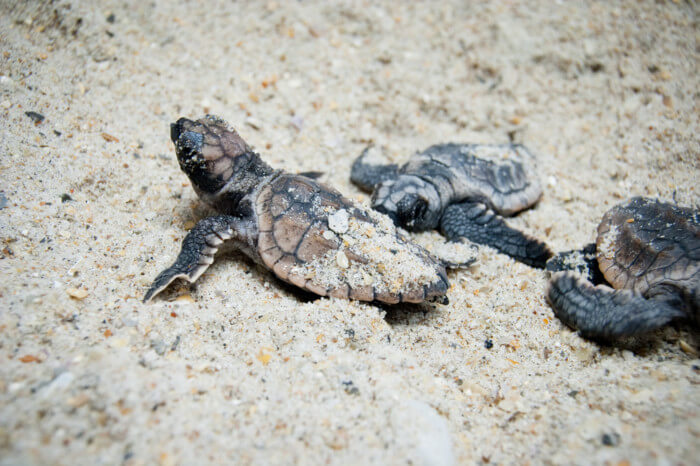 ---
It can be tricky seeing these gorgeous creatures!
If you're not sure where to find turtles nesting, you might struggle to catch sight of any, especially without any proper guidance. As fishing practices get more industrial and coastlines become overpopulated, it's much harder to find nesting turtles in the USA than it used to be. 
So, if you're looking for a guide on where to see turtles nesting in the USA, we've got your back. Our guide covers everything from where to find turtles to how to see the turtles safely. After all, many turtle species are endangered, and we REALLY don't recommend heading out on a turtle-searching exhibition without a trained guide as it could cause significant harm to the turtles. 
Now that we've done our little disclaimer, let's jump right into our list of where you can see turtles nesting in the USA!
As 90% of the sea turtle nesting in the USA takes place in Florida, it's unsurprising that the places on our list are in the Sunshine State! Seriously, if you're looking to maximize your chances of turtle spotting, you should really set your sights on Florida.
In terms of specific locations though, be sure to check out some of our top picks below! With dedicated turtle sanctuaries, state parks, and ocean resorts all finding a place on our list of places to see turtles nesting in the USA, you can easily fit them into your next Floridian adventure! 
---
B Ocean Resort in Florida
A great place to see turtles nesting in the USA is at Florida's B Ocean Resort. Located in Fort Lauderdale, this resort is perfectly located for turtle spotting. What we love about this area is that there is very little artificial lighting on the beach.
So, you'll know that the hatchlings are being well-protected and unharmed. There are plenty of night walks organized by the resort on which you can spot the hatchlings as they make their way to the ocean. 
As this resort supports sea turtles all year round, you can go on hatchling release tours and dedicated turtle tours, so it's a great choice for those that want a great guided experience.
---
Jupiter Beach Resort & Spa
Palm Beach has long been one of the best spots in the USA to see turtles nesting in the USA. With leatherbacks, green turtles, hawksbills, and other variants being spotted on Palm shores, it continues to draw visitors that are looking to catch a glimpse of newborn turtles.
When we say that Palm Beach is one of the best places to spot turtles, we're not kidding. Each year thousands of turtle nests are created, and each one tends to house around 80 to 120 eggs. So, you're in with pretty good odds of catching turtles nesting here!
The Jupiter Beach Resort and Spa is located right on the beach (as you may have guessed from the name!), so it's perfectly located for spotting turtles nesting. If you head down to the beach during the nesting season (from May to October), you can easily catch turtle hatchings. As the resort itself is luscious, you certainly won't be disappointed with the service here either!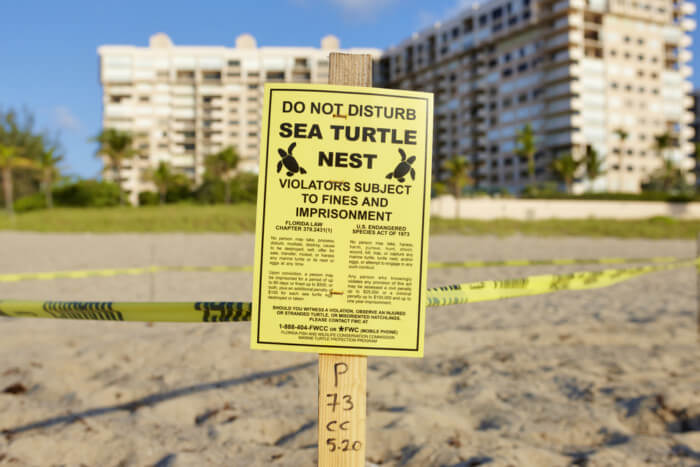 ---
Von D. Mizell-Eula Johnson State Park
There are walks that regularly take place on Dania Beach at Von D. Mizell-Eula Johnson State Park for those who are looking to catch turtles nesting. Walks start at 9pm and tend to run on Wednesdays and Fridays in June and July (which is the turtle nesting period for the loggerhead sea turtles!). 
---
Sebastian Inlet State Park
Another great place to check out if you're looking to spot sea turtles nesting in the USA is the Sebastian Inlet State Park.
There are dedicated turtle walks that run from Fridays to Tuesdays between 9pm and 1am where rangers take visitors along the waterfront looking for nesting loggerhead sea turtles. Though there is never a guarantee with spotting sea turtles nesting in the USA, the guides are great at spotting those little hatchlings!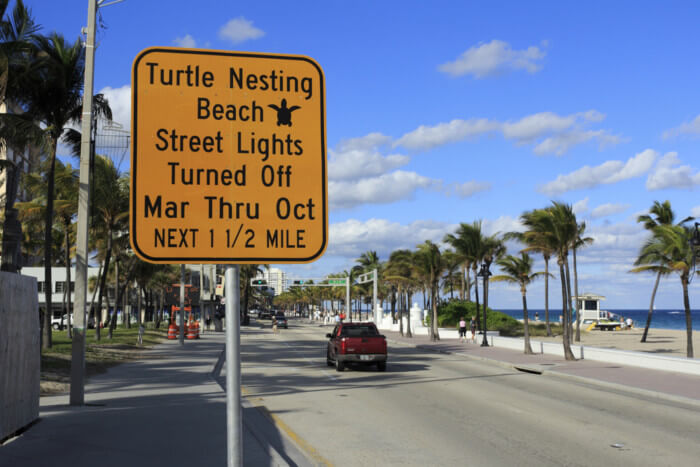 ---
Fort Lauderdale: Museum of Discovery and Science
Another great spot in Fort Lauderdale to see turtles nesting is the Museum of Discovery and Science. Dedicated walks are held from 9pm to 1am every Tuesday, Wednesday and Thursday in June and July.
Though you should be able to get a spot on one of these walks, they tend to book up quite far in advance, so we highly recommend calling ahead to secure a place. This is a great option for where to see turtles nesting in the USA.
---
Boca Raton: Gumbo Limbo Nature Center
Next on our list of where can you see turtles nesting in the USA, it's the Gumbo Limbo Nature Centre. If you're around Boca Raton, then be sure to check out the Gumbo Limbo Nature Center if you want to see some turtles nesting.
Walks are held from late-May to mid-July between 8:45pm and 12am from Tuesday-Thursday. You'll need to reserve a place to get on one of these walks, so don't just rock up and hope for the best! 
---
Top tips for experiencing turtle nesting safely…
So now you know "Where can you see turtles nesting in the USA?" – you might need a few tips for making sure you're being responsible and taking care of these wonderful creatures too.
Though seeing turtles nesting is a wonderful experience, you'll need to make sure you do it safely (this is really important!). 
As the females and hatchlings are very sensitive to light, be sure not to use flash photography or bright flashlights when you go on a turtle walk. Though all the guides on the tours we've suggested will be extremely strict on this anyway, we thought we'd give you a heads-up.
Be sure to avoid shining any light into the turtle's eyes – it's honestly best to just keep any lights off and let your guide take the lead. 
Try and wear dark clothing to avoid scaring the turtles off! 
Always stay close to your guide – don't wander off in the hope of spotting things on your own. It's dangerous for both you and the turtles! 
Wait for your guide to give you the go-ahead to approach any turtles. 
Usually, you'll need to wait for the nesting mother to be sufficiently distracted by laying eggs, so just wait for the green light first! 
No touching! 
Keep a good eye out for hatchlings – the last thing you'll want is to ruin your trip by stepping on a turtle. Trust us, it'll be traumatizing for you and you'll also get some SERIOUS dressing down from the other members on your walk. 
---
That's it! We hope this guide on where to see turtles nesting in the USA has been useful.
Hopefully your question "Where can you see turtles nesting in the USA?" has now been answered! Though it might surprise you at just how concentrated turtle nesting is in the US, Florida really is where it's at!