---
Are you looking for the ultimate pair of stylish but comfortable walking sandals?
---
Finding a good pair of stylish and comfortable walking sandals for travelling can be difficult. I don't know about you, but I'm probably the fussiest person in the world, and I've spent years and years buying the wrong brands, only to throw them out when (after hours of wearing them) I have more blisters than I can count.
I've spent many hours before holidays googling things like "comfortable sandals" or "comfortable walking sandals" and I've spent years trying out loads of brands, and I've now found the ULTIMATE brands that I know I can rely on for stylish but also comfortable walking sandals.
So, here are the styles I'm loving at the moment!
---
Crocs Women's W Serena Sandals
First on my list of comfortable walking sandals, it's a pair of Crocs. Look, I know Crocs don't have the best reputation… But these sandals are the MOST COMFORTABLE SANDALS I HAVE EVER WORN. Alos, they looking nothing like the classic Crocs, and no one would know. I can't even tell you how comfy these are, I've done 16 hour days in Disneyland wearing these, with no blisters or rubbing or pain. They're basically teeny tiny miracle sandals and I love them. They're also super cheap! Buy them on Amazon here.
---
Clarks Women's Botanic Ivy Ankle Strap Sandals
You can't beat Clarks for high quality and stylish comfortable walking sandals. I love this pair of Sandals from Clarks, They're simple, come in loads of colours and the bulky straps minimise the chase of any blisters or rubbing. I feel like there's a colour / pattern to suit every one too. Click here to buy.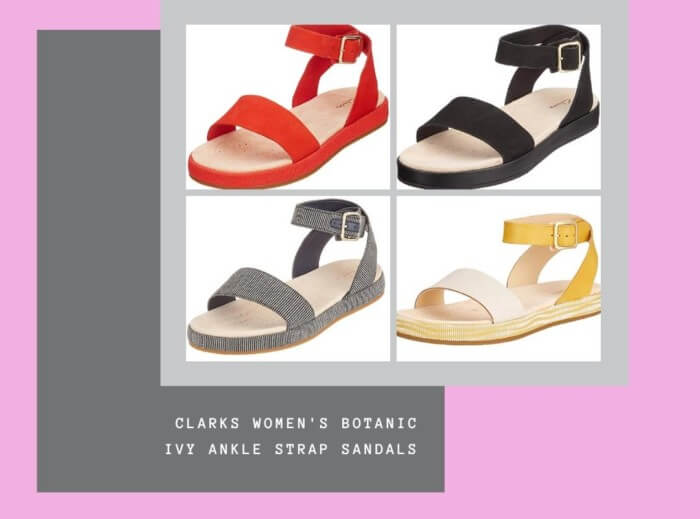 ---
ECCO Women's Damara Open Toe Sandals
ECCO are known for their minimalist and super comfy shoe styles, and the same applies to their comfortable walking sandals. I think this black pair of strap sandals are a go-to style for someone who doesn't like too much fuss, but like to look put-together. The style looks simple and sophisticated and you could easily dress them up or down. Click here to view in more detail.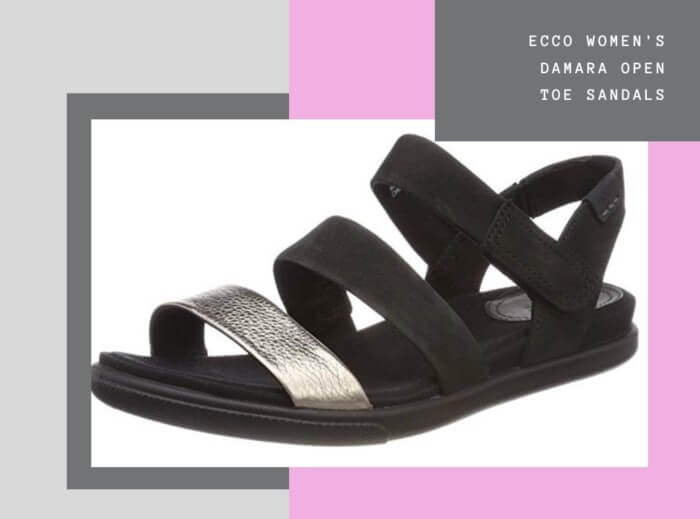 ---
Skechers Women Meditation Open Toe Sandals
Skechers are my go-to brand for any type of shoes, including comfortable walking sandals. I just find their soles and memory foam so increThis is one of my favourite sandals styles from Skechers… I have them in 3 different colours! I find they literally go with everything and they're so easy to wear, and the little bit of sparkle means I can dress them up for the evening too. Also, they're mega comfortable, I can basically wear these all day and be on my feet the whole time, and my feet will stay totally comfy and happy. You can buy them here.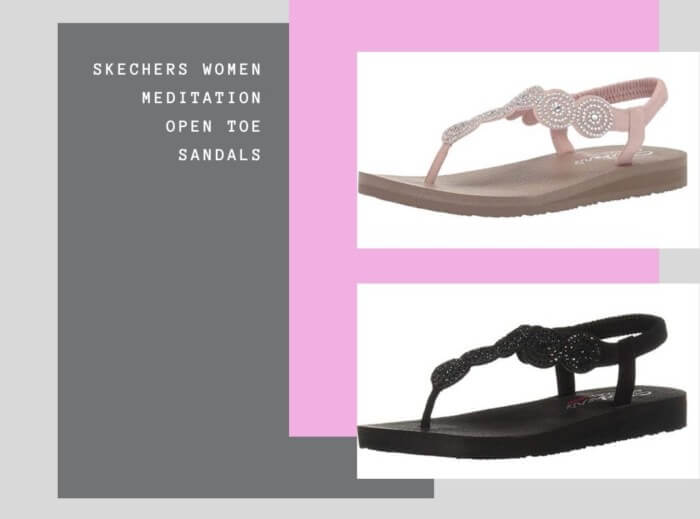 ---
Skechers Womens Brie – Lo'profile
Another pair of Skechers….what can I say! I love Skechers, the fit, the styles and comfort – it's the first place I check if I'm looking for comfortable walking sandals. These are another of my favourite pairs, I like the little details of the mesh strap (and I like how it gives you a bit more support too). The bulk tow strap keeps you blister free too, and I'm always a big fan of sling-back styles. These are mega comfy and would be a great choice for a day of sightseeing. You can buy them on Amazon here.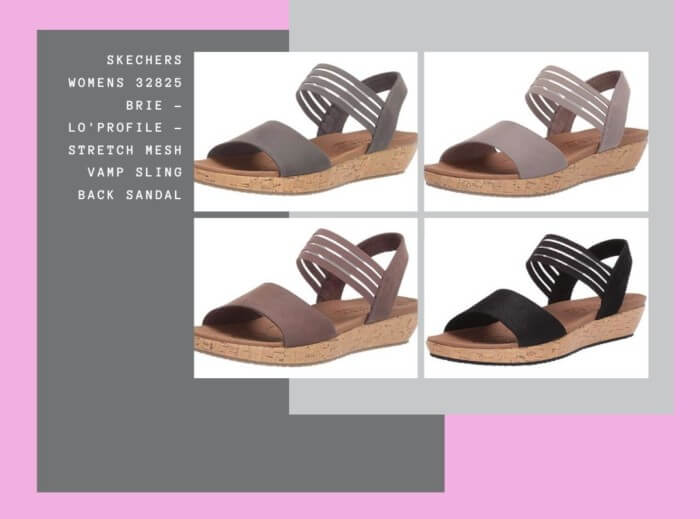 ---
Clarks Women's Tri Chloe Sling Back Sandals
I really like this style, as more of a casual daytime comfortable walking sandal. The cross over straps are pretty classic design-wise so they're likely to stay in style too for many years. These are just a few of the colours in this style (there are like 5 other colour ways to choose from) and the sole of the sandal is reallyyyy cushioned for support. You can buy them here.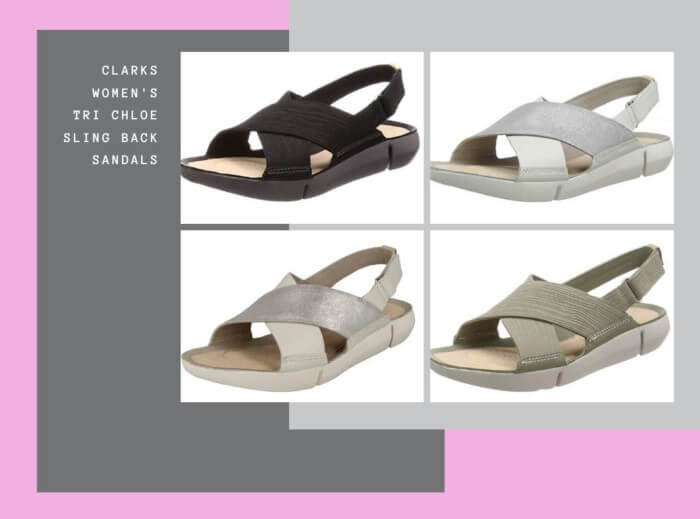 ---
ECCO Womens Touch Ankle Sandal
Next on my list of comfortable walking sandals, these ECCO styles. These sandals I love because they're so quirky and stylish – and different to any other styles on this list. I spend a lot of time in NYC, and this pair would be the perfect pair of stylish but comfortable walking sandals for seeing the city and exploring in. They'd look great with any outfit, and I love how they're almost a show / sandal hybrid. Perfect for city breaks or spring time! You can buy them here.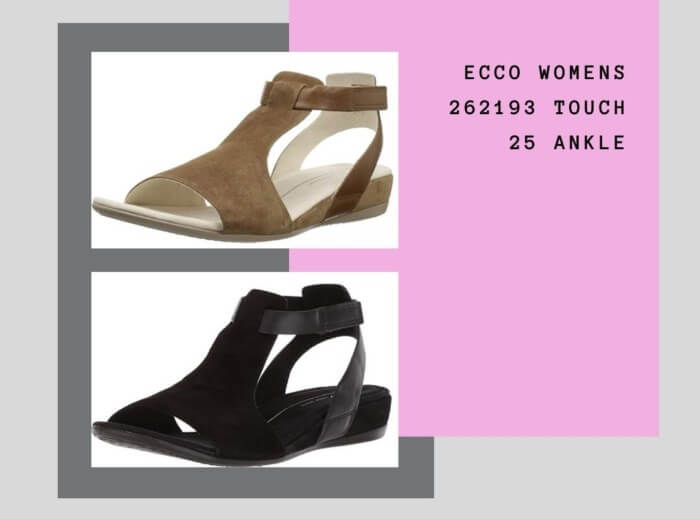 ---
Skechers Brie Strappy Sandal
Another pair of Skechers (sorry, I'm obsessed) but I wanted to include this style as they're a little more traditional than the other pairs I included. The straps on these give you lots of enclosure and support, and the back strap is actually adjustable (which is great if you need a bit of extra room). I love the different colours on offer, I think the two colours I've included below would go with almost any summer outfit… So a perfect pair of comfortable walking sandals. You can buy them here.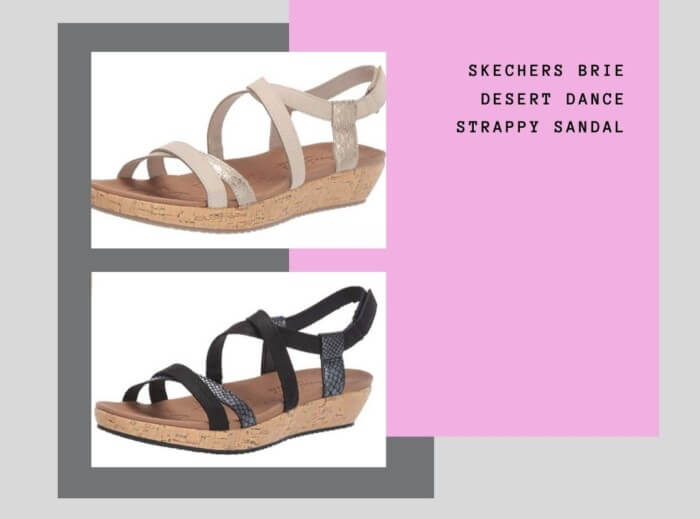 ---
Mega comfortable high heeled sandals
---
I wanted to include some high-heeled options on this list too, for those of you that like to wear a heel on holiday too. I'm a sucker for a pair of heels, but as I've gotten older I just don't have the patience for the pain anymore! The only time I wear stilettos now is if I'm getting a taxi directly from our hotel to the restaurant / bar (and there's almost no walking involved!). If it's a night that's going to involve some walking, but I still want to wear heels and look cute, I tend to wear wedges instead – as they're a bit kinder to my feet!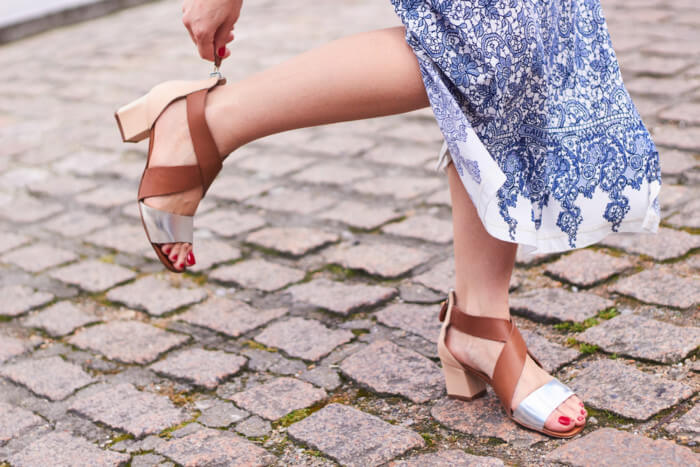 ---
Skechers Womens Beverlee Platform Sandals
Another pair of Skechers (bet you didn't see that coming!). They actually do really great summer wedges sandals, with just the right amount of heel, so that they're still mega comfortable for hours of wear. This pair is one of my favourites – they're like the heeled version of one of the flat pairs I included above. This pair looks great with any of my summer dresses or skirts, and I love the cork-style wedge. Yes they're a heeled sandal, but they're a perfect pair of comfortable walking sandals too. You can buy them here.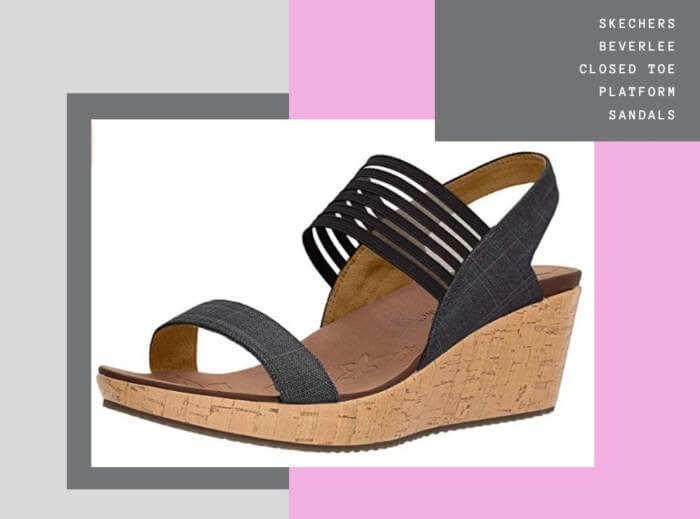 ---
Clarks Women's Lafley Rosen Sling Back Sandals
Another pair of sandals that I have in multiple colours, these little beauties are from Clarks. I've found that this style is an absolute winner, they're super comfortable (they have a cushioned air sole) and they look equally smart as they do casual – so work for pretty much any occasion. I love them so they had to make my list of comfortable walking sandals! You can buy then here.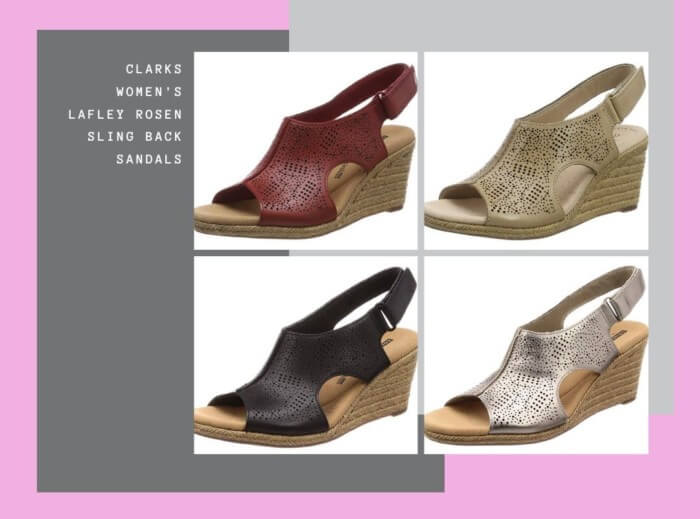 ---
TOMS Women's Pink Wedges
This pair of TOMS are a little higher – but because of the chunky platform, they're still extremely comfortable. I love the pink suede look and I love the bulky style of the straps too. They look great paired with a mini dress, skinny jeans or floaty skirts, and have a real boho vibe to them which I love! You can buy them by clicking here.
---
Ecco Women's Shape 35 Wedge
I don't actually own this pair, but I found them whilst researching this piece and I wanted to include them. They look so comfortable and the mini-heel would be perfect for someone who wants a little height but doesn't want to push themselves too much. I love the cross-over style of the straps and the muted nude colour too. They also come in bronze and black. You can buy them here.
---
Castañer Women's Carina Espadrilles
Castañer Women's Carina Espadrilles are such a classic for comfortable heeled sandals. These are loved by loads of celebs, and I took the plunge and purchased a pair after seeing Meghan Markle wearing some on her tour of Africa – I thought if they're good enough for a princess, they're good enough for me. They didn't disappoint, they're soooo comfortable and look really elegant too. The espadrille style is a classic style, it has been around for year, and won't go anywhere soon – it's just a summer wardrobe staple. You can buy them here.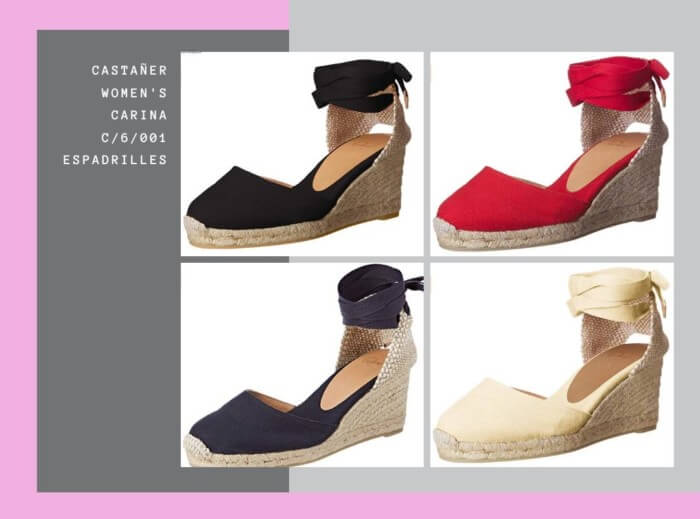 ---
I hope this list of comfortable walking sandals for your vacation has been helpful and you've been inspired to try some of the comfortable walking sandals brands I've included!