If you're loved-up, the chances that you'll want to take a romantic break filled with all the luxurious comforts, rather than just a casual holiday, is highly likely.
Perhaps you really just want to spend some quality time together – or, maybe you have bigger plans in the destinations that ooze romance (cue the wedding bells).
But, back to reality – deciding on a place to travel to should align with your interests and what you have set out to do on the trip – together.
Whether it's reigniting the spark, spending quality time together, taking part in incredible activities, or even if it's just to see another beautiful corner of the globe, hand in hand, the chosen destination should speak to you as a couple. 
And, we've found the perfect options that are sure to fit right in with your every desire!
Santorini, Greece
Santorini has to be right up there on the list of romantic getaways. This is the Paris of the Greek Islands, except it's less city and more slow, coastal-town vibe, perfect for couples who just want to relax and enjoy each other's company.
The reason Santorini is so sought-after is because it's located in the most pristine, picturesque location in Greece.
Nestled on a cliff, overlooking the Aegean Sea – which covers the underwater caldera (crater), it's a place that awakens every one of your senses. Santorini is renowned for its quaint, all-white houses which turn golden under the setting sun – a spectacle that leaves one in complete awe.
Not only are there breathtaking sights to feast your eyes on, Greece is known for its impeccable culinary scene and unrivalled hospitality.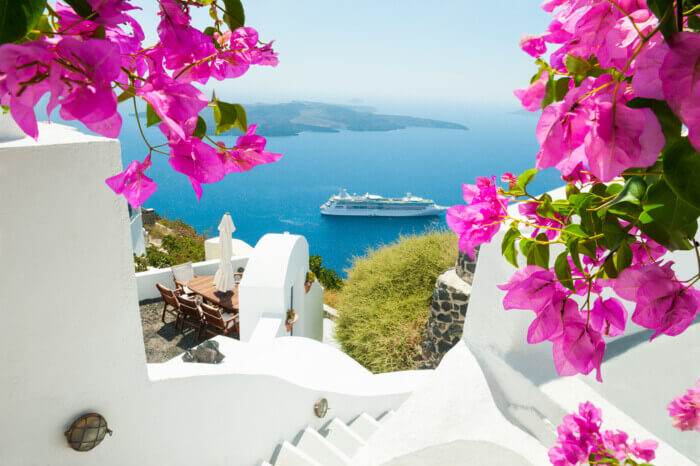 Thanda Island, Tanzania
Now this is what dreams are made of! Off the coast of Tanzania, situated in the crystal-clear waters of the Indian Ocean, lays Thanda Island.
The island is the epitome of luxury, tranquility and is the place one thinks of when they dream of escaping to paradise.
This private island is not your usual beachside getaway – it is incredibly exclusive, making it the ideal place for couples who seek out five-star hospitality, extraordinary experiences and amenities, and enjoy their own space.
Some of the experiences (which are more like bucket-list experiences), include: Swimming with marine turtles, swimming with the gentle giants of the ocean – the whale shark, sailing, paddling or kayaking, yoga on the beach, tennis with a view, or a spa treatment with the sounds and smells of the ocean around you. I don't blame you if you've already started packing your bags!
Marrakech, Morocco
Marrakech has shot to popularity over the last few years and there's no wonder why.
The city, which is nestled in the Sahara Desert, offers visitors a very different experience – one that cannot easily be found anywhere else in the world. It's a place rich in history, architecture, culture, art – and, it's a foodie's heaven!
It's a place of complete diversity – one minute you could be meandering through the busy markets, and the next you could be galloping through the desert on camel-back.
There's plenty to see, do, learn, taste and smell in Marrakech – a place where lovers can truly reconnect, and experience the extraordinary together.
Kyoto, Japan
Kyoto is like a fairytale land. Just think of pink cherry blossom trees, lakes, Japanese gardens (which are unbelievably beautiful), tea gardens and Japanese delicacies.
Although the beauty of Kyoto is incredibly striking, it's not a place that has been overcome with tourists. It's a great place to spend some quality time away from the usual distractions of a bustling, tourist-y city.
You can't go wrong with taking a romantic break with your love, in an unusual place that is immersed in natural beauty!
Read more romantic travel inspiration: 15 romantic getaways in Ohio
Paris, France
Paris, ah, how could we forget the city of love! Paris is the place to be if you're the city-slicking type of couple.
It's the ideal place for those interested in arts and culture, shopping, visiting tourist attractions, meandering around streets that burst with energy and those who love to indulge in good food and champagne.
Paris is known for its typical French-flair – sophistication, class and great style. This is not the only reason to love Paris; it's also the city that oozes romance and I'm sure it has something to do with its beauty.
Just take a trip down the River Seine at Sunset, take a look at the lit-up Eiffel Tower at night, or glance your eyes upon the breathtaking architecture that towers over the city streets, to see what I mean.
Cappadocia, Turkey
When one thinks of Cappadocia, they should think of hot-air balloons – thousands of them. Cappadocia is a small town built into rock, in central Turkey.
The unusual town looks like a place that one would find mythical creatures. The tall steeples, square windows and the fact that the entire village is like a giant cave, makes it a rather unique place. Cappadocia has also become world-renowned for the hot air balloons which colour the skies with their striking hues.
One can enjoy the spectacle from the rooftops, or can hop onto one of them and enjoy the views from the sky!