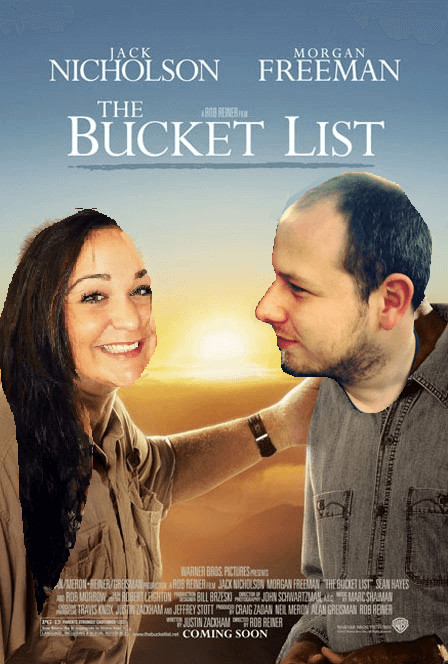 Here is our bucket list of our travels, we'll be updating this and crossing stuff off as we do them!
New Zealand
Skydive
Jump off a big cliff (attached to something preferably)
Para-gliding
FergBurger
Go Dolphin Watching
Do Night Kayaking
Ride the Queenstown Luge
See dolphins in the wild
Jump in the lake
Go whale watching
Kayak 
Learn to play golf properly
Go off-road / dirt track BMX riding
Go jet boating
Take a road-trip!
Go sea fishing
See Penguins
Go on a cruise around the Bay of Islands
Gamble in SkyCity Casino
 The rest of the World….
Spend New Years's Eve in Sydney Harbour
Visit the Sydney Opera House
Cuddle a Koala Bear
Visit the Blue Mountains
Get a helicopter over the Great Barrier Reef
Snorkel The Great Barrier Reef
Visit The Whitsunday Islands
Go to the Bellagio buffet
Eat Chineese food in China
Stay on Hamilton Island
See Penn and Teller in Vegas
See The Lion King on Broadway
Ride an elephant
Learn to Surf in Australia
Visit Thailand's Islands
Sail in a traditional Junk Boat
Visit the blue mountains
Swim in the Bondi Beach Swimming Pool
Stop in a Bellagio hotel room over-looking the fountains
Ride a limo down the Vegas strip
Ride a Tuk Tuk
Try Sushi for the first time
Travel first class (or business!) on an airplane
Visit the Grand Canyon
Get a helicopter over The Grand Canyon
Go to Disney Land and give Mickey Mouse a hug (Goofy will do)
See a Crocodile
Visit Yosemite National Park
Get drunk on the beach
See a thunder storm in Hong Kong
Visit Victoria Peak in Hong Kong
Visit Fraser Island in a 4X4
Eat Frozen Yoghurt in EVERY place we visit
Stand under a waterfall
Stay in a luxury suite in Vegas
See the Twin Towers in Kuala Lumpur
Eat ribs, steak, brisket and other BBQ's yummyness in the US
Eat dodgy but yummy street food (location can be flexible)
Swim in the Marina Sands Hotel Infinty Pool in Singapore
Ride on the Singapore Flyer
Visit the Batu Caves, Kuala Lumpur
Stand over a state-line
See some Turtles (Malaysia) – Did this is Oz instead!
Visit multiple Man Vs Food locations and test the menus for ourselves
Ride a helicopter over NYC
See Penn and Teller in Vegas
Ride a Gondola in the Venetian
Stay in an overly expensive house in The Hamptons