Sadelle's in Soho is a beautiful restaurant, and here are the reasons I love it!
If you're planning a visit to NYC soon, you might have come across Sadelle's in your research or planning!
If not, let me introduce you.
Sadelle's is a beautiful restaurant located in the heart of Soho, and it's such a perfect place to grab break, brunch or lunch.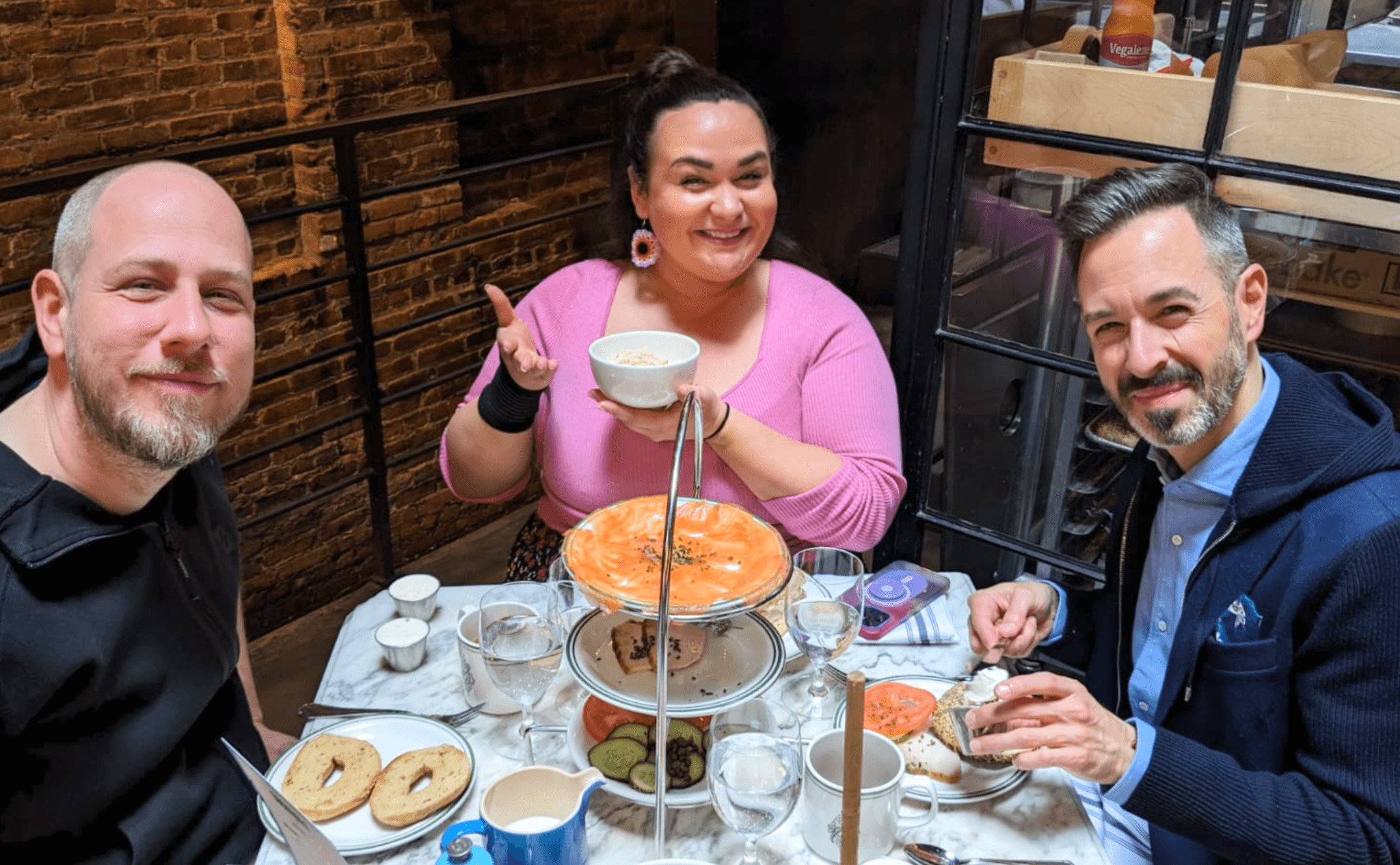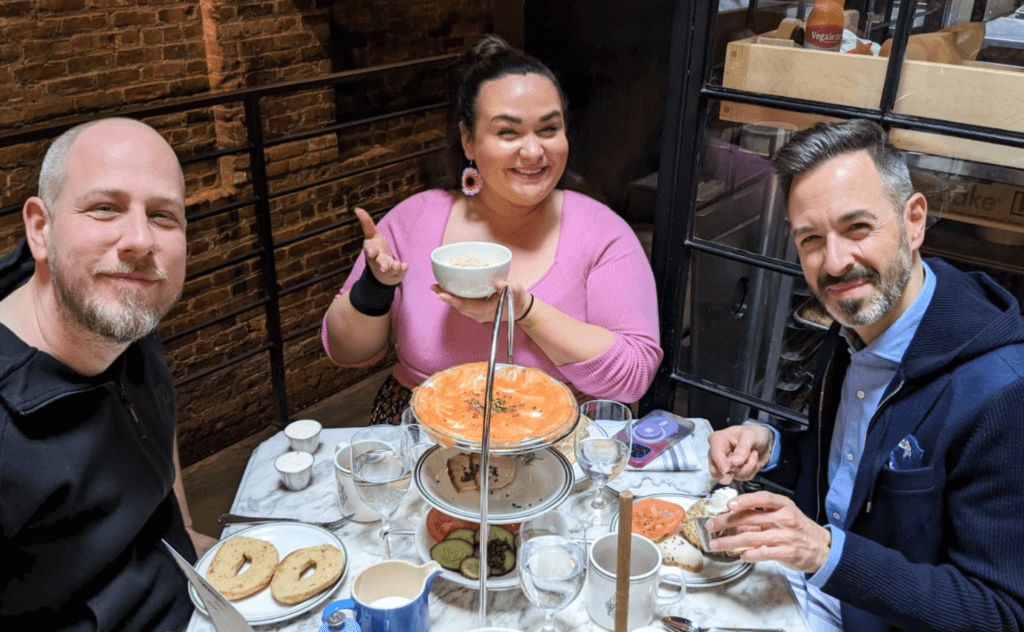 My first visit to Sadelle's was at the request of my friend's Rand and Geraldine. Rand's Grandfather had always wanted to visit, and so they want to visit and see what it was all about. They're both foodies (just like my husband and I) and so we didn't hesitate in joining them.
And we certainly weren't disappointed!
Honestly, Sadelle's hadn't been on my radar before this point, but as soon as we walked into the light, airy, double-height dining room, I wondered how I had ever missed it!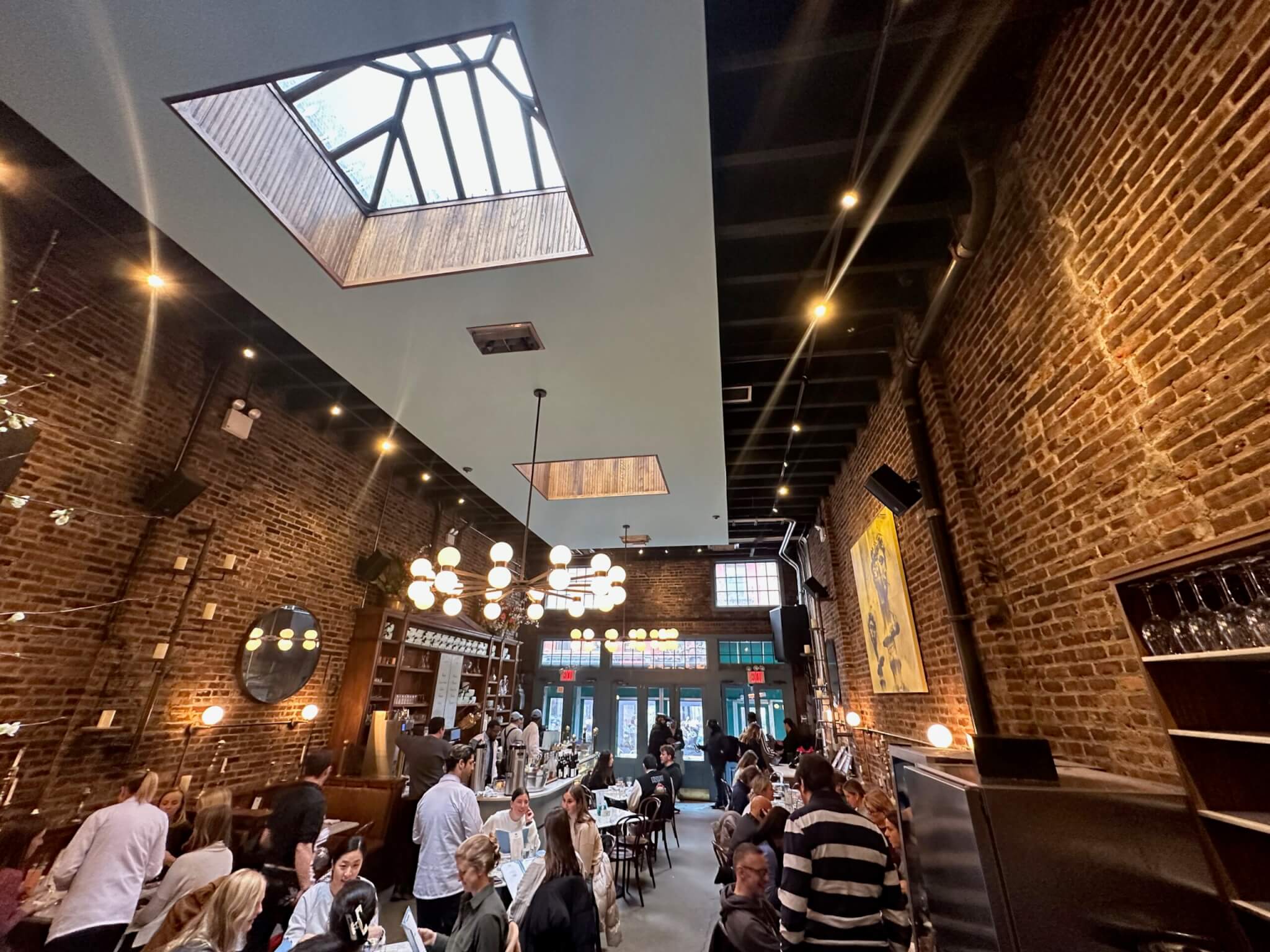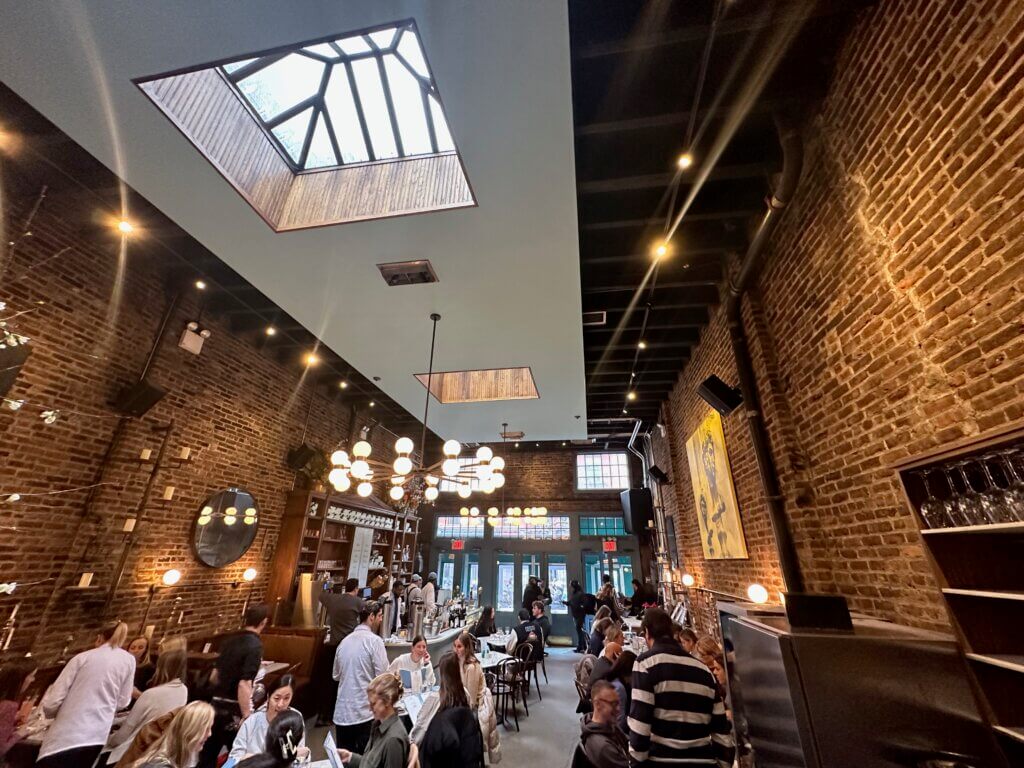 ---
But before we get into the good stuff, here's the important info:
Sadelle's Cafe opening hours:
Monday – Friday: 9 am – 3 pm
Saturday & Sunday: 8 am – 3 pm
Sadelle's Restaurant opening hours:
Monday – Thursday: 9 am – 3 pm
Friday: 9am-5pm
Saturday – Sunday: 8 am – 5pm
---
So what are the 5 reason I love this place?
As mentioned in the title, there are 5 main reason I love this place.
The amazing dining room, with light flooding in from above, and double-height ceilings, and exposed brick. It feels SO New York City. The minimal, stylish (and slightly retro decor) makes you feel like you stepped back in time a few decades.
The quality of the food, and the variety of New York deli classics on the menu. There's something for everyone – and it's such a great choice pleasing a group of friends or family.
The smell of bagels as you walk through the entranceway and into the dining room.
Being able to watch the chefs and deli staff cutting the salmon right in front of you, and how meticulously it's presented at your table too.
Their insanely good fried chicken sandwich. Which is the best fried chicken sandwich I've ever eaten. By the way.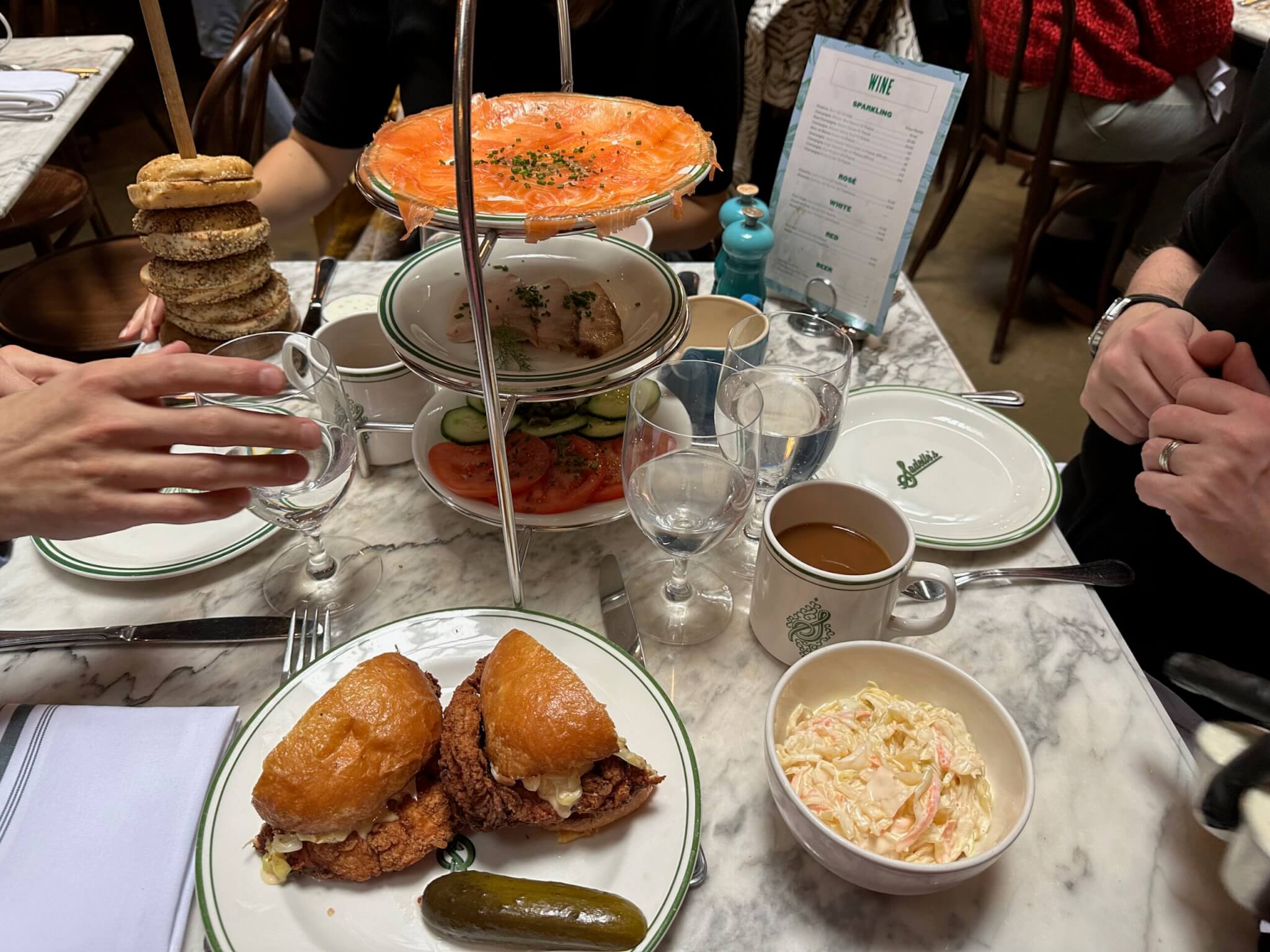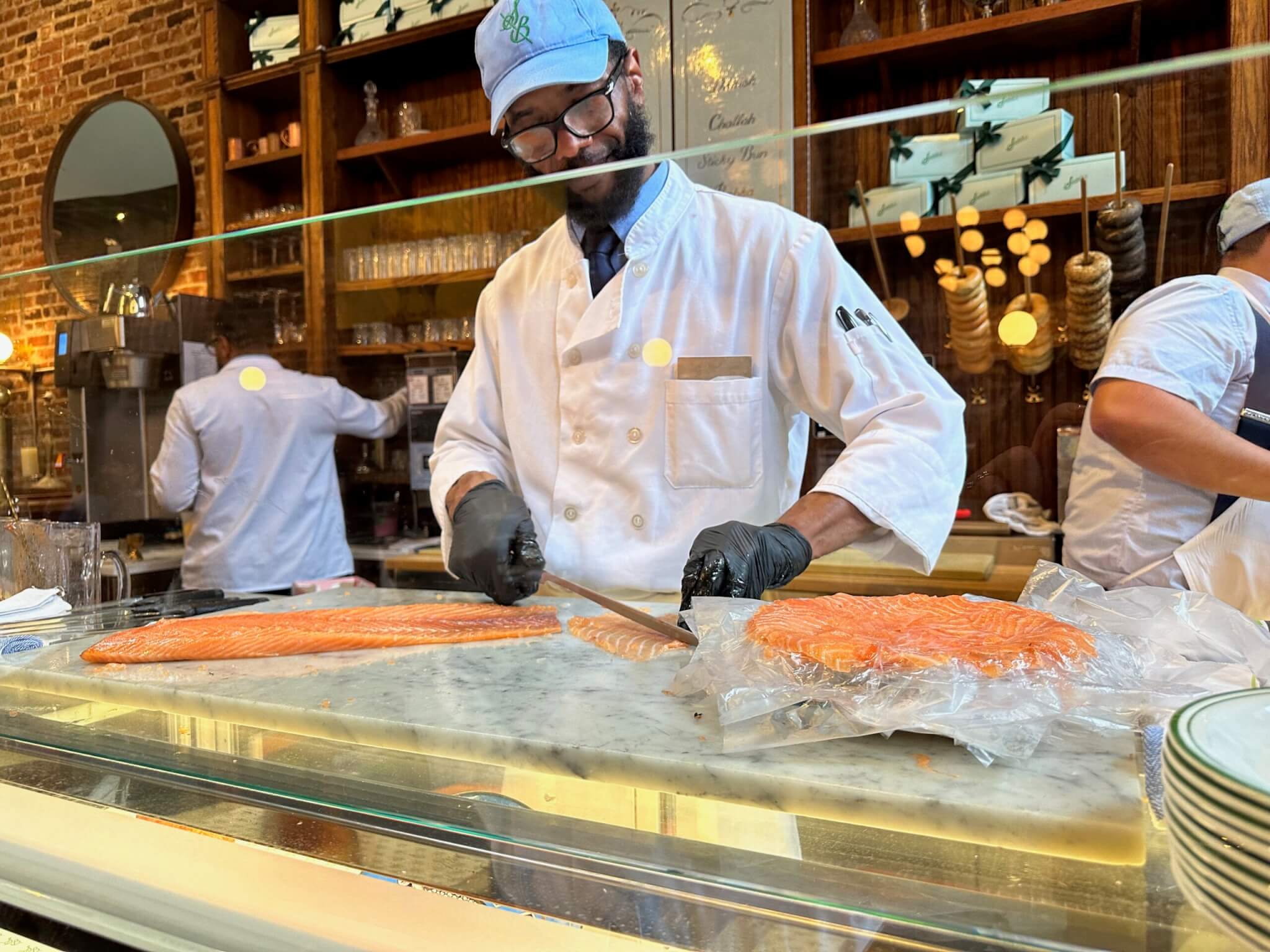 ---
What's the food like at Sadelle's?
The food, in short, is amazing.
They serve up a mixture of items, all which kind of fall under the 'brunch' umbrella. You'd probably categorize Sadelle's as an upscale take on traditional Jewish deli fare.
You'll find some of the best bagels in NYC here, amazing fish, eggs (cooked in a variety of ways), salads, sandwiches, omelets and more.
When I recommend Sadelle's to people, I always recommend it as a breakfast/brunch choice because it's the kind of place where everyone will be able to find something they love.
Foodie tip: The best friend chicken sandwich I have ever eaten, was served up to me at Sadelle's. It was crispy and juicy and fresh out of the kitchen. I think about it often!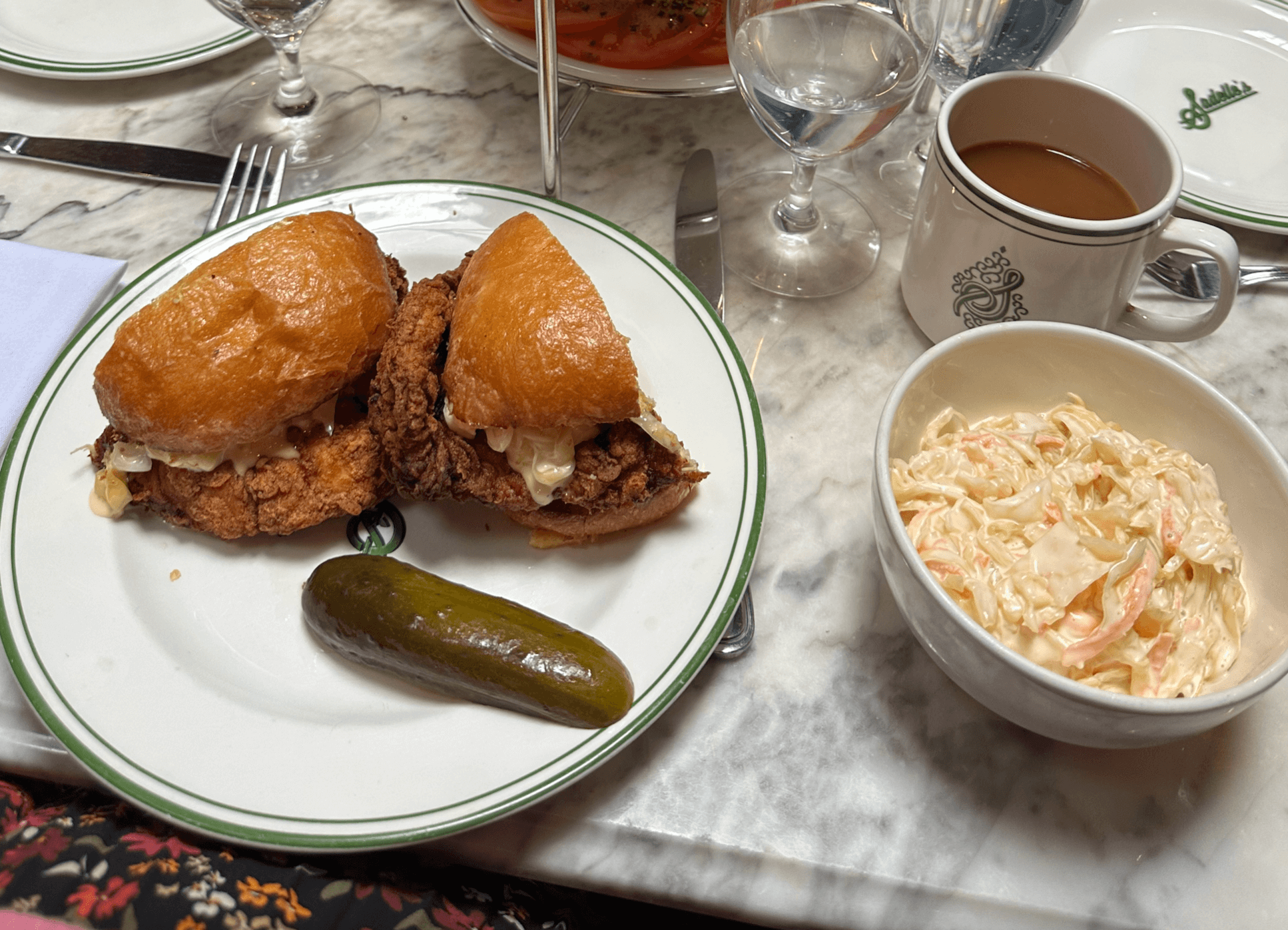 Here are some other dishes on offer at Sadelle's that you might want to try out during your visit… Oh and here's a link to their menu!
Matzo Ball Soup
Smoken Scottish Salmon and bagels
Zoey Salad
Grapefruit cocktail
If there is a group of you eating, and you want to indulge in a deli-style feast, then the Sadelle's Tower is also a popular choice.
The "Sadelle's Tower" is a tiered serving tray loaded with smoked fish, cream cheese, tomatoes, cucumbers, and capers, designed to be enjoyed with the restaurant's signature bagels.
The quality of the ingredients, the presentation of the food, all make this place a really special spot.
Tip: I think Sadelle's would be an ideal location for a special birthday brunch!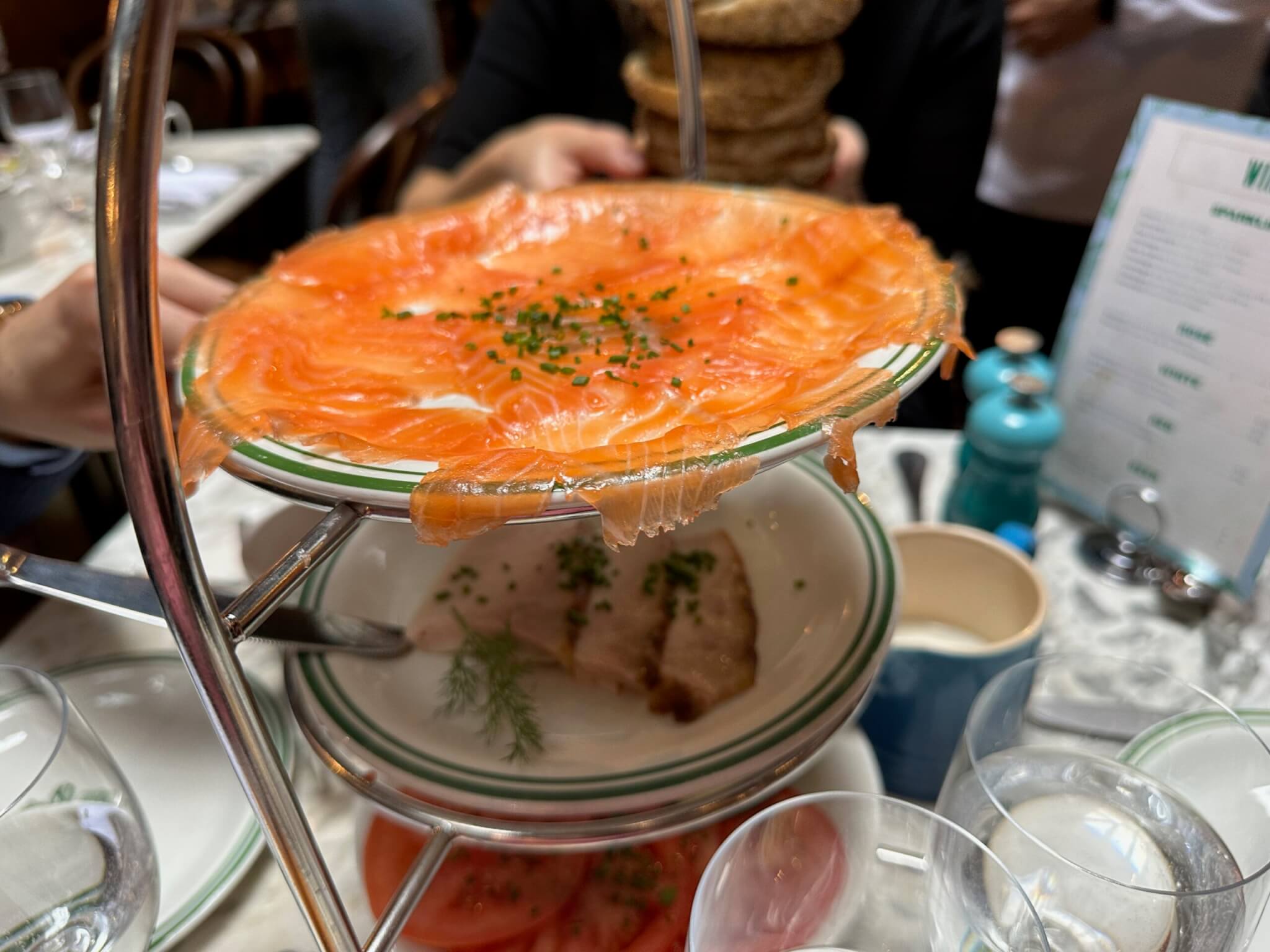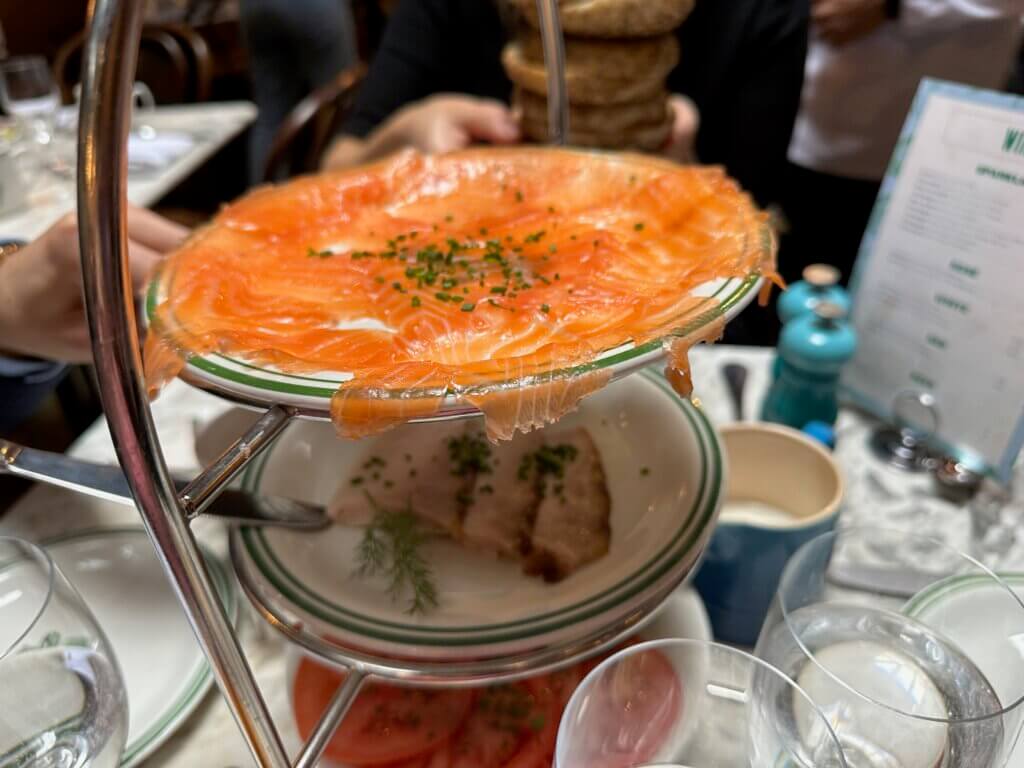 ---
A bit of history about Sadelle's in NYC
Sadelle's was created by Major Food Group, a New York City-based restaurant group led by restaurateurs Jeff Zalaznick, Mario Carbone, and Rich Torrisi.
This trio is known for other successful and high-end dining establishments such as Carbone, an Italian-American restaurant that has also garnered acclaim. Just that alone, should be a sign of great things!
Sadelle's opened its doors in September 2015, quickly becoming a hotspot in Manhattan's bustling restaurant scene, and a super popular choice for breakfast / brunch / lunch in the Soho neighborhood.
The concept was to elevate the classic Jewish deli experience, offering hand-rolled bagels, smoked fish, and other traditional baked goods in a more refined setting than the typical deli. The interior design complemented this approach, featuring a bright and airy space with an old-world charm that pays homage to New York's rich deli history.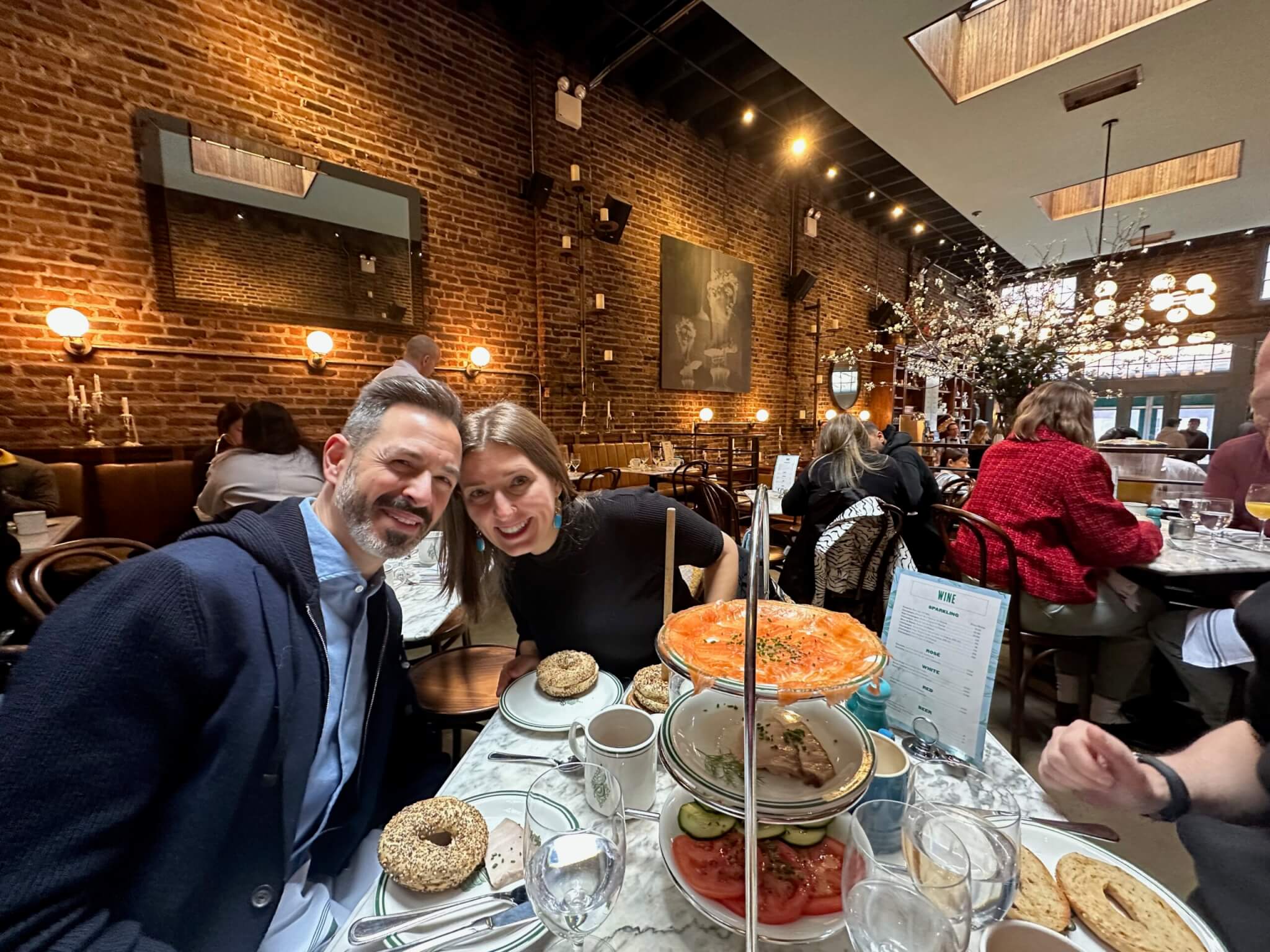 ---