If you want to know everything about visiting Little Island in NYC – keep reading for my indepth guide on this beautiful NYC park!
Little Island is one of my favorite locations in NYC, and it's such a hidden gem in the city!
Little Island is a park, but it's a little different to other parks in the city. This gorgeous man-made park, is located on its own little floating island, and offers up some of the best views in the city, of both Midtown and Downtown too!
In my guide to visiting Little Island, I'll tell you how to get there, who can visit and when it's open… Basically, everything you need to know about NYC's Little Island Park.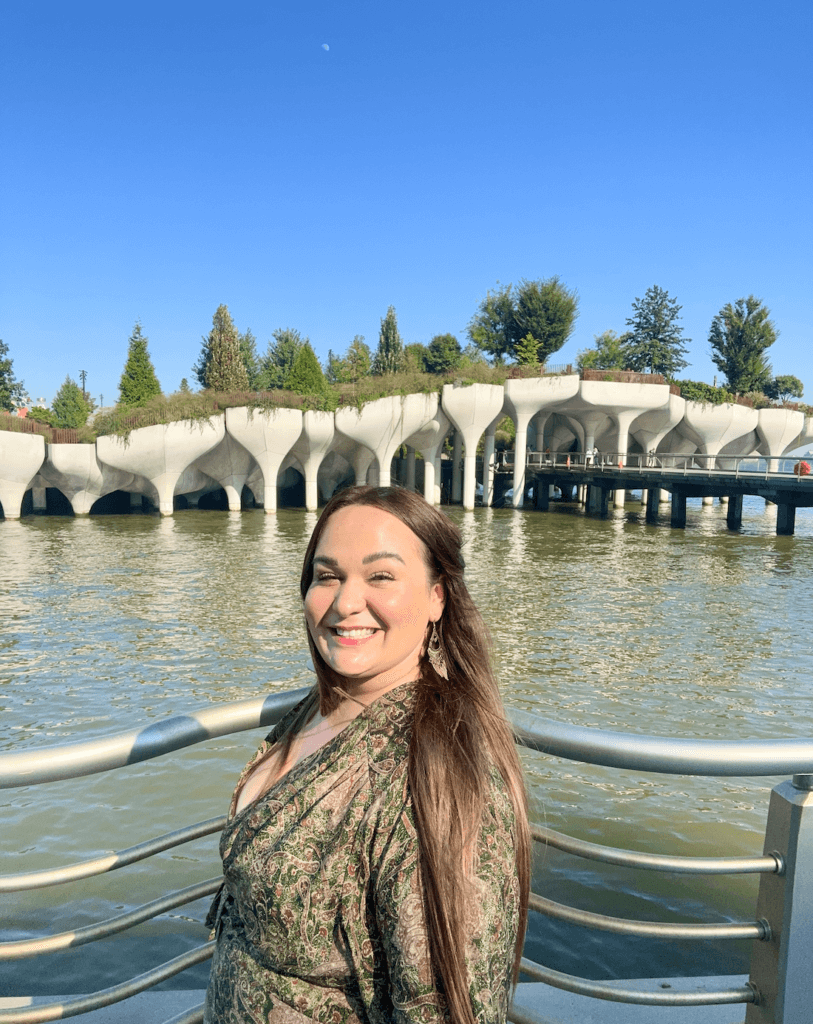 ---
Here's some helpful information you might need!
Website: littleisland.org
Closest subway station: 14 St / 8 Av
Opening hours: 6:00AM – 11:00PM (this might change depending on the weather)
Cost to enter: FREE! No reservations or tickets are required.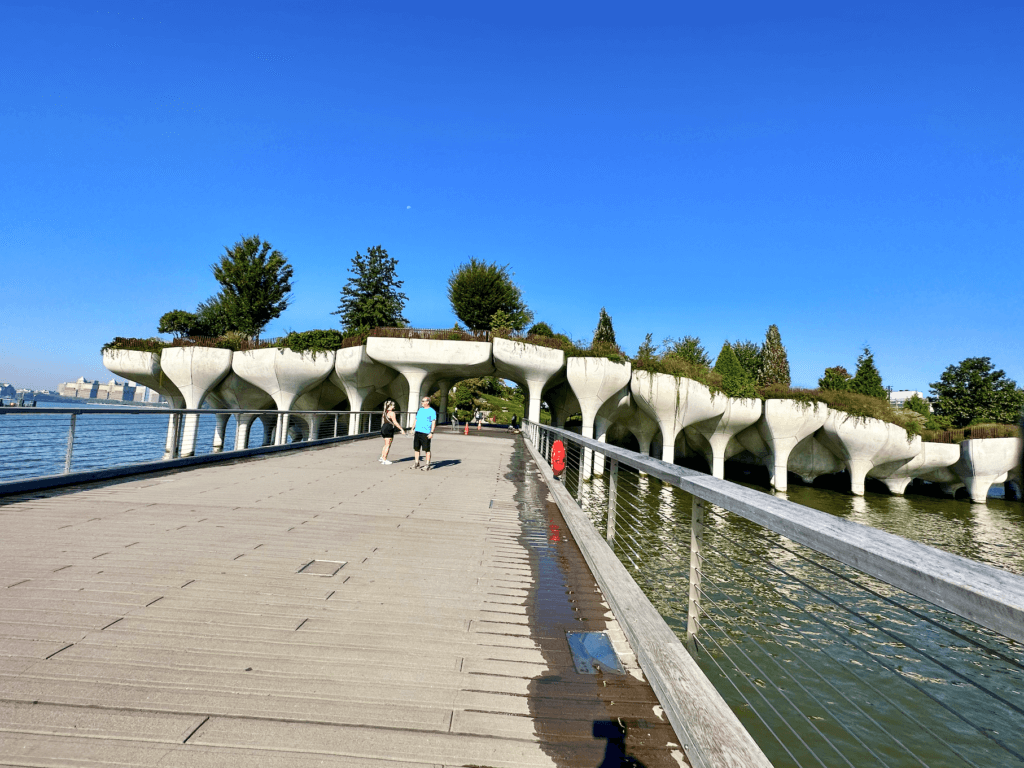 ---
How to get to Little Island in NYC
Of course, you can get a taxi or an Uber to Little Island, but there are plenty of public transport options too.
For the subway, you'll want to use one of the routes below:
A, C, E or L train to the 14th St/8th Ave Station
1, 2, or 3 train to 14th the St/7th Ave Station
F or M train to the 14thSt/6th Ave Station
For buses, the following routes will pass by Little Island:
The M11, M12, and M14D SBS buses stop at 14th Street and 10th Avenue.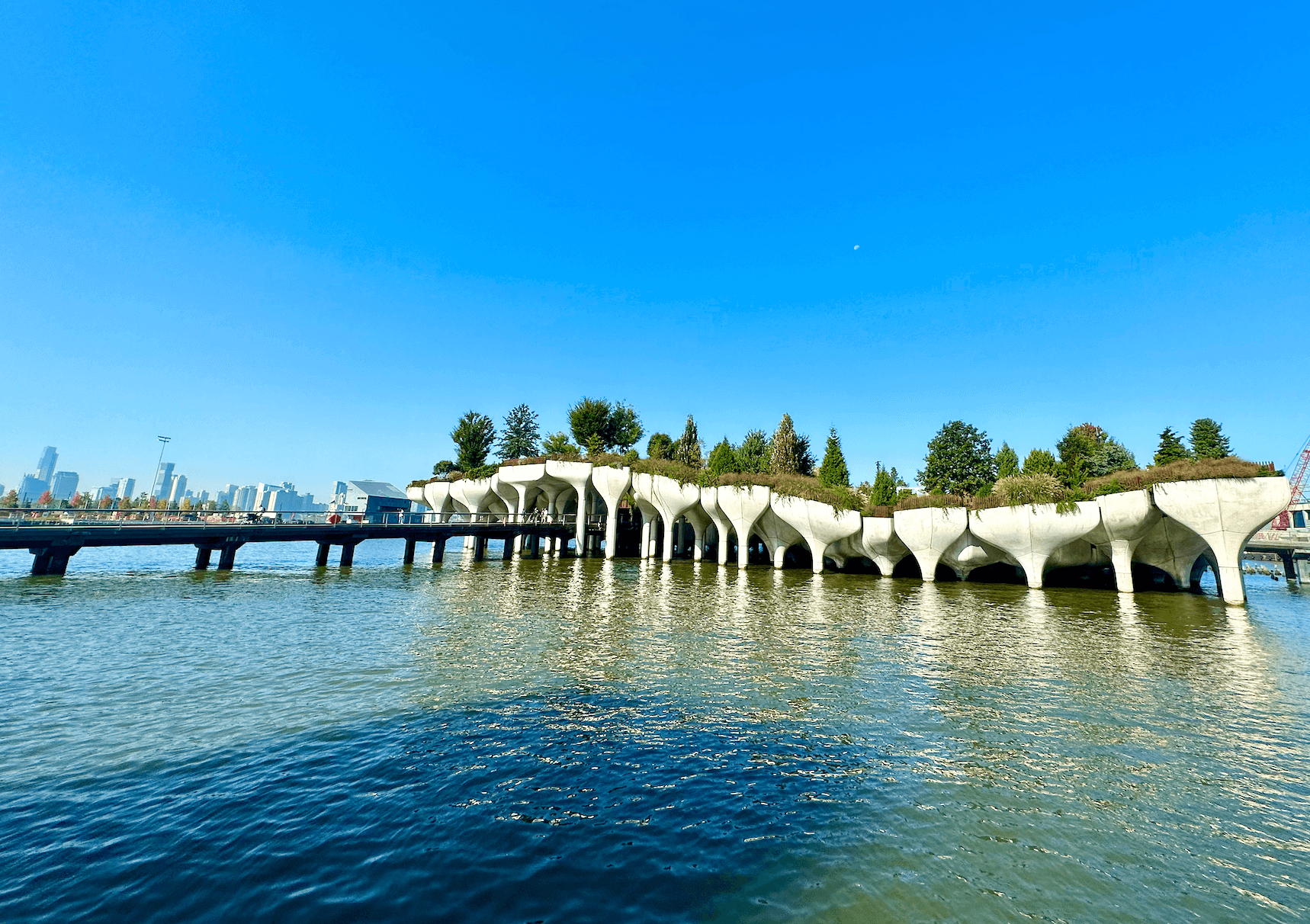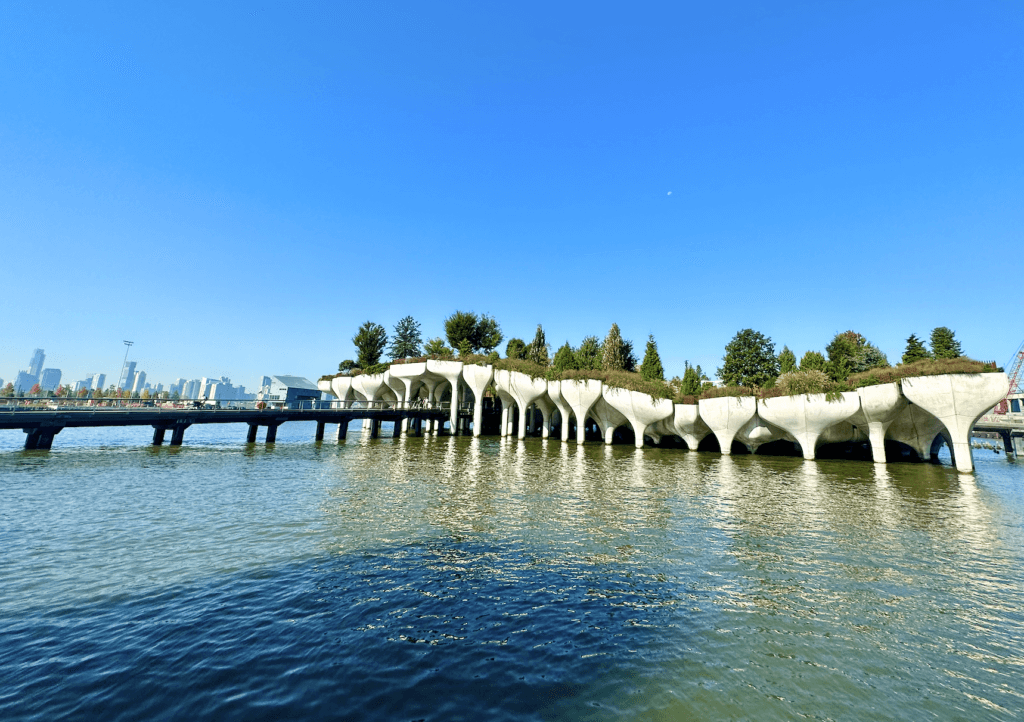 ---
A helpful video about Little Island
Take a walk with me around Little Island in NYC, and you'll see why I love this place so much.
---
So, how do you actually get onto Little Island?
Once you've arrived (using the instructions above) you'll notice two different pedestrian walkways that cross the water, and lead you onto the park.
You'll find them at West Side Highway at 14th Street and 13th Street.
It doesn't matter which one you use to enter the park (they lead to the same park), it just changes where you enter, and what you'll see when you first arrive.
---
What makes Little Island special?
It's a beautiful little park, created to 'float' above the river, with amazing views of the city!
This unique floating park is a new 'branch' of the Hudson River Park, and it's called 'Little Island' because it's literally on it's own little island.
The architecture of Little Island is truly fascinating, and the way it has been built is really amazing too. You have to see the scale of it in person, to fully appreciate it (which is why I urge you to visit!).
There are 2.4-acres of urban green space to explore here, so it's such a fun activity to enjoy in NYC! Little Park is a great activity to enjoy in NYC, especially if you're looking for things to do in the Hell's Kitchen, and Chelsea.
Tip: Because it's an outdoor park, I obviously recommend visiting on a day with nice weather so you can enjoy Little Park properly!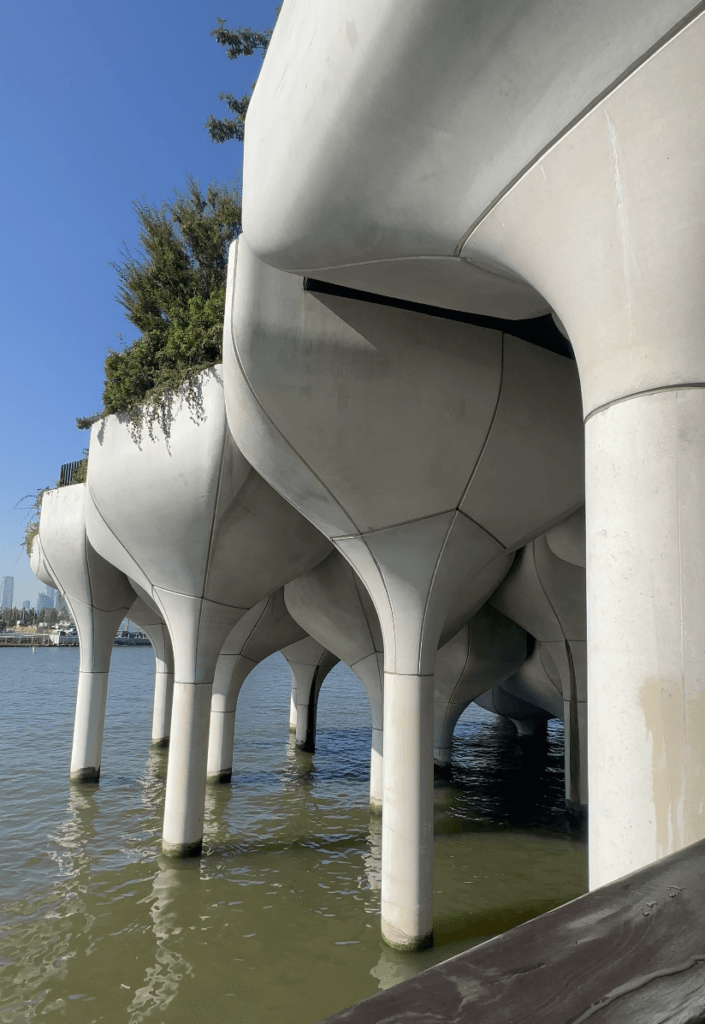 ---
What is Little Island made from?
Little Island, also known as the floating island in NYC, is made from tulip-shaped concrete containers.
It gives the visual effect that Little Island is just swimming on top of the Hudson River, which is kind of magical.
---
Things to do on Little Island, NYC
The main thing to do on Little Island, is just to explore. It's an attraction in itself, and walking around the park and enjoying it is definitely entertaining enough, trust me!
But there are certain things to look out for while you're exploring Little Island, which I've listed below for you!
1. The observation deck
For the best views, you want to walk up to the observation deck. Right at the top of Little Island, you'll find an outdoor observation deck, with gorgeous vistas!
The views from up here are beautiful, you'll be able to see right down to the Freedom Tower in Downtown NYC.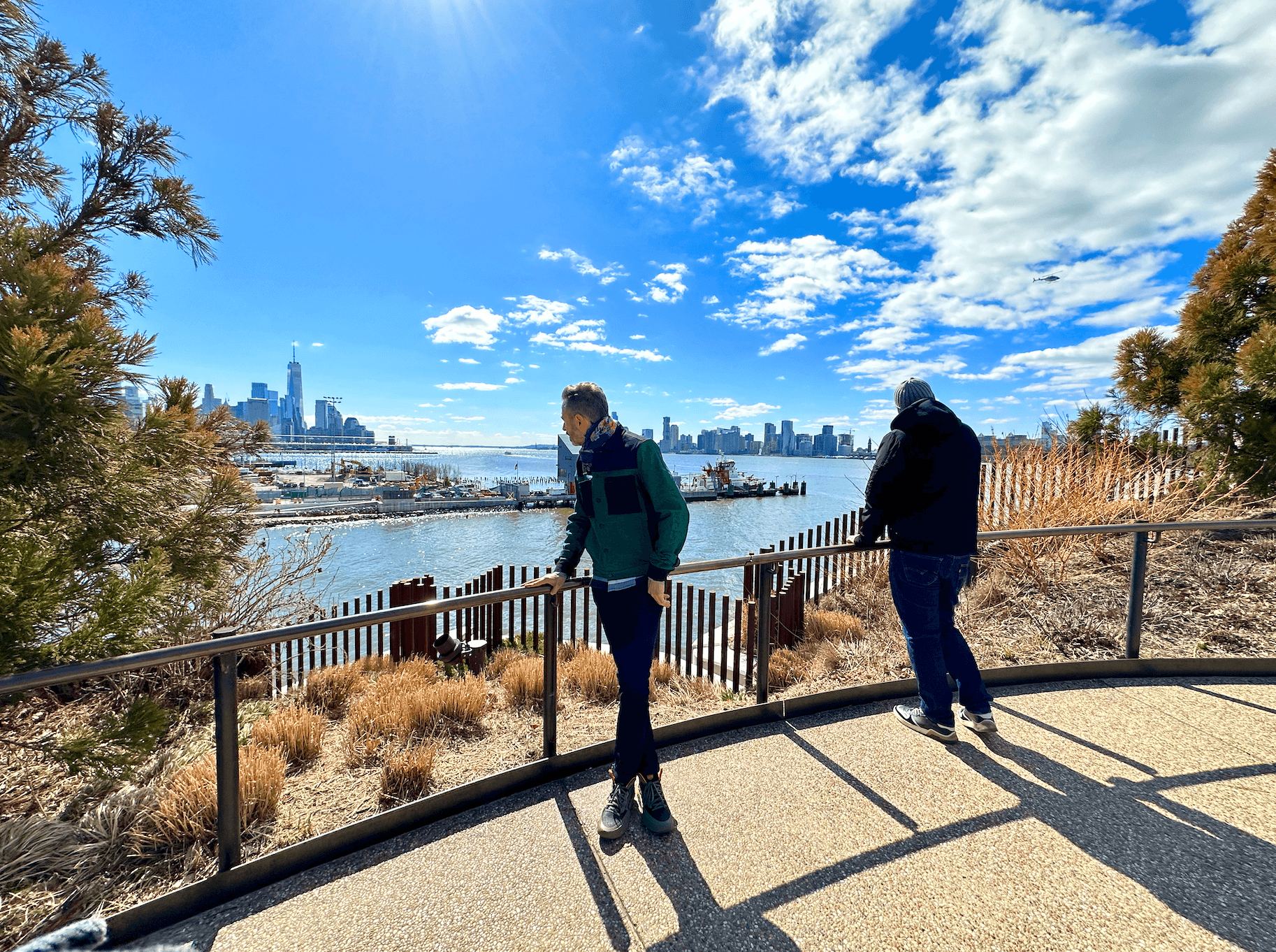 2. The amphitheater
The amphitheater is location on the right hand side of Little Island, and in the spring / summer it's a place where shows and music are performed.
If you're just randomly visiting though, it can be a nice place to sit have enjoy a coffee, or simply rest your feet!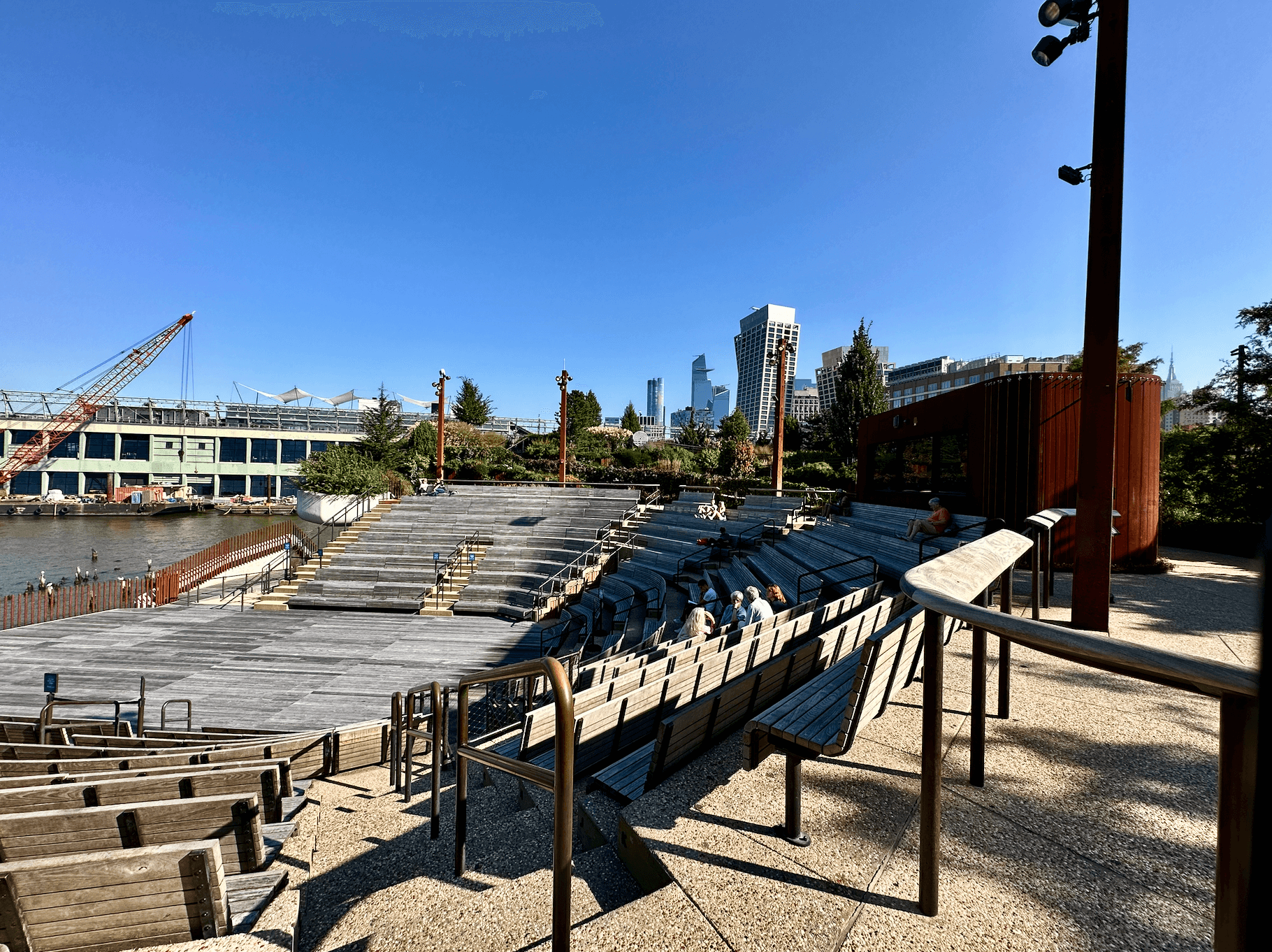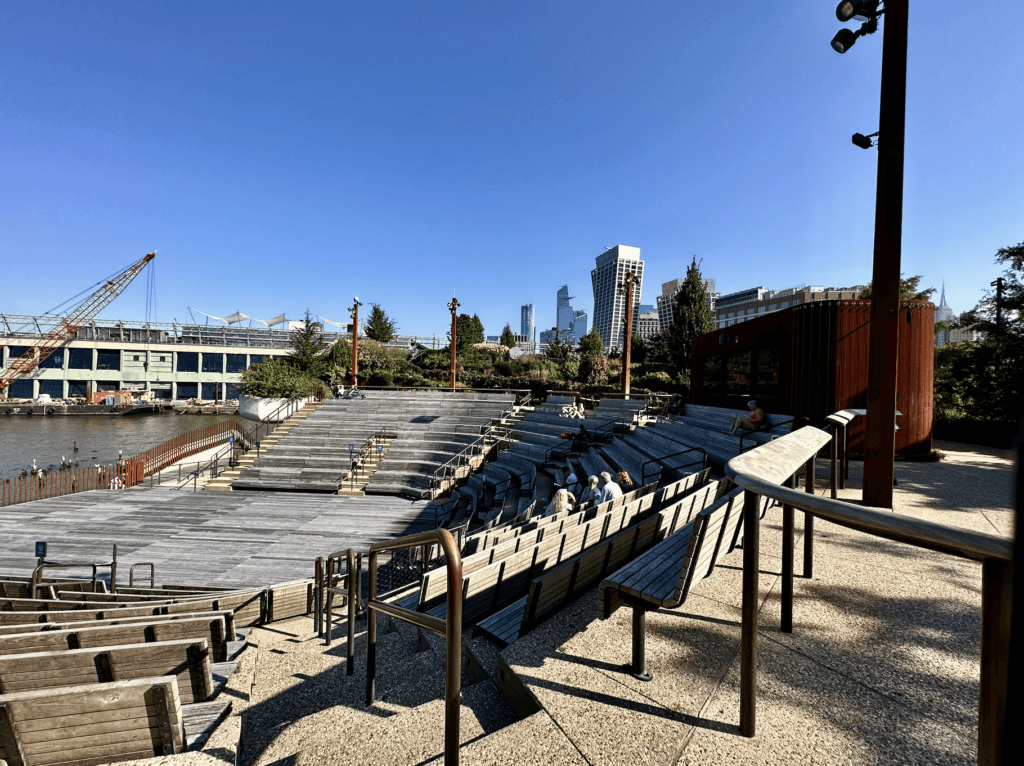 3. Various seating areas
There are various little seating areas on Little Island that you can enjoy. Sit and read a book, sit and eat your lunch, sit and contemplate the meaning of life.
Whatever floats your boat. It's quite fun just wandering around the island and looking for the best seating areas.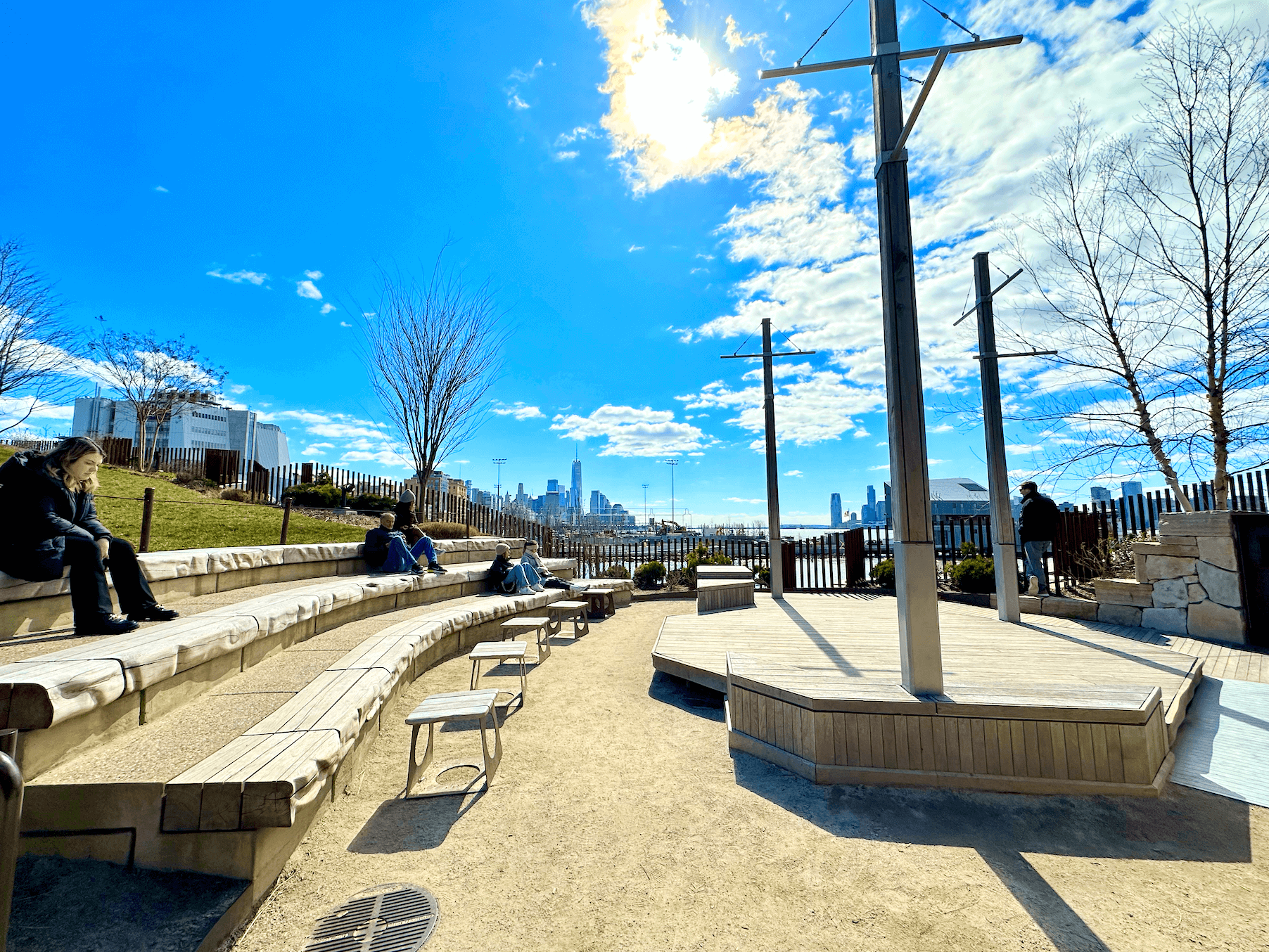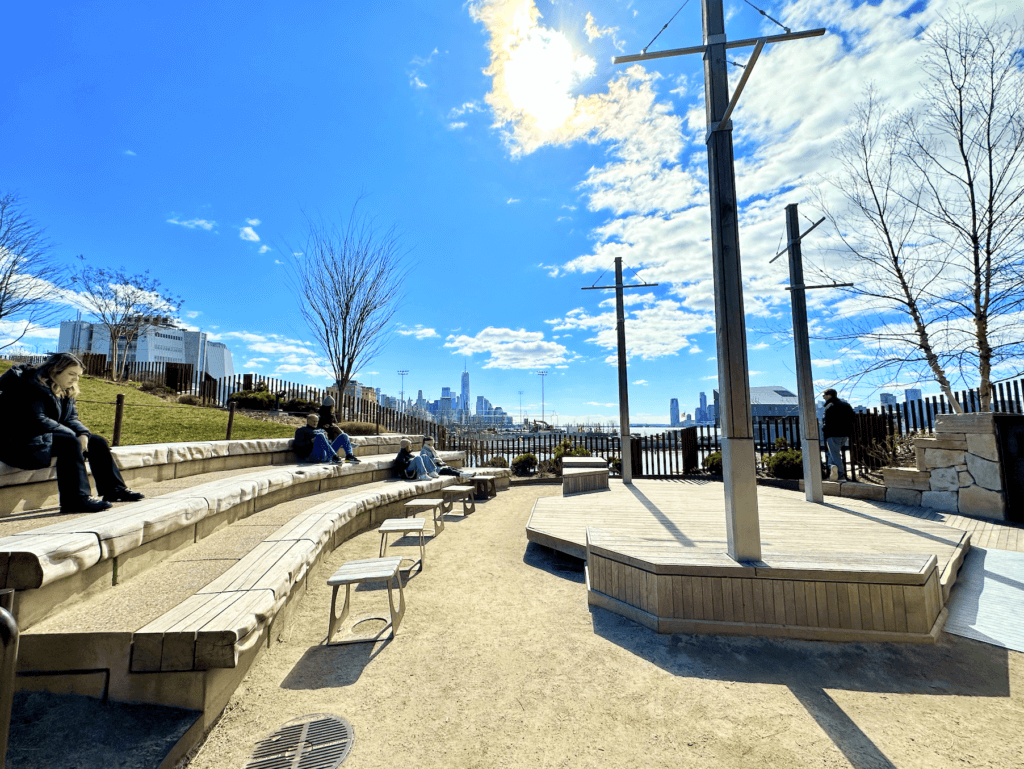 4. Grab some food
In 'the play ground' area of Little Island, you can find food trucks and refreshments from some of the year (April through to October).
You can grab a coffee, some snacks, a croissant (all the good stuff!), and you'll be able to enjoy the view whilst enjoying some nibbles!
The food vendors are open from Thursday to Sunday — 11:00 am – 7:00 pm.
Tip: You can bring your own food onto Little Island if you'd prefer, so don't worry if budget is tight! You can always bring cheaper alternatives from outside the island.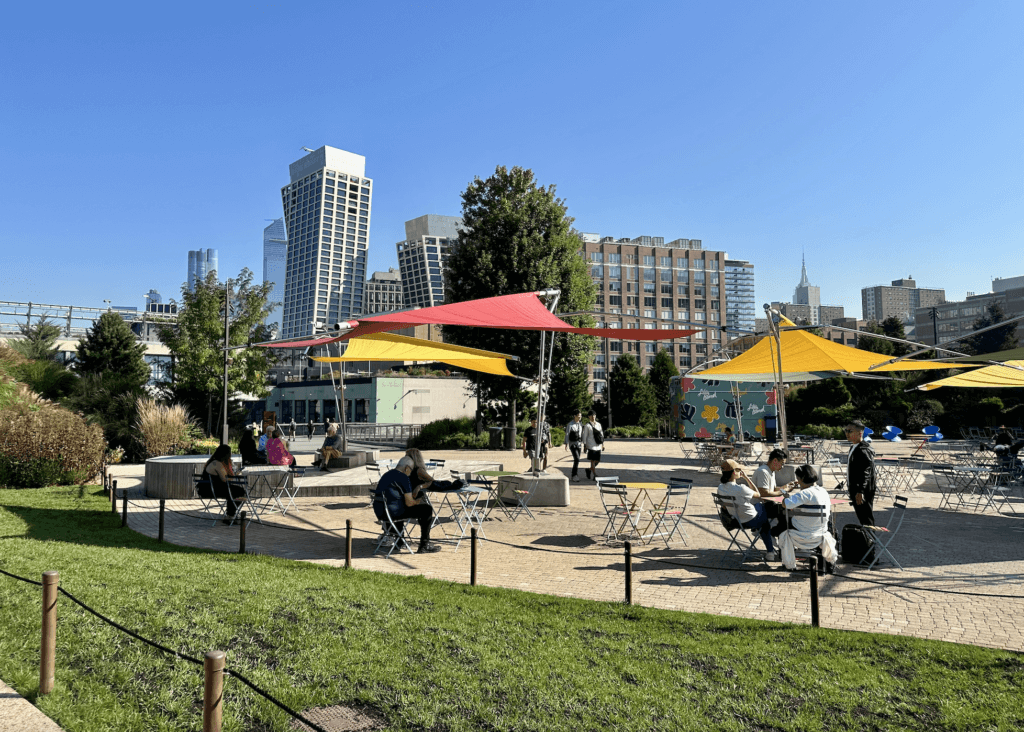 5. Explore the many pathways
Exploring the many beautiful pathways is another great choice for things to do on Little Island in NYC.
There are lots of pathways, some steep, some stairs, and other gentle and winding. You can explore them all at your own pace, and soak int he views as you walk!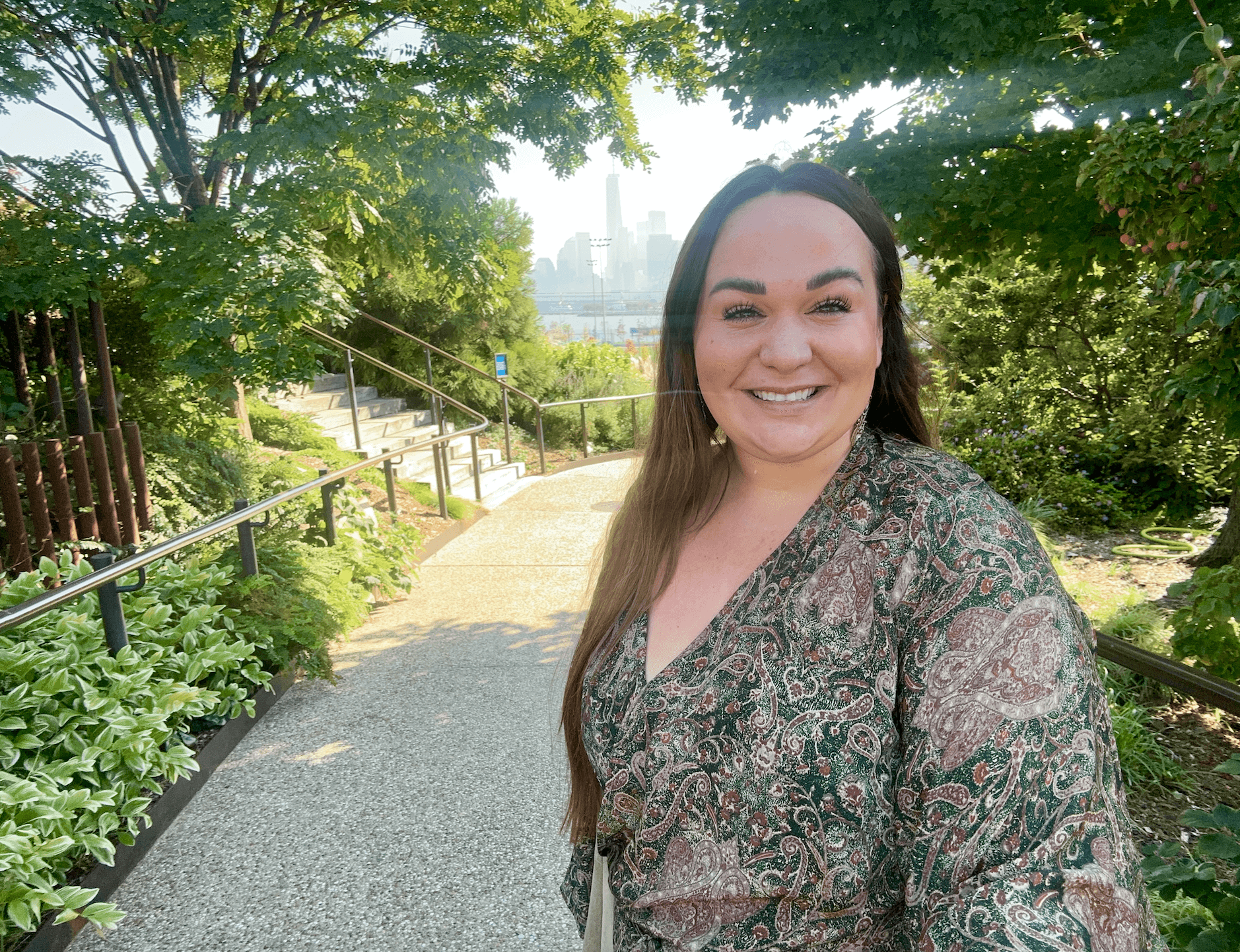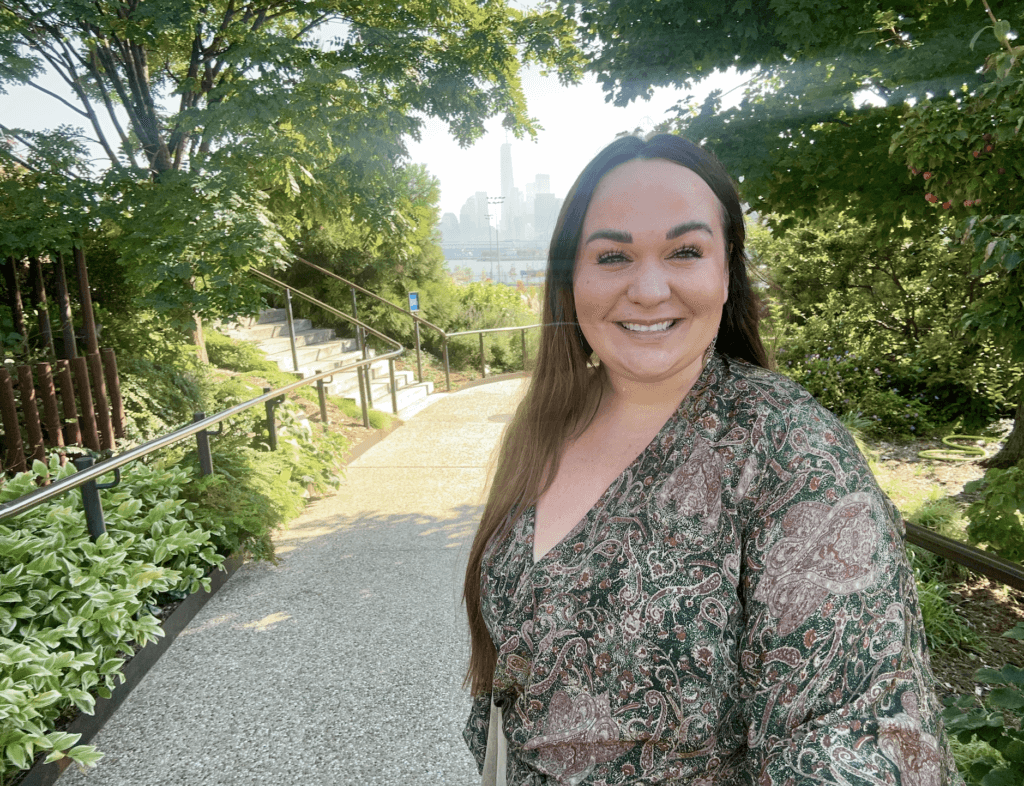 ---
Are the views good from Little Island?
I think the views are one of the main reasons to visit Little Island!
One of the reason I love Little Island is because it has lovely views of both Midtown (Empire State) and Downtown (Freedom Tower).
There are no other parks in the city that offer views of both – which makes Little Island so special!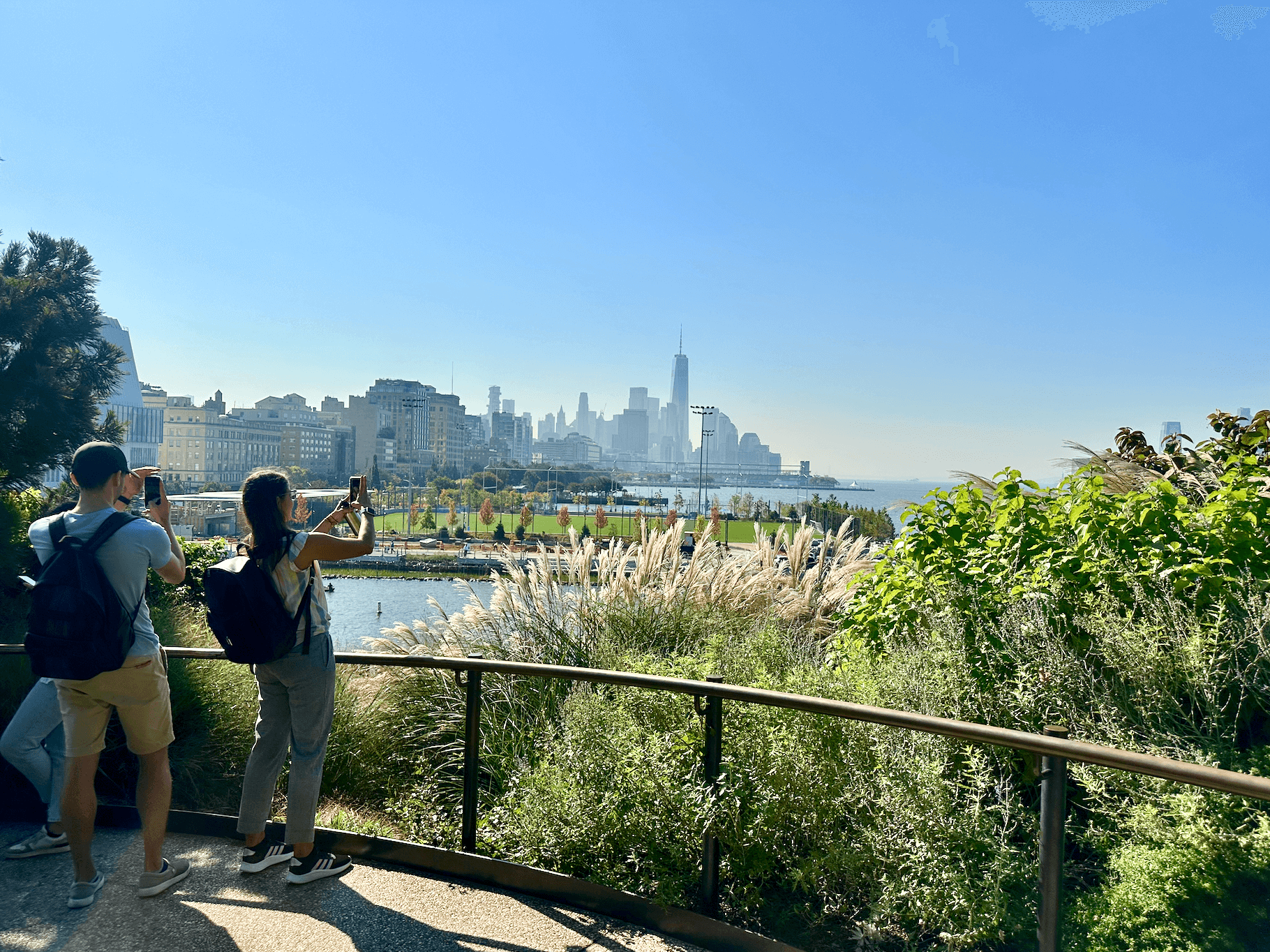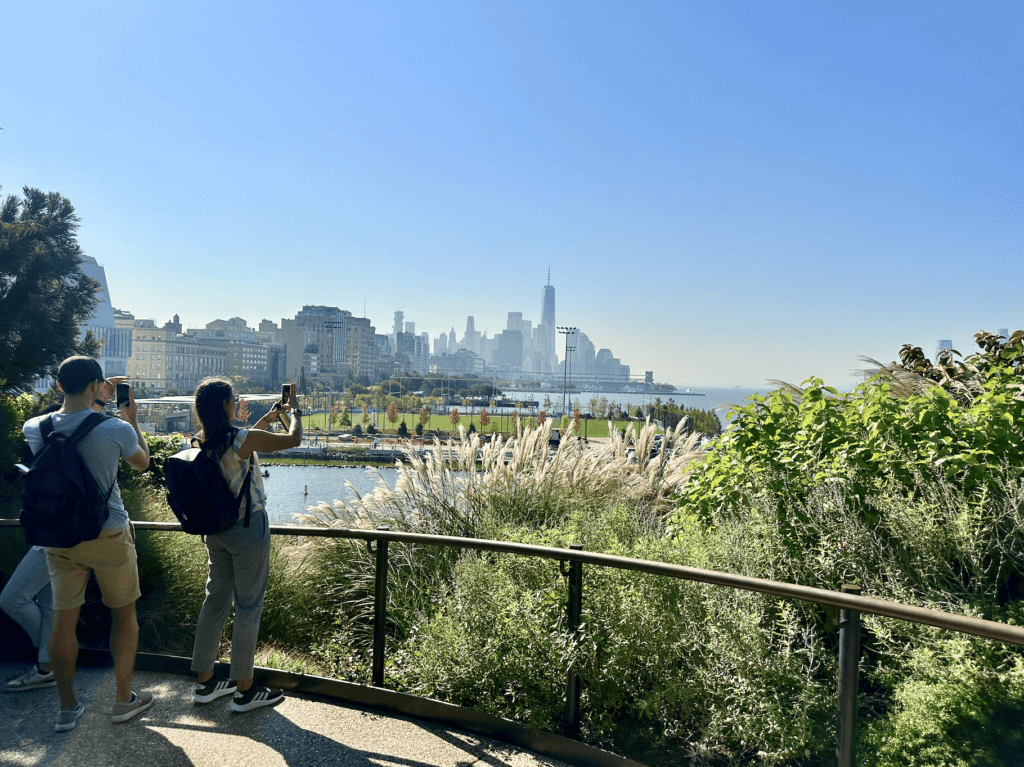 ---
Are there restrooms on Little Island?
Yes there are toilets on Little Island, and they're very clean (for public toilets!). I am always impressed by how clean their public restrooms are!
They're also free to use too, which is a bonus, and have big mirrors and plenty of cubicles.
---
Are there any rules when visiting Little Island, NYC?
As you'd expect when visiting somewhere so unique and different, Little Island does have a few rules to follow, which we've noted below.
The rules that Little Island has in place, are just to keep the park enjoyable for everyone, and safe for all visitors.
Basically, when visiting, there should be none of the following:
Walking in plant beds
Picking flowers or plants
Bringing in outside alcohol
Smoking or Vaping
Riding or bringing bicycles
Using skateboards, roller skates/blades, and scooters
Sledding, skiing, or snowshoeing
Fishing
Playing amplified sound
Solicitation
Commercial activity
Littering
Obstructing entrances or paths
Bringing dogs, with the exception of service / working dogs
Flying drones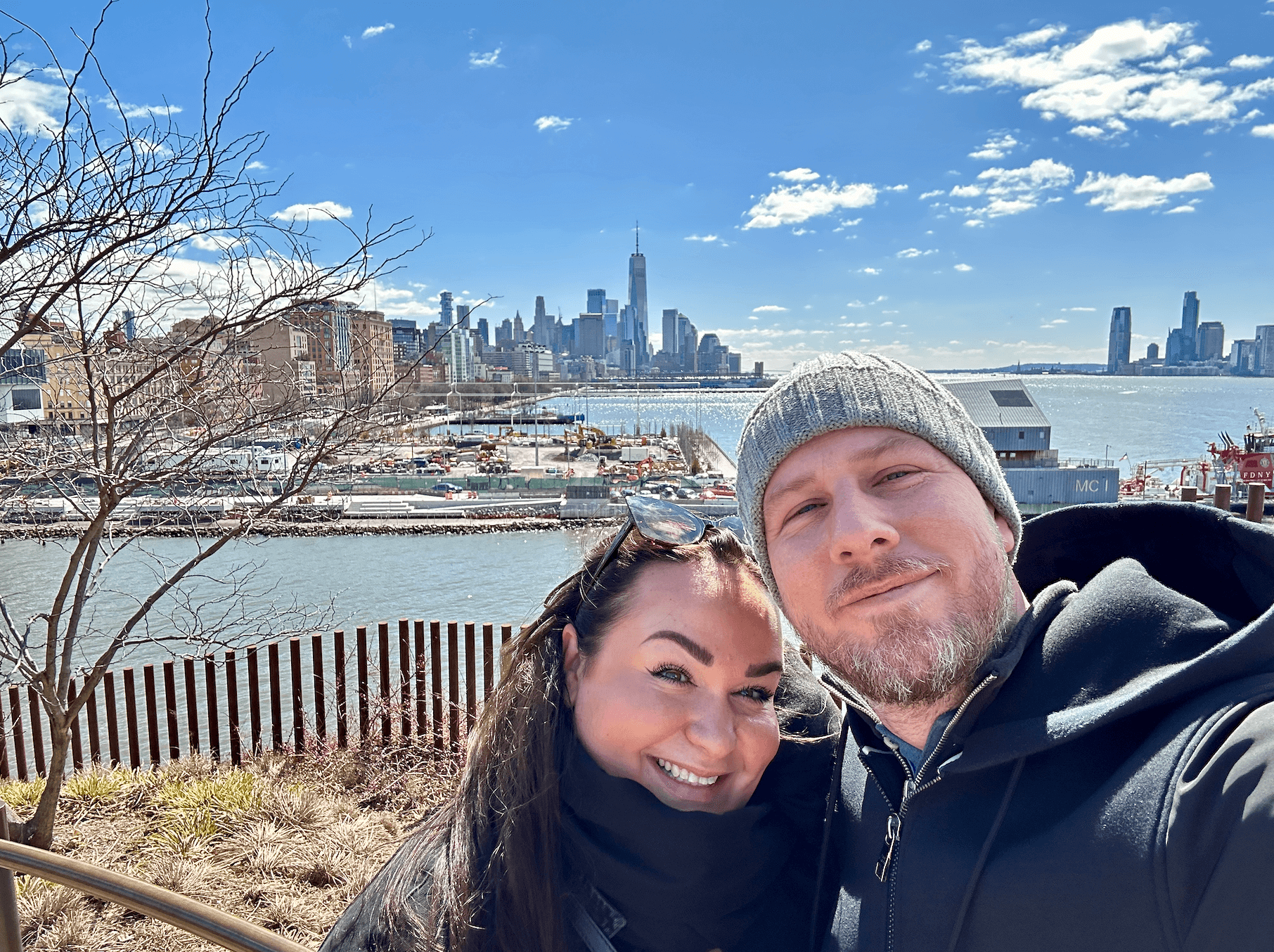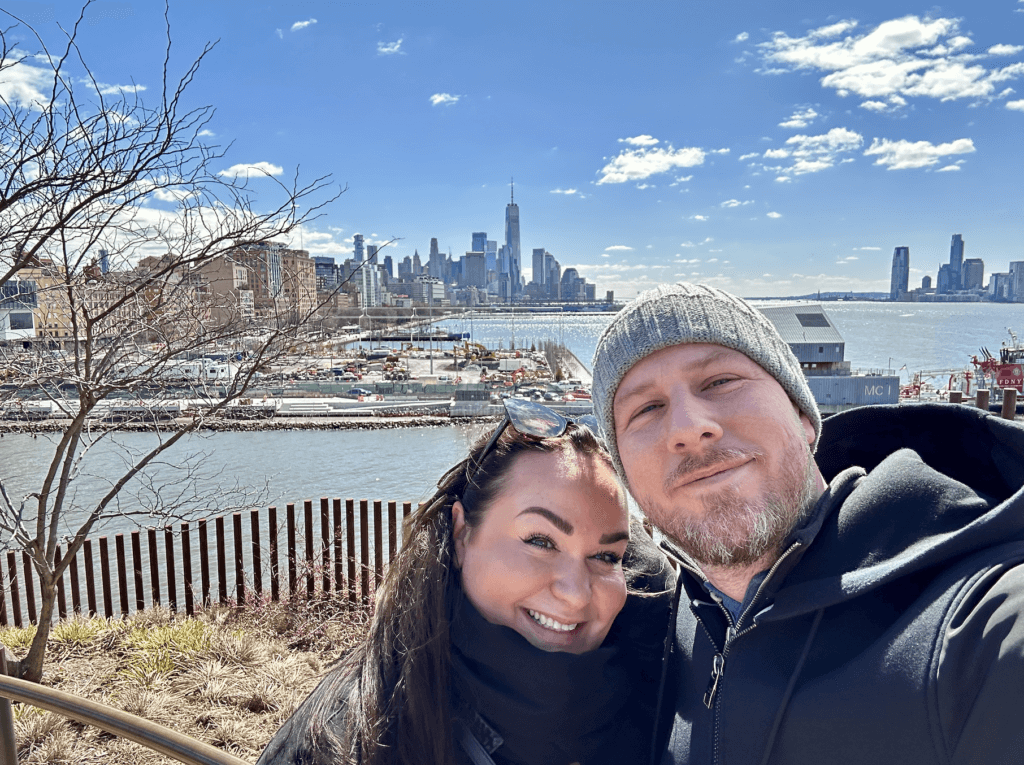 ---
Is the floating island in NYC open on rainy days or in winter?
Little Island is open during rain or shine, and during the winter months.
However, it's worth noting, that during some extreme weather circumstances, the park will close.
These include; lightning within 10 miles of the floating island in NYC, sustained winds over 32 mph around the floating island in NYC, extreme heat and extreme snow accumulation.
The best thing to do, if you're worried about the floating island in NYC being shut, is to check their social media channels, or the official Little Island website for updates.
Read more about NYC's parks: The best Central Park entrances (and what they're close to)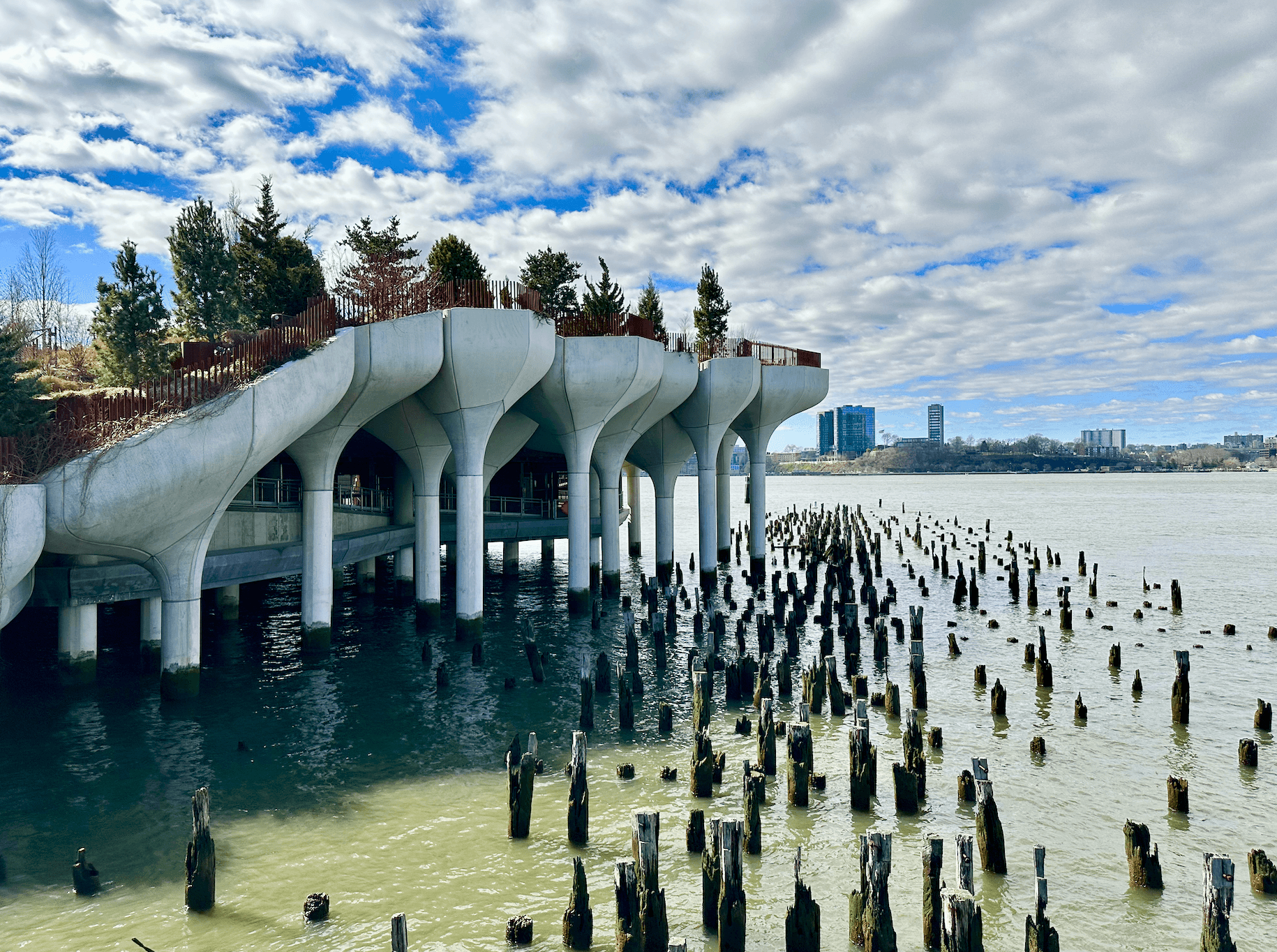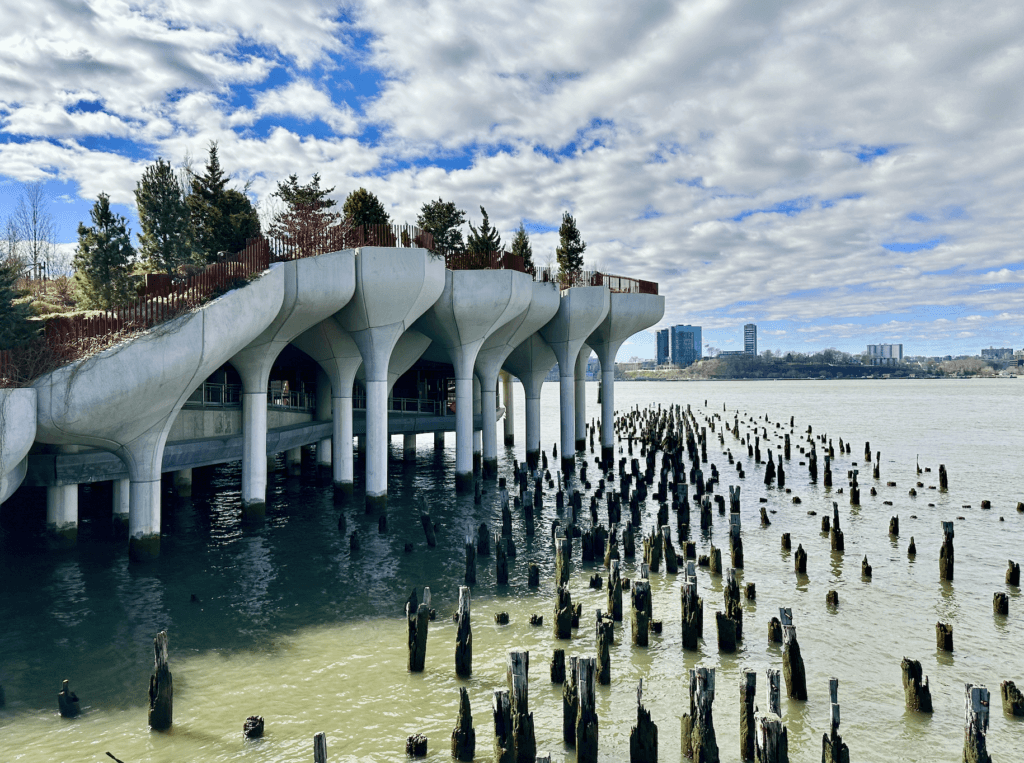 ---
Can you bring in outside food and drinks?
If you're planning a picnic on the floating island, NYC, then you might be wondering if outside food and drinks are allowed on Little Island.
The answer, is Yes!
You can totally bring your own food and drink to enjoy in the outside space on Little Island, and it's a great idea for a lovely day out! Why not plan a gorgeous picnic here? I can't imagine anything nicer when the sun is shining!
The only rule about outside food and drink, is that no alcohol is permitted.
As I already mentioned, there is food and drink available to buy on the floating island too though (between May – September), so if you forget to bring something yourself, you'll still be able to grab something during those months.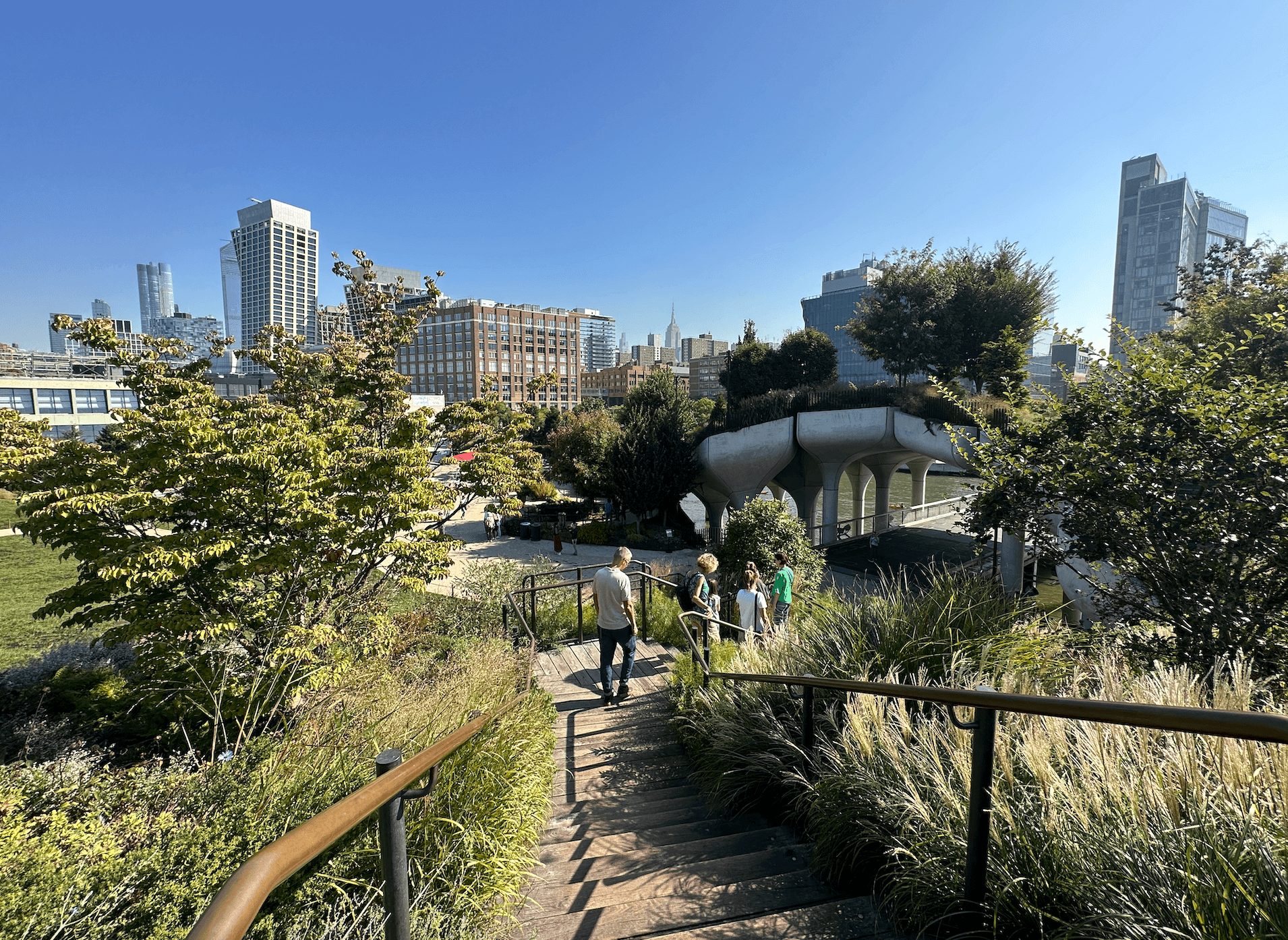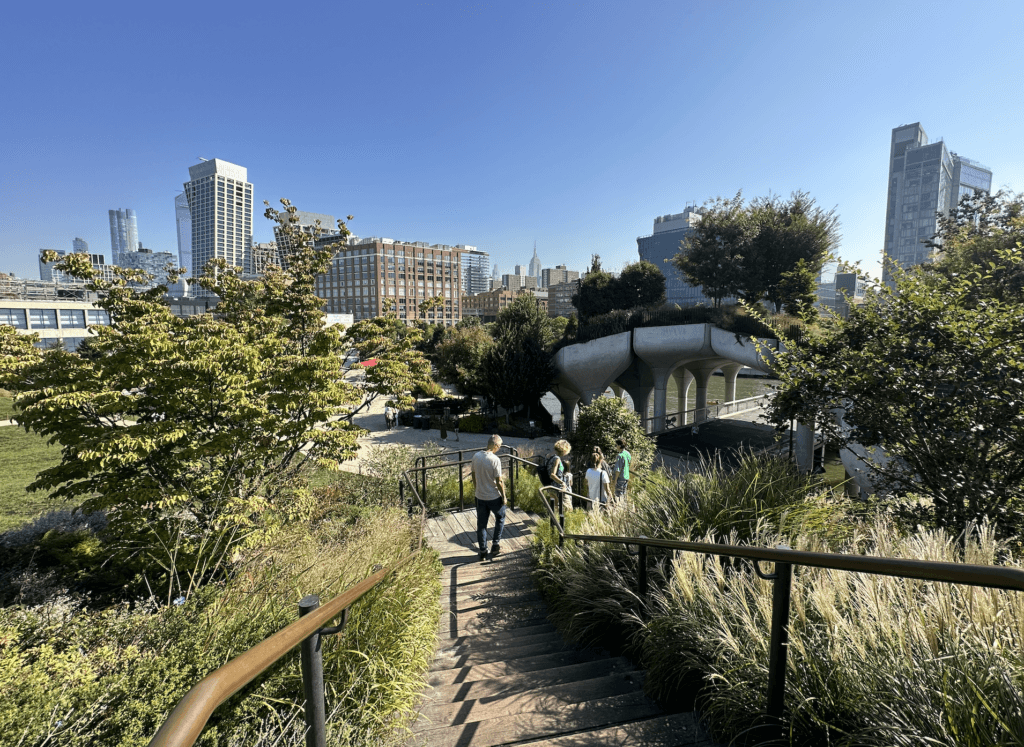 ---
---
Are dogs allowed on the floating island in NYC?
No, normal dogs aren't allowed on the floating island park. Little Island is only welcoming working dogs assisting patrons with disabilities at this time.
It's also worth knowing that the park aren't classifying emotional support animals as 'working animals' yet. So emotional support dogs would not be welcome.
---
Are there events on Little Island?
Yes! There are lots of events happening on Little Island, NYC. Most of them are seasonal though, so naturally, you'll find that there are more events in the spring and summer (when the weather is better).
This floating island in NYC is a little hub of creative activity, and the organizers / owners of the island make sure that there are plenty of ways for artists to express themselves on the island.
The events and activities change up every month, so it's best to check their website events page for the up-to-date details for the month you plan to visit.
However, here's a taste of what you could expect, shows by; Machine de Cirque, creative art classes for children, contemporary ballet shoes, jazz band concerts, instrumental music concerts, and so much more.
There is so much going on at Little Island in NYC!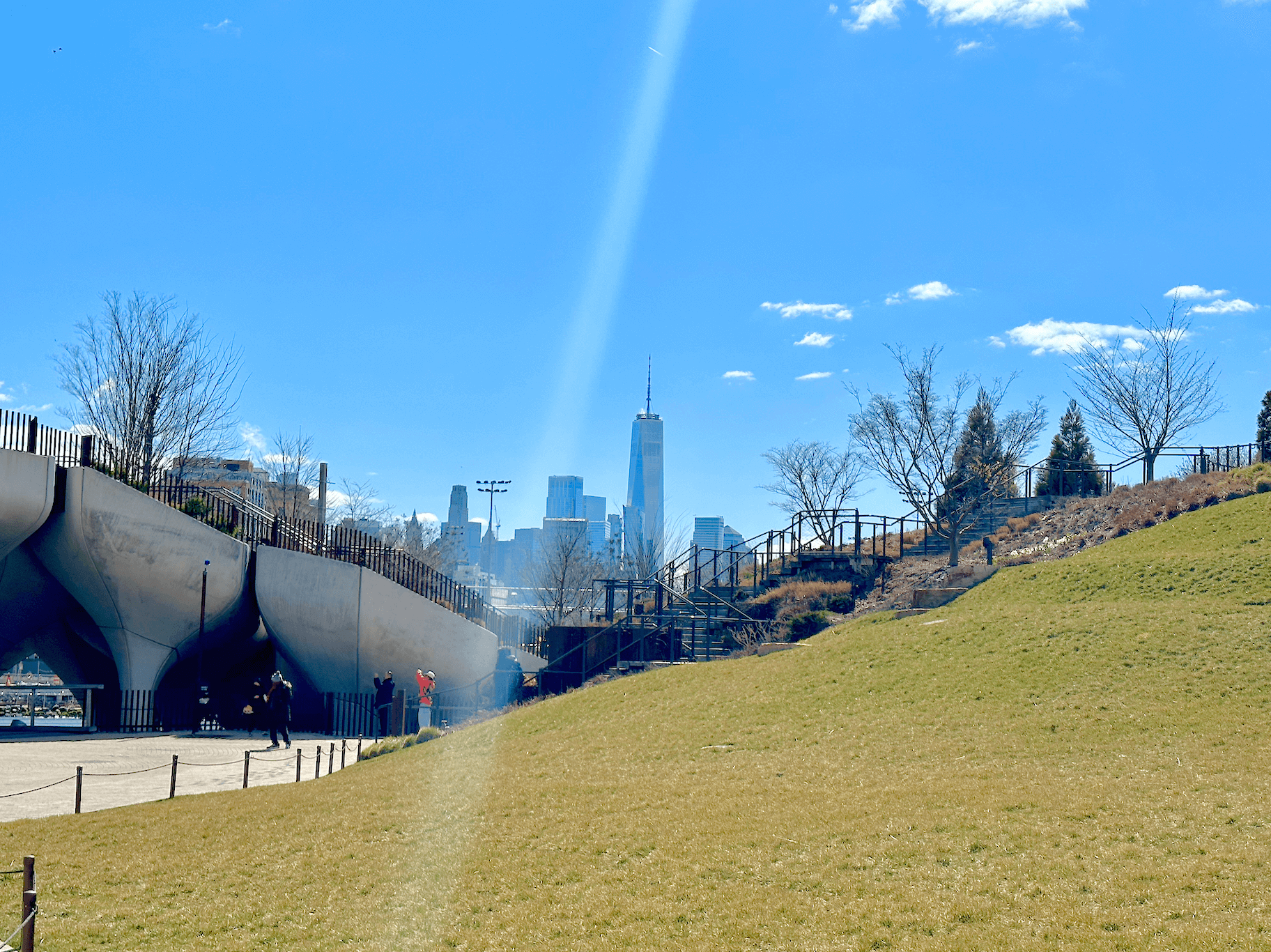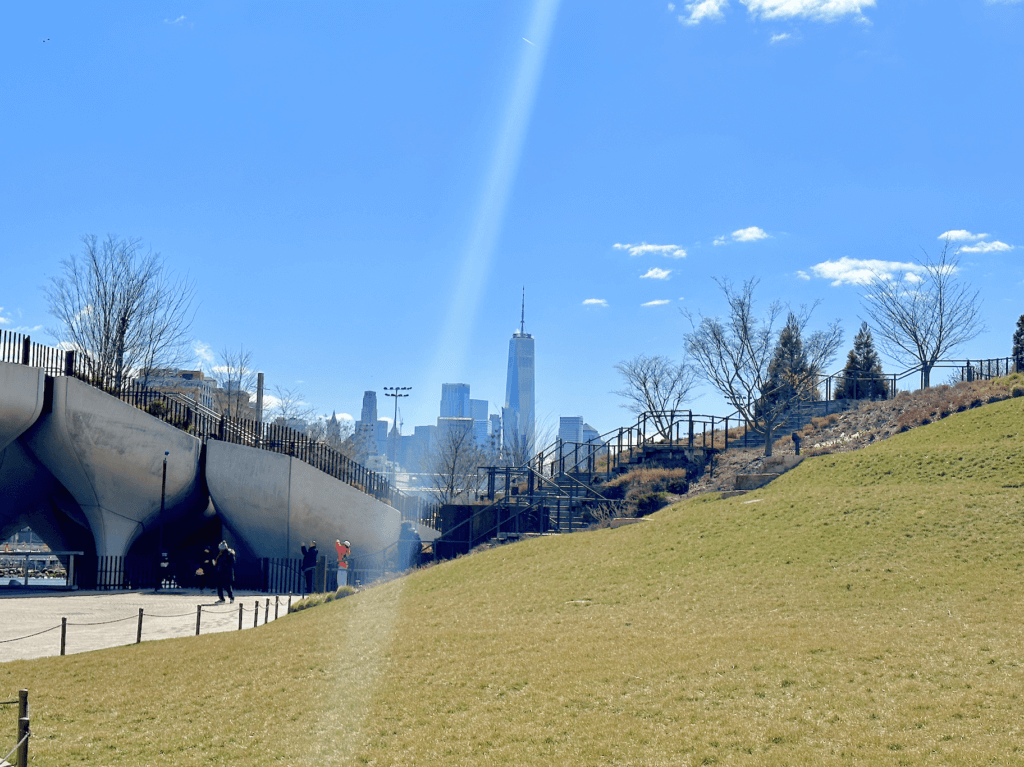 ---
How much time do I need to explore Little Island?
I would set aside about 1-2 hours to explore Little Island. It's not a huge park, and it's not a big distance to cover – but you won't want to rush it.
Giving yourself 1-2 hours, give you enough time to admire all the views, walk the different pathways, take lots of photos, and even grab a drink and snack too.
Unless you're planning to stop and have a picnic or something along those lines, you shouldn't need more than 2 hours to see what the park has to offer.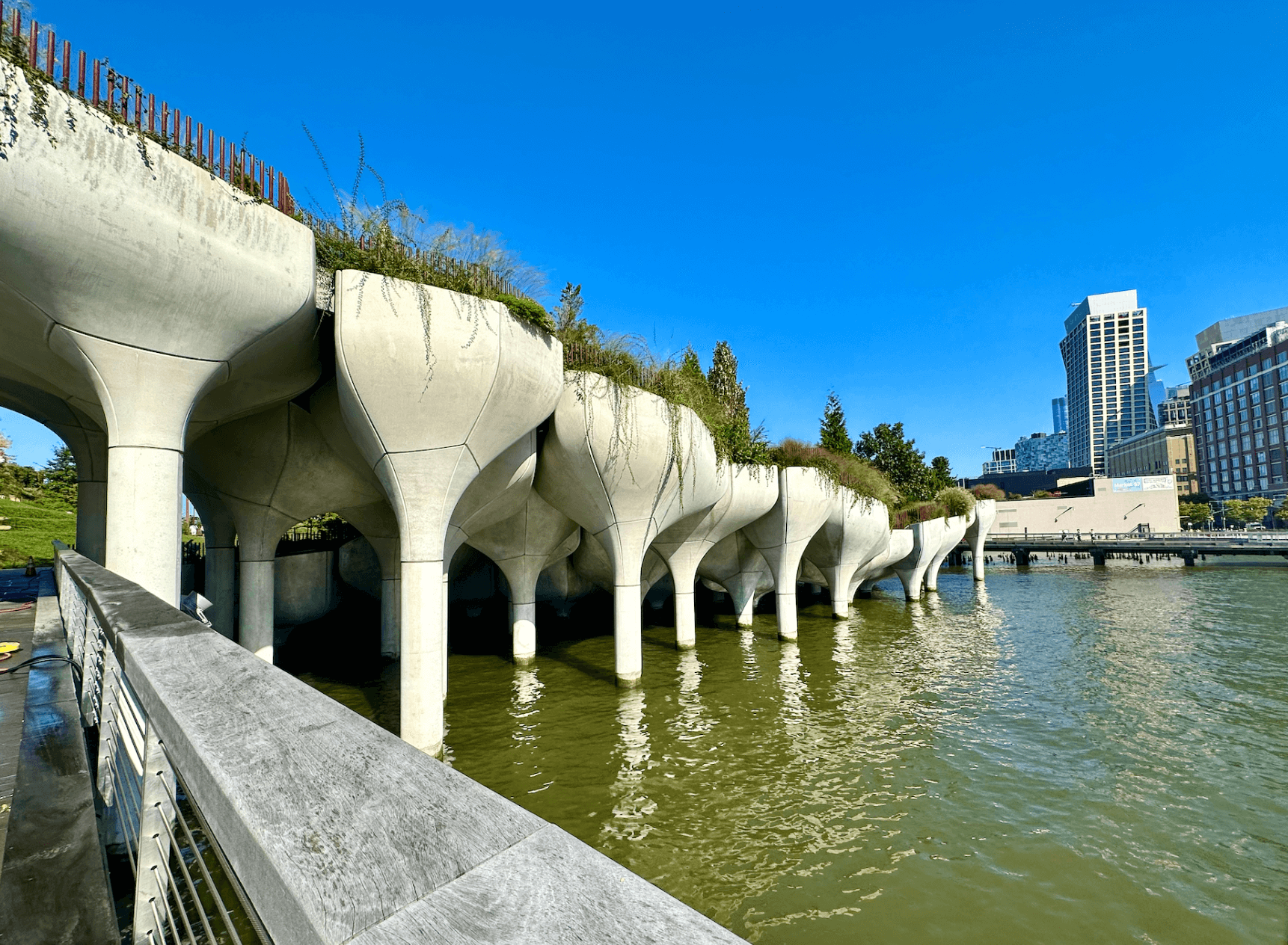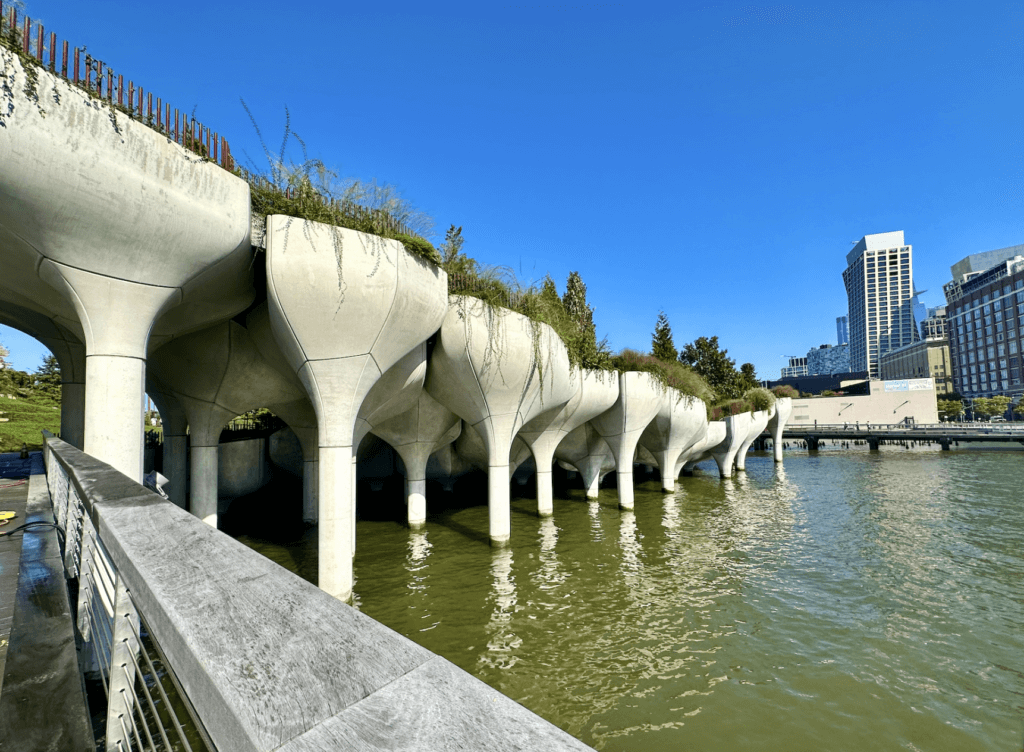 ---
Is there much to do around Little Island?
There are lots of great activities located near Little Island. Little Island is a very short walk to several great NYC neighborhoods, and you can reach most of them by foot after exploring Little Island!
If you're looking for things to do around Little Island, once you've finished checking out the park itself, I'd recommend the following places: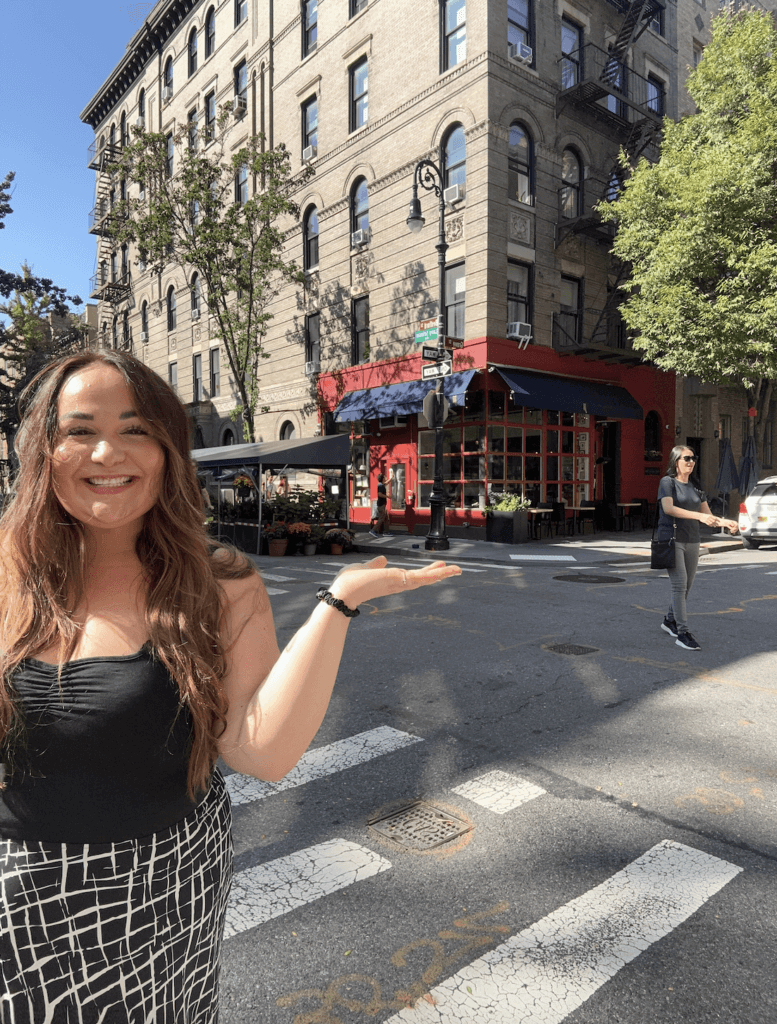 These activities and suggestions are all within a 5-15 minute walk from Little Island, so super easy to visit them on the same day!
My favorite day spent in NYC would involve walking the Highline, walking around Little Island, and then heading the Chelsea market for some lunch, and Greenwich Village for shopping!
Here's a map of the ideas above so you can see how close they are from Little Island.
---
---
Hopefully my guide to Little Island has given you lots of helpful information, and given you lots of ideas!