If you know someone, like me, who adores NYC – then any of these beautiful books about New York City will make the most amazing gift!
When you're planning a trip to NYC, or just plain obsessed with the city (like me) then any NYC-themed gifts are always welcomed.
A New York City book is always going to be a sure-fire success with me, so I thought I'd write a list of some amazing NYC-themed books that I love, and think others would too.
These books are all so different… From funny little comic-book style books, to walking guides, and dog-friendly tips, I've tried to cover all bases here.
So, hopefully, you can find an ideal gift for your NYC-loving friend.
Let's get into it!
---
New York Block By Block: An Illustrated Guide, by Cierra Block
New York Block By Block: An Illustrated Guide by Cierra Block is a beautiful book, perfect for anyone who is in love with NYC, but also loves more visual guides.
I think the quirky and cute illustrations in this book captures the magic of NYC perfectly, and it's something that makes me go back to this book time and time again. It's both useful, but also adorable (so ideal for a coffee table book too.
In the book, the author reveals the very best of the city, covering topics such as food, pretty streets and even her favorite bookstores. There are 40 vibrant maps in total, meaning you have so many to enjoy when reading.
---
Twenty Minutes in Manhattan, by Michael Sorkin
This one is a little different. It's not so much a guide or list-style book, but it's tells more of a story and really makes you feel like you're part of the city.
Michael Sorkin (the author) is an architect, and writer obviously, and this entire book is based around his daily 20 minute walk in his office.
The walk takes him from his Greenwich Village apartment, through Washington Square, down to his Tribeca office. Now, if you're a regular in NYC, like I am, you'll know these areas are some of the most scenic and interesting in the city.
The book is about this walk, his journey, the stories he has noticed, the things he has researched and learnt along the way. It's a really interesting premise for a book, and it is beautiful executed.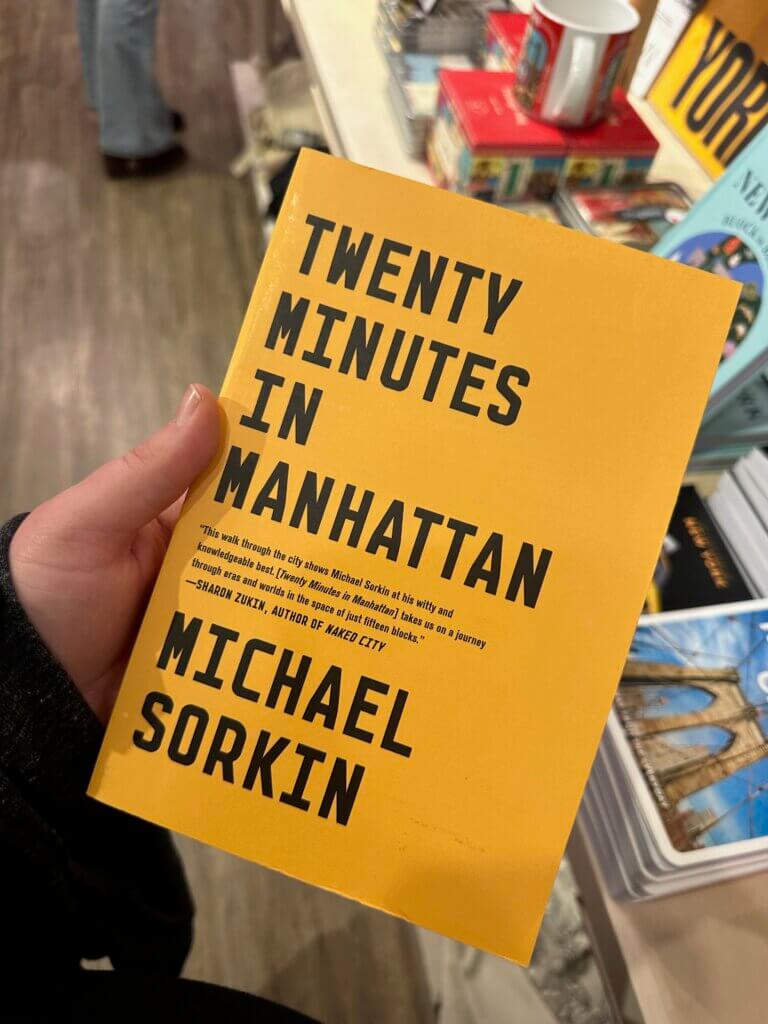 ---
NYC: Basic tips and etiquette, by Nathan W. Pyle
Nathan W. Pyle is one of my favorite artists on Instagram, and when I discovered he had a book all about my favorite city – I was so happy!
Nathan has this incredible way of making the simplest topics feel hilarious, and that's the case in this wonderful, whimsical, little comic-style book.
Flipping through this book gave me such an appreciation for the city, but also such a funny, quizzical, humour about it too.
If you've ever wondered about the unique habits and unspoken customs of local New Yorkers, this is the book for you. NYC is weird, and the way we do things are kind of weird too (city life in the Big Apple is so much different to anywhere else, right?).
Anyway, if you're buying a gift for someone who love weird, funny, quirky books, that have a heart and soul at the core of them – this is the book you need to buy.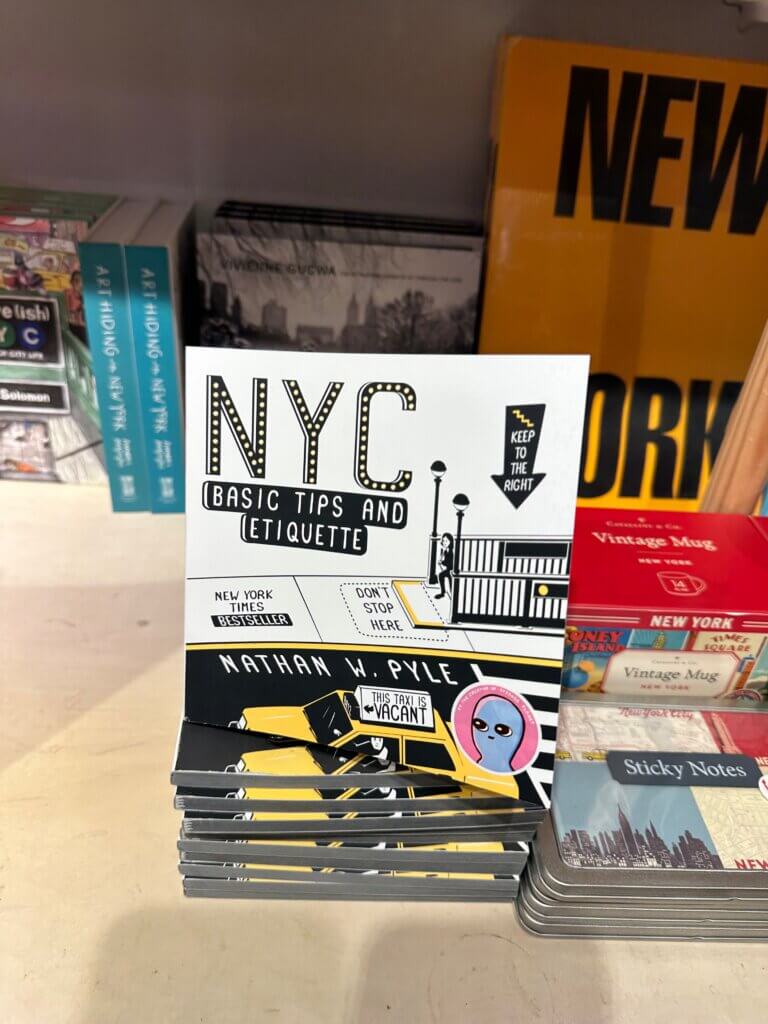 New York Offbeat Walks, by Stephen Millar
If you're buying a gift for someone who loves walking around cities, and exploring on foot, then this book would be an ideal gift.
New York Offbeat Walks is a beautiful book that outlines some truly unique and beautiful walks you can take in the city.
Even as someone who has explored this city many, many times – I still found some amazing undiscovered routes in this book.
But it's not just about the routes, this book actually teaches you things along the way too. So you'll finish this book knowing a little more about the city you love so much.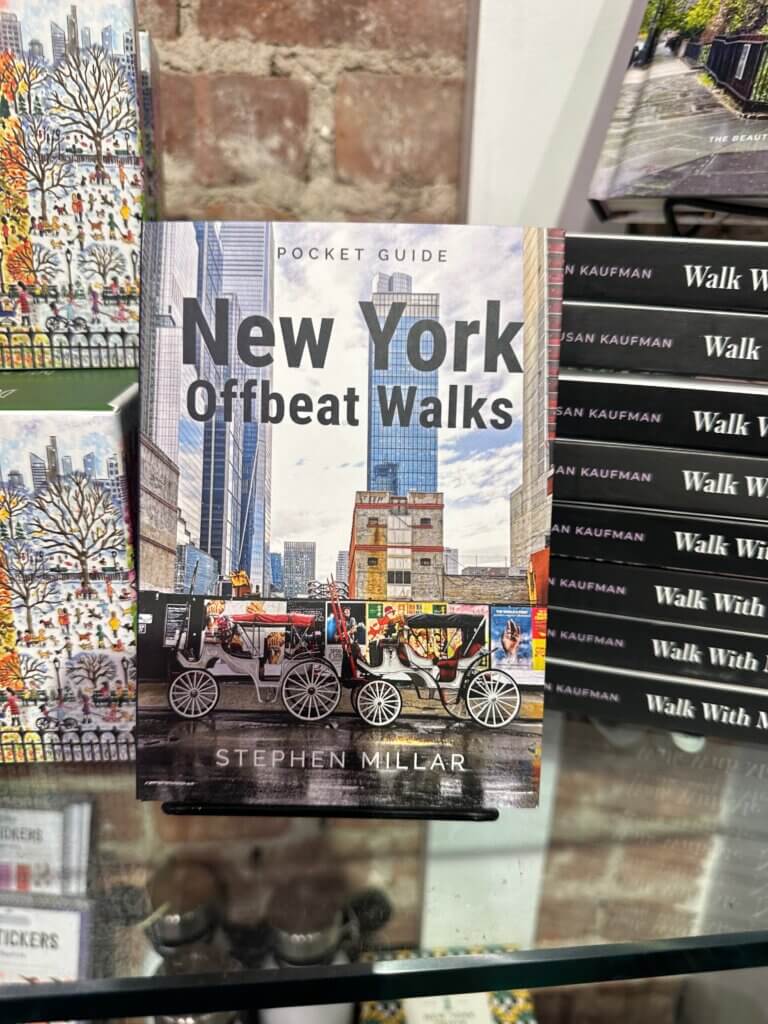 ---
Store Front NYC by James Murray and Karla Murray
If you're looking for something with gorgeous photographs, that also captures the magic of NYC, then you're going to absolutely adore this book.
James Murray and Karla Murray (the photographers and authors of this book) visited all the iconic independent stores in NYC, and photographed them with so much love and attention.
The stores of NYC (especially the ones in this book) tell so much of the city's history, and you can feel all that history in this gorgeous book.
This book isn't text-heavy, it's mainly imagery, so a perfect gift for people who prefer visual books.
---
New York City: Like a Local by DK Eyewitness Travel
If you're looking to gift someone a book with slightly unique suggestions, and quirkier ideas, then this might be a great idea.
You won't find the 'normal' touristy locations and attractions between the pages of this book, instead you'll find suggestions from locals instead.
Restaurants in quieter parts of the city that you won't have heard of. Or parks that tourists don't swarm on a summer's day.
I like that this book is three authors, because you get some good variety in the ideas and activities too!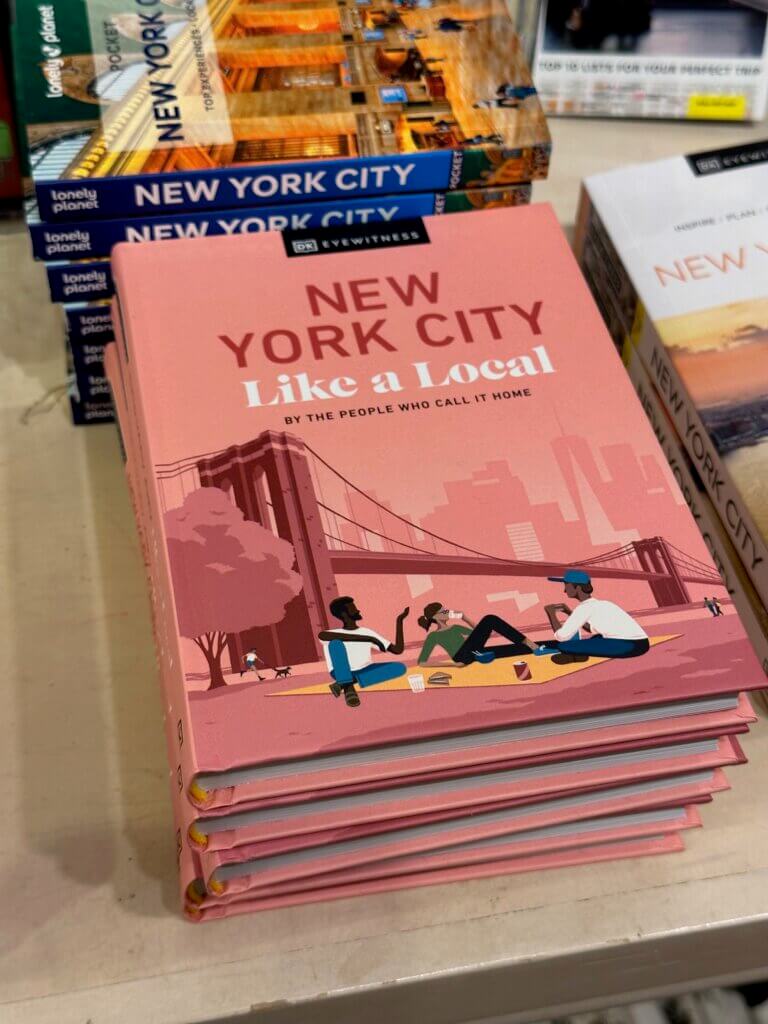 ---
A Booklover's guide to New York, by Cleo Le-Tan
The title speaks for itself on this one! This is the ideal gift for booklovers, who also love NYC.
A perfect combination right? After all, so many amazing books have been set in the city, and there are so many wonderful haunts for booklovers here.
This book is a place to explore the city's best bookshops and libraries, as well as the homes and haunts of world-famous writers (of which there are plenty in NYC).
Another reason I love this book? It's beautifully illustrated by Pierre Le-Tan. His illustrations make the book feel more like a fairytale, and they truly do the city justice. And I adore it.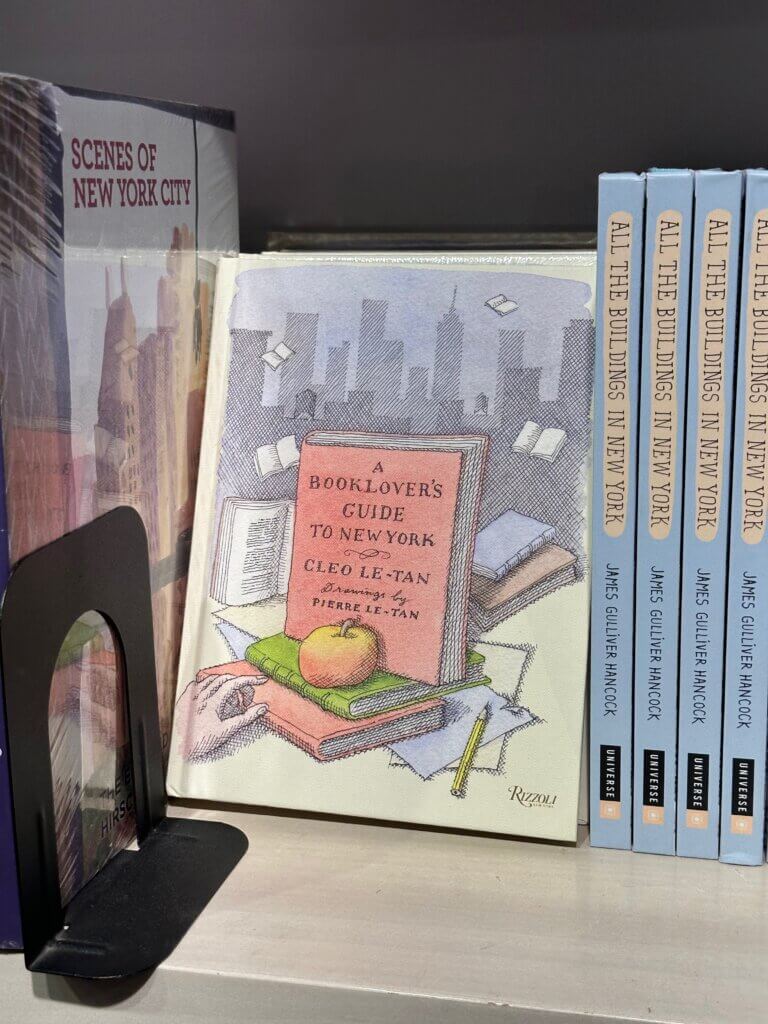 ---
Dog-Friendly New York, by Winnie Au, and Marta Roca
If you're buying gifts for someone who has a dog, or loves dogs, and wants to take a trip to the big city with their furry friend, then this is the perfect gift.
Or maybe your friend just moved to the city with their dog alongside for the ride, and they need a list of dog-friendly locations for weekends and evening fun!
This book has it all, and takes you through all the best places in NYC for dogs!
From the best parks for playing fetch, to beautiful cafes for people watching – your friend (and their dog) is going to be so grateful you bought them this!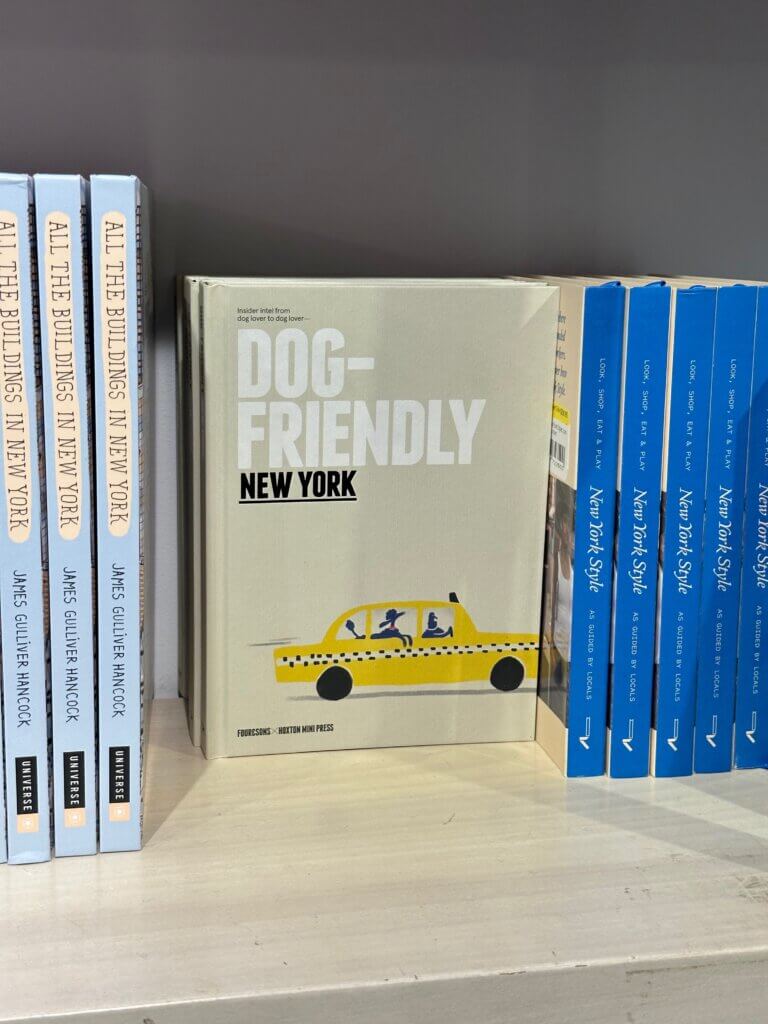 ---
New York Style, by Giuseppe Santamaria
New York Style by Giuseppe Santamaria is a love letter to New York's fashion scene, celebrating the outfits and unique style of the city's residents.
Seriously, this is a book for someone wanting to feel inspired. Because seeing the explosion of style between these pages will do just that.
Flicking through the pages of this book, is like taking a walk with a friend. You'll get recommendations, see amazing outfits (classic for NYC people-watching) and you'll even gain some wisdom from the people within the pages.
If you're buying this as a gift for a friend or family member, this is ideal for anyone creative. And (of course) anyone who loves style, photography or fashion.
---
Iconic New York Jewish Food, by June Hersh
Iconic New York Jewish Food by June Hersh is a beautiful ode to Jewish history in NYC, and the food that celebrates is.
And oh boy, there's a lot of amazing Jewish food in New York City, and so much to explore.
This is a great book to gift someone who love both travel, history and food. Because you'll find a bit of all three between these pages.
I especially love that you'll find recipes here – as it gives you the opportunity to bring a bit of NYC home!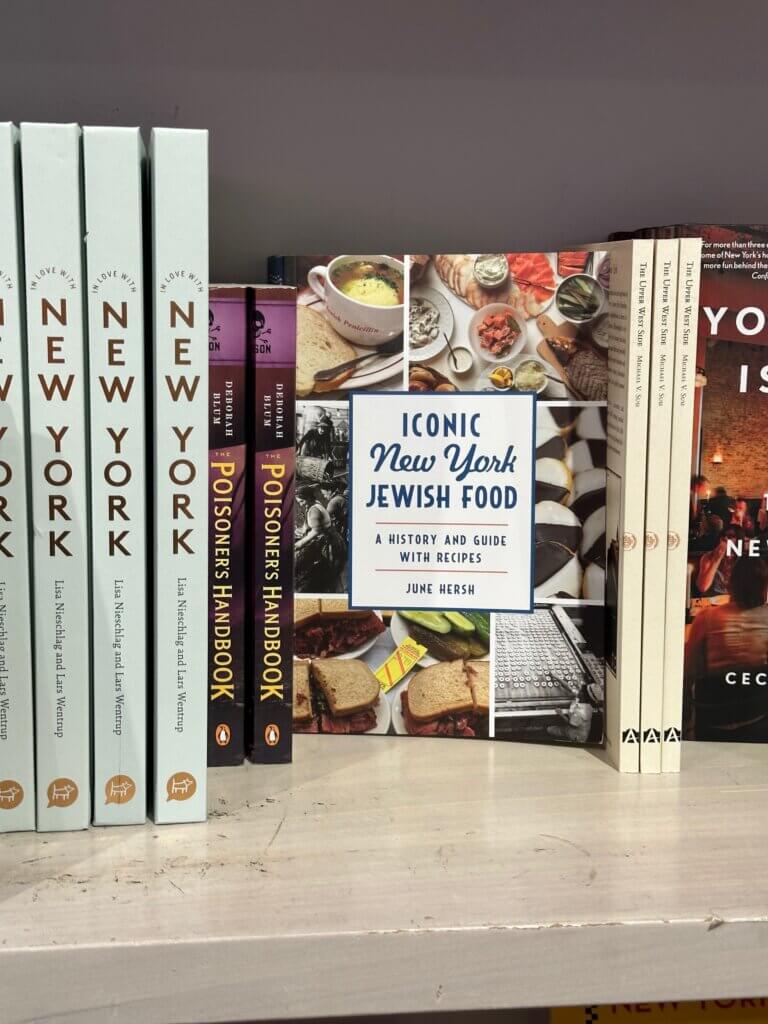 ---