---
Looking for the best nude beaches in California? Here's a list of all the best nude beaches in California to set yourself free!
---
Though your idea of California Dreaming may involve shopping and sightseeing, others are after an altogether different sightseeing experience. If you're looking to get your kit off in California, then you're in luck, for there are numerous nude beaches in California that are available to visitors that wish to 'let it all out'.
Though a lot of nude California's top nude beaches are slightly off the beaten track, their placement means that there's plenty of privacy on offer. However, you may find yourself truly surprised by the sheer number of nude beaches in California that are instead tucked away near popular tourist spots.
Remember… before visiting a nude beach, it's also worth reading these nude beach etiquette guides – just to brush up on what's OK and what isn't!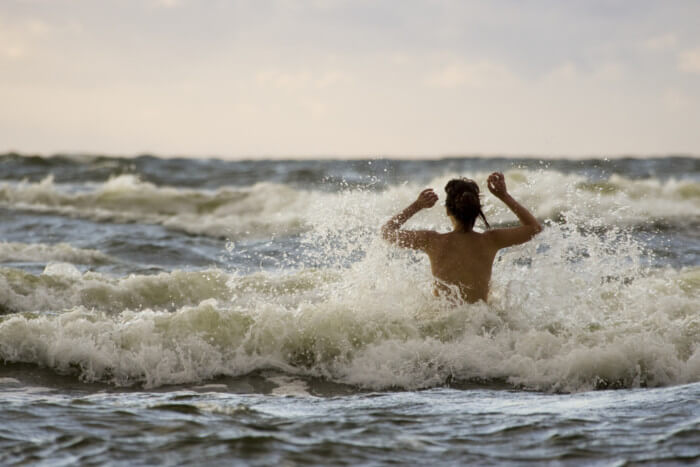 So, if you're looking for the top 10 nude beaches in California, then look no further!
Black's Beach, San Diego
Black's Beach is probably California's most notorious nude beach. Located in San Diego, this expansive beach is well-known for its nudity and you'll see everything from nude sunbathing to naked sports. Whether you fancy flapping about with some volleyballers or simply taking a walk along the stunning sands, then this is the place to be.
Be aware that this is an extremely open nude beach and gets absolutely rammed at times, so be sure you're comfortable with the nudist way before you dive in! Read more about visiting Black's Nude Beach here, from someone who has been there!
Pirate's Cove, Avila Beach
If you're after a slightly more private experience, then make your way to Pirate's Cove. Though you won't catch any nudist swashbucklers in these parts, it's a clothing-optional beach that's marketed at nudists looking to chill out and relax.
As this is a clothing-optional beach and not a strictly nude beach, you can dip your toe in the water without going fully nude should you be new the experience. Check out the TripAdvisor page here.
---
More Mesa Beach
More Mesa is an incredible beach to visit for More Fun, as it were. Another clothing optional beach that's packed to the rafters with buff visitors, it's a great place to visit if you're after the perfect tan. Located near the UCSB campus, this nude beach tends to attract swathes of college students, so the atmosphere tends to be fun-loving and freewheeling.
---
Land's End Beach
One of the beaches that lies quite a way off the beaten track is Land's End. Located near Pyramid Rock in San Francisco, this is a more private option for those looking to bare all. Be aware that access to this beach can be slightly tricky, as it requires a cliff walk that some don't wish to undertake.
However, if you wish to take the hike, you're sure to be rewarded with fantastic views that include those of both nature and your fellow man.
Read more about nude beaches: Top 10 nude beaches in Mexico
---
Devil's Side Beach
Next on my list of the best nude beaches in California, it's Devil's Side Beach. Located along central California's coast, this beach is one of the top nudist beaches in California for amenities, you certainly won't find yourself awkwardly trawling for bathrooms here. If you're into whale spotting, then be sure to check this place out, as spring offers the perfect opportunity to catch a glimpse of the wonderful sea mammals.
Though we recommend taking in the sun and sand at this spot, we would avoid the water itself. Often piercingly cold with no shortage of more dangerous sea creatures, you're best staying away!
---
Carmel Meadows Beach
Carmel Meadows Beach is a small section of Carmel River State Beach and tends to be slightly less crowded than its adjoining areas. With stunning lichen covered rocks and masses of vegetation, this beach is well worth visiting for the sights alone.
However, if you're looking to whip your clothes off, then you're in luck, for there are numerous spots that allow for nudity here. However, we recommend staying out of the water here too. Unless you're taking a light dip where the waves break on the shore, you may find yourself caught in some extremely dangerous riptides.
---
San Gregorio
San Gregorio is a great nude beach in California that offers something a little different. As it's privately owned, the expansive beach is great for those looking for a quieter getaway.
This beach is great for those looking for California's thriving gay scene, as the far north of the beach markets itself as a gay paradise. However, be sure to stay out of the south area of the beach, as it's a clothes-only zone!
---
Red Rock Beach
The final beach on our list of the top 10 nude beaches in California is Red Rock beach. One of the Bay Area's top nude beaches on account of its sheer levels of fun, it's a great place to visit in California for thrill-seekers.
With rock climbing, frisbee and beach games galore, it's a true Californian paradise for nudists. The ocean here isn't overly forgiving and riptides are extremely common, so be sure to assess your swimming proficiency before taking a dip.
Be aware that Red Rock Beach is located betwixt several other family beaches, so just be sure you know exactly where you're headed before deciding to let it all out…
---
I hope that this list of the top 10 nude beaches in California has given you some inspiration!
Whether you're a fully experienced nudist or wish to dip your toes in the water at a slightly more relaxed beach, each of the options above have something unique to offer visitors. So, get reading and embrace that birthday suit!