If you're looking for a thorough guide to California missions, hopefully this post will help. Here we'll discuss all 21 missions in California, as well as their history.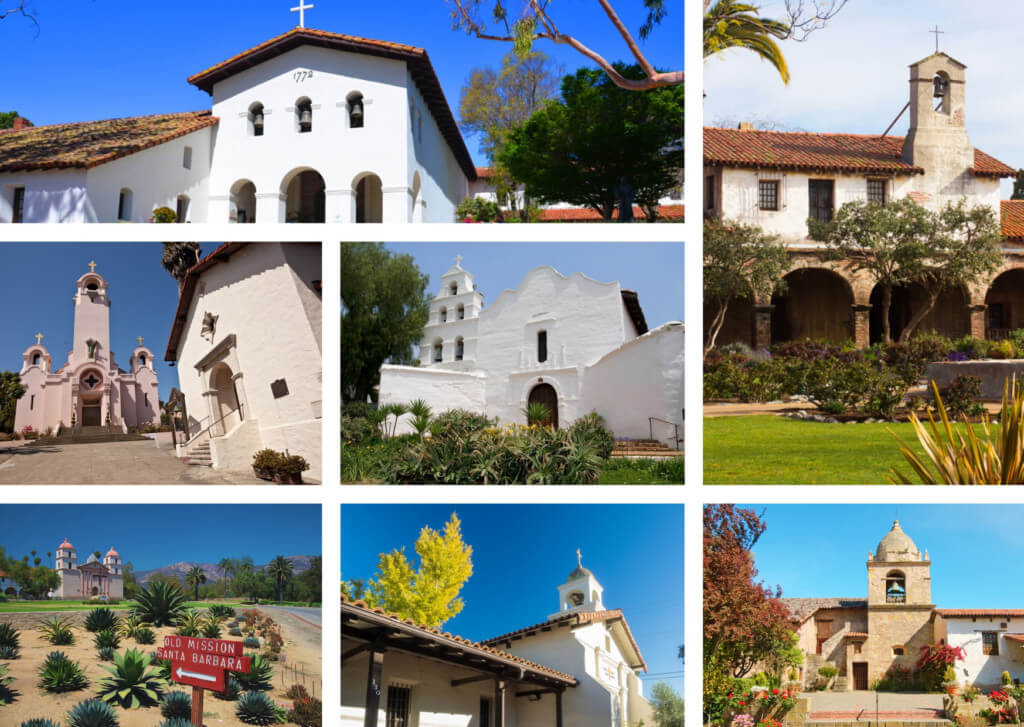 ---
What are the California Missions?
---
Stretching North from Mexico across the Pacific coast, the California Missions spread European religion, agricultural practices and forms of government to the area we now know as California. Without the California Missions, California as we now know it would not exist, so it's a key piece of American history that's well worth the drive.
As all mission sites still stand to this day, they can all be visited, and the missions in California remain very popular sites for people to visit. Some are still in use as churches, but most are in disrepair – whatever their condition though, the mission in California are important and fascinating. Regardless of their current state, the California missions provide a fascinating glimpse into California's history that truly speaks to its journey through history and cultural development over time.
Here I'll go through each of the California missions, and discuss their significance, history and points of interest.
I've started with Southern-most California mission (the Basilica San Diego de Alcala) and worked my way North along the coastline. You can track this route in the map I've included of the California Missions at the bottom of this blog post.
---
Basilica San Diego de Alcala
---
The first of 21 missions built in California (or Alta California as it was known back then) is Basilica San Diego de Alcala. Founded in 1769, this mission is California's first church and a great piece of history.
Having been restored in 1931, it looks brand new. Located in the northern part of San Diego, there is parking available below the church as well as on nearby side streets. With admittance coming in at only $5, it's well worth a visit to get a better understanding of California's Spanish history.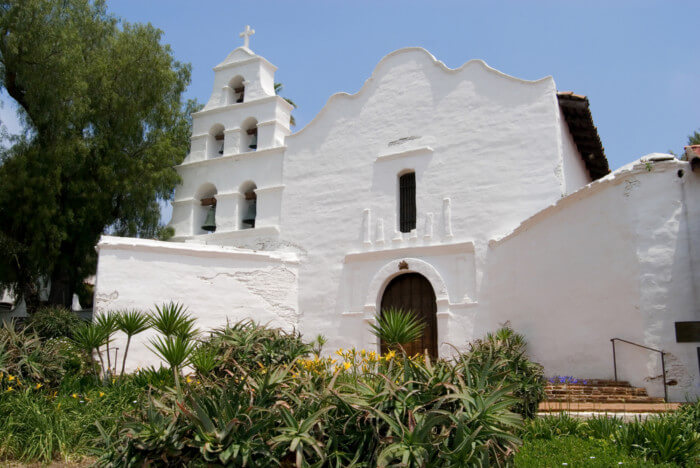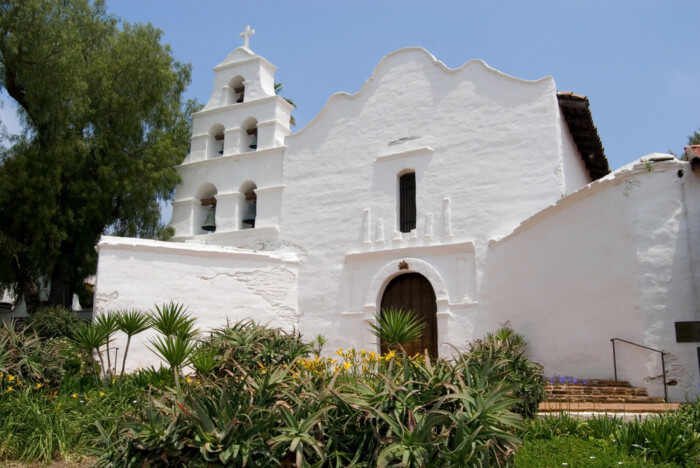 ---
San Luis Rey De Francia
---
The next California mission I'm going to discuss is the San Luis Rey De Francia. Located very close to the first mission on this list, San Luis Rey De Francia is the 18th of the 21 California missions.
The original church no longer stands, but the current church in its place was built in 1811. An awesome combination of Spanish and Mexican design, this mission is hard to miss. One of the largest outposts on the list, it's almost the size of two full football fields! Entry to the museum is a mere $7, and the rest of the site comes free of charge, so it's a popular choice for missions in California to visit.
---
Mission San Juan Capistrano
---
Set amongst beautiful grounds, this California mission church is one of the most picturesque sites in California. With ruins of the Great Stone Church still visible, it's well worth the visit.
If you come early enough, you can take part in one of this California mission's traditional ceremonies. Another great feature of this mission is the daily bell-ring at 9am. With 7 rings, this bell represents San Juan Capistrano as the 7th of the 21 California missions. Located just 25 minutes south of Irvine, it's easy to get to. This is a really popular one of California missions.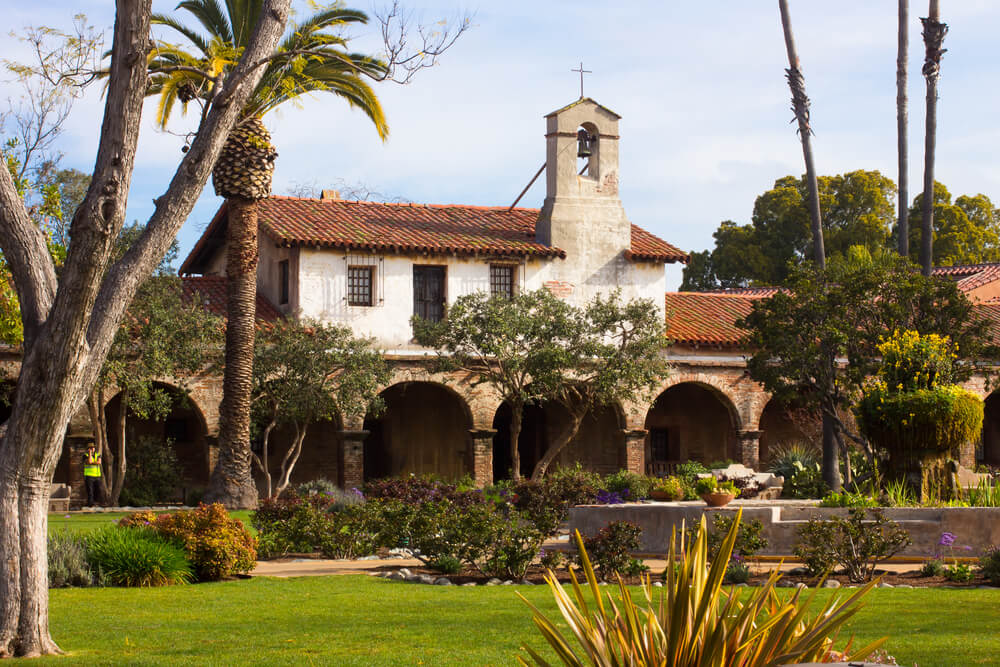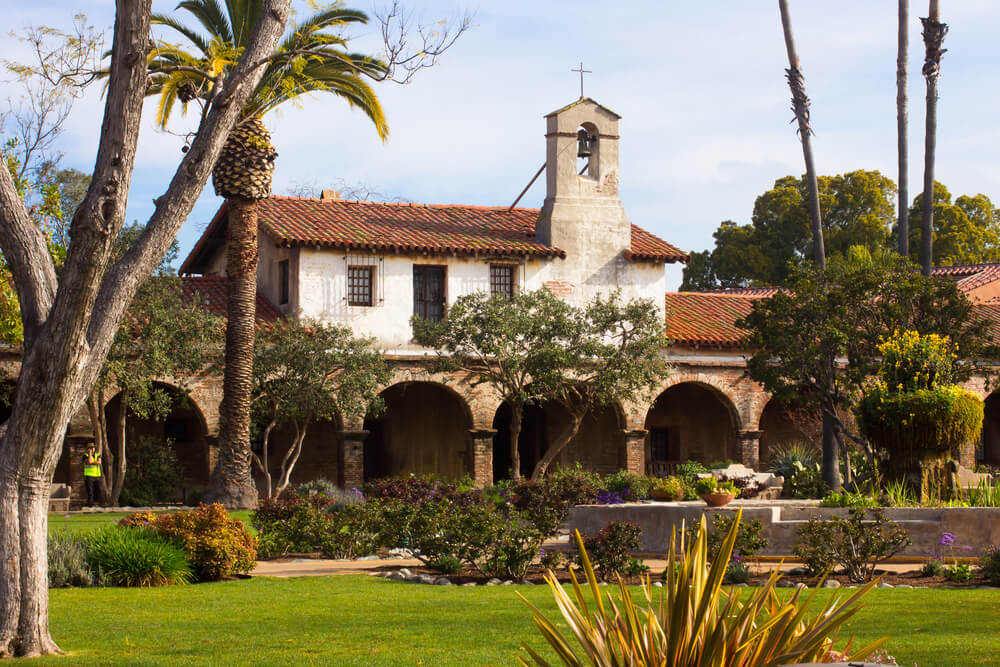 ---
San Gabriel Arcangel
---
The 4th of the 21 Spanish missions in California is San Gabriel Arcangel. Constructed in 1771, it holds the Los Angeles Conservancy Preservation Award for the oldest building in the county!
Located just off the 10 Freeway's Ramona Street exit, it's easy to find, so it's one of the California missions most often visited. Entry to the mission is only $6, so won't leave you majorly out of pocket either.
---
Mission San Fernando Rey De Espana
---
This California mission is an exact replica of the 3rd church completed in 1806. It's less than five minutes from the 5 Freeway's San Fernando Mission Boulevard exit.
Costing you $5 to get in, you'll get a map that recommends a visiting route. One of the highlights at this California mission has to be the Convento, which served as a guest house back in the day. Though the original church was destroyed by an earthquake in 1971, it's replica is a great testament to the original site.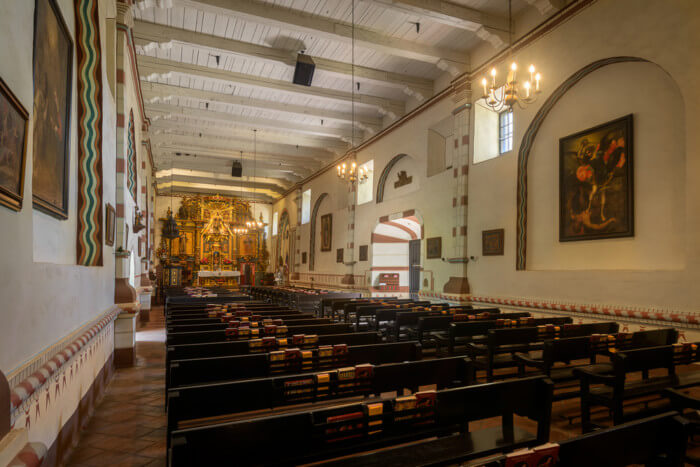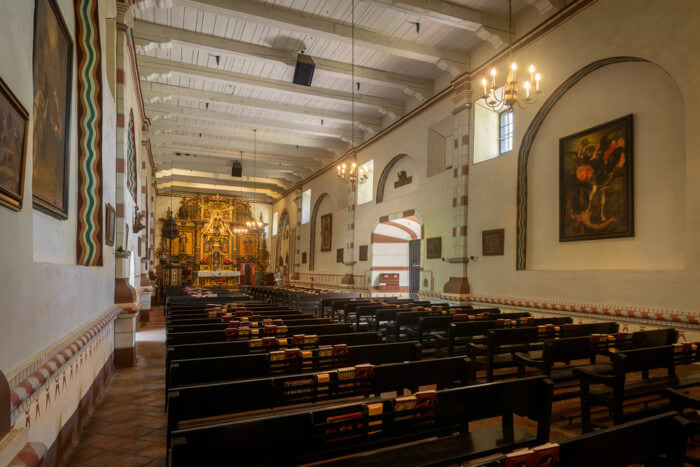 ---
Mission San Buenaventura
---
9th in the chain of California missions, San Buenaventura is perched on a hill above the Pacific. Located on Main Street, you merely need to walk to the adjacent store and pay the $4 entry fee.
Built partly because the missionaries feared that angry Indians may divide the state, it acted as a protective haven. However, as this revolt never happened, this California mission instead became a large agricultural producer.
After earthquakes and tidal waves in 1812, this California mission church has been beautifully restored, with an homage to St. Bonaventure (the patron of the mission) taking centre stage.
---
Old Mission Santa Barbara
---
This California mission is considered by many to be the Queen of the Missions, and it's the 10th of the California missions. Founded by Franciscan Friar Fermin de Lasuen in 1786, you can visit this Old Mission Santa Barbara for free on any day except holidays.
However, should you want to gain access to the gated sectors of the property, you'll have to purchase an $8 tour ticket. It's well worth paying that bit extra, as the cost of admission includes Mission Gardens, a Cemetery (where 4000 Chumash are buried), Church and Museum. With striking views of the Pacific, it's a wonderful compliment to the beachfront area of Santa Barbara and a beautiful one of the California missions to visit.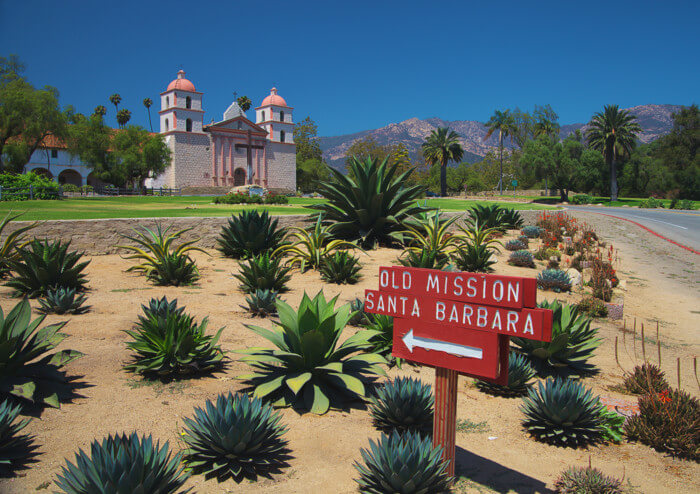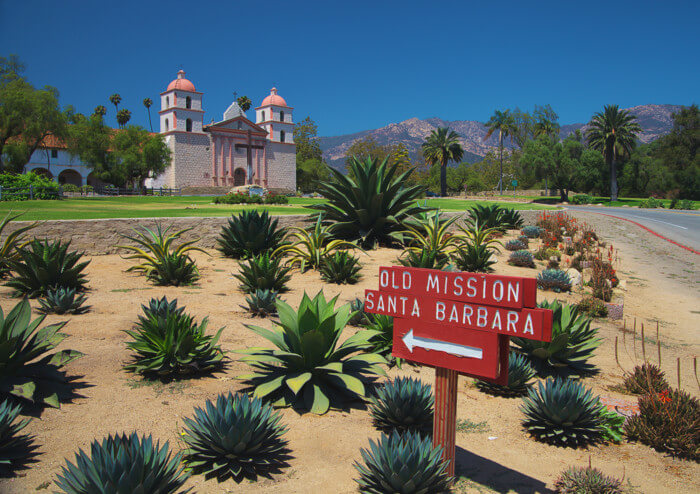 ---
Mission Santa Ines
---
The 19th of the 21 California missions, it is in the small town of Solvang just miles from Highway 101. Founded by Father Estevan Tapis in 1804, it is most famous for being the start of one of the largest Indian rebellions during the mission period.
Mission Santa Ines features bright vibrant colours that have only been improved by various restorations over the years, Santa Ines continues to capture the glory of its early days and it's one of the most beautiful California missions to visit. If you're in need of a place to reflect, be sure to check out the Garden of Resurrection. The perfect place for a reflective moment, it's well worth a visit.
---
Mission La Purisima Concepcion
---
Arguably the most well-restored Californian mission and the most visited amongst students, this is an extremely popular mission.
Sitting on a sprawling 968 acres of land, it's today surrounded by 2,000 acres of parkland. Operating as a site for re-enactments and encampments, this mission often hosts "Mission Days" where residents relive the life of La Purisima and display the skills used at the mission.
Though this California missions was rebuilt several times, it still stands where it was finally built in 1813.
---
Mission San Luis Obispo de Tolosa
---
This California mission church is still serving as a parish with an active church attendance. This California mission is one of the most active of all the Californian missions, even to this day.
Tourists can wonder onto the grounds though, and this Central Californian mission is named after Saint Louis, Bishop of Toulouse. Found in 1772, this mission has an interesting story whereby the fathers of this mission discovered the valley of the bears when food shortages appeared. With mission walls 50-60 feet high, this church is certainly a sight to behold.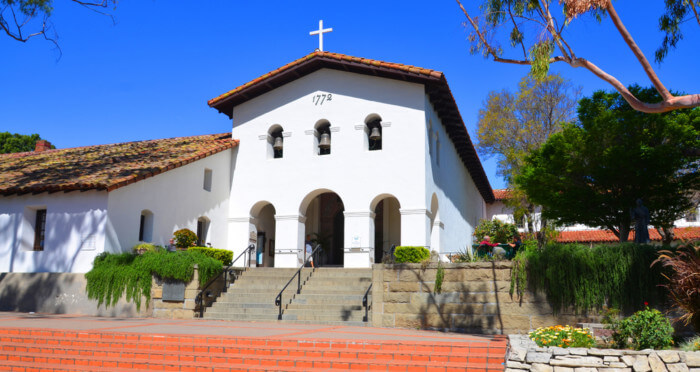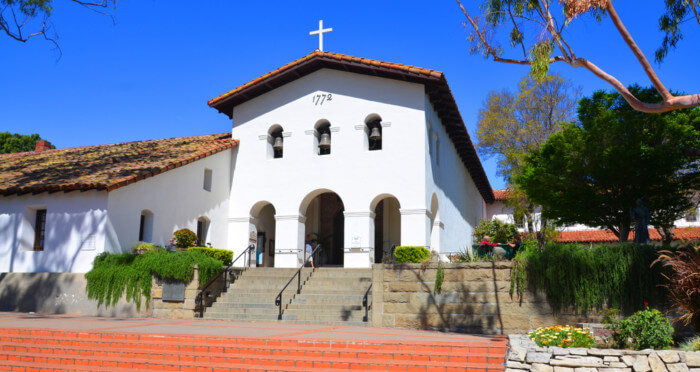 ---
Mission San Miguel Archangel
---
Founded more than 200 years ago in San Luis Obispo County, it's probably one of the top five California missions to see. Having been artfully restored, it is surely a sight to behold and counted by many as one of the most scenic California missions.
With admission coming in at only $3, it is truly a steal. The bright and vibrant interiors of the church were painted by native Indians under the supervision of Esteban Munras of Catalonia.
However, despite restorative work to the mission in general, the inside of the church has never been repainted. Therefore, the murals seen at this mission are authentic and fully preserved. With a massive cemetery where 2,000 Indians are buried, it's an extremely interesting place to visit.
---
Mission San Antonio de Pauda
---
The third of the Spanish California missions founded in California and perhaps the least visited due to its location (it's around 26 miles off Highway 101), Mission San Antonio de Pauda is arguably the most historically intact.
If you're a fan of Californian history though, you should try and make the effort to put this one on your list of California missions. Though this California mission fell into ruins after secularisation, it was restored by the historic landmarks league and the Hearst Foundation which brought it back to its former glory. Fun fact? This church hosted one of California's first marriages in 1773!

---
Mission Nuestra Senora de le Soledad
---
Located in Soledad (about 45 minutes south of Monterey), this was the 13th of the 21 Spanish missions in California. Should you be looking to pay a visit to this California mission, try and visit during October.
With the annual Mission Nuestra Senora de Soledad Grape Stomp Festival and BBQ taking place during this month, it's a rip-roaring good time for all! Alternatively, if you head down in June, the Soled6ad Community Parade and Fiesta is going on.
---
Mission San Carlos Borromeo de Carmelo
---
Located in Carmel, this California mission is one of the most stunning on this list of California missions. After paying a $6.50 entry fee, you will walk into the small courtyard and see the Basilica. Mission San Carlos Borromeo de Carmelo is just beautiful and definitely one of the most traditional looking of the California Missions.
Home to California's first library and containing 30 books from 1778, it's a historical goldmine should you be intrigued about California's earliest books!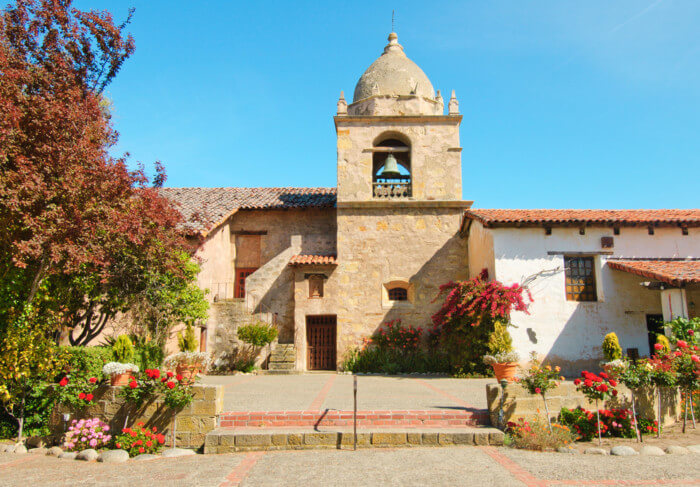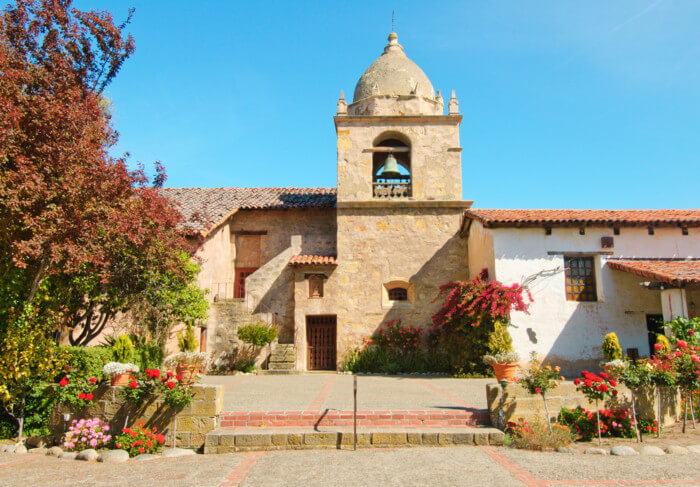 ---
Mission San Juan Bautista
---
Mission San Juan Bautista is the next on my list of California missions. Located in the main downtown square of San Juan Bautista, this mission is a stunning example of a Californian mission.
With some 30 buildings for you to explore and part of California's State Parks system, it's a true highlight if you're looking to explore all 21 Californian missions. Near the mission, there is even an unspoiled section of El Camino Real (or Kings Highway).
Located just beyond the cemetery wall is a marker that shows the direction this road once took. Much of this church remains as it was in 1812, with its main altar and bultos largely unrestored.
---
Mission Santa Cruz
---
The next on my list of California missions is Mission Santa Cruz. Founded in 1791 and the 12th of the 21 Spanish Missions, Santa Cruz is one of the smallest missions on this list.
Though sadly, nothing remains of this mission today, a replica sits on the original site for visitors to look at. Some original paintings, statues and a chalice used by Serra remain intact, but unfortunately, the earthquakes of 1856 and 1857 wreaked havoc on the site.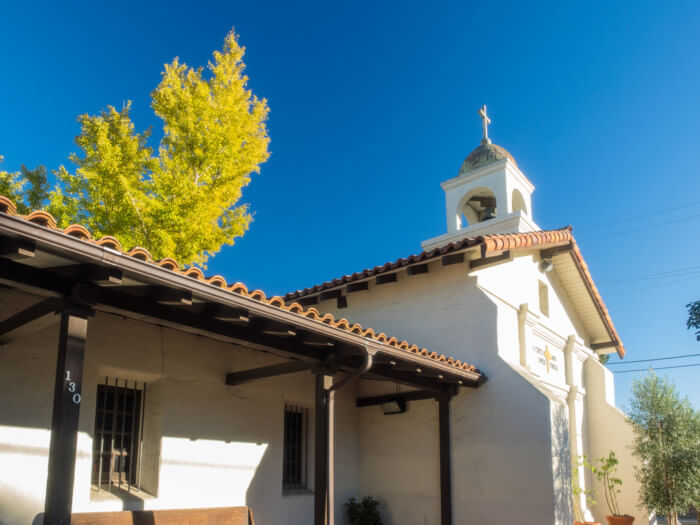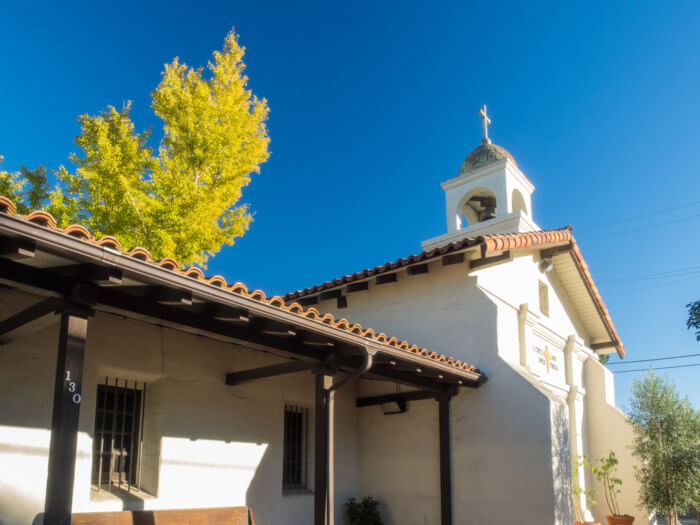 ---
Mission Santa Clara de Asis
---
Now part of a school, Mission Santa Clara de Asis was founded in 1777. Becoming the site of Santa Clara University in 1851, it just so happens to be adjacent to the now-oldest university in California.
Though admission to this California mission is free, you must go to the school entrance to obtain a visitor's parking pass. The interior of this mission is bright and grand, with the original paint being made from cactus juice!
---
Mission San Francisco de Asis
---
The 6th mission established and one of the oldest intact California missions, this one is a must-visit. With a stunning chapel that mixes both Catholic and Indian designs, it's a great look into the past.
Founded in 1776 and named after St Francis of Assisi, it has a truly magnificent ceiling that was painted by the area's Indian population. This mission had an extremely high mortality rate, with over 5,000 Indians passing away by 1832. Though this was likely due to bad weather and European diseases, it remains a tragic mark on the Californian mission history.
---
Mission San Rafael Arcangel
---
The second to last California missions that you'll visit if you're heading north on the El Camino Real, admission to this mission is free and there happens to be ample street parking too!
Named after Rafael the Archangel (the angel of bodily healing), this mission was utilised to aid the increasingly ill Indians at nearby Mission Dolores. In 1822, the fathers decided to make San Rafael a fully fledged mission. With an exciting history, it's well worth a visit!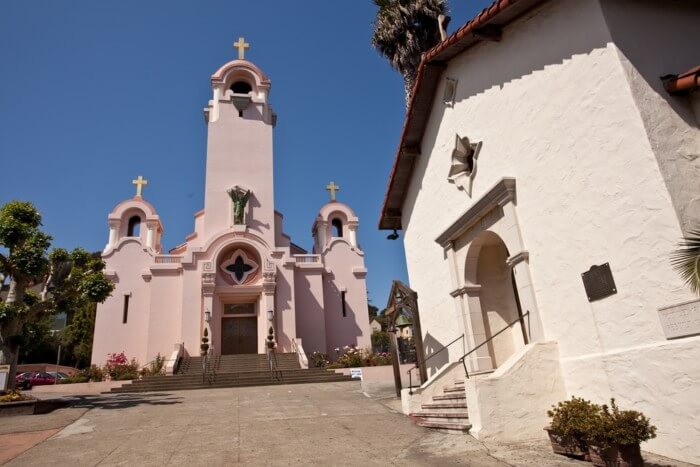 ---
Mission San Francisco Solano de Sonoma
---
The final of 21 California missions established in "Alta" California, this is the northernmost destination on our list and likely the last one you'll visit if you're taking on every single one!
Having passed through various hands and eventually being purchased by a historical preservation group in 1903, it costs only $3 to visit this little slice of history.
Though the original California mission here was destroyed by the earthquake of 1906, it has been restored by the dedicated work of preservation groups. With the Solano museum featuring various coveted paintings, it's a wonderful final checkpoint to round off your mission adventure.
---
My California missions map
---
As you can see from this (HUGE) list, there is so much to know and learn about the California missions, and they span a huge distance along the Californian coastline. It's helpful to see all the California missions on a map – so I made one for you!
Many people take a road-trip along the coast, ticking off as many of the California missions as they can along the way. If this is your plan, you may be looking for a California Missions map to help!
I've plotted all the addresses for all 21 California missions on the Google maps below, you can also click here to view it larger! You'll be able to save this california missions map, screengrab it, or add it into your own google maps – and use it as a guide!
Hopefully it's a useful way of seeing the California Missions!
---
When is the best time to visit the California Missions?
---
There's never a bad time to visit, to be honest. Bear in mind that during religious holidays the California missions may be busier than normal (as they're religious sites) so if you want to avoid crowds and queuing, it's best to visit off-peak.
It's also worth noting that the missions in California will mostly be quite hot, due to California missions be un-airconditioned, and California being quite a hot state (weather wise!). Because of this, I'd personally recommend visiting the California missions in March, April, May or June – before the summer heat fully sets in.
Hopefully that helps and gives you a rough idea of when to visit – but to be honest, there's never a bad time to go to visit the California missions!
---
Hopefully this guide to the California missions is useful and has given you plenty of inspiration in planning your trip to see them!