Wondering what it's like living in Singapore as an expat?
If you're considering a move to Singapore, or you're wondering what it's like living in Singapore as an expat – Please enjoy this guest article by Grace Roberts. She was living in Singapore for 18 years, so you couldn't find a better person to give you the low-down of living in Singapore!
---
What it's like to live in Singapore…
If you're considering living in Singapore, and making the big move abroad to Singapore – hopefully this post will help.
If you've wondered what living in Singapore is really like, then keep reading… As a British expat that lived in Singapore for 18 years prior to moving back to the UK, I'd say that I'm a decent authority on what living in Singapore is really like.
Whether you've been looking for more information on Singapore's culture, the cost of living or what there is to do there, you'll find all you need and more in my indulgent reflection of life as an expat, in what I believe to be the most wonderful city in the world. This guide to living in Singapore will help you understand what the city is like, and what it is like living in Singapore for an expat.
Though there may be a degree of personal bias due to my eternal love of Asia's Little Red Dot, I do pride myself on an ability to spew fact over fiction on this topic that remains close to my heart.
---
Ok, so how does living in Singapore differ from the UK?
---
Now, I must start by saying that I am incredibly blessed to have been afforded amazing opportunities to travel throughout my life. Having a father that relished in long haul holidays to all continents, I have seen a great deal of our humble planet. 
However, in addition to these trips, we would still visit relatives in the UK each summer to ensure that we touched base with the place that remained crucial to us. Though I still see Singapore as my home and native land (cue a rendition of our rousing Majulah Singapura anthem), I have the unique perspective of a British national that has seen all that Singapore has to offer, and had been living in Singapore for a vast proportion of her life.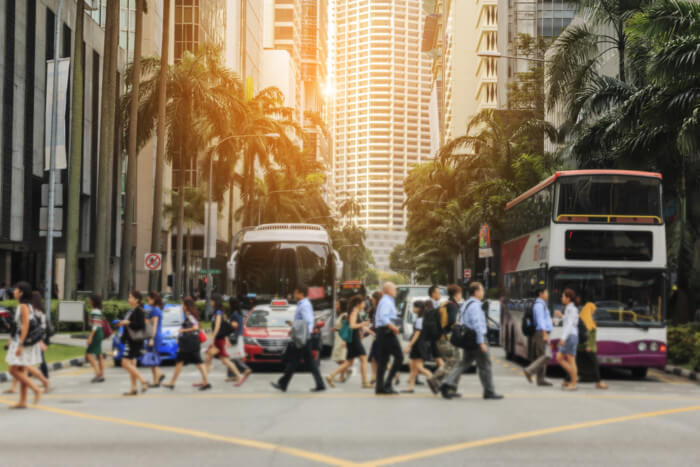 I suppose some of the main differences between living in Singapore and the UK, lie primarily in the type of food available, the transport systems, what one can do there and the tropical climate.
Outside of these basic pillars of our existence that tend to differentiate one country from another, there happen to be distinct similarities between living in Singapore, and living in the UK.
Being a multicultural melting pot, Singapore actually possesses a distinctly international mantra. Whilst you may feel that Britain offers a decent number of international brands and businesses, you're truly afforded the lion's share when living in Singapore.
With Japanese, Chinese, American and British brands being at the forefront of Singapore's vast shopping streets, you certainly needn't worry about being deprived of home comforts when living in Singapore. 
So many cultures are living in Singapore, and it's a beautiful place to be.
---
How expensive is it to eat and do food shops when living in Singapore?
---
A big part of living anywhere (and especially living in Singapore) is the food. Shopping and eating in Singapore is a pleasure, and whether you're after a packet of Australian Tim Tams or just want some British Marmite, you should be able to find it here. Even when living in Singapore (at the other side of the world) you'll still find the comforts of home.
In terms of doing a food shop, you've got your two mainstay supermarkets: Cold Storage and NTUC Fairprice. Though there are small convenience stores like 7-Eleven, Cheers and other local stores, these two are really the "top dogs" in Singapore. Here's a more thorough guide of the supermarkets in the city.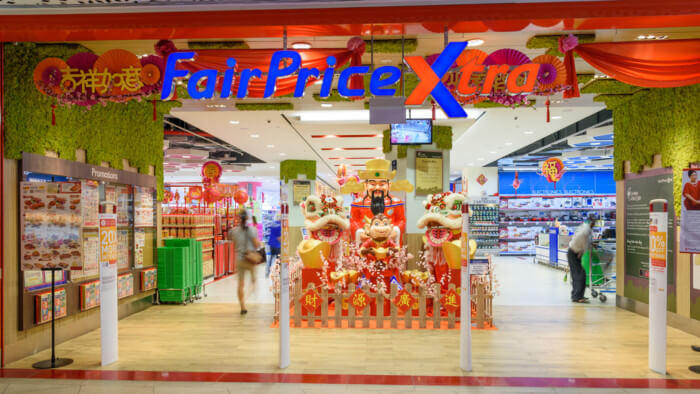 You may pay more for imported brands when living in Singapore…
However, as you scarf down your Tim Tams or Wagon Wheels, you may realise that there is a sizeable dent in your pocket. The downside to having these international goodies at your fingertips is the associated price of importation. It's perhaps one of the downside of living in Singapore – but it would be an issue in any expat country, where goods need to be imported.
As Singapore is an island nation, we do rely on international vendors for even the most basic goods. So a big part of living in Singapore is paying a price tag for imported goodies.
So, you will sadly find that fruit, veg and even basic commodities are more expensive than you're used to. If you have a penchant for quinoa or other wholefood items, you'll find yourself staring even more incredulously at price labels. Unfortunately, there are no two ways around this fact, and food shops in Singapore will always be more expensive than an equivalent shop in the UK.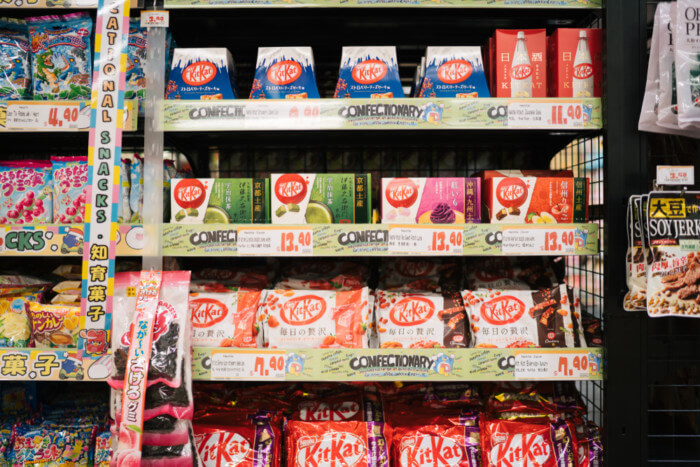 For cheap food…
However, should you be interested, you will find that Hawker Centres are flooded with locals each and every night. Due to the price of food here (we're talking $3.50 per plate), many simply choose to eat out daily as opposed to shopping for food. It's a big part of living in Singapore. Though this won't appeal to everyone, it's commonplace for many Singaporean families to dine out each and every night!
Top tip: The most famous hawker food in Singapore is the iconic Singapore Chicken Rice! It's one of the best bits of living in Singapore.
---
What is the culture like when living in Singapore?
---
Singapore is undeniably one of the most multicultural countries in the world, and you really feel it when you're living in Singapore. With a vast mix of nationalities, languages and practices, you'll be hard-pressed to find intolerance here for any culture.
Though the overall culture is international and forward-thinking, one of the most magical parts of the country is that you'll see all manner of religious landmarks here that reflect the beliefs of Singapore's Chinese, Malaysian and Indian populations.
However, Singapore has well and truly adopted globalization, and you'll find that there will be minimal friction in adjusting to the Singaporean way of life for a British expat.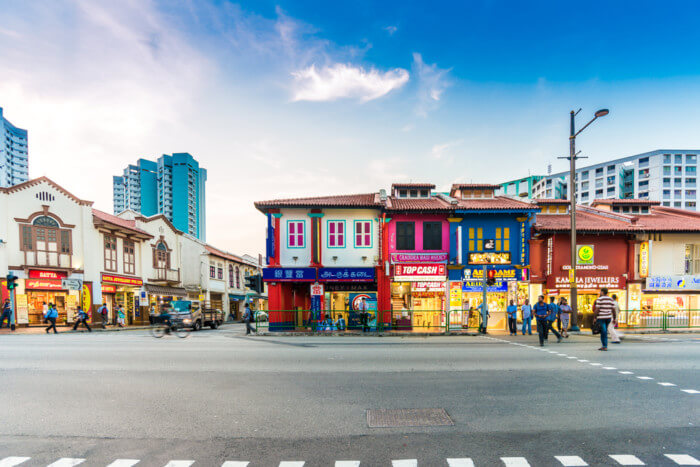 After all, English is almost universally spoken to people living in Singapore, and is the country's national language.
Though you may find Singaporean natives slightly more unfriendly than the average British northerner, they tend to be polite, well-meaning and helpful for the most-part.
Just a word of warning though, Singaporeans tend to be incredibly success driven! Fuelled by a 'kiasu' mentality on account of its strict education system and eternal drive towards global success, Singaporeans do tend to want to 'get ahead'. So, if you expect to be let out at junctions when driving, think again!
---
How safe is it living in Singapore?
---
Crime levels in Singapore are extremely low, and overall, you can expect to walk around town feeling entirely unthreatened. During my 18 years as a citizen living in Singapore, I never once felt unsafe and would feel secure at all hours regardless of what I was doing living in Singapore.
With a general populace that dare not commit crime for fear of strict repercussions under Singapore's legal system, you can rest assured that as long as you're obeying the law, you'll be just fine.
Some expats who are living in Singapore have expressed frustration with Singapore's system, claiming that it is too authoritarian and constricting. However, personally, I have never once felt restricted nor controlled whilst living in Singapore. As a law-abiding citizen, I remain incredibly grateful for Singapore's sparkling trains, immaculate streets and non-existent social unrest!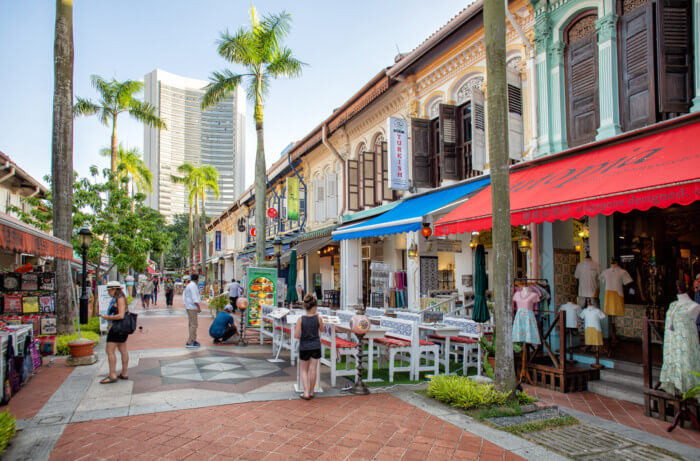 ---
How quickly do you adjust to the climate?
---
Ah, the age-old climate question. And climate is a big thing to consider when living in Singapore.
Admittedly, in Britain, we tend to struggle with any climate change. The sun's out? Well, grab your sunglasses and head to the beach! You see a small fleck of snow? We must clearly close all transport networks until further notice. In Singapore however, the climate is constant year-round – so whilst it is humid and hot, it's not going to take you by surprise each morning.
But a tropical climate can take some getting used to when you first start living in Singapore.
With temperatures averaging in the high-20s to low-30s, living in Singapore is undeniably warm, and humid. Though you may feel comfortable enough in hot climates, it's Singapore's relentless humidity that tends to get to you.
Personally, I adjust very quickly to Singapore's climate, and found myself struggling to handle the cold in Britain when I moved back! As a tropical third-culture kid, I found the humidity normal when living in Singapore, and never once found it to be too much. However, if you're not intrinsically used to it, you might find yourself sweating more than you're comfortable with.
However, there is little cause for concern here, for Singapore has well and truly embraced the miraculous power of air-conditioning! A big difference to the UK! When living in Singapore, you'll become reliant on air-conditioning, but that's OK – because everywhere has it.
With virtually no indoor space being seen without it, you can simply step inside should you need a reprieve from Singapore's tropical weather. A/C makes living in Singapore easy, and the humidity suddenly not so bad.
I find that the weather is luscious for the most-part, and you avoid the mugginess that comes with the British summer's lack of A/C. As with anything climate-related, your mileage may vary, but I find that acclimatisation generally comes quickly! So if you move here, after living in Singapore a while, you'll soon find you get used to it.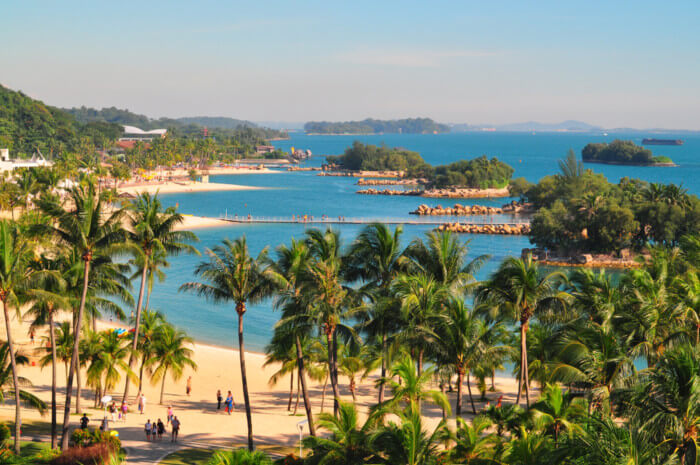 ---
What is there to do when living in Singapore?
---
With endless activities on offer, you certainly won't be bored living in Singapore. Having two wonderful parents that still live out there, they've found their local cinemas, restaurants and shopping malls that have long served as havens.
Due to the number of great neighbourhoods in Singapore, you'll have no issue finding your perfect go-to spots as you adjust to living in the city.
With standout features like Marina Bay Sands, the CBD area and Sentosa island, you'll find yourself in awe of Singapore's majestic architecture for years to come, and all these places can be called home when you're living in Singapore.
With these attractions never losing their wow-factor nor entertainment value, you can spend countless weekends exploring Singapore's sights and sounds and enjoying all the incredible views of the skyline.

As an expat, you'll find hidden gems that you may otherwise miss in a single tourist trip, and local haunts will soon become frequently visited favourites as you settle in.
As a final note on things to do whilst living in Singpore… It is worth mentioning Singapore's many 'expat clubs'. Whether you're of Dutch, Swiss, British or American descent, there are specialist expat clubs that can provide a much-needed taste of home.
With themed activities and regular quiz nights hosted at many of these spots, membership can help to bridge the gap between the familiar and unfamiliar for new residents living in Singapore.
---
The Singapore transport system
---
Another huge plus-point of the city, and one of the best bits about living in Singapore!
With an excellent transport system that covers every sector of the city, it's impossible to run out of places to explore. Whether you fancy taking a trip to Jurong's amazing library or want to indulge your active side and sweat it out on MacRitchie's trails, living in Singapore is undeniably exciting and multi-faceted.
The transport is clean, safe and affordable.
---
A final note on living in Singapore
---
A final note about living in Singapore…
With a strong international community and local culture that is continually welcoming to foreigners, Singapore remains a stunning place to live. There are neighbourhoods to suit every taste, a variety of activities and a strong expat community. One note that I must add before parting, is that once you've decided to live abroad, you should aim to truly live there.
As time passes, you should aim to live less as a tourist and more like a local. Living in Singapore is amazing, if you embrace it like a local. Though personal adaptations in my younger years were undeniably extreme as I code-switched between a Singaporean English accent with classmates and British received pronunciation at home, I truly felt like a Singaporean during my entire time there.
An extraordinary gift that keeps on giving, living in Singapore is truly an amazing place to settle. Singapore is one of the most unthreatening places to move abroad if you're looking to take the leap. With its manageable size, open community and commitment to self-improvement, I can thoroughly recommend living in Singapore and wouldn't change my experience for the world.