---
Are you looking for a list of the best infinity pools in Singapore?
---
If you've ever seen an infinity pool, you'll know that they're amazing feats of design – as well as the most 'instagramable' feature of any hotel or resort! If you're ready to become one with the horizon, take a look at my list of the top infinity pools in Singapore. Singapore is a city with many incredible infinity pools to choose from, so you'll want to make sure you pick on of the best!
After all, Singapore always goes big or goes home, so there's bound to be something on this list to wow you.
---
Marina Bay Sands
---
The first on my list of infinity pools in Singapore…. has to go to Singapore's most iconic infinity pool. Marina Bay Sands is the ultimate, iconic, world-famous infinity pool, is one of Instagram's most photographed swimming pools. You've probably seen photos of this infinity pool without even realising it! If you're googling 'infinity pools in Singapore' then you've probably seen photos of this pool!
If you've seen any photographs of Singapore in recent years, you'll have seen a couple of shots of this epic infinity pool. Perched atop Singapore's Marina Bay Sands hotel, this infinity pool has got to be one of the most talked about in the world. Spanning the entire three-building hotel, this is the most expansive pool on the list. Although this pool deserves the top spot, it isn't accessible unless you're a lucky patron of the hotel itself. We must say though, for this amazing skyline, the cost of a stay might just be worth it.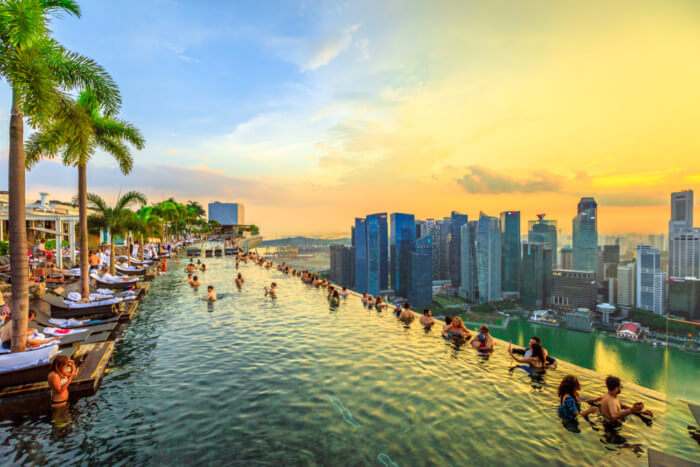 ---
The Fullerton Hotel
---
Next on my list of infinity pools in Singapore, it's the infinity pool at the Fullerton Hotel. If you're looking to peek into Singapore's colonial heritage, the infinity pool at The Fullerton Hotel is my top pick. With Singapore's modernist architecture in full view, you can bask in the history of the Fullerton's colonial design whilst gazing at Singapore's modern skyline. It's a double whammy if I've ever seen one, and you definitely get the best of both worlds.
Whilst perhaps not as glitzy as the Marina Bay Sand's infinity pool, The Fullerton is more about under-stated luxury and elegance. This is old-school luxury, and their infinity pool feels like a calm oasis in the hustle and bustle of the Singapore streets.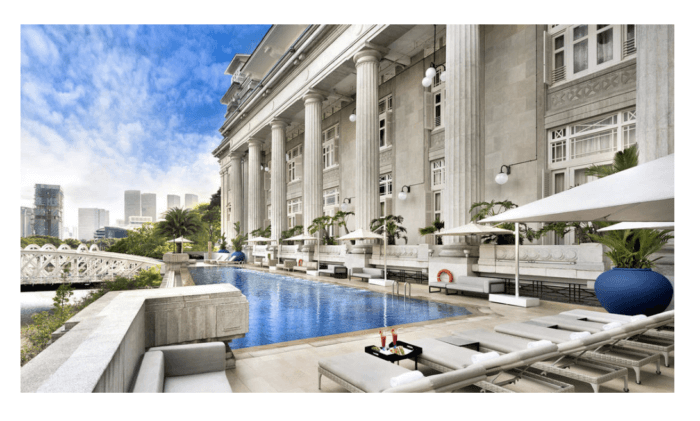 ---
Hotel Indigo
---
If you don't fancy one of the more centrally located infinity pools in Singapore, Katong's best kept secret is a glorious infinity pool on the roof of the Hotel Indigo. Hidden away from the hustle and bustle of the neighbourhood, the pool gives a clear view of this sometimes overlooked, historic area. Packed with shophouses and culture, this pool's view is different from others on my list, but no less dynamic or beautiful!
The location is still great for sightseeing, the the hotel is luxurious but affordable (so great for people with a bit of a budget). As far as infinity pools in Singapore go, this is one of the best value for money.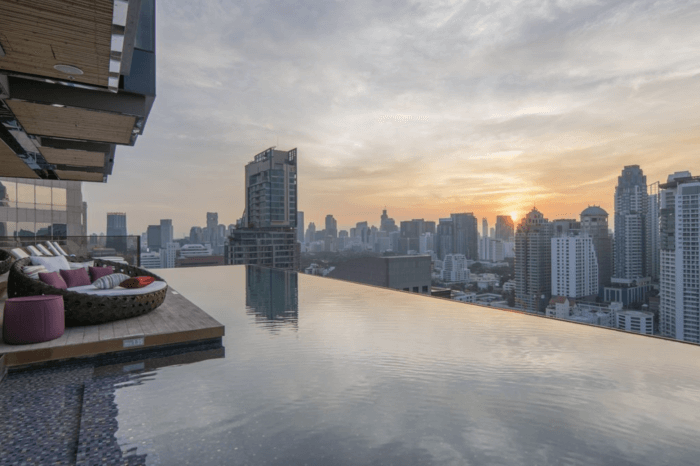 ---
Changi Village Hotel
---
My next suggestion for infinity pools in Singapore, it's the Changi Village Hotel. In on a flying visit, or maybe a quick 24 hour stop over? Sometimes you may just be in Singapore for a short while, without the time to fully explore the city.
If this sounds like you, and you're still craving infinity-pool-goodness, then the Village Hotel Changi is a stone's throw from the airport district and offers a spectacular view of Singapore. It earns a place on my list because of its fantastic bird's eye view of Singapore (without any pesky buildings in the way!) so it's definitely one of the top infinity pools in Singapore.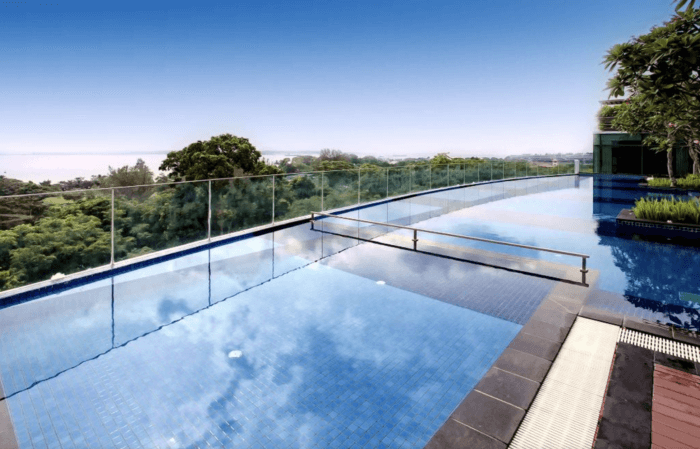 ---
Naumi Hotel
---
This infinity pool in Singapore is in the Bugis district of Singapore (just outside of the Marina area) located inside the Naumi Hotel. If you want to take yourself away from Marina Bay Sands and its surrounding areas, this infinity pool is a great choice. Instead of being right in the middle of the iconic skyline, this beautiful pool shows you the skyscrapers from a different angle.
The pool isn't open to the public, but I recommend booking in to this hotel just to sample the Bugis area and its surrounding bars. It's a different side to Singapore that lots of tourists don't get to see. A drink followed by a dip… sounds lovely.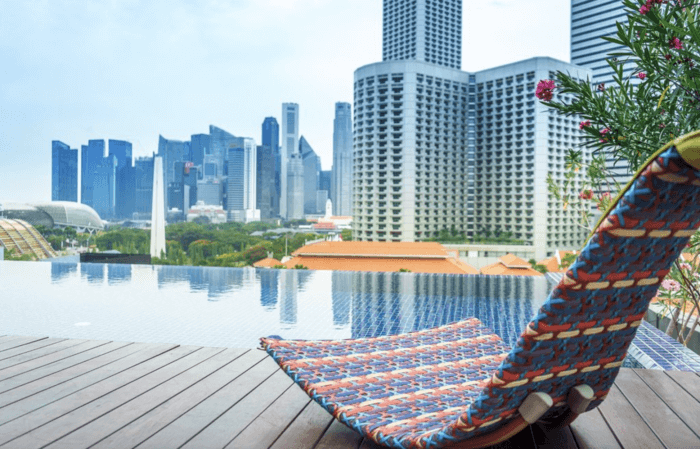 ---
PARKROYAL Pickering
---
A unique infinity pool hidden that's hidden within the cultural hub that is Chinatown is PARKROYAL On Pickering. Located near the hotel's wellness centre, this pool encourages some serious TLC. With breathtaking views of Chinatown and the surrounding area, this pool earns a spot on my list for its peaceful vibe and cool cabanas. Forget your typical sun loungers, this pool's birdcage-esque seating sets it apart from the countless other infinity pools in Singapore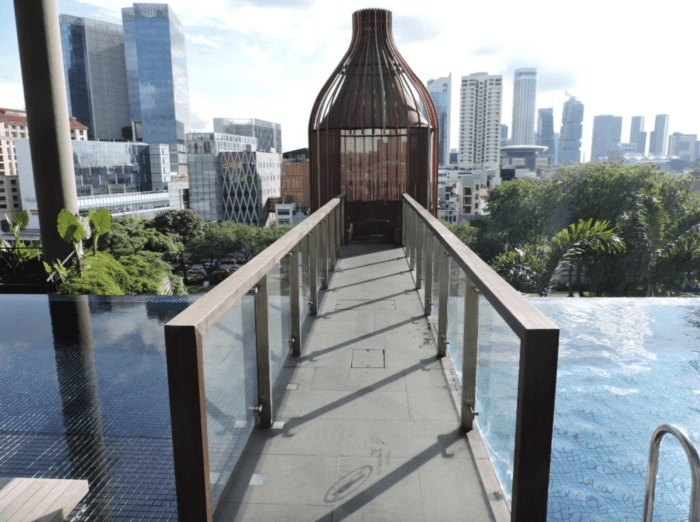 ---
Amara Sanctuary Resort
---
The Amara Sanctuary resort on Sentosa Island has many pools, but the rooftop infinity pool has got to be my favourite. A short walk from Sentosa Island and Universal Studios Singapore, this hidden gem is the perfect place to take a dip. The quiet atmosphere and British colonial buildings of this hotel are major draws, and I love the unique view of the sea that this infinity pool gives.

---
Have you found the perfect infinity pool in Singapore for your trip?
---
My list isn't totally expansive as Singapore is practically drowning in infinity pools (pardon the pun!). But whether you're a born and bred Singaporean looking for a stay-cay or a tourist ready to take the plunge, I hope you've been inspired and helped by this list of the best infinity pools in Singapore.