Are you looking for the top 10 places to swim with dolphins in Florida? If so, this list will give you all the information you need!
Swimming with dolphins is one of those experiences that you never forget, and there are many places you can swim with dolphins in Florida.
Now, it probably won't surprise you, but swimming with dolphins remains one of the most popular activities in Florida!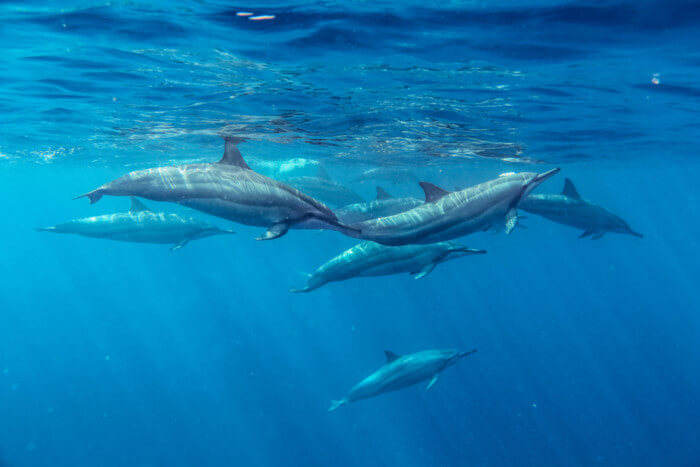 So, if you're looking for amazing places to swim with dolphins in Florida, this list will have you covered!
We've compiled a great list of the top 10 places to swim with dolphins in Florida so that you can plan the perfect experience to fit in with your trip to the Sunshine State!
So, without further ado, let's check out the best places to swim with dolphins in Florida!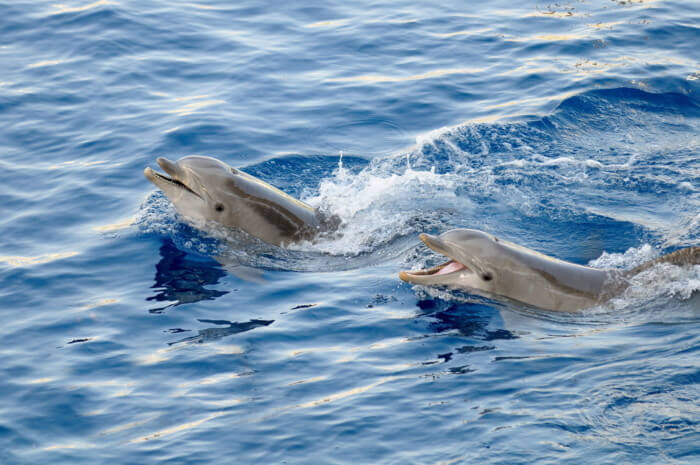 ---
Gulf World Marine Park
If you're looking for a great place to swim with dolphins in Florida in a controlled environment, then we highly recommend booking an experience at the Gulf World Marine Park.
Offering multiple different experiences such as the Royal Swim with Dolphins and Dolphin Swim Adventure, this is a great option for people looking to swim with dolphins without the pressure that can come with a new activity!
There are some restrictions on height at Gulf World Marine Park, but it's generally an excellent choice if you're looking for a dolphin swimming experience for the whole family.
Read more Florida travel tips: Where to find the clearest water in Florida (10 amazing beaches!)
---
Panama City Beach
If you're looking to catch dolphins out in the big wide world, then Panama City Beach is an excellent place to explore.
As there are a bunch of tours at Panama City Beach that offer dolphin swimming experiences, you're sure to find one that will suit you.
What we love about picking a tour is that you often encounter other marine animals too. Whether that's sea turtles or fish, it tends to be a deal within a deal if you decide on one of the more open water options.
Blue Dolphin Tours tends to be one of the more popular firms to book with, but you might find one you prefer with a bit of old-fashioned Googling!
Read more about Florida: 16 amazing water parks in Florida!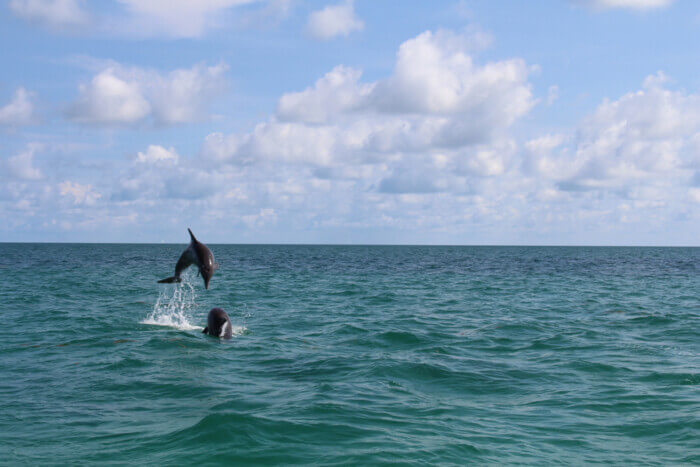 ---
Fort Walton Beach – Gulfarium Marine Adventure Park
The Gulfarium Marine Adventure Park is one of the best places to swim with dolphins in Florida.
Offering opportunities for guests to both swim with and feed the dolphins, it's one of the most well put together dolphin experiences in Florida.
If you're looking to learn more about dolphins on the way, be sure to listen to the dolphin trainers – they tend to drop some great knowledge and it might just help you to bond with your new friend!
---
Key West – Fury Water Adventures
Another fantastic place in to swim with dolphins in Florida is at Fury Water Adventures in Key West.
Key West is something of a dolphin hotspot, so you'll probably find that dolphins are much more comfortable here than in certain other centers.
With an awesome tour that includes snorkeling, dolphin interactions, and fun facts from trainers throughout, you're sure to walk away from your day at Fury Water Adventures having had an amazing time.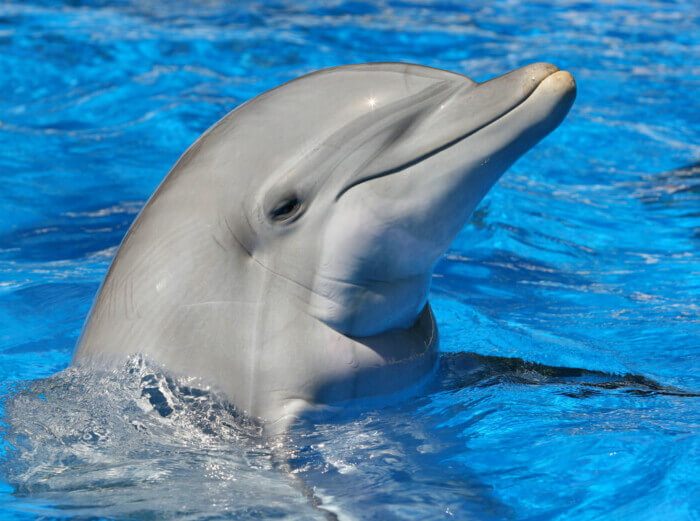 ---
Key Largo – Island Dolphin Care
If you're travelling with little people with special needs who are desperate to swim with the dolphins in Florida, then be sure to book in with Island Dolphin Care.
The guys at Island Dolphin Care have developed a program specifically for kids with special needs, so you can be sure that the experience of swimming with dolphins here is safe, secure, and as wonderful as can be!
Just be sure to check in advance whether the experience will be suitable for your family, as you won't want to be disappointed on arrival if you can't participate!
---
Key Largo – Dolphins Plus
Another great place in Florida to swim with dolphins is Dolphins Plus in Key Largo.
The Shallow Water Dolphin Encounter is advertised as a waist-deep dolphin interaction where you can meet the dolphins up close!
What we love about Dolphins Plus is that not only is it led by an experienced dolphin trainer, but one-on-one contact is a given.
If you're travelling with kids who are desperate to meet dolphins, then just be sure that they're over 4 feet and 6 inches tall! Otherwise, you'll have to hold them up.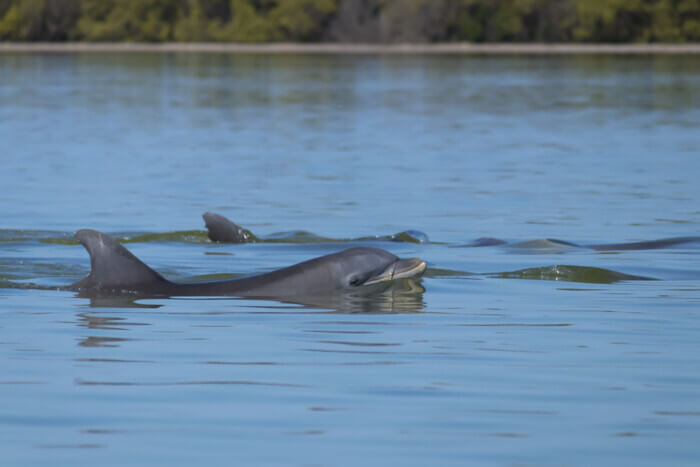 ---
Islamorada – Theater of the Sea
If you're looking to get up close and personal with dolphins, then Islamorada: Theater of the Sea is one of the best places to visit.
As one of the most popular places in Florida to swim with dolphins, you certainly won't be disappointed with the experience here.
One of the most unique parts of your dolphin experience is sure to be the bottomless boat ride.
On this boat ride you can see those gorgeous dolphins swimming around underneath your boat – how cool!
---
Marathon – Dolphin Research Center
We love the Dolphin Research Center as it aims to educate visitors whilst providing an awesome experience to guests.
As well as providing opportunities for guests to interact with dolphins, it also has a popular painting program too!
All guests need to do is to create a T-Shirt design that the dolphin then decorates with water paint.
So, not only will you have an amazing experience, but you'll walk away with a one-of-a-kind souvenir too!
---
Miami – Miami Seaquarium
Though there are plenty of marine animals on show at the Miami Seaquarium, one of the main draws of this attraction is Dolphin Harbor.
With frequent dolphin meets on offer at the Seaquarium, you'll be able to pop your wetsuit on and truly interact with these wonderful creatures.
If you have the time, be sure to check out the Conservation Outpost to learn more about how to keep marine animals alive and well in the wild!
---
Orlando – Discovery Cove
If you're looking to meet some dolphins in Orlando, then Discovery Cove is the perfect place to visit.
With excellent one-on-one dolphin encounters available here, you'll get to live your dolphin dreams in a safe and comfortable environment.
What we love about Discovery Cove is that they focus on the individual personality of each dolphin.
As you interact with these dolphins in the water, a guide will talk you through your dolphin's personality so that you can connect with them on a deeper level.
Oh, and if that wasn't cool enough, to round off your dolphin experience you'll be pulled back to the group at the end of your session by your dolphin pal. Awesome, right?
---
Hopefully, this list of places to swim with dolphins in Florida has given you lots of useful information!