Marrakech is a really interesting city, and it's somewhere I loved visiting last year with my sister. It's full of beautiful places, there's loads to see and do – and the food is amazing. However, before visiting, I made sure I researched what would (and wouldn't) be acceptable in terms of clothing and what to wear in Marrakech.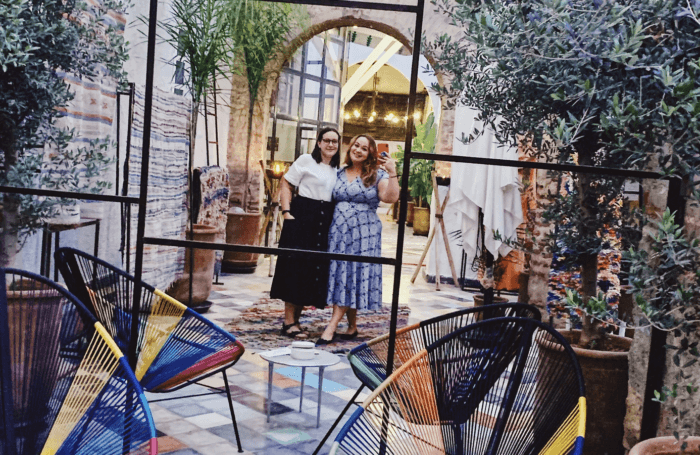 If you're new to my blog – I was actually born in the Middle East, and I have family who live in Dubai, so I've travelled a lot through Muslim countries and regions. Whenever I travel somewhere new, especially if it's in the Middle East, Africa or Asia – I'll generally try and sense-check what kind of clothing is deemed OK to wear.
It makes my trip more enjoyable, and it means I've got the appropriate clothing for the location I'm visiting.
Why do you need to check what to wear in Marrakech?
Honestly, it's mainly out of respect. As in any cities or towns, some outfits will pull more attention than others, it's just common sense to try and follow those culture-codes. When a country or city has a strong religious code (which Marrakech does) it's important to make sure you're being respectful of their traditions and culture when you visit, otherwise you might end up (hoever unintentionally) offending locals.
I should preface this post by saying….
I believe that women should be able to wear whatever they like, wherever they like – without worrying about how they're treated or perceived – but unfortunately the world doesn't work like that and some countries / cities are much more conservative in their views than others.
Dressing correctly for your location is important for showing respect, but also (in many places) for your safety too.
It's also important to dress 'appropriately' for the location you're visiting, because it'll help to make sure you can see and experience everything you want to. For example, there are many religious or cultural sites in Marrakech where a more strict dress-code is enforced than in the market areas or general streets. However, if you make sure your outfits meet most guidelines and dress codes from the get-go, you're not going to be worried about being turned away, or breaking any rules.
How does safety factor into it?
As a woman especially, the clothes you wear can have a real impact on your enjoyment of a place. In cities such as Marrakech, where the culture is more conservative than in the West (and perhaps what you're used to) it's a good idea to try and dress as locals do, so as not to draw more attention to the fact you're visiting from out of town.
I actually found Marrakech to be relatively safe, and 90% of the people we met were incredibly friendly and welcoming – but that doesn't mean you should take safety for granted. As with visiting any city (East or West) I put my safety first. If dressing respectfully and in-line with a city's culture is something that can impact my safety whilst I'm there – you'd better believe I'm going to pay attention.
What did I wear in Marrakech?
When deciding what to wear in Marrakech, I actually found it relatively easy to dress for Marrakech. I found dresses that were either midi or maxi in length were the easy choice, and tried to find ones that also covered the majority of my shoulders and chest – so I didn't need to carry extra shawls or cardigans with me.
That's it – nothing more complicated than that.
Here are a few photos of the outfits I wore (and my sister wore) during our time there: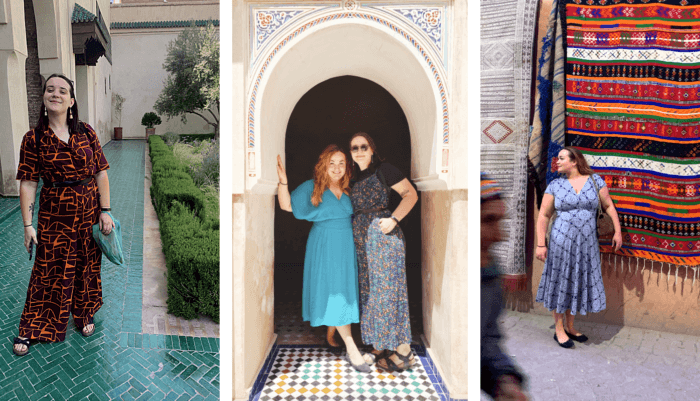 As you can see, my sister favoured playsuits more, and she found some gorgeous playsuits that were full length and made of lovely breathable fabric too. In the cases where the playsuit didn't cover her shoulders, she just slipped a thin t-shirt underneath.
Points to remember when thinking about what to wear in Marrakech
My general guidance whilst packing your outfits and clothing for Marrakech (as a woman) would be to pack the following (these things are all good to wear and should be fine pretty much anywhere in Marrakech).
Things to PACK:
Midi or maxi dresses
Knee length (or longer) shorts or trousers
Full length or midi playsuits
Tops that cover shoulders and majority of chest
Look for loose cotton / linen (airy materials that will keep you cool)
Things to AVOID:
Any skirts, shorts or trousers that end above the knee (aim for knee-length or longer)
Vest tops or bandeau tops (unless you have a cardigan to put over the top to cover shoulders)
Deep-V-neck tops or anything overly revealing
Skin-tight clothing (mainly because you might get hot in the climate!)
Any man-made fabrics that may make you feel over-heated
I hope this post about what to wear in Marrakech helps you when planning your vacation! The key thing to remember is to dress respectful of the culture, and if in doubt always go for the slightly more 'covered' version of the outfit.
Tips for dealing with any harassment
It's important to remember that women travellers and tourists do draw attention in Marrakech, and you'll often be called from stores or by market sellers. This 'haggling' can be verbally aggressive sometimes, and you might find it a little daunting if you're not used to it.
This can happen no matter what you're wearing – so it's important to remember that. In most cases it's not personal – it's just how business is done. However, by dressing respectfully (and following the guidelines above) you minimise the chances of these interactions becoming negative or overbearing in a way that might make you feel uncomfortable.
Most of the people in Marrakech are extremely friendly and welcoming – and you'll find that even more so when you're respecting their culture and way of life during the short time you're visiting.
Any questions – please ask in the comments below and I'll try to reply as quickly as possible.