When I was searching for somewhere to stop in Marrakech, I knew I wanted to stay somewhere that was in the traditional riad-style of the market city. You basically have two options in Marrakech – either you stop in a riad in the market, or you stop in a larger (more modern) hotel near the beaches (which is slightly outside the city). We ended up choosing a riad which I think is the best riad in Marrakech, Riad Safa.
A riad is a bit like a Bed and Breakfast, with common spaces, and outdoor space (usually on the roof) and breakfast in the morning. Some riads have swimming pools or 'dip pools' on the ground floor, some have an extended dining space or lounge area. The vibe of a riad is cozy, comfortable and homely – like a little oasis of calm in the otherwise chaotic and busy Marrakech.
Anyway, I found Riad Safa on TripAdvisor, and it has wonderful ratings and the photos looked great – so I booked it. We paid £60 a night for the room (£30 each) and couldn't believe how amazing the value was.
Let's talk about the decor
The decor inside the riad is stunning. Riad Safa is the perfect mix of modern and traditional. It feels spacious and homely – but it also feels sophisticated too. Honestly, I loved the decor inside the Riad so much – I couldn't stop taking photos of it.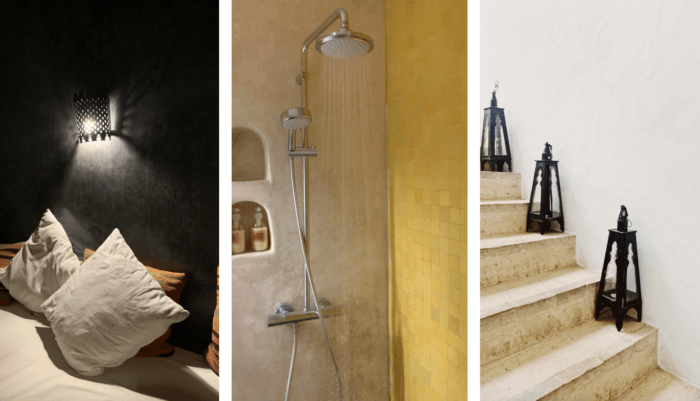 Common spaces and relaxation spaces
The bedrooms aren't huge, but that doesn't matter, because there is so much common space and so much space to relax inside the riad itself. In Riad Safa, which I think is one of the best riads in Marrakech, you have a pool on the ground floor, with sofas and arm chairs, then on the second floor, you have more sofa and arm chairs, as well as dining tables too. And then there is the roof terrace…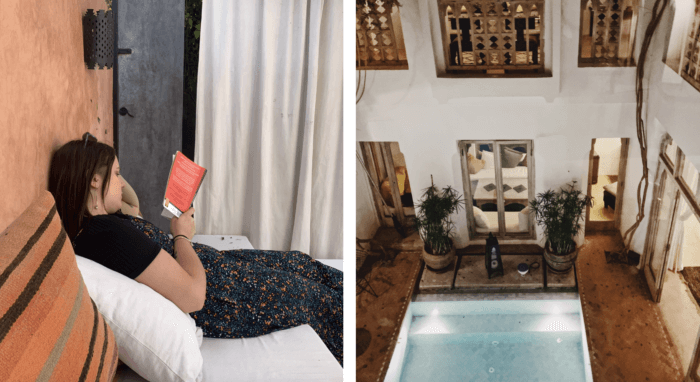 The outdoor space
The roof terrace at Riad Safa is where you'll spend most of your time – it was just magical. The rooftop was huge – with multiple loungers, multiple tables and chairs and even little 'corner snugs' where you could relax in private. There was even a massage room and a hot tub too! Can you get better than that? We loved coming back to the rooftop after spending a busy day in the markets.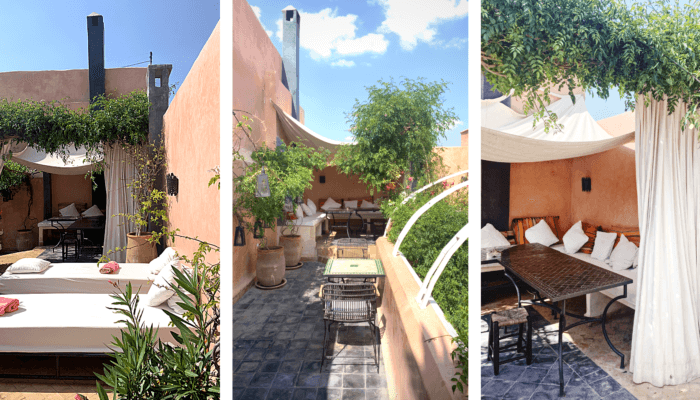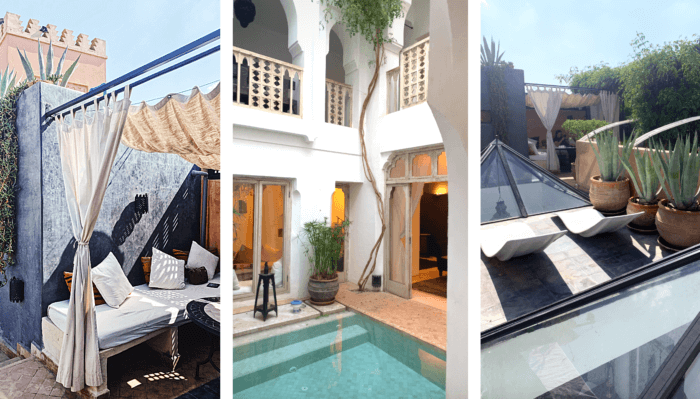 Was it busy?
No, we were surprised by how calm and quiet the riad felt. There were a couple of times during the weekend when we saw another couple eating breakfast, or leaving their room – but aside from that, we didn't really bump into any other guests.
Was Riad Safa easy to find?
The market area of Marrakech can be a little bit hard to navigate and bit difficult to find your way around at first. But don't worry, when you arrive in Marrakech, you can arrange a cheap transfer directly with the riad manager – who sends someone to literally walk you to the road front door. So your first time finding the riad will be super easy. After that, it's up to you – but if you have Google Maps on your phone you'll be fine. You'll also be given a map by the manager, which we found really useful.