If you didn't already know, I absolutely love Las Vegas. My husband and I visit every year, and even though we know it's not to everyone's taste – it's definitely to ours.
One of our dreams is to one day own a property there, or perhaps own part of a timeshare – so I began looking at different Las Vegas timeshare resorts and seeing what they offered and the kind of facilities you get, compared to stopping in a hotel
First of all – What is timeshare? 
A timeshare (or timesharing) is a form of vacation ownership. In the most traditional form, when you buy timeshare you essentially purchase the right to vacation one week every year at a specific timeshare resort.
Buyers of timeshares usually own the rights to a property for a specific amount of time each year, so it's a great idea if you love a certain location and know you'll want to be going back there each and every year. There are many ways timeshares can be organised, though! A fixed timeshare provides the owner with the same unit and the same week, year in year out, for as long as the contract stipulates – however if you buy a timeshare with a floating week, the dates are more flexible and you can choose a new vacation week each year.
Here are my top picks for timeshares in Las Vegas…
Elara, a Hilton Grand Vacations Club
I love the super modern look and feel of this place, and the reviews online are pretty incredible too. Location-wise it's just off the strip, with easy access to Planet Hollywood Casino (one of my favourites). The facilities are basically what you'd expect of a 5* hotel, and the pool area looks incredible. And let's face it – in Vegas the pool is a main draw!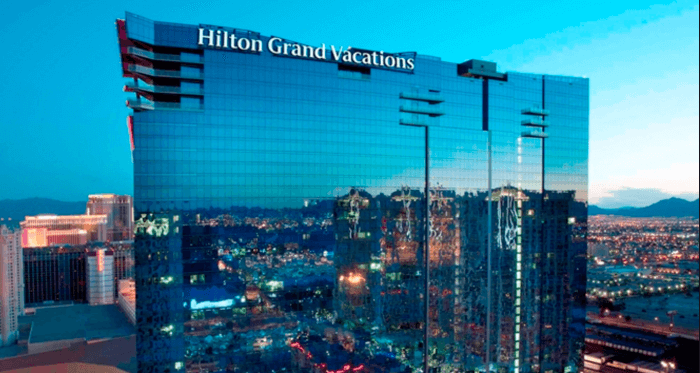 Wyndham Grand Desert
This timeshare resort has a more classic style, and the apartments feel more homely than hotel-y which is nice. If you were to go back year after year (which I guess is kinda the point) then this place would feel like coming home. I really like the pool area here too. Location-wise it's in a similar location to the property above too, however a little further (only a couple of minutes) from the main strip.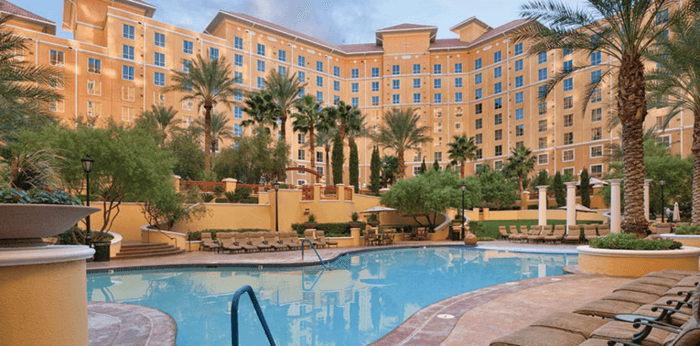 Grandview at Las Vegas
Rated as a 4* grade, this timeshare seems to be a good family-friendly option. The pool area is majorly geared towards kiddies, so if you're looking for a place to spend family holidays – this could be a fab option for you. Location-wise it's a little further away from the previous two properties, closer to the airport, but much further from the strip.
Hilton Grand Vacations Club on the Boulevard
Located towards downtown Vegas near Circus Circus, this one is in another great location. If you're a big fab of downtown Vegas (rather than the newer strip side) then this location might suit you really well, as you're basically halfway between both.