Whilst we were recently in Las Vegas, we were lucky enough to be invited to The Foundation Room at The Mandalay Bay Hotel for an evening of drinks and food. Ever since I first visited Las Vegas I had been desperate to visit a rooftop bar with a view, and The Foundation Room at Mandalay Bay was just that.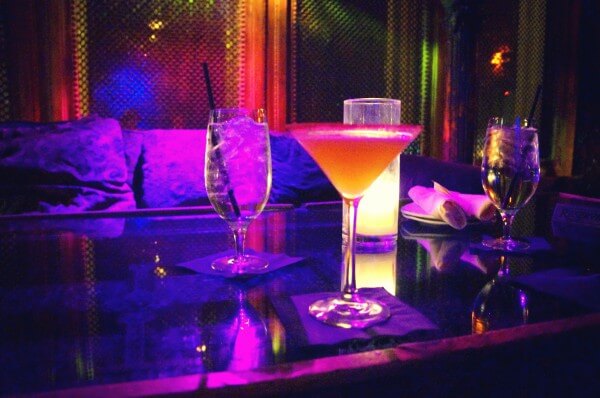 We started the night in a private room just off the main bar and overlooking the more suburban side of the city. The whole decor of the place is magic, with authentic carved wooden sculptures from Asia, and beautiful wooden panels and columns.
You can see the private room where we ate in the photo below and you see just how gorgeous the atmosphere, lighting and decor is. It felt cosy and luxurious all at the same time – which is quite a hard balance to strike.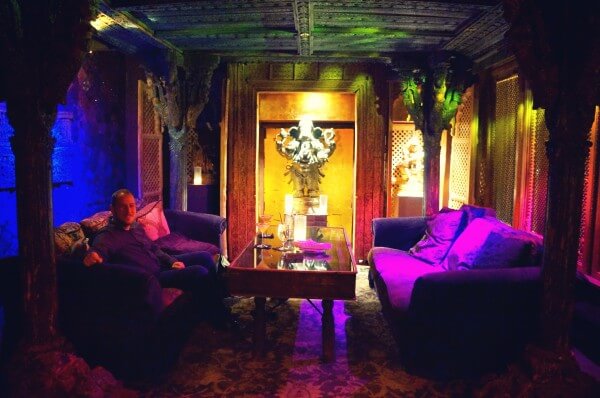 The menu consisted of various posh bar snacks, and we tried them all. There were crab cakes (which I couldn't have because I'm allergic, but Pad proclaimed his love for them instantly), pork tacos, a fish salad, mini BLT sandwiches and these deep fried chicken meatballs with dipping sauce.
The food felt more or less asian inspired – and it was seriously delicious.
Oh and the cocktails. The many many cocktails. They were pretty special too.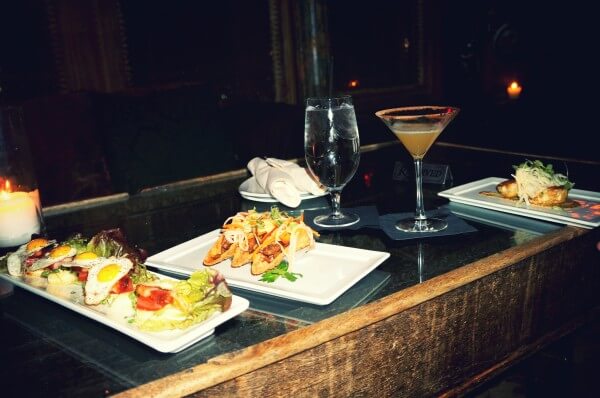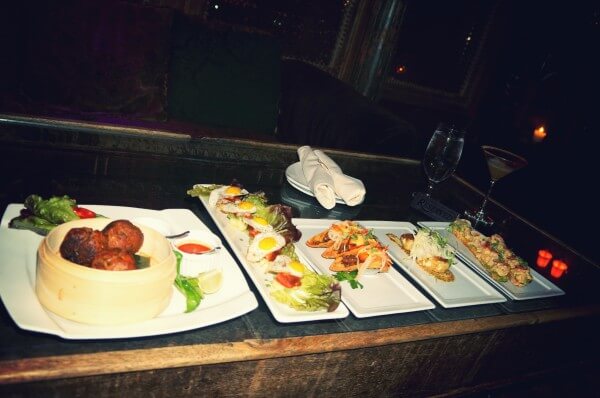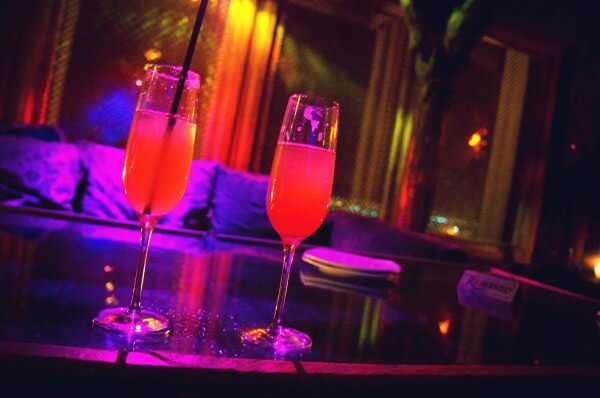 After our drinks and food, we made our way into the main bar and their famous outdoor terrace to enjoy more drinks and the amazing view. And passing through the bar, you get a taste of even more amazing decor too. The below sculpture was about twice as big as me, and absolutely breathtaking, it was so incredibly intricate and detailed. I could've stood and looked at it all night – but the cocktails were calling us to the bar so we dragged ourselves away.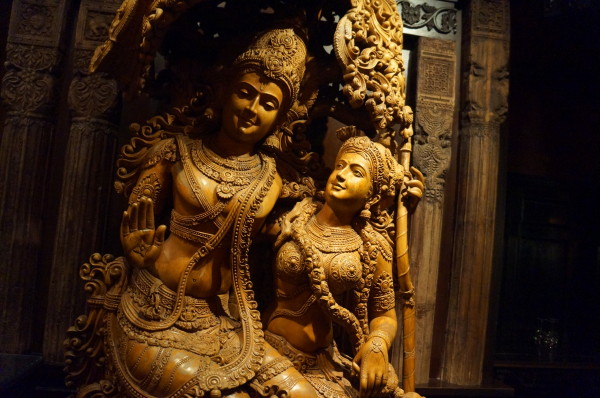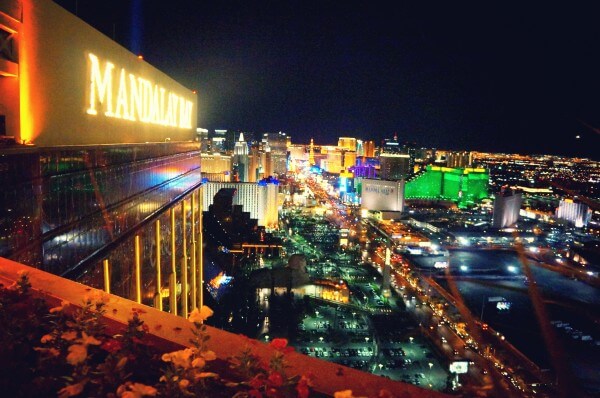 As you can see from the photos above and below, the view was epic. Without a doubt the best view in Las Vegas and unbelievable. You can literally see the entire strip from their terrace, and the lights glisten and sparkle, and it's magical. If you're looking for somewhere special to go whilst you're in Vegas, this is the place. There's no where quite like it.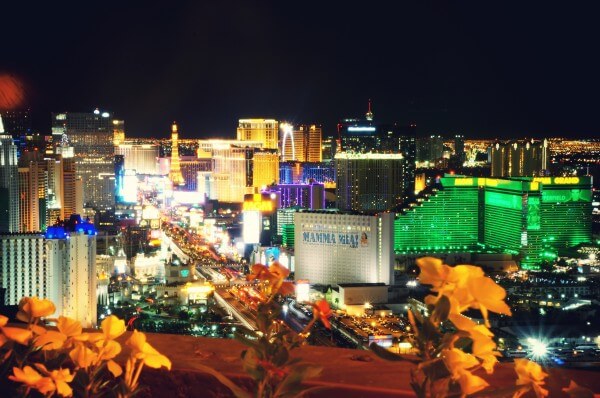 Pad couldn't stop raving about the Old Fashioned cocktails (his all time favourite), whilst I moved onto wine, more cocktails and then Baileys to finish off the night. We sat in the bar for at least 4 hours after finishing our food, just to soak it all in, and it was perfect.
The bar is lively, yet atmospheric and friendly too. There were plenty of places to sit; from sofa and arm chairs to bar stools. It didn't get over crowded the whole night, and we never had to queue too long at the bar either which was great. The bar had a great buzz, but one of sophistication – not manic or frazzled like you'd expect in a lively Vegas bar.
You know those nights you'd happily live again and again and again? This was one of those nights. Perfect in everyway, from the food, to the service to the view. Everything was mind blowing.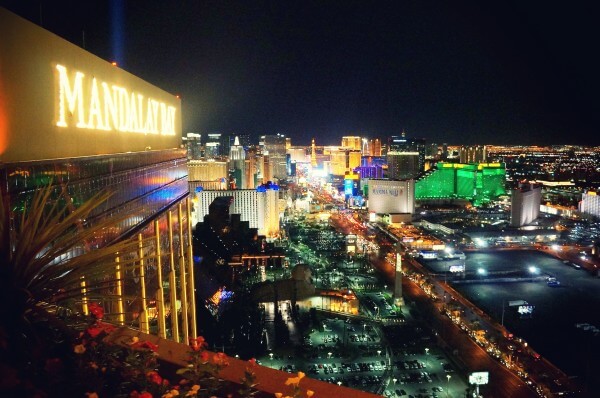 We basically had to drag ourselves away from the view when it was time to leave. But who can blame us when the view looks like that?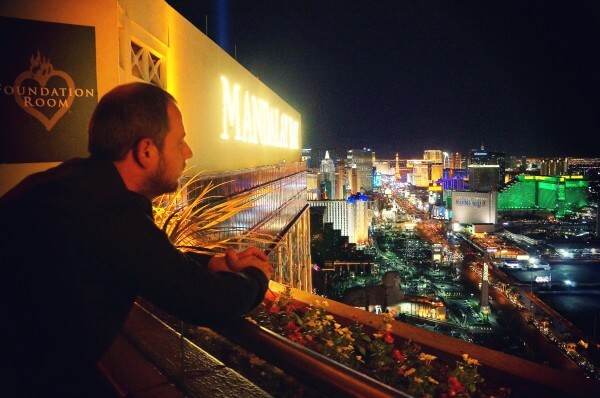 A bit of practical info about the bar…
Nightly Membership Admission: $30 per person (worth every penny let me assure you!) and nothing compared to admission fees in some of Las Vegas's more high profile clubs and bars. 
Opens at 10:00 p.m. daily.
For more romantic things to do in Las Vegas for couples, take a look here at a previous blog post!