Are you looking for photos and a review of the Wynn buffet in Las Vegas? This blog post has all my thoughts (positive and negative) about the Wynn buffet – as well as some advice on how to get the best out of the experience.
---
Today I'm writing up our experience at The Wynn buffet – another one of the best buffets in Las Vegas. Earlier in the week I reviewed the food buffet at The Aria, and I can't actually decide which I enjoyed more – they both have their advantages and unique selling points.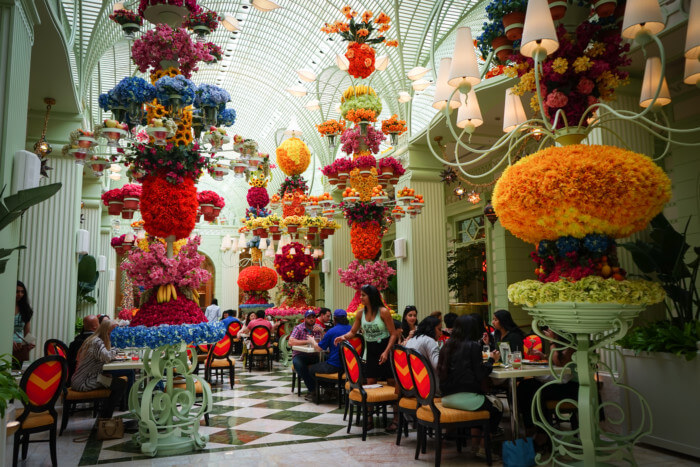 ---
How expensive is the Wynn buffet?
The Wynn buffet is probably one of the more expensive buffet options in Las vegas, but there's reason for it. The style, sophistication and quality of the food at the Wynn buffet is really stand-out. The food is delicious, thoughtful and really high-quality.
The most recent prices for the Wynn buffet are:
| | |
| --- | --- |
| Child Breakfast Buffet | $9.99 |
| Adult Breakfast Buffet | $24.49 |
| Child Brunch Buffet | $15.99 |
| Adult Brunch – Monday-Friday | $29.99 |
| Adult Brunch – Saturday & Sunday | $37.99 |
| Child Lunch Buffet | $12.99 |
| Adult Lunch Buffet | $26.99 |
| Child Buffet Dinner – Monday-Thursday | $18.99 |
| Adult Buffet Dinner – Monday-Thursday | $43.99 |
| Child Buffet Dinner – Friday, Saturday & Sunday | $19.99 |
| Adult Buffet Dinner – Friday, Saturday & Sunday | $52.99 |
Top tip for saving money!
Most buffets in Las Vegas (including the Wynn buffet) are cheaper during the daytime for breakfast / brunch or lunch. If you don't mind what time of day you'll be sampling the buffet, then opting for an earlier seating is a great way to save a little money. The food options are a little bigger in the evening, but there isn't a huge difference – so you get the same kind of experience.
Be prepared to queue…
The Wynn buffet is a really popular buffet (as it's one of the best on the Las vegas strip). If you're heading to the Wynn buffet during peak times (Thursday, Friday or Saturday evenings) then it's best to assume there will be a queue! The wait may be 15 minutes, but it may be up to an hour. A way to skip the line at the Wynn buffet, is to visit off-peak, during breakfast or lunch hours.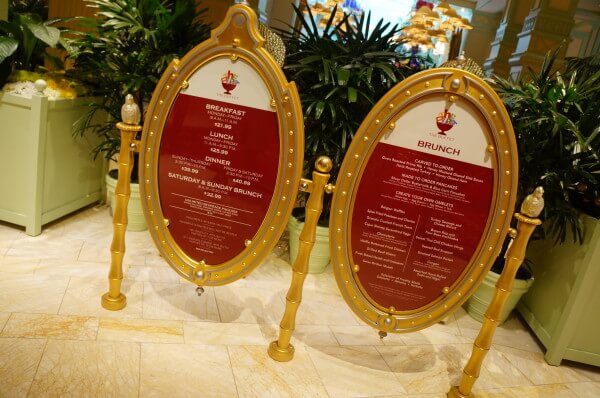 ---
What is the dining experience at the Wynn Buffet like?
---
I actually loved the dining experience at the Wynn buffet in Las Vegas. The dining room at the Wynn is beautiful, it feels like a big conservatory with lots of natural light flooding in through the glass ceiling. It reminds me a bit of the castle in Beauty and The Beast (the Disney movie) – you know at the end when the castle turns all cheerful again? It's decorated a bit like that.
If that reference went over your head, then Google it. It's so pretty!
The tables have lots of space, and the style of the room is beautiful too. It feels quite 'fancy' for a buffet room (which can often feel quite manic) so I really enjoyed that. For food variety at the Wynn buffet, there's lots to choose from. In fact, there are 120 artfully presented dishes and 15 live-action cooking stations to wander around and sample – so you'll be able to take your pick of whatever take your fancy.
---
What is the food like at the Wynn buffet?
---
The food at the Wynn buffet is exactly what you'd expect from one of the best buffets in Las Vegas! There is a lot of variety to choose from, and you'll be able to sample all kinds of food from lots of different countries.
Some of the highlights are; roasted meats, a whole roast pig on weekends, open-fire Argentinean style grill, pizzas, curries, salads, shellfish, breads, desserts and more. Each one of the dishes and courses are presented beautifully – and look so appetising!
I took lots of photos during my visit which you can see below – to give you an idea of the food you can experience at the Wynn buffet.
Read more about Las Vegas food: Where to find the best tacos in Las Vegas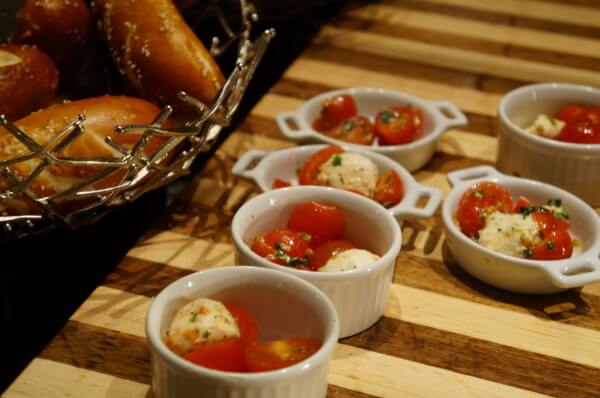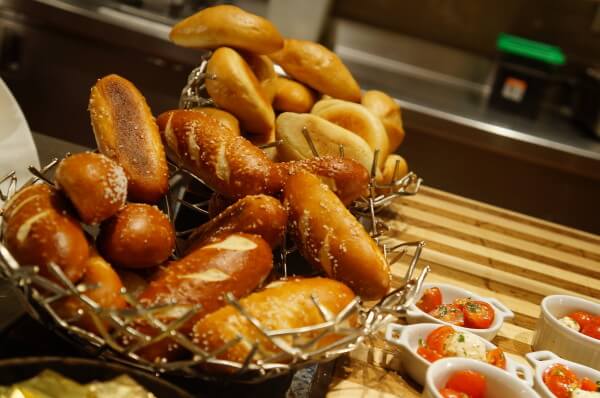 Mini waffles were so cute. You could have them with the fried chicken, or with syrup and ice-cream. Winning both ways if you ask me!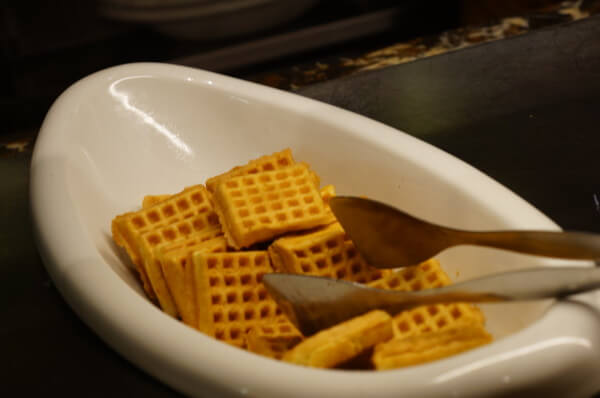 The pasta bar (below) was a real treat, with lots of choices. I think there were 4 options, but only 3 are shown in this photo. Of the 4, I tried the Mac and Cheese… yum!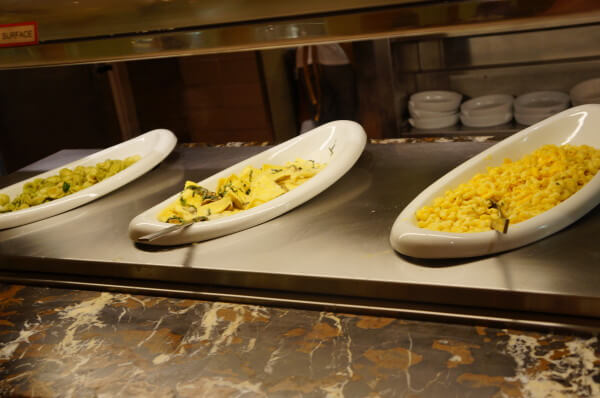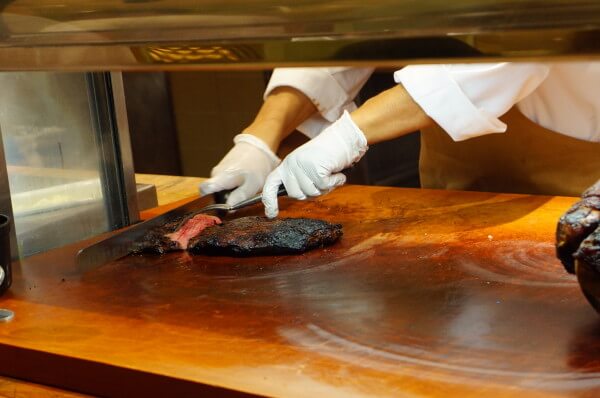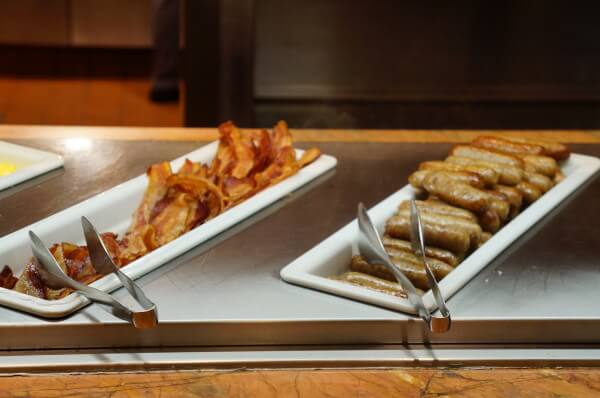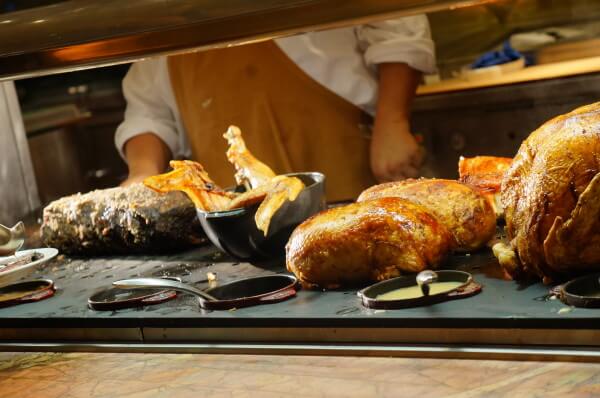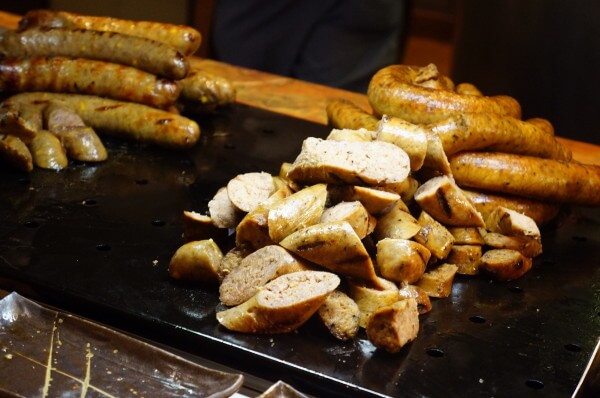 As you can see, there are loads of meat options. Pork Belly, Chicken, Chicken Wings, Beef, Bacon, Sausages, etc. Then there are dips and sauces and pickles for you to choose from (below) to go with it. Oh, and they had pickled and roasted peppers and chiles! Amazing.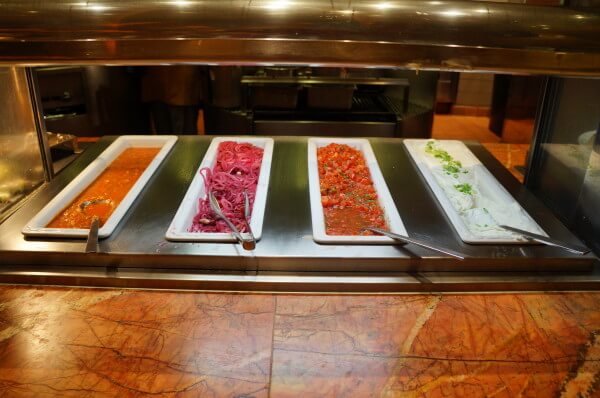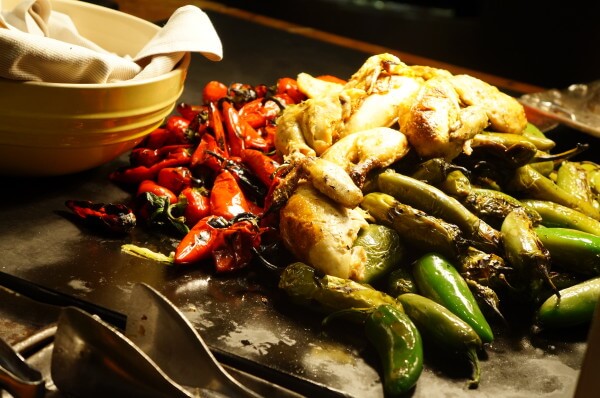 For those who prefer something a little lighter, there are plenty of salad options, and Asian food – such as sushi, shellfish and cooked fish. These are all quite popular during peak times – as they're so delicious!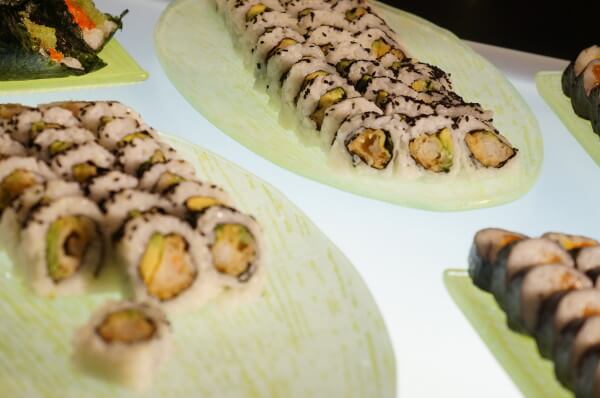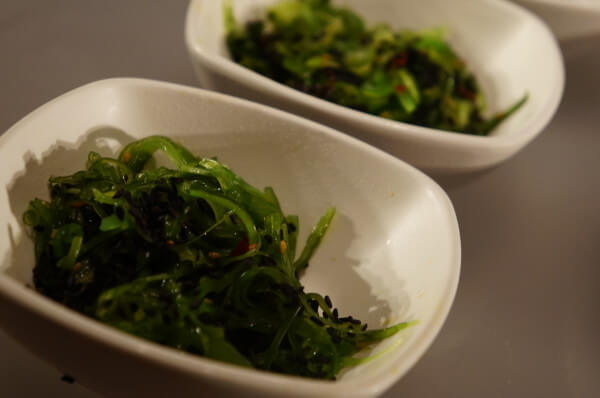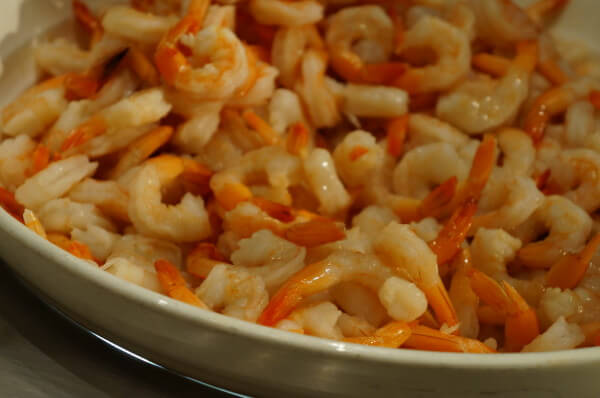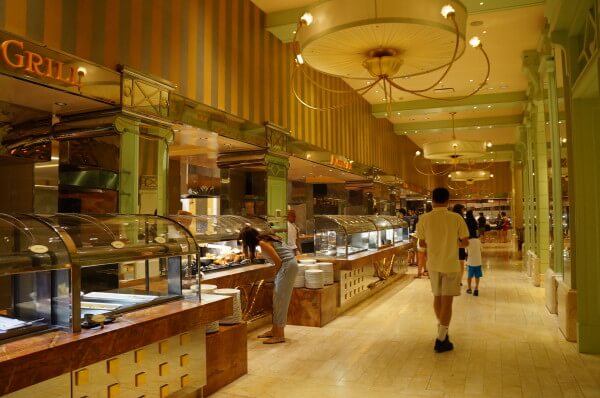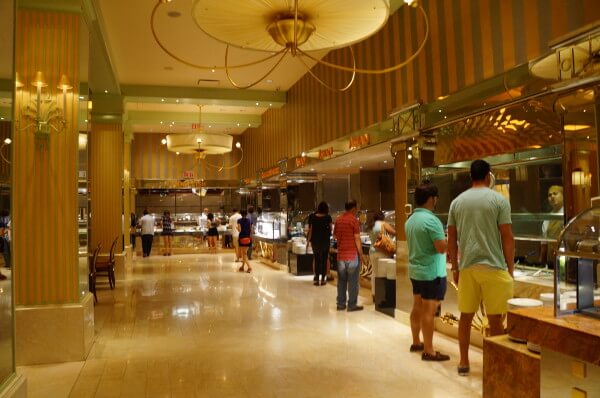 As you can see above, the Wynn buffet never feels too crowded. You don't need to queue for the food or wait around. I think I waited around for service only once at the Wynn, and that was when I was waiting for meat to be carved. It's not like those buffets in over-crowded hotels where you're pushing through the crowds for the best stuff.
Read more about Vegas: The best desserts in Las Vegas (my ultimate list)
---
Now onto the desserts (which deserve a special mention as they're so amazing at the Wynn buffet!)
---
You'll notice from the photos that the dessert section has a real mix of options. From traditional little cupcakes, to ice-cream sundaes, to fruit salads. There's something for everyone – and one thing the dessert buffet at the Wynn does really well, is that it make the desserts feel super special and almost novelty. It feels a little bit like a scene from Alice in Wonderland when you explore the dessert table!
I love that the desserts are all bite-sized too. Trust me, you'll be so full-up at this stage that you won't want any huge dessert portions. the bite size portions are ideal as they let you take little bits of each style to sample and enjoy.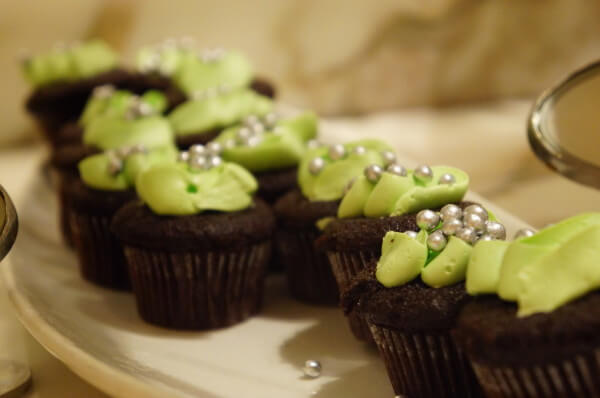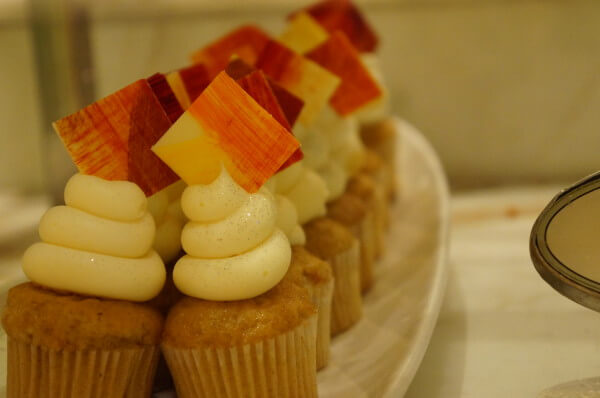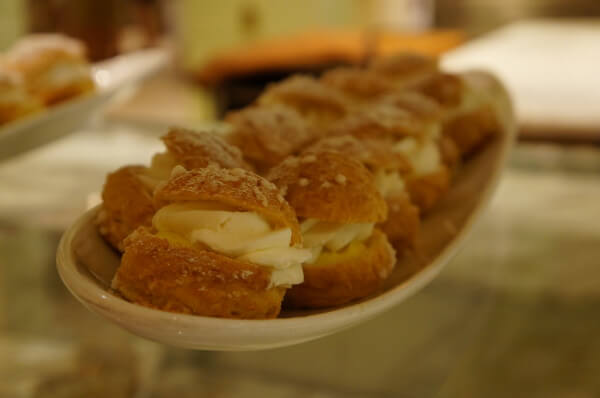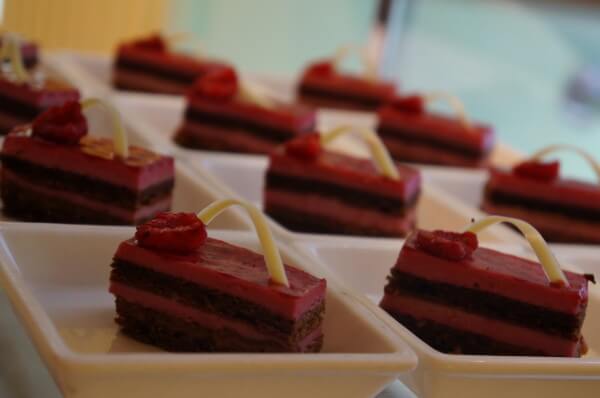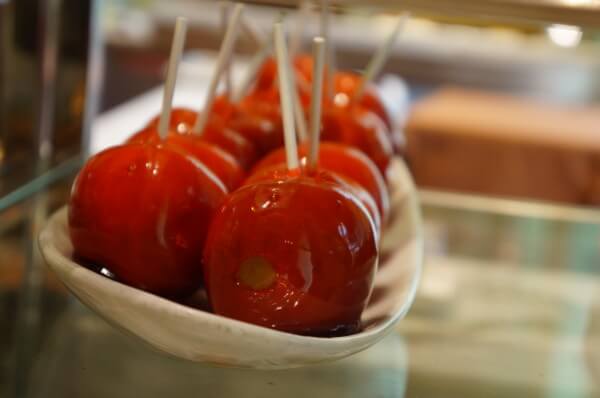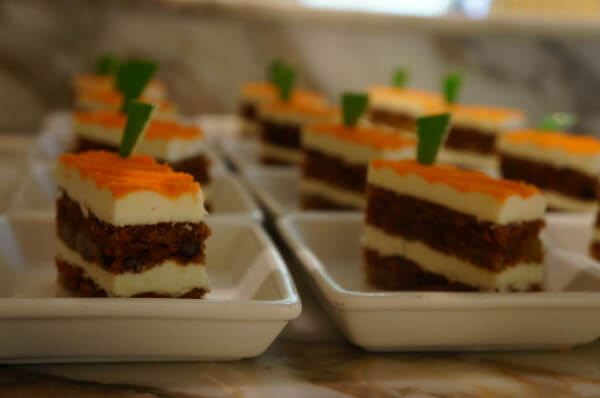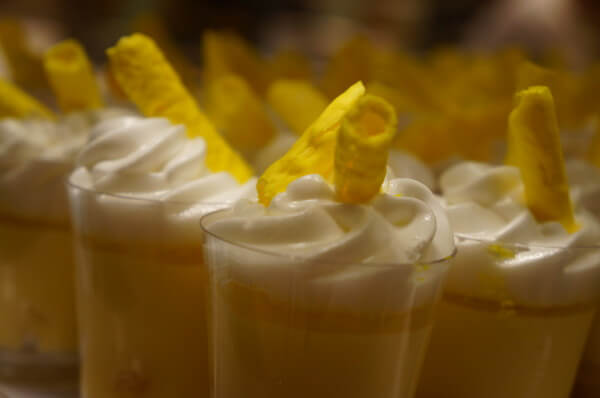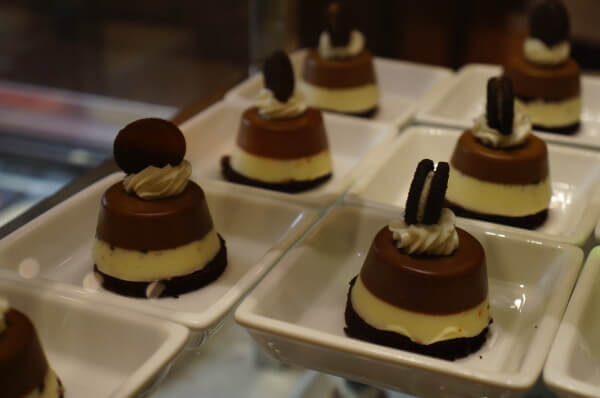 My personal favourite, the marshmallow rice-krispie squares!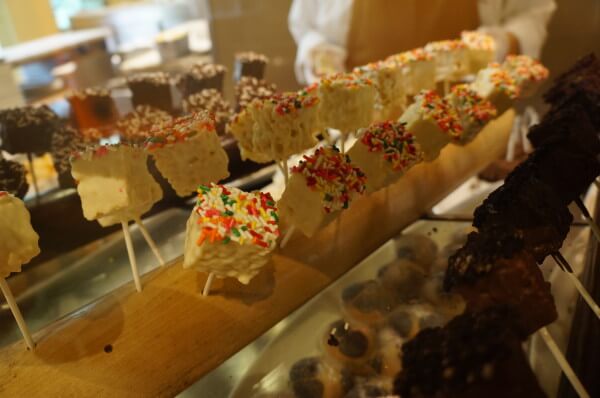 ---
I only have two bits of negative feedback for the Wynn buffet.
First of all, I didn't think there were enough ice-cream choices. At the Aria you had a choice of about 12 flavours, but at The Wynn you only got to choose from about 5/6. This isn't really a deal-breaker for me – as I'm not a huge ice-cream fan, but I know for some people this would affect their enjoyment of the Wynn buffet's dessert offering.
Read more about Las Vegas food: Where to find the best Ramen in Las Vegas
My other bit of feedback is the queuing time – which was pretty long. We queued for about 45 minutes during lunch time (we arrived at 12pm) – and I imagine it would be even longer for the dinner sitting. The queue got longer as we waited too – so it's not like we'd arrived at a bad time. I think the people behind us might've ended up waiting an hour or longer.
There is the choice to upgrade to 'alcohol included' and skip the queue – but this costs an additional $20 – which is quite a lot if you weren't even planning on drinking too much in the first place. I only bring this whole queuing time up because at The Aria we didn't queue at all, and haven't queued any time we've visited (about 4 times now).
Have you been to a Las Vegas buffet? Which would you recommend?