Are Priority Pass Lounges usually crowded? If you've got a flight coming up, you might be asking yourself this very question.
So, are Priority Pass Lounges usually crowded?
It's a question you're probably asking yourself, especially if you've got a flight coming up, and plan on using your Priority Pass membership.
I know that when I travel, personally, my preference is always to relax in a lounge.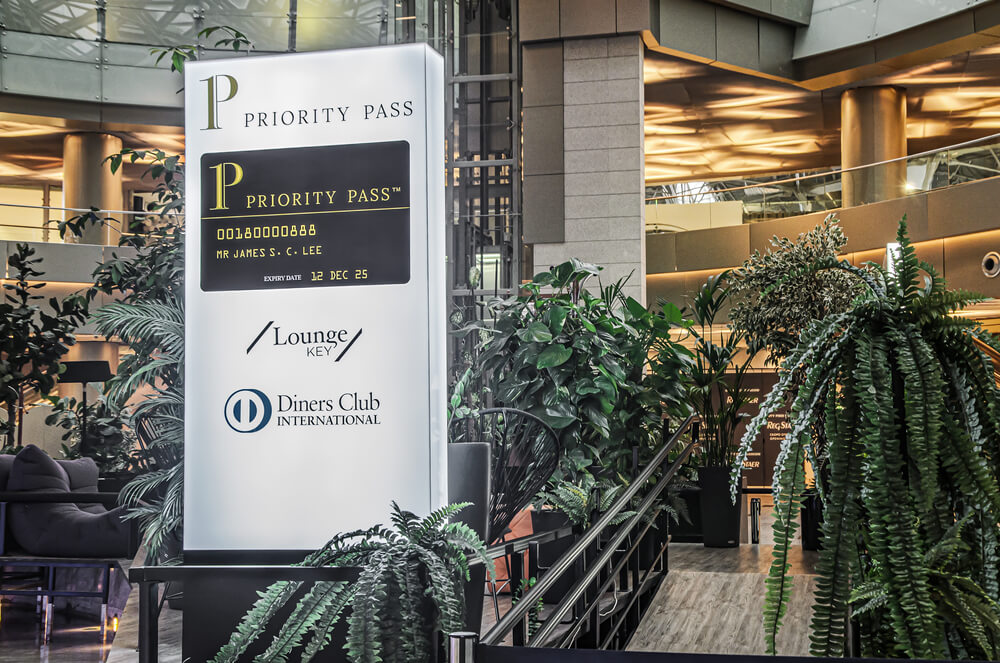 If you're flying business class, or first class, or have a certain points level with a specific airline – you may be entitled to an airport lounge anyway.
But Priority Pass is a great way to get access to over 1,400+ lounges in more than 600 cities across 148 countries, regardless of the airline you're using, or class you're in.
But if you're planning on using Priority Pass Lounges, you might be worried that the lounge is going to be crowded. And maybe worried that you won't be allowed in if the crowds are too high.
In this blog post, I'll go over some tips for avoiding the crowds, and also some reasons why the Priority Pass Lounges do occasionally get overcrowded and full.
Hopefully, you'll find all the information you need about Priority Pass Lounges, right here.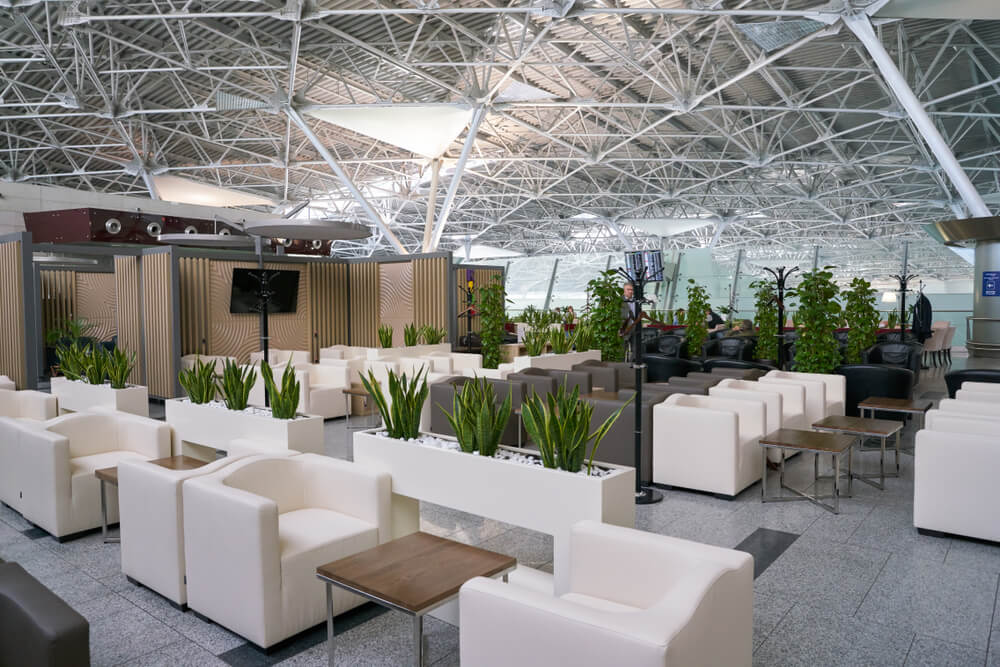 ---
But first, why are Priority Pass Lounges (and airport lounges in general) so popular?
Before I expand on the question 'are Priority Pass Lounges usually crowded?' – let's talk about why airport lounges are so popular.
Airports are stressful. Listen, there's no way around it.
The baggage checks, the customs queues, the passport control.
You go through more stress in the first 20 minutes of entering an airport, than you usually would in a normal day.
And then once you get through to the other side of passport control, the airport doesn't exactly calm down. If anything, if feels busier? And not exactly comfortable either.
You might find yourself with an hour, or two or three, to kill time, sat on an uncomfortable seat, with limited access to power, or food and drink.
Well, Priority Pass Lounges offer a sanctuary amidst the hustle and bustle of the terminal, providing travelers with a tranquil oasis to unwind and prepare for their journey.
Priority Pass Lounges present a host of amenities and services, including comfortable seating, complimentary snacks and beverages, high-speed internet, business centers, and even showers (sometimes!).
Oh, and you get access to over 1,400+ lounges in more than 600 cities across 148 countries. Which is pretty cool.
Priority Pass Lounges are especially popular with business travelers too – because they can provide you with a comfortable and secure place to catch up on work, or even join a work call.
Because they offer a conducive environment for work, enabling productivity and allowing for crucial last-minute preparations, you can imagine Priority Pass Lounges get pretty busy!
But if you're not a business traveler, and you're just headed on a weekend away or vacation – Priority Pass Lounges are still a really great alternative to waiting in the gate or terminal.
Read more about air travel: What is a domestic flight?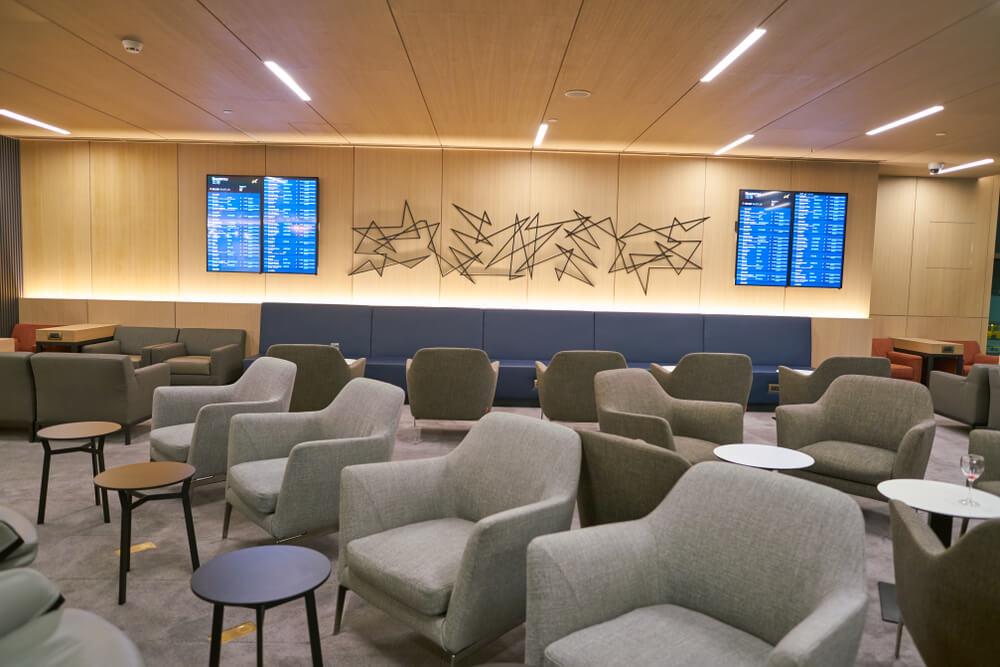 There's just something about sitting in an airport lounge that feels nicer. The ambiance is often calmer, quieter, with much less chaos.
There's a sense of luxury and sophistication usually, making thewhoel airport experience more enjoyable and tolerable.
I myself, am quite anxious in airports, and I find that airport lounges help to keep that anxiety calmer, because there aren't as many people, and noises, and chaos to trigger it!
But as with anything this great, there are lots of members, which can certainly lead to the amentities being super busy at times.
So now, let's get into the question 'are Priority Pass Lounges usually crowded?'
---
So, are Priority Pass Lounges usually crowded?
If you're planning to enjoy the calm and tranquility of an airport lounge when transmitting through the airport, you might be wondering 'are Priority Pass Lounges usually crowded?'.
Honestly, yes. They can be crowded.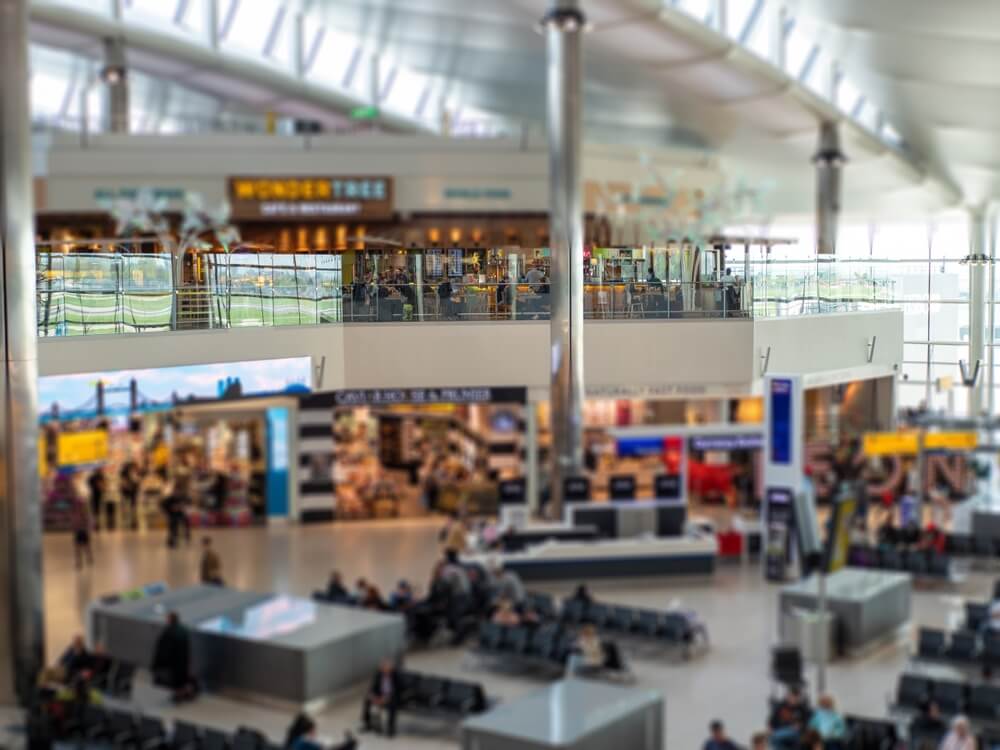 Most airport lounges (regardless of brand, or airline) can experience crowding at various points of the day.
But the crowding at Priority Pass lounges can absolutely vary significantly depending on several factors. And sometimes you may not experience any crowding at all.
Here are some of the things that can cause crowding at Priority Pass lounges…
---
Big airports at prime hours
Lounges at major airports will always be more likely to be crowded, simply because more travelers will be passing through.
The more passengers using an airport, the more likely it is that the Priority Pass lounge will be crowded.
---
Popular Routes
Some airports cover specifically popular flying routes, which means that the airports are always pretty busy (regardless of time of day, etc).
For example, Los Angeles to Las Vegas is always busy, especially on a Thursday and Friday. Traveling at this time of the week, will probably result in more passengers wanting to use the Priority Pass Lounges.
---
Time of Day and Day of the Week
There are commonly recognized peak times in air travel. These peak travel times are usually classed as early morning or evening, and busy travel days like Fridays and Sundays.
These days and times are more likely to see crowded Priority Pass Lounges, because more passengers are passing through the airport at that time.
---
Season and Holidays
More people travel at the holidays, so during peak travel seasons and holidays, airports and Priority Pass Lounges can experience higher-than-usual traffic.
This is pretty hard to avoid to be honest, but if you're traveling for the holidays, it's probably wise to expect crowded Priority Pass Lounges.
---
Lounge Size and Capacity
The size and capacity of the lounge play a significant role in whether the Priority Pass Lounge is crowded.
Some airports have much smaller Priority Pass Lounges than others, and if your airport is one of the smaller ones, the lounge Priority Pass Lounge may get crowded much easier than others.
Smaller lounges can fill up quickly, while larger lounges have more space to accommodate travelers.
You can usually check the size of the lounge online!
---
Membership and Access Policies
The number of people with Priority Pass membership and the lounge's policies regarding access (e.g., allowing certain cardholders, limiting guest access) can affect crowding.
In some cities, less people will have Priority Pass access, and in some cities, people will have more.
---
Special Events or Circumstances
Events like flight delays or cancellations can lead to an influx of passengers seeking refuge in the lounges, making them more crowded.
For example, if Taylor Swift happens to be performing in your city that weekend, you might see more crowds than usual!
---
How can I avoid crowding at Priority Pass Lounges?
Ok, the good news is, you can do a few things to help yourself avoid crowding at Priority Pass Lounges.
Here are my top tips:
Plan ahead and check the expected crowd levels for the specific lounge you plan to visit. I do this by checking reviews for any red-flags.
Know where the Priority Pass Lounge is, within the airport. The quicker you can get there, the more likely you are to secure access and secure a good seat.
Check any events (concerts or sports) that may be happening in your city that weekend. If you can reorganize for a quieter date, then do it.
Avoid booking flights during peak times and rush hours! Flights that leave around midday are usually the best, but it can depend on the airport.
Some lounges also offer real-time crowd monitoring, which can help you make an informed decision before heading to the lounge.
Read more about flying: How to overcome your fear of flying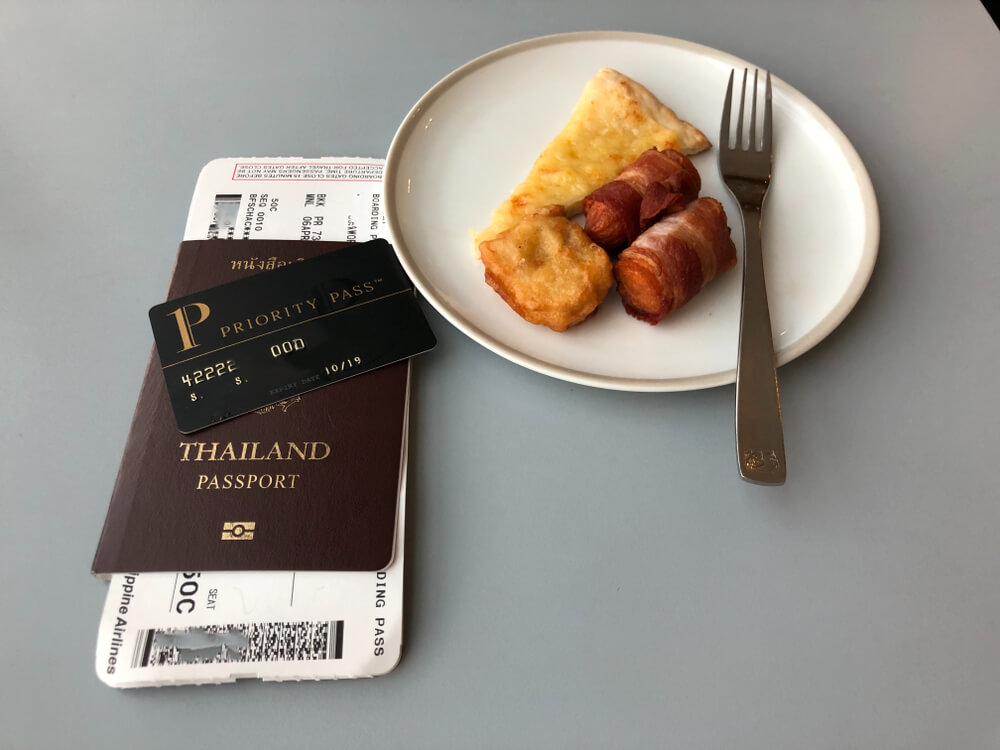 ---
Does it really matter that Priority Pass Lounges are crowded?
Look, we'd all prefer to sit in a quiet lounge, with plenty of space and no other passengers disturbing us.
That's the ideal scenario when entering a Priority Pass Lounge!
But it's just not the reality. Air travel is popular, so Priority Pass Lounges can get crowded, and do.
But, just because Priority Pass Lounges get crowded, doesn't mean they're not worth visiting. I will always prefer sitting in a crowded lounge, than a crowded gate!
At least in the Priority Pass Lounges you have access to:
Comfier seats
Power sockets
Food and drink
Cleaner toilets
TVs and news
Newspapers and magazines
Showers (in some lounges)
So yes, although your Priority Pass Lounge may be crowded, it doesn't need to ruin your airport experience.
Read more about air travel: How early should I arrive at the airport?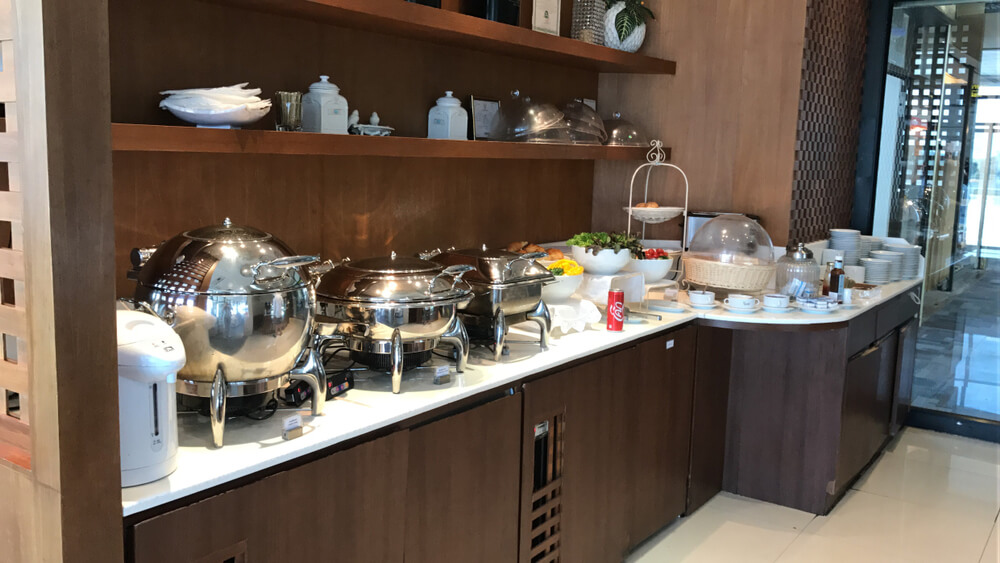 ---
What is a Priority Pass Lounge?
If you made it this far in this article, I'm guessing you do know what Priority Pass Lounges are!
But just incase, here's a quick explanation for you!
A Priority Pass airport lounge is a membership-based program that provides travelers access to a network of airport lounges worldwide.
Priority Pass offers its members a range of amenities and services designed to enhance the airport experience.
These lounges are typically located in major airports and provide a more comfortable and relaxed environment for travelers compared to the busy terminal areas.
Members of Priority Pass gain access to a variety of facilities within these lounges, such as comfortable seating, complimentary snacks and beverages (alcoholic and non-alcoholic), Wi-Fi, business services (e.g., printing, faxing), showers, and sometimes even spa treatments or relaxation areas.
Read more: How to avoid boredom whilst flying long haul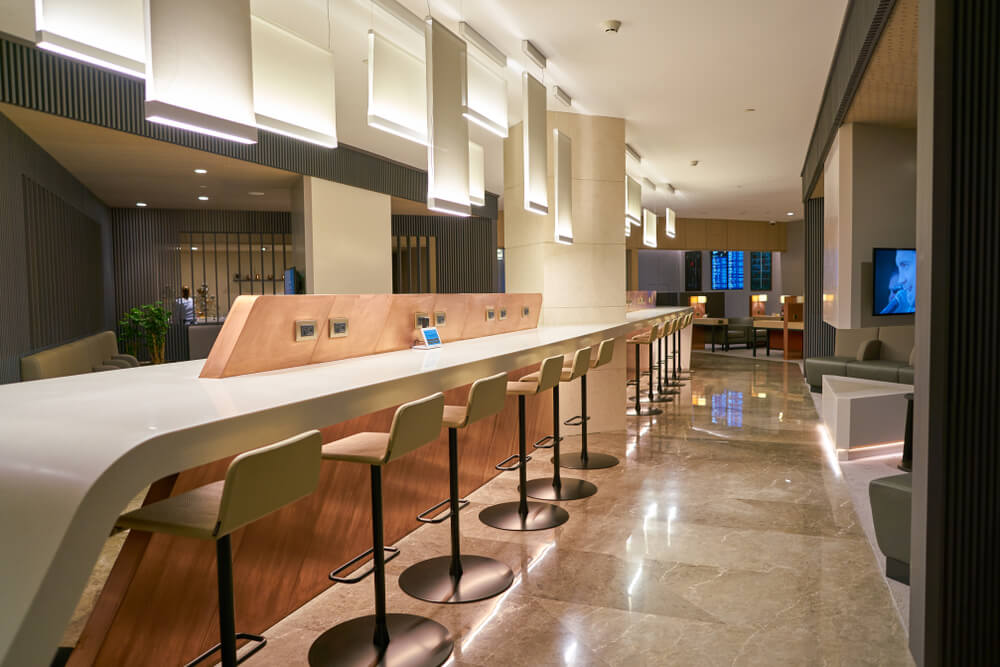 The lounges are often equipped with amenities that cater to both business and leisure travelers.
It's important to note that Priority Pass has different membership levels, including Standard, Standard Plus, and Prestige, each offering varying benefits and access to lounges.
Some memberships also allow for guest visits at an additional fee, allowing members to bring travel companions into the lounge.
The goal of Priority Pass is to provide travelers with a more pleasant and convenient experience while waiting for their flights, regardless of their airline or class of ticket.
Read more: How to find cheap business class tickets for your next flight
---
I hope this has helped answer your question 'are Priority Pass Lounges usually crowded?'
Read more about traveling: Why are flights so expensive right now?