Singapore Chicken Rice is famous world-over. Are you looking for the best places to enjoy some of the country's unofficial national dish? Keep reading!
---
Singapore Chicken Rice is the unofficial national dish for a reason. People love it, and once you've tried it for yourself, you'll understand why.
With its delectable fragrant rice, tender chicken and warming broth, this dish is a panacea for foodies.  It may not be the most complex dish – but it's delicious, warming and feels like home. From Michelin starred stalls to high end restaurants, I'm going to give you the low-down on the best places to have a plate of Singapore Chicken Rice.
---
Liao Fan Hawker Chan
---
First on my list of places to try Singapore chicken rice, it's Liao Fan Hawker Chan. You've probably heard stories of the World's first Michelin Star for a hawker food stall. That Michelin Star was award to Liao Fan Hawker Chan, which was awarded in 2016. Not only did Hawker Chan receive "The World First Hawker Michelin-starred Meal" it was also awarded "The Cheapest Michelin-starred Meal In The Word". The renowned Liao Fan Hong Kong Soya Sauce Chicken Rice and Noodle stall inside the Chinatown Complex Food Centre serves up its bargainous $2 chicken rice despite its stellar credentials.
The stall looks totally unassuming, but this humble joint is one of Singapore's finest places to have chicken rice. Though queue times are understandably long, the morning tends to be a bit quieter. We recommend you hurry down ASAP to make your date with delicious destiny. If that's not enough to peak your interest… We don't know what is. This is definitely a bucket-list item in Singapore, and one of the best places to try Singapore chicken rice.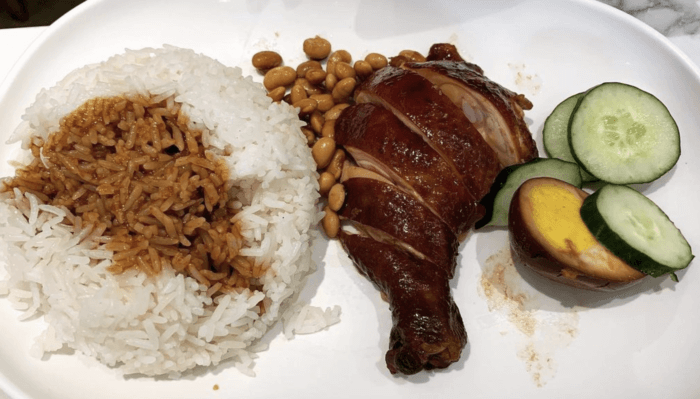 ---
Tian Tian Chicken Rice
---
Well known to both locals and tourists, Tian Tian Chicken Rice has been a favourite in Maxwell Market since its opening in 1986 and it's a well-known and well-loved family business. In fact, the original owner still watches over the stall to make sure every dish that leaves her hands is perfect! With delectable rice and perfectly chilled chicken, a visit to this place is a must. The flavours are just perfect, and the setting (in Maxwell Market) is a true Hawker experience. 
Oh, and did I mention that this place beat out Gordon Ramsay in the Hawker Heroes Challenge? Talk about a seal of approval!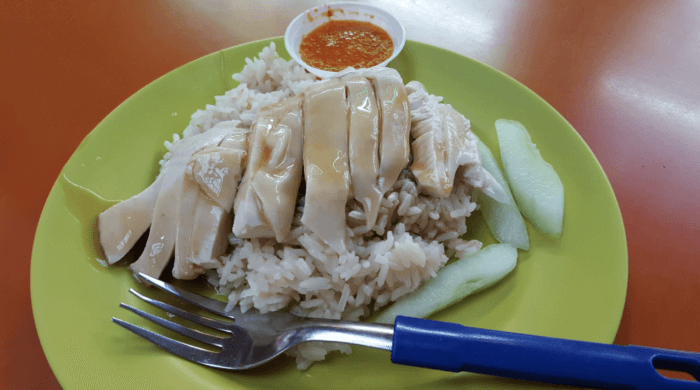 ---
Nan Xiang Chicken Rice
---
Next on my list of Singapore Chicken Rice places, it's Nan Xiang Chicken Rice is another local favourite and one of Singapore's best places to have chicken rice. The owner and her husband have been at the helm of this stall since 1986 and their experience shows. Though it looks like any other hawker stall, this place has the most insane fragrant rice. The pair take the time to stir fry garlic, ginger and shallots before cooking the rice in their rice cooker. This extra step sets this Singapore chicken rice apart from the rest. With the addition of classic tender chicken, it's a sure-fire crowd-pleaser.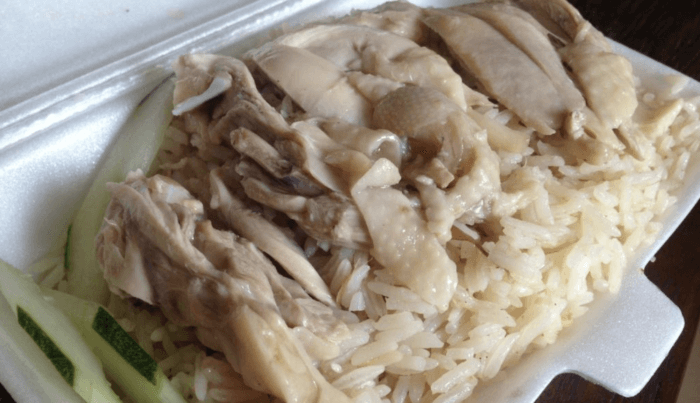 ---
Five Star Chicken Rice
---
One place in Singapore that certainly lives up to its namesake is Five Star Chicken Rice. Located in Marine Parade, this Singapore Chicken Rice joint only serves up free-range chicken in this national favourite. As well as giving you peace of mind about the animal's well-being, Five Star claims that this commitment makes their chicken less oily. Five Star's slow-cook method also ensures unparalleled tenderness. If you're heading out East, it's worth paying this joint a visit.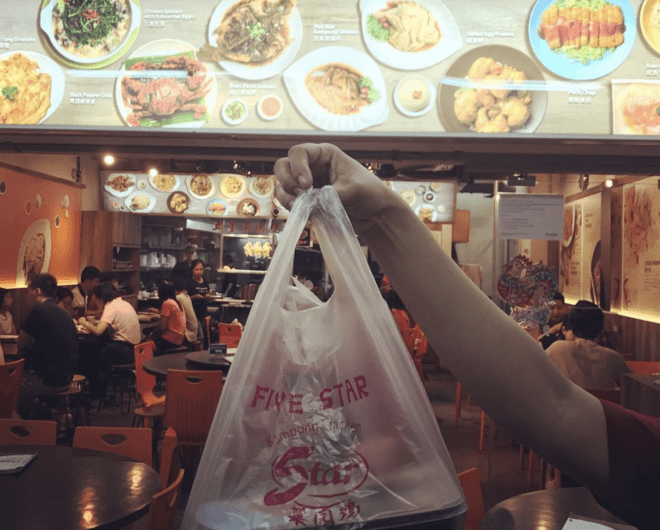 ---
Kopitiam
---
Next on my list of Singapore Chicken Rice, it's Kopitiam. This isn't so much an individual stall as it a big food court. Kopitiam is well known amongst Singaporeans for its wide variety and quick service. Due to the number of Kopitiam food courts dotted around the island, this is a great place to pick up a classic take on Singapore's chicken rice.
Though you won't find anything particularly crazy or unique at this joint, the reliable vendors always deliver. At reasonable prices that won't break the bank, Kopitiam is an excellent place for a quick pick-me-up.
---
Ming Kee Chicken Rice
---
Ming Kee Chicken Rice is well-known amongst locals in Bishan for its massive queues. However, you better start believing the hype. Interestingly, unlike many other Singaporean chicken rice stalls, you won't see the birds hanging from hooks. Instead, Ming Kee Chicken Rice dunk their chickens in ice water where it's left to (quite literally) chill until it's ready to be chopped!
This ceremonious dunking is not just Ming Kee daring to be different. Instead, this shock of ice water creates a jelly under the chicken skin and, according to patrons, results in an unparalleled taste explosion. The combination of steaming hot fragrant rice and chilled chicken is certainly an experience and rightly earns a place on my list of Singapore Chicken Rice.
---
Chatterbox
---
Next on my list of Singapore Chicken Rice, it's Chatterbox. Located on Level 5 of the Mandarin Orchard, Chatterbox offers up chicken rice in a rather ornate setting. A staple on their menu since the restaurants opening in 1971, these guys have certainly had time to hone their craft. If you're looking to ponder the day's events over a leisurely meal, this is a perfect place to come.
Though a more expensive option (the chicken rice will set you back about $25), you won't be rushed off your feet. With a noteworthy garlic-infused chilli sauce, this place keeps you coming back for more.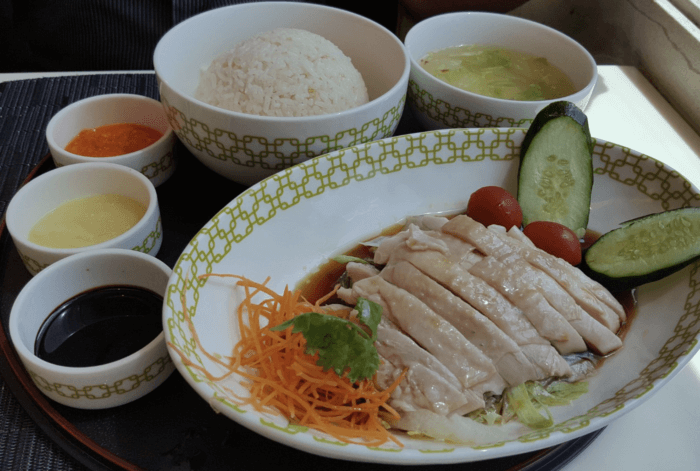 ---
Boon Tong Kee Chicken Rice
---
If your chicken rice cravings happen to hit late at night, never fear. Boon Tong Kee Chicken Rice on River Valley Road stays open late. Offering all variants on the chicken rice dish from steamed to roasted, you can grab this delicious dish at this well-established Singapore chicken rice joint.
---
Wee Nam Kee Chicken Rice
---
One of the most established Singapore chicken rice stalls, and well known in the city – there are 4 Wee Nam Kee chicken rice in Singapore. These guys do Singapore Chicken rice the traditional way, and the reviews speak for themselves! The chicken here is moist, tasty and so delicious!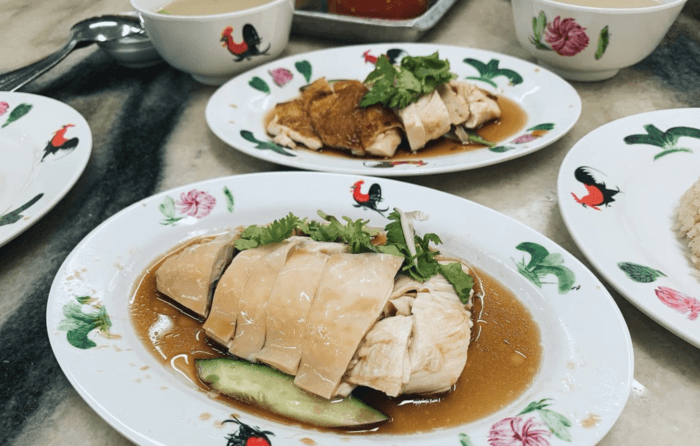 ---
So, there you have it!
Though it's not totally comprehensive, I hope that this list has been helpful in finding a place to fill that Singapore chicken rice shaped void in your life. All the Singapore chicken rice places on this list are fab, but you'll find the famous Singaporean staple almost everywhere you turn on the island!