Singapore's street food is unlike any other country's street food. Hawker food in Singapore is on the next level!
---
Most Singaporean street food is sold at joints called hawker centres, and hawker food in Singapore is one of the country's best kept secrets.
Put simply, they are neither sit-down restaurants nor traditional street food stalls. They're totally unique hybrids. Going all the way back to the Singapore's independence in 1965, hawker food centres in Singapore were created from over 24,000 individual stalls that were taken off the streets and put into complexes. Known for their fast pace, cheap prices, vocal advertising and fantastic food, hawker centres in Singapore are a staple for the locals.
Eating hawker food in Singapore is a way to try lots of amazing local food on a tight budget, and it's also a great way to glimpse into local life too. If you do one thing while you're in Singapore – make sure you visit a hawker food centre in Singapore. It's an absolute must-do.
To save you the hassle and let you get straight to the good stuff, here's a quick guide to hawker food in Singapore so that you can tuck in without a care in the world. From where to find the best eats to what food's on offer, buckle up for a tour of Singapore's amazing street food.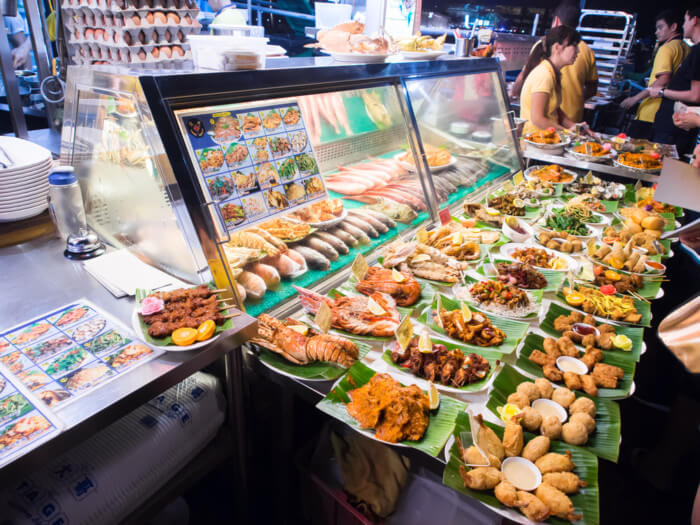 ---
Save me a seat!
---
The seating in Hawker food centres is usually communal seating with unreserved tables (this isn't the kind of place you making a booking or reservation for). It might sound ridiculous but getting a seat at a hawker centre can sometimes feel as difficult as getting a seat at The Last Supper, especially during busy times like lunch and dinner. 
Top tip! It's not a bad idea to adopt the local 'tissue paper trick'. Before you head to one of the local stalls to choose your food, pop a tissue packet on a table and claim it as yours. Obviously don't use your valuables to do this, but this little trick is Singapore gospel for 'hands off!'. You won't find this is just any guide to hawker food in Singapore – this is truly some insider knowledge!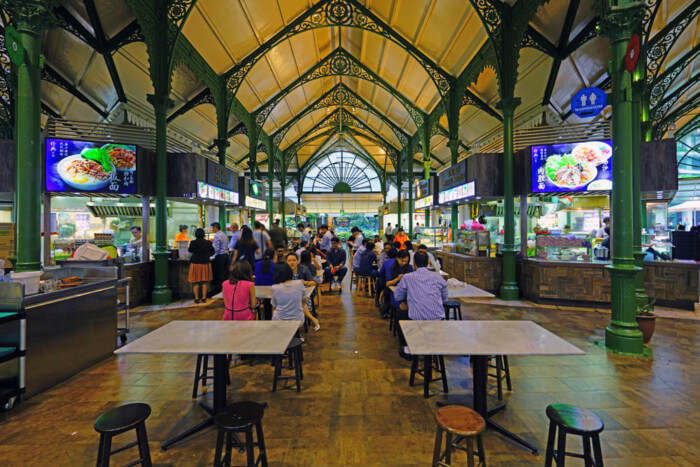 ---
Where are the best hawker food centres?
---
Now I am not exaggerating when I say that hawker centres are littered throughout Singaporean neighbourhoods. They're everywhere and hawker food in Singapore is everywhere! You won't have to go far before you find your next hawker fix.
Here are some of my favourites for hawker food in Singapore, and some of the most well-known hawker food centres in Singapore:
It's worth being aware that there are general opening times for hawker centres (and most places within the hawker centres abide by the same hours) but some individual stalls have different opening hours. Pay close attention so you don't end up disappointed!
Most hawker food centres are open day and night too – Singapore has a big culture for eating late at night (probably because the temperature cools down a little) so you should be able to find delicious food well into the night. Some are even open 24 hours!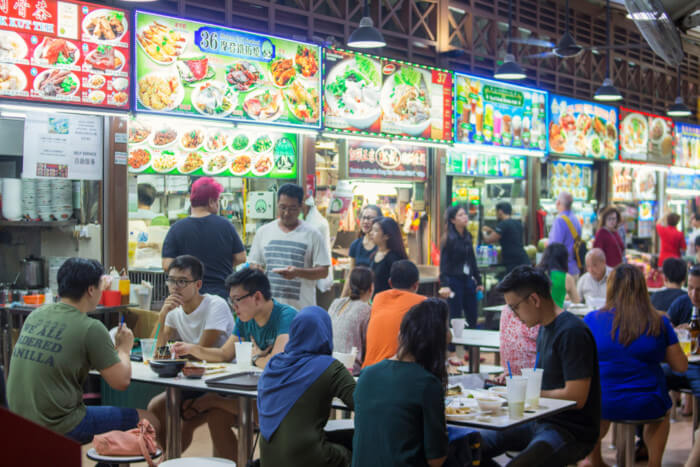 ---
What's on offer?
---
Hawker centres are ethereal places for foodies, and a major showcase of Singapore's multiculturalism.
At any hawker centre in Singapore, you're bound to find stalls that cover the island's main cultural groups; Chinese, Indonesian, Malay, Indian, Western, you name it, they've got it.
I tend to avoid the Western options, not because they aren't of equal quality to the rest, but because it seems a bit sacrilegious to indulge in Fish and Chips when surrounded by so many local options. The local food is what you go there for, it's flavoursome, delicious and you'll definitely be going back for seconds. 
Here's some of the dishes you might find at a Hawker food market, and a few of the dishes you might want to try…
---
Chilli Crab
Singapore is super protective over its famous Chilli crab dish as it's said to be homegrown, so it's one of the most popular hawker food in Singapore. Supposedly, a couple in the 1950s subbed chilli paste for ketchup at their hawker stall and Singapore's chilli crab rose like a phoenix from the ashes. It's not an easy meal to eat and makes even those with top table manners look at a loss.
However, there are so many aspects to this dish that make it sensational. As it's a bit of a messy one, gloves are recommended. We aren't kidding- you go into this one hands first and then soak up the sauce with bread rolls. If you're in Singapore, you must give this dish a taste. It's iconic for a reason!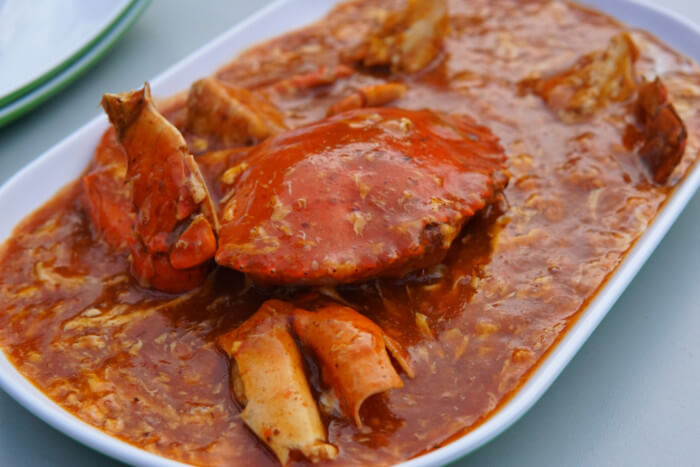 Chicken Rice
I couldn't make a guide to hawker food in Singapore without including the famous Hainanese chicken rice. Singapore's unofficial national dish, it's served with fragrant rice, a warm broth and some boiled chicken. The dish is usually eaten with chilli, soy sauce and ginger. If you keep an eye out for any stall that has hanging chickens on display, you'll be able to pick up a plate of Singapore's famous chicken rice.
I've eaten countless servings of Hainanese chicken rice in my time, and I can safely say that it never gets old. I wrote a blog post here about the best places to find Singapore Chicken Rice here – click through to read!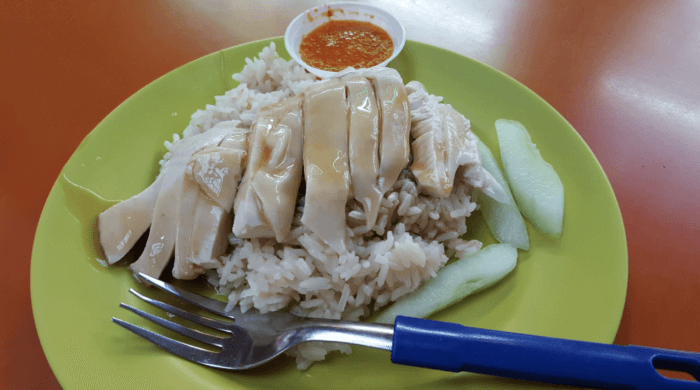 Satay
I'm not even going to try and hide my love for satay, it's one of the best options for hawker food in Singapore. In fact, I think it might even be my favourite thing to order at a hawker centre.
Charred perfectly and served straight off the grill, these meat sticks are the ultimate comfort food. Served with a peanut sauce that's incredibly moreish, you can choose from multiple different meats to suit your mood. Whether you're craving chicken, beef, mutton or prawns, these marinated sticks of goodness are sure to satisfy your taste buds. Although you can order 10 or more sticks at most satay stalls, you probably won't want to share…
Nasi Lemak
Nasi lemak is another one of Singapore's most popular hawker dishes so of course it made this list of hawker food in Singapore. It's an interesting one to look at too. It's got a base of coconut milk and uses pandan leaves in the cooking process. Although the rice tends to be the star of the show in this dish, sambal (chilli paste), bilis (fried anchovies), fried eggs and cucumbers also make their way onto the plate. With optional chicken wings as additions, it's literally a melting pot of all the things I love and is available for a bargain price at most hawker centres.

Hokkien Mee
Hokkien Mee is a classic hawker dish that's comprised of regular noodles and 'bee hoon' (a much thinner but no less delectable noodle). However, that's not all. This dish has prawns, squid, egg and pork belly to bulk it out. Served with unforgettable sambal chilli and lime juice, this delicious dish has a signature flavour profile that is unlike anything on my list.
It has a recognisable dark colour due to the use of soy sauce in the cooking process. Though its optional at a lot of stalls, I recommend asking for crispy pork fat on the side. It might sound a bit daunting but trust me, it makes all the difference. Definitely a solid choice for hawker food in Singapore. 
Roti Prata
Ah, roti prata, another amazing choice for hawker food in Singapore. These Indian flatbreads aren't for the diet-conscious amongst you, but they sure are worth eating. Served with curry sauce, these layered beauties will leave you with greasy hands and a full stomach. You don't have to have them plain though, they come in egg and cheese varieties too.
But that's not all! If you fancy a sweet prata, many hawker stalls offer chocolate and fruit-based options too. As most prata is cooked to order, freshness is always guaranteed.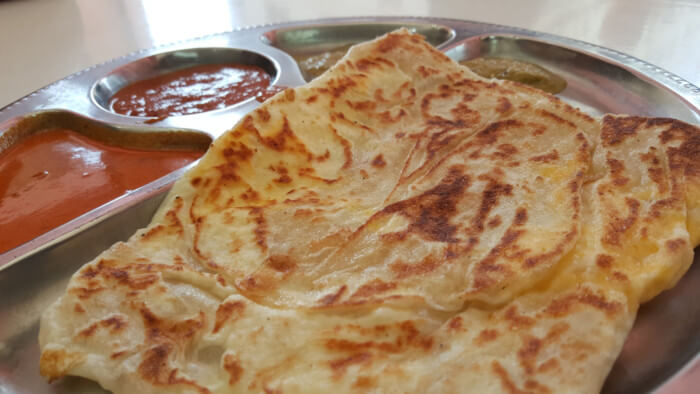 Laksa
Rice noodles are dunked in coconut curry sauce with this delicious hawker dish. When creating a guide to hawker food in Singapore, this dish just had to make the cut. Add fish, cockles, bean sprouts and prawns to the mix and you've got a seafood curry bonanza. You can pick this dish up at almost any hawker centre due to its popularity in the Singaporean community.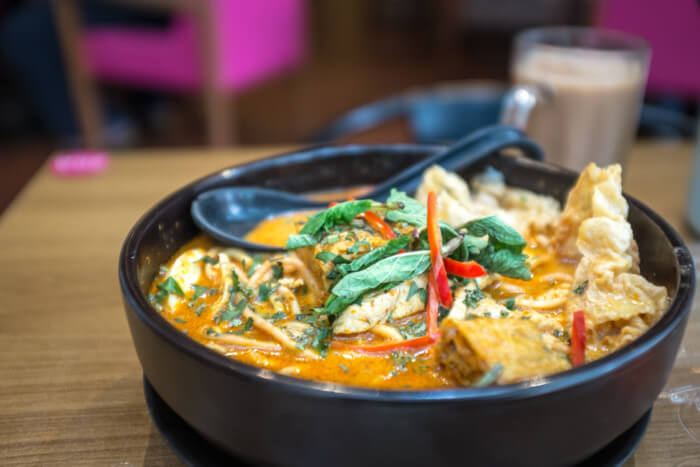 ---
Hopefully this mini guide to hawker food in Singapore has been useful!
---
A guide to hawker food in Singapore can never be totally exhaustive. I'm not kidding when I say there are just too many options to reel off. Hawker centres are such a big part of every-day life in Singapore, and they have an important history in the city
I've narrowed it down to the absolute classics, but there are hidden gems to be found at every stall. Hawker centres are truly one of a kind places to grab a bite, and I suspect you'd be lying if you said you couldn't find a single thing that want to try amongst the bustling stalls!