As far as experiences go… our "flight" on the Singapore Flyer was just incredible. Not only were we greeted by delicious Singapore Sling Cocktails upon arrival (we opted for the Singapore Sling ride option – now my new favourite cocktail) we had an entire cabin to ourselves. Which – needless to say – was mindblowingly awesome and such a memorable experience. Already one of our favourite moments from Asia – and we're not even halfway through our time here.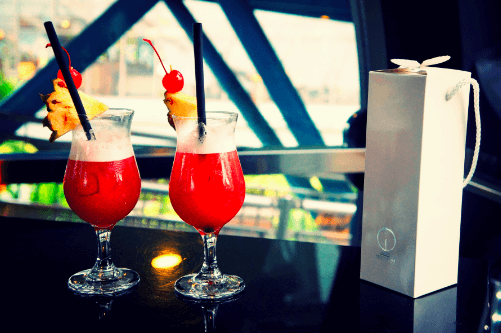 Singapore Sling Recipe… (for my own future reference!)
1 1/2 ounces gin
1/2 ounce cherry heering
1/4 ounce Cointreau liqueur
1/4 ounce benedictine
4 ounces pineapple juice
1/2 ounce lime juice
1/3 ounce grenadine
1 dash bitters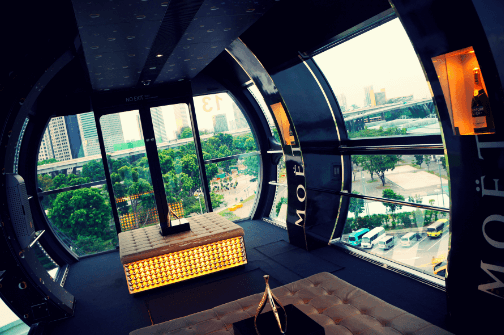 The private cabins for the VIP packages are a little bit more special than the average cabin which you can see above – and if you have the budget for it (saying that, the packages are actually really affordable for such an expensive city) it's worth the extra money to have an extra special experience. I think the special packages start at $69 (Singpore Dollars) per person – which is about £35. Not bad for a go on the wheel, and a free cocktail alongside it.
There is plenty to see from the Flyer too, so you'll have plenty of views to get lost in during the 30 minute ride. Personally I loved seeing the new Gardens By The Bay (below) which is a pretty new attraction. We had a walk around it on foot the night before – so it was awesome to see it from the air too. There are also (as you'd expect) some pretty phenomenal views over the marina too. Our flight was timed for sunset (beautiful) but I can imagine the views being just stunning in the evening too…. shame we couldn't go round twice!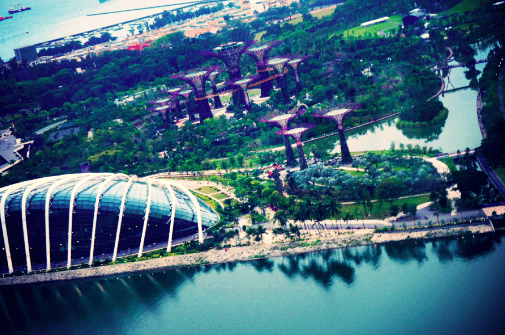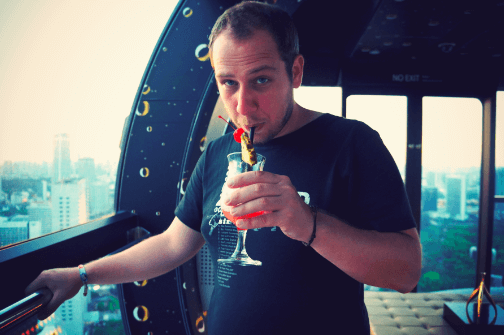 Even Pad got on board with the cocktails…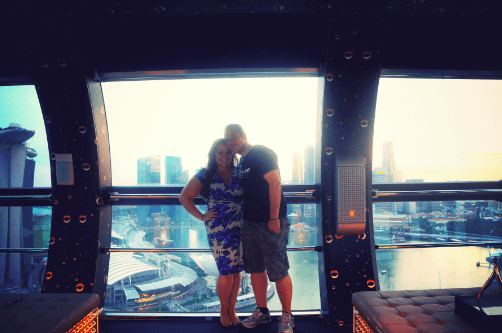 Another advantage of having the private cabin was having free space to take photos too. A few times in Singapore I've had to give up on getting nice shots because of the crowds of tourists – or the unbearable heat – so it was nice to have the chance to get a few good ones under the blessing of AC and with no pushy tourists to fight through.
The night after the flyer, we actually went to the top of the Marina Bay Sands to enjoy a drink at their rooftop bar, after hearing awesome things about the views of offer. Sure, the views were stunning from there too – but impossible to enjoy because of the crowds. You've struck gold if you manage to get a seat (or even ground space) by the edge of the deck. Otherwise you find yourself just peering over people's heads hopefully getting a glance of the city. So – if it's drinks with a view you're after…. do this instead. It's more peaceful – more fun, and you'll actually get to see the view.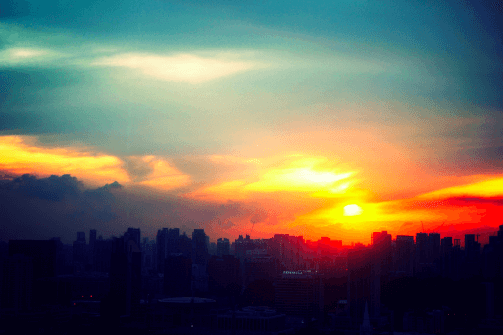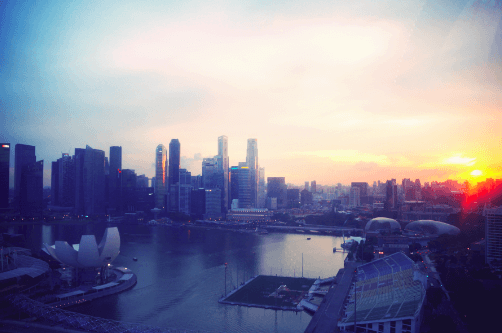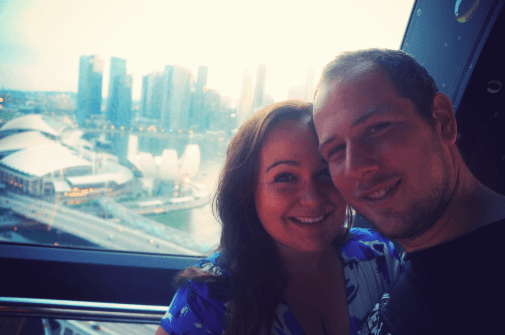 We left very happy! It's even inspired us to take a trip on The London Eye when we get back home – which Pad hasn't done yet. So only good things about this Singapore attraction!