As a regular visitor to Las Vegas, I've done most of the city's 'big attractions' and 'tourist must-do' things. One of my absolute favourites of these, has to be the Red Rock Canyon National Conservation Area.
If you are wanting to explore some more of the local scenery and the 'outback' (I guess you'd call it?) – but you don't fancy the 11 hour round day-trip to The Grand Canyon, then the Red Rock Canyon National Conservation Area is a great option.
Who should I travel / tour with?
We booked our trip with Pink Jeep Tours, who are my favourite tour company in Vegas, they also took us to The Grand Canyon 3 years ago. They're my favourite tour company based in Vegas, and I couldn't recommend them more.
How long will it take to see the canyon?
It literally only took 30 minutes to get out to the Red Rock Canyon National Conservation Area from a central Las Vegas Hotel (we were staying at The Cosmopolitan at the time), and about 3 hours to drive around it, so it's a great little day trip you can do without it eating up your whole morning, day and night. In total, put aside 4 hours if you're going with a tour group – maybe a little longer if you plan on driving yourself and exploring more, and maybe stopping for lunch.
You spend a few hours out of the city, and you get to see some incredible scenery and landscapes. It's the perfect escape 🙂
Here are a few of my favourite shots from the day…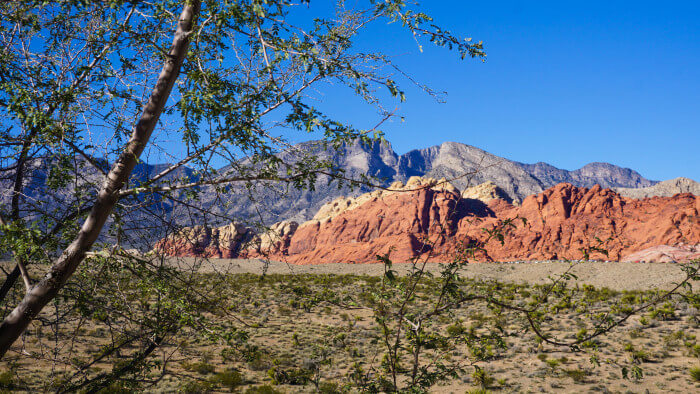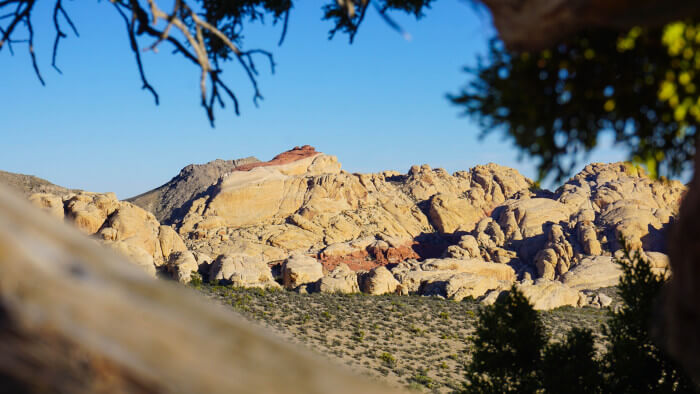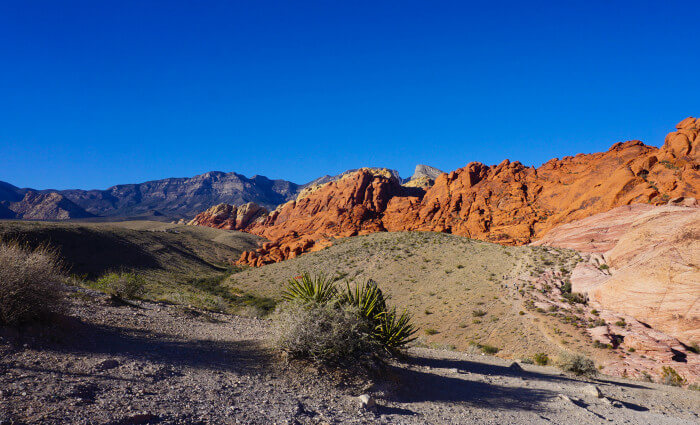 What is there to see in Red Rock Canyon National Conservation Area?
The most famous part of the Red Rock Canyon National Conservation Area is the famous red coloured bit (you can see in the photos above). Your tour will definitely do a stop off here, and you can climb down to some great views and photo opportunities. There are also lots of rock climbers around this part of the canyon – try it if you dare (and only if you've done it before of course!).
Random fact 1… It's this part of the Red Rock Canyon National Conservation Area that was used during the filming of 127 Hours (that movie were he cuts his arm off).
Random fact 2… This part of the Red Rock Canyon National Conservation Area was also where Captain Kirk died (the character not the actor!) in Star Trek Generations. Apparently, every year, lots of Star Trek fans come and pay homage.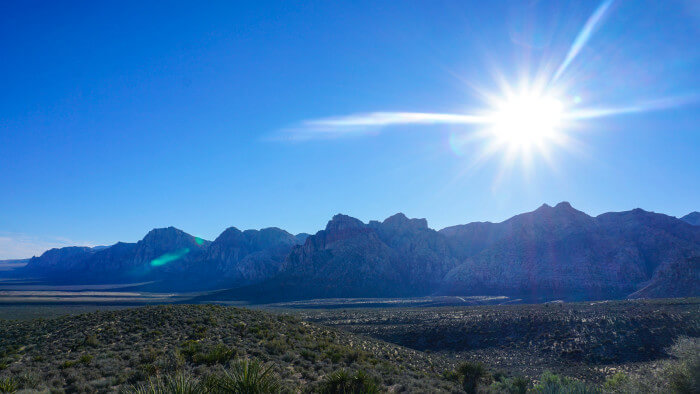 There's much more to Red Rock Canyon though – and it's not just the small red-rocked area. There's also a huge mountain range and beautiful desert too. You can see the sun over the mountains above, and the sparse area of woodland and Joshua Trees below.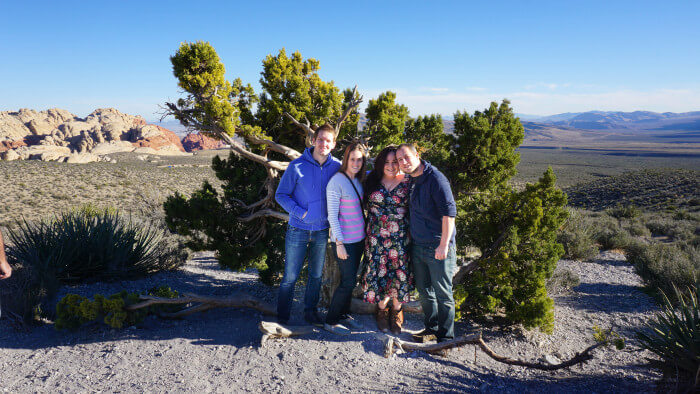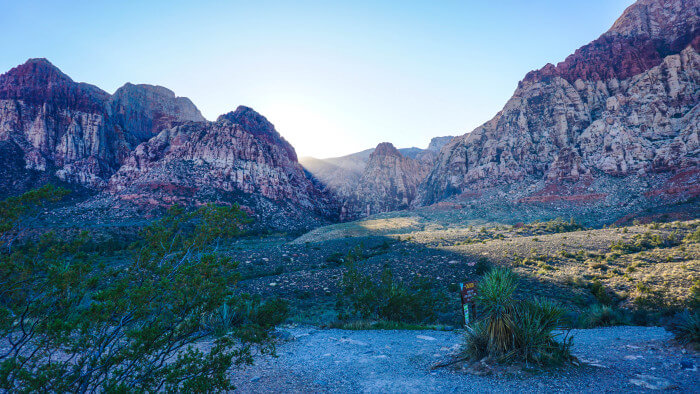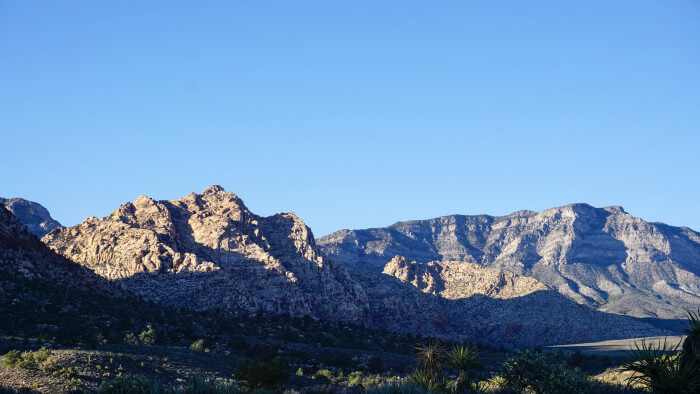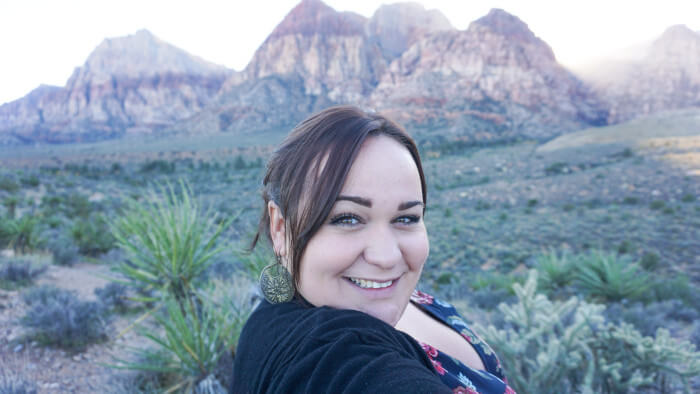 There's no doubt the area is stunning, and it's incredible to be stood there overlooking such a beautiful landscape, knowing the glare of Las Vegas is a short drive away.
The National Conservation Area works in a one-way road, so you enter in one place and exit in another – this means you can drive it yourself, but it also means you have to leave time to drive the whole way around if you plan on visiting. I kind of loved this design of the park, as it means the road isn't congested, and it also means you get to see everything.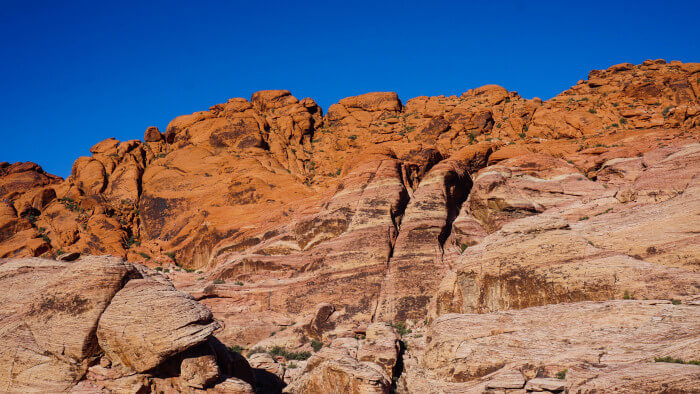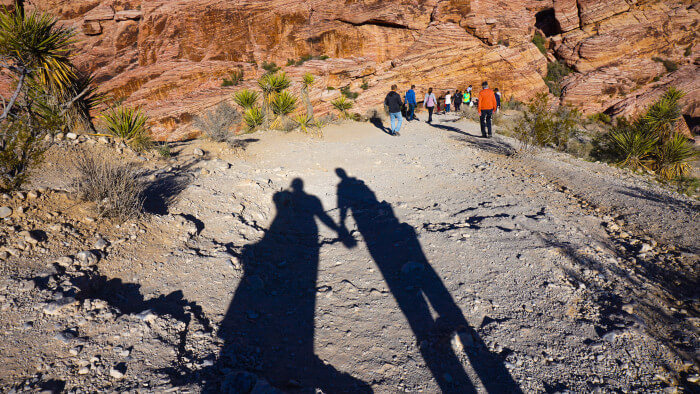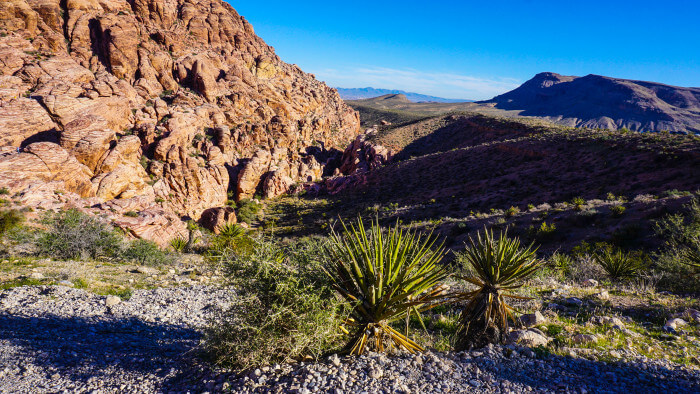 If you have any questions about visiting the Red Rock Canyon National Conservation Area, don't hesitate to drop me a comment or tweet! 🙂