---
Are you on the look out for fun things to do in Portland, Oregon? This list has loads of fun suggestions to keep you busy!
---
Portland, the city of roses. best known for: donuts, food trucks and breweries. But there's loads more to this gorgeous city in America's Pacific north west, and it's definitely worth getting to know a little better beneath the surface. Portland is a fun place and there are so many fun things to do in Portland. It's a city of the weird and wonderful – so having a great time here is really easy.
We've made a list of fun things to do in Portland, that of course includes the usual suspects, but we've thrown in a few curveballs too!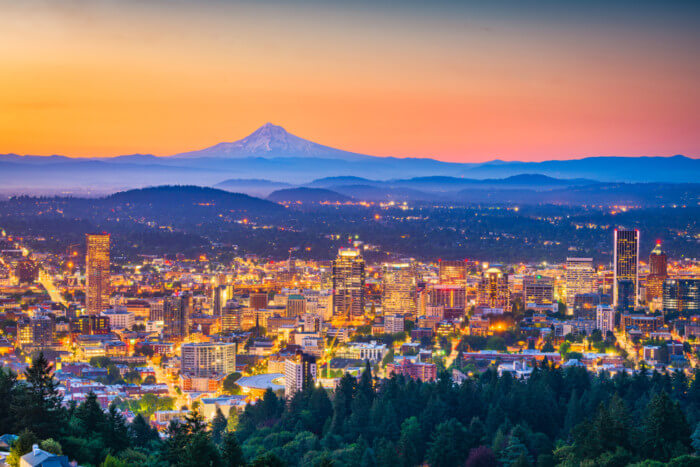 ---
Voodoo doughnut
---
First on my list of fun things to do in Portland, it's Voodoo doughnut. Like Willy Wonka's chocolate factory but for donuts. You can get one as big as your face, to one that's bacon maple flavour. It shouldn't work – but it does. If your idea of fun often include food, then this is an absolute must in the city and you'd be stupid not to tick this off your list of fun things to do in Portland. Go in, grab the craziest donuts you can see and then have a picnic on the Portland sidewalk.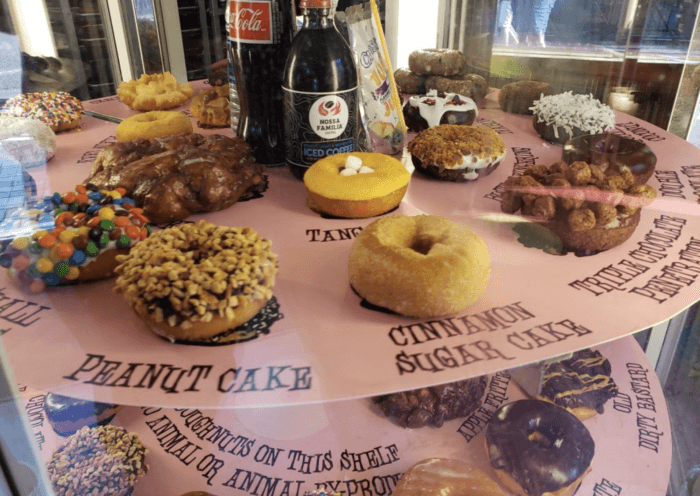 ---
Pok pok
---
Another food suggestions, but Portland is ALL about amazing food, so expect to see more than a few restaurants / foodie locations on this list of fun things to do in Portland. This amazing Thai restaurant comes to you from an award-winning chef, and the food is ridiculously outstanding (and not too expensive either). Get the fish sauce wings, and a whiskey sour. You won't regret it.
---
Portland Aerial Tram
---
The Portland Aerial Tram is a mode of transport in the city, but it's also a really fun thing to in Portland! Basically head up there for some great views and a chance to take some epic photos of the city and surrounding landscapes! A winner for me, I love it. Adult admission is about $4.70 (for a round trip fare) so it's great value too!
---
Shanghai Tunnel/Portland Underground Tours
---
This is a bit of a weird one, but for the curious amongst you – you'll definitely want to give this a go. It's a bit mysterious, a bit macabre, and just generally really interesting. The best way to see the tunnels are by guided tour – here's the one I'd recommend.
---
Washington Park
---
This huge 159-acre space in the West Hills is definitely one of the best fun things to do in Portland, and it's great for those who love the outdoors and love soaking in the sunshine (during the summer, at least!). Look out for the grotesque gargoyles in the Chiming Fountain, and the 34-foot Lewis and Clark Memorial Column.
---
Take the Portland chocolate tour
---
Yes you read that right. A chocolate tour of Portland. If you love chocolate, this is the tour for you, it's so much fun and there is SO MUCH CHOCOLATE. If you haven't done a food tour before – then Portland is an amazing place to do your first one – as there's so much to try and so many places to discover. This tour will take you to all the best places in Portland for chocolate lovers – and trust me, you'll love it. You can book yourself onto the tour by clicking here.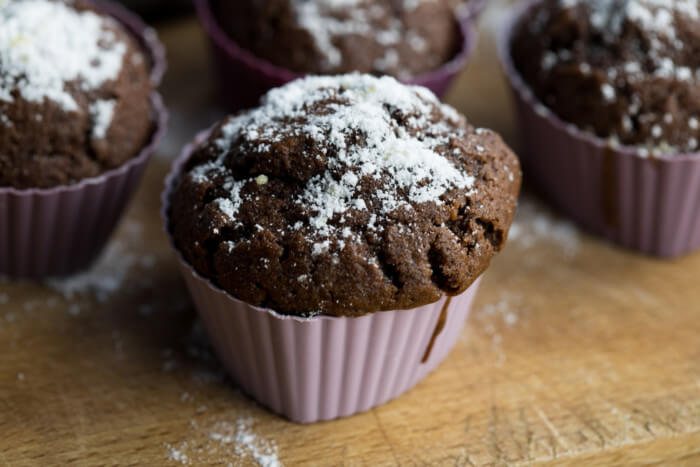 ---
Go house-hunting
---
Even if you're not looking for a house or looking to move to Portland, one of my favourite things to do (in any city) is look around the fanciest neighbourhoods and look out for the amazing houses and properties. You can actually find some of the poshest houses in Portland adjacent to Washington Park (the suggestion above) so you could easily do these two together in the same afternoon!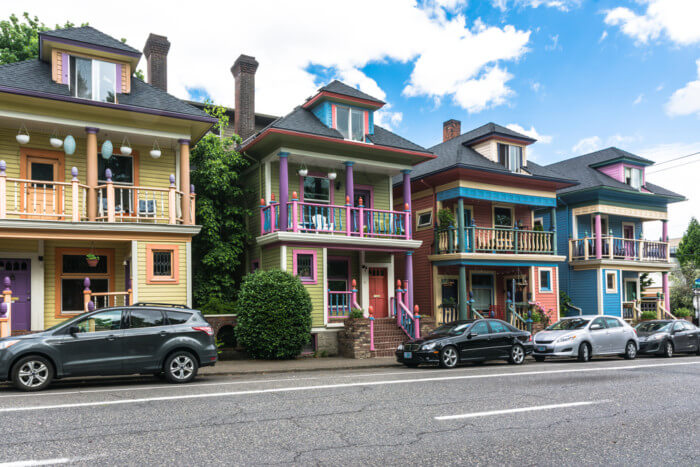 ---
Powell's city of books
---
Yeah we know it's a bookshop, but this is the biggest independent book seller in the world and it is worth the trip. Take someone you can trust to stop you from buying every title that catches your eye. You can get lost in here for hours, and it's a bit like being Belle from Beauty and the Beast when she's the gigantic library for the first time.
---
Get a photo in front of the 'Keep Portland Weird' sign
---
It's an iconic spot in the city, and something locals are super proud of – so make sure you stop by and get the classic tourist photo before you leave! Did you even go to Portland if you didn't snap a selfie here? We're not sure, so we wouldn't risk it!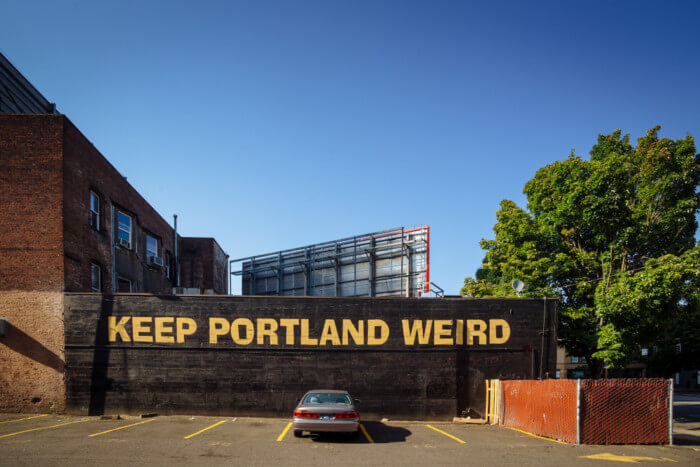 ---
Portland: Downtown Ghost Tour
---
If you're the kind of person who loves a ghost story, and loves a spooky film – then this Portland Ghost Tour is going to be right up your street. Portland is home to a surprising amount of gruesome ghost tales, so get ready for a wild ride. The main thing you'll learn about is a 19th century murder and its connection to Portland's Shanghai Tunnels (another spooky suggestion on this list!) and you'll also get to visit a super haunted hoteland hear about all the crazy things that have happened there over the years.
You can book yourself on the tour here. If you dare!
---
Multnomah Whiskey Library
---
From books to bourbon this whiskey library has more than 2,000 different bottles of whiskey from around the world. Set in a beautiful bar with wood panelling and old school class you can sample from the incredible selection in style. If you're looking for a fun night out, and whiskey is kinda your thing, then this is ticking all the boxes for fun things to do in Portland.
---
Pink Trolley Bus tour
---
Next on my list of fun things to do in Portland, it's the Pink Trolley Bus tour. Like a normal bus tour, but a bit more 'Portland' style. It's cute, it's fun, it makes for some great photos… that's all we need to say! You can book tickets here.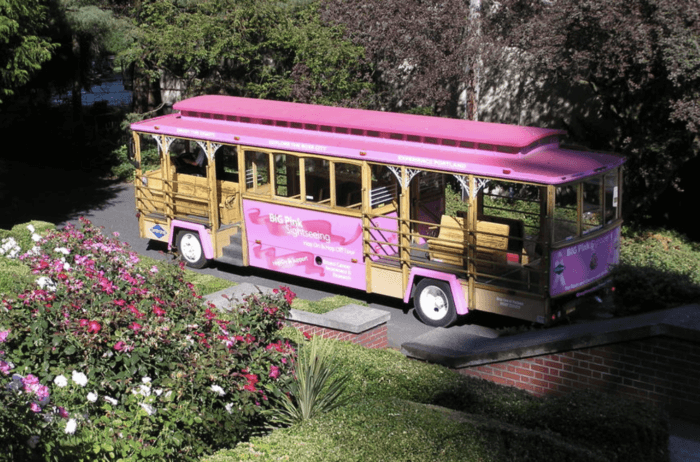 ---
Oregon Zoo
---
If you're a zoo kinda person, then a day out at Oregon Zoo is gonna be really fun for you. They have loads of beautiful animals, classes, demonstrations and just a ton of activities. It's a great place to visit if you're looking for fun things to do in Portland.
Read more winter travel tips: Does it snow in Oregon? And where does it snow in Oregon?
---
Revolution Hall
---
Next up on my list of fun things to do in Portland, it's Revolution Hall. This is a great music venue in the building of an old school. It's been known to show big names as well as up and comers, and it's rooftop bar offers sick views of the city. A great choice for fun things to do in Portland – especially if you can get tickets to something cool.
---
Take an Oregon wine tour
---
A wine tour is my next suggestion of fun things to do in Portland… I mean – have you ever heard of anything with wine not being fun? This wine tour in the city will let you taste some of the regions best wines, with some fun city facts thrown in for good measure.
I really recommend this tour, it include a visit to Pittock Mansion and Washington Park – it's a great all rounder. You can book it here.
---
Hit up happy hour
---
Next up on our list of fun things to do in Portland involves finding a spot on a patio or rooftop and settling in for drinks. Try: Solo Club, Night Light Lounge, Interurban, Radio Room, and Momo's for alfresco drinks on a scenic patio, or Rooftop bar and Xport for rooftop drinks at happy hour!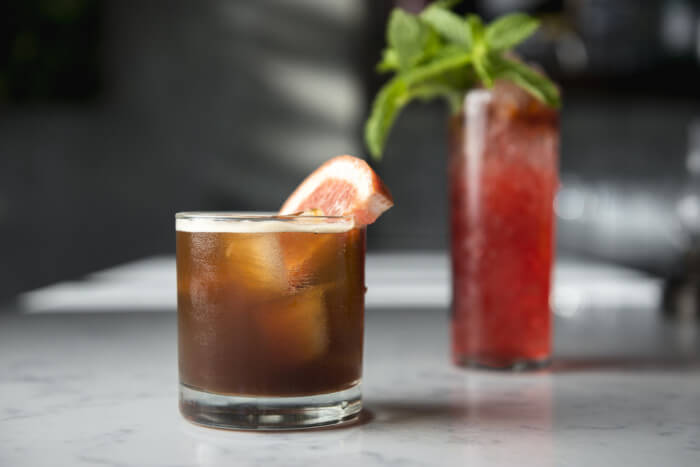 ---
Go to a Brewpub Movie Theater
---
A Brewpub movie theater is exactly what it sounds like. Half brewery / pub and half movie theater. If you're into beer, and you're into movies – I don't think you could find more fun that this. Here's a list of the top brew pub movie theaters in the city (they're even ranked from best to worst, to make things even easier!).
---
Spend a day hitting up food trucks
---
Next on my list of fun things to do in Portland, it's the Portland Food Trucks!
Portland is known for the amazing food scene, and the little pods of food trucks are springing up all around the city. To be honest, if you only have a day or so in Portland, I recommend trying to eat solely at food trucks and just tasting as much local food as you possibly can. The food trucks tend to pop up in clusters and groups, so there will always be a variety for you to choose from and experiment with!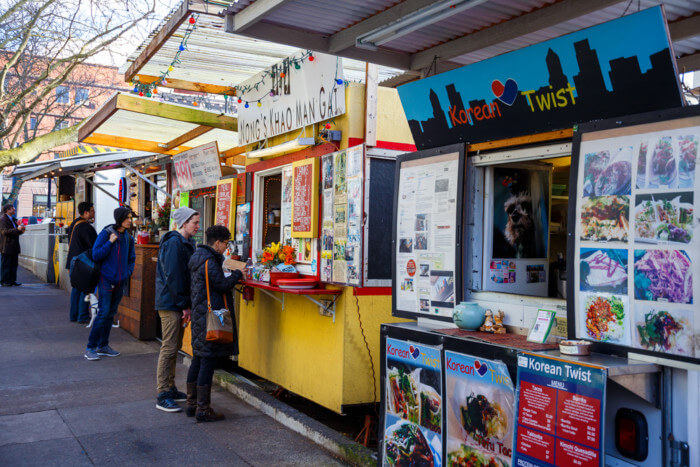 ---
Visit the Witch's Garden
---
The next idea on my list of fun things to do in Portland, it's the Witch's Garden. This is located in the Portland Forest park and it's a bit of a hike but totally worth it. This weird but wonderful location is kind of spooky, but also fascinating. Definitely worth a visit, especially if you like spooky films, or just checking out a bit of local history.
Read more about Portland: The best desserts in Portland
---
The rhododendron garden
---
Everyone likes a stroll amongst verdant greenery and brightly coloured blooms. Rhododendrons are huge flowered bushes, and this park has ponds, ducks, and other wildlife besides these beautifully bright beauties.
---
Portland Art Museum
---
A big art museum that's actually good and not boring. The main collection includes some outstanding Native American art and a huge sculpture garden. Culturally invigorating and beautiful! This art museum might not be a convention option for fun things to do in Portland, but I love it.
---
Portland Mercado
---
Next on my list of fun things to do in Portland, it's Portland Mercado. Portland is well known for its food truck scene. It's home to an amazing selection of Mexican, Central American, and South American food trucks, and you'll also find a Latin American market, bar, and butcher. Not only is it a hub of great food, but it's a real community centre too. Not to be missed.
---
Take a Beer, Wine and Cocktail Tour
---
Beer, wine and cocktails – alongside a tour of the city? Do you need much more? This tour is great for solo travellers, couples and groups – and it's a lot of fun. You'll get to go to some of Portland's best bars, try some incredible drinks, and learn a little too! Sound perfect to us – you can book it online here. Definitely a great choice for fun things to do in Portland.
---
Stark's Vacuum Museum
---
Last on my list of fun things to do in Portland, it's Stark's Vacuum museum. Stark's Vacuum Cleaner Sales & Service is next on my list of fun things to do in Portland, it's the Stark's Vacuum Museum. Sounds weird, it totally is. It's basically a museum of old vacuum cleaners – and it's like the most bizarre museum ever. But it's totally fun, and even if you only stop in for 15 minutes – it's worth a trip over.
---
I hope this list of fun things to do in Portland is useful! Let me know how many you tick off your list!