Wondering whether to make time for Little Italy in NYC, during your next trip? I'll try and give you a balanced view here!
Is Little Italy in NYC worth visiting? If you're planning a trip to NYC soon, you might be wondering this very question.
Sure, Little Italy is part of many guidebooks and travel guides – but is it actually worth visiting? Or is it another tourist trap?
I'll try and get into it here!
---
Let's start with my unfiltered personal opinion.
I'll be honest, Little Italy is one of the only neighborhoods in NYC I don't 'get'. Yes, I know Little Italy is one of those neighborhoods most tourists and visitors have on their 'to-do' list, but I've tried again and again, and I still don't love it.
In fact, I think it's overrated.
It's one of the most famous neighborhoods in the city. It's bustling, busy, full of Italian restaurants, and located in a charming old part of the city – what's not to love?
But the thing is, I just don't. Love it, that is.
So, is Little Italy in NYC worth visiting for me personally? Probably not.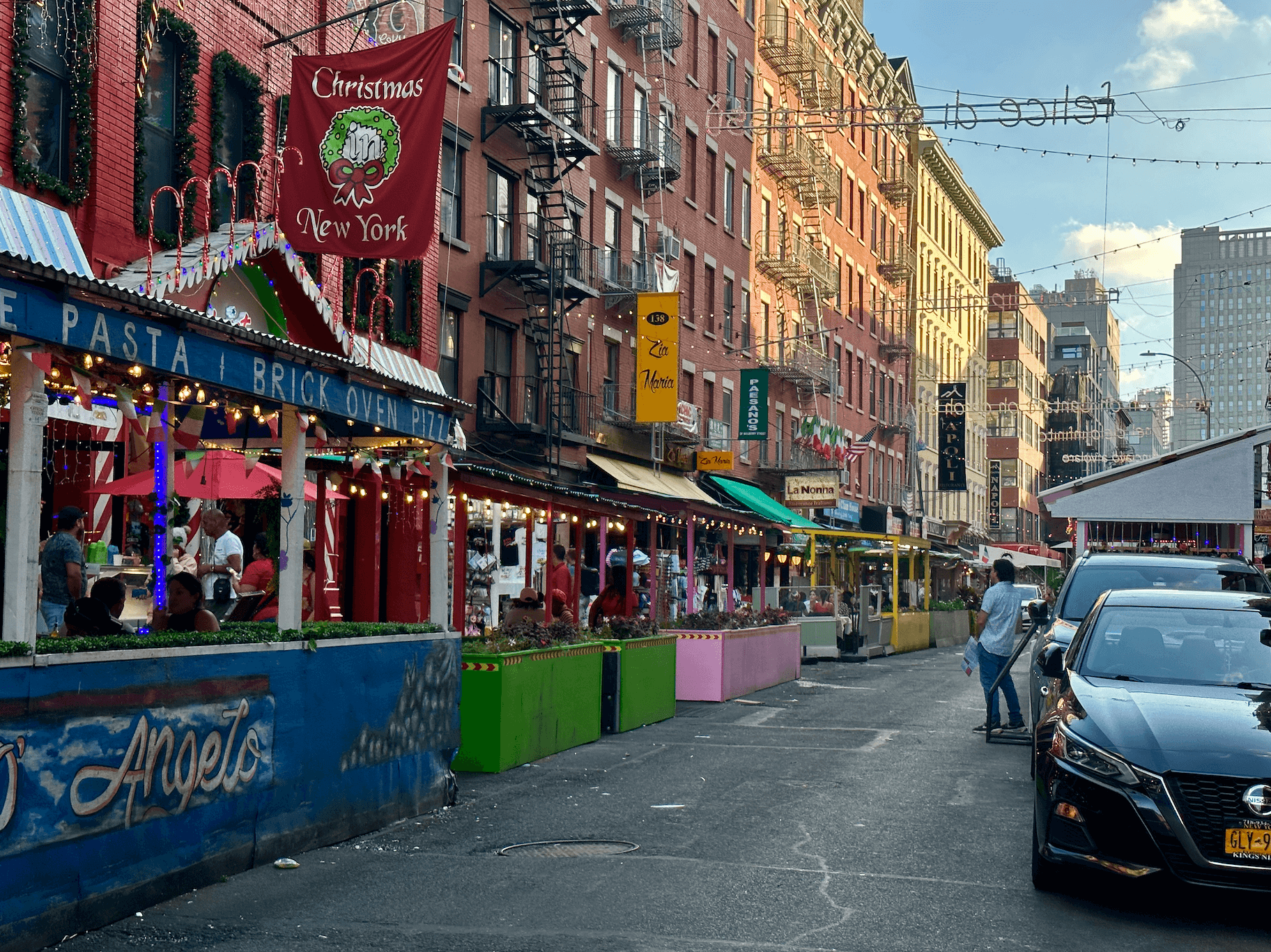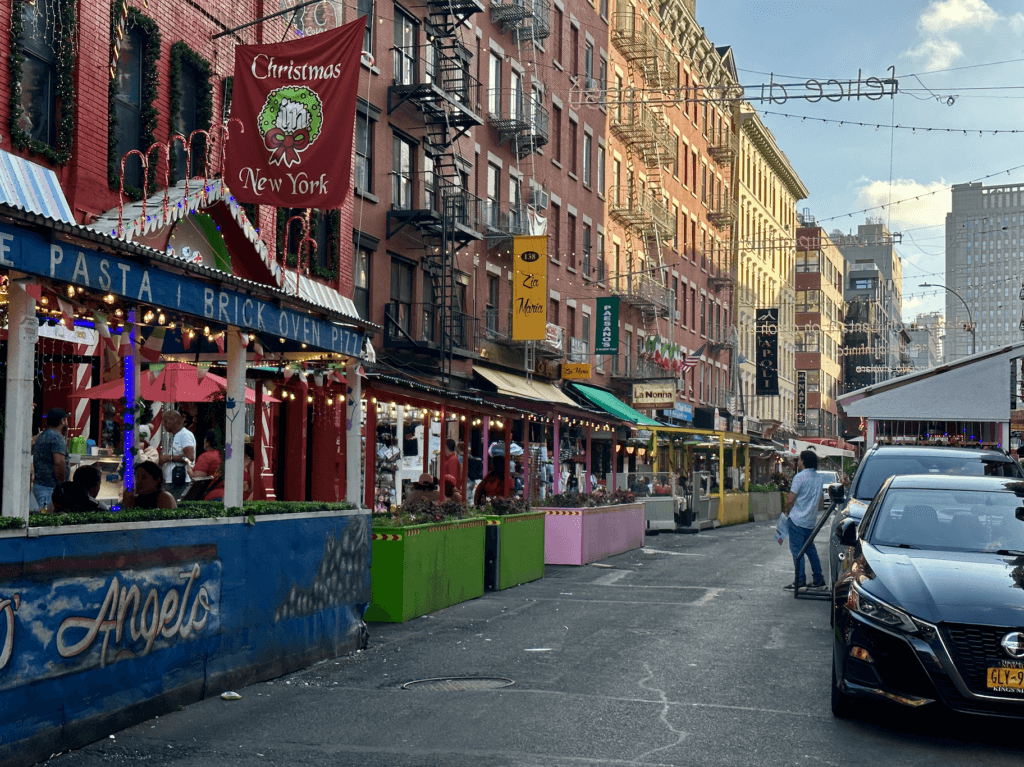 In this blog post though, I'll try and give a more balanced approach. I'll talk about Little Italy, what there is to do there, and I'll also answer some common questions people have about visiting Little Italy too, especially concerning safety.
I'm not going to be completely negative (I promise!). I'll try and give a balanced view on this little micro-neighborhood in NYC because there are some positives alongside the negatives.
---
But first, why do I think Little Italy is overrated?
I remember the first time I visited Little Italy. I wanted to love it, but I spent my time feeling a little disappointed.
It just wasn't what I imagined, and I felt like the whole place was just designed for tourists. I didn't feel like I experienced any semblance of 'authentic NYC' whilst there.
But it kind of boiled down to a few things, which I've listed below…
---
My first disappointment of Little Italy was with the restaurants and eateries.
The authentic Italian restaurants I had hoped to find, were actually tourist traps, with generic 'Olive Garden' style menus. I've been back many times, and honestly, the best Italian food in NYC is not found in Little Italy.
If you want something touristy, overpriced and generic… Little Italy probably delivers.
Another thing I don't love about the restaurant scene in Little Italy NYC, is the sales-led servers who try and coax you in from the sidewalk.
That laid-back European-style alfresco dining I imagined, was actually pushy and salesy – with servers harassing you on the street. I don't like that, it's not the kind of vibe I'm after.
When asking 'Is Little Italy in NYC worth visiting?' – if you're hoping for amazing food, I'm afraid the answer might be 'not really'.
---
My other main dislike about Little Italy in NYC, is the shopping.
I don't know what kind of shopping I was expecting in Little Italy to be honest, maybe some independent stores inspired by the cobbled streets of Rome or Florence.
I was expecting something quaint, maybe some family-run Italian bakeries, pasta shops, wine shops, foodie havens (like the streets I had experienced in Italy).
But the little independent stores I was hoping to browse around were actually just more tourist stores, filled with the same souvenir crap as Times Square.
Seriously, it feels like every store in Little Italy NYC, sells exactly the same touristy crap as Times Square. There's nothing unique being sold here, it's just generic, awful, tacky tourist souvenirs.
That's not my idea of fun – and it just adds to my dislike and disappointment of the neighborhood in general. It just didn't feel anything like I hoped or imagined.
Is Little Italy in NYC worth visiting for shopping? Absolutely not.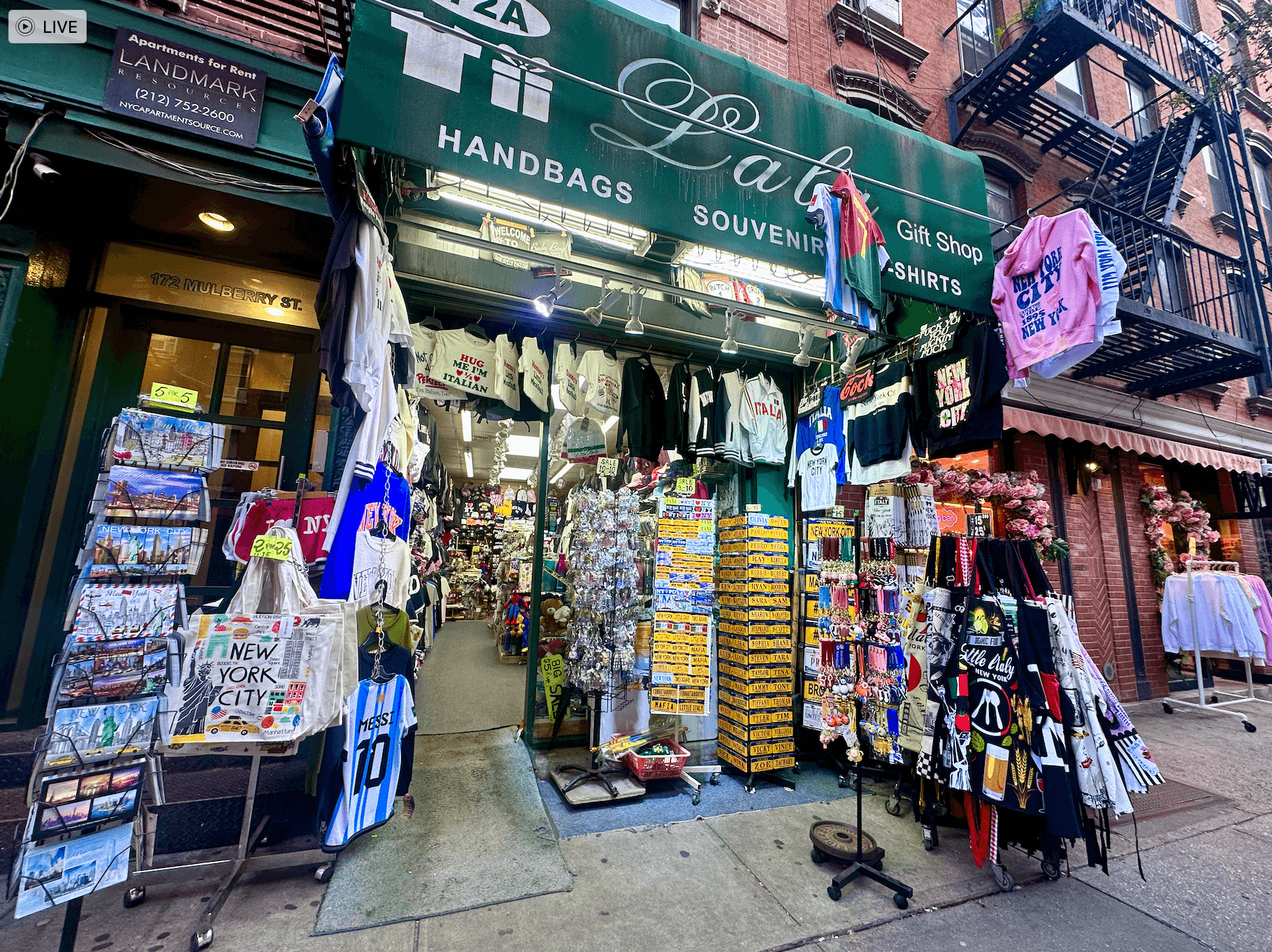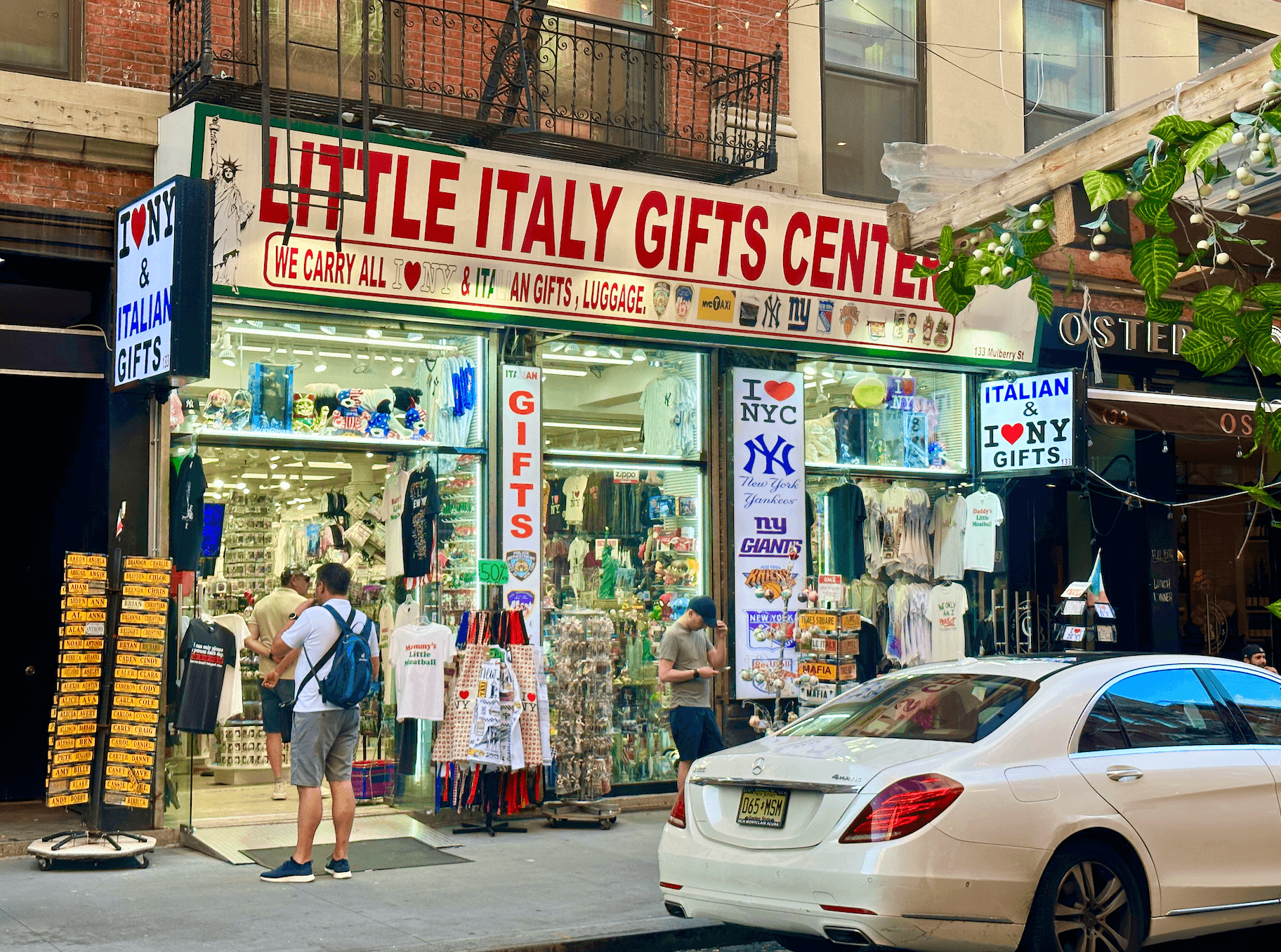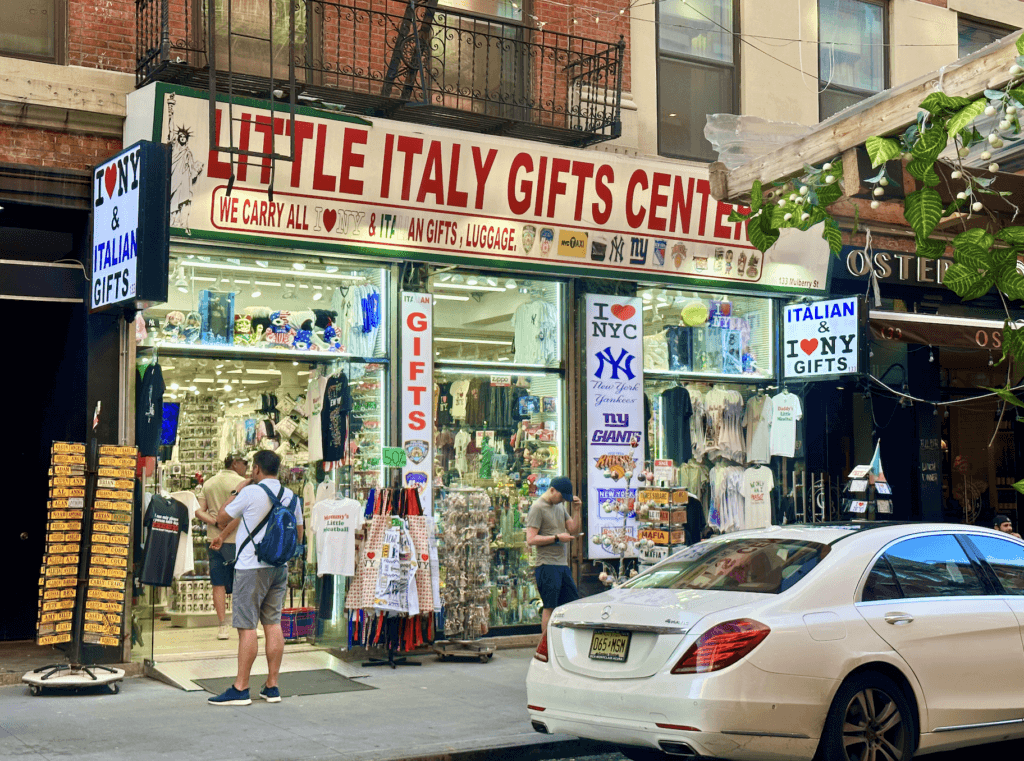 ---
And lastly, I just dislike the general 'vibe' of Little Italy
This one is hard to put my finger one and explain properly, but I just don't enjoy the vibe of Little Italy.
I can see the potential of this neighborhood. But it makes me a bit sad that it'll never reach it's potential – because of the sheer amount of touristy gimmicks there.
Restaurants feel a bit 'forced' and 'themed'.
The streets are busy and chaotic (and not in a good way).
You get harrassed on the street by restaurant staff.
Every second building seems to be a tourist trap of some sort.
Everything feels a bit 'fake' and designed for tourists.
The overall vibe from all of this, is just not my cup of tea.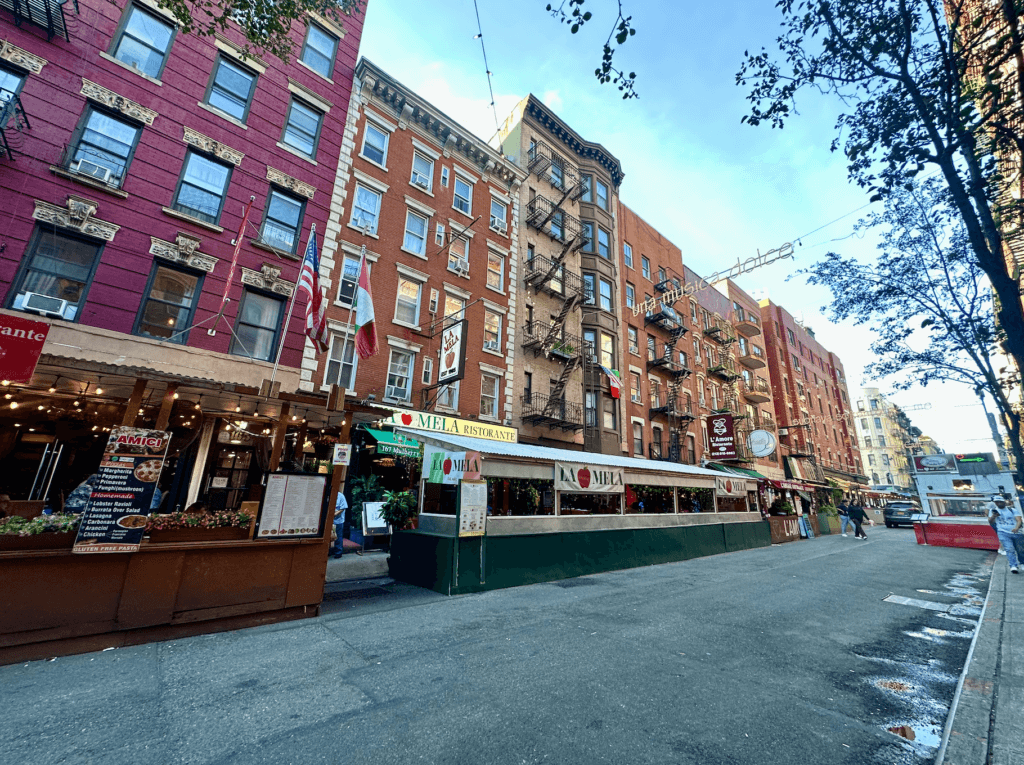 ---
Are there any redeeming features for Little Italy, NYC?
Listen, I don't want to put a complete downer on Little Italy. I promised this post would be balanced.
Lots of people love this little neighborhood, and there certainly are things to love here, if you look hard enough.
Some of the positives of Little Italy, at least from my perspective, are below.
It looks really pretty at nighttime when all the street is lit up with bulbs and signage. I think the evening is the best time to visit Little Italy for this reason.
Christmas in New York is located in Little Italy. This is an all-year-round Christmas store, and whilst it's one of the tackiest shops I've ever stepped foot in, I kind of love it.
There is some nice street art around the neighborhood.
The buildings in Little Italy are quintessentially 'New York', and whilst I don't love the vibe of Little Italy, I absolutely adore the architecture. The buildings in this part of NYC are beautiful.
Is Is Little Italy in NYC worth visiting for any of the above points? Perhaps. If you love these old-style buildings? Then yes, you'll love seeing them here.
Is Little Italy in NYC worth visiting for a cute selfie in front of the famous sign? Yes, I guess so, if you're in the area!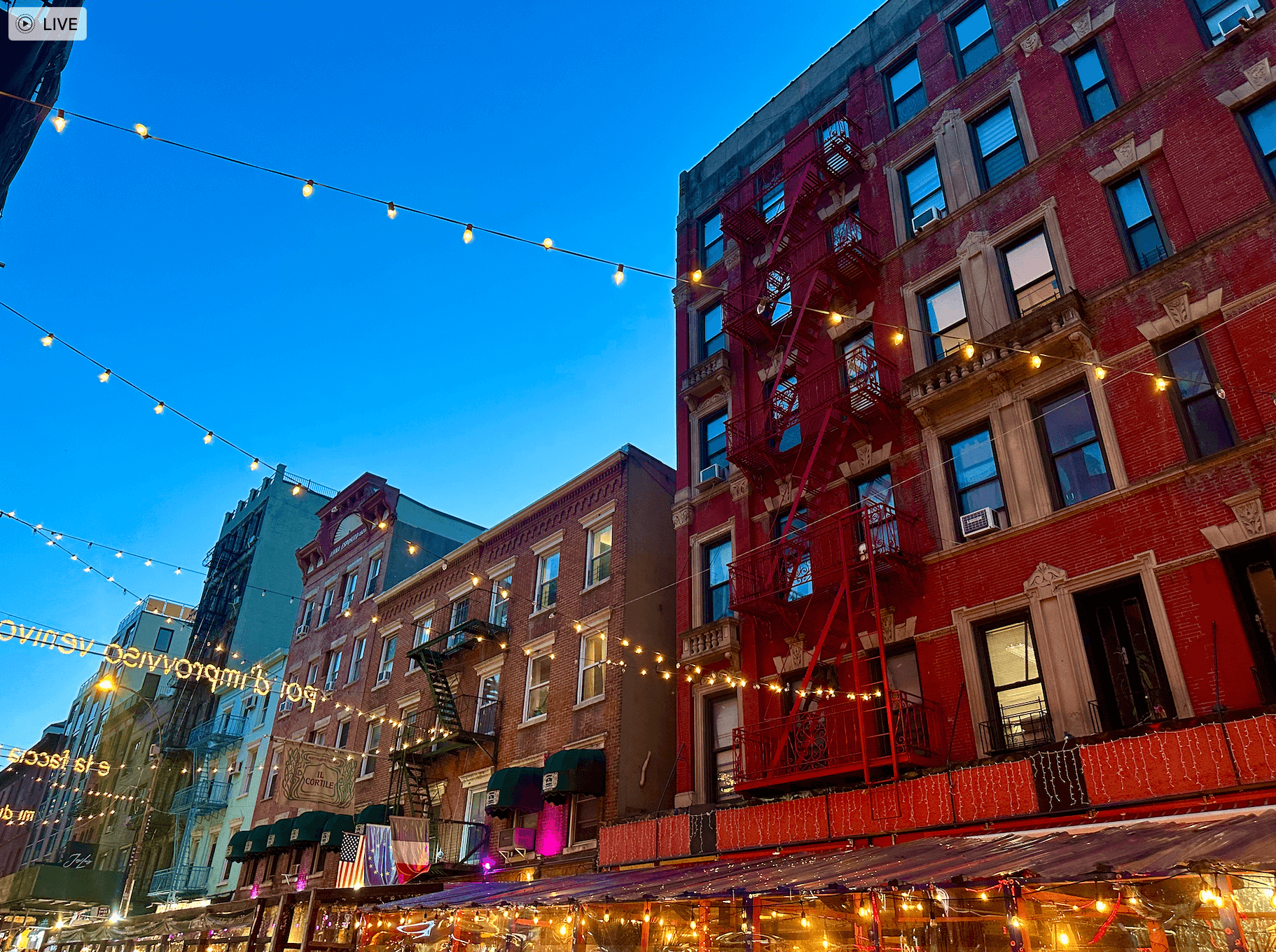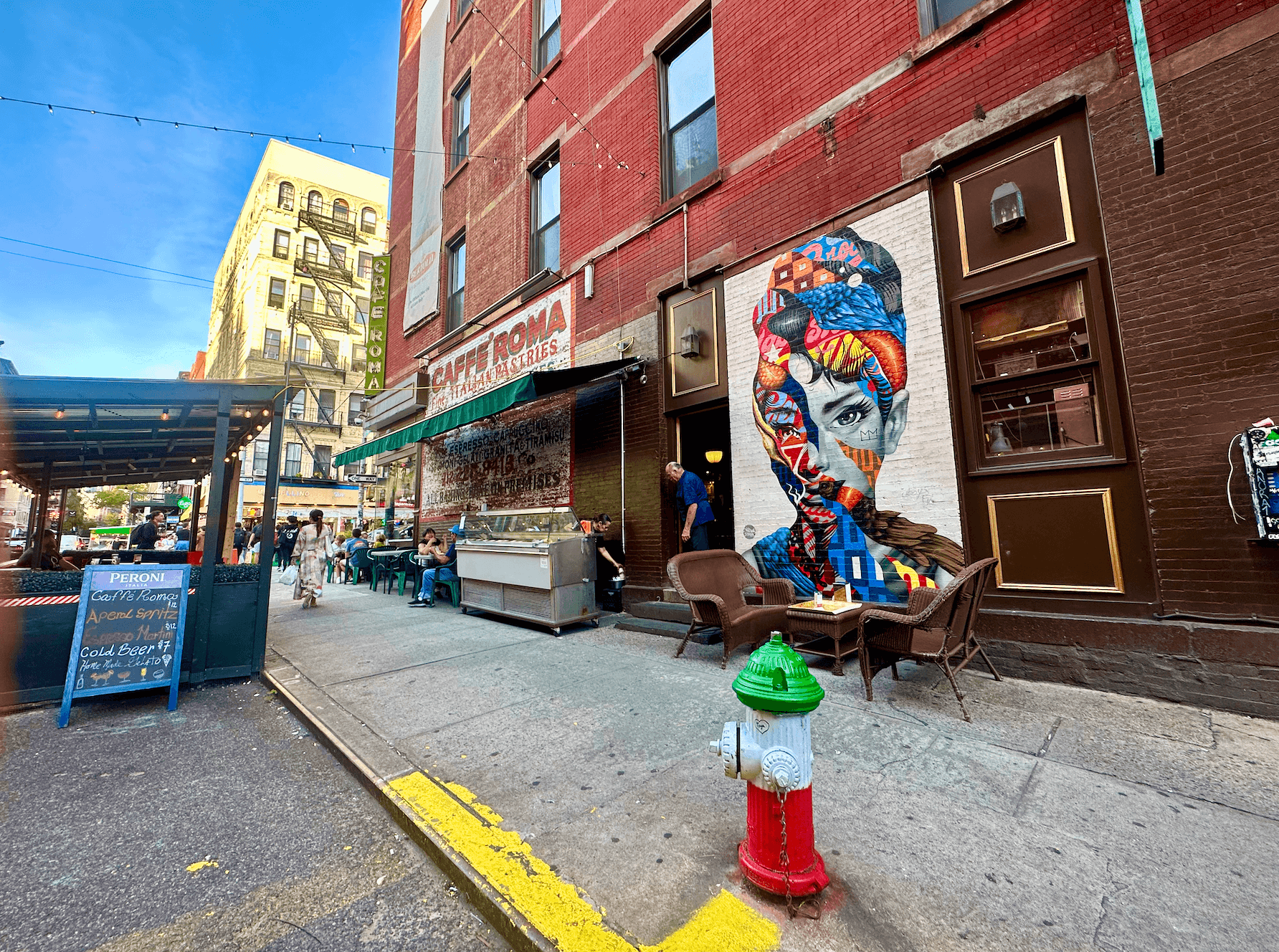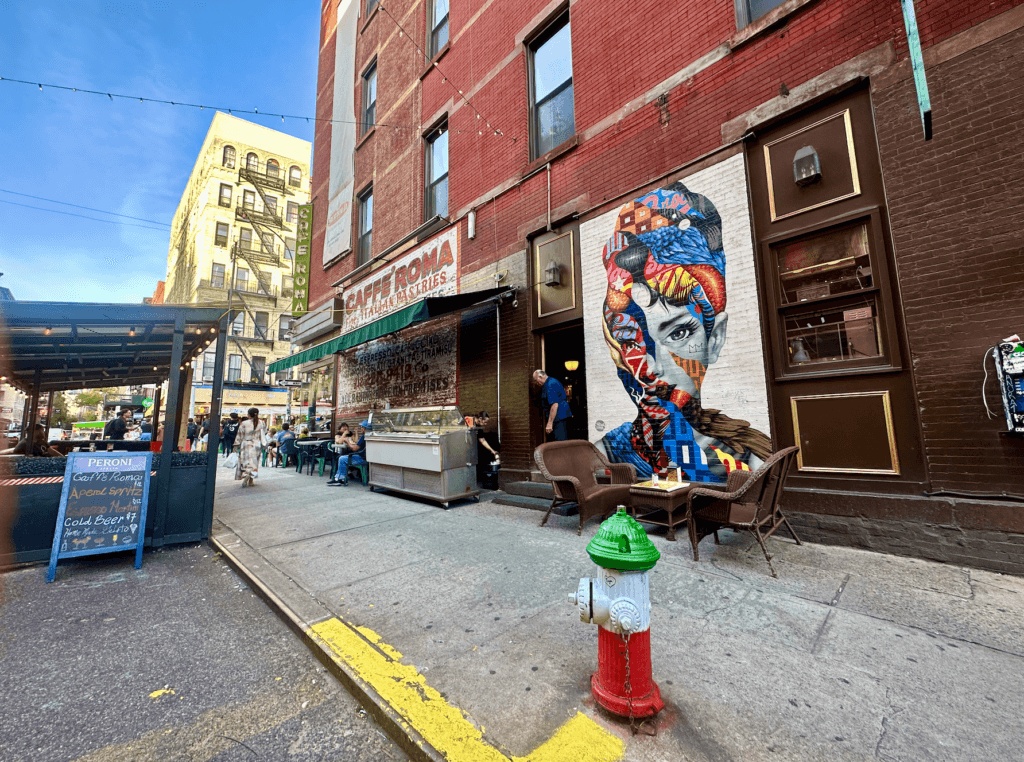 ---
Now for some commonly asked questions about visiting Little Italy…
I know this guide is about answering the question "Is Little Italy in NYC worth visiting?" but I thought I would answer some commonly asked questions about Little Italy in this post too.
If you've decided to pay this neighborhood a visit, these will hopefully be super helpful.
Where is Little Italy in NYC located?
Little Italy is located in the Lower East Side of Manhattan, NYC. It is close to areas like Soho, and Chinatown, so it can be easily visited alongside those neighborhoods too.
---
What is the best street to walk in Little Italy NYC?
Little Italy spans a couple of streets and blocks (as you'll have noticed on the map above). But I'd say that Mulberry Street is the main hub of activity in Little Italy.
Mulberry Street is where you'll find most of the Italian restaurants, alfresco dining, and tourist shops.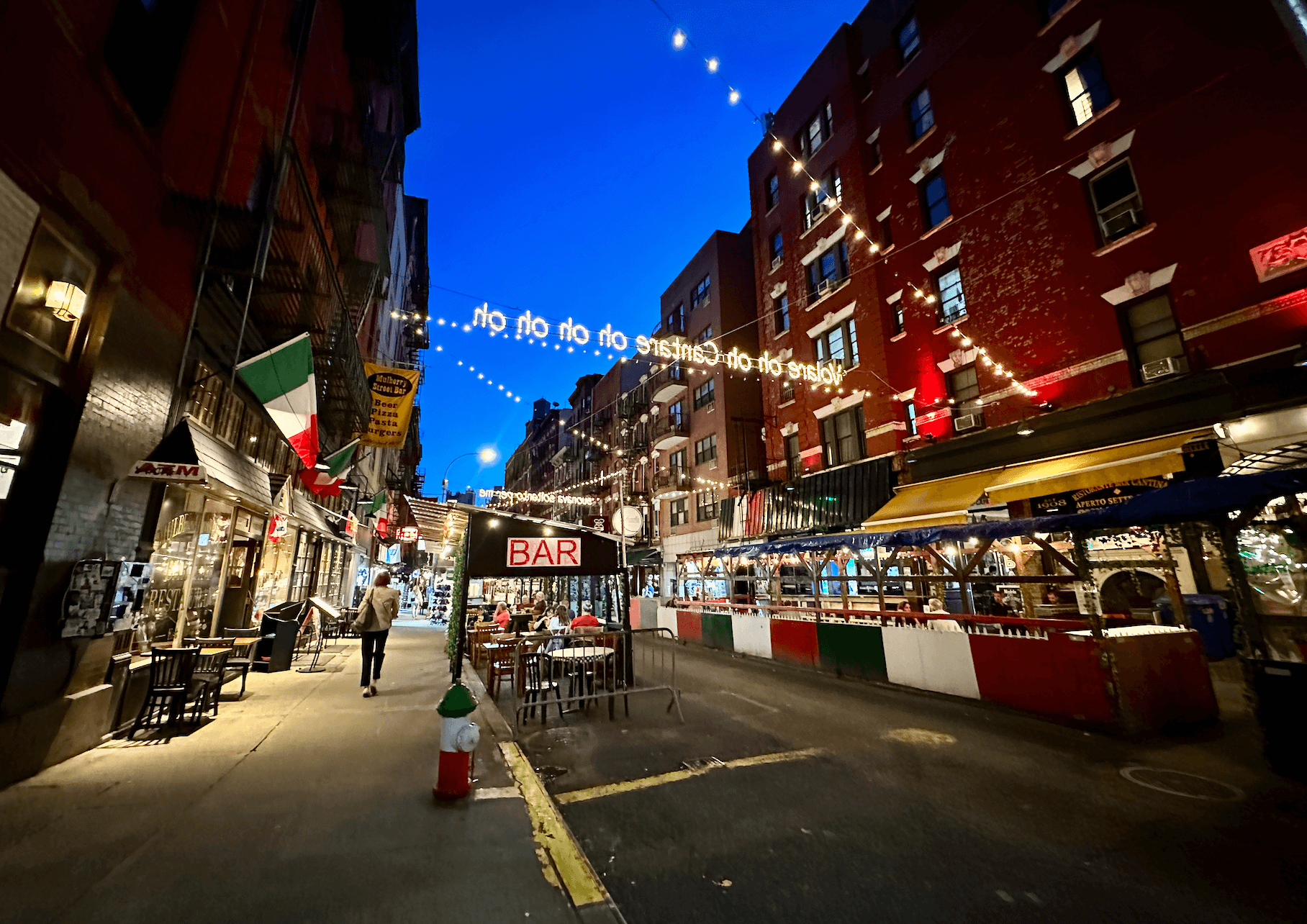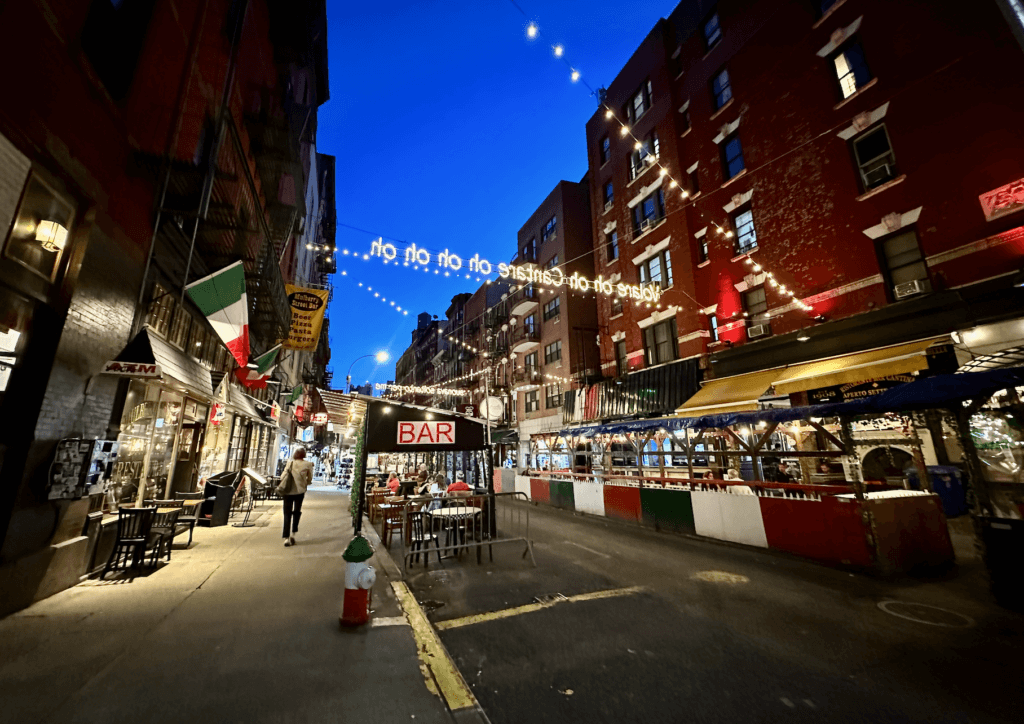 ---
---
Where is the Little Italy sign located?
If you're planning to pay Little Italy a visit, then you'll probably want to take a photo at the Little Italy sign.
You can find the Little Italy sign located at the cross-section between Mulberry St and Hester St.
The official address for the Little Italy sign is: 177 Hester St, New York, NY 10013, United States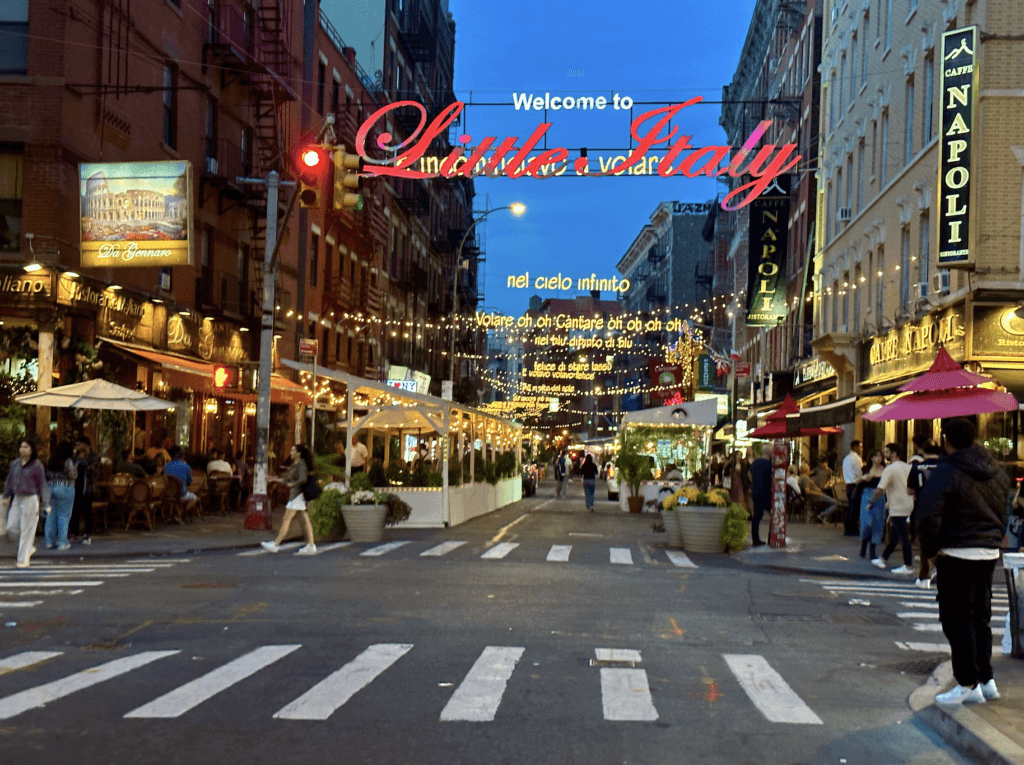 ---
Is Little Italy safe at night?
Because Little Italy is very touristy, it is considered a pretty safe neighborhood at night.
However, there are a few slightly less-safe neighborhood bordering it – so I would necessarily stray too far, especially if you're traveling solo.
---
Lastly – Here are a few amazing restaurants I recommend, that are close to Little Italy!
Look, there aren't any restaurants in Little Italy I recommend. Granted, I haven't tried many of them, but that's because they've always felt a bit too touristy for me. I love Italian food – in my soul – but I love GOOD FOOD, not touristy food.
There are some fantastic places within a 10 minute walk of Little Italy that I really recommend.
These places aren't 'Little Italy restaurants' but I promise you, they're likely better than anything you'll get on Mulberry Street in the heart of Little Italy.
Prince Street Pizza
this is my favorite pizza in NYC. It's one of the best slices in the whole city, and you can find it a short walk from Little Italy on Prince Street. Don't waste any time buying pizza in Little Italy – just go here instead. I promise you, it's better.
---
Rubirosa
Rubirosa is one of the best pizzerias in NYC, and it's only a ten-minute walk from Little Italy. This is the kind of place I imagined I'd find when first visiting Little Italy. It's cozy, authentic, delicious – everything you'd hope from a New York City pizzeria.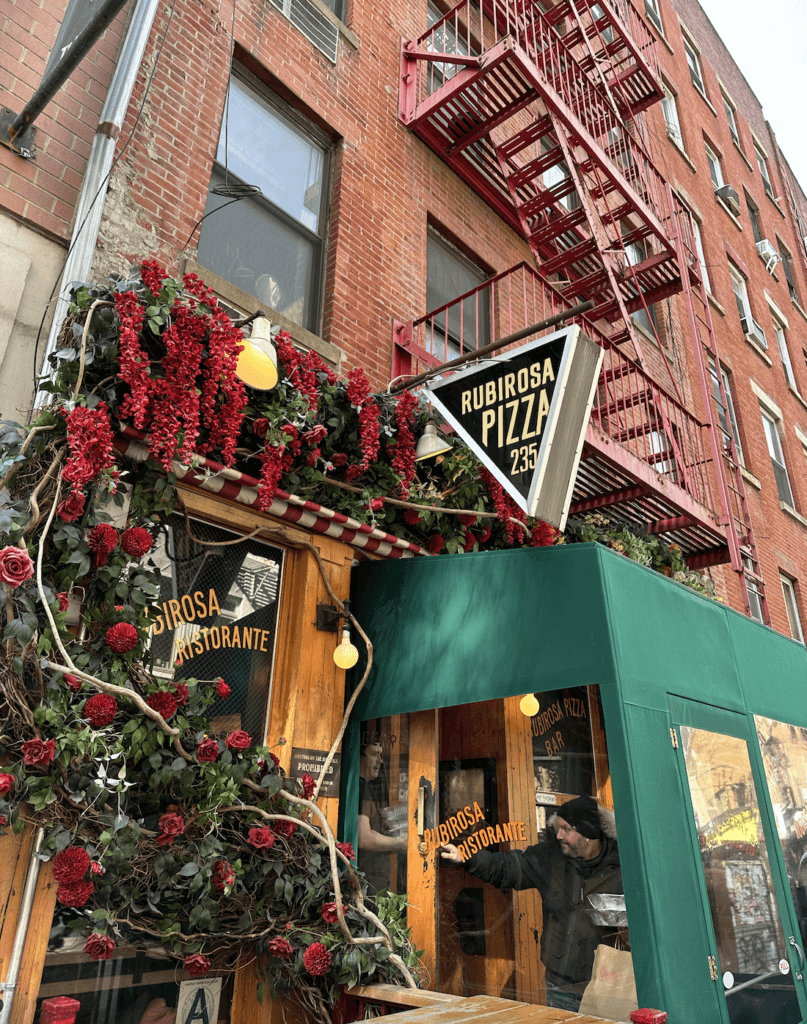 ---
Fiat cafe
A cute, quirky Italian style cafe, serving up amazing breakfast and lunch. This place is always on my mind, because I love it so much. First of all, it's downright adorable inside, but secondly, the food is delicious. It's only 10 minutes from Little Italy, and a much better choice than the touristy restaurants.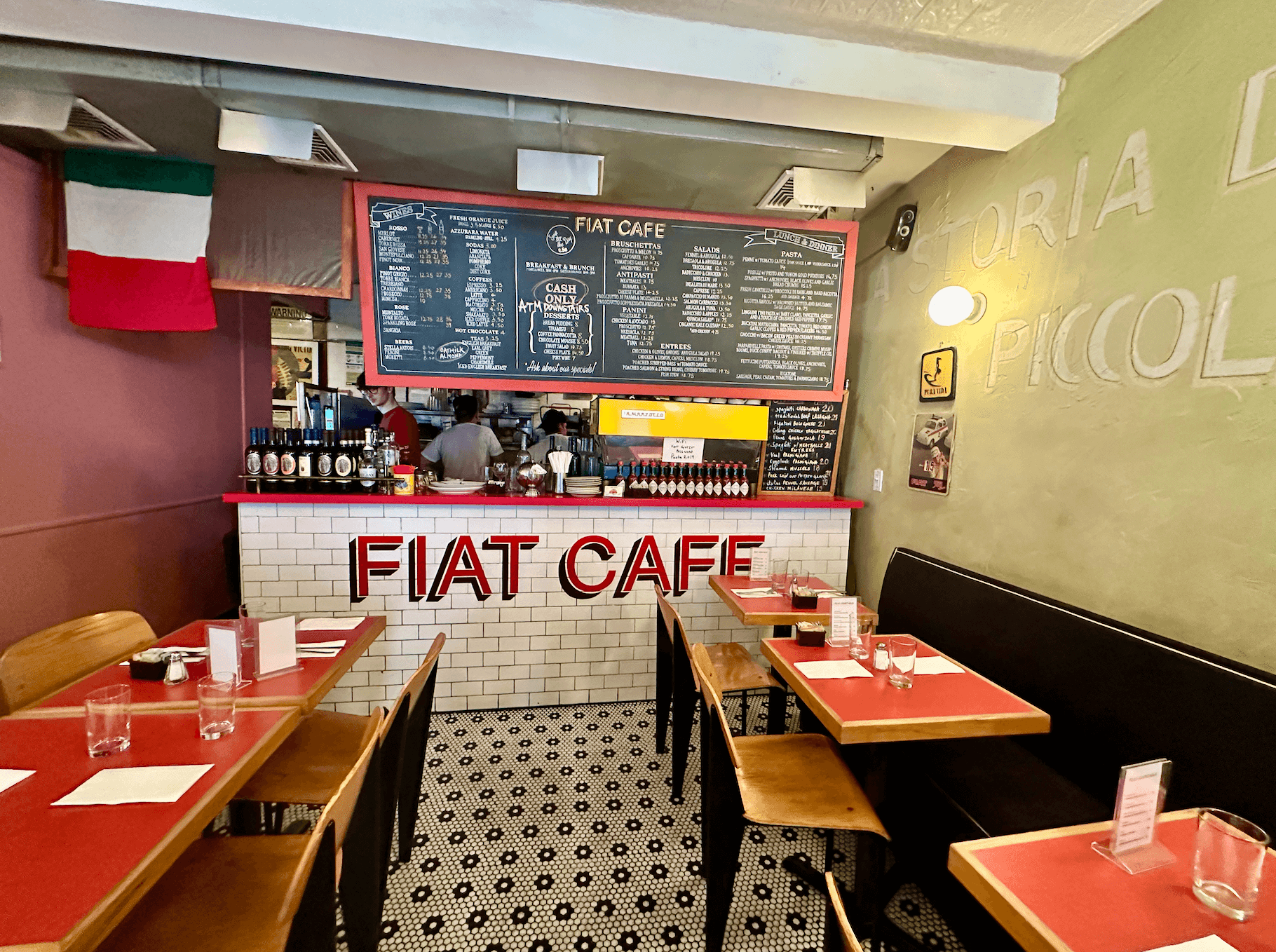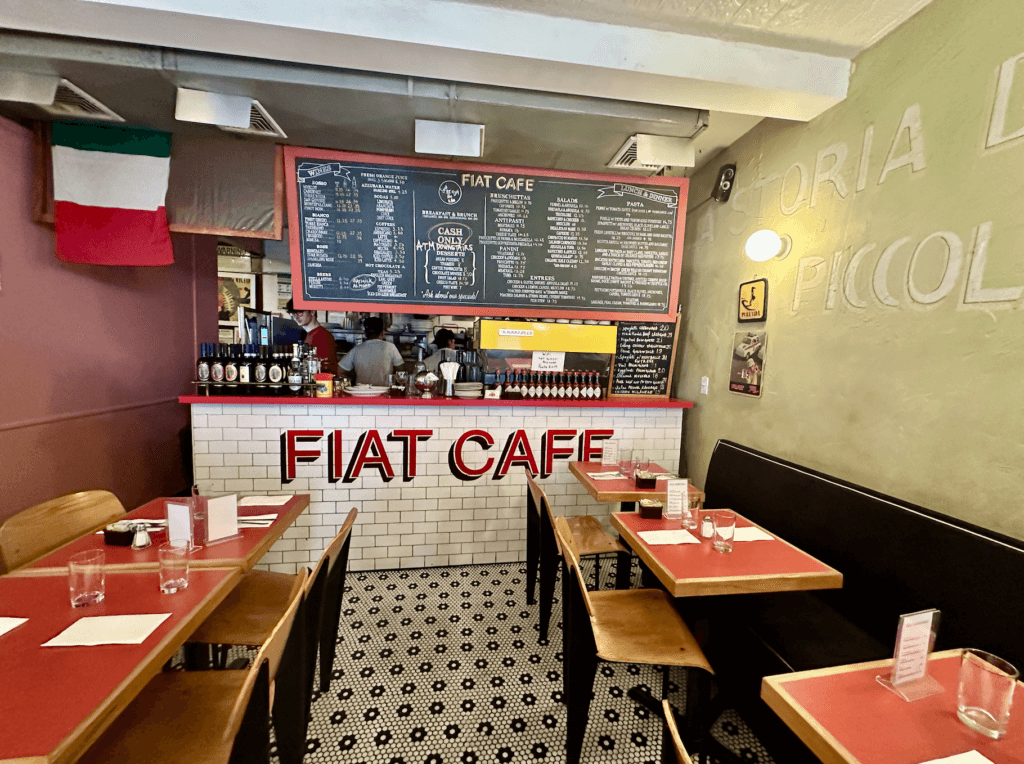 ---
So, is Little Italy in NYC worth visiting? You decide!