One of my biggest surprises on a recent visit to NYC, was the epic Harry Potter store… Take a read of my thoughts and opinions below!
The Harry Potter Store in NYC was one of my highlights during a recent visit to the city.
I visit NYC a few times a year, but hadn't yet made time to visit this magical hub of Potter-merch, and decided this trip, was the trip I'd make the effort to check it out.
Of course, I'd read about this 'big' Harry Potter store in the heart of New York City, but I kept putting it off because it wasn't really 'exciting' me. I thought it was just another touristy store.
I had in my head that it would be 'just another' themed souvenir shop.
Oh how wrong I was.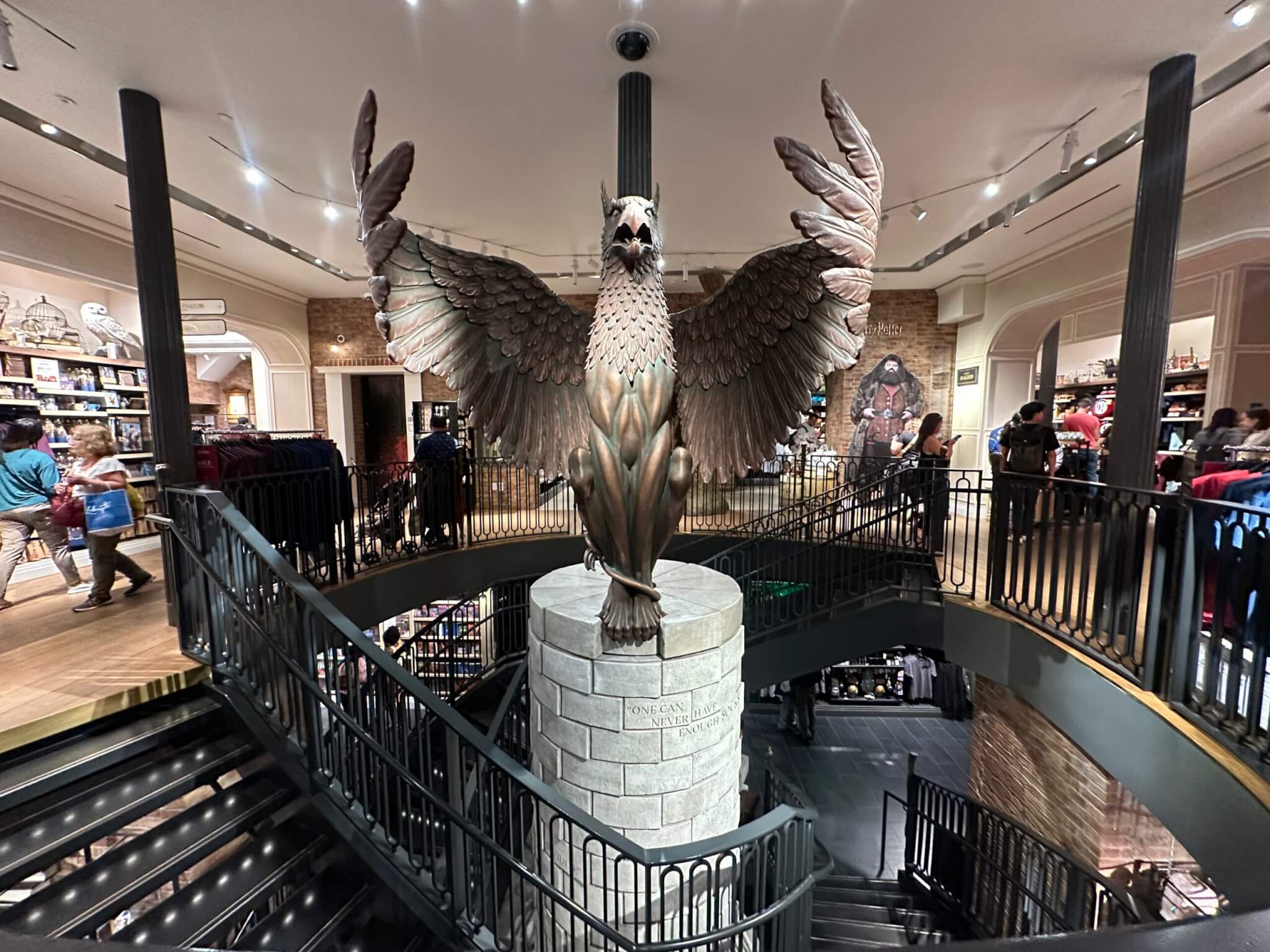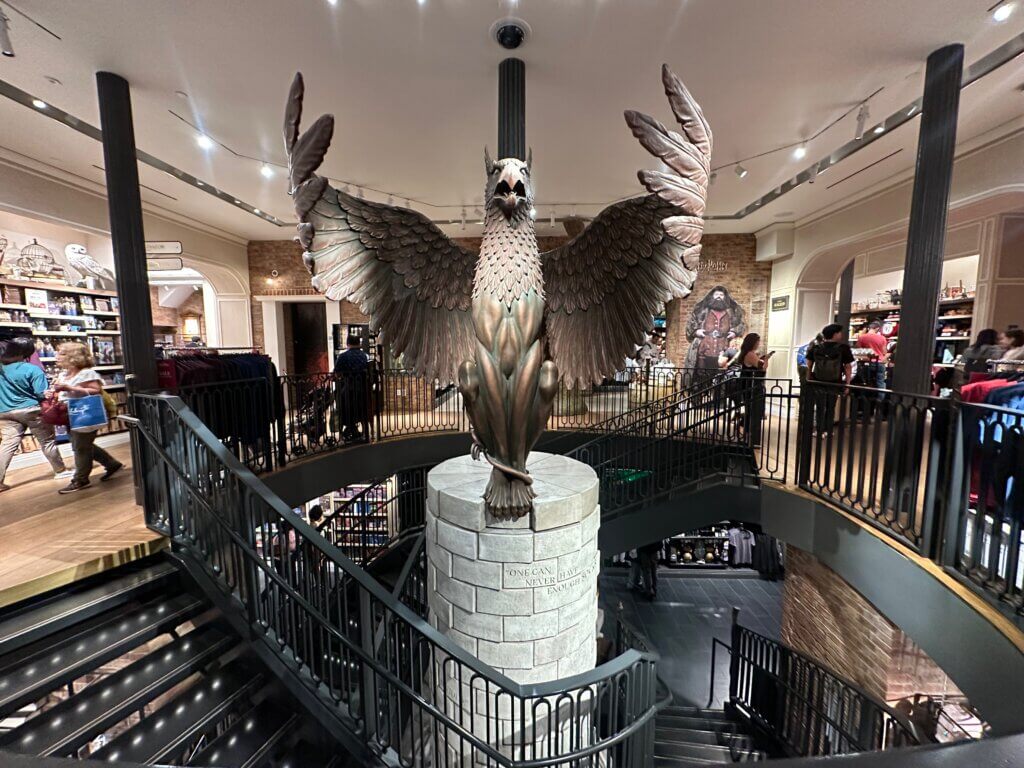 As someone who grew up reading Harry Potter and watching the movies, this place encapsulated all the magic of the stories I adore.
This place is not overrated, it's wonderful. If anything, I don't think people are talking about it enough!
The Harry Potter store in NYC is a love-letter to all things Harry Potter, all things magical, all things Hogwarts. It's almost like a museum!
But before I delve into more opinions and thoughts and photos, let me share some crucial information about the shop…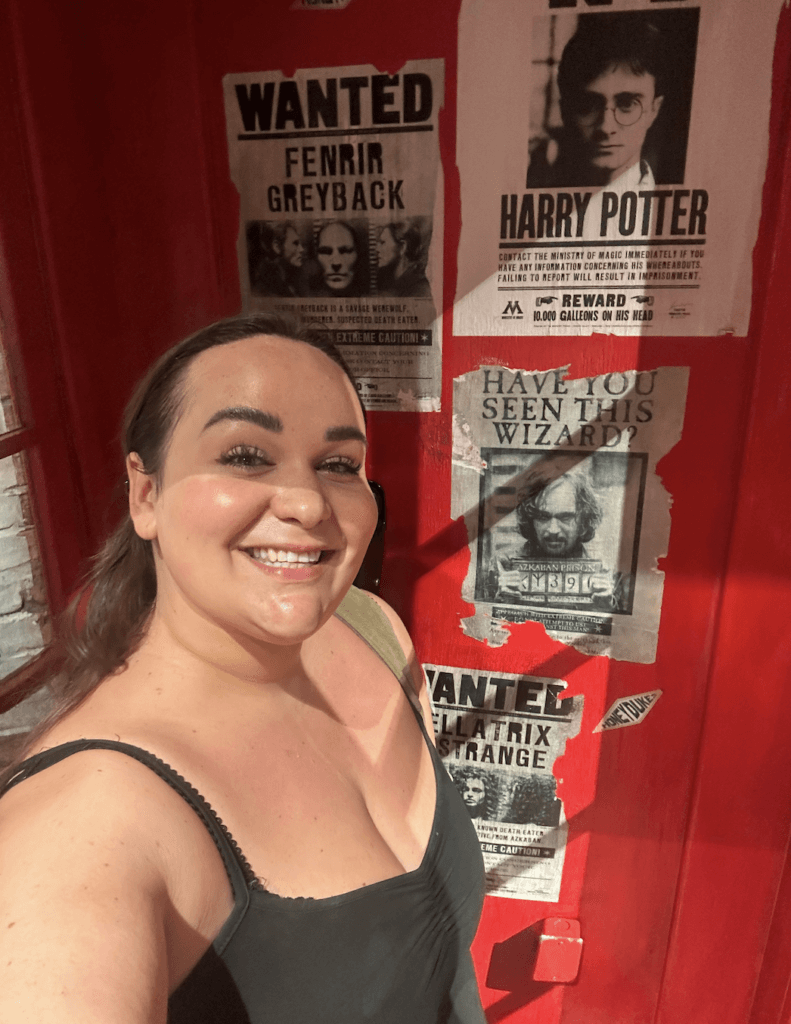 ---
Important information about the Harry Potter store in NYC
Website: www.harrypotterstore.com
Address: 935 Broadway, New York, NY 10010, United States
Hours: 9am–9pm (Monday through to Saturday), 9am–7pm (Sunday)
Closest Subway station: 23 St (N, Q, R, W)
Health and Safety: Facial coverings are optional for all guests (but not mandatory)
Accessibility: All service animals are welcome, and all entrances are wheelchair accessible.
---
Here's a TikTok I published about my visit!
If you want to walk around the store with as your personal guide, take a watch of this TikTok video I recently published!
---
How long is the wait for Harry Potter store NYC?
A big question many people seem to have when visiting the Harry Potter store in NYC, is about the queing.
When I visited the store (October 2023) I didn't need to queue. I walked straight in, with no waiting. I was right into the experience and it was wonderful.
However, I think that in peak times (when the store may reach it's capacity) they open up an online guestlist. This virtual queue system is to help them to manage capacity (which helps keep the experience as magically as possible).
To join the virtual queue, scan the QR code at the store with your smartphone, then fill in your group details (maximum of 6 per group).
To avoid having to join any kind of queue, I recommend visiting during the offpeak hours (earlier in the morning, or later on in the evening). When I visited it was about 5pm, and there was no queue to be seen.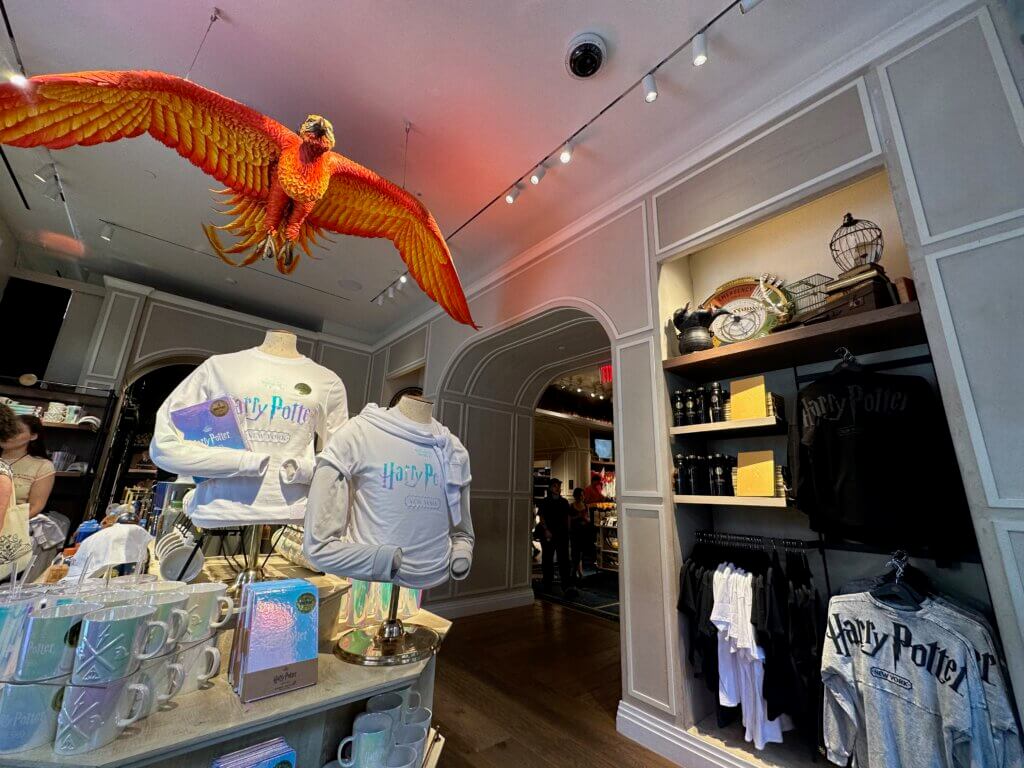 ---
How big is the Harry Potter store in New York?
Oh my gosh, it is HUGE! 20,000 square feet to be exact!
This place is a love-letter to the wizarding world, and there are so many parts to explore within the store itself. This is a store you can easily spend more than an hour wandering around. And it's so easy to get lost inside (in a good way!).
The Harry Potter store in NYC has lots of different rooms, and floors, each one themed and perfectly decorated and styled towards different parts of the story and characters.
It's amazing to me that this is just a shop – and not a museum people pay to enter! That's how wonderful the experience is, and how big the store is!
Read more about Harry Potter in NYC: My review of Harry Potter: The Exhibition (Spoiler: I hated it)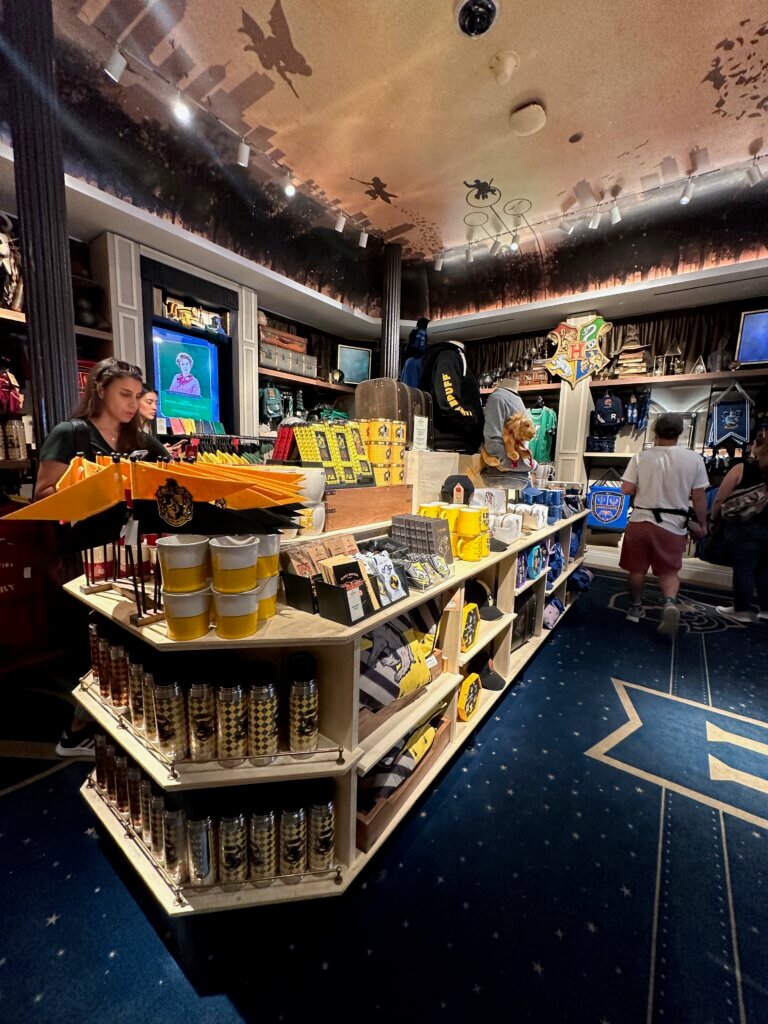 ---
What different areas are in the Harry Potter store?
OK, let me try and remember as many as possible! Because there are so many!
The ones I found most impressive were the main staircase, the forbidden forest (Hagrid's area), the Honeyduke's sweet store, The Dursley's living room, and the Slytherin area in the basement.
But there are so many more elements to the store than just these areas!
You also have a wand store (like in the movie), a butterbeer bar, and the House of Minilima too (where a lot of the original prop designs came from).
It's honestly mind-blowing just how much there is to explore in there. My jaw dropped to the floor every time I turned another corner, or discovered another part to the shop.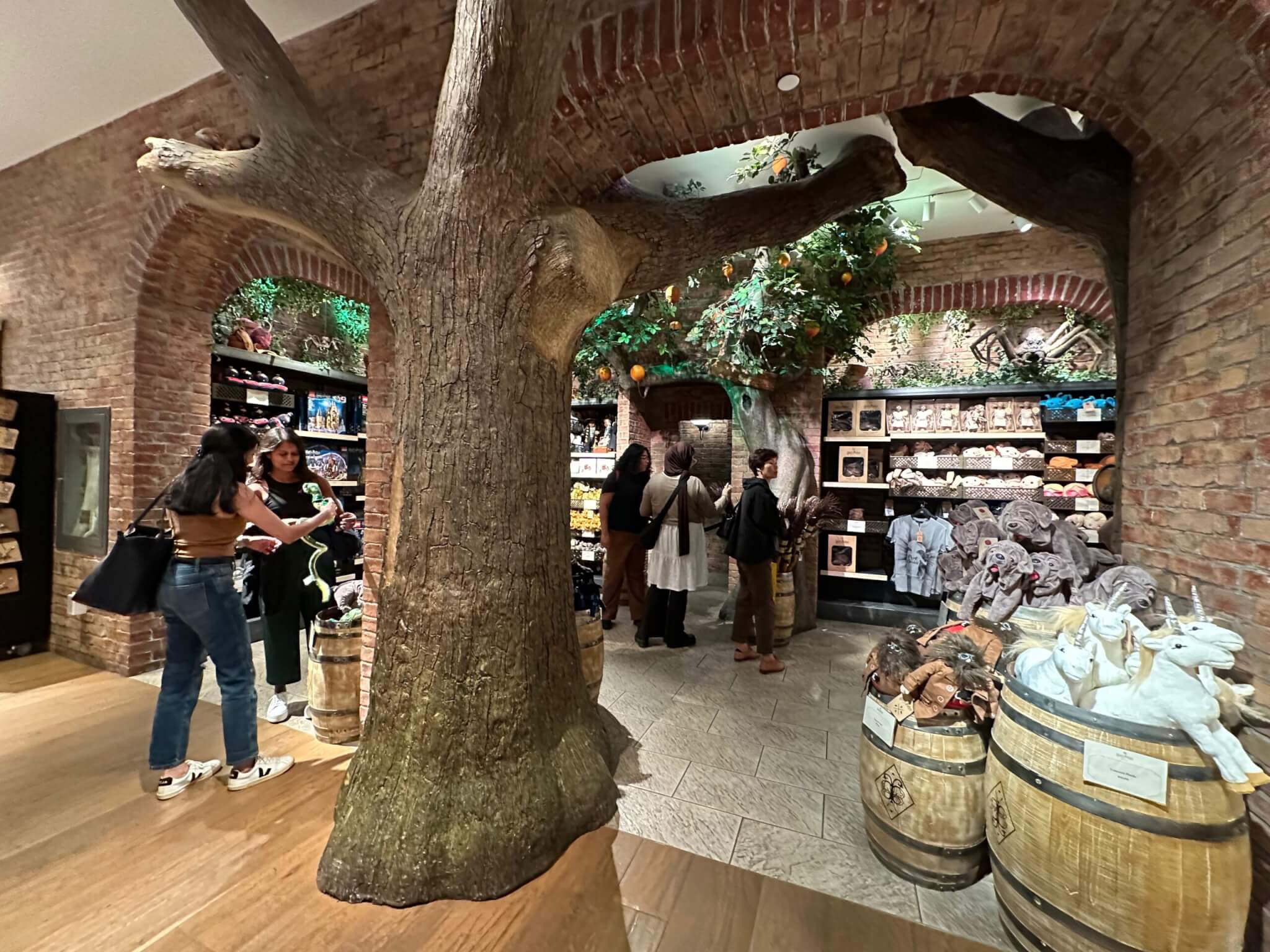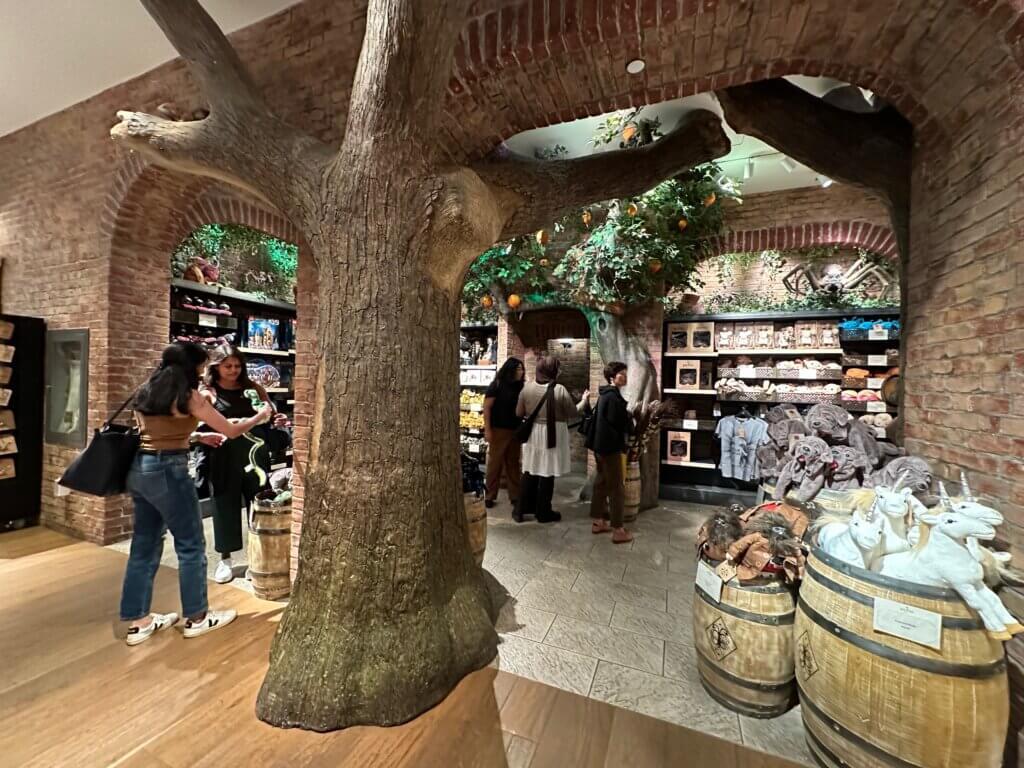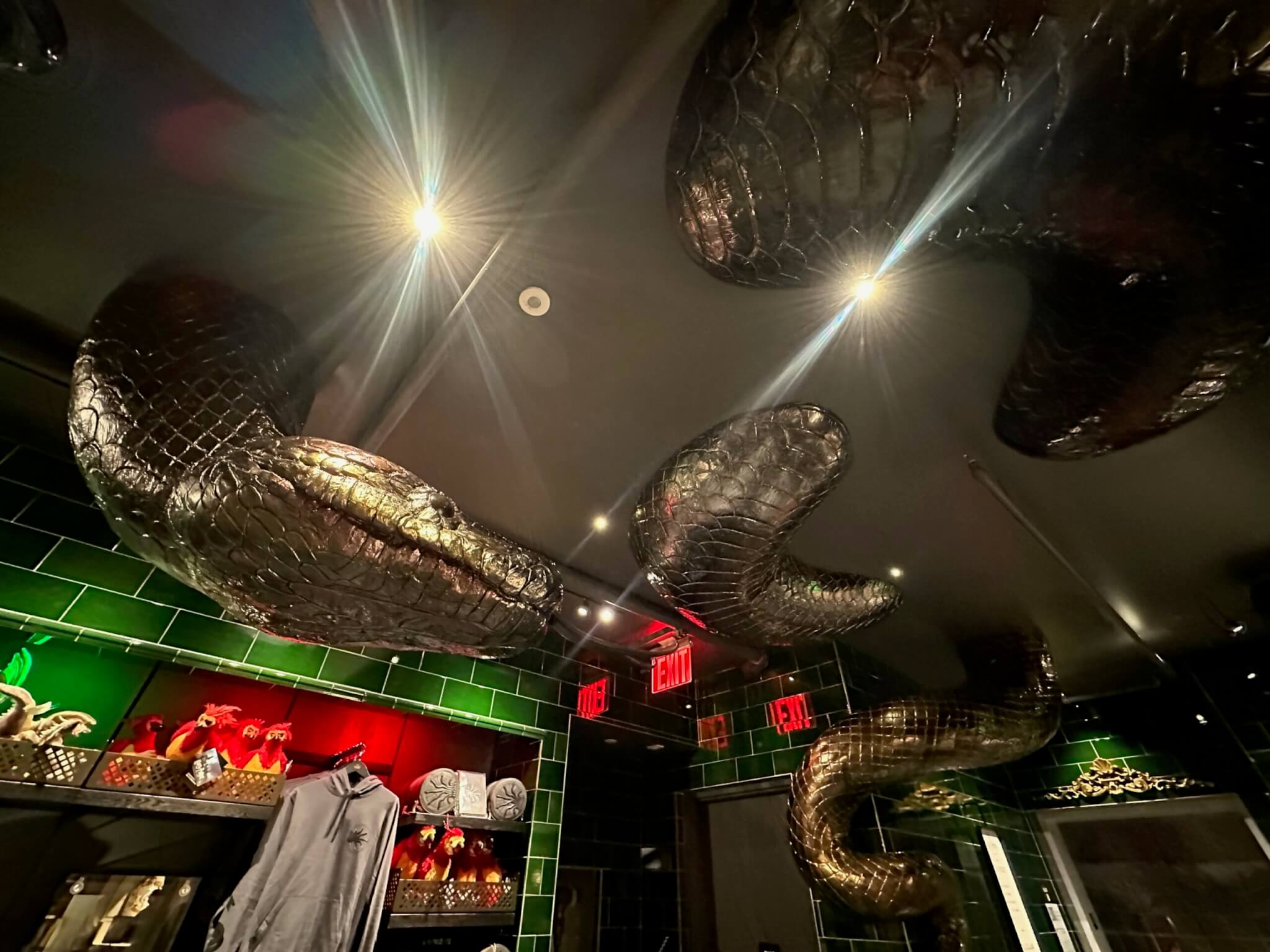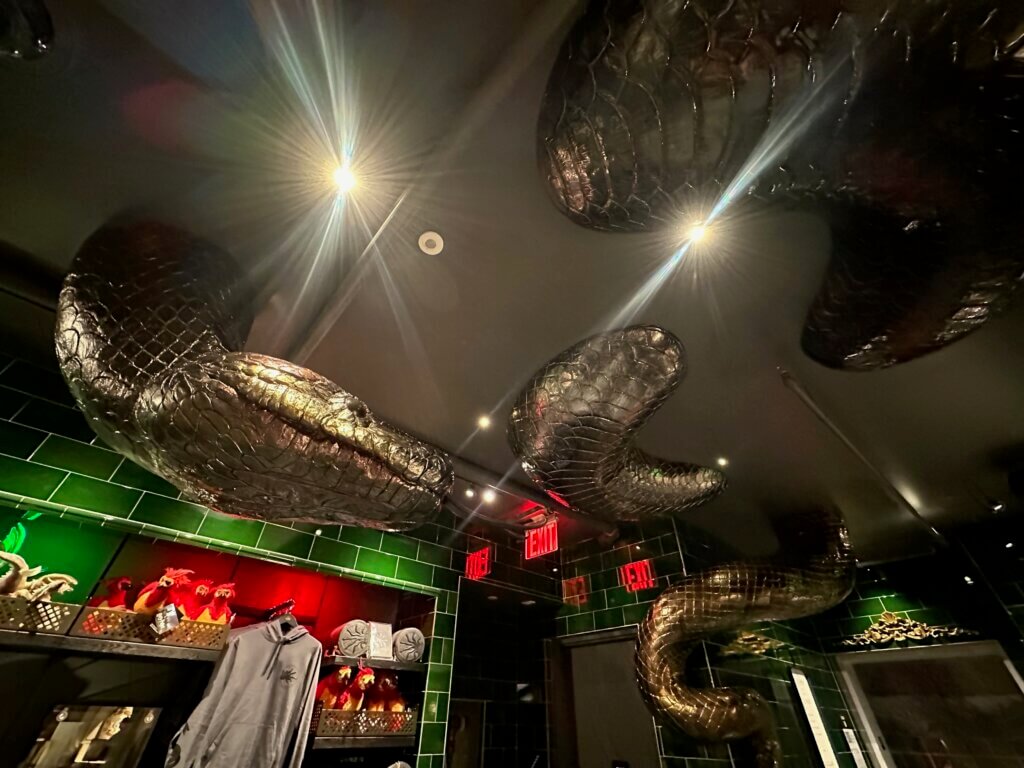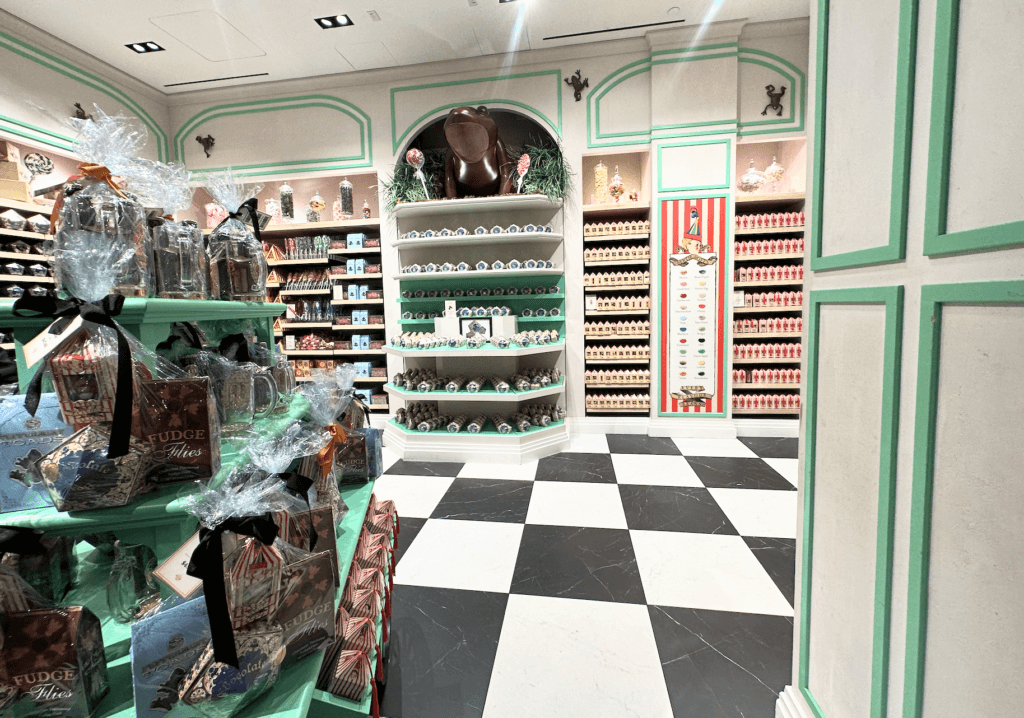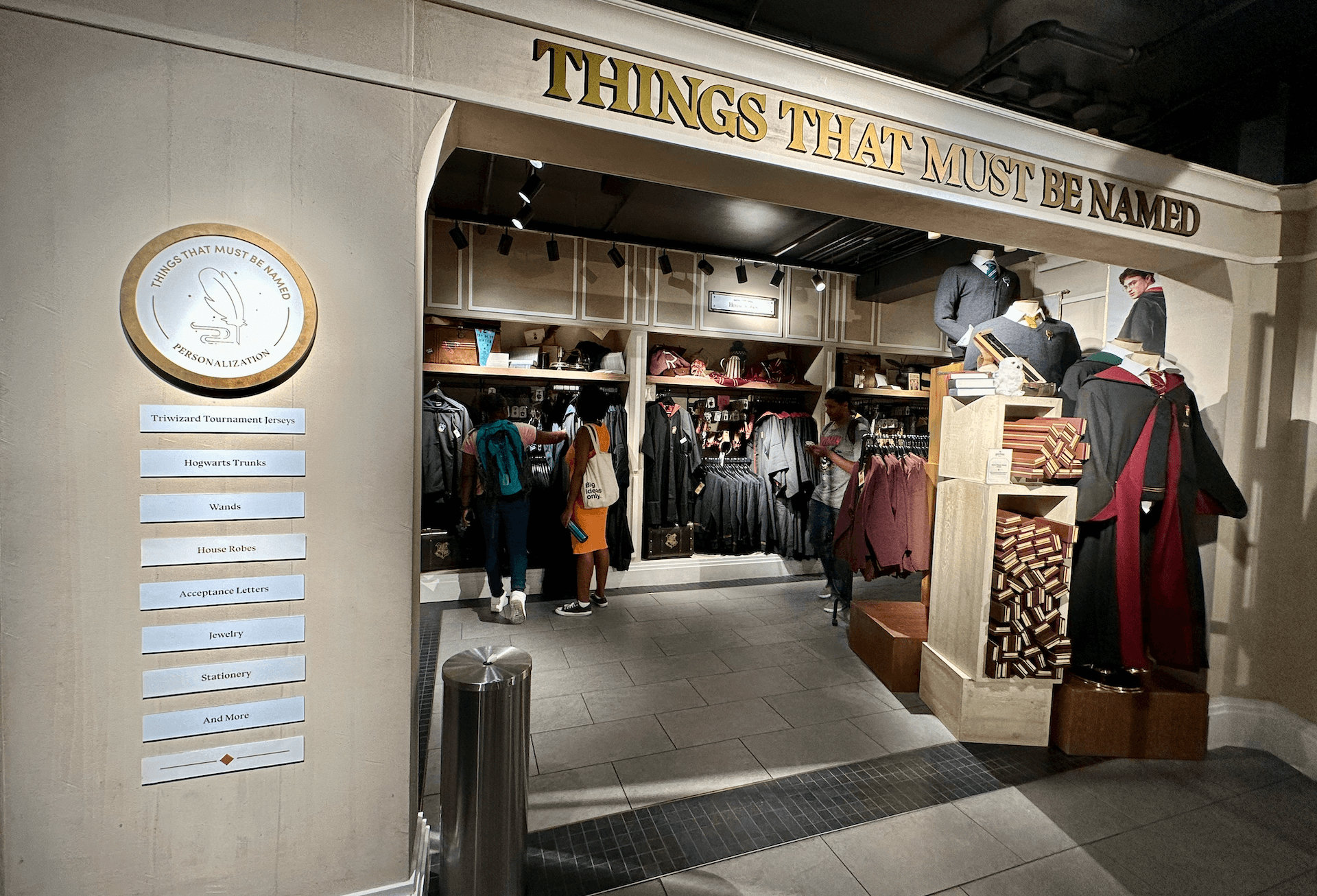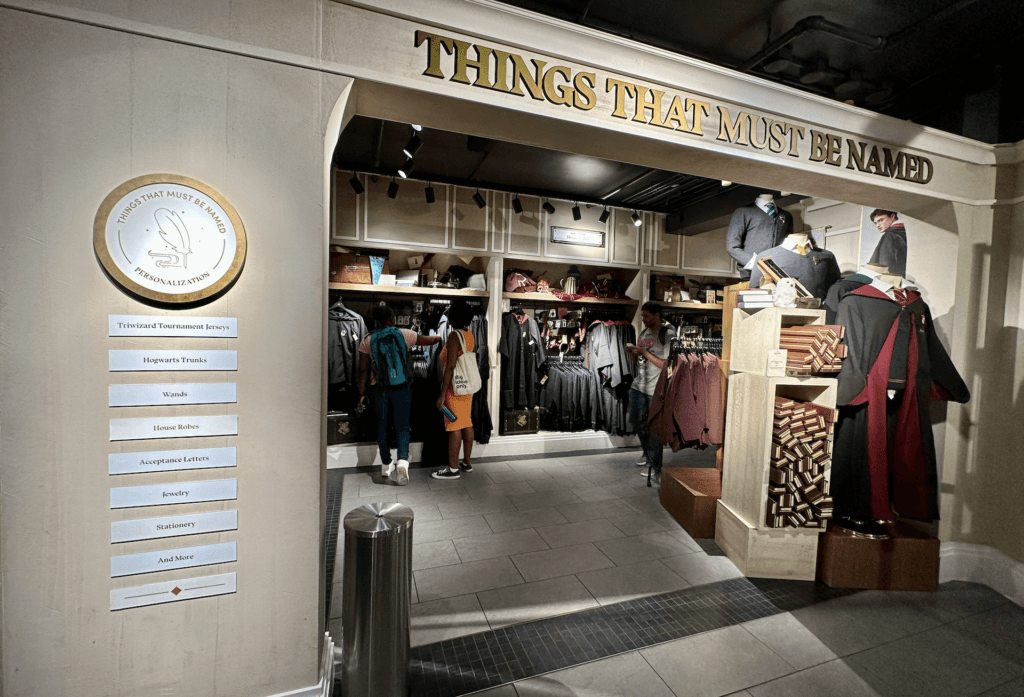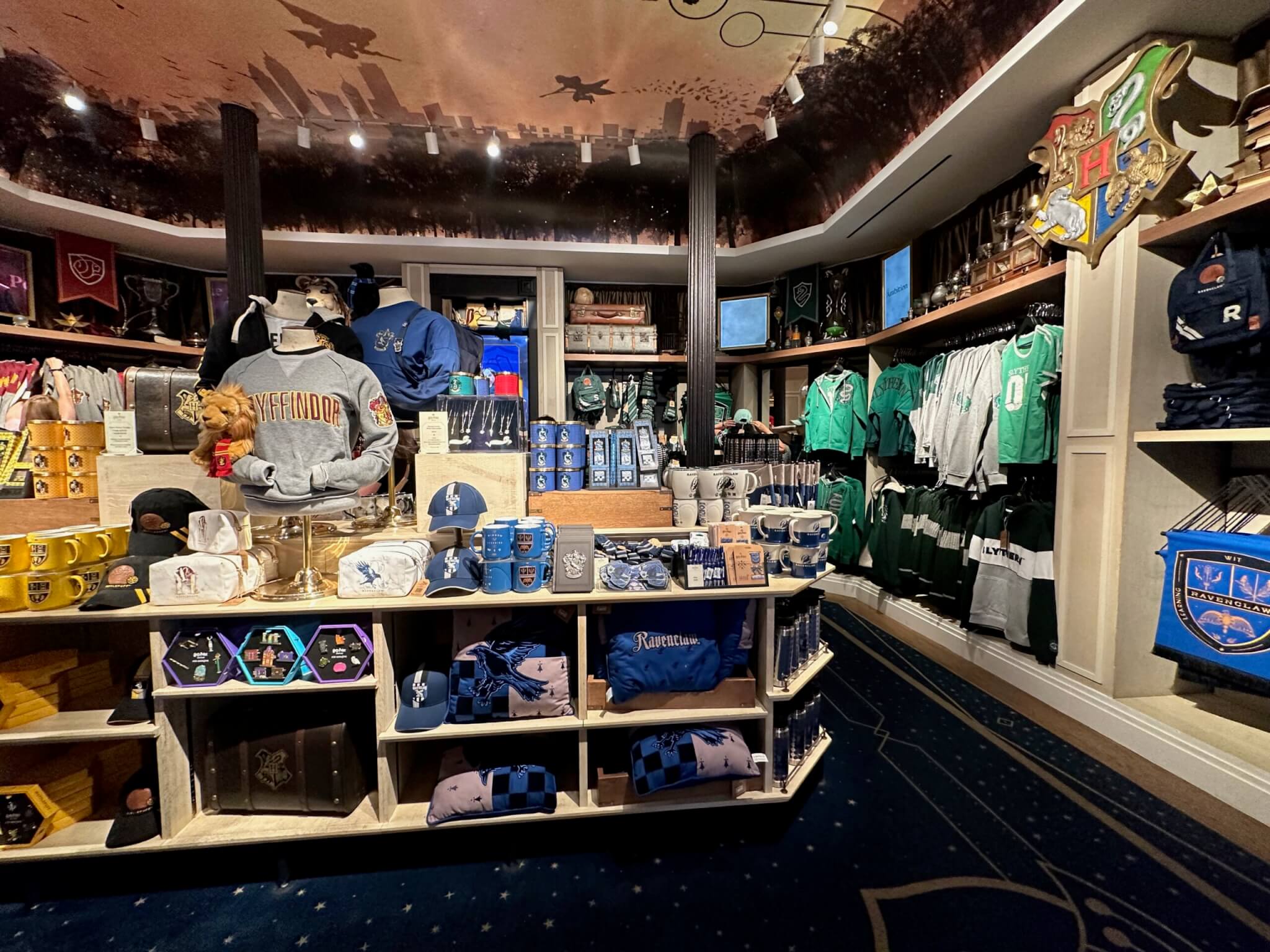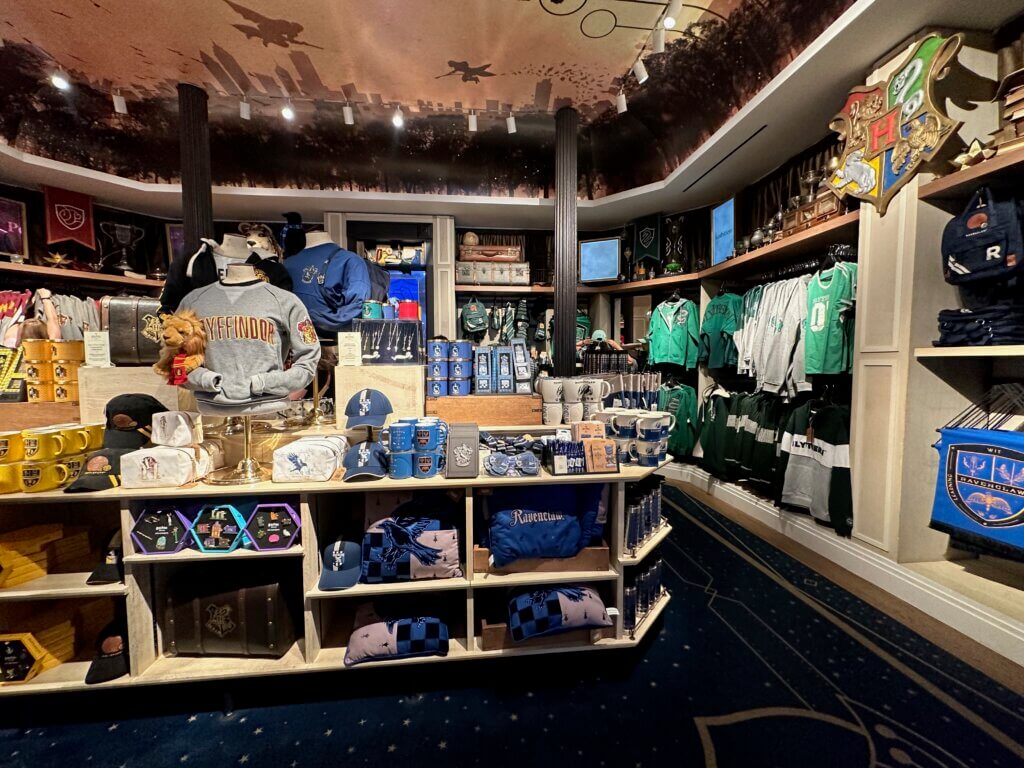 ---
Photo opportunities inside the Harry Potter store
One thing I really loved about the Harry Potter store in NYC, was how immersive and interactive it was!
For example, scattered around the store, you'll find lots of wonderful photo opportunities! Like, stepping into Hagrid's shoes. Or standing in an old English phonebox. Or getting lost inside Honeyduke's sweet store!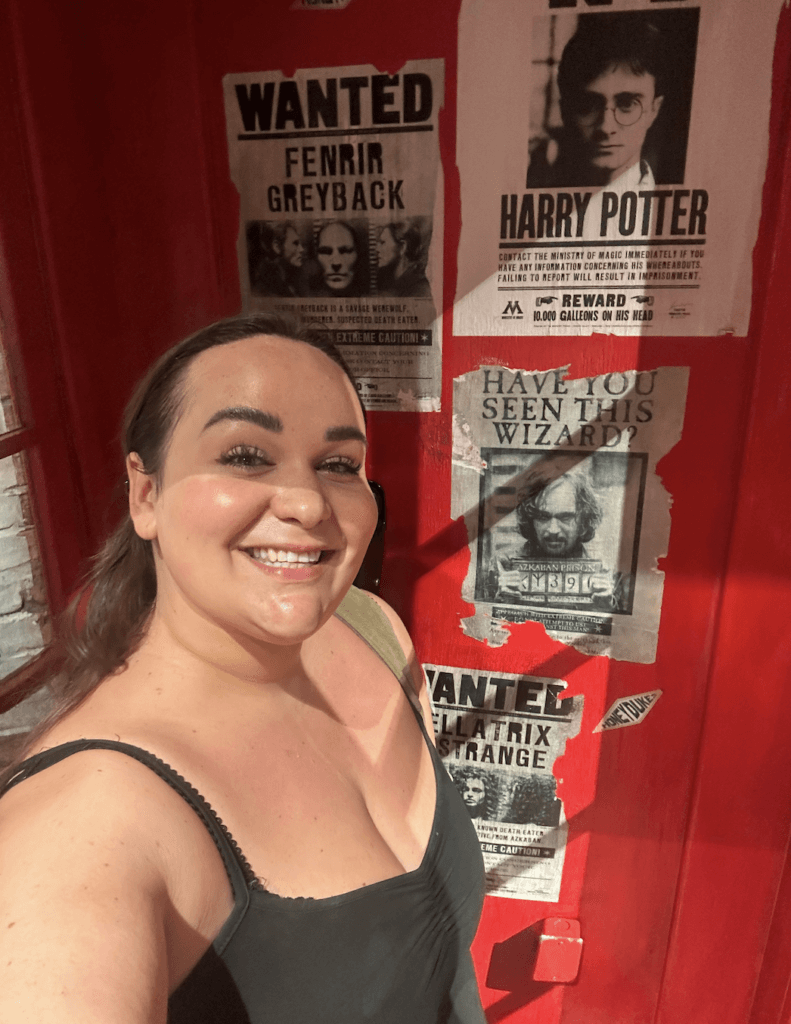 Read more about Harry Potter in NYC: 7 Magical Harry Potter Activities in NYC
---
How much is the butterbeer at Harry Potter store?
One of the most fun parts of the Harry Potter store in NYC, is the butterbeer bar! Yes, you can actually buy a butterbeer (brewed in the United Kingdom of course!), and drink one inside the on-site bar.
You'll pay $12 for a butterbeer, in a souvenir tankard.
Butterbeer is non-alcoholic (so suitable for all ages).
Butterbeer is a sweet beverage that tastes like creamy, buttery biscuits.
It also has the famous frothy head too – just like traditional beer!
And this bar is seriously impressive too (again, nothing is done by halves here, and that's one of the reasons I love it so much). Even Muggles can enjoy a butterbeer here – everyone is welcome!
In the butterbeer bar you'll find this magically grand display of luminescent Butterbeer bottles, each adorned with an enchanting Mina Lima label.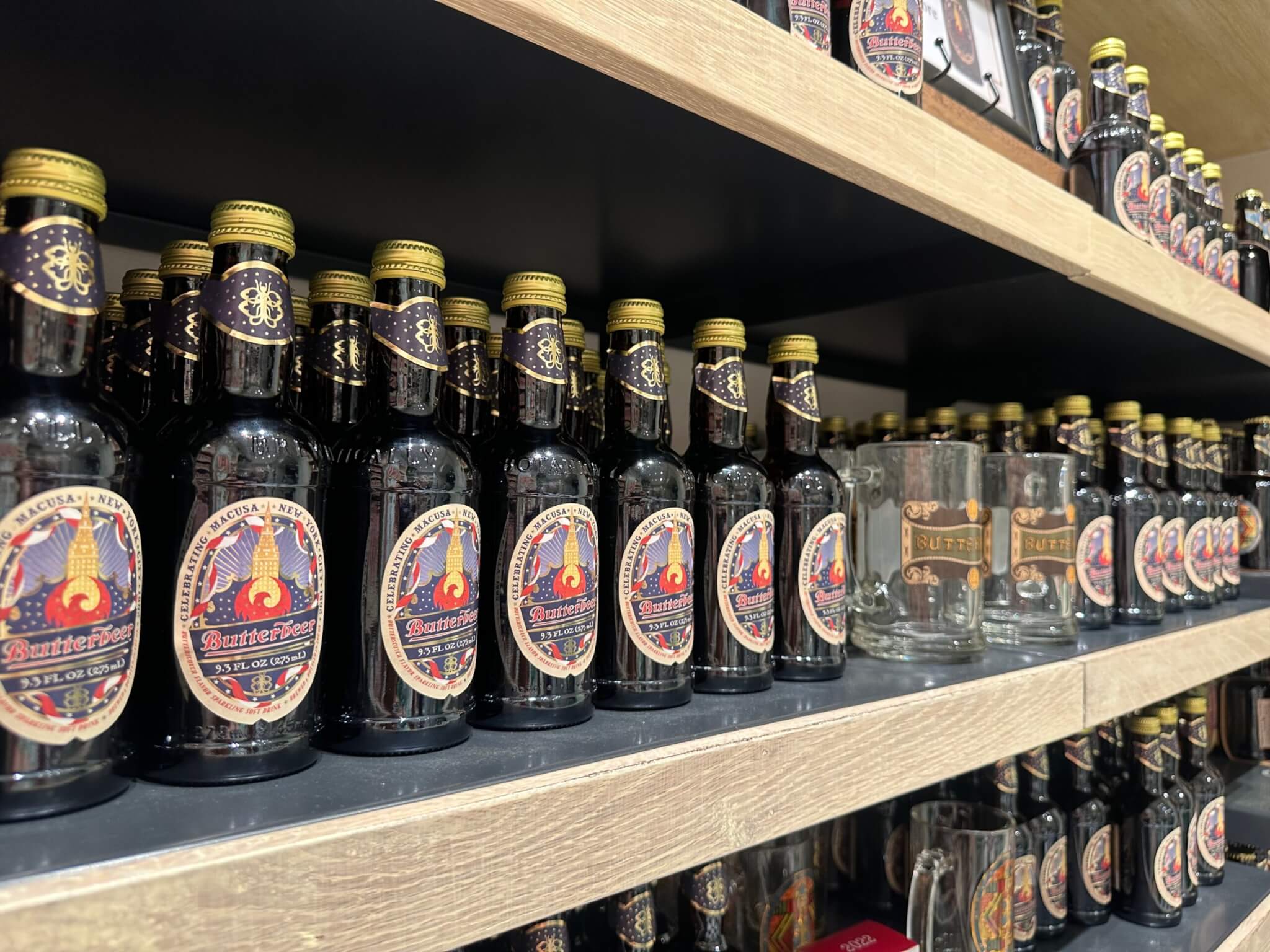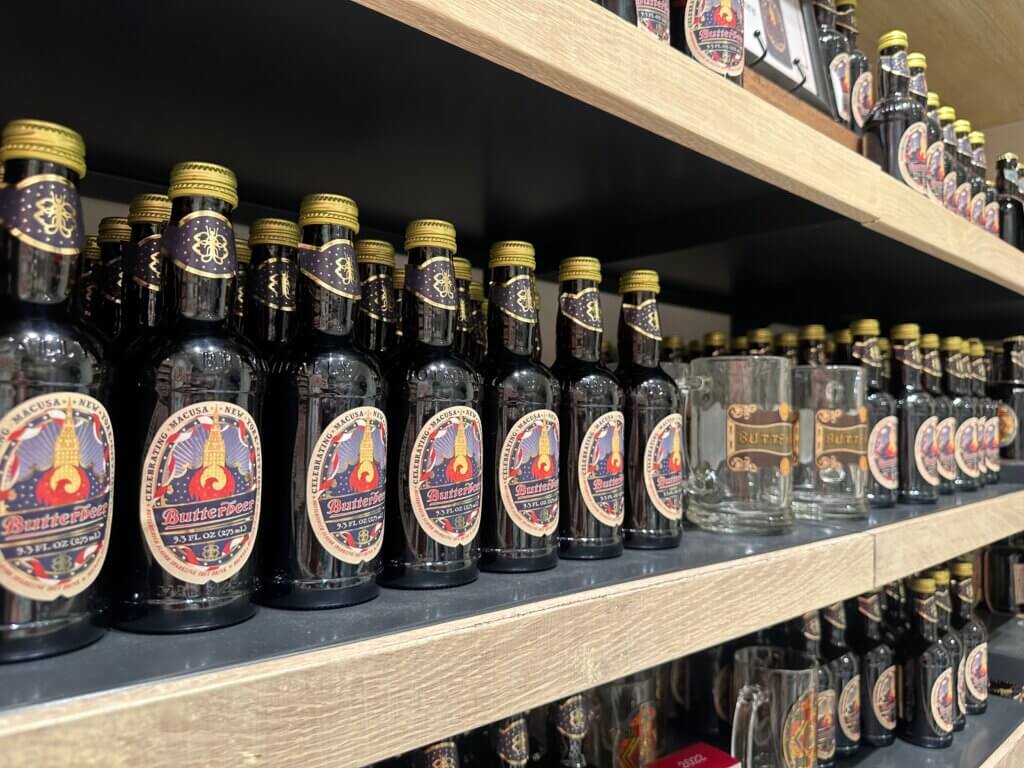 ---
Which souvenirs were my favorite?
Maybe you're curious as to which Harry Potter souvenirs were my favorite? If so, I've included a quick round-up of my favorite finds below!
Luna Lovegood glasses
Traditional bottle of butterbeer
Platform 9 and 3/4 cushion!
Honeydukes chocolate frog
Retro spellbook and notebooks from Minilima
Quidditch jumpers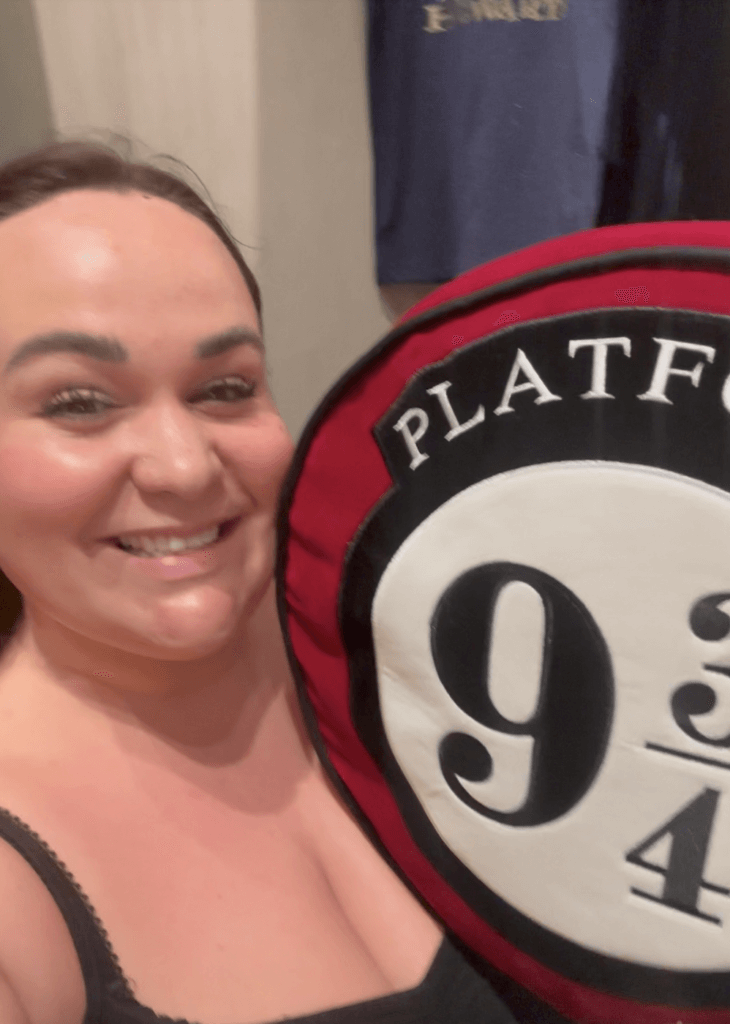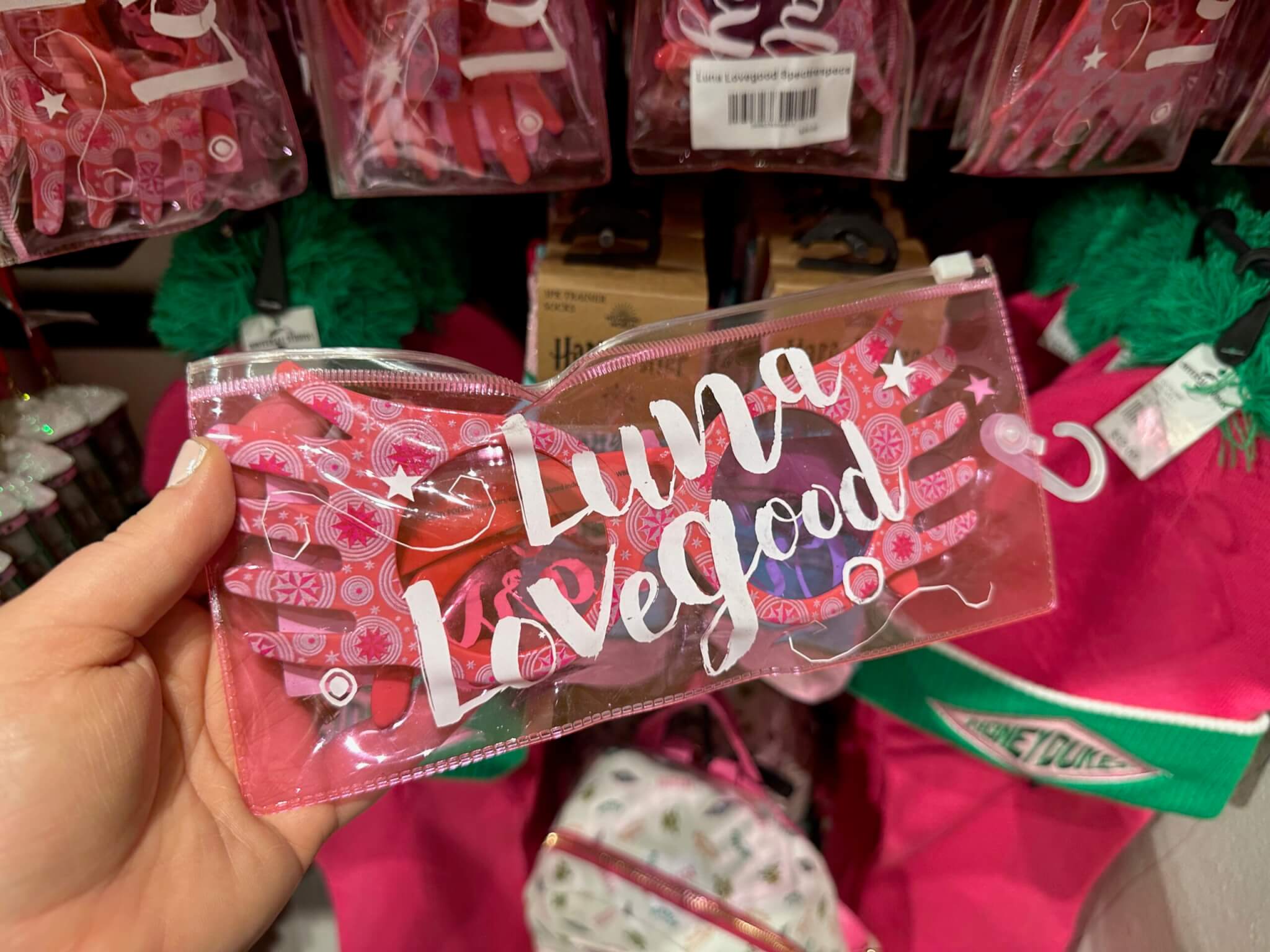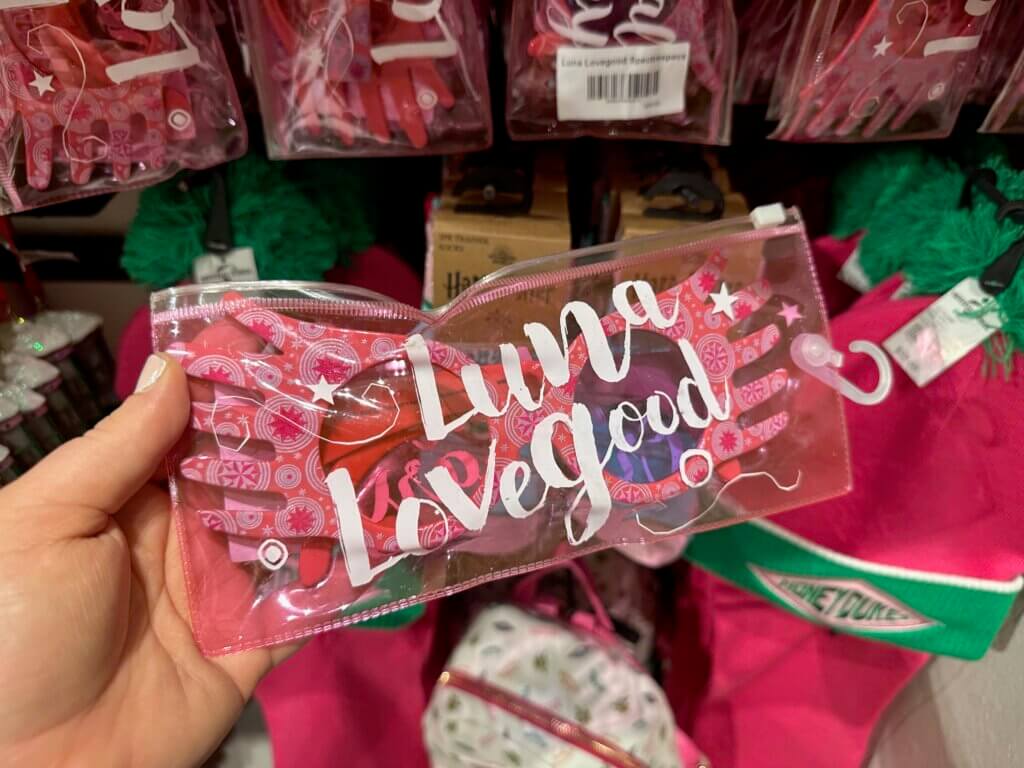 ---