Looking for Dyson Airwrap reviews? Wondering if the Dyson Airwrap is worth the money? If so, keep reading!
Something a little different from our usual travel content today… This is a Dyson Airwrap review.
I've owned the Dyson Airwrap for 2 years now (my husband bought it for me as a 30th birthday present), and wanted to write a proper review of the tool, and give some advice on owning and using it.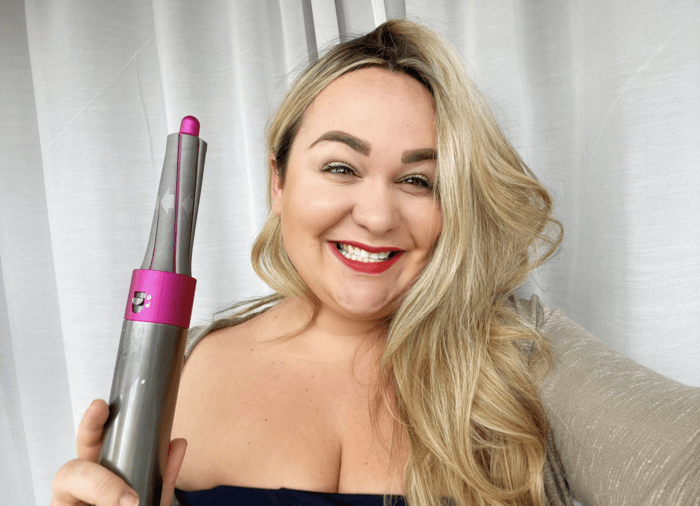 ---
But the first question… Would I recommend the Dyson Airwrap?
My answer… YES YES YES YES YES.
But you'll soon figure that out, the further down the Dyson Airwrap review you get!
It's the best hair tool I have ever owned, for many different reasons – which I'll discuss below. So, let's get into the good, stuff. Here's my full Dyson Airwrap review.
---
This isn't your normal Dyson Airwrap review!
I'm not going to talk you through what you get in the box, or what the price is, etc. Chances are, if you're reading this you already know that stuff. I'm not going to include loads of product photos – because you've seen those already. Instead, I'll show you photos of my hair, before and afters, and useful stuff.
I'll also discuss why the Dyson Airwrap is a must-have hair tool, what makes it unique, the benefits of using it (over other tools), tips for using it, and some great accessories and storage options too.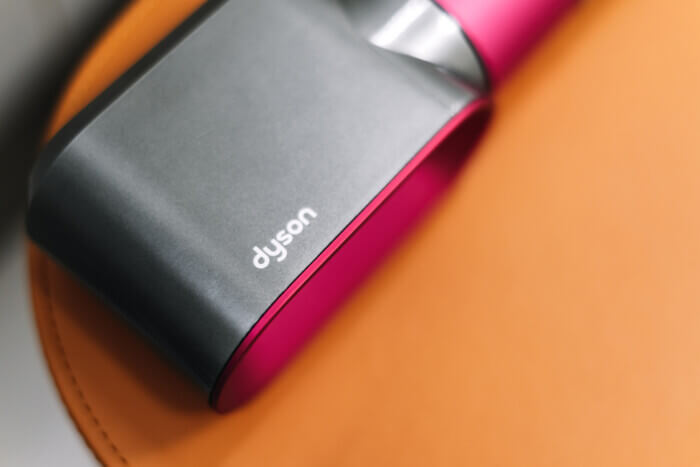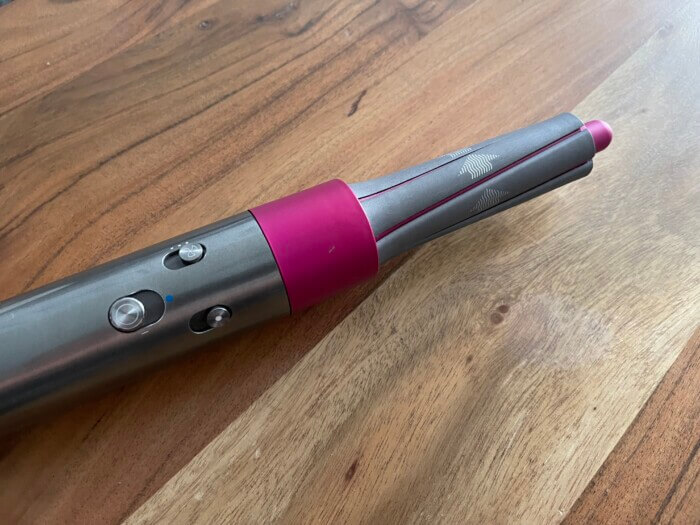 ---
The main benefits of using the Dyson Airwrap
There are a few main benefits from using the Dyson Airwrap, which I wanted to include in this Dyson Airwrap review. So let's talk about them.
But first, let me show you some photos of hair I've achieved using the Dyson Airwrap! Because that's such an important part of purchasing, right?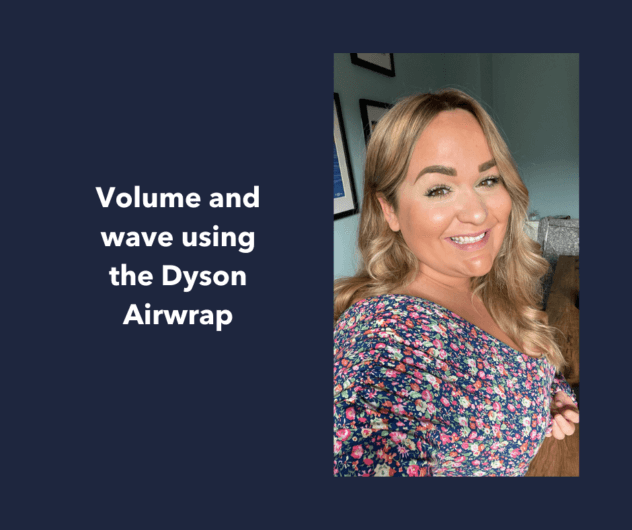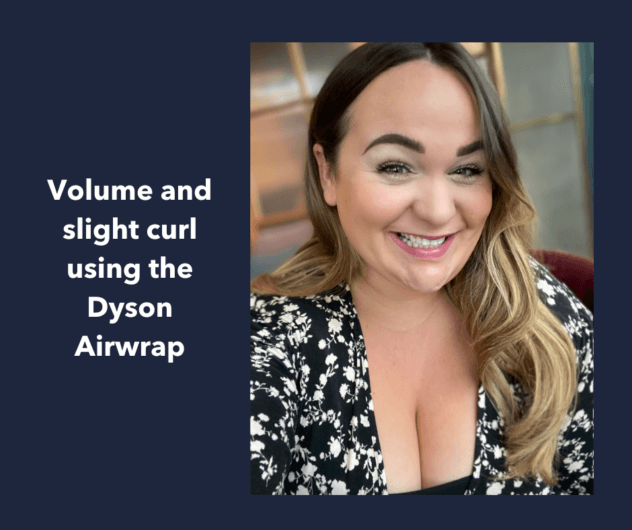 ---
It gives me a bouncy blow-dry look, I just couldn't create with straighteners or curlers, or on my own.
A key part of any Dyson Airwrap review is talking about how it changes your hair routine.
For me, it's the 'Kate Middleton' blow-dry style that the Dyson Airwrap is so famous for creating – that was a big selling point. I had never been able to achieve this before the Dyson Airwrap! It's incredible to style yourself to blow-dry perfection, without having to visit a salon. This is one of the biggest things I wanted to talk about in this Dyson Airwrap review.
The Dyson Airwrap isn't a curling wand – it doesn't create tight curls. So if you want tight curls, then this tool isn't for you. The Dyson Airwrap creates curls that loosen slightly into a beautiful bouncy blow-dry. If that's what you're after, then the Dyson Airwrap is for you. Or (as we'll discuss later) it can also help you achieve a super sleek look too.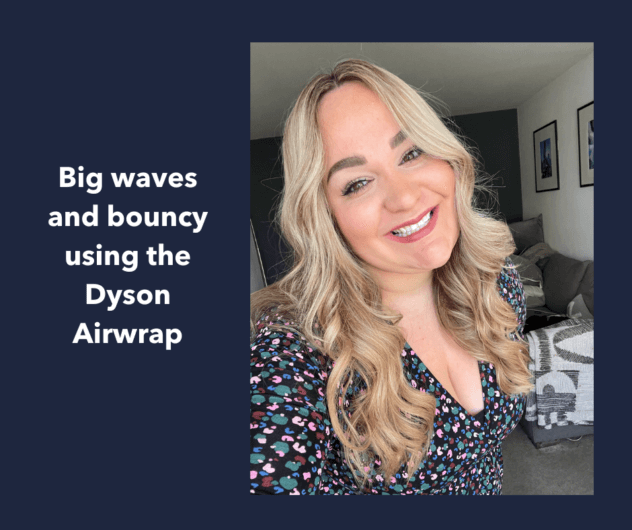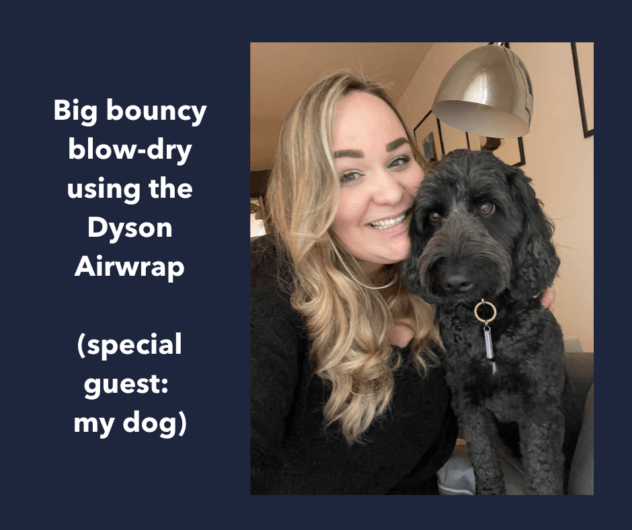 ---
It's not just about the bouncy blow dry though. The Dyson Airwrap straightens too.
This is another thing I really wanted to mention in my Dyson Airwrap review. The tool isn't just for curling and drying. Actually, the smoothing and straightening attachments I use just as much. In fact, I haven't used straighteners to smooth or straighten my hair since I started using the Dyson Airwrap.
The smoothing and straightening attachments look like hairbrushes, and you slot them onto the device, just like you do with the curling attachment. They simultaneously dry and smooth / straighten your hair.
This obviously means, you save SO MUCH TIME. Such a key part of this Dyson Airwrap review is how much time it saves you!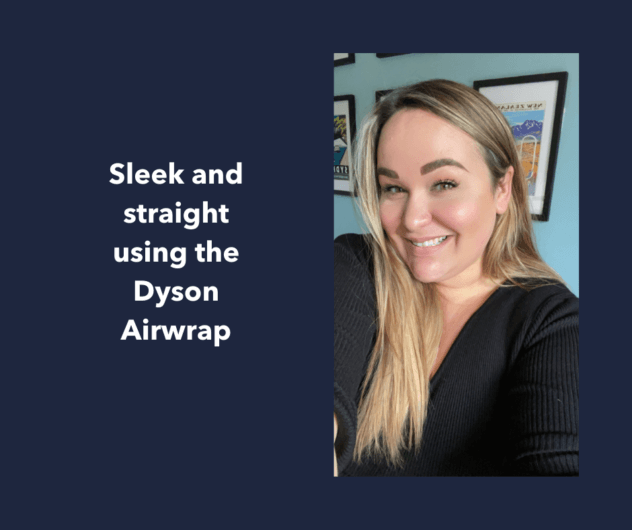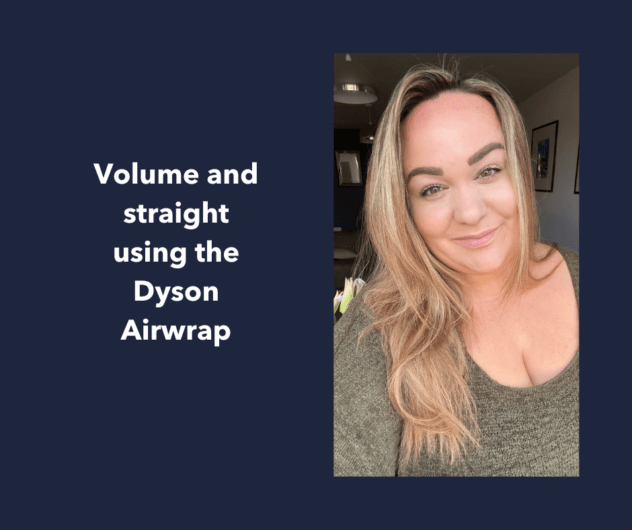 ---
YES, the Dyson Airwrap saves you time!
When I first started using the Dyson Airwrap, I was worried it was yet another tool that would add more time to my hairstyling routine. I have long, thick hair – and hair styling takes TIME! One of the key things to take from this Dyson Airwrap review, is how much time you will save.
Before the Dyson Airwrap, I would spend 20 minutes rough drying my hair, then 5 minutes brushing it through, then 10 minutes straightening it. That's 35 minutes on a good day, 45 if I was curling it.
With the Dyson Airwrap, I can straighten and dry my hair simultaneously using the smoothing attachments, so I can be dry and straightened within 10-15 minutes. That's game-changing for me, especially in the morning.
If I'm curling it to achieve the bouncy blow-dry, it might take me 20-25 minutes from start to finish. Which is still cutting 15-20 from my old routine.
Seriously, this tool is a game-changer for time management and getting amazing looking hair quickly.
---
The Dyson Airwrap made my hair more healthy.
This is one of the advantages to the Dyson Airwrap I don't hear many people talk about.
Because I stopped using my straighteners and curlers (I didn't need to anymore with the Dyson Airwrap!) and because I was only using this amazing Dyson Airwrap tool – which doesn't use high damaging temperatures – the amount of direct heat applied to my hair lessened drastically.
The result of this? My split ends vanished, my hair stopped snapping, and my hair grew so much quicker.
The health of my hair improved so much. I'll put a before and after photo of my hair below, so you can see just how much my hair grew, and how much it's health improved over the 2 years using the Dyson Airwrap. It's incredible really.
For me, this is what makes the Dyson Airwrap totally worth it. It's the final selling point of a fantastic hair styler. It looks after your hair, rather than damages it. And my hair has never looked or felt better.
You can see from the photos below, how much my hair has changed. In the before photos the split ends are out of control (common with long hair that gets straightened daily!) and the hair lacks shine. In the after photos, there aren't any split ends in sight, and my hair looks shinier, sleeker and just HEALTHY.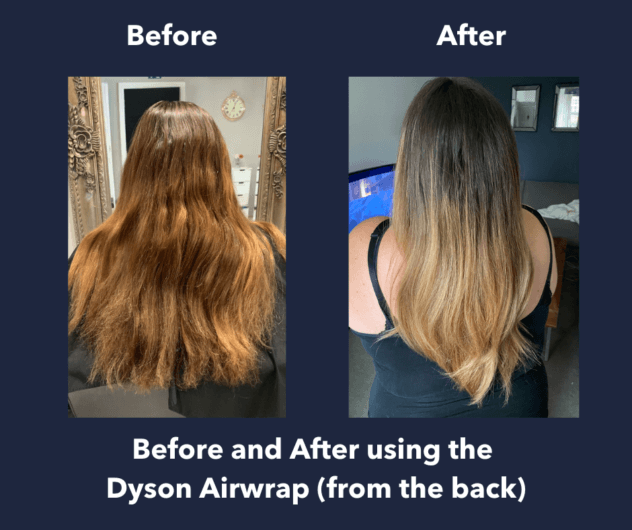 ---
It's an amazing travel tool.
Because I now only need one tool for drying my hair, straightening it, and curling it – I only need to take the Dyson Airwrap with me when I travel. That's a huge selling point for me (as someone who travels a lot!) so I wanted to make sure I mentioned it in my Dyson Airwrap review.
Also, it's so much less bulky than a hairdryer, a pair of straighteners and a curling wand. That's a lot of suitcase space I'm freeing up for shoes, dresses and other important things!
---
How do you use the Dyson Airwrap?
I won't try and teach you how to use the Dyson Airwrap using words – a video is so much more valuable for teaching you! And there are plenty of videos out there.
But genuinely – make sure you listen to the instructions and follow the guides included with the Dyson Airwrap.
I've seen so many Dyson Airwrap reviews, where they slate the product, after only using it once, and not even using it correctly.
It's not a curling wand. It's not a hairdryer. It's a combination hybrid of the two – and you use it completely differently than you expect. Every habit you've learnt styling your hair with heat tools, need to be forgotten when learning to use the Dyson Airwrap.
Whenever friends come round to my house and try it out for the first time, they try and use it like a traditional hair tool, and I have to explain that the Dyson Airwrap works differently, and it can take a little practise to get it right. But keep with it – it's so worth it!
My biggest piece of advice would be – if you're going to make the investment to buy the Dyson Airwrap, make sure you actually learn to use it properly. Don't just 'guess' at it. Learn how it works by following their instructions and watching their videos.
And keep practising. It took 3/4 goes to really nail it – and now I'm hooked.
---
Where can you buy the Dyson Airwrap?
Obviously, I have to point you in the direction of where you can buy the Dyson Airwrap in this Dyson Airwrap review.
I always recommend buying with Amazon, just because their product arrives quickly and swiftly, and you'll have the protection and warranty included. But you can buy the Dyson Airwrap from a few different online stores!
I've also included some useful Dyson Airwrap accessories below, which might be handy to add to your basket! I know I've found these little accessories really useful for ease of access and storage.
I've also split these into UK readers and USA readers, so just jump to which bit applies to you to view the Amazon products in your country.
---
For readers in the USA
No products found.
---
For readers in the UK
No products found.
No products found.
No products found.
No products found.
---
A top tip for this Dyson Airwrap review!
One last tip for this Dyson Airwrap review!
If you're going to buy the Dyson Airwrap and you have long hair, I really recommend buying their add-on attachments for long hair. You can't buy them as part of the kits straight up, but you can buy them separately afterwards.
They're well worth the money, and they make styling with long just a little bit easier and more impactful. The add-ons are only £30 (ish) and well worth adding into your kit at a later date.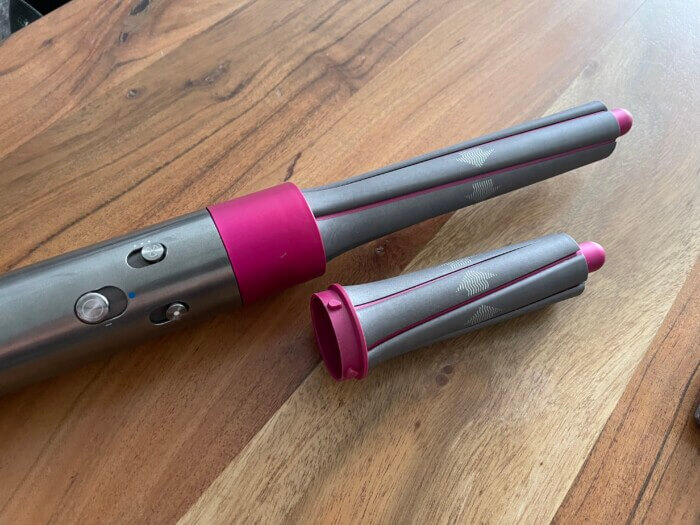 ---
Hopefully this Dyson Airwrap review has been helpful!
Let me know if you have any questions about my Dyson Airwrap review, I'll be happy to help answer anything!
---