Are you looking for a real review of microblading (including microblading before and after photos)? If so keep reading!
Today I want to upload something a bit different – not necessarily travel related, but something that certainly impacted my travelling a lot!
I've always quite liked my face, but I felt like my eyebrows were always letting the team down. When I found out about microblading… It seemed like the perfect solution. Especially because I travel a lot, I felt like microblading would allow me to speed up my makeup routine, and also let me have a semi-cute face even with no makeup when swimming, sunbathing, being outdoors, etc.
In this blog post I'm going to talk about the whole process of microblading, including microblading before and after photos. So you can see the whole process from start to finish…
What were my eyebrows like before microblading?
My eyebrows were kind of wonky, a bit downward, and a bit flat. It wasn't that I didn't have enough eyebrows (there was plenty of them to go around!) it's just that they didn't grow the right way, and the shape of them didn't suit my face. If you ever seen one of those weird clickbaity blog posts where they show celebrities without eyebrows – you'll know just how much a good pair of brows can transform a face.
I started doing research into microblading in the UK, and starting looking at practitioners near me in Leamington Spa. Luckily, one of the UK's best microblading clinics is based a 10 minute drive from my front door, so that was about all the encourage I need to book it. I had all my microblading treatments and follow-ups, done with Zara from The White House Clinic (spoiler alert) she's amazing, and I'm so happy.
Here's the before and after photos…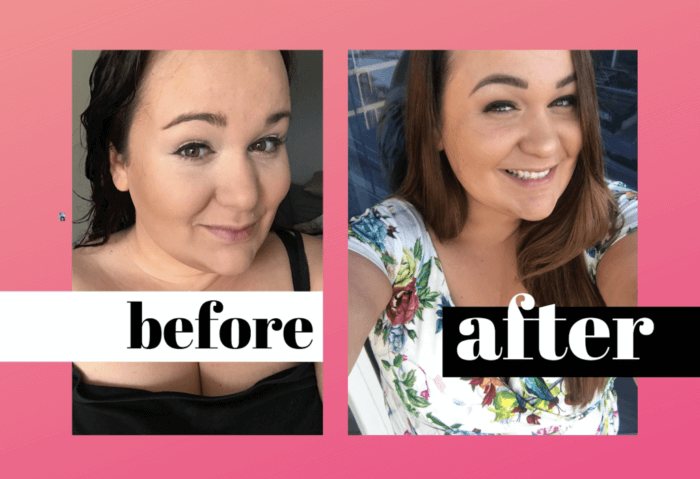 How much does microblading cost?
Microblading can cost anywhere from £150 to £700. I paid the top end of the scale (it's not cheap!) but when you're getting something done ON YOUR FACE – damn you better make sure you trust the person doing it.
I knew from the start I wanted to go with the very best person I could find, and The White House Clinic's instagram page was full of amazing examples.
Looking up real microblading photos and real microblading before and after photos is so importantant – make sure you seen examples of the work they've done before.
Also, it's worth noting – that with most clinics or practitioners, the first fill-in appointment is included in the initial price. I had my first fill-in done a month after. Then, more touch-ups and follow-ups are much less expensive. So, in 12 months if you find you want them filled in, it'll cost you a lot less.
This is the price list from the microblading clinic I used (for my initial appointment in 2018):
EYEBROWS- £495, this includes both sessions and a £150 non- refundable deposit to secure the booking.
6 month colour boost-£160
9 month colour boost-£200
12 month colour boost-£30
Those prices may have gone up a little now due to demand, but I'm just giving you an idea of the costs involved when you go with something who is top-notch and super amazing at what they do.
More than anything – don't skimp on microblading. Go with the BEST choice, not the cheapest choice. It's your face, and you shouldn't be cutting corners here.
What happens during the microblading appointment?
The first thing that'll happen, is you'll talk to your consultant about the kind of shape, style and colour you want.
I wanted the brows to be filled in slightly ombre style on the ends, and to be a soft curve, and I wanted a ash brown colour. When you've chatted this through, you have to put your trust in your practitioner – because that's when they work their magic.
The photo below is horribly unflattering… but you can see below the colour tests we did, and also the shape she drew to work from. You can see where the microblading would need to be heavier (where there is no hair already) and where my natural brows already fill in the new eyebrow shape.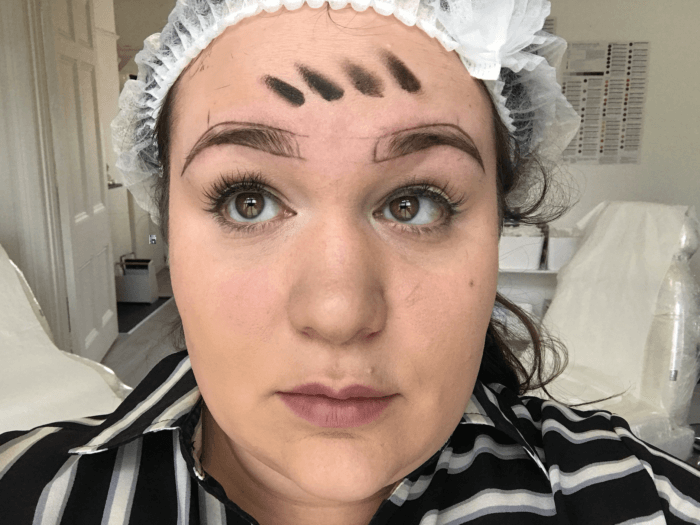 Does microblading hurt?
This will vary depending on who you ask, but for me, the answer was no. The sensation of microblading feels like a needle scraping softly against your skin.
My microblading-angel Zara, does two rounds in your session. The first round is without any numbing cream, so although the scratching doesn't initially hurt, by the end of the first round, your face will start to feel a little sore or tender. It'll probably be throbbing a bit too. Once she's done the first round of colour, she then does a second round (but this time with the numbing cream). You won't feel much during this round because it's numbed – but it might still throb a bit or feel a little tender / sore immediately after the appointment.
Honestly – I went in expecting the pain to be unbearable – and was pleasantly surprised. It was nothing I couldn't handle, and the most awkward bit was actually the 'sneezing sensation' you get in your nose when she's microblading certain parts of your eyebrows.
The whole appointment lasting about an hour and a half, but only 30 minutes of that was under the microblading needle. I felt totally fine, I wasn't in pain, I was just a little sore at the end and had a bit of a headache from the throbbing. That lasted until the next morning, and then I felt fine.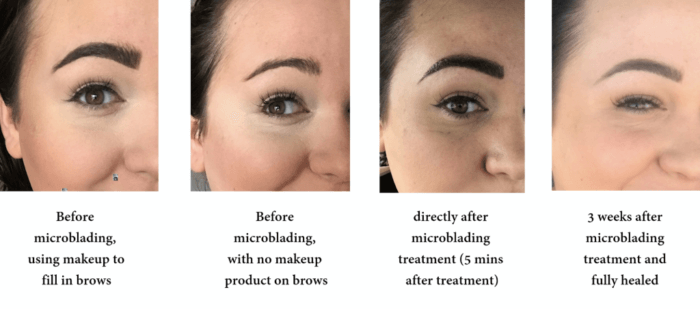 Is microblading worth the money?
I think the money I spent on microblading, was probably the best money I've ever spent on myself.
It's amazing what a good pair of eyebrows can do for your confidence, and I feel so much more confident and happy without makeup now.
I've been wearing much less makeup in general since having my eyebrows microbladed, I've spent much less money on makeup, and saved a lot of time too. It's also helpful when getting my brows waxed / threaded – because the beautician knows exactly where to take from.
I also feel like my facial features feel more balanced and look better too – this was a big difference for me. I just feel better about myself from the first moment I wake up.
The progress of healing after your microblading appointment…
On the far left is me before any microblading when I was using makeup to fill in my brows. You can see how heavy they look and (quite often) one eyebrow would always look better than the other.
The next photo in, is my natural eyebrows, with no makeup or product. This is their natural shape, and I always felt the shape just didn't match my face. They're kind of droopy and slant downwards, so they didn't lift my eyes or brighten my face.
The next photo is straight after the microblading. The eyebrows always look much darker straight after (so don't panic!), and then once healed they fade by a few shades.
The far right photo is my eyebrow fully healed. You can see the lightness in colour, and how natural it looks. Close up, you wouldn't know they were microbladed – and that was so important to me. The new shape lifts my face and suits my face shape, it almost gave me a mini facelift!
What is the recovery like for microblading?
First of all, it's not painful.
Second of all, if you follow the guidelines for after-care, it shouldn't be embarrassing.
I read so much about microblading before my treatment, and I was terrified of all the 'scabby eyebrows' I saw post-treatment during the recovery period. But Zara ensured my, if I stuck to her after-care, that shouldn't happen, or (at the every least) should be absolutely minimal.
For the first day, I avoided water and showers (obviously) and I dabbed the eyebrows with water and then applied a healing balm every hours. You make sure you're gently and you stick to it. After the first day, you do it less and less, and it turns out she was totally right, the scabbing was minimal (more like very tiny flaking) of skin – and I had no reason to be worried.
Any good microblading practitioner should fully advise you about the aftercare in your appointment, so you know exactly what to expect and how to look after your eyebrows. Zara had a full list of instructions to follow – which I stuck to.
Another part of the healing process, is the fading. The eyebrows are super dark on day 1 and 2 (you'll probably think "fuck it's too dark!") but then as they heal, they fade down to the natural colour chosen to suit your skintone. Around day 8-10 you'll think they're faded too much… but then the colour comes back in, and you have your perfect brows.
You'll also have a fill-in follow up appointment, where your microblader can go over any lighter areas.
How long does microblading last for? Is microblading permanent?
I've now had mine for 3 years and I'm so happy, I've had 2 mini top-up appointments in those 3 years (which cost less than half of the original amount). I needed these top up appointments because I have hella oily skin in-between my brows (t-zone) and colour might not stick as well with oily skin.
Also, to be honest, I didn't 'need' the fill-in session (they looked great) I just preferred the darker look, so I wanted a bit of colour added to them again.
Anyway, the pain take-away, I'm so glad I did it. The results still look amazing, and I'm 100% happy with them.
If you've got any questions, feel free to comment or drop me an email – I'll try and answer!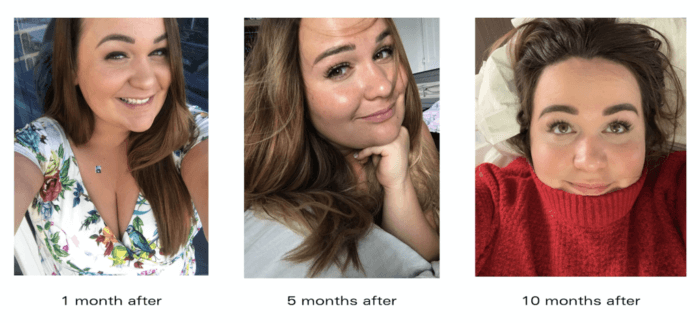 And three years on, here's what they look like…