Did you know you can visit the Burj Al Arab for a luxurious pool day pass? Keep reading for all the information you need to book!
Did you know you can experience the luxury of the world's only 7* hotel, just for the day?
Not many people know about the Burj Al Arab's pool day pass you can book with Sal Beachclub. Basically, you pay admission to use their amazing pool facilities for the day.
It's a way to experience the luxury of the Burj Al Arab, without the expensive hotel price tag.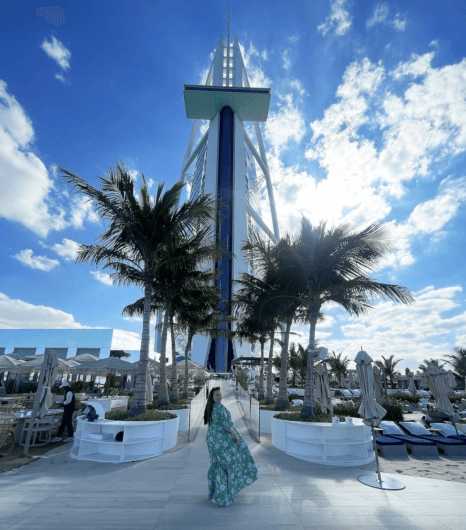 So, if you dreamt of experiencing the luxury of the Burj Al Arab, but can't quite afford a hotel suite yet… This is such an amazing way to spend the day.
In this blog post I'll outline the cost of the Burj Al Arab pool day pass, as well what to expect, what you need to bring, and the general value for money too.
So let's get into it!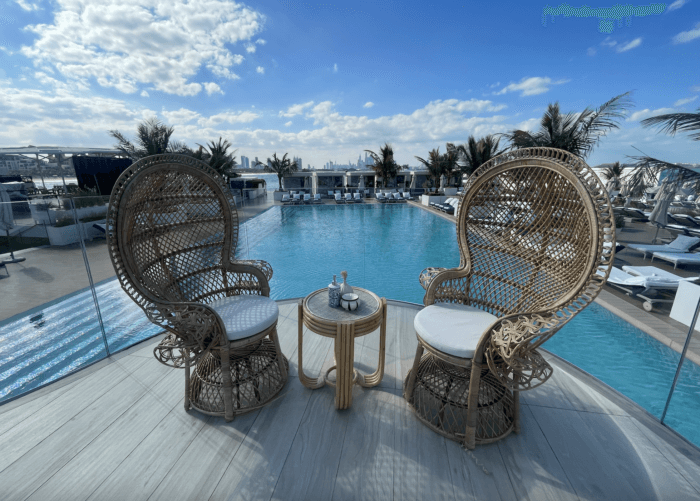 ---
How do you book the Burj Al Arab pool day pass?
The Burj Al Arab pool day pass is actually organised by the Sal Beachclub.
They are the company that owns the pool restaurant and beachclub, and they manage the pool day pass bookings and cabana bookings.
I booked our Burj Al Arab pool day pass by calling up Sal Beach Club directly and reserving over the phone. They took my name, my number, email, and my estimated time of arrival – and it was all sorted.
These were the details at the time of writing:
Tel: 800323232
Email: salguestrelations@jumeirah.com
We also confirmed on the phone what 'day pass package' I was looking for (as there are quite a few different options).
The booking process was really easy. If you don't have access to a phone in Dubai (maybe you don't want to be making calls abroad) then just ask your hotel concierge to call up on your behalf.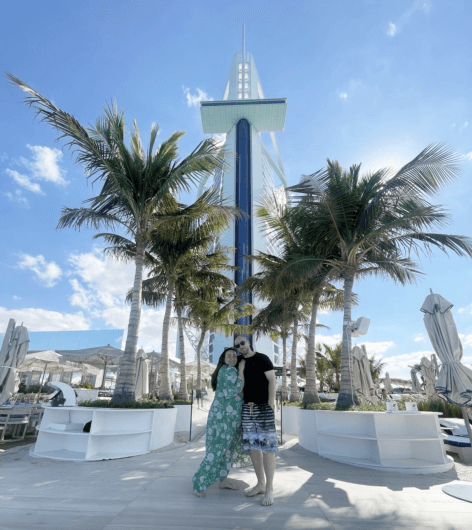 ---
How much does it cost?
There are several different packages available when you book a pool day pass at the Burj Al Arab. You might want to book a cabana for example, which is priced differently to the sun loungers.
We opted for the sunlounger package, which ensures you have your own sunloungers all day long, and access to their fresh water pool, saltwater infinity pool, changing rooms and Sal beachclub restaurant.
The cost for this sunlounger package is
Weekdays AED 800 per person including food and beverage credit of AED 400
Weekends AED 1000 per person including food and beverage credit of AED 500
This means that you'll be able to use half of your 'admission price' on food and beverages once you're sat and enjoying the pool.
The AED 800 / 1000 admission price (about £180 – £200) might seem quite expensive for a day at a pool, but being able to put half of the admission cost towards food and beverages was really pleasantly surprising.
And, we were surprised by how far the AED 400 went, because the food and drink prices were actually very reasonable. We managed to each have lunch, drinks, and a pizza in the late afternoon before we went over our balance.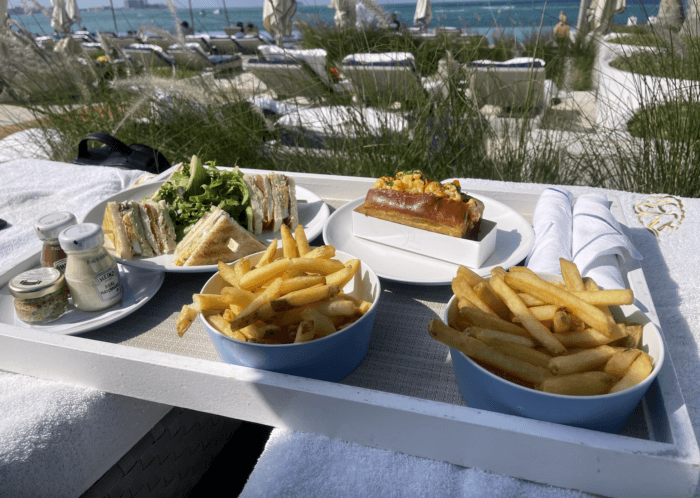 ---
Are children allowed?
No. This is an adults-only offer, and described on their website as 'an irresistible adult-only escape right above the sea'.
---
How does it all work when you arrive?
When you arrive at the hotel (I'm assuming in a taxi) you'll be met with a security guard before you're allowed over the bridge to the hotel. You'll need to give your name, and that you're reserved with Sal Beachclub.
They'll then let you over to the hotel lobby, where you can let one of the many staff know you're looking for the Sal Beachclub.
Once they know where you're headed, they will arrange a little golf-buggy to take you back to the pool area. It's a lot of fun, and feels really special.
At the pool area, you'll need to check-in with the hostess, who will then take you over to choose your sunloungers (or cabana if you have opted for the cabana instead).
You'll pick your sunloungers, and those will be your sunloungers for the rest of the day.
Read more about visiting the Burj Al Arab: Our review of the incredible 'Inside Burj Al Arab tour'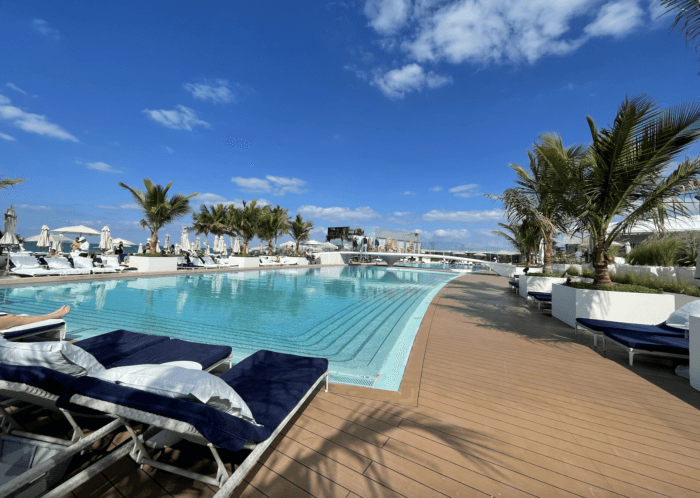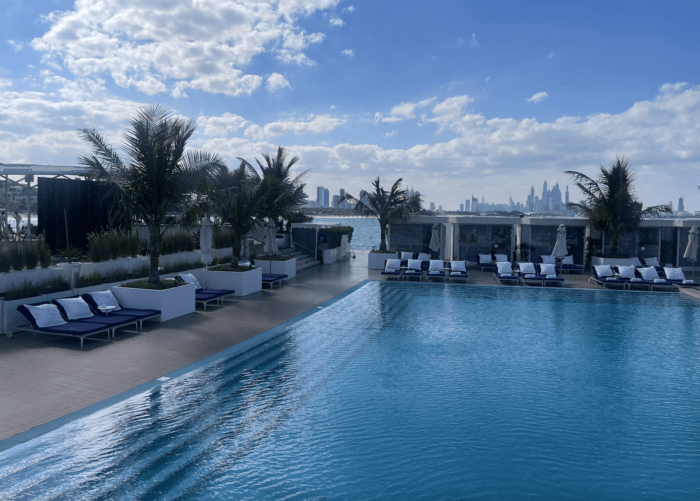 ---
Is the day-pass pool different from the actual hotel pool?
The pools you use with the Sal Beachclub day pass are the same pools that the Burj Al Arab hotel guests use.
You'll have access to their fresh water pool, saltwater infinity pool, hot tubs, and changing rooms. The pools are huge and really wonderful to explore.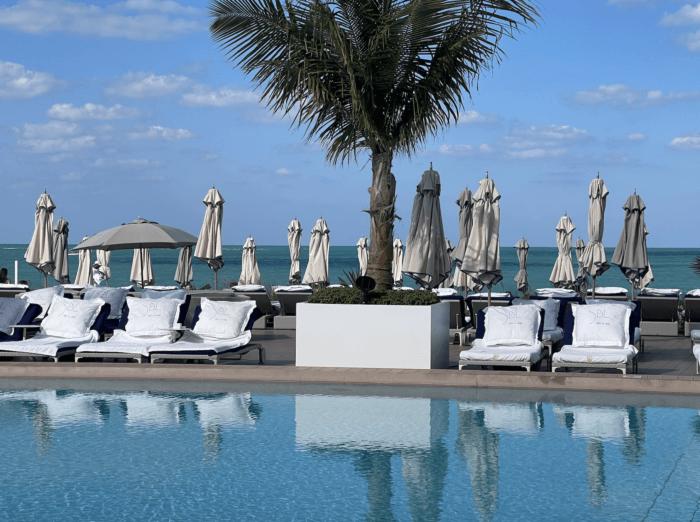 The only restriction is which sunbeds you can choose from. The hotel guests receive priority over the beachclub day pass guests, but this isn't too restrictive.
Basically, the hotel guests get exclusive access to the first 3 rows of sunloungers, and anything behind those, you should be able to choose from.
---
How long can you stop at the pool?
For as long as the pool is open!
These are the current opening times for the pools:
Fresh water pool: 10:00 – 19:00
Infinity pool: 10:00 – 19:00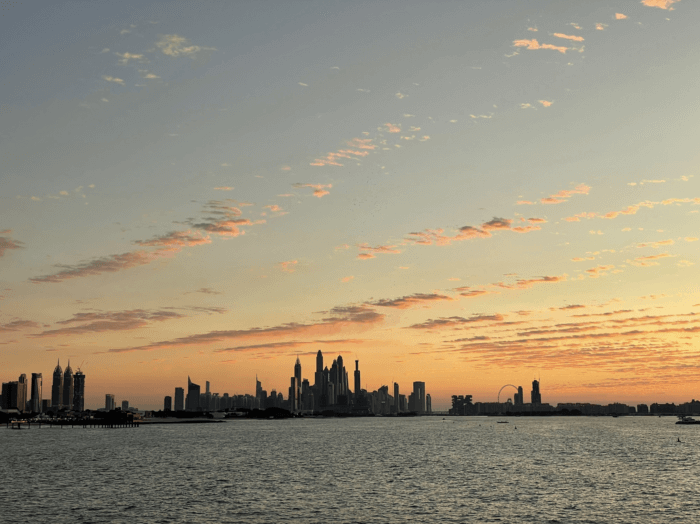 ---
What are the pools like?
As you'd expect, the pool areas are simply beautiful.
You have a heated 'family' pool (although we saw no children!), which is closer to the changing rooms, and then the famous infinity pool which overlooks the ocean. In the infinity pool there are also several hot tubs to enjoy.
The pool area is honestly immaculate, and everything you'd hope for from a 7* hotel!
We'll let our photos do all the talking…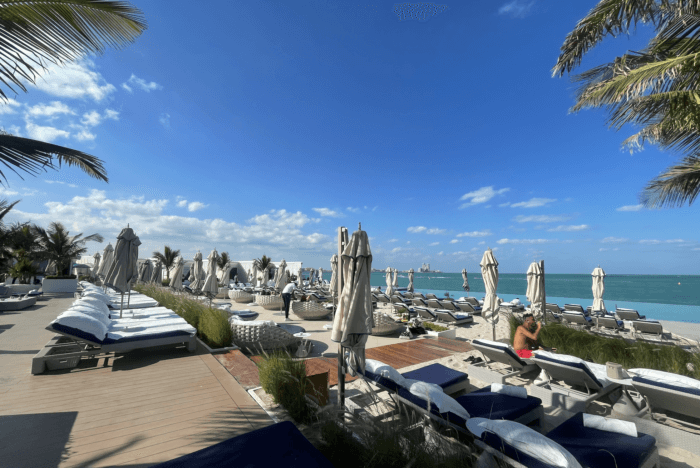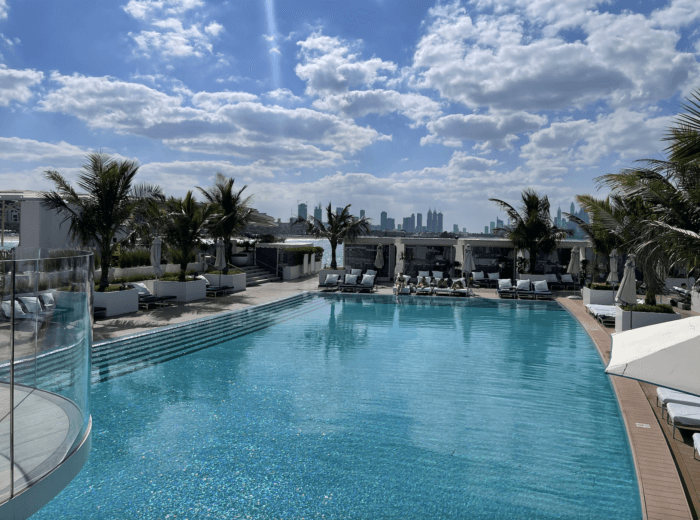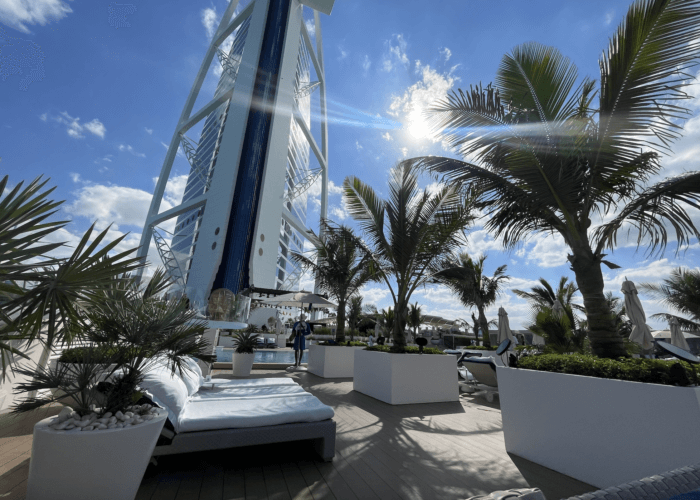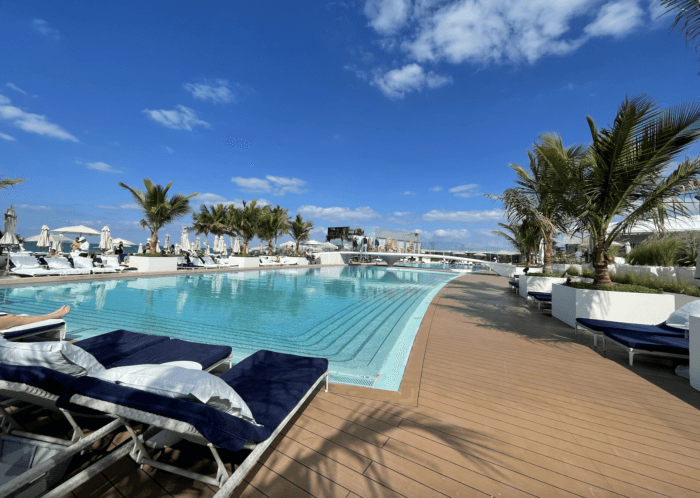 ---
Are the loungers comfortable?
Very comfortable!
I think the sun loungers at the Burj Al Arab pool day pass were some of the comfiest I've ever sat on!
The sun loungers are comfortable, large, and have lots of adjustable options too. They even come complete with a beautifully plump cushion too – which makes a nice sunshine nap absolute perfection.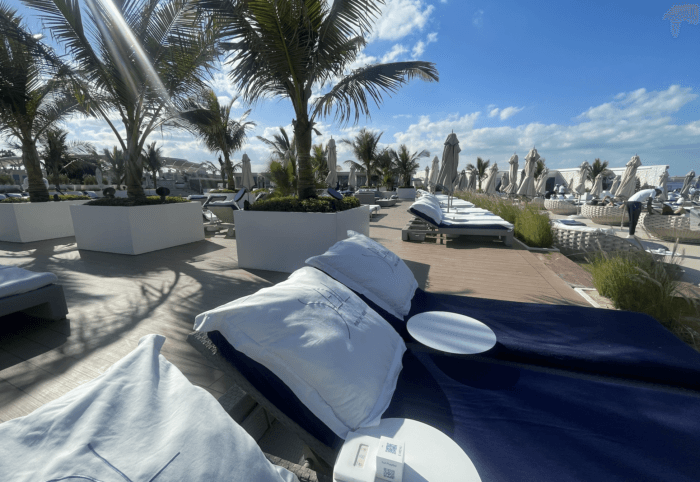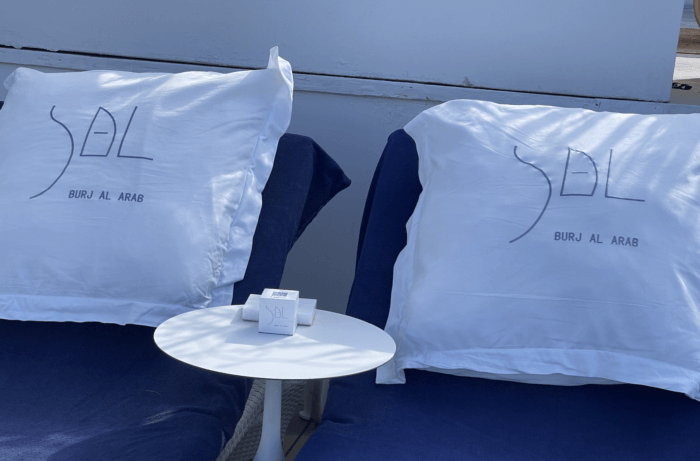 ---
Is there a restaurant by the pool?
Yes, the Sal Beachclub restaurant is right next to the pool area, and you're welcome to dine there during your Burj Al Arab pool day.
They have a large outdoor dining area and an indoor dining room too.
As you can expect, the decor is simply beautiful. It has this rustic beachy vibe which we love. Included crocheted umbrellas and stunning rustic napkins and ocean-coloured wine glasses.
We do recommend reserving a table when booking though, because the restaurant (as you can imagine) is very popular!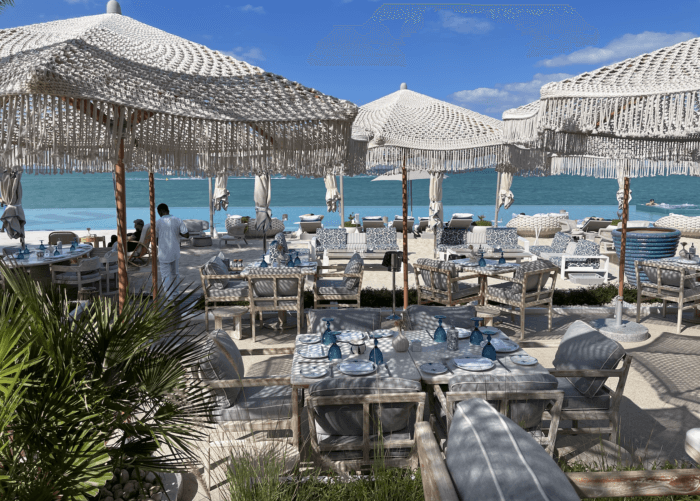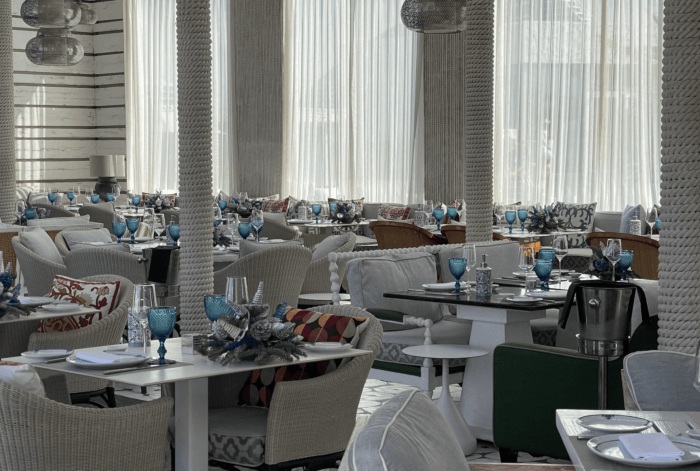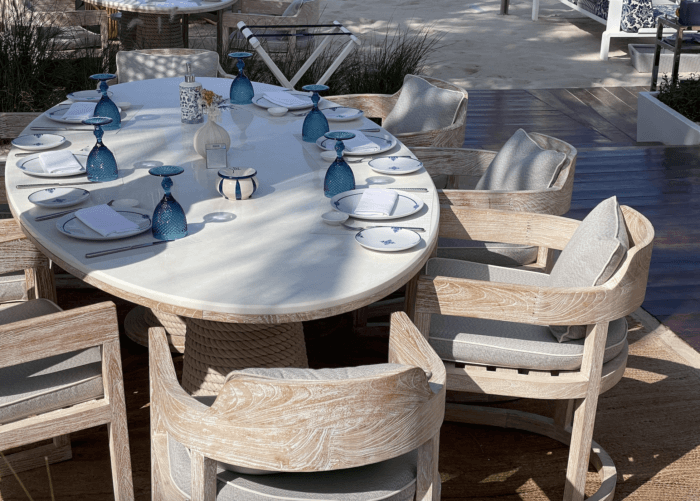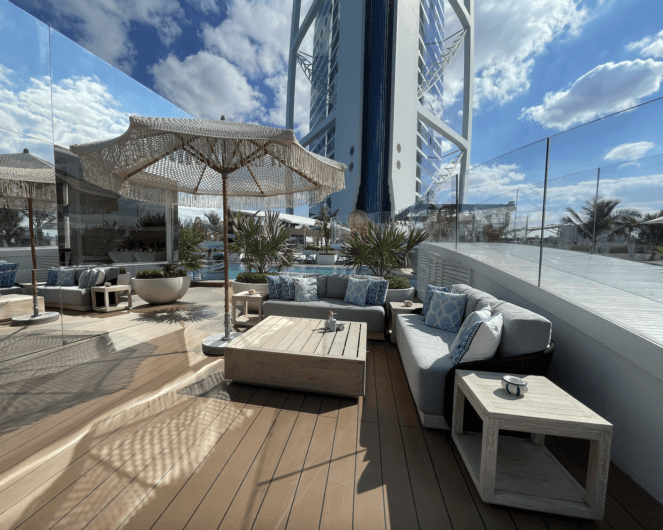 ---
Poolside / sunlounger dining options…
If you don't fancy eating at the restaurant, you can order instead from their pool menu, which I thought was 10/10.
You'll find things like pizza, lobster rolls, club sandwiches, salads, hummus, and much more. They also had an extensive choice of alcoholic and non-alcoholic drinks. Oh, and coffee too!
There was lots of variety on the pool menu, and the food was delivered straight to your sun lounger, with everything you could possibly need to enjoy it.
Here's a selection of the poolside menu food we tried…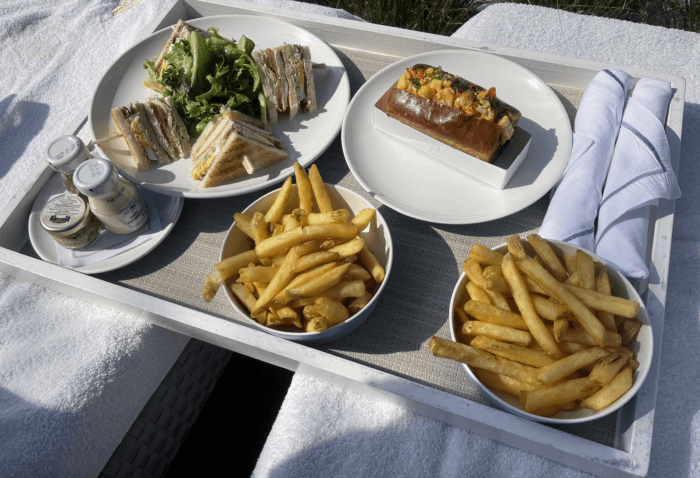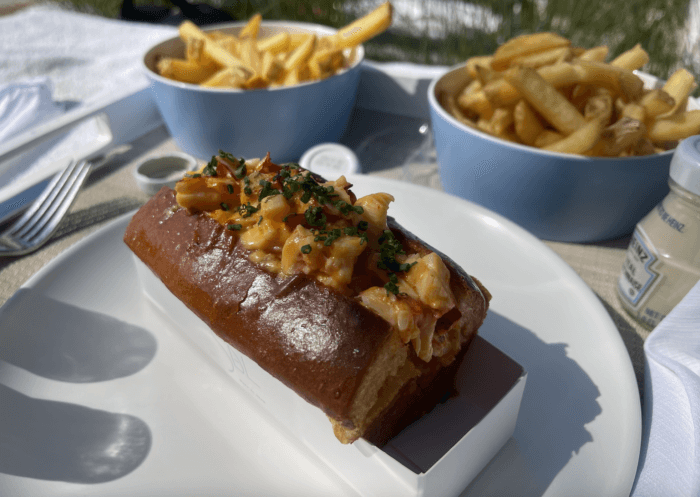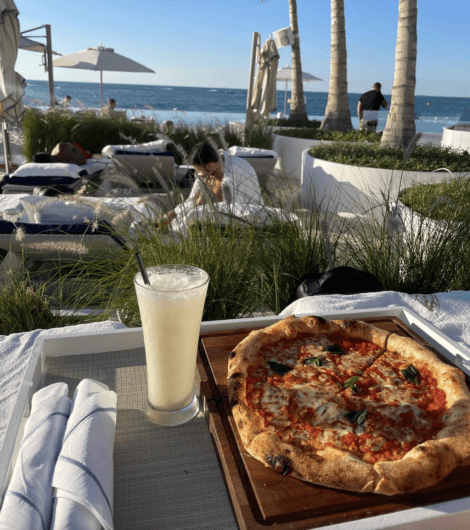 ---
What should I bring with me?
If you've booked your Sal Beachclub pool day pass, and you're not sure what to bring, hopefully this will help!
We'd recommend arriving in a nice beachy outfit, with your swimming items and kaftan / cover-ups in a bag ready to change into upon arrival.
You don't need to pack towels (these are provided) and you won't need to bring water either (unlimited bottled water is provided as part of your admission cost).
You may want to bring suncream, but if you forget it, don't worry! The hotel provides both suncream and aftersun onsite for guests to use.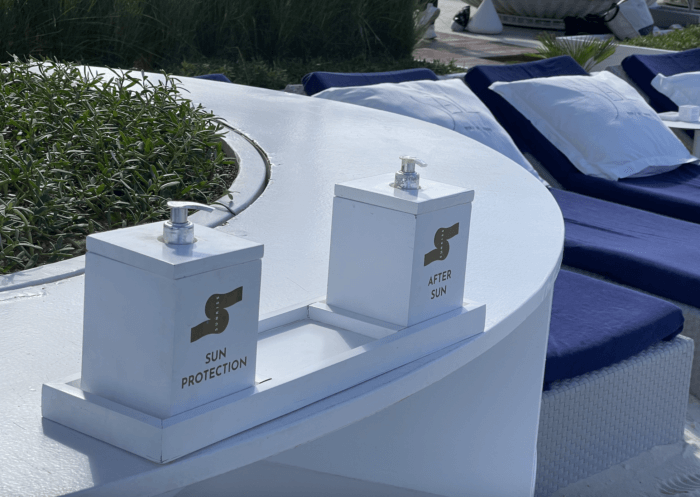 Read more about visiting Dubai: Everything you need to know about Emirates Business Class Lounge at Dubai Airport
---
Are there changing facilities at the pool?
Yes there are spacious changing facilities at the Sal Beachclub. You'll find shampoo, conditioner, hair spray, deodorant, and all kinds of other useful stuff in there for you to use too.
After you've finished at the pool, we recommend spending some time getting showered and ready for an evening out in their lovely facilities.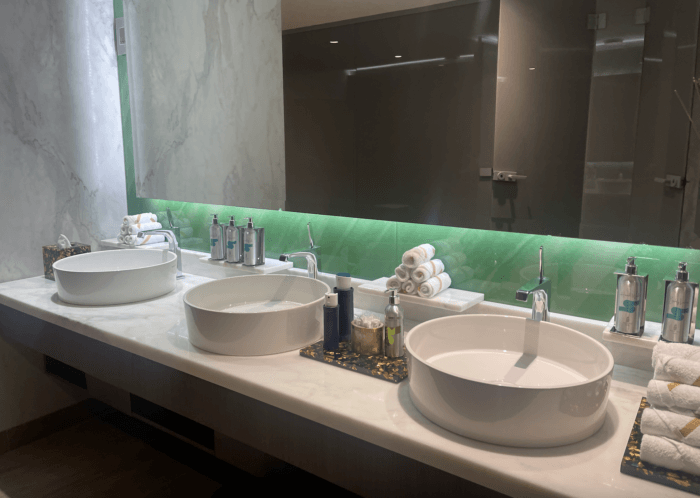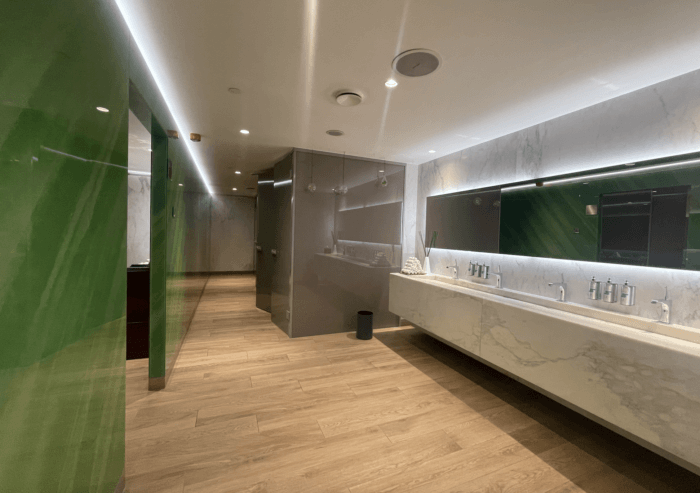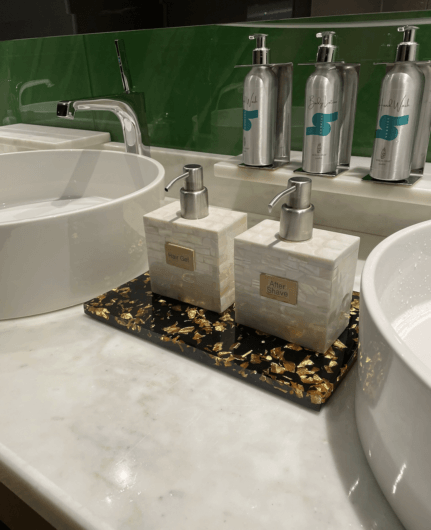 ---
What are the cabanas like?
We didn't experience the cabanas during our Burj Al Arab pool day pass at Sal Beachclub.
However, I took some photographs of the cabanas during our day there, so you'd be able to glimpse into the style and luxury on offer if you choose to book!
The cabanas come in different sizes and layouts, at different costs too. Obviously the larger the cabanas, the higher the cost will be.
Another nice benefit of the cabanas… You get a TV, and they're airconditioned too! Which is wonderful in the heat of Dubai, especially in the summer months.
Luxury Cabana: Starting from AED 1,500 for two
Royal Cabana: Starting from AED 5,000 for six
Panoramic Cabana: Starting from AED 7,000 for six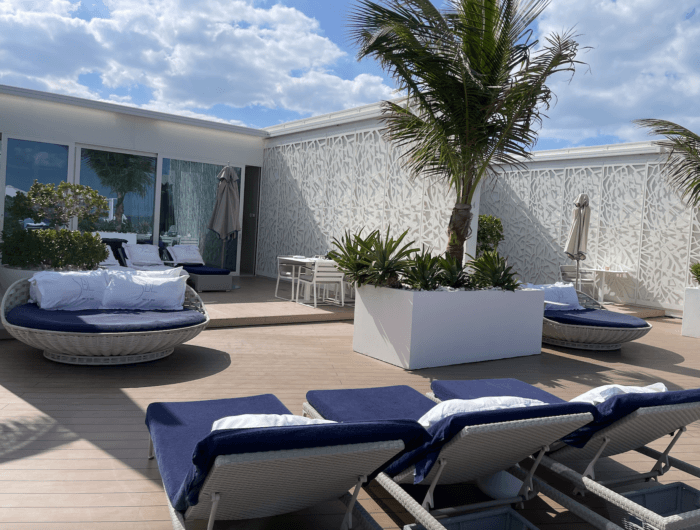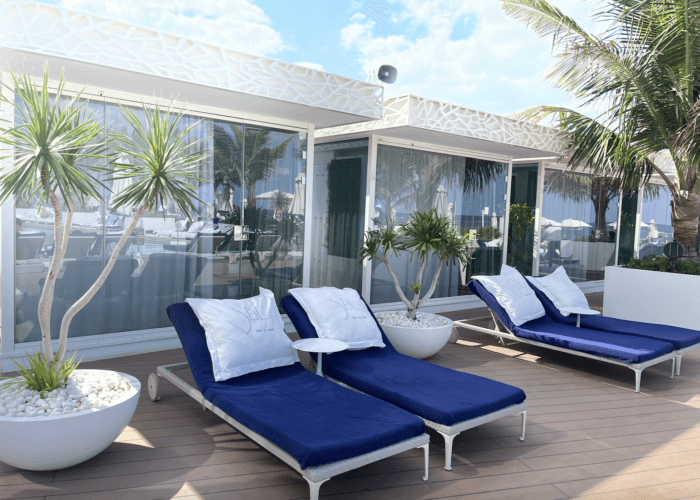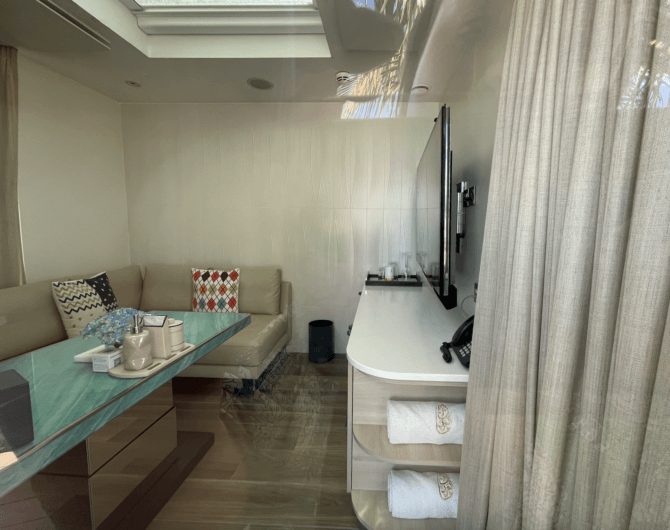 ---
Do I recommend the Burj Al Arab pool day pass?
Absolutely! It was one of the highlights from our recent vacation in Dubai.
In terms of value-for-money, I think the Burj Al Arab pool day pass really delivers on this. Because you can use half of your admission price towards food, you end up getting a lot of value for money.
The sheer experience of visiting the Burj Al Arab, using their amazing pool area, and experiencing the 7* service, makes it totally worth it.
Would we do it again? Absolutely without a doubt.
Want to read more about Dubai? Here's a review of our favourite luxury hotel in the city!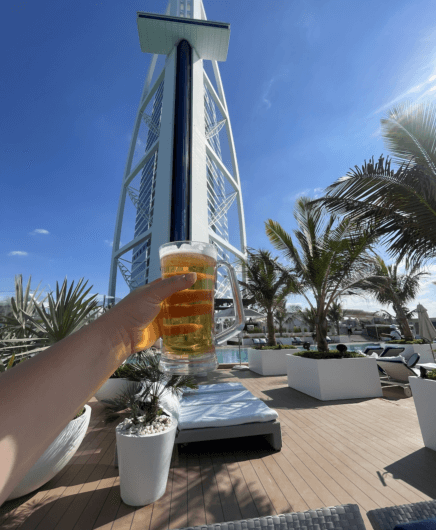 ---