If you're looking to book The Address Downtown Hotel in Dubai, and want to read a review first – you've come to the right place!
---
This hotel is one of my favourite hotels in the world… it's just magical. The views are incredible, the service is prompt and friendly, the location is insanely convenient and the fixtures / fitting / amenities exceed expectations every time.
If you want an in-depth review of The Address Downtown Hotel in Dubai, then hopefully this article will give you just that! I've included lots of information, tips and advice about stopping here – so hopefully your decision to book will be easier!
Also worth mentioning, we've stopped at this hotel several times now, because we LOVE it. We have paid for it ourselves each time. I know a lot of reviews online are often gifted or part of a gifted trip – but that isn't the case here.
---
Let's talk about the location…
You really can't beat the location of The Address Downtown. It's right next to the Dubai Mall (probably the biggest mall you'll ever step foot in) and it's literally a 2 minute walk to the nearest entrance.
If you want access to lots of eateries, cafes, restaurants, activities – then this hotel ticks all those boxes. Within a 2 minute walk of the hotel you have about 20+ choices for dinner and lunch, plenty of fun activities (free and paid) and some of the best views in the city.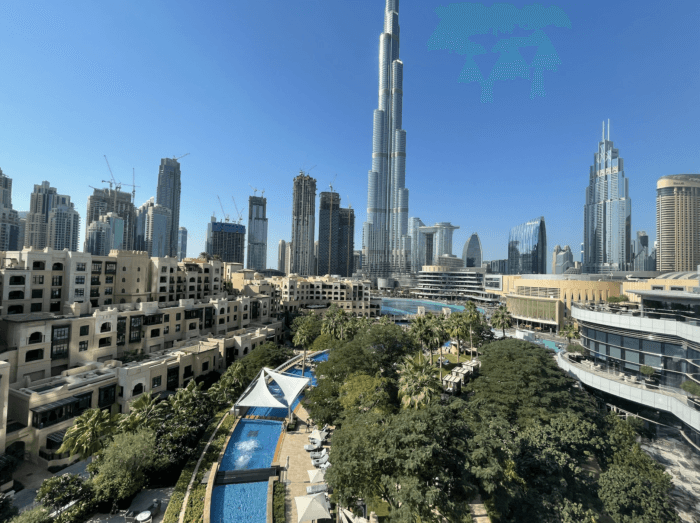 You really could ask to be based in a better location for exploring Dubai.
The one downside? This hotel doesn't have a beach – and the beach will take you about 10 minutes to reach via taxi. We're not really 'beach people' (we much prefer an amazing pool – which this hotel has 100%) so that doesn't bother us at all.
---
The room (and the view!)
If you're stopping here (and you can afford to pay a little extra) then I really recommend opting for the Fountain View version of whatever room you've booked. The Fountain View rooms are the rooms that look out onto the Dubai Fountains (and also the iconic Burj Kalifa – the world's tallest building).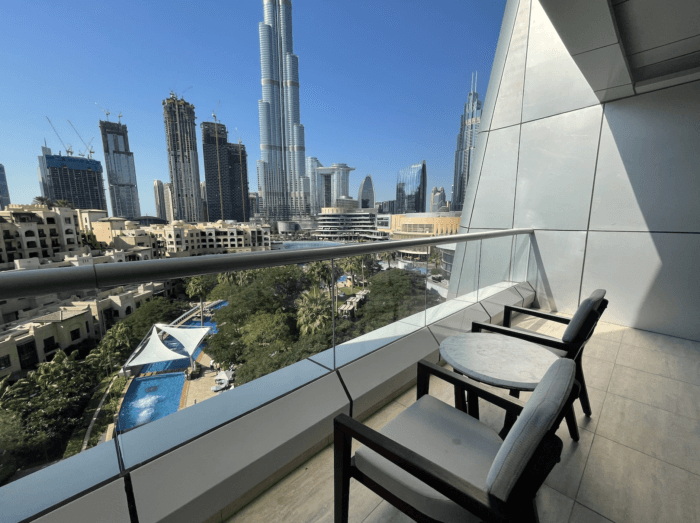 It's probably the best view in Dubai, and it will take your breath away. Having access to a view that good from your own balcony at all hours of the day, is just pure magic. And honestly, it's why I come back to this hotel time and time again.
The room itself is beautifully furnished and decorated. The style is like a soft modern art-deco. You'll see beautiful art-deco accents and features, but the palette is neutral and soft, and comforting. There's plenty of space too – which is refreshing in a city-centre hotel. The room in these photos is a premiere fountain view room (if you were wondering).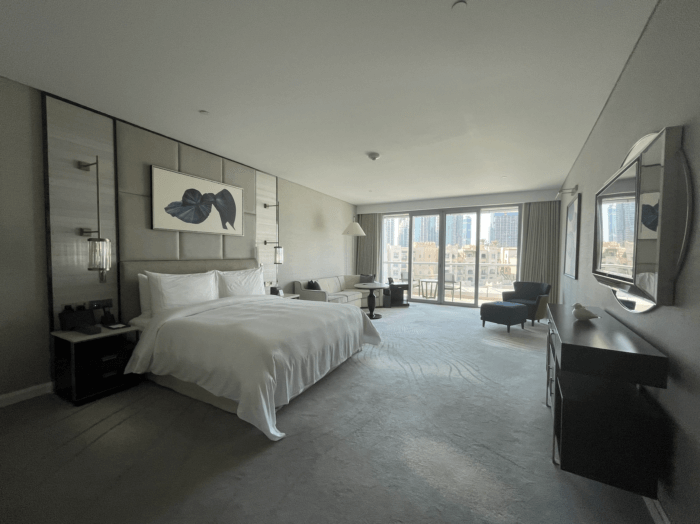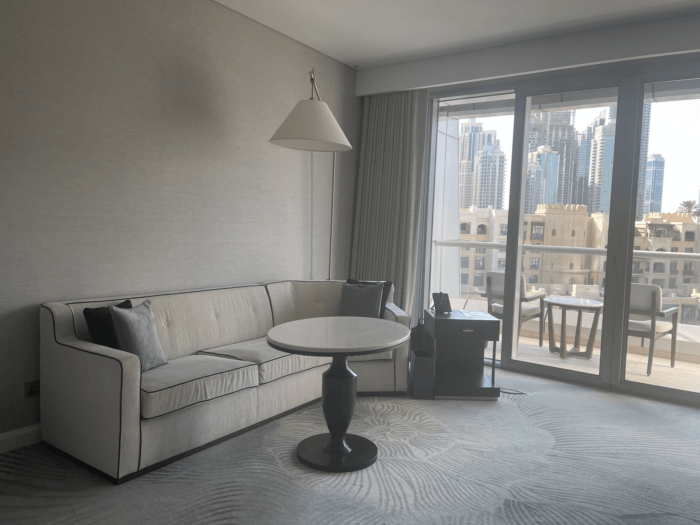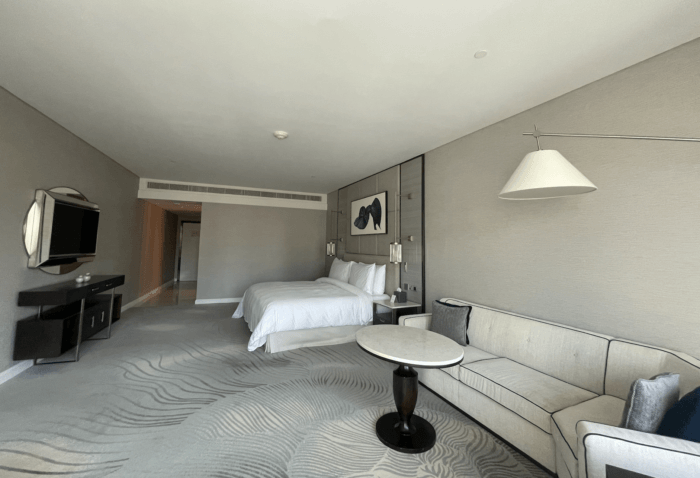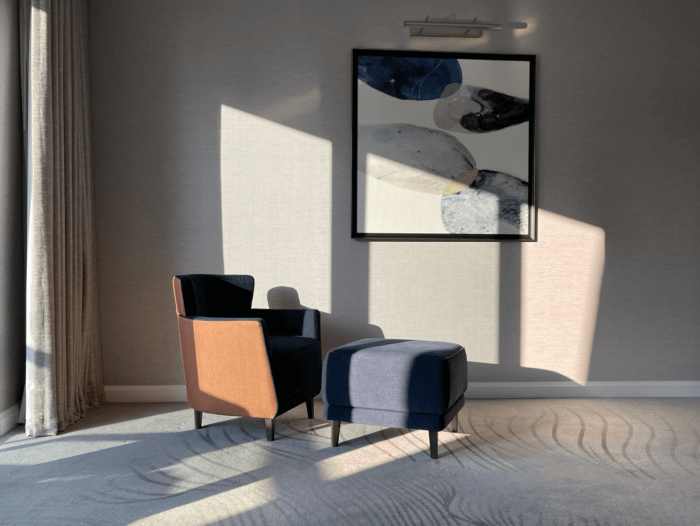 ---
The details inside the room
You'll find lots of nice little details, from temperature controls and room controls right by the bed, to USB ports and UK plug sockets (to make things extra easy).
I also love the dedicated dressing room area (this is one of my favourite parts). The dressing room has lots of space, a Dyson hair dryer (yes!), lots of hangers, and a lit mirror too.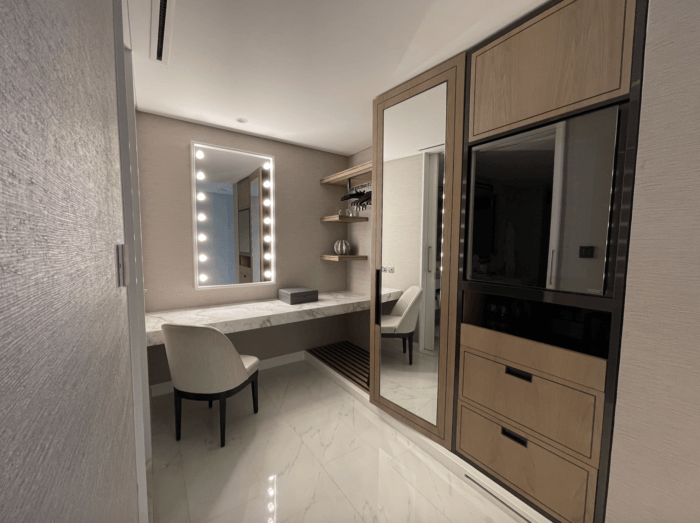 ---
The bathroom
The bathroom is a beautiful ode to marble, and every surface is beautiful white shining marble. The size is generous and spacious and feels like a perfect 5* hotel bathroom.
It feels luxurious, spacious and special. There's an overhead shower and a big bath – so plenty of choice for those who like both!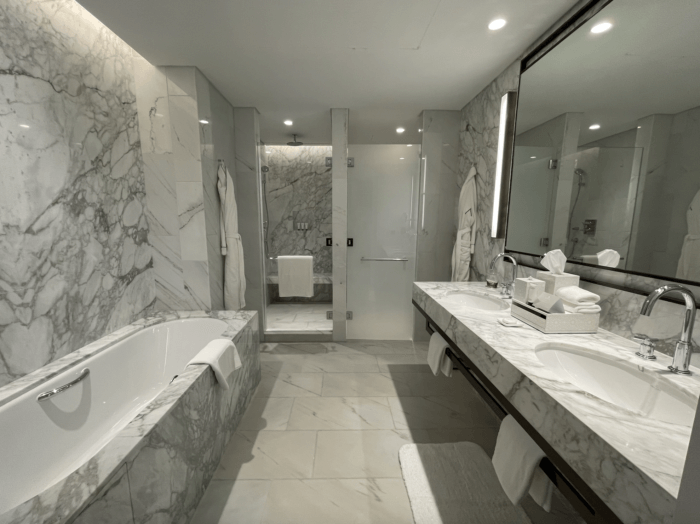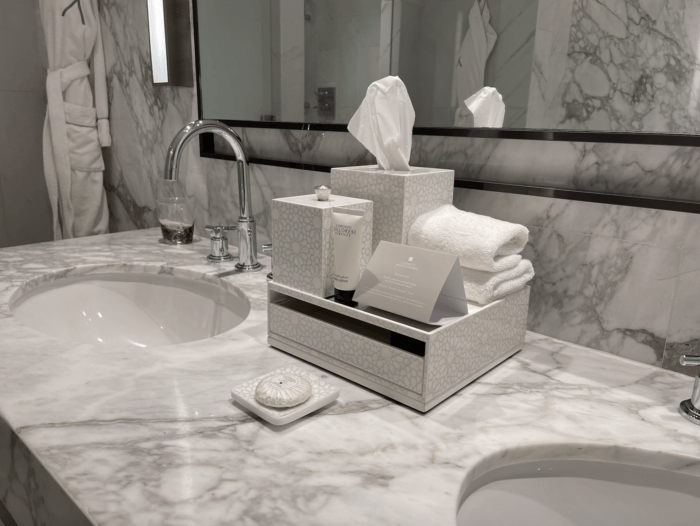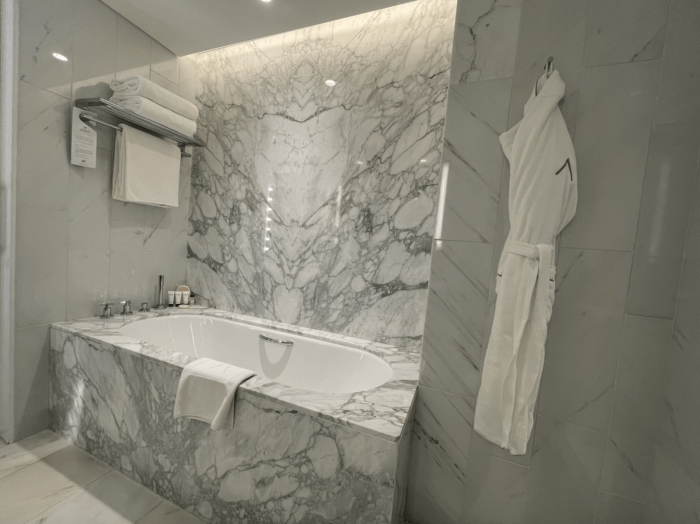 ---
The pool!
Ahhhh the pool! The main attraction for this hotel!
There's no pool quite like it in Dubai, it's the HUGE sweeping paradise, that overlooks the city and some of Dubai's most famous landmarks. There are actually about 6 pools all linked together, offering different depths and experiences, and (a detail I quite appreciate) is that they keep the kids pools way up out of the way from the adult ones.
Here's the view of the pool from our balcony…
When you're here on a couples getaway, the last thing you want is to be tripping over screaming toddlers – so it's quite nice that they keep the kids in one specific pool and lounger area.
In terms of space and lounger availability, it depends on the time of day and the season you're visiting. Some times when we've visited, the pool has been very quiet and empty – others it has been super busy (with no beds left by 1pm). So it just depends. I think it'd be beneficial for them to add a few more in peak hours, and it's probably my only criticism of the hotel.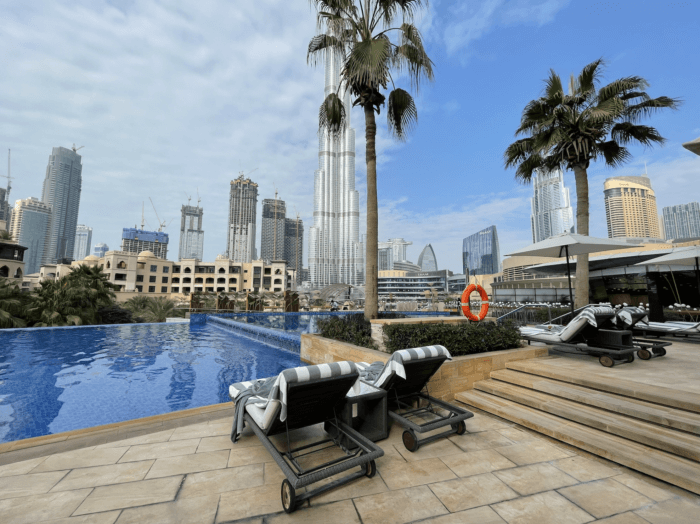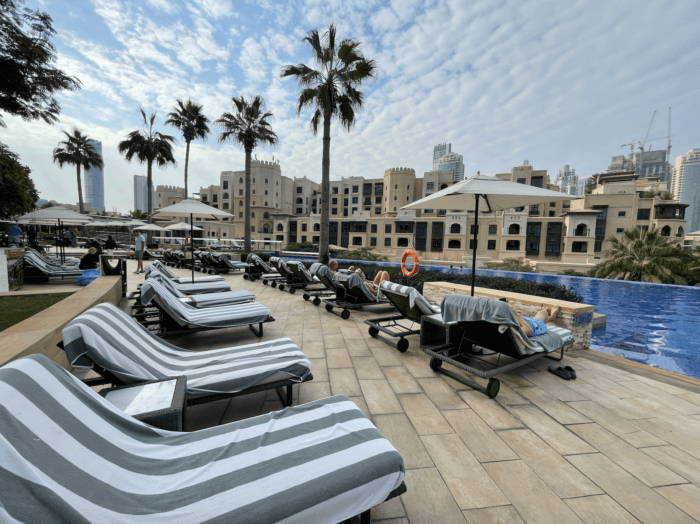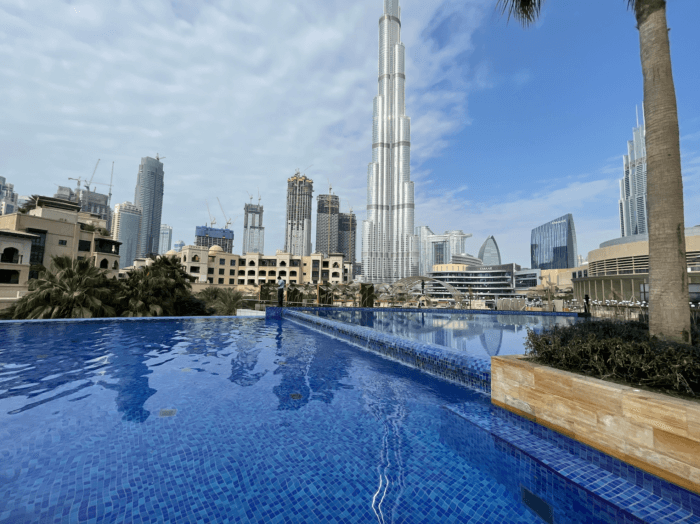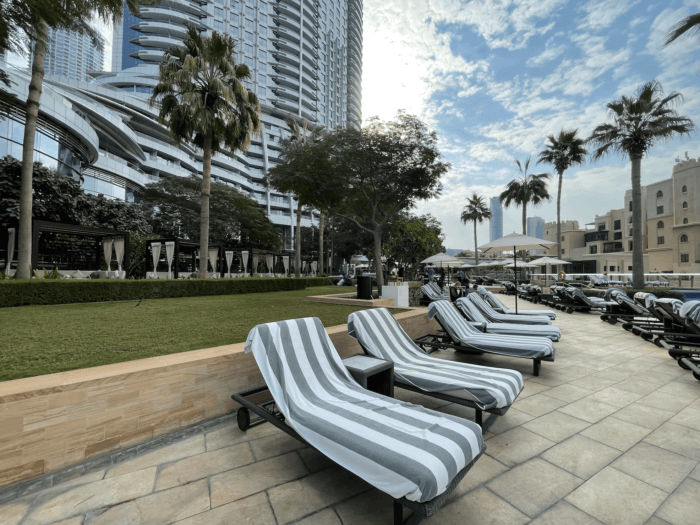 ---
The extra stuff
There are some great bars within the hotel, and my favourite is Zeta – an outdoors Japanese restaurant that has a brilliant lounge area for cocktails and drinks. I could spend hours drinking there, enjoying the perfect views over the Dubai fountains and Burj Kalifa.
There's also a bar up on the top floors called Neo's Lounge, which is a little more glamorous and 'nightlife' focussed, so you're bound to spot an Instagram influencer or 2 up there. It wasn't really my scene, but if you like the glitzy and showy bars, then you'd love it.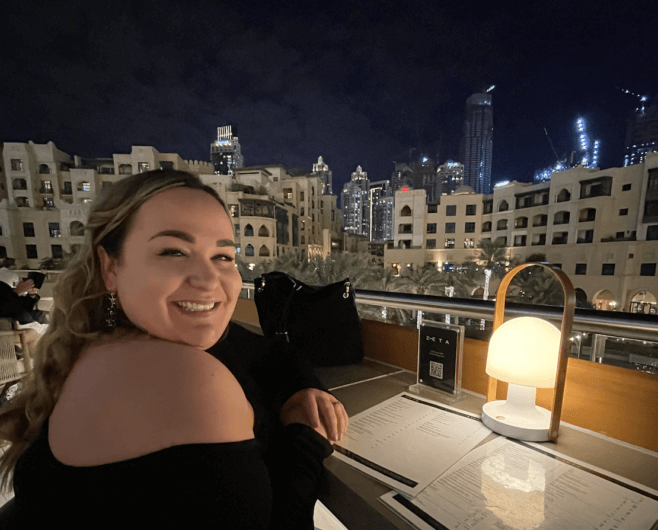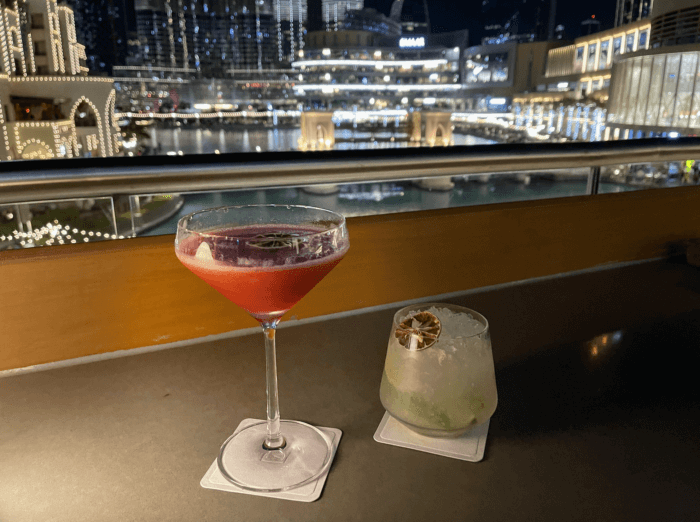 ---
Hopefully this review of The Address Downtown has been helpful!
Let me know if you've got any questions about stopping at The Address Downtown – I'll answer what I can! The Address Downtown is a beautiful hotel in the heart of Dubai (a city I absolutely love), and it's a perfect choice when visiting.