Are you looking for photos of the Greenwich Lounge at JFK Airport?
If you're flying American Airlines or British Airways from JFK Airport in NYC (terminal 8), you might be wondering what the business class lounge (known as The Greenwich Lounge) is like, and whether it's worth the money.
If you're looking for photos and amenities information about the Greenwich Lounge at JFK airport, you've come to the right place.
We'll outline what the lounge has, if we recommend it, and all those added extras like food and drinks.
So, let's get into it!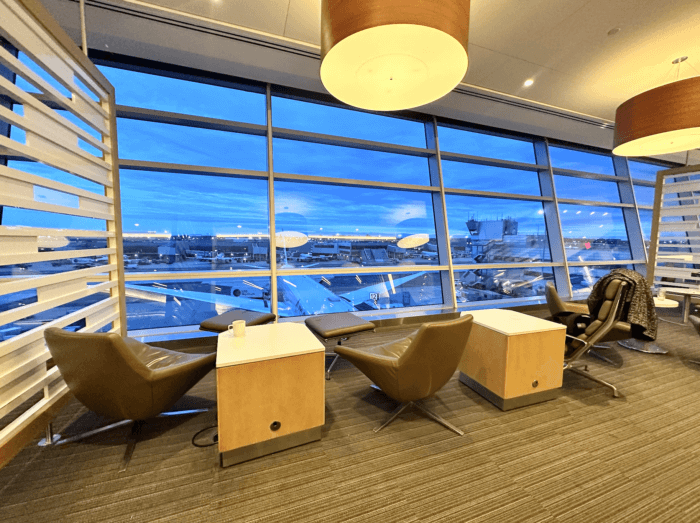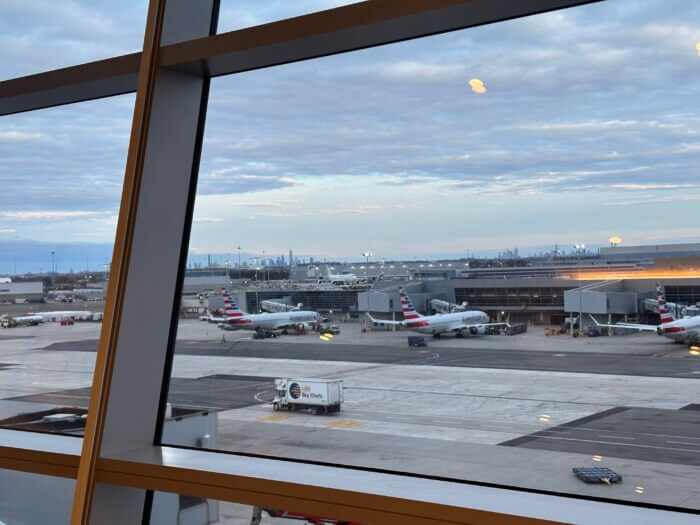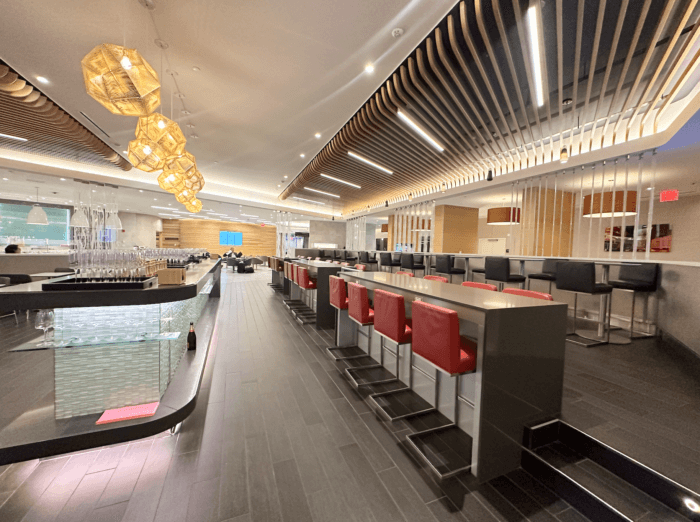 ---
Who is the Greenwich Lounge at JFK for?
There are 3 lounges in terminal 8 at JFK, and the Greenwich Lounge is one of these three lounges.
These lounges are joint between American Airlines, and British Airways, so the ticket tiers apply to both airlines.
The Greenwich Lounge at JFK airport is the official business class lounge for terminal 8 at JFK airport.
There are also two other lounges (if you're curious!)…
The Chelsea Lounge (which is the official first-class lounge, a bit like the BA Concorde Room in Heathrow Airport).
The Soho Lounge (A bit like the BA Galleries First lounge, this is also a oneworld emerald lounge).
---
Is the Greenwich Lounge in JFK Airport worth visiting?
Yes!
As JFK isn't the best US airport itself (and the airport terminal itself can feels super crowded and busy) the Greenwich Lounge feels incredibly relaxed and peaceful in comparison.
There are a few main things I enjoyed about this lounge:
I didn't have to walk very far to get there. I always appreciate this, as it means I didn't have to make my way through a maze of gates before arriving at the lounge.
There were nice big windows overlooking the runway. Always nice to see the outside when in the airport. I always appreciate a view.
Plenty of food and drinks options.
Plenty of seating options, and (most importantly) many different types of seating, depending on what you found comfortable.
Finally, the seating wasn't 'cramped' together, the lounge felt spacious.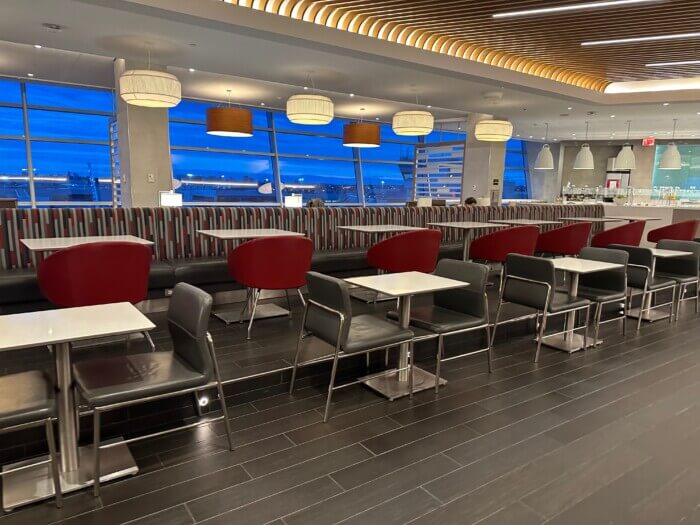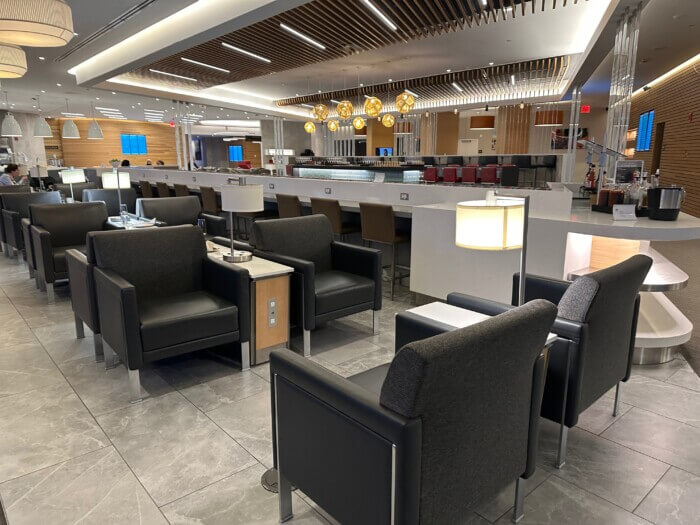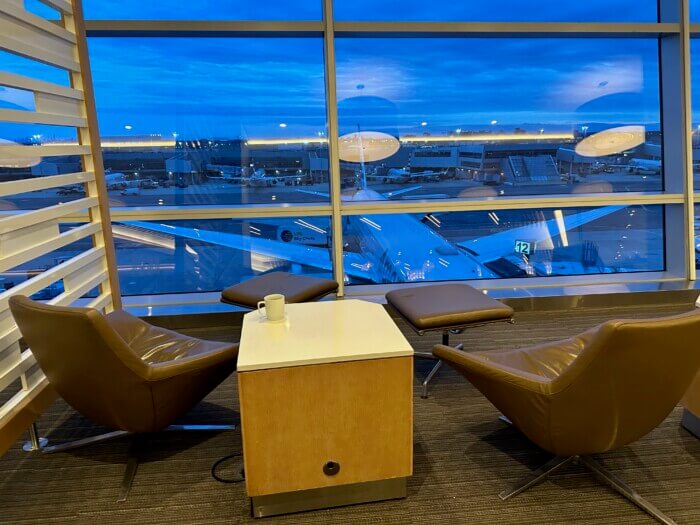 ---
What is the food like in the Greenwich Lounge, at JFK Airport?
When I visited it was from the hours of 6am – 9am, so the food choices were obviously 'breakfast' focused.
But saying that, there was plenty of choice and lots of pick from.
There was fresh fruit, cereals, yogurts, pastries, dried fruit, granola, and then hot breakfast options too (bacon, sausages, beans, eggs, toast, etc). These buffet options were plentiful and stocked up regularly too.
Drinks-wise, there was everything you'd expect. Tea and coffee, juices, and there was also a soda machine, where you could choose from various fountain drinks, which was unlimited.
There was also alcohol and a bar in the lounge, although this wasn't really the focus of anyone's attention at 6am!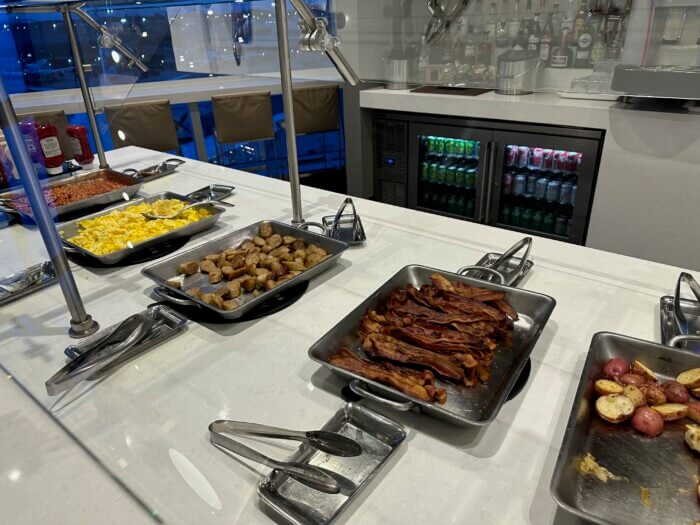 As you'd expect, there's no limit on the food. You can eat as much or as little as you'd like, and it's self-service, so you can pop up to the buffet multiple times during your stay if you're feeling extra hungry.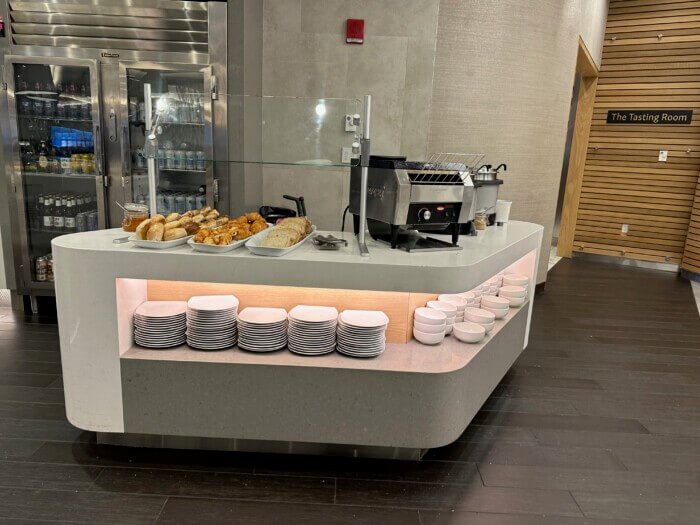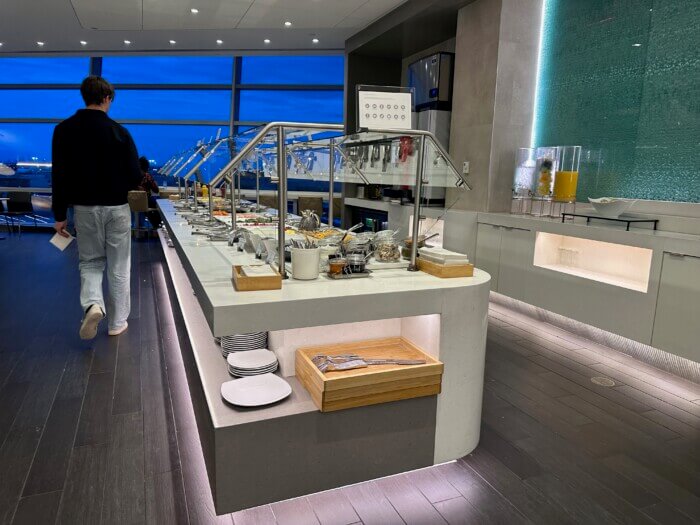 ---
Don't forget about the 'The Tasting Room'
One unique feature of the Greenwich Lounge at JFK Airport, is also 'The Tasting Room'.
This high-end tap room features Brooklyn Brewery (a global independent craft brewer) and allows guests to try a variety of different beers during their wait time (paired with delicious dishes like Beer Braised Bratwurst and French Onion Grilled Cheese).
---
What types of seating is there in the Greenwich Lounge at JFK airport?
There are lots of different seating options at the Greenwich Lounge at JFK airport. I took a quick walk around and captured as many images as I could without disturbing other guests, you'll see the images below.
These are a selection of what you can find:
Reclining chairs
Armchairs
Dining chairs and tables
Bar stools and bar seating
Privacy seating (great for work calls)
Comfortable seating with power adaptors
Booth seating (with tables)
I was super comfortable my entire time in the lounge, which is pretty high praise from me… I had back surgery recently, so I'm pretty picky when it comes to seating.
I really value having options when it comes to seating, and I would've been happy in multiple types of seat here.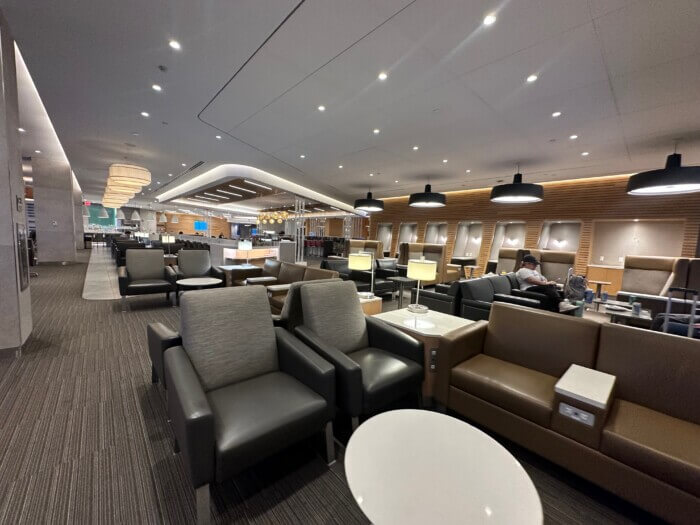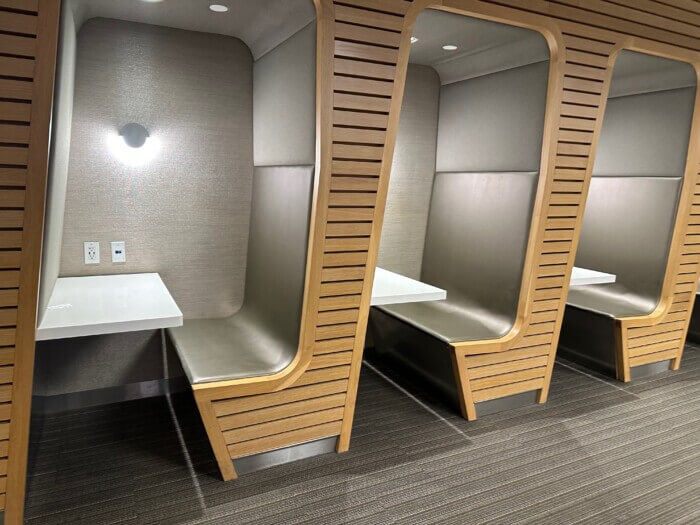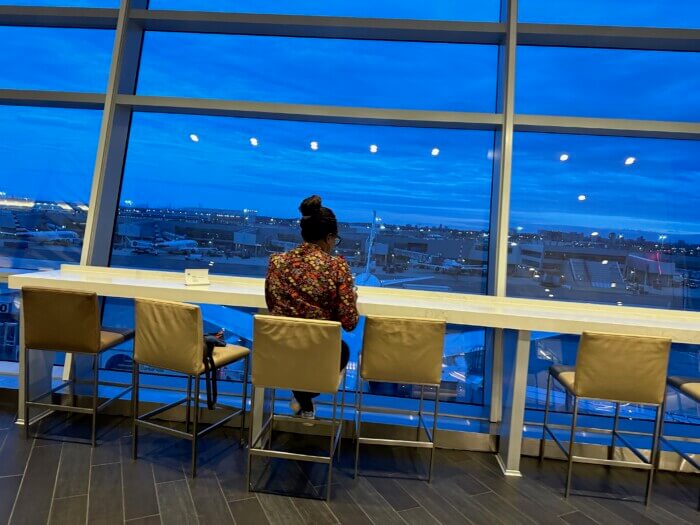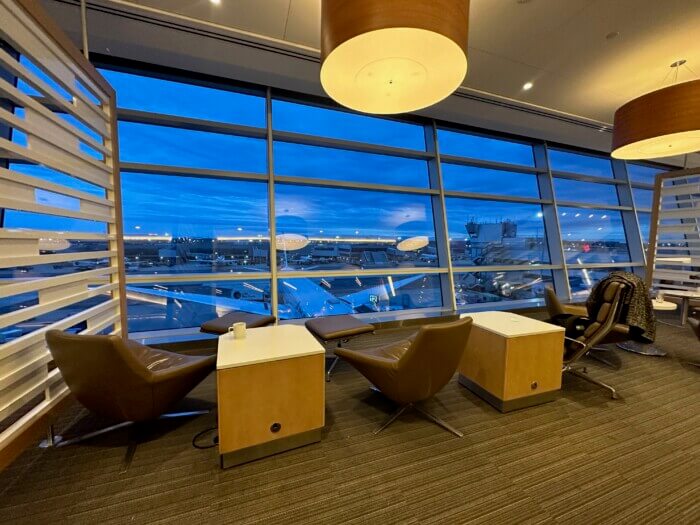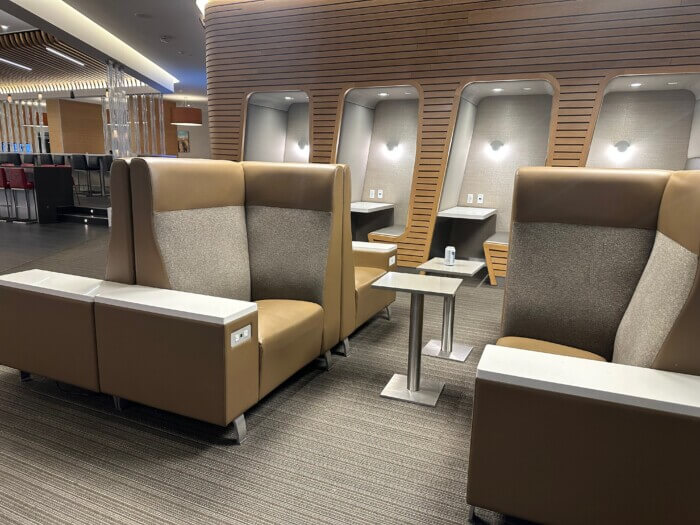 ---
Are power-stations easy to come by?
Yes actually. I was impressed at how many of the seating choices had plugs and power sockets nearby, or integrated.
You'll see below, there are sockets in between the seats, but also in the table too – giving everyone a chance to plug in and charge.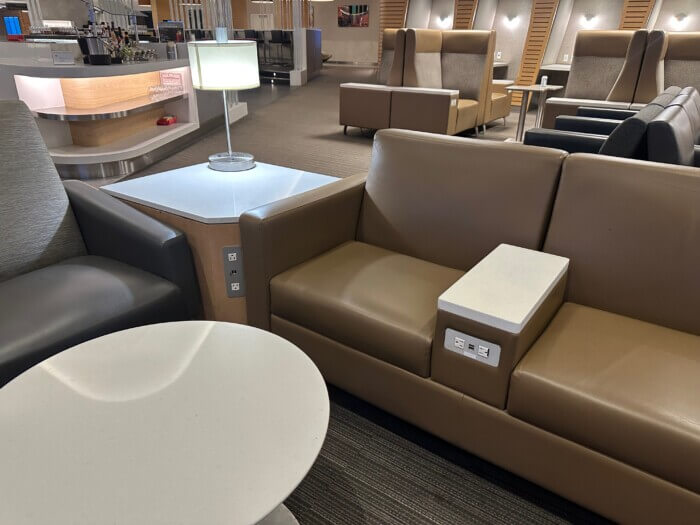 ---
Do they serve alcohol in the Greenwich Lounge?
Of course!
Whilst the bar area isn't necessarily the focus during the morning hours, the Greenwich Lounge at JFK Airport is well stocked for later in the day.
Take a look at the photos below, and you'll see what we mean!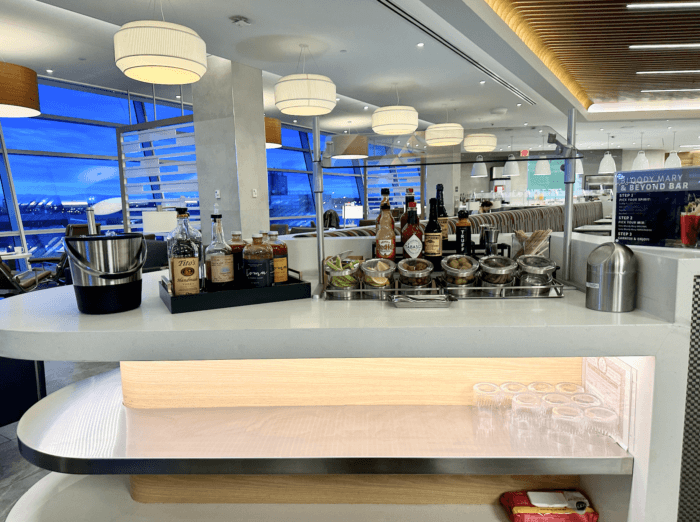 ---
Are there showers?
Yes, you've got showers and toilets within the lounge. Both the toilets and showers were clean and modern.
---
How does it compare to other lounges?
I've been super lucky to have experienced many different business class lounges around the world – and this one is certainly in the better half.
Whilst it isn't as luxurious as some others, the light space, big windows, variety of furniture and seating, and well-cooked food, makes this a pretty solid business-class lounge.
JFK isn't a great airport to wait around in, and The Greenwich Lounge certainly makes that wait time more enjoyable and much more comfortable.
Overall, I would give the Greenwich Lounge an 8.5 / 10.
---