Are you looking for ideas and things to do with a baby in Dubai – look no further!
Dubai is one of the most baby-friendly cities in the world, and there are so many things to do with a baby in Dubai. First of all, it's a really safe and clean city, and it's the kind of place you'll feel comfortable letting your baby crawl around or play in public. Second of all, Dubai is very accessible and modern – which means that it's perfect for parents with a baby because most places are pram/ buggy friendly.
But what can you actually do with a baby in Dubai? Well take a read of our list of things to do with a baby in Dubai – and take your pick!
This is a great choice for things to do with a baby in Dubai. The aquarium is in the heart of the Dubai Mall, which means a little bit of shopping for you beforehand, and also means there are lots of eating options for you too afterwards. The aquarium is the perfect activity for babies, because it's so sensory. If you've never taken your little one to an aquarium before, you'll love watching them star up at the fish in absolute wonder and awe. It really is magical. You can get skip the line tickets by clicking here.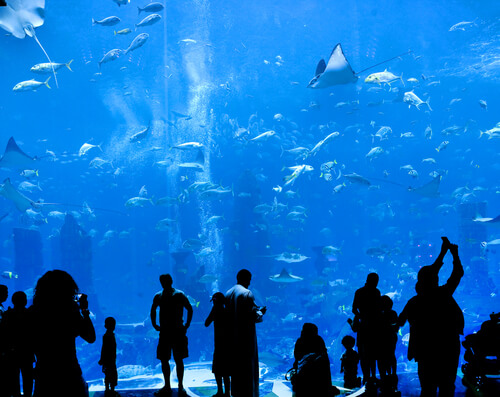 Dubai Waterparks
There are many waterparks in Dubai to choose from, and they make a great things to do with a baby in Dubai. Yes, you won't be whizzing down the slides or the big rides with your little one, but you'll find plenty of smaller pools and activities for them in the waterparks too. The Dubai Atlantis Waterpark is one of the most popular choices for parents with babies, and you can buy tickets in advance by clicking here. Another waterpark option in Dubai is the Dubai Laguna Waterpark (which is less busy than Atlantis) so might be a good choice for you if you want to visit somewhere a bit smaller.
The Green Planet (Indoor rainforest)
This is a great choice is you just want to spend the day walking around somewhere indoors, out of the sunshine. It's a little bit like a mini zoo – but mainly featuring smaller animals and birds and it's a great option for things to do with a baby in Dubai. It's completely accessible so fantastic for prams and buggys, and it's a wonderful way for your baby to see birds and animals upclose for the first time. You can book skip-the-line tickets by clicking here.
The Dubai Fountains
Watching the Dubai Fountains is a lovely experience for adults, children and babies – and the lights and sounds from the fountains will fascinate your little one. If you want to take them even closer to the action, you could book a boat tour, and take them onboard during the fountain show. Click here to book tickets.
Visit Dubai Marina
If you just want to enjoy some lovely food and have a walk around the city, then the Marina is a beautiful place to take a stroll with your baby. The Marina has a road-free pathway that goes all the way around the edge of the marina, and it's all paved and easy to get around with a pram or buggy. There are food options every few minutes (so you won't be short for options) and most restaurants love having babies and children as guests.
Visit the viewing deck at the Burj Kalifa
It's the world's tallest building – and it's baby friendly, so it makes our list of things to do with a baby in Dubai! So why not take in the views with your little one. From we understand, you can't take prams up to the top, but a sling or a snug / chest carrier are permitted. You can check your pram in before visiting the top, and just pick it back up when you return down to the bottom. You can book tickets here.
Have a family photoshoot (and a guided tour of the city!)
This is my favourite option on the list! It's a private tour of the city, and a mini photoshoot with your little family too (perfect for snapping gorgeous photos of your new baby! The tour lasts for 5 hours, and you'll visit lots of amazing photo opportunities and learn lots about the gorgeous city of Dubai. It's a brilliant thing to do in Dubai with a baby. You can book your tour here.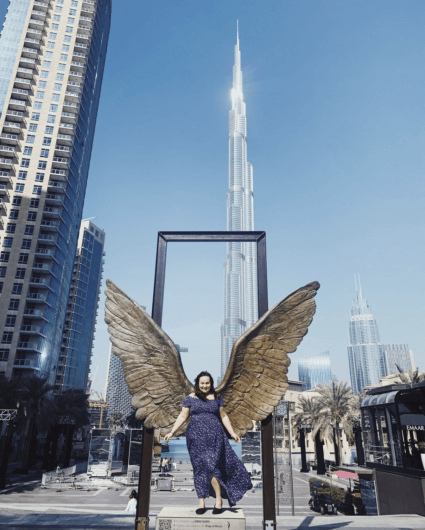 Dubai Flora and Fauna 4-Hour Tour
If you love just soaking in the beautiful scenery, then this is a lovely thing to do with your baby in Dubai. You'll explore the flora and fauna of Dubai on a 4-hour tour of Butterfly Garden and Miracle Garden. This gorgeous spot in Dubai is lesser known with tourist, so it's a nice break from the busier attractions in the city. You'll see more than 45 million flowers in bloom at Miracle Garden, and wander the round 3D garden of Butterfly Garden to see species of butterfly. It's a really colour and interactive experience for your baby – and pram / buggy friendly too! Book tickets by clicking here.
Visit one of the MANY malls
There are so many shopping malls in Dubai, and they're all amazing for accessibility with prams and buggys. If your baby is having a little nap, and you fancy browsing some shops – then head to a mall! I recommend Dubai mall and the Marina mall and the Emirate Mall.
Walk around the Madinat Market
The Madinat is a mall styled to look like an old Arabian market – and it's a really beautiful place to take a stroll around in the evening. You'll find lots of restaurants there, and there's lots of opportunities to sit back and relax too – making it one of my favourite things to do in dubai with a baby.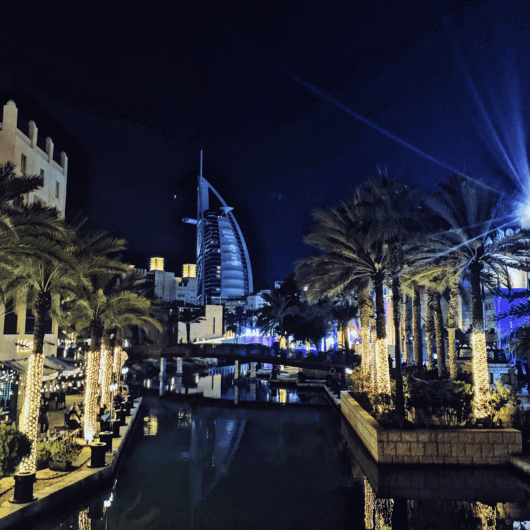 Enjoy a day by the pool
I'm guessing your hotel has a swimming pool – so take the opportunity to enjoy some time by the pool! Almost all Dubai hotels are children-friendly and you'll find babies are a welcome visitor by most staff at resorts! Your little one will get lots of lovely attention on their holiday!