I have family in Dubai, so I'm really lucky in that I always have an excuse to visit.
Dubai is definitely a 'Marmite' kind of city – and usually when I speak to people, they have either loved it or hated it.
For me, I love it.
Sure, it's a very new city, and it is all about the sparkle, the glitz and the glam. But, if you take it for what it is, you can have an amazing time here.
There is (believe it or not) culture to be found amongst the skyscrapers and luxury hotels, and there are tons of fun things to do too.
I've also found it's a very inclusive city – there are things to do for lots of different budget, for families, for couples, for people who might usually have issues with accessibility. Dubai caters for everyone, and I do love that about it.
So with this in mind, I thought I'd write about my favourite things to do in the city. Enjoy!
---
Watch the sunset
---
The sunset is so beautiful in Dubai – and you'll never witness a sky more orange and a sun so bright as you do whilst you're in the middle east.
Take an entire evening and go sit on the beach as the sun sets into the horizon. It's magic.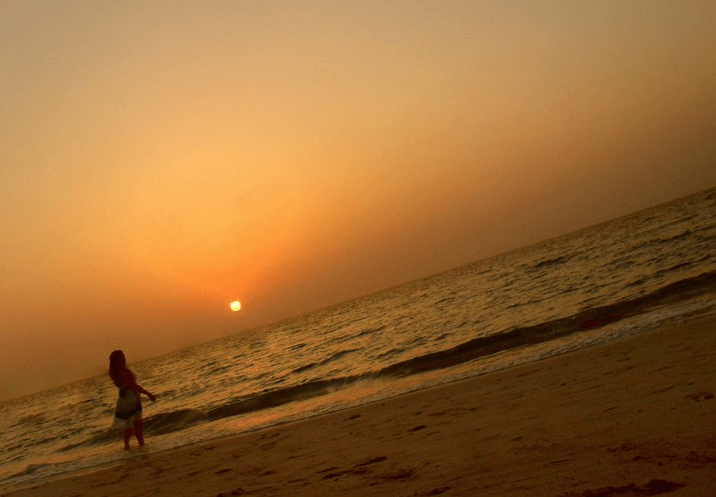 ---
Watch the Dubai fountains
---
Made by the same guys who did the Bellagio fountains – but on a much bigger scale – I challenge anyone not to be impressed whilst watching them.
I cried the first time I saw them (I know – get a life) because they were just so beautiful, and my favourite song was playing in the background. But anyway, just go watch them.
My personal favourite way to view the fountain is on the Dubai Fountain Arabic boat – you can't get any closer to them, it's amazing!
I actually wrote a post here about the best places you can view the Dubai Fountains from – which might be useful if you want to make sure you have a great view!). And you can find information about the timings of Dubai Fountains here.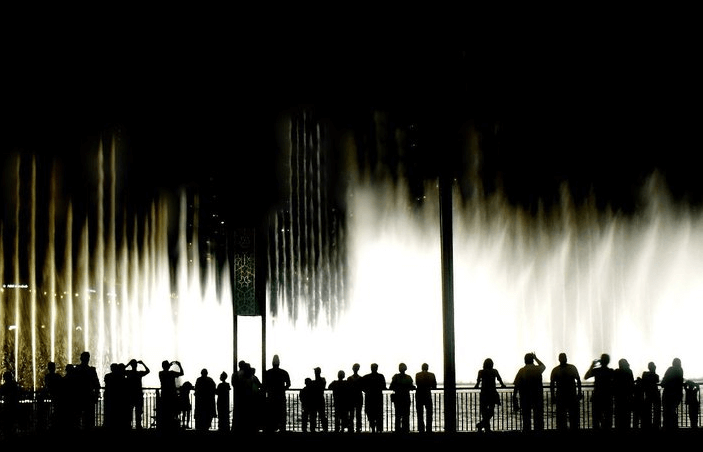 ---
Explore the shopping malls
---
The shopping malls in Dubai are on a huge scale and you can find just about anything in them, that you would need in life, ever.
I could literally spend days in the Pottery Barn they have in Dubai Mall – it's so big.
In Dubai mall there is also ice-skating rink and the world's biggest aquarium (they don't do things by half…!) and in the Emirates mall you'll find an indoor skiing slope. Yes really.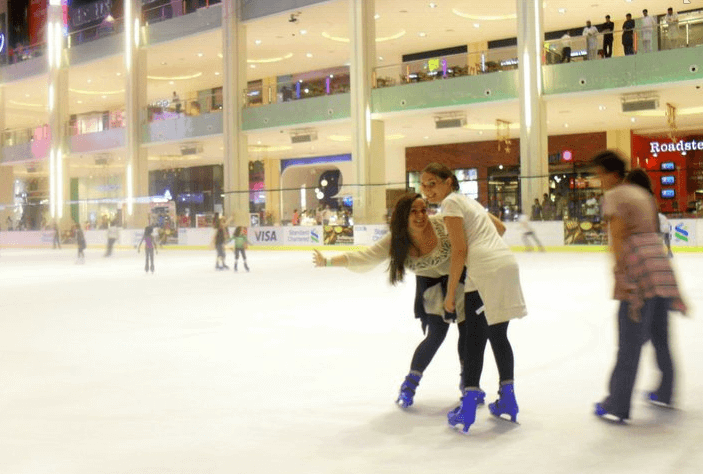 ---
Take in some culture
---
Many people visit Dubai and stay in their resort – which is a total mistake. Get out and about and you'll stumble across some beautiful buildings (like the one below).
Head into Dubai's old town and there is even a museum you can visit which will fill you in on all the old-ways of the city.
The traditional gold markets and fish markets are also a lot of fun, as is the tiny taxi-boat across the creek (which only costs about 20p).
There is loads to do outside of the pool and the beach, so take at least a day and go and explore. Dubai is really safe, so don't be afraid of getting out of the hotel and being adventurous.
If you like the idea of doing a walking tour, I really recommend the Historic Gems of Dubai walking tour (click here to book tickets) or the Street Food tour of Old Dubai… great because it includes a tour guide and food! You can click here for tickets to that one. 
---
Visit a water park 
---
There are plenty of water parks to choose from, but I'd go for either The Atlantis Aquaventure (because it has awesome rides).
It's a lot of fun and a nice break from the city life too, plus you get to drive up the Palm on the way there, which is a must-do in itself.
Plus you get to spend a whole day messing about in pools and on slides – which is pretty cool.
You can book tickets to The Atlantis Aquaventure by clicking here – and I definitely recommend booking in advance!
Read more about Dubai: Our Review of the Burj Al Arab pool day pass (with photos!)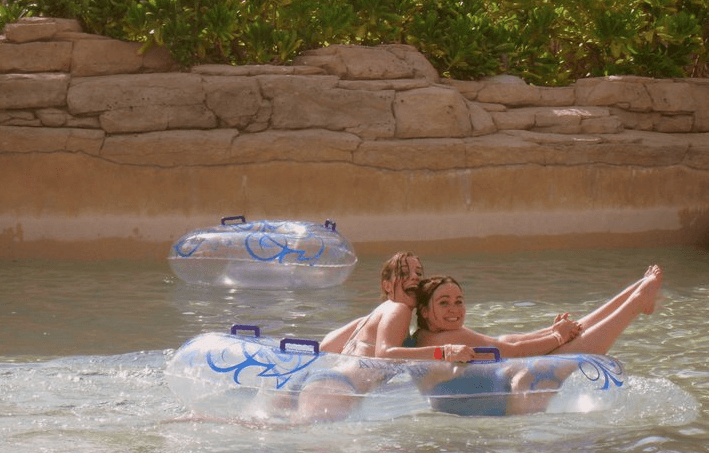 ---
Visit the Marina
---
I love the Dubai Marina because it feels a little separate from other touristy parts of the city – and yet it's just beautiful and bustling all the time.
I love just wandering around during the evening and watching the day turn into night. Enjoy a nice meal outdoors and enjoy some people watching too.
If you're looking for a hotel, my favourite hotel in the Marina is The Address Dubai Marina – it's just perfect and the pool is insanely cool.
I also love this private Yacht tour, where you'll get to cruise around the Marina and Atlantis for a few hours aboard your own private yacht. It's totally glamorous, but it's totally amazing too. 


---
Hit the beach
---
During the summer months (June – August) the beach might be a bit unbearable because of the sheer heat (my sister and I almost melted once trying to walk for about 15 minutes along the beach in 50 degree heat), but saying that during the cooler months when the temperature is gorgeous – the beach is the perfect place to be.
Dubai has some amazing beaches, and the sea is calm and clean too – so it's always a pleasure to swim in it.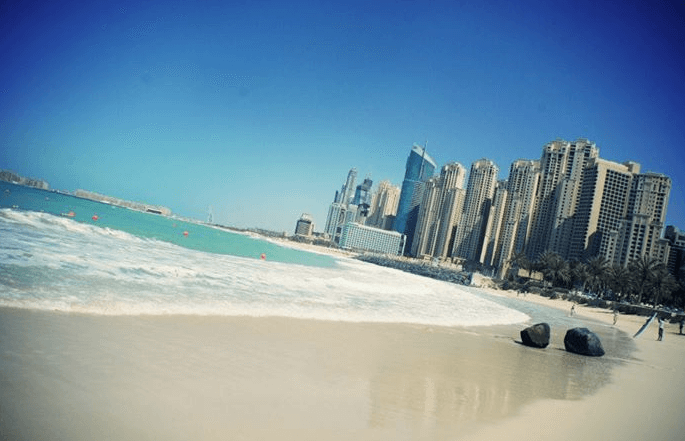 ---
THE FOOD!
---
The Food in Dubai is pretty damn good – what with all the buffets, posh restaurants and Lebanese / middle eastern influence.
The below is my favourite kind of food to eat in Dubai. Just give me humous, and tabouli. Lots of it. Everyday. For every meal.
If you're a real foodie though, I recommend taking a Dubai food tour! That way you'll get to try lots of different places and sample lots of different menu items too.
My favourite food tour in the city is the 10-stop food tour, meaning you get to try a whopping ten different places.
---
Take a tour of Abu Dhabi
---
Abu Dhabi is only a couple of hours drive from Dubai (depending on the traffic!) and it's a really beautiful part of the UAE to explore.
Abu Dhabi is a little less touristy than Dubai, and it has a few things that Dubai doesn't – so one of my favourite things to do when I'm over is to take a day trip or tour of Abu Dhabi.
I recommend this particular tour!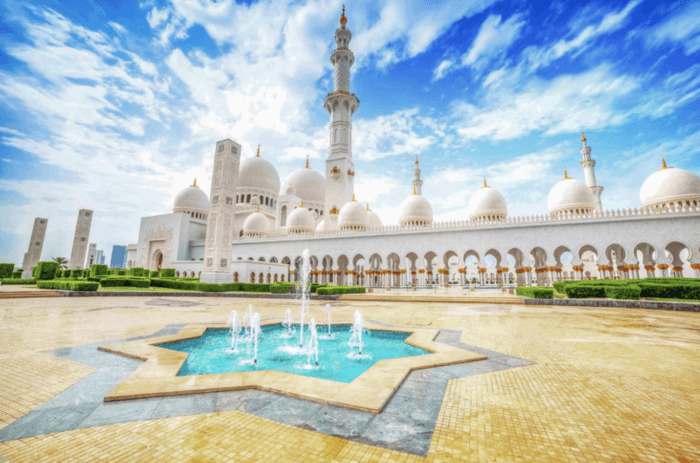 ---
Watch La Perle
---
I love Cirque du Soleil, and when I heard there was a Cirque du Soleil style show opening in Dubai I was so exciting. I took my husband and Mum to see this show, and it was everything I hoped it would be.
Completely mind-blowing, beautiful and out of this world. If you haven't seen it yet, what are you waiting for? It's unlike anything else in Dubai and it's such a memorable evening out.
You can book your tickets by clicking here.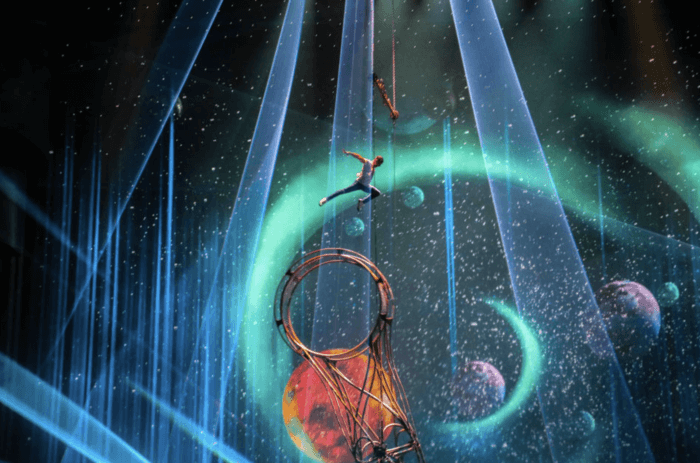 ---
Head out into the desert
---
Dubai is surrounded by desert, and you'd be missing out if you didn't venture into the desert at least once during your trip.
I absolutely love heading into the desert, it's a complete break from the city, it's more peaceful and spacious too. If you've never been to a desert – you'll just be amazing at the landscape too.
I recommend booking this tour as it includes all the best bits like sand-surfing and a camel ride (don't drive yourself, and it can be a bit too easy to get lost in those sand dunes).
---
Go Jetskiing
---
This is hands down, one of the best things I have EVER done in Dubai. It's just incredible, amazing, and so cool. It's probably the best fun you can have in the city (in my opinion!) and it's such a cool way to explore the coastline and see the skyline too.
Honestly, I really can't explain how brilliant this is! You have to experience it to understand!
You can book jet skiing in Dubai by clicking here.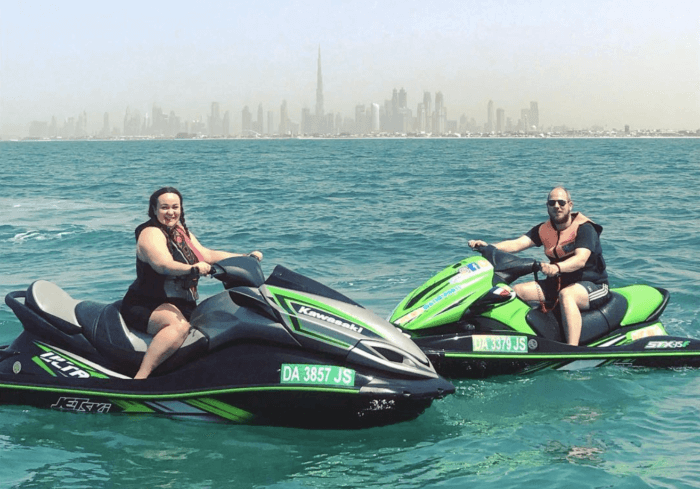 ---
Afternoon tea at the Burj Khalifa
---
I was lucky enough to do this with my Mum a couple of years ago and it's always stuck with me as it was such a lovely experience.
The afternoon tea there is just delicious, but it's being able to enjoy those incredible views from the world's tallest building at the same time that makes it so special.
To book afternoon tea just click here.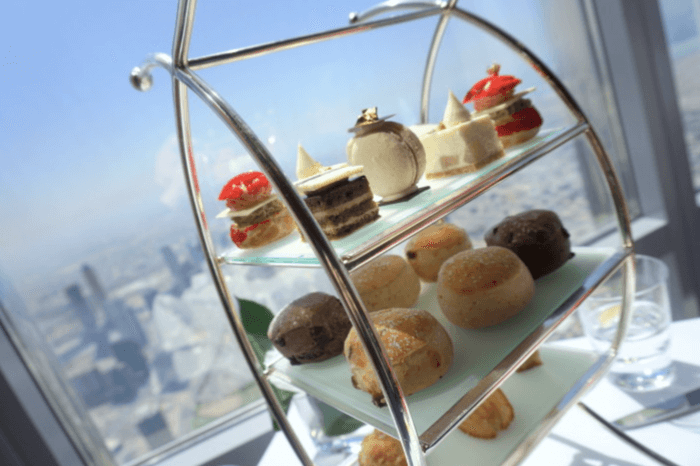 What are your favourite things to do in Dubai? I always love hearing new recommendations!