Are you looking for some new secret places to take pictures in NYC?
No matter how many times I visit NYC, I always find more amazing places to take photographs. It's the city that never stops giving.
Just when you think you've explored every corner, you find a new angle, a new neighbourhood or a new street. NYC is a photographers dream, but it can get a little bit crowded, so it's no wonder you're looking for secret places to take pictures in NYC.
The hidden gems and the secret places to take pictures in NYC are usually where you'll capture your best shots.
So here are my favourite photography spots, that tend to be a little more hidden from tourists and tour groups. But shhhh! Don't tell too many people.
---
The Time Out Market rooftop
This amazing secret places to pictures in NYC is right under everyone's nose (or over it – as it's a rooftop!). The Time Out Market is a relatively new place in the city, in DUMBO right on the riverfront.
The main market is on the ground floor, but they actually have a lesser known rooftop dining area with a patio and terrace too. That's the spot I'm talking about, and it's really something special.
You can capture the most stunning photos of the manhattan skyline from here.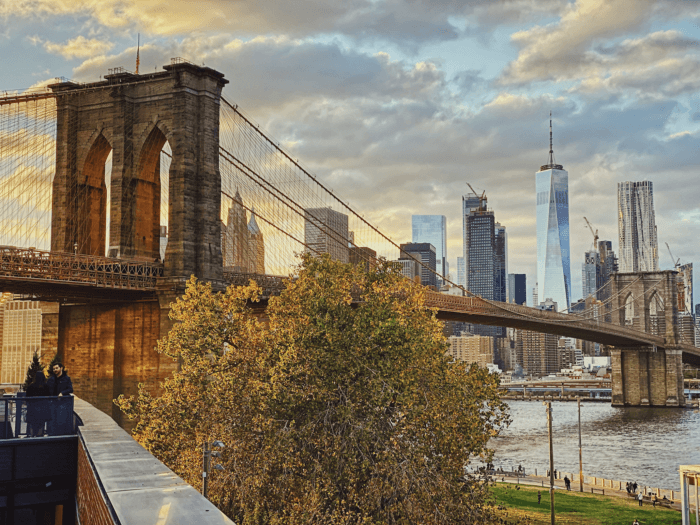 ---
The Roosevelt Island Tramway
This beautiful photo opportunity is an aerial tramway in the upper east side of NYC that spans the East River (located here).
It's job is to connect Roosevelt Island to the Upper East Side of Manhattan, and it basically passes over the city and provides the most stunning photo opportunities.
It's mainly used for commuters, and isn't really a huge tourist attraction which is kind of surprising given the amazing views (and why it makes my list of secret places to take pictures in NYC). It's a great chance to get some aerial shots of the city, especially from a slightly quirky and unseen angle.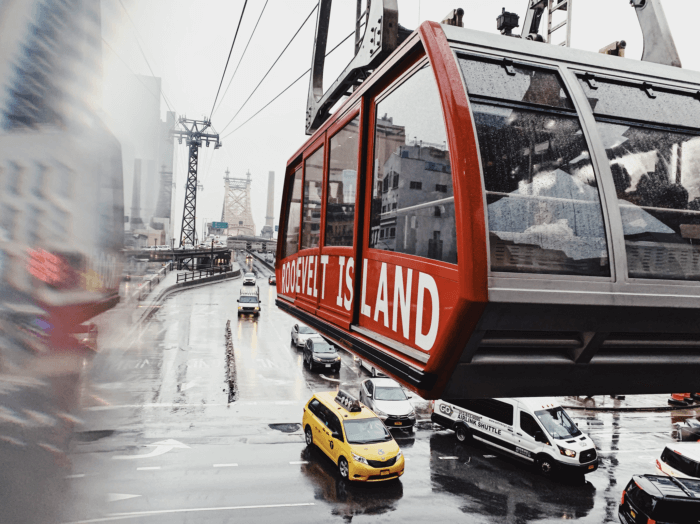 ---
The Skylark (bar)
The Skylark bar is hidden away on top of a random skyscraper just outside of Times Square. The bar itself is great (delicious drinks and food) but it's the view you go for.
If you want a really stunning, uninterrupted shot of the Empire State, this is the place to get it. So go up, enjoy a cocktail (or two!) and take some amazing photos of one of the world's most iconic buildings.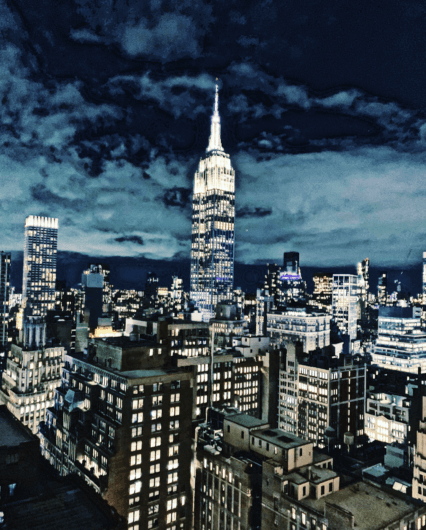 ---
Do a photography helicopter workshop
For a completely different perspective and some really 'wow' images – a helicopter photography workshop is an amazing way to spend the day.
It's a real challenge (because it's so different to normal photography scenarios) but it's so much fun and the output in terms of images is amazing.
You actually spend the flight with the door of the helicopter open too (which is so cool!) so there's no glare or obstacles to capturing the perfect shot.
You end up with once-in-a-lifetime images that you can't stop looking at – they're so different and unique. You can book the helicopter photography workshop by clicking here.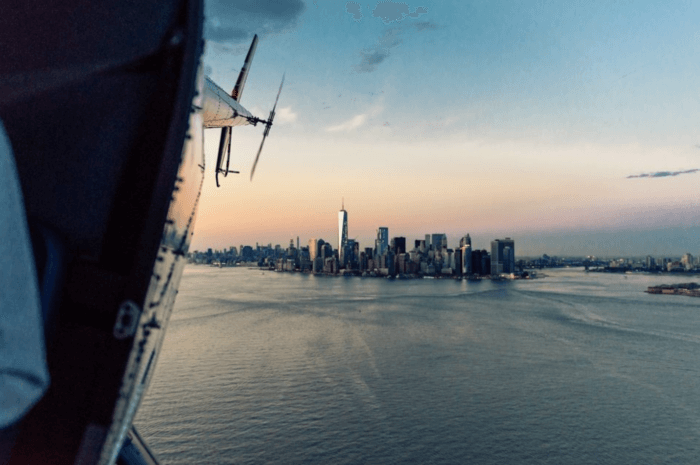 ---
Conservatory Water, Central Park
Next up on my list of secret places to take pictures in NYC, this beautiful lake. This is a little higher up in the park that a lot of tourist go, and it's kind of hidden away on the east side too.
It's really quiet up there, and it's the spot in the park favoured by local dog walkers and families. I love it there – I've spent many an afternoon chatting to locals on the benches and snapping lovely photos.
Mostly, I love the symmetry of Conservatory Water – there's something so satisfying about those reflections!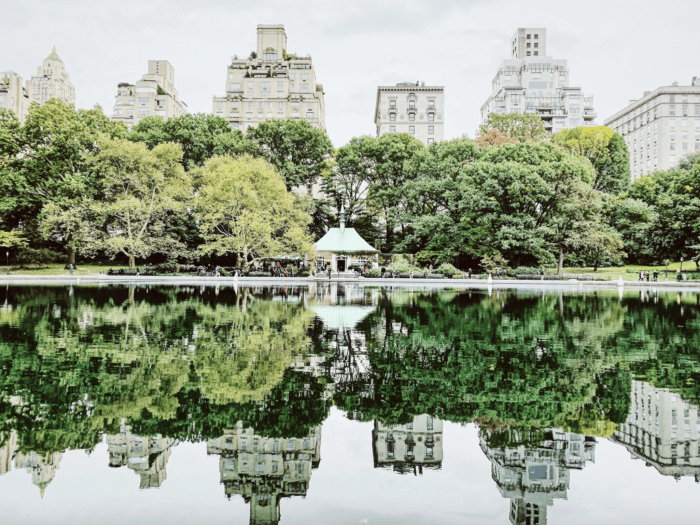 ---
Hudson Yards – The Vessel
I don't know if this is as much of a secret anymore, but this relatively new sculpture only opened in 2019 – and it's a pretty stunning sight to behold.
Whether you climb it to the top (easier than it looks!) and capture photos looking down, or whether you just stand at the bottom and capture photos looking up – the sculpture is beautiful from all angles. I couldn't get enough of it this year, and took every opportunity to go over and take photos.
It definitely deserves a spot on my list of secret places to take pictures in NYC, even if it's not much of a secret anymore!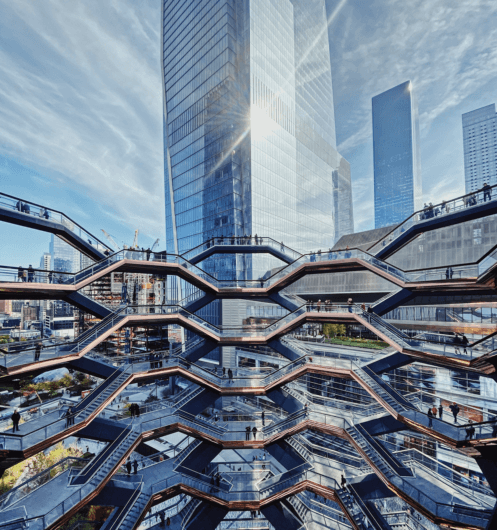 ---
Random apartment buildings!
OK, this one is a bit naughty – but if you're brave enough to try it – then you deserve the reward. When my husband and I were apartment hunting this year in NYC, we realised that when viewing apartments in the city, you also get to view the communal spaces (which in most cases means the roof terrace).
Some of the roof terraces we views whilst viewing apartments were STUNNING. Like actually, breathtaking. Lots of apartment buildings don't even require you to book appointments to views empty units, you can just turn up.
You do have to leave you ID (passport in our case) with the lobby desk – but that was fine with us and we totally understood.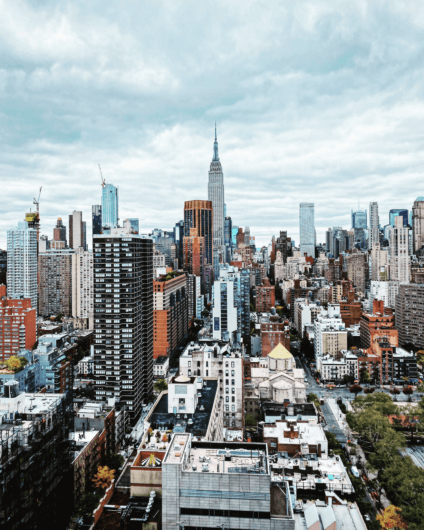 ---
From a taxi
Last on my list of secret places to take pictures in NYC… If you're feeling a bit stuck in a rut with your photos, and you feel like they might be a bit too touristy – then just jump in a taxi and ask them to take you to the other side of town.
You'll drive past SO MANY amazing opportunities, and half the fun is trying to snap a photo before you drive past. I always love this 'out of the window' photos, they feel full of energy and full of life.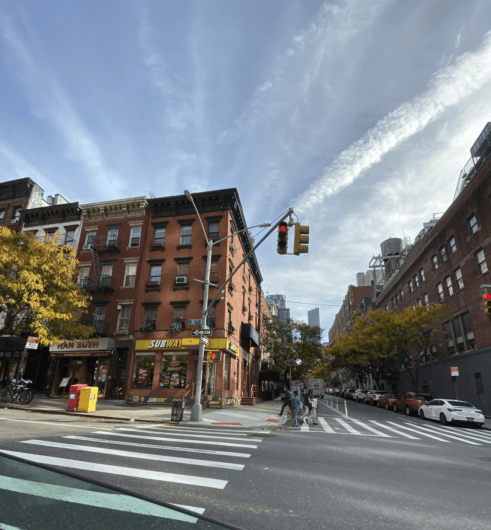 ---
Top tip! If you're looking for a general photography tour in NYC to start off with – this 3 hour tour is a great place to start.
You could brush up your technique on this tour, before heading off to find these more secret places to take pictures in NYC!
---
Here are some other useful blog posts I have written about NYC, that might be useful!
---
The ultimate New York City Travel Guide
The best ways to view the Statue of Liberty
Famous restaurants in NYC from movies and TV shows
Things to do for couples in NYC
The best outdoor rooftop bars in NYC
The best art galleries in Chelsea, NYC
Best places to take photos in NYC at night time
How to take a great photo in Times Square
Secret places to take amazing photos in NYC 
Hidden gem and neighbourhood restaurants in NYC