If you've been looking for the best San Diego nude beaches to explore, read ahead for our top picks!
Finding the best San Diego nude beaches can be tough. And that's largely because there just aren't many of them!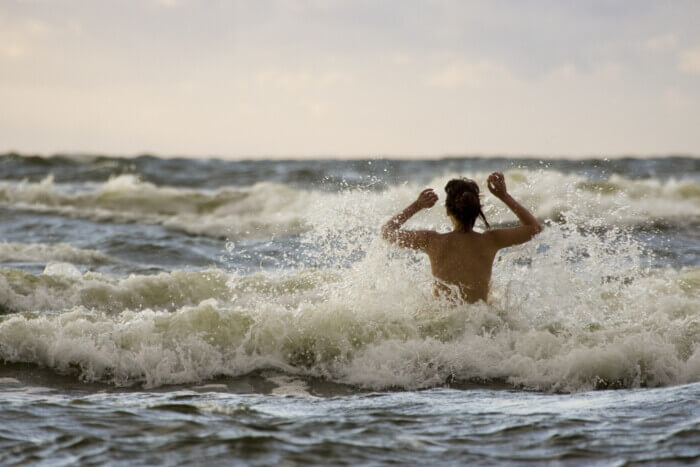 So, whether you want to head to the ever-popular Black's Beach for a busy day out or would prefer to find beaches that are quieter, we've got you covered.
From secluded state park shores to bustling hotspots, this list of nude beaches in San Diego has got it all.
Now, get ready to strip off and strut your stuff at these nude beaches!
---
Top 3 San Diego Nude Beaches That You'll Love…
---
I'll be honest, there aren't tons of nude beaches around the San Diego area. Seems like it's just not a popular thing in this bit of the US.
But there are 3 locations to visit if you're looking to strip off and kick back without any tan lines.
These San Diego nude beaches are either entirely nudist-friendly or have designated nude areas where you can remove your clothes without judgment.
---
#1: Black's Beach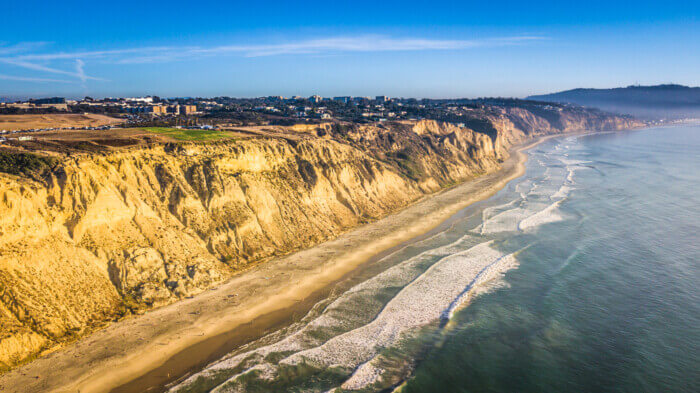 Your first port of call should be Black's Beach. This is one of the most iconic San Diego nude beaches, and one of the most well-known nudist beaches int he country.
It's worth noting that the south side of the beach isn't technically nudist, but you'll still probably find people walking around without clothes on.
You'll find Black's Beach in a secluded section of Torrey Pines State Beach and it's owned by California's Department of Parks and Recreation and the City of San Diego.
This is only note-worthy because the northern section is owned by the state park and the southern section is owned by the city.
So, while the state park side is fully nude-accepting, you'll be playing with fire if you go nude on the south side.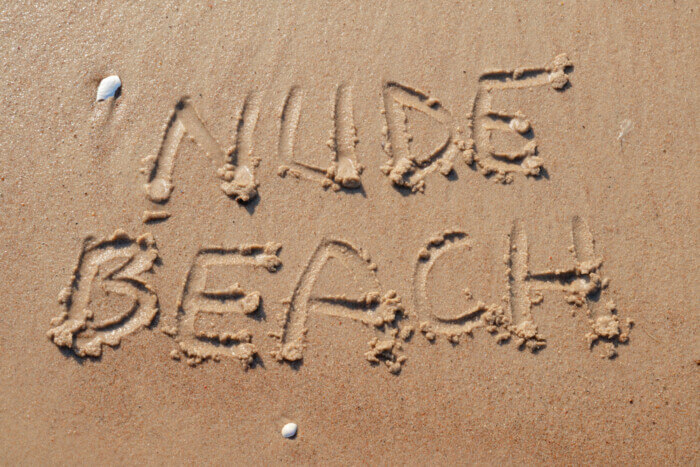 Part of what makes this one of the most fabulous San Diego nude beaches is the fact that it's right below the Torrey Pines Bluff. So, you'll be able to snap some truly breathtaking photos between sunbathing sessions!
And if you need to grab a bite to eat, this spot is relatively close to our favorite cheap eats in La Jolla that are perfect for light snacks. Just remember to get dressed again before heading for food!
Oh, and did we mention that it's one of the best nude beaches in San Diego for surfing thanks to the impressive swells and pleasant weather?
Score!
How do I get to Black's Beach?
It's worth noting that it's pretty difficult to get to this spot (despite it being one of the most popular San Diego nude beaches around!).
Virtually every path to the beach is a bit treacherous, as you'll either be battling the tides or coming down from the glider port parking lot which is a relatively steep climb.
For this reason, we'd always suggest packing the bare minimum in your beach bag and taking your time as you descend toward the beach.
If you'd rather access the beach from a different angle, you can get here by going to South Blacks Beach which is near Blackgold and La Jolla Farms Road.
The only downside is that you'll only be able to park here for 2 hours.
Still not sure about whether this is one of the nude beaches that you can get to? Why not try the Ho Chi Minh Trail?
It's quite a tricky path down to the beach, but the eroded hillsides can be a fun challenge for experienced hikers.
However you choose to get down to Black's Beach, you're bound to agree that it's one of the best San Diego nude beaches!
Read more about San Diego: Top 15 bed and breakfasts in San Diego
---
#2: Boneyard Beach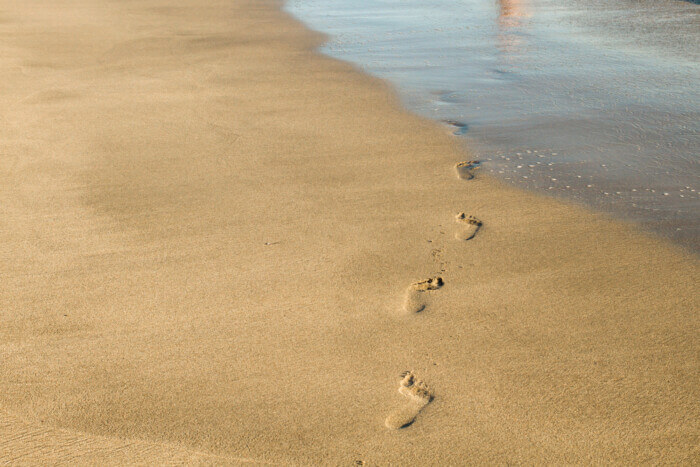 Okay, boneyard beach isn't an 'official' San Diego nude beach. But people whip off their gear here all the time.
To sum it up, nudity is 'tolerated' by locals, and it's so common now, that's it's known by most this area is used by nudists.
That's largely because it's incredibly secluded and is tucked underneath the Encinitas bluffs.
So, there's very little chance that anyone public-facing is going to see you here if you decide to sunbathe without a bikini top or pull off your swimming trunks.
Oh, and don't forget the stunning rows of palm trees, scenic waterfront views, and sweeping bluffs that make Boneyard one of the most beautiful San Diego nude beaches around.
It's worth noting that Boneyard Beach is one of the nude beaches in the area that's quite crowded during the weekends and the height of summer.
For this reason, we always suggest keeping the nudity to a minimum if you're not visiting during the low season (or weekdays!).
How do I get to Boneyard Beach?
This isn't one of the easiest San Diego nude beaches to get to, but the relaxed atmosphere and secluded location are worth the effort.
As there are no official signs to get to the beach, you'll need to head through D Street Beach or Swami's Beach first.
You'll need to use the D Street stairs to reach the beach which takes approximately 10 or 15 minutes from the top.
Otherwise, you can park near Swami's and walk down towards the beach from there.
Whatever you do, make sure you keep your clothes on until you're safely covered by the bluffs!
---
#3: San Onofre Nude Area
To round off our list of nude beaches near San Diego, we have San Onofre Nude Area. Largely, this is seen as a safe place to whip off your kit.
It's technically in San Clemente, but it's easy enough to reach from San Diego if you're willing to hop in the car for your nudist fix!
This nude area is tucked away on San Onofre State Beach, and you'll need to trek through the state park to reach it from one of 6 hiking trails.
Read more about San Diego: 12 best places for snorkeling in San Diego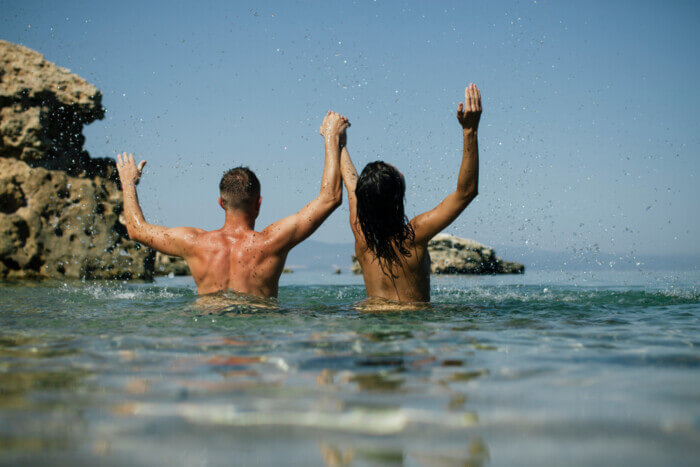 The beach itself is covered with white sand and boasts warm water that's ideal for swimming.
You'll often spot nude volleyball games, sunbathers, and walkers strutting down the beach too.
And if you're shy – don't stress!
This is one of the San Diego nude beaches that's beyond a fence around Trail Number 6 (as it's technically on military property).
So, there won't be any law enforcement officers around to make you feel uncomfortable.
How do I get to San Onofre Nude Area?
To get to San Onofre State Beach, you'll want to take exit 71 off Highway I5 and get onto the Old Pacific Highway.
There should be a designated area to enter the state park (which costs a small fee) and an area to park your car just ahead.
Read more San Diego inspiration: 45 Unusual and unique things to do in San Diego!
---
Hopefully this list of San Diego nude beaches has given you some inspiration of where to try during your next visit!
Read more about San Diego beaches: 12 best places for paddle boarding in San Diego