Are you looking to learn more about Haight-Ashbury in San Francisco? If so, keep reading!
Maybe you're looking to spend the day there, or maybe you're looking to move there! Haight-Ashbury is a great location regardless!
Whatever your reason for visiting Haight-Ashbury, here's a list of why you'll absolutely love this beautiful San Francisco neighbourhood.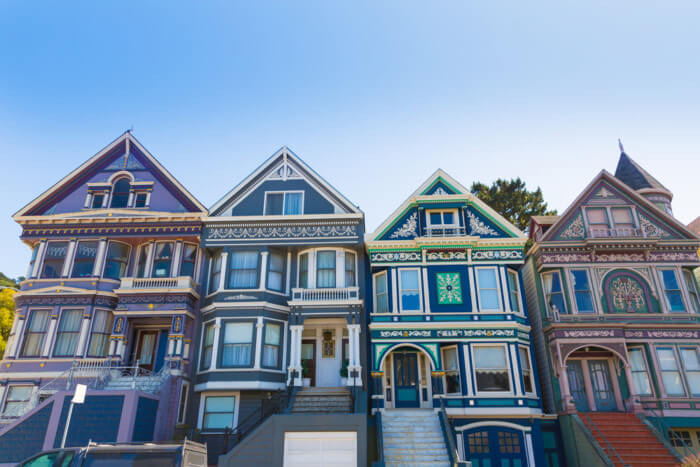 ---
What's the vibe in Haight-Ashbury?
Seen as one of the 'hippest' places in San Francisco, the Haight-Ashbury neighbourhood is full of character.
Known back in the 1880s as the Haight, this place was considered a neighbourhood that was "off the beaten path" where people would venture to escape the hustle and bustle of downtown San Francisco. 
However, when the 1960s rolled along, Haight-Ashbury became the epicenter of hippie culture in San Francisco. With various instances of counterculture still visible from the late 1960s, Haight-Ashbury is ripe with historical culture.
Though you won't quite get the same tie-dye and peace-loving culture that existed in Haight-Ashbury in the 60s, there are plenty of reasons to love Haight-Ashbury in San Francisco.
If you're a rock fan, you'll absolutely love exploring the former residences of Janis Joplin and The Grateful Dead!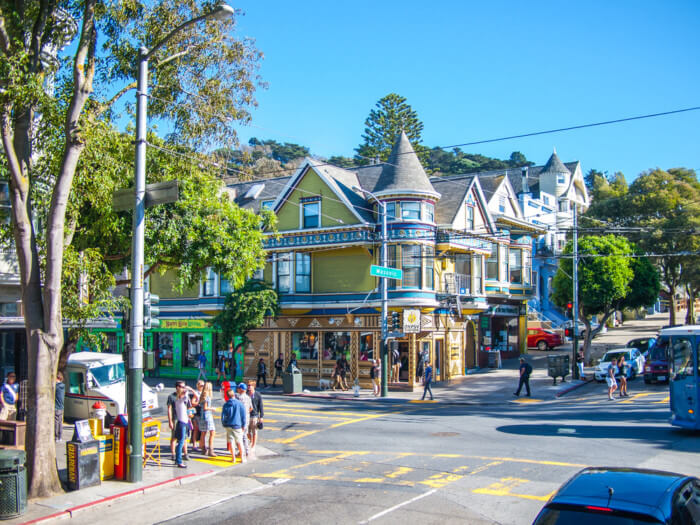 However, even if you aren't a fan of these artists, there's so much vibrant culture, architecture, and history here that you'll certainly never find yourself bored!
Haight-Ashbury is one of those San Francisco neighbourhoods that people love and adore, you'll spend a day there and start making plans for moving there and apartment hunting.
That's just the kind of place Haight-Ashbury is. It's welcoming, inviting, and feels like a place you can call home.
So, read on for a list of reasons that you'll love Haight-Ashbury in San Francisco.
---
The Architecture in Haight-Ashbury
There are so many things to do in Haight-Ashbury, but one of the nicest things you can do is just walk around and enjoy the views. One of the reasons to love Haight Ashbury in San Francisco are the beautiful buildings.
Haight-Ashbury is one of the few neighbourhoods that escaped the 1906 earthquake relatively unscathed, there's a bunch of amazing Victorian homes that are still intact!
A truly stunning site for visitors, it's well worth checking these houses out.
Even if all you to is stroll through the neighborhood admiring these beautiful buildings, it's kind of lovely just to take a walk and admire them all.
Read more about exploring near San Francisco: 20 fun things to do in Santa Rosa
---
Buena Vista Park and The Panhandle
If you're a nature fanatic, then one of the reasons you'll love Haight-Ashbury in San Francisco are the many parks that border onto this part of the city.
Haight-Ashbury is home to the wonderful Buena Vista Park, which offers stunning views of the Golden Gate Bridge and the surrounding area. 
Full of wide pathways and dirt trails for hikers (plus a 575-foot-tall hillside!), it's the perfect escape from the bustle of downtown.  If you keep an eye out, you may even spot a coyote!
Haight-Ashbury is also home to the Panhandle park, a long narrow park with beautiful views onto the city and surrounding houses and neighbourhoods.
There's a great photo opportunity in the Panhandle, which is a tourist must-visit.
Read more about San Francisco food: Top 15 upscale restaurants in San Francisco
---
Get your rock on
If you're a fan of the Grateful Dead, then you're in luck, for one of the top attractions in Haight-Ashbury is the former home of the famous rockers!
Located at 710 Ashbury Street, this Victorian-style home was one of the affordable housing options available to youth in the area.
Due to Haight-Ashbury's radical population, youth came to the area in droves. With the Grateful Dead being one of the area's proudest exports, it's no surprise that the house acts as a tribute to the band and the neighbourhood's musical history. 
Read more about San Francisco: 30 things to do in Union Square, San Francisco
However, that's not the only reason that you'll love Haight-Ashbury in San Francisco if you're a music fan.
Janis Joplin, Steve Miller Band, Country Joe and the Fish and Jefferson Airplane all lived in Haight-Ashbury during the height of the hippies.
All contributing to what was known as the San Francisco Sound, exploring the area that created such fantastic music is one of the best things to do in the area.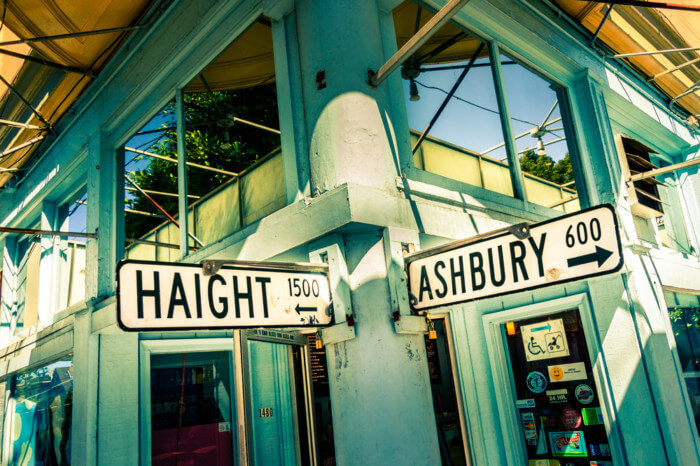 ---
There are great tours for visitors
One of the top reasons that you'll love Haight-Ashbury in San Francisco has to be the tours on offer. The Magic Bus Tour is a unique 60's hippie themed tour that runs through Chinatown and North Beach.
With video projections of San Fran during the 60's, you'll feel directly transported back to the Summer of Love.
---
There's great shopping in Haight-Ashbury
Now, great shopping opportunities in a location is always welcomed, and one of the reasons you'll love Haight-Ashbury in San Francisco is its amazing vintage shopping scene!
If you take a stroll along Haight Street, you'll find a plethora of amazing boutiques, costume shops and vintage stores. With tie-dye clothes, vintage posters and more, they're great touristy spots in which to wile away an afternoon. Here's a list of some of the best shops in Haight-Ashbury.
If clothes and knick-knacks aren't your thing, then why not stop by The Booksmith?
A lovely independent bookstore that often hosts community events and author readings, it provides a quiet place to recharge in the bustling Haight-Ashbury.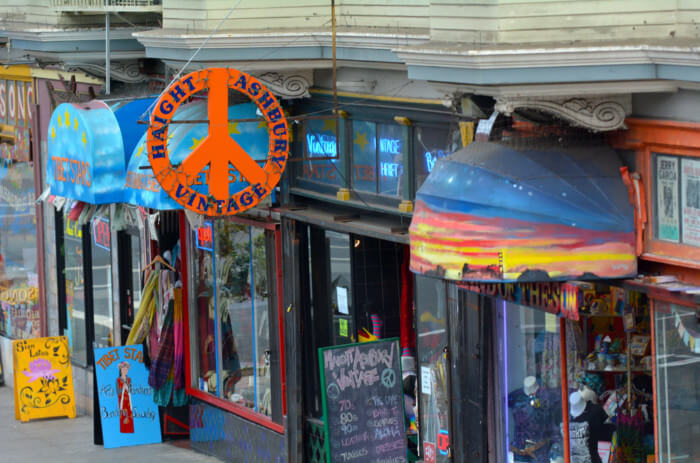 ---
The Intersection
If you're visiting Haight-Ashbury, you'll need to make sure you check out the intersection that gave the neighbourhood its name.
In 1967, thousands of young people came together at the corner of Haight and Ashbury and forged its identity and namesake. Make sure you whip out your camera and snap a photo of the interchange while you're there!
---
The bars and nightlife
One of reasons you'll love Haight-Ashbury in San Francisco has to be its bar scene. The Alembic in particular is a fantastic place to visit for a craft cocktail. Maintaining the amazing quality from its opening in 2006, it's a unique place to grab a drink at the end of the day.
If you're going to try any drink, be sure to order a "Southern Exposure". Created by the late Daniel Hyatt (a bartending legend!), it's a must-try.
Here's a list of the best bars and nightlife venues in Haight-Ashbury to take a scroll through for even more ideas!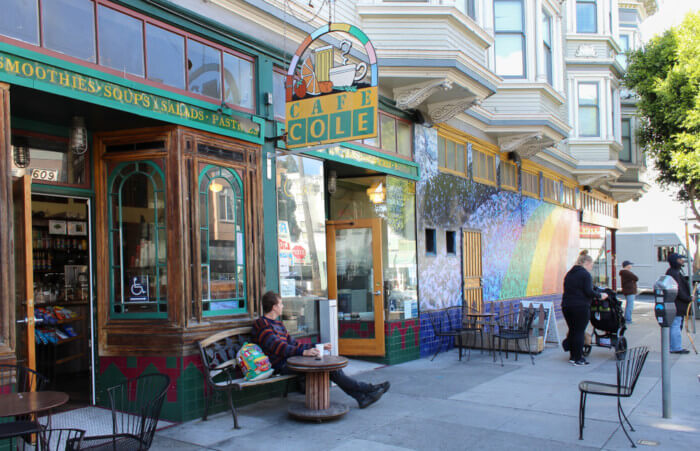 ---
The street art in Haight-Ashbury is great
There's loads of fantastic street art in the Haight-Ashbury neighbourhood of San Francisco, so it's definitely worth taking a stroll around the local Haight-Ashbury streets with the sole intention of seeking out some of the beautiful art!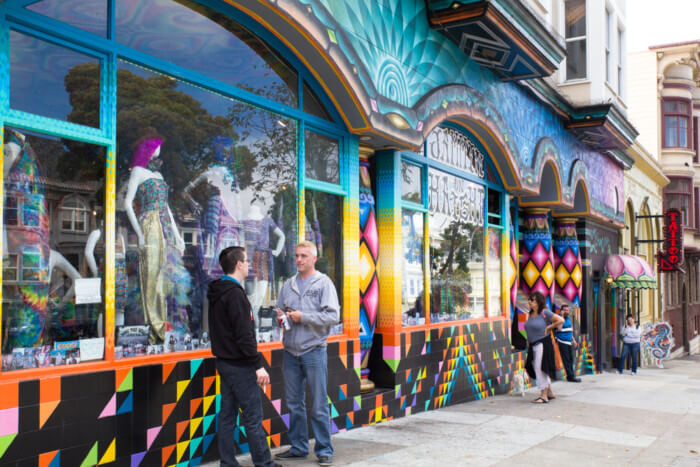 ---
I hope that this list of reasons you'll love Haight-Ashbury in San Francisco has been helpful. With remnants of the counterculture hippie movement still visible throughout the area, it's a must-visit for cultural history buffs!