The Aire Ancient Baths Spa has now opened in London, take a read of our review below!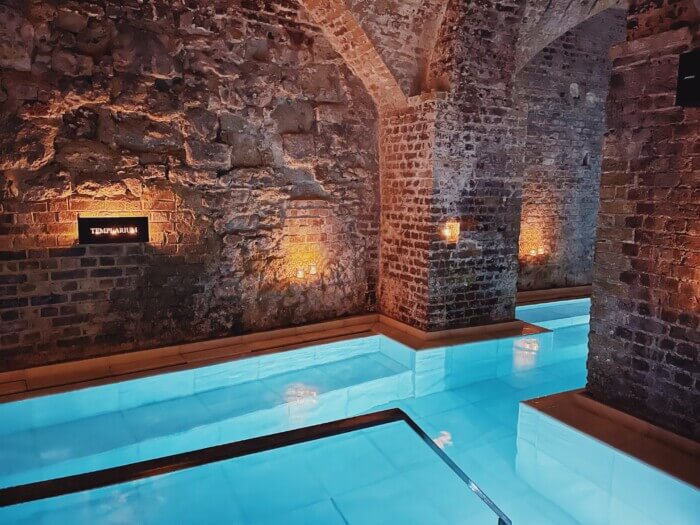 We're big fans of Aire Ancient Baths. We're regular visitors of the NYC location, and we've tried out the Chicago location too – so we were obviously really excited to hear about their London opening. Given that is where we're based!
If you don't know much about Aire Ancient Baths, they're one of the most unique spa brands in the world. The spas are designed to feel 'hidden' and 'secret' and you feel like you're stepping back in time when you visit.
You walk underground into a magical world of spa pools, jet pools and spa treatments and feel like you've left your ordinary life behind for a few hours.
It's the ideal mixture of magic, luxury and pampering that other spas aim for, but don't quite achieve. Aire Ancient Baths literally take your breath away, and it's completely transportive. You'll feel like you've left reality behind.
---
Where is Aire Ancient Baths in London located?
It's located pretty centrally, so you shouldn't have any issues getting there! The closest tube stations are either Charing Cross or Embankment, and it's about a 5 minute walk once you get off the tube.
Here's the address: 2-3 Robert Street, WC2N 6BH.
The street is quite unassuming, as is the entrance (you'd have no idea from the outside, the magic that awaits you inside). We've included photos below, to help you ensure you've got to the right place.
Random fact: The building where Aire Ancient Baths in London is located, was once the home of writer J.M. Barrie, who created Peter Pan! It's no wonder this place feels so magical.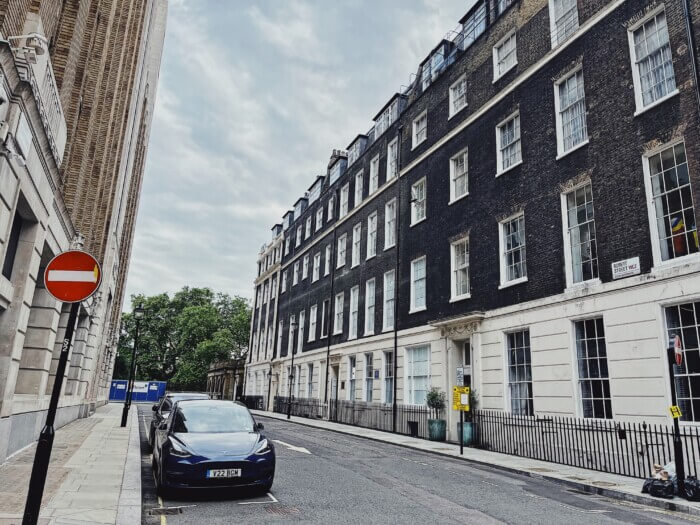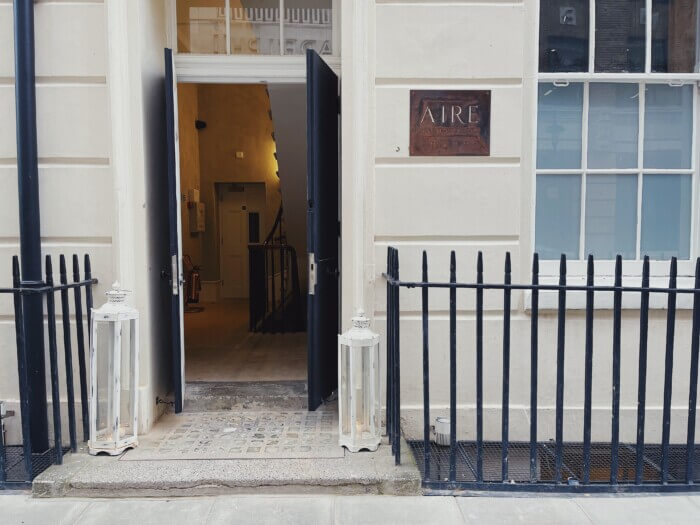 ---
So what makes the Aire Ancient Baths in London so unique?
Well, the first (and most obvious) unique selling point of the Aire Spa in London, is the unique underground design.
Aire Ancient Baths are designed beautifully, and like no other spas we have ever seen. They offer an incredibly private spa experience, with hidden rooms and hidden pools, and a mixture of temperatures, jets and experiences to enjoy.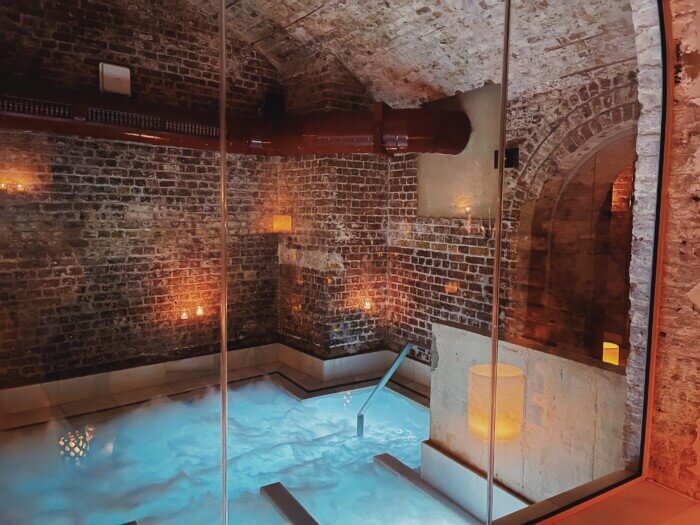 The Aire Ancient Spa in London feels like an underground maze of spa pools. Each pool is unique and unexpected, and exploring the underground spa area is like being transported in time and place.
You'll feel a million miles from the bustling city above.
The next thing we love about Aire Ancient Baths (and this is one of the best selling points of Aire Ancient Baths) is that it's an experience for a few hours, not a whole-day commitment. It's something you book, and enjoy for a couple of hours…
Like a magical, luxurious interlude to your busy city routine. It's something you can book during a weekend away in the city, or after work if you work in London… It's perfect for both.
One last thing we really enjoy about the Aire Ancient Baths in London, is that it's not tied to a hotel or resort – so you don't need to book to stay somewhere to get access. It's essentially a 'day-spa', somewhere you can enjoy regardless of your hotel choice.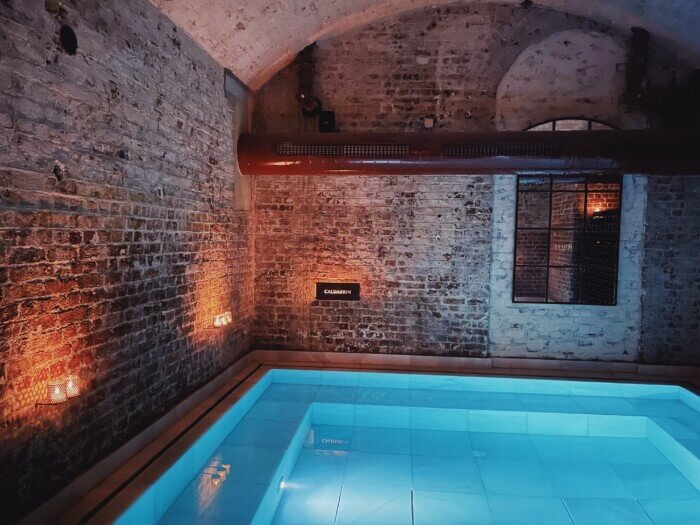 ---
How many pools are there in the Aire Ancient Baths, London?
Don't worry, there are plenty of spa pools to explore at Aire Ancient Baths in London!
You'll find the following pools in London, which gives you a huge variety of sensations and experiences to try during your time slot.
Caldarium (Hot Bath /40ºC)
2 x Frigidarium (Cold Bath / 14ºC and Ice Bath 10ºC)
Tepidarium (Warm Bath / 36ºC)
Balneum (Bath of Thousand Jets)
Vaporium (Steam Bath and plunge pool)
Flotarium (Salt Bath)
Wine bath (Specific booking needed)
You'll probably find that you prefer some over others, and you'll likely spend the majority of your time in your favourite couple.
But you're free to explore them all at your own pace – so you can wander around and enjoy them all in your own time. The only exception to this is the red wine bath, which you would need to have pre-booked.
One thing we often find when visiting other spas in the city, is that there is a really lack of variety.
You'll often get one swimming pool, a few loungers, and that's it. The amazing thing about Aire Ancient Baths, is that it's the complete opposite to that.
The pools are the main feature here, and they're each incredible in their own right. You couldn't get bored here, as there's so much choice.
Read more about London: 40 things to do alone in London!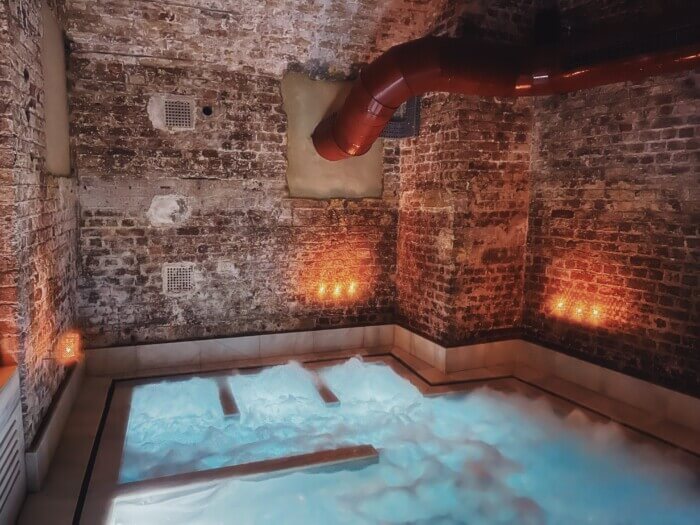 ---
What's included in the price?
This depends on what you've booked!
A great thing about the Aire Ancient Baths in London, is that they have different packages available (at pretty reasonable prices too).
For example, if you're only interested in booking the baths (and you don't need a massage) then you can do so for around £90.
If you want to add a massage to your treatment, they start with a minimum of 30 minute massages and increase in time (up to 75 minutes) for increased prices.
They also have the wine bath experience, holistic scrubs, an argan massage, and couples experiences.
The best thing to do, if you're looking at booking, is to take a look at their website and check out what each one includes.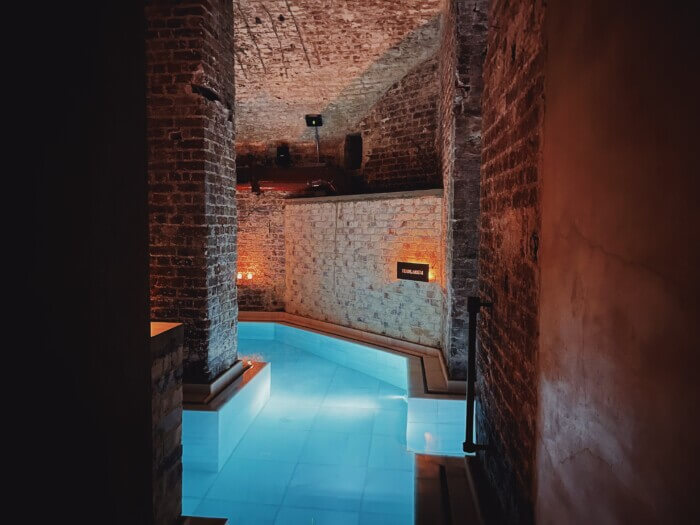 ---
Are there changing facilities at Aire Ancient Baths in London?
Yes, absolutely! You can expect a beautifully presented changing area, with private lockers, private showers and blow-drying facilities too.
As far as changing areas go, it's spacious, offers private areas, and lots of opportunities for more pampering (such as luxury shampoos, conditioners, body lotion, etc) after you've finished!
The staff are also really helpful and more than happy to help with anything you need. Customer service is one of the things that makes the Aire Ancient Baths so wonderful and the amazing staff are always there to answer any questions or help in any way possible.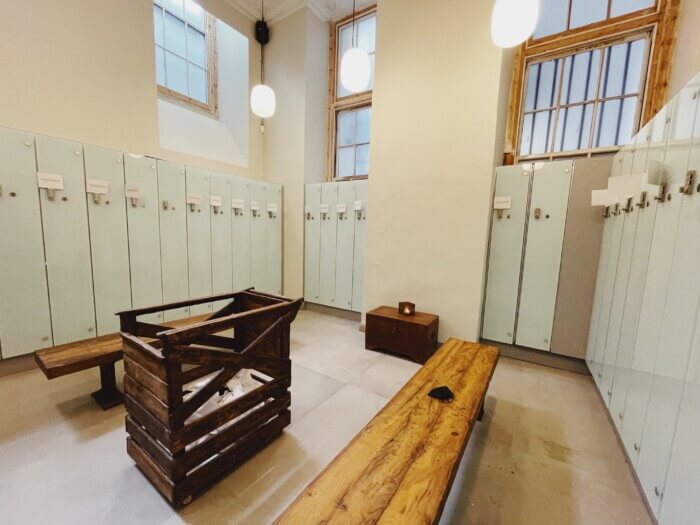 ---
Is the London spa, as good as the NYC or Chicago spas?
Aire Ancient Baths in London is actually very different to both NYC and Chicago.
Whereas the Aire Ancient Baths NYC has quite an open layout, and has incredibly high ceilings, the Aire Ancient Baths in London are cosier and feel more maze-like and hidden.
It's a very different experience. I would say that NYC has a bigger wow-factor when you first enter because of the sheer size, but the London spa is more about exploration and discovering all the little hidden areas and pools. It feels more private than the NYC one.
From what I've seen and experienced of all the Aire Ancient Baths across the world – they're all siblings, rather than twins. They look similar and feel similar, but they're not the same or identical to each other.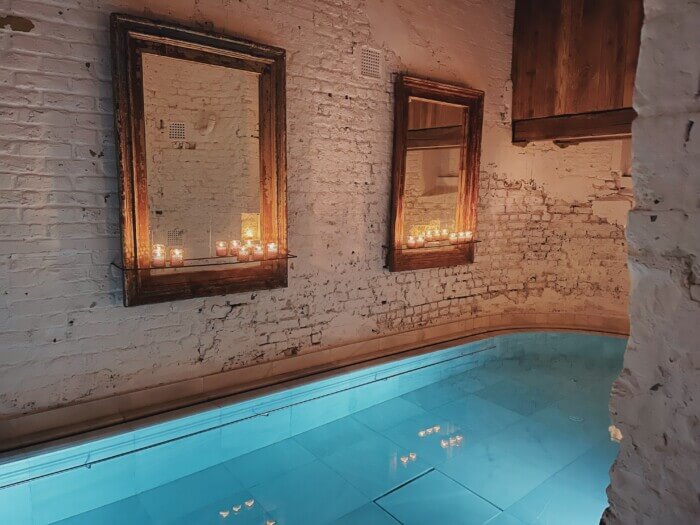 ---
What should you expect when visiting Aire Ancient Baths London?
Expect a luxury spa experience! That's what this is!
You'll be offered a place to sit as your booking is confirmed upon arrival (see photos below of the waiting rooms on the ground floor).
Once you've been confirmed and you're time is ready, you'll be taken down to the changing rooms (underground) to get ready.
Once in the changing room, you'll be shown to your locker and given a code unique to you. Inside your locker, you'll find some little booties (which you need to wear throughout the spa experience), and a robe (if you're worried about sizing, just ask for a smaller or larger fit).
You'll need to take a quick shower before being admitted to the spa, and then you're good to go!
Once you're ready and rinsed, you'll head even further underground to the Aire Ancient Baths. This is where the magic begins, as it's where all the magical pools pictured below are found.
You'll be given a tour of the facilities by the staff, which only takes a moment, and then you're free to explore and go where you please.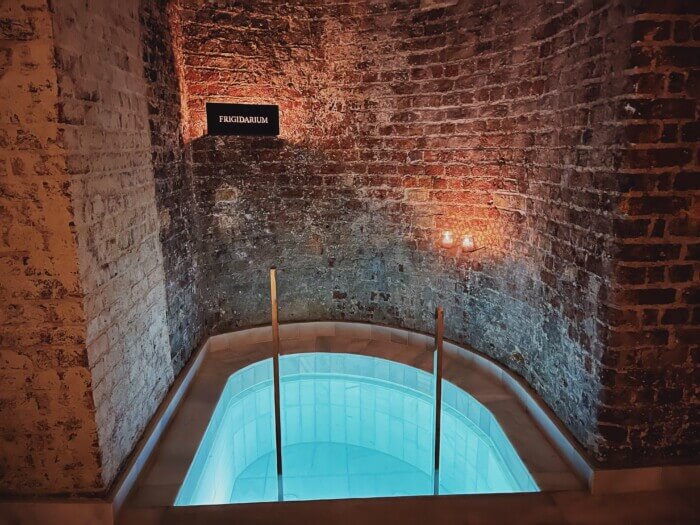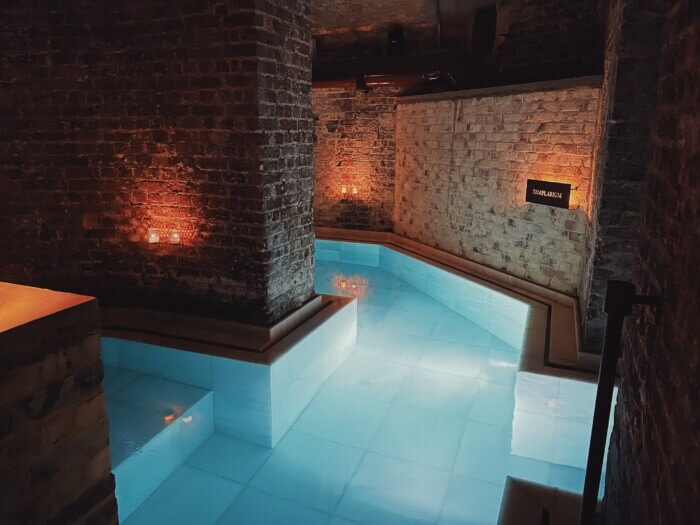 If you've booked a massage, you'll get called for your massage at some point, and taken up to the treatment rooms to receive your treatments.
This is all absolutely seamless, so you don't need to worry about anything. The staff will always know where you need to be and when you need to get there, so just relax and enjoy.
Then, once your session has finished, a member of staff will come and get you and let you know, or you'll be notified by a very gentle bell.
Once you've finished in the spa, if you're waiting for a taxi, or for your partner/friend to finished getting re-dressed, you can wait in their waiting area once more!
Top tip: Check out their Instagram for even more photos!
---
Hopefully this review of the Aire Ancient Baths in London has been helpful!
All photographs you've seen in this post are from our team who visited Aire Ancient Baths in July 2021. This post is not part of any collaboration or paid promotion with Aire Ancient Baths – it's just because we love it there, and we think it's pretty awesome.
We'd love to know if you're planning to visit this amazing spa and what you thought!
Feeling hungry after your spa experience? Check out these articles!