---
Are you looking for the best places to find Singapore noodles in Singapore? Here are the best places to find your noodle fix in the city.
---
Singapore noodles have been a firm favourite for noodle-lovers around the globe for as long as I can remember. Although Singapore noodles have become something of an urban myth outside of the tiny island, Singapore's noodle dishes aren't easily confined to one dish.
Outside Singapore, you might find 'Singapore noodles' on your local takeaway menu but Singapore's noodles are so much more than one classic stir-fried Saturday feast. There are loads of different flavours, textures and styles of Singapore noodles to try out!
From luscious Fried Bee Hoon to delicious Laksa noodle soup, I've rounded up the best places to have Singapore noodles that will get your mouth watering.
---
A Noodle Story
---
Address: Amoy Street Food Centre 7 Maxwell Road Stall #01-39, Singapore 069111
Here's their trip advisor page. 
A Noodle Story is one of Singapore's favourite noodle joints. Their banner even dons an image of the iconic 'Singapore noodles'! A fan favourite is Hong-Kong style wanton mee, along with char siew that's cooked 36 hours. What gives this place it's kick is the home-made sambal that's added to the mix.
This hawker stall is known to have gargantuan queues though, so be slightly wary! If you have the time and patience, it's certainly worth a visit.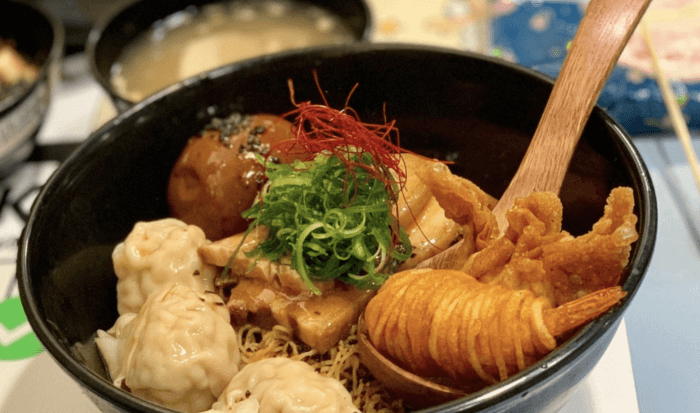 ---
Holland V. Fried Bee Hoon
---
Address:1 Lor Mambong, Singapore 277700
Here's Holland Village's trip advisor. 
If you're looking for something close to takeaway style Singapore noodles, head down to Holland V Fried Bee Hoon. Located in Holland Village Market and Food Centre, these sinful plates of bee hoon mee (essentially rice vermicelli mixed with yellow noodles) are sure to hit the spot. If you're wondering what makes these so sinful, this joint cooks down pigs' trotters and uses these oils to fry their noodles in.
Substituting this oil for commercial lard, Holland V's bee hoon has a unique taste that just cannot be replicated elsewhere. Don't be afraid to be a glutton at this place. The portions are hefty, but it would be rude not to sample all this stall has to offer!
---
Xian Seafood Village
---
Address: 33 Sembawang Rd, #01-04/07, Singapore 779084
Xian Seafood Village is a slightly strange one, as it's located inside one of Singapore's industrial parks. This Upper Thomson joint is always packed though, as it caters perfectly to local tastes. Specialising in crab dishes, one of their top sellers is the crab bee hoon which is made with Sri Lankan crabs.
Though the price is a bit steeper than others on my list (the average dish tends to go for about $25), these guys really know their way around seafood, and coupling your Singapore noodles with their epic seafood is an awesome option.
---
Summer Pavilion
---
Address: 7 Raffles Ave, Singapore 039799
The Summer Pavilion at The Ritz Carlton has long been one of the most luxurious places to get your noodle fix. Unlike the traditional bee hoon dishes on my list, this restaurant has created a soothing bowl of noodle soup that never fails to keep Singaporeans coming back for more. Created by the restaurant's executive chef, the Summer Pavilion's famous noodle dish has lobster at the helm. Its clear broth is made from fresh lobster, and the result of the lengthy cooking process is a delicious, flavoursome broth that is well worth the $25 price tag. On a cooler Singapore day, this dish is one that will warm the cockles.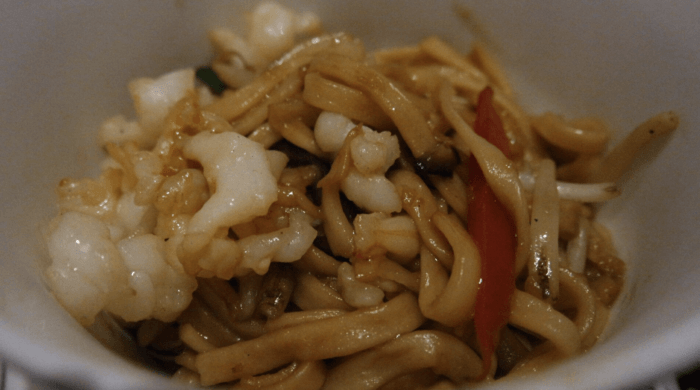 ---
Hana Restaurant in the Singapore The Forum
---
Address: 583 Orchard Road, Forum The Shopping Mall, #01-17, Singapore 238884
Here's their trip advisor page. 
One of the top places to have Singapore noodles has got to be the Hana Restaurant in The Forum. Though not your traditional plate of noodles, these dishes are just too cool not to mention.
Piles of delicious, slurpy noodles are supported by a pole in the middle of a dim sum basket. To get a taste of these bad boys, you just need to scoop up your noodles and dunk them in a variety of dipping sauces. It requires a bit of DIY, but it's certainly popular with Singaporeans. With queues up to an hour or so long, bring your strongest will along with your wallet for this one.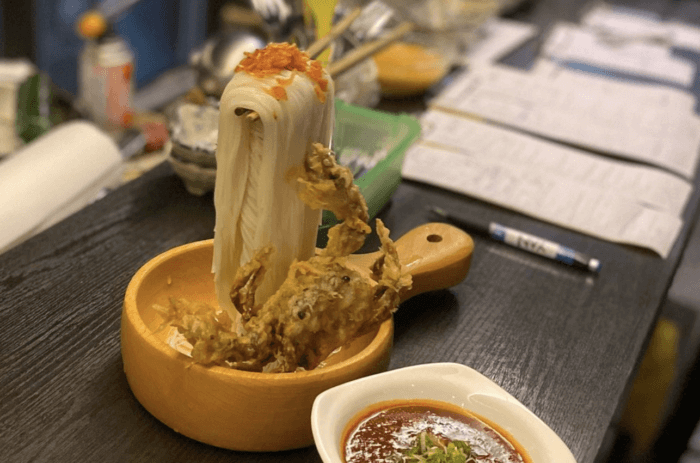 ---
I Want My Noodle
---
Address: 1, #03-14 Scotts Rd, Singapore 228208
With fresh noodles made in-house daily, you might just find yourself chanting this noodle joint's namesake whilst waiting for your order. One of the most popular dishes here is the Lor Bar Noodle dish. Topped with braised pork and made with a well-kept secret recipe, I Want My Noodle is an excellent choice for a reasonably priced plate of noodles.
These guys don't compromise on quality though. Priding themselves on their freshly made dishes, they don't use any nasty preservatives in their meals. It's fresh or bust at this place!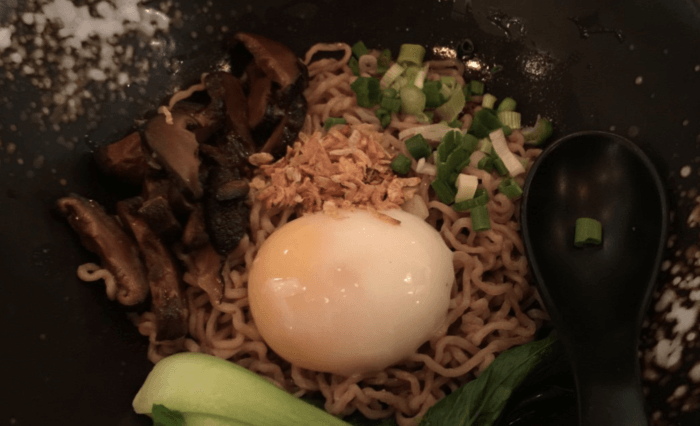 ---
328 Katong Laksa
---
This place is an interesting one that deserves a mention when talking about the best places to have Singapore noodles. Why, you ask? This unassuming laksa stall in Katong beat out Gordon Ramsay in the famous Hawker Heroes challenge! With an unbeatable bowl of laksa containing luscious vermicelli noodles and a moreish coconut gravy, you've simply got to try what this internationally renowned stall has to offer.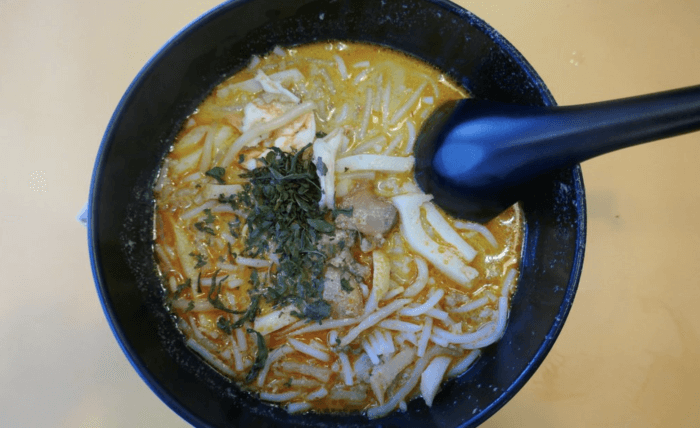 ---
Morsels
---
Address:#01-04 Dempsey Rd, Singapore 249670
Morsels isn't exactly a traditional place to have Singapore noodles. Serving small bites (much like the name suggests), this little place in Dempsey Hill serves creative fusion dishes which are driven by ingredients. Serving a weekly noodle set, this place often switches up their menu options.
So, if you're looking for a pleasant surprise every time you visit, this is a good shout. A noodle set that this joint highly recommends is their prawn noodle set. It isn't unlike those served at local hawker centres, but it's way more elevated, with perfectly cooked eggs and delicious fresh prawns seamlessly woven into the dish.
---
I hope that this short guide to the best places to have Singapore noodles has helped you out!
Singapore noodles are definitely a foodie highlight and Singapore's food scene is so extensive that it's impossible to list all my top picks, but if you're looking for a variety of noodles to whet your appetite, it's a great place to start.
So, pick up your chopsticks and get moving, because there's a whole slurpy, slippery world out there waiting to be discovered.