If you're planning to pop the big question in Dubai, you're probably looking for the best proposal packages in Dubai.
When it comes to proposing, you want to make sure the moment is absolutely perfect, and these proposal packages (or proposal ideas) will be ideal. 
Here are the ultimate proposal packages in Dubai to make your big moment the most memorable one so far… 
Dubai proposal package 1: Hot air balloon ride
The first proposal packages in Dubai is a hot air balloon ride! There can't be anything more romantic than a hot air balloon ride.
I love this proposal idea because it's scenic, romantic and a truly once-in-a-lifetime experience. Soaring high above the dessert, you'll feel like you're the only people in the world, especially as you watch the sunrise over the sand dunes.
After you land from your romantic hot air balloon ride, you'll be greeted with breakfast and a vintage Land Rover tour through the Dubai Desert Conservation Reserve.
Click here to view the hot air balloon package in more detail.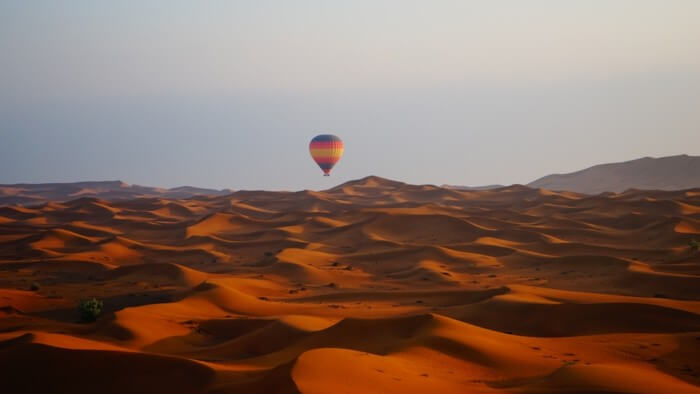 Dubai proposal package 2: Private photography tour
A private photography tour is an amazing way to propose to the one you love.
The idea of a private photography tour is that you're given a private tour around the city's best photography spots, and you'll get to see all the best areas of Dubai, and have a professional photographer on hand to take amazing photos of you and your loved one.
It's a great opportunity to propose, because you'll be able to give the photographer a heads up – and ensure you get some amazing (and memorable) photos when you're down on one knee.
Click here to view and book the private photography tour.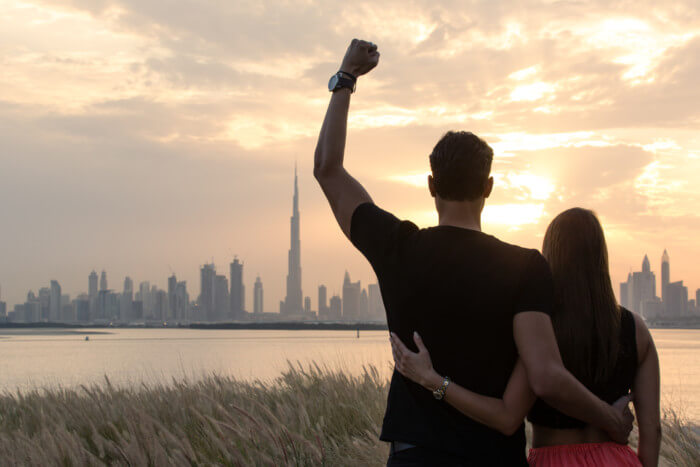 Dubai proposal package 3: Romantic sunset and sushi private boat tour
This beautiful private boat tour includes delicious sushi and drinks, and is the perfect opportunity to propose!
The tour company are used to proposals (as this is such a popular proposal package in Dubai!) so they can make it extra special for you!
This is a lovely proposal packages in Dubai for people who love sushi and love sunsets!
Click here to view and book the sunset and sushi tour.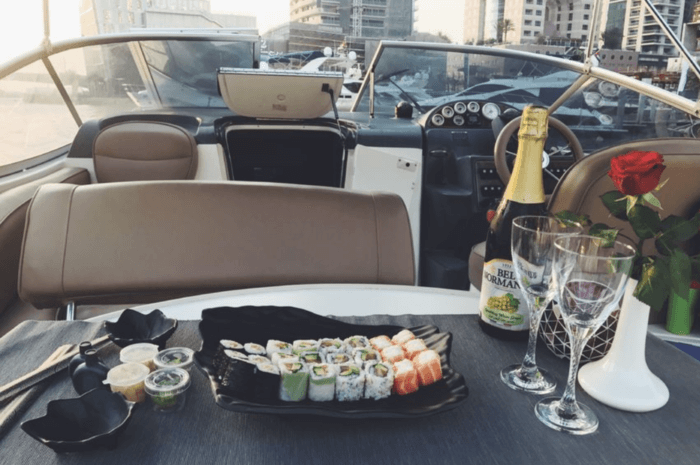 Dubai proposal package 4: An overnight stay on a luxury yacht
This incredible overnight experience on your own private yacht…. is the ultimate luxurious hideaway. I think it's the most magical way to propose in Dubai, you get to escape the city, and also enjoy amazing views of the skyline too.
If you want to whisk your loved one away on a surprise, you can't really get any better than this experience.
You'll board your yacht at 7pm and soak in the exclusivity of a 5-star yacht as you cruise along Dubai's coastline.
You then you have the entire evening to find the perfect moment to pop the big question, as you get to sleep over onboard in the luxury bedroom!
Click here to view the yacht in more details and book the package.
Dubai proposal package 5: A private yacht day tour
The next proposal packages in Dubai on my list is a slightly more affordable version of the option above. If the overnight yacht stay above is a bit out of budget, this is a great alternative.
You get exclusive use of the luxury yacht for 2-4 hours, and your private skipper will sail you around the Dubai coastline.
You can relax on the deck, swim in the ocean and sunbathe – all after you propose of course! You don't get to stay overnight on this boat tour, but it is a lovely way to experience a private yacht at a more affordable price.
Click here to view the private yacht tour and book it for your proposal.
Read more about visiting Dubai: Our review of the incredible 'Inside Burj Al Arab tour'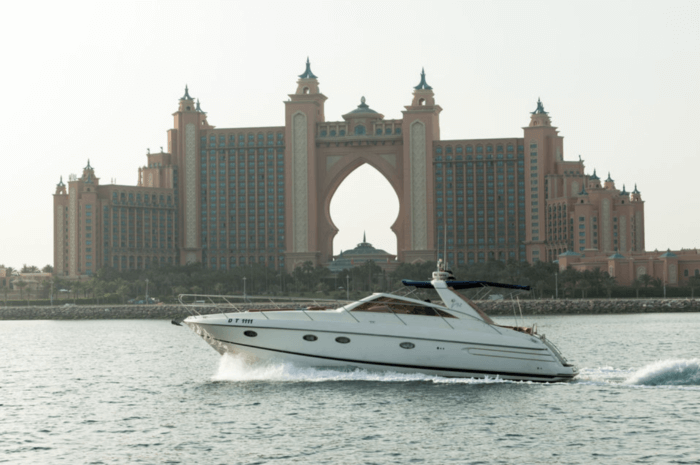 Dubai proposal package 6: Limo tour of Dubai
If you want to pop the big question in a classic glamorous style, renting a limo and having a private tour of the city is a perfect choice.
You can give your driver a heads up about your proposal plans, and ask him to take you to the most romantic places in the city.
This is a lovely Dubai proposal package, and gives you real privacy in a beautiful memorable experience.
Click here to book your romantic limo ride.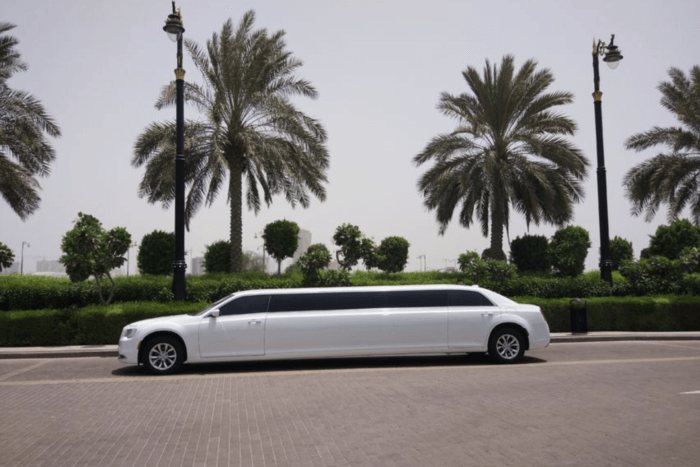 Dubai proposal package 7: Private night safari in the Dubai desert.
My last suggestion on my proposal packages in Dubai list is a night safari is a gorgeously romantic way to escape the city for a few hours – and having a private tour of the desert is even more special.
This private night safari is pure magic… you'll be driven to the Dubai desert at night and you'll go in search of nocturnal animals, using night vision binoculars.
Then afterwards, relax in each others arms at the desert camp of local royalty, and see a desert sky filled with stars. It's under the night stars that we'd recommend proposing – there can't be anything more perfect than that!
Click here to book the private night safari.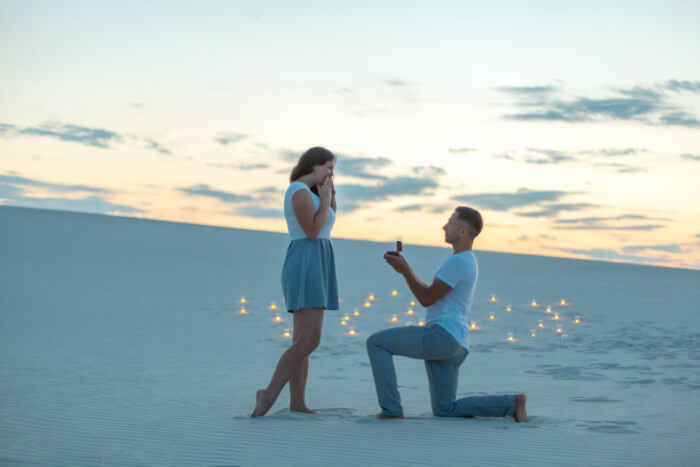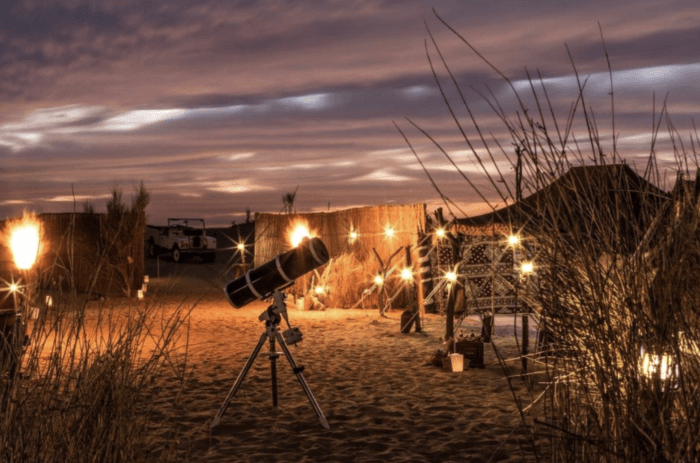 I hope this list of proposal packages in Dubai has been helpful!
Top tip! Make sure whenever you book your proposal packages in Dubai (whether through the companies above, or through someone else) be sure to mention that you'll be proposing – and it's a surprise. This way, they'll make the extra effort to ensure everything is PERFECT, and will go out of their way to make the experience super-romantic.
Read more about Dubai: Our Review of the Burj Al Arab pool day pass (with photos!)