Are you driving from Queenstown to Glenorchy? Here's everything you need to know!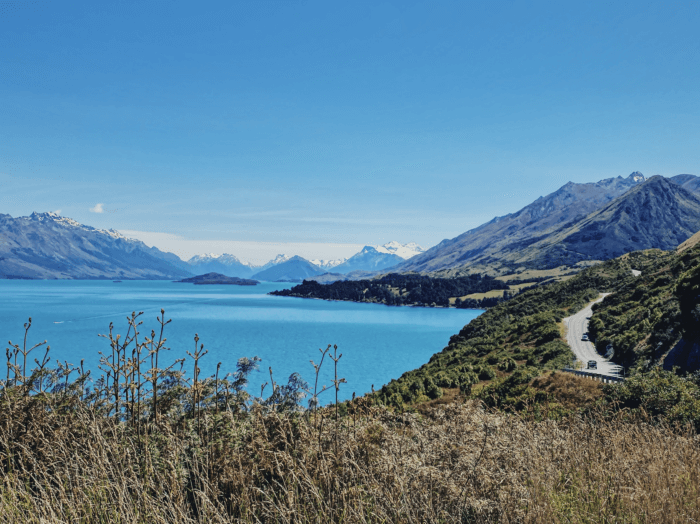 If you're stopping in Queenstown, one of the things you absolutely MUST do, is the incredible drive from Queenstown to Glenorchy. It has (quite rightly) been voted one of the most scenic drives in the world, and you'll understand why when you get on the open road.
The road between Queenstown and Glenorchy is surrounding by mountains, rolling hills and crystal clear Lake Wakatipu. It's a stunning way to spend the day.
Here I'll answer as many questions as possible about the drive from Queenstown to Glenorchy, so you can make the most of your time in New Zealand and this amazing scenic road trip!
How long does the drive take?
It takes about 45 minutes (without stopping) to drive from Queenstown to Glenorchy. But if you're anything like me, you'll want to pull over a few times to enjoy the views along the road.
I'd put aside about 90 minutes in total, leaving time for a few photo-stops, and a toilet break.
Also, remember, you may get stuck behind slower vehicles on the route, which can increase the drive time too.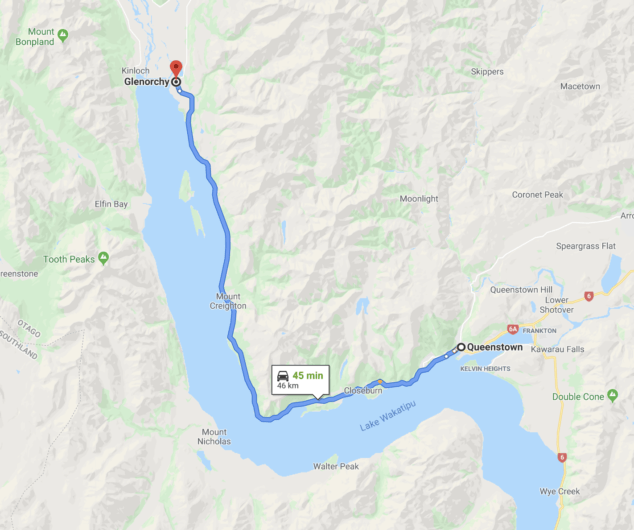 Is it a difficult drive?
It depends on your level of experience driving, and how confident you are behind the wheel – but I would say the drive is pretty easy.
You're the best person to judge how confident you are – but there aren't any 'hairy' bits on this drive that I found scary or intimidating.
There are some areas that might be a bit trickier than other parts, but generally, the road is well maintained, and the incline is steady (nothing too drastic).
If you're careful and responsible about the drive, you shouldn't really have any issues. Lots of camper vans and tour groups head down this road too, so you shouldn't have any issues in a normal rental car.
If you do find yourself feeling a bit nervous, maybe wait for a day with good weather, and avoid doing the drive from Queenstown to Glenorchy on a windy or rainy day.
Are there toilet stops along the way?
Driving from Queenstown to Glenorchy doesn't take too long (so you might not need the toilet) but yes there are a few places to stop for the toilet!
If you're used to driving in the UK or USA where you have rest-stops and service stations, it's not quite the same in New Zealand.
Instead you want to look for 'picnic' signs – these are the rest stops that usually have toilets.
They won't be big buildings, it'll usually just be a pull-off on the road, with a picnic area and a long drop toilet, or a shed toilet.
They're usually very clean though, and not too scary!
Is it easy to pull over to take photos?
Yes, and there are so many opportunities to pull over whilst driving from Queenstown to Glenorchy. In order to be completely safe – don't every just pull over on the side of the road if it isn't a designated area.
Along the Queenstown to Glenorchy route there are lots of designated places to pull over where you can take amazing photos – so use these to your advantage!
It's easy to spot them, usually they're gravelled in stone, and usually there will be other cars parked up.
The picnic areas (mentioned above, with the toilets) are also great places to pull over and take photos during the drive from Queenstown to Glenorchy.
Below is a photo of one of my favourite pull-over areas. 
Are there any tolls to pay when driving from Queenstown to Glenorchy?
No, it's a toll-free road! No charges!
What kind of photos will I be able to take?
If you're driving from Queenstown to Glenorchy, you'll have so many amazing photo opportunities. There are so many photo spots along the way! From mountains to lakes, to farm land and hills. Honestly, you're spoilt from choice when driving from Queenstown to Glenorchy.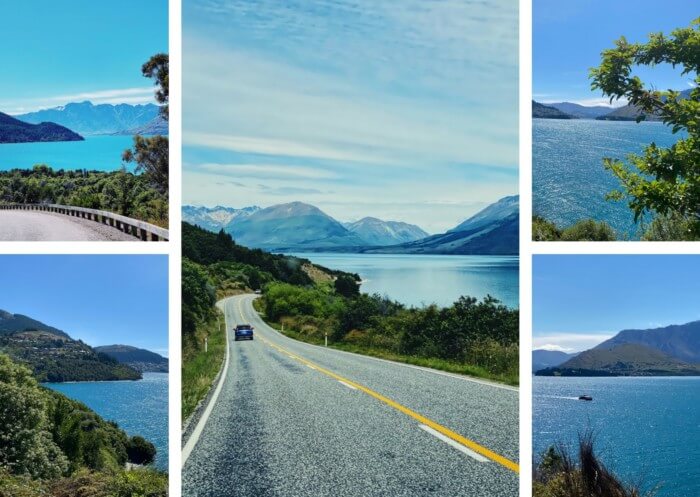 Can I rent a car in Queenstown?
Yes there are loads of car rental places in Queenstown, so you should easily be able to rent a car (even at late notice) from Queenstown.
Can I take a tour bus instead?
If you're feeling a bit nervous about driving, there are tour groups that can take you there instead. Those tours will stop at the photo spots, and also take you to a few secret ones too! It's actually nice to let someone else drive A few tours I like the sound of are…
Lord of The Rings Jeep Tour from Queesntown to Glenorchy
Glenorchy and Paradise half day tour (from Queenstown)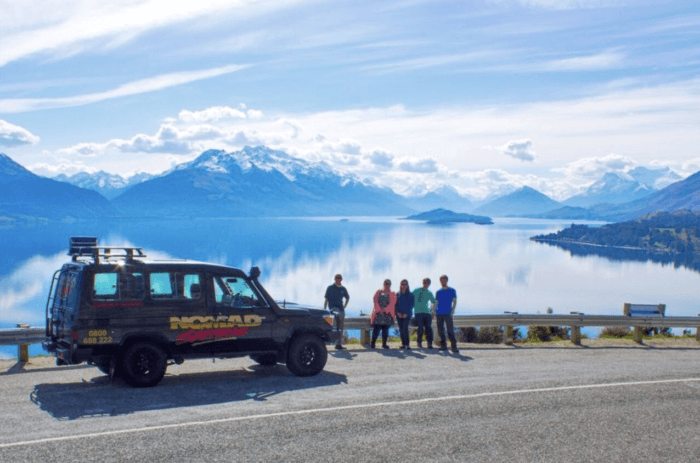 What is there to see in Glenorchy?
Not a whole lot in the town itself! But that's kind of the charm, and why you visit. Obviously the town is surrounded by stunning mountains and the lakes, so there's plenty of outdoors activities to get stuck into… but it's a quiet little town, and it's beautiful for that very reason.
I'd recommend stopping at Mrs Wooly's village store (they have pies, souvenirs, great coffee and toilets!). And then walk down to the pier and the Glenorchy 'lake hut' thing. That's a great photo opportunity!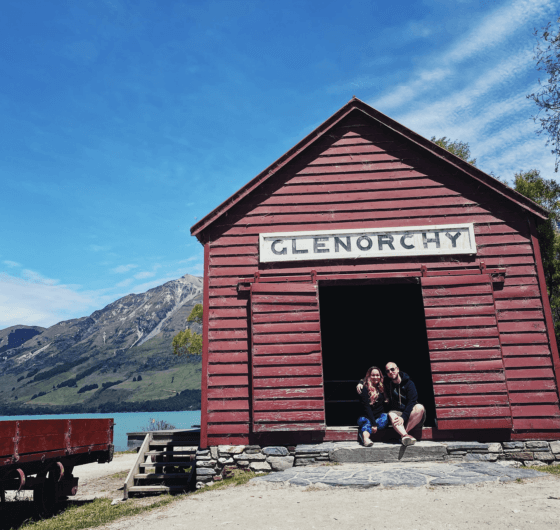 Where can I buy food along the drive?
I recommend stocking up on food in Queenstown, as there are loads of food options in Queenstown to choose from.  There are plenty of supermarkets in Queenstown, or you could buy yourself a Fergburger and save it to eat at one of the picnic spots along the way. In Glenorchy, Mrs Wooley's is the best place to easily stock up on snacks at.