Dubai may not have the biggest nightlife reputation – but believe it or not, the city is a hub of amazing nightlife hotspots just waiting to be discovered. In fact, some of the most luxurious, beautiful evening venues I've ever been in, are located in Dubai – so prepare to be amazed!
Here are my top pick for Dubai nightlife… you'll find suggestions for bars and nightclubs – depending on what kind of night you're after of course!
Skyview bar – Burj Al Arab
Known for its afternoon tea in the daytime – this place turns into a classy cocktail bar come evening – perfect for a few drinks prior to any night out. As you'd expect, the cost is pricey and the dress code is 'dressed up' – but if you're looking for somewhere tasteful and luxurious, you can't get better than this. After all, it's located in the world's only 7* hotel!
Here's Harriet enjoying a glass of champagne before sunset!
Bar 360 – Jumeirah Beach Hotel
If you want a bar with an incredible view – look no further than this place. Found at the end of the Jumeirah Beach Hotel marina walkway, it's a little island of its own – with 360′ views of the entire city. From one side you'll see the beautiful Burj Al Arab, from the other you'll get cracking views of the business district. The bar upstairs is open air, and it's the perfect place to enjoy a cocktail (or two… or three) with the soft sea breeze keeping you cool.
Look out for ladies night, and happy hour – this place offer both!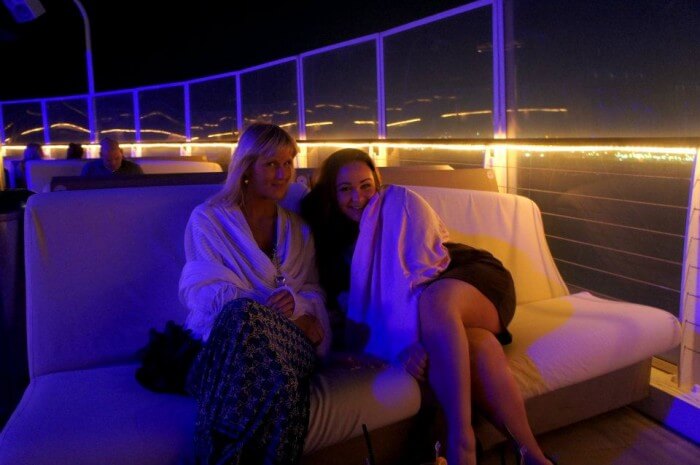 And below is the view I promised you!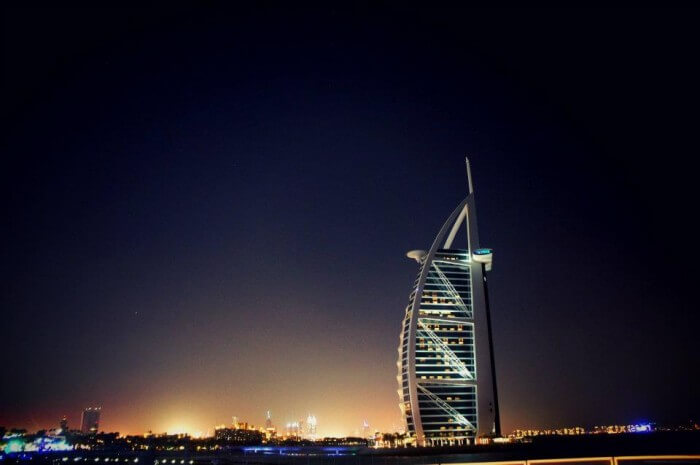 Cirque le Soir – Fairmont Hotel
For a star-filled night club, where you're just as likely to spot a celebrity as you are an acrobat – this is the place to be. Modelled after its other name-sake in London, this place is fun, flirty, and for those who love late night and lots of dancing. It's decadent and unique – so definitely somewhere to go if you're after something a little different from home.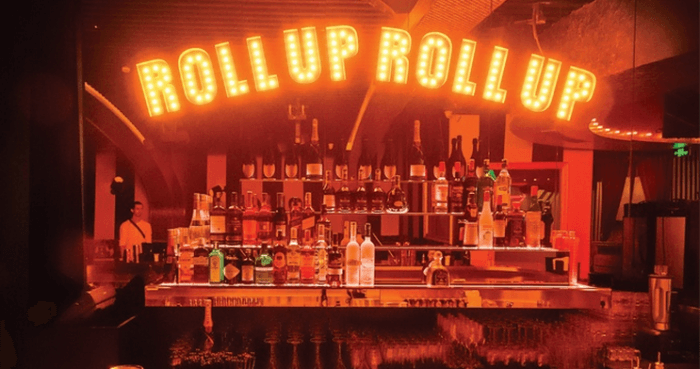 Buddha Bar – Grosvenor House, Dubai Marina
If you're after sophisticated drinks, and a nice meal to follow it – the Buddha Bar is a fantastic choice. It's elegant, lively and HUGE – with the biggest Buddha statue you've probably ever seen (unless you've been to the place in Hong Kong!). We stayed for cocktails and the prices were reasonable, the crowd was friendly, and the wait times at the bar were great.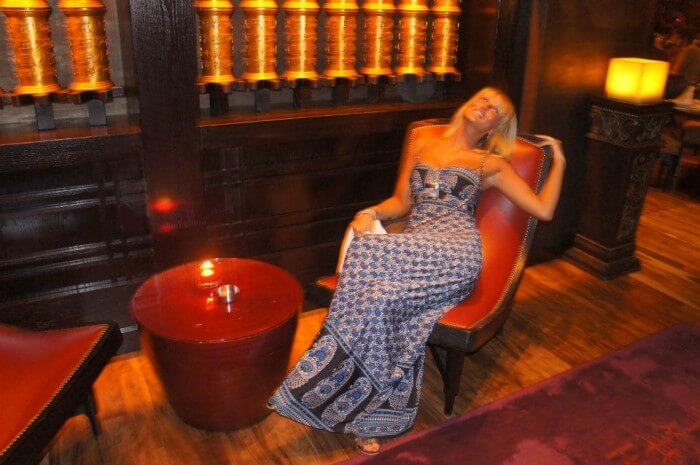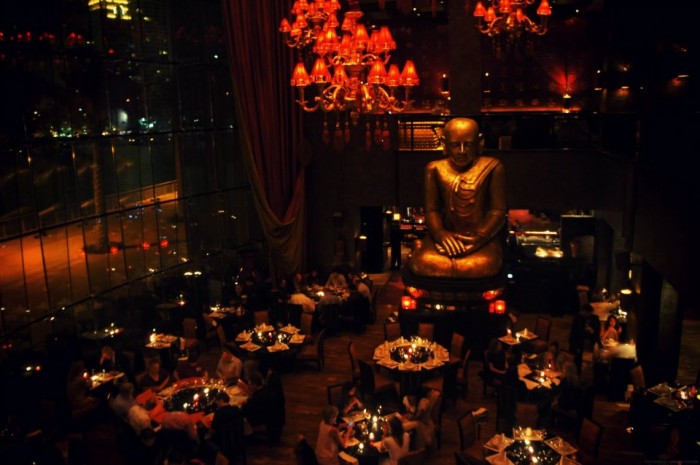 The Madinat – Jumeirah
The Madinat isn't so much a nightlife venue in itself, it's actually a big shopping mall / hotel / eating venue. It's packed full of various bars / restaurants and clubs so if you head there you could have a look around and choose the best one. My favourite thing to do here is sit in the amphitheatre seating and enjoy some sheesha, there are big leather sofas for everyone to sit together, and a lovely sweet smell in the air too.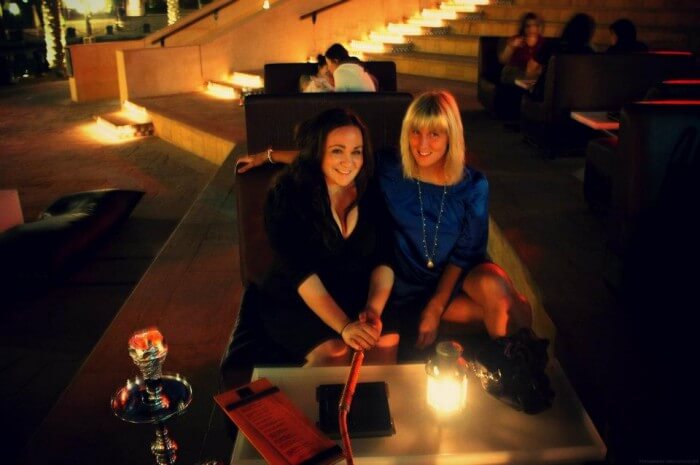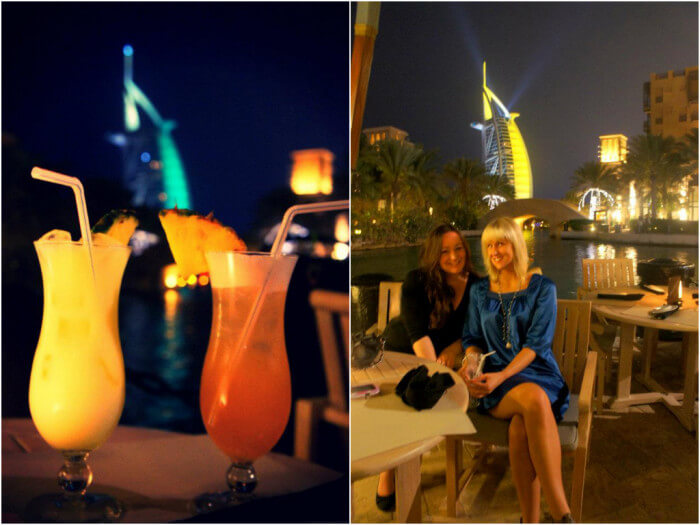 And let's face it – the view isn't bad either!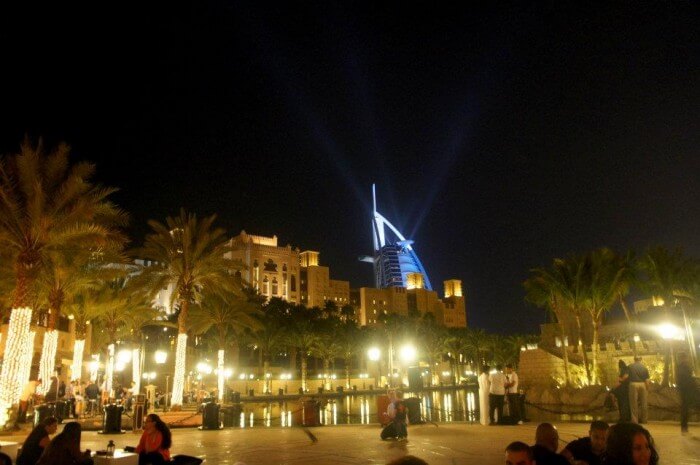 At.Mosphere – Burj Kalifa
As far as nightlife in Dubai goes…. This place is located on floor 122 of the world's tallest building (this place has seriously credentials… can you tell?!) So if you want sky-high cocktails with a view, then go here.
You can eat here too – but I'd suggest saving your pennies, and enjoying a meal in the restaurants by the fountains beforehand – and then heading up to At.Mosphere afterwards for some post-dinner drinks. You can watch the fountains from up here too – which is amazing – and completely different from the ground floor view.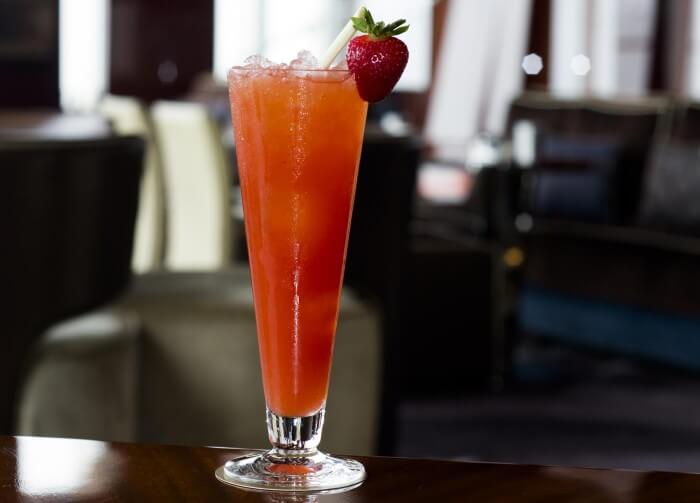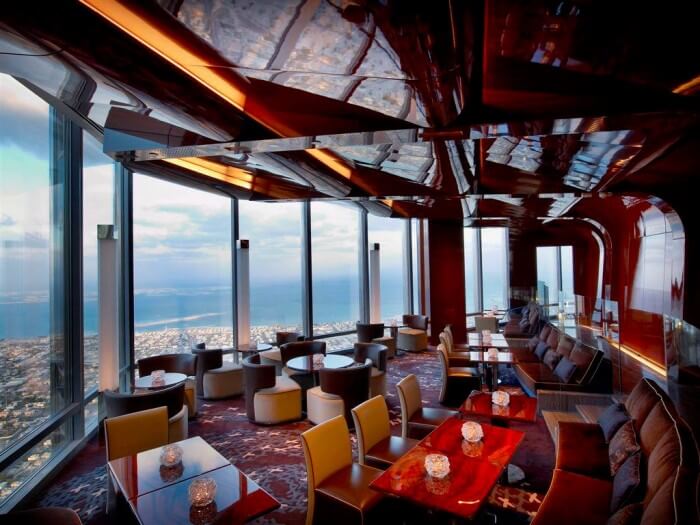 Where are your favourite nightlife spots and nightclubs in Dubai? Feel free to leave any more recommendations in the comments!