Are you visiting Queenstown and needs to know all the information on the Queenstown Luge? Keep reading!
The Queenstown Luge is one of the best activities in Queenstown, and it's so much fun. If you deciding whether or not to visit the Queenstown Luge during your stay in the town, hopefully this blog post can convince you how amazing it is, and answer some of your questions!
What is the Queenstown Luge?
Basically, they're like super fun go-karts. You sit in your luge kart and you zoom down a course, with amazing views of the town below. You can go as fast (or as slow) as you like, and it's a great activity.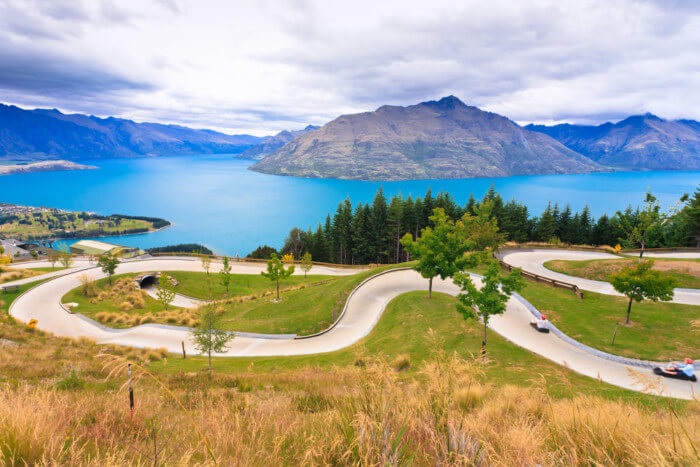 Can I buy tickets online?
Yes! I'd recommend buying them online as it makes the process easier when you go to the Skyline Gondola. Click here to buy tickets. 
Is it the Queenstown Luge child friendly?
Absolutely! For children above a certain height, they can ride in their own luge kart, and for children who are a younger age, they can ride in the kart with their parent or guardian. Here is the official information from their website:
Children must be at least 6 years old and 110cm or taller to be allowed to ride the Blue Track unaccompanied.
Children must be 135cm or taller to be allowed to ride the Red Track unaccompanied.
Children under the age of 6 years old or under 110cm can ride the Luge in tandem on the Blue Track, with an adult aged 15+ years at a cost of $2 per ride (Future Luge Rider)
Is the Queenstown Luge safe?
I think so! It's basically a go-karting course, with amazing views! There are no cliff edges or anything you could fly over (so don't worry!), and there's a beginner course and a fast course.
Everyone has to complete the beginner course (which is a lot less steep and a bit easier to get around) before they can go on the fast course, which means you're not bumping into newbies whilst going super fast. They also have loads of staff and helpers – if you did get stuck.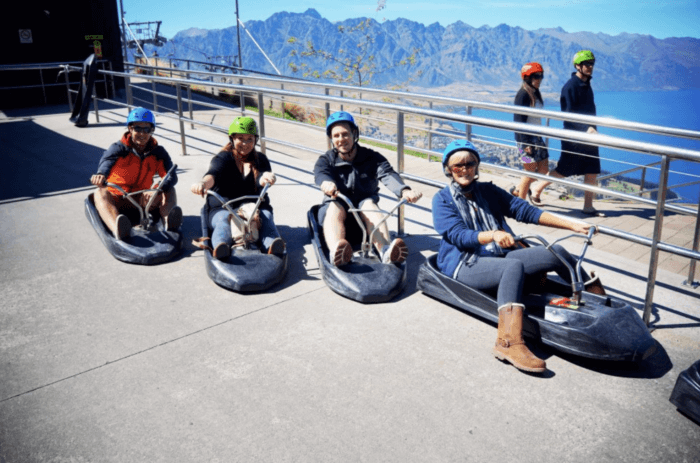 How long does it last?
That depends how fast you go! But I'd estimate one 'turn' on the course lasts for about 2 minutes. It's pretty fast, but it's so easy to head straight up to the top to ride it again. You could probably enjoy a few hours riding the luge, and then spend the afternoon checking some other day trips around Queenstown. 
How much does it cost?
Their pricing can change, but it generally tends to be around £30 – £40 (depending on how many luge rides you want). You need to buy a gondola ticket to get up to the top of the Skyline, so you'll always be buying a combo ticket which includes the Gondola (as this is where the Queenstown Luge is). The only other way to get up there is to do the mountain trek!
So, given the fact you'll be taking the skyline gondola anyway, the combo tickets work out the best value. The Gondola is an enclosed cable car, which takes you from the town up to the top of the Queenstown Hill (and the Luge is at the top of the hill). You could buy a skyline gondola ticket on it's own first, and then add on luge tickets later, or you could buy the combo initially and have it all included. It's really up to you.
Is the Queenstown Luge scary?
I guess that depends on how scared you get! There's definitely an adrenaline rush, because you're zooming down the hill! Another bit of the experience which people might find scary is the mini open ski-lift you have to take up to the top of the luge course. This is totally safe, but if you don't like heights, you might find this a bit daunting! I've included a photo below so you can see what I mean! This open ski lift only lasts for 30 seconds (approximately!).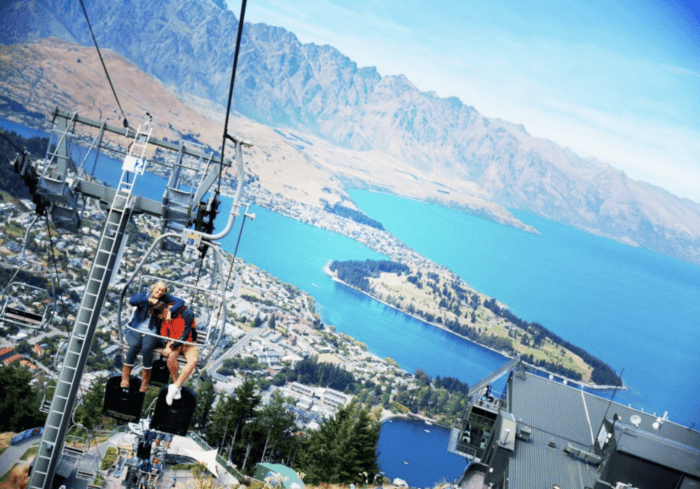 Do you need to take your own helmet?
No, everything you need is included in your ticket – and that includes your helmet. They have lots of different sizes (which are colour-coded) so it's really easy to find one that fits.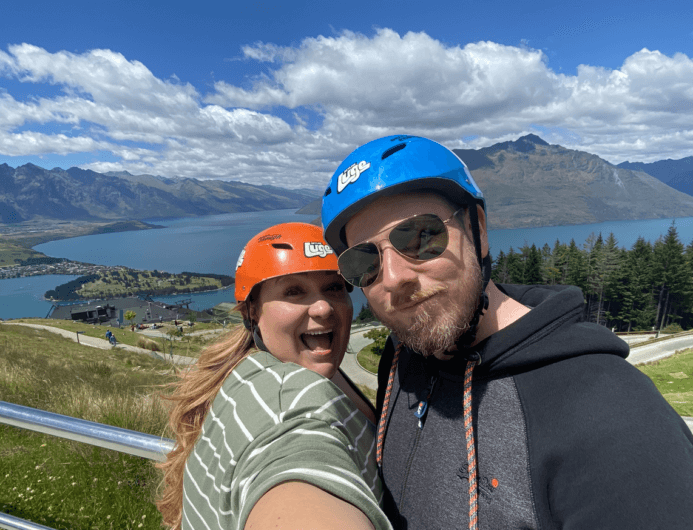 Is there food?
Yes, there is a buffet restaurant (which is actually really good value!) which overlooks the town, and a cafe at the back which serves things like chips, pizza and sandwiches. If you're opting for the buffet restaurant, it can get booked up easily during peak times – so it's worth booking ahead.
Do you need to book in advance?
No, you can buy tickets at the skyline gondola base at the bottom of the hill, and buy your Queenstown Luge tickets there also (in the combo tickets mentioned above). You can also buy top-up luge tickets once you get up there, if you want to keep going.
I would advise booking in advance though if you have access to the internet, because it saves a job, and it's a way of guaranteeing entrance to the buffet (if you want that included in your combo!).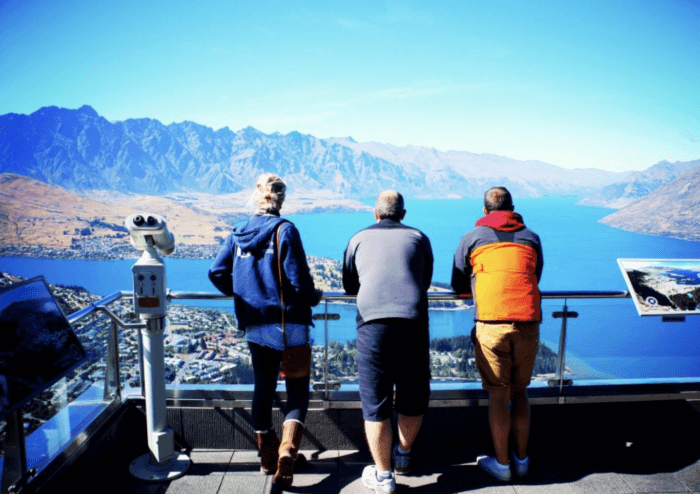 Can I use my camera on the luge?
You'll need both your hand to break, so not really. If you have a body mount or a helmet mount for a Go Pro, you could use that though. I noticed some of the helmets had the Go Pro mount on them already, which is kind of cool. They do have cameras on the track though, so you'll get snapped whilst you're on there – and you can purchase any photos you like before you leave.
Are there places to take photos of Queenstown?
Yes there's an amazing viewing deck where you can take loads of photos of Queenstown below. Once you've finished the Queenstown Luge (or before) you can head out there and enjoy the incredible views.