If you didn't know, New York City is my favourite place on earth. There's nowhere quite like it.
Pad and I have been to NYC a few times now, we've been in Autumn and Summer, but never during the Christmas season – so this year is the year… and we couldn't be more excited!
We'll be flying out on the 29th of December and returning on January 7th 2015 – so we'll get to ring in the new year in NYC, and see the last of the festive celebrations… ever since I first watched Home Alone as a 5 year old, I've always wanted to stand under the Rockefeller Christmas Tree.
So what do we have planned? 
Well, a few weeks ago I booked us tickets to see the basket ball (Harlem Globe Trotters to be precise) at Madison Square Garden – which is something Pad and I have always want to go see but never timed it right before. We have the crappiest tickets in the stadium (I think we'll need a telescope or a pair of these to see the ball!), but it'll be a lot of fun and I'm so excited! Bring on the nachos and giant foam hand.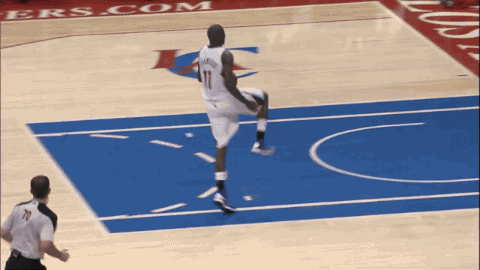 I'm also desperate to see the Radio City Christmas Spectacular and the new Broadway version of Disney's Aladdin. I think it'll end up only being one or the other, because the tickets are so bloody expensive…. so I'm going to have to make that tough decision at some point! Eeeek.
I have a feeling Disney will win out though (I'm a huge Disney fanatic) – and I'm so curious to see how they do the whole flying carpet thing… I'd probably go for that reason alone!
I'd also like to walk along the high-line this time we're in NYC too, which is an elevated walkway on an abandoned old railway line. It's something I've heard really great things about but never got round to, so this time it's on my definite to-do list.
I feel like the more we visit NYC the more and more I fall in love with it. We know the city pretty well now, and whilst we still love the fun tourist things, it's always fun to dig a little deeper and find those local attractions too, in neighbourhoods a little further afield.
Where will we be eating? 
We'll be heading to lots of our old favourites, places we've been before and loved. These include:
– Fette Sau BBQ in Brooklyn
– Quality Meats (we're actually going to be eating here on new years eve)
– Katz Deli (best sandwiches ever….)
But we'll also be trying out some new places too. I've booked us in for a meal at Bo's restaurant (can't wait to try the fried chicken) but I've also heard great things about Taureau too, which is a restaurant entirely made up of fondue menu items. Yum? Yes!
Where will we be staying? 
We'll actually be stopping in three different hotels, all luxury, quirky and beautiful. I chose them all because they offer something a bit different and special – and I just can't wait to reveal which ones they are! Stay tuned!
Anyway, I can't wait to share more info with you about the trip – not long now! 🙂
Are you going anywhere exciting for New Years Eve?