I've never been on Eurostar before, so when they offered me some free return tickets to review it, I couldn't say no. As someone with a pretty intense fear of flying (I know that's a bit silly for a travel blogger!) any land-based transport is always a big hit with me. I loved being able to visit another country within a few hours, and not having to step foot on a plane. That alone for me is priceless. So, yes – straight up – I'd definitely use Eurostar again.
Our train left from St Pancras International, which was only 20 minutes on the tube from our flat, so getting there took barely anytime at all. If you're coming into London especially for The Eurostar, you're probably going to be going into either Kings Cross or Euston anyway by train – and both are super close to St Pancras. As in, literally a few minutes walk.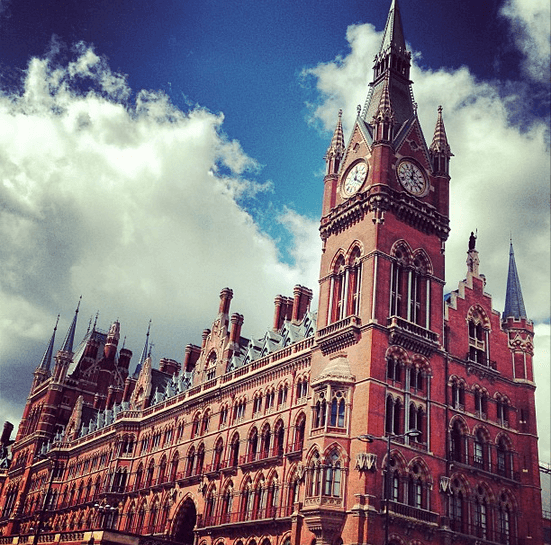 We were only heading to Paris for a couple of days over the weekend, so we got an early train on Friday morning, so that we could make the most of all three days. Our tickets said we had to get there 30 minutes before to leave time for checking in and security, etc, but that's nothing compared to the 3 hours we would have had to be at the airport in advance.
The check-in process is a little like an airport, but much more relaxed and a hundred times quicker. You then get into this nice waiting area with a coffee shop, news agents and a few food shops. We were in there no more than 10 minutes before our train was called for boarding – so I didn't really pay it much attention to be honest!
One tip I would give though – is to buy your Metro card for Paris from the information desk here. I think it costs us a tad more £22 for 3 days (per ticket)… but it saved us the hassle of buying them in Paris, and it meant we didn't need to worry about trying to figure out the zones and stuff. Seen as neither of us speak very good French (albeit I do try my best!) this made everything a bit easier.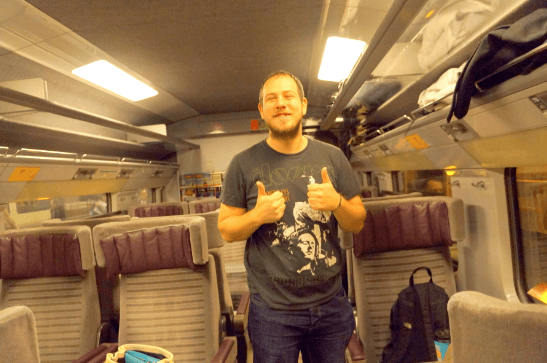 We were lucky enough to travel in Business class on the way out, which was a real treat. It meant we had a bit more space, our own private table and also (the best bit….) free breakfast and drinks! There was a nice little bread role, a croissant, yoghurt, fruit juice, coffee and tea and water. Which made for a nice pick-me up at 7am!
The carriages themselves did look a bit dated if I'm being brutally honest, but the seats are really comfy and we had plenty of space – so I wasn't really bothered by that. You're only one the train for two hours anyway!
One thing that did surprise me was how quick the whole thing was. Both on the way out, and on our return trip – the time seemed to pass super quick. Another nice little perk, was that we were above ground a fair amount (I'd say for about 65% of the ride) so I could use my phone with signal and WiFi. Just remember to pack some magazines or a book for the actual 'tunnel' part – because you don't even have a window view during that part – it's all black.
On the way home, back to London, the journey was just as quick but we were in economy class instead. I wanted to try both out so I could compare them, but economy was just as good and didn't put any kind of dampener on the experience at all. It was just like a normal train ride really, a bit like the big Virgin Trains, but with a little more room.
I actually slept better on the way back because it was more cosy – so it's all just preference really. Sure you don't get free food and drink – but you can easily stock up on that in the train station before you set off. And the French station Gare Du Nord has loads of cafes and food shops, so you'll have your pick of the best to eat on the journey.
Here's my one bit on unrealistic feedback though: I think it'd be kind of amazing if the tunnel was glass and you could see all the fishys. But it's not. So never mind. 
Did you like the photos featured in this blog post? Don't forget to follow me on Instagram @TheWorldAndThenSome where I post lots more gorgeous photos from my travels!