Not many visitors to NYC know about the beautiful Little Paris neighborhood… But let me tell you all about it!
NYC, is one of my favorite cities, and one of the things I adore about it is how different each and every neighborhood feels from the last. It's almost like exploring lots of miniature cities.
If you didn't know, NYC seems has a 'mini' version of so many cities and countries. For example… Little Italy, Chinatown, Koreatown – the list goes on.
But for some reason, Little Paris is one of those neighborhoods that seems to fly under the radar for most people.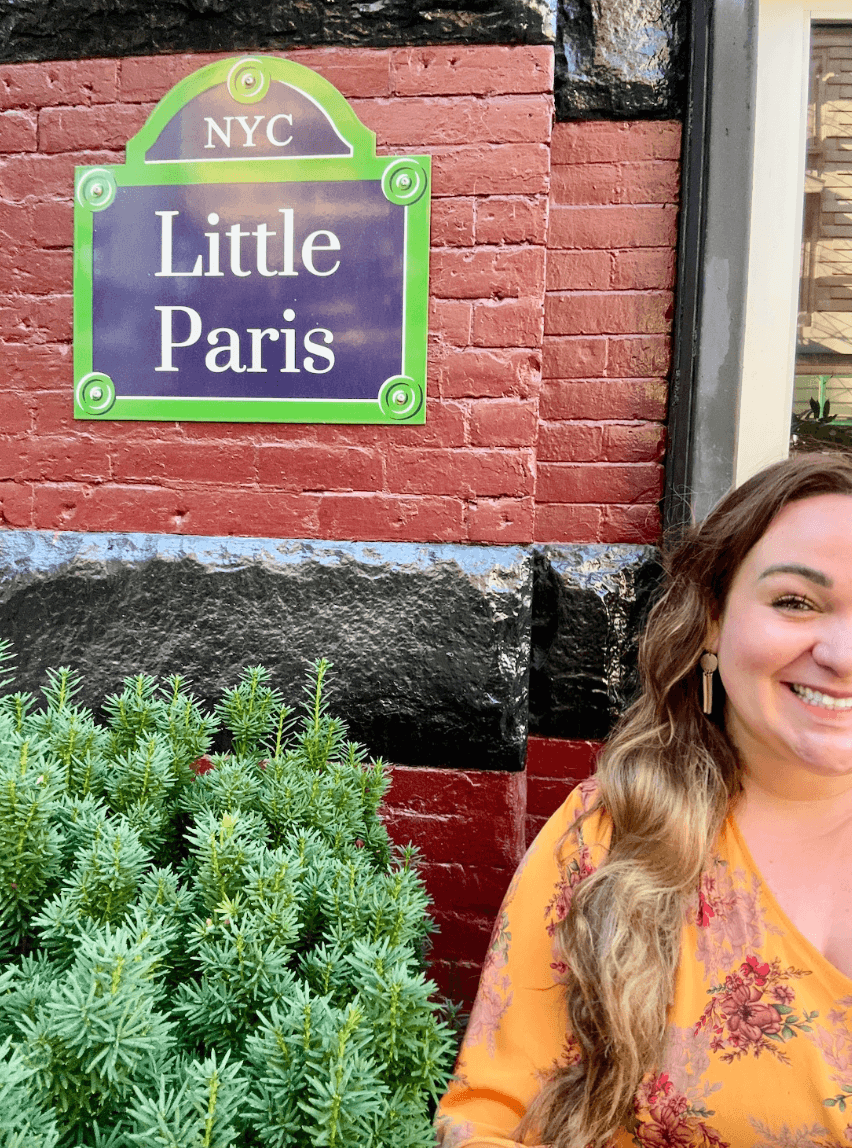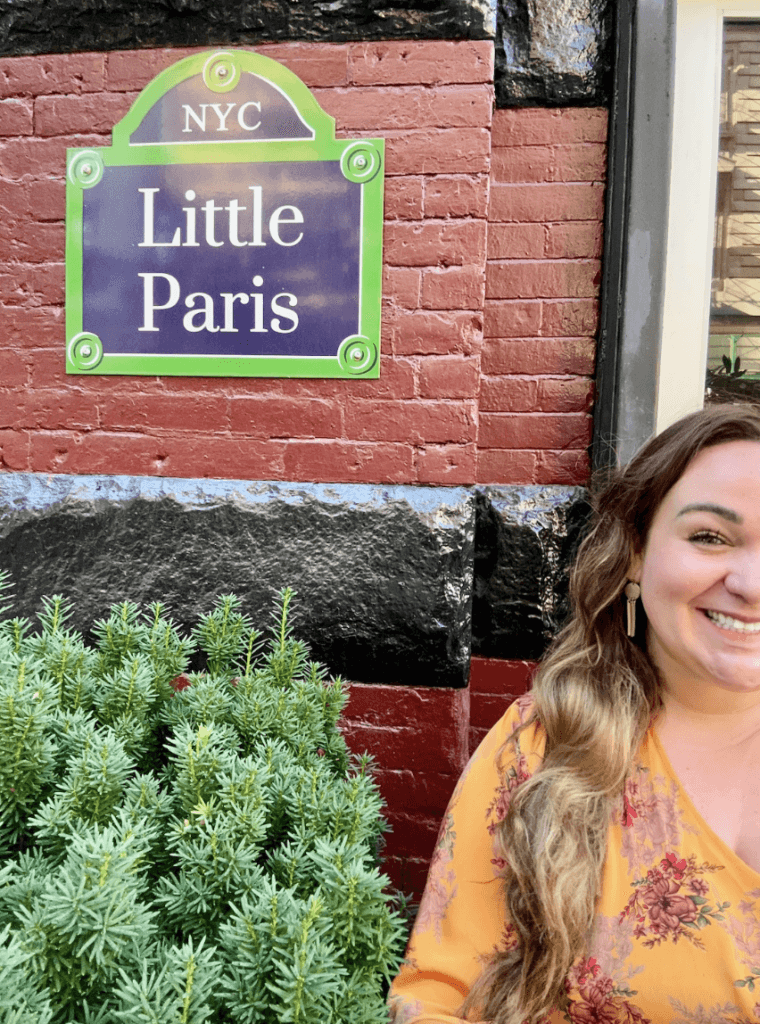 I'd bet, if you asked 99% of New Yorkers, even they wouldn't know about Little Paris, or where to find it. Which is a shame, because this cute little part of the city has such an inspiring story to tell. And some adorable things to see too.
But, I kind of get it. Little Paris is very small compared to the other neighborhoods I listed above, and it's not really in a location most tourists would 'stumble upon'.
Anyway, I'm here to tell you, that this petite little pocket of NYC, is worth your attention. And if you're looking for somewhere Parisian-inspired to explore some sunny afternoon, then let it be Little Paris in NYC.
Here's a few snapshots of Little Paris that I took on my most recent visit… Just to give you an idea of what it looks like!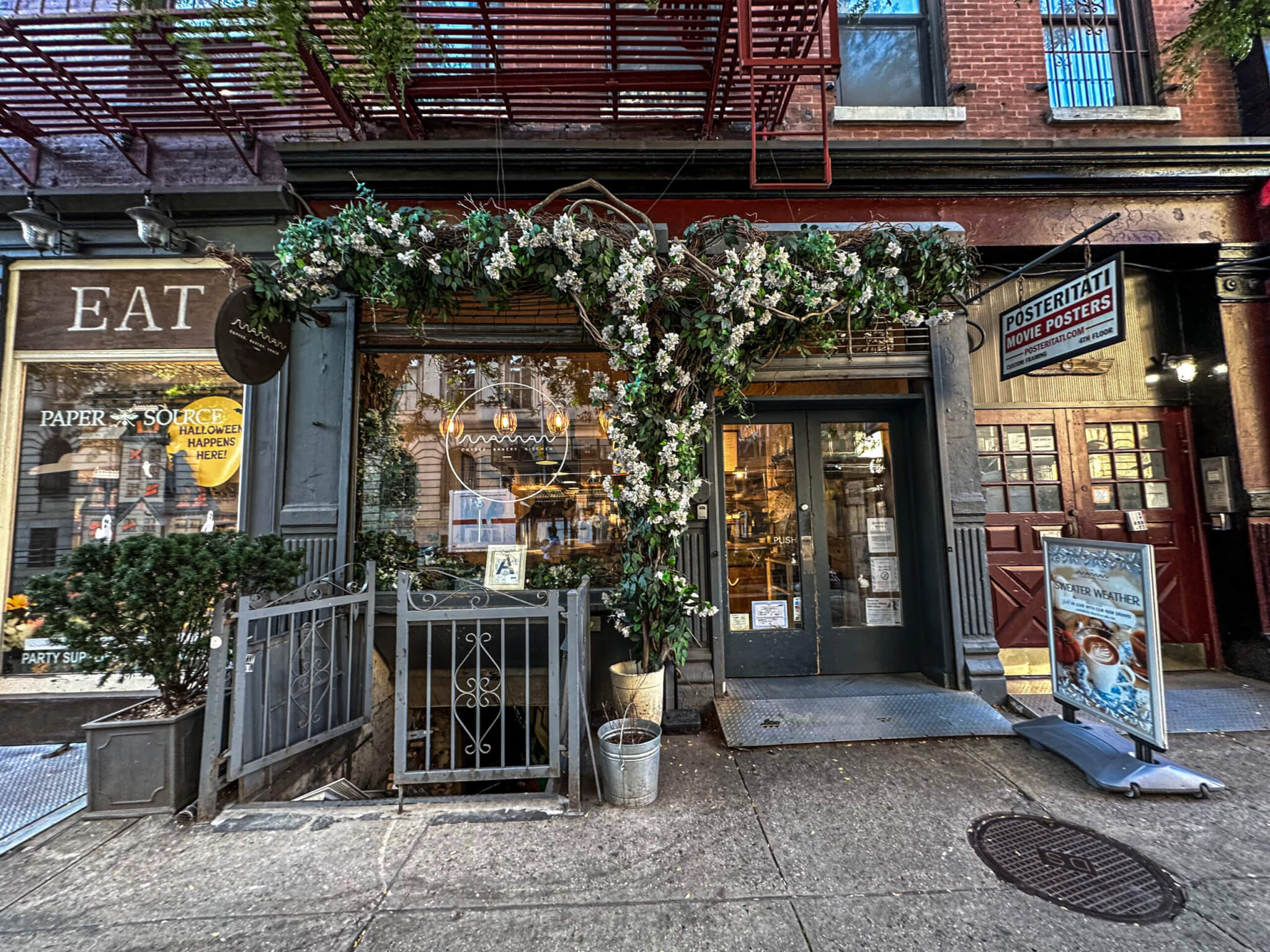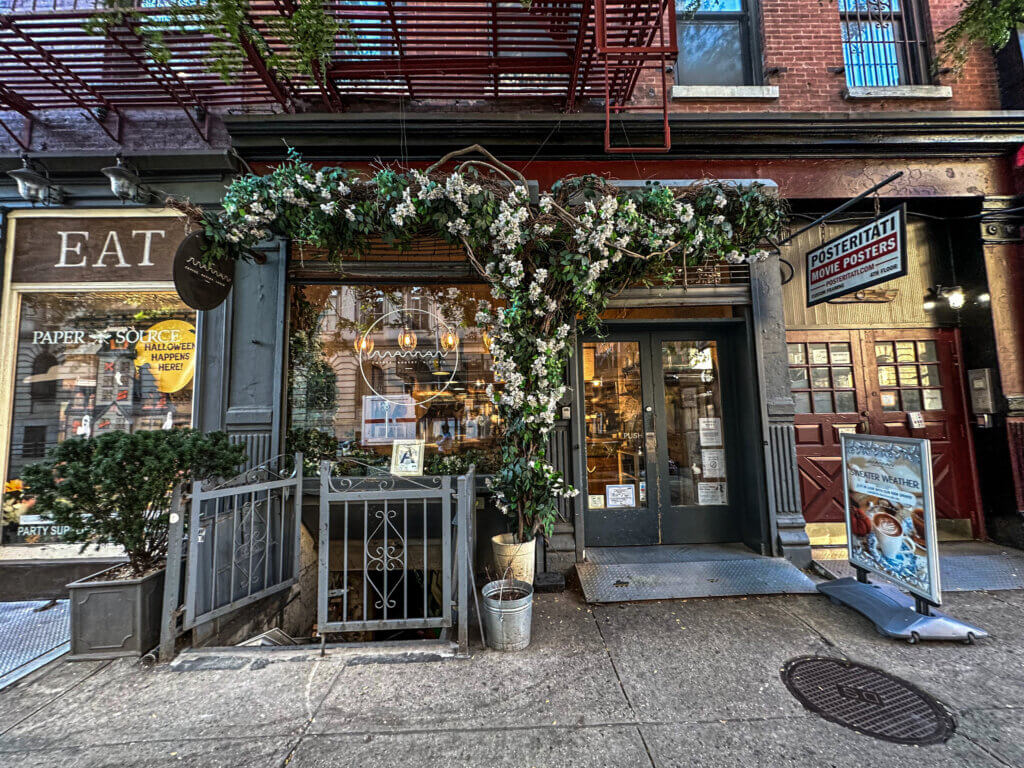 ---
Where to find Little Paris
Ok, first thing's first, let's talk about where to find Little Paris in NYC.
As I mentioned, this neighborhood is tiny, and because of that, it's pretty easy to miss! But the information below should help you get there without a problem).
You could use either of the two addresses below to get you to Little Paris in NYC. Because the neighborhood is only about a block in length – both of these will take you right to the heart of Little Paris.
In this guide to Little Paris, I'll discuss some of the best places below to visit in the neighborhood, and why I love them. But I've also marked them out on a map too (to make it extra helpful for you).
You'll also see from this map, just how tiny Little Paris actually is!
---
My favorite things to do in Little Paris, NYC
I'll start off by saying, Little Paris is teeny tiny. So you're not going to find lots of things on this list. Little Paris is essentially one street – so it's a place to spend an hour or two exploring – not a whole day.
But regardless, here are my favorite things to do in Little Paris!
---
Maman
Any visit to Little Paris in NYC, should in my opinion, start with a coffee and croissant at Maman. Or, if you've given up caffeine (like myself) and orange juice and croissant!
This adorable little cafe reminds me so much of Paris, France – and it's a beautiful location to center your visit to Little Paris, NYC around.
As you'd expect, they have all the beautiful flaky pastries on display, and some amazing coffees and hot chocolates being served – so it's the ultimate brunch or lunch location.
Tip: The place looks pretty tiny when you first walk in, but don't worry! They have seating at the back of the cafe. And it's so beautifully decorated too!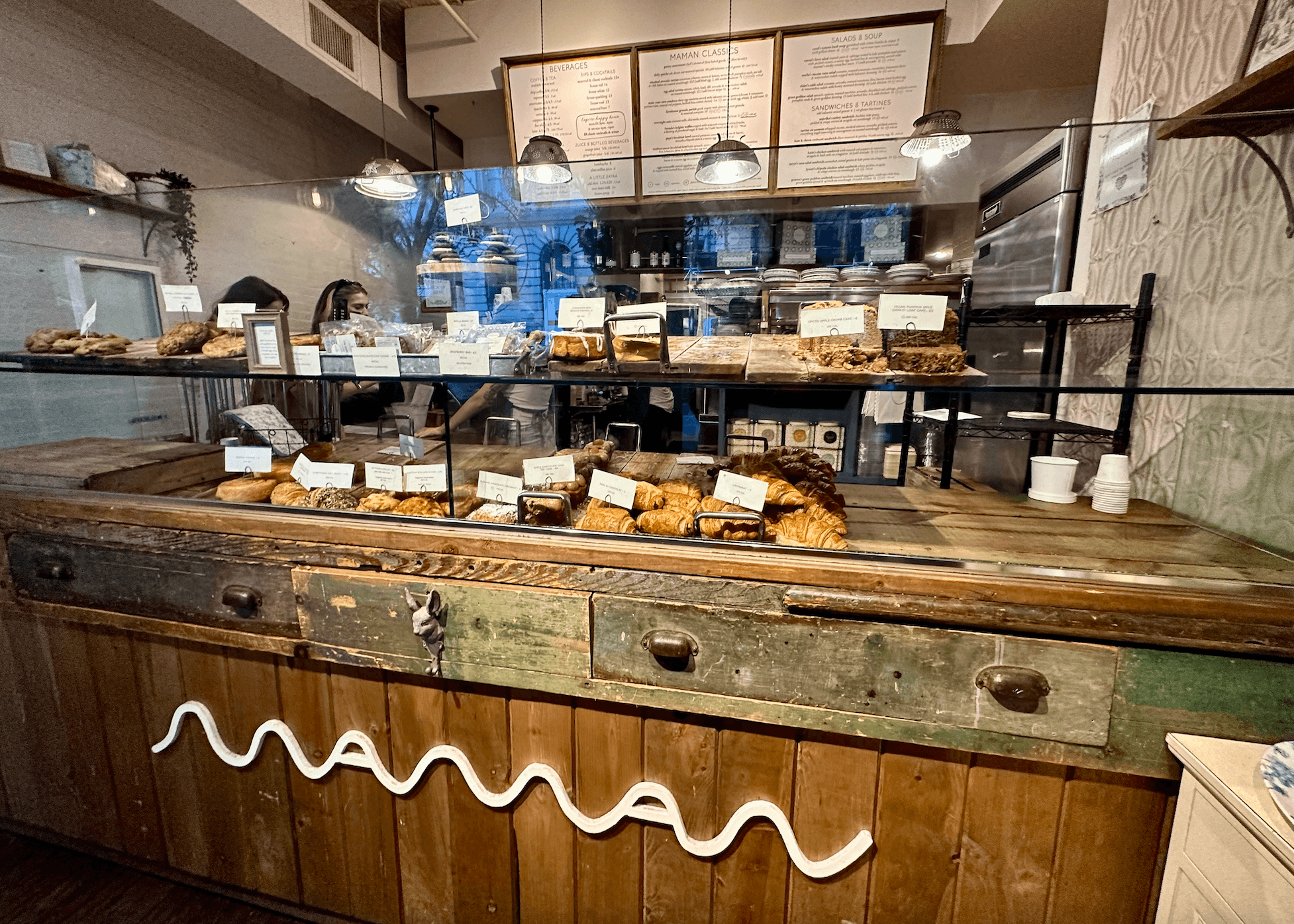 ---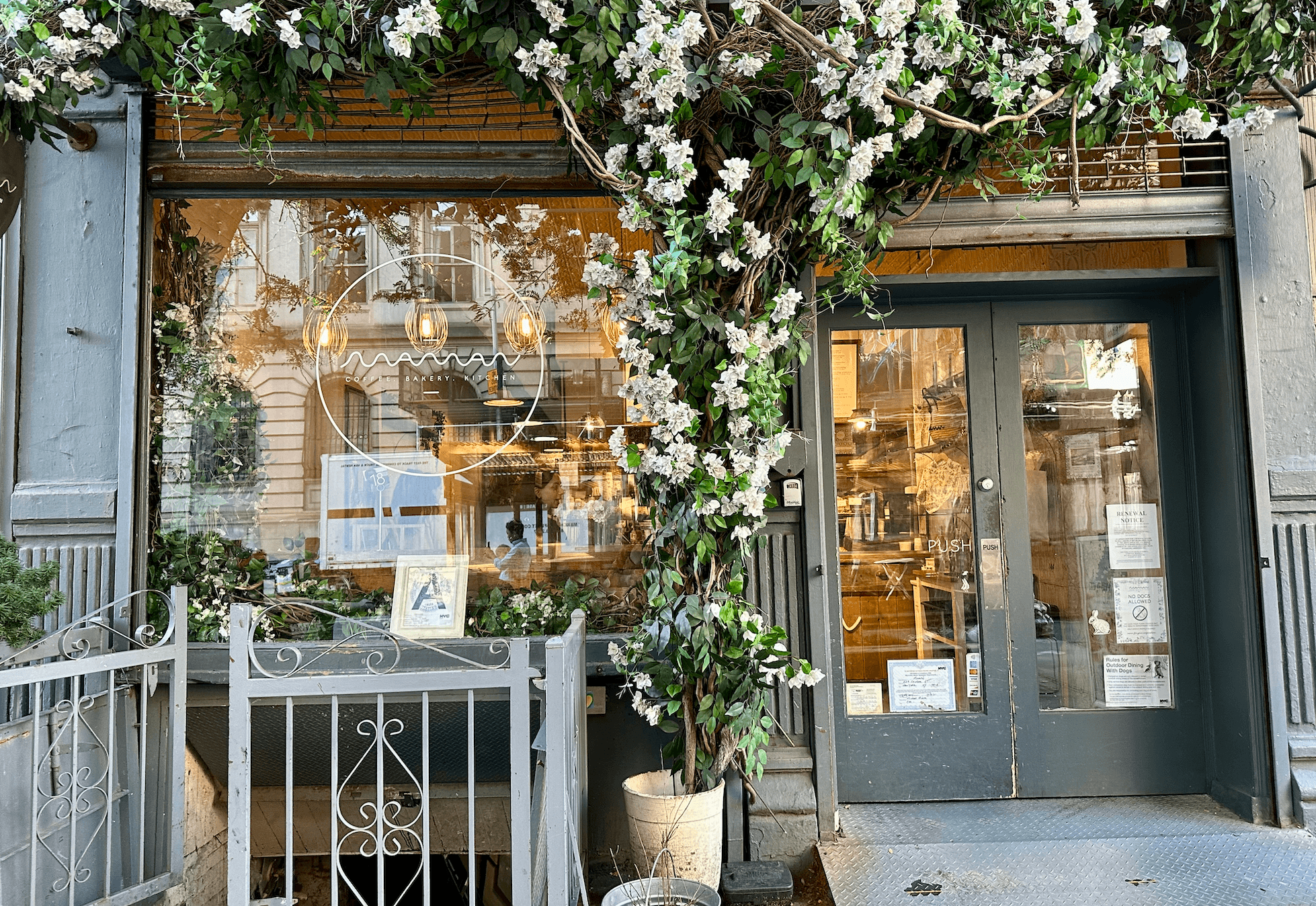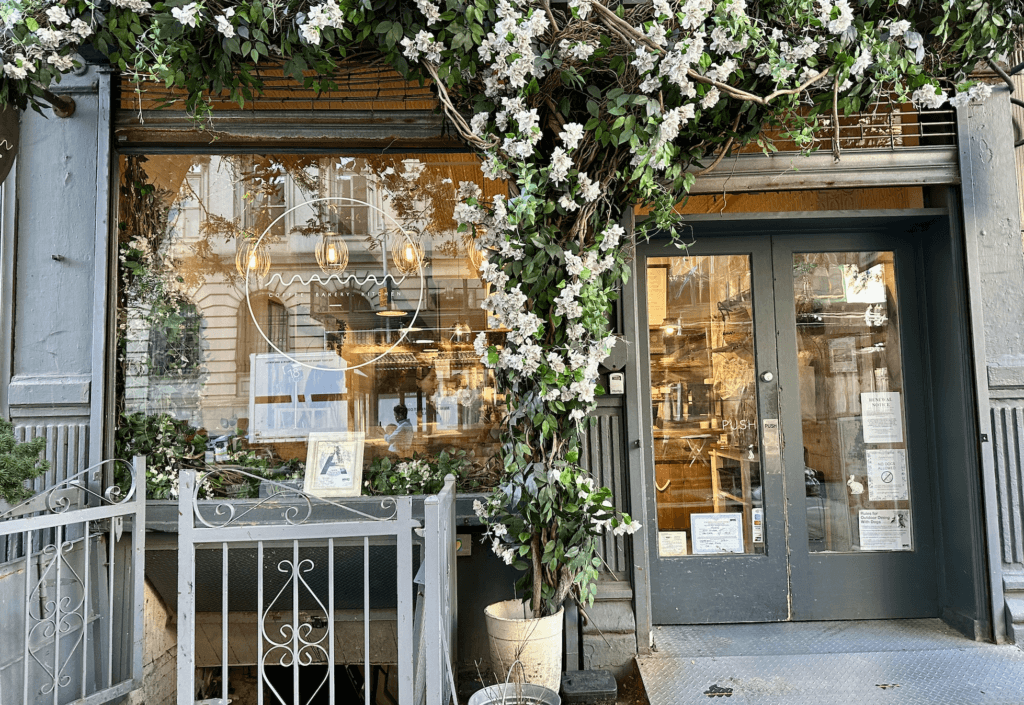 ---
Maman's outdoor terrace
If you head to the back of Maman, you'll find the most beautiful little outdoor terrace.
This place feels so French to me, it's pretty, peaceful and feels a million miles away from the bustling NYC streets.
There is plenty of seating in the little terrace area (big shared tables) and the whole place is covered in gorgeous roses and flowers. I just love it so much.
Tip: This is a 'no laptop zone', which means it's really peaceful but not a great spot for remote working (if that was your plan!).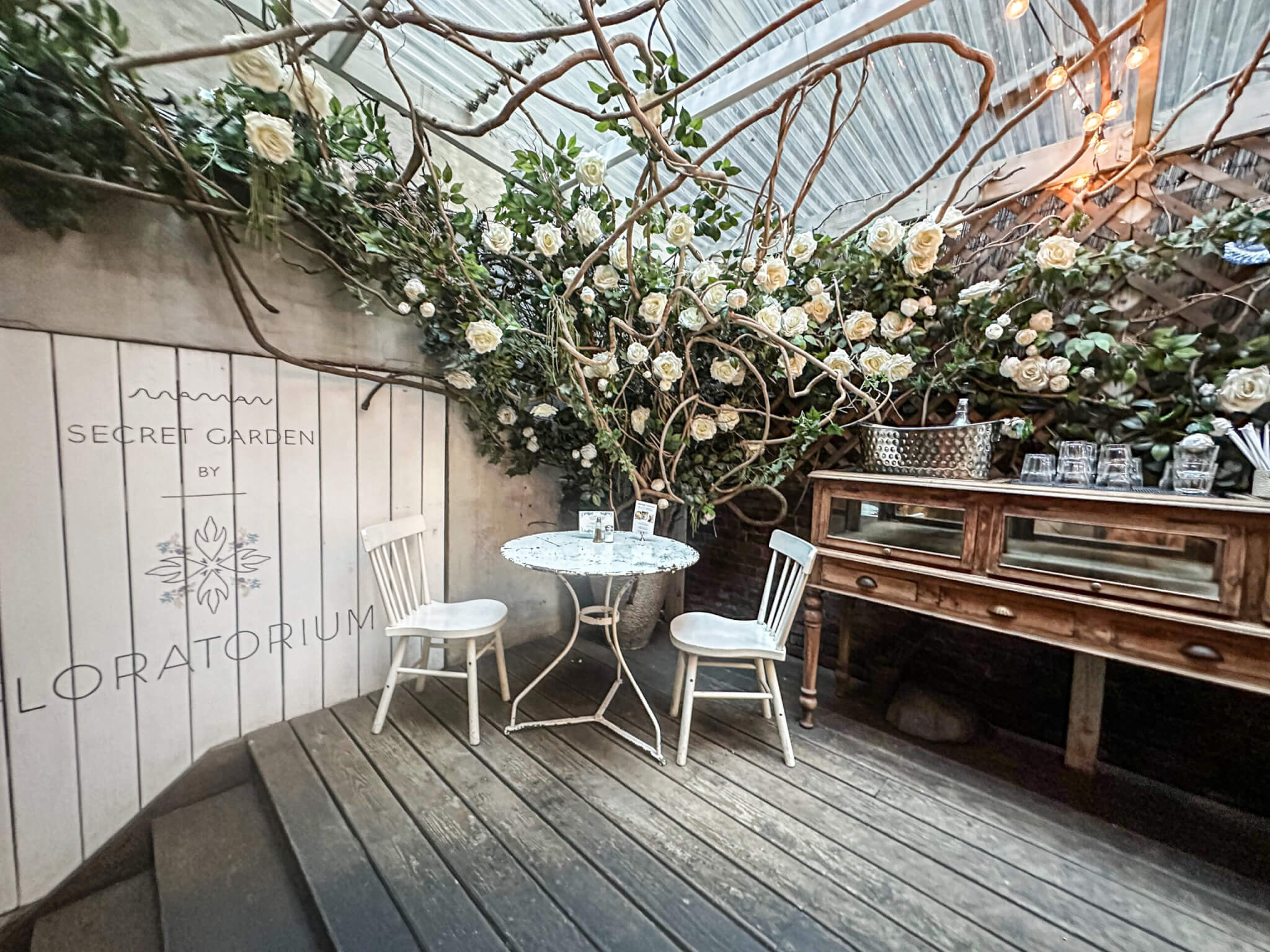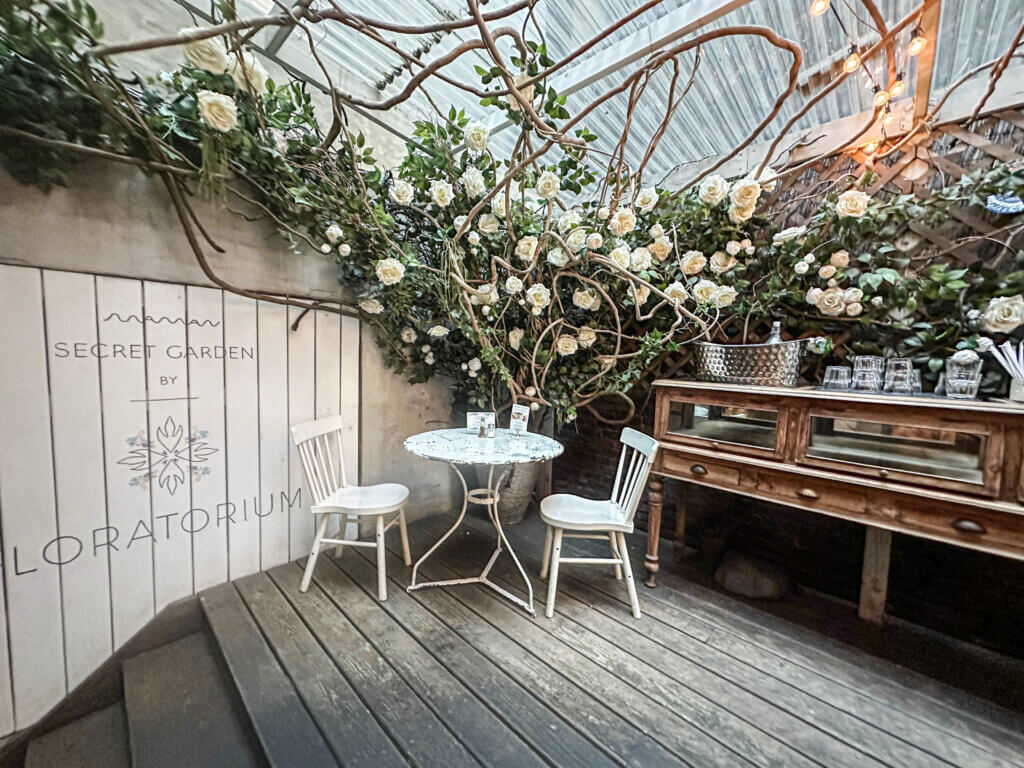 ---
Clic (gallery and store)
Website: https://clic.com/
What is it? A french art and decor store, that is super chic!
Clic is my next suggestion for things to do in Little Paris – and it's such a cute, stylish and beautiful place to explore.
This charming home decor and art shop, feels like a cross between an art gallery and a beautiful design store. It's so beautifully curated, and everything feels like it is a perfect match for the chich Parisian vibe they're going for.
This place was created by former stylist and Calypso founder Christiane Celle, who clearly has a talent for finding exceptional products.
It's the main store you'll find in Little Paris, and it's absolutely gorgeous. From beautiful artwork and books, to amazing furniture and craft pieces.
Clic is the kind of store where you want to touch everything – because they have so many beautiful textures and fabrics and shapes to explore.
Oh, and the staff are so friendly and welcoming! They're always happy to answer any questions you've got!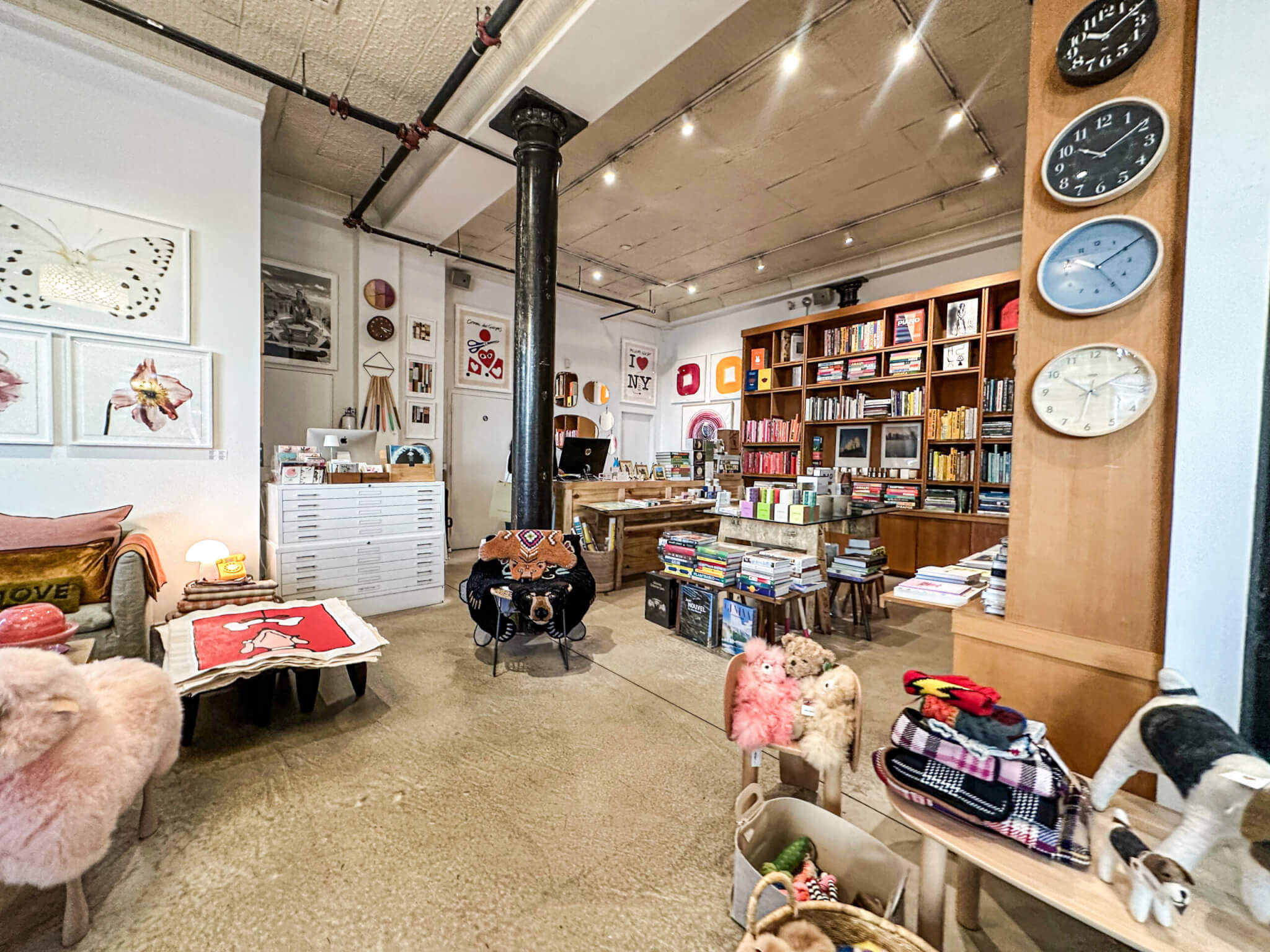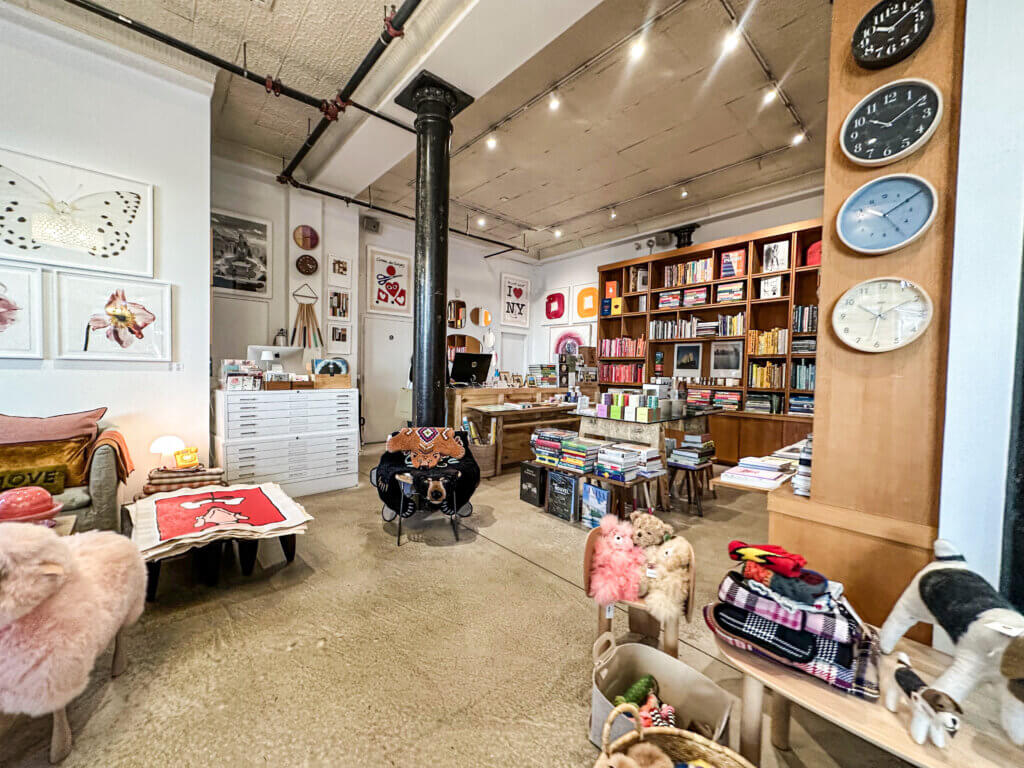 ---
Paper Source
Now, I know Paper Source is quite a big brand, but the Paper Source in Little Paris feels like a little Parisian stationary boutique!
The store is actually linked to the Maman cafe and rode terrace, and the way the stores are linked together, makes this whole experience feel connected and community-driven, which I love the idea of.
Paper Source is adorable anyway (it's one of the favorite shops in the USA) and I love visiting it when I'm in Little Paris because it feels a little more intimate and boutique-esque.
So if you need any gifts for friends or family, this is absolutely the place to buy them from!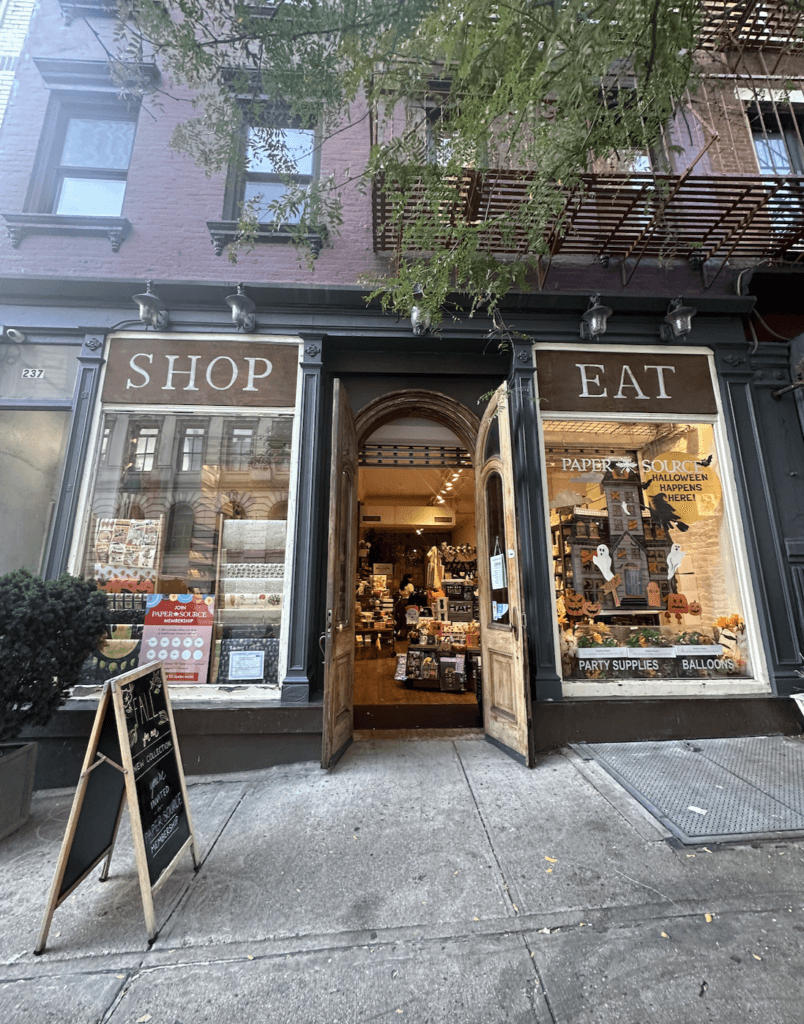 ---
La Compagnie des Vins Surnaturels
La Compagnie des Vins Surnaturels is another wonderful French-inspired locations located in Little Paris, NYC.
La Compagnie des Vins Surnaturels is a wine bar at it's heart, serving up (you guessed it) French wines, and French / Mediterranean-inspired small plates.
The vibe inside is rustic-french, it's both cozy and modern, which is a style I absolutely love. Think clean finishes, with comfy chairs and beautiful textures. So, obviously, it feels really in keeping to the Little Paris neighborhood.
The food menu is terrific, I think my current favorites would have to be the French Onion Grilled Cheese (yum!) and the cheese and meat boards too.
Tip: This is the kind of place that is ideal for a birthday celebration, as they can cater for bigger groups (with nice big tables) and a lot of the food is perfect for sharing sociably.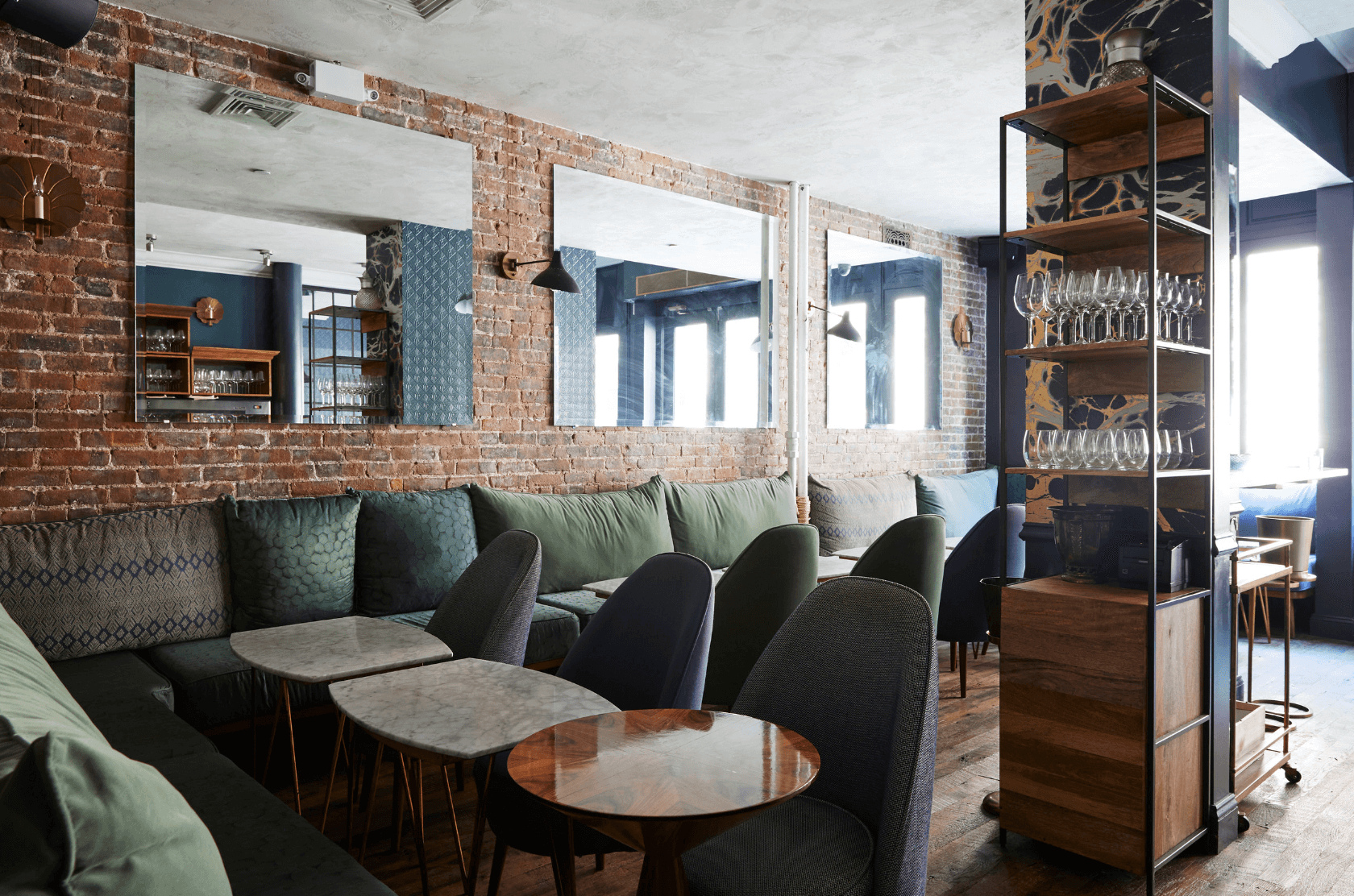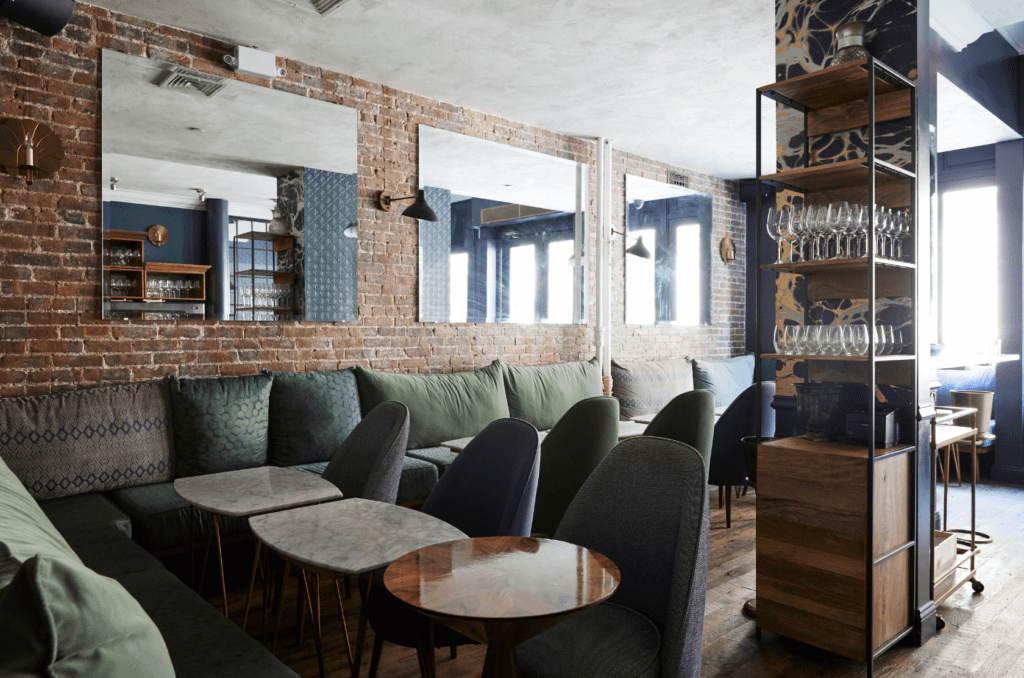 ---
Coucou French Classes
If you're venturing into Little Paris in NYC and hoping to learn a little bit of French along the way… then checking out the Coucou French School is a must!
As for as language classes go, this place is one of the most fun, energetic and unique language classes in the city!
Oh, and another reason to love it? It's 100% women owned too! Yay!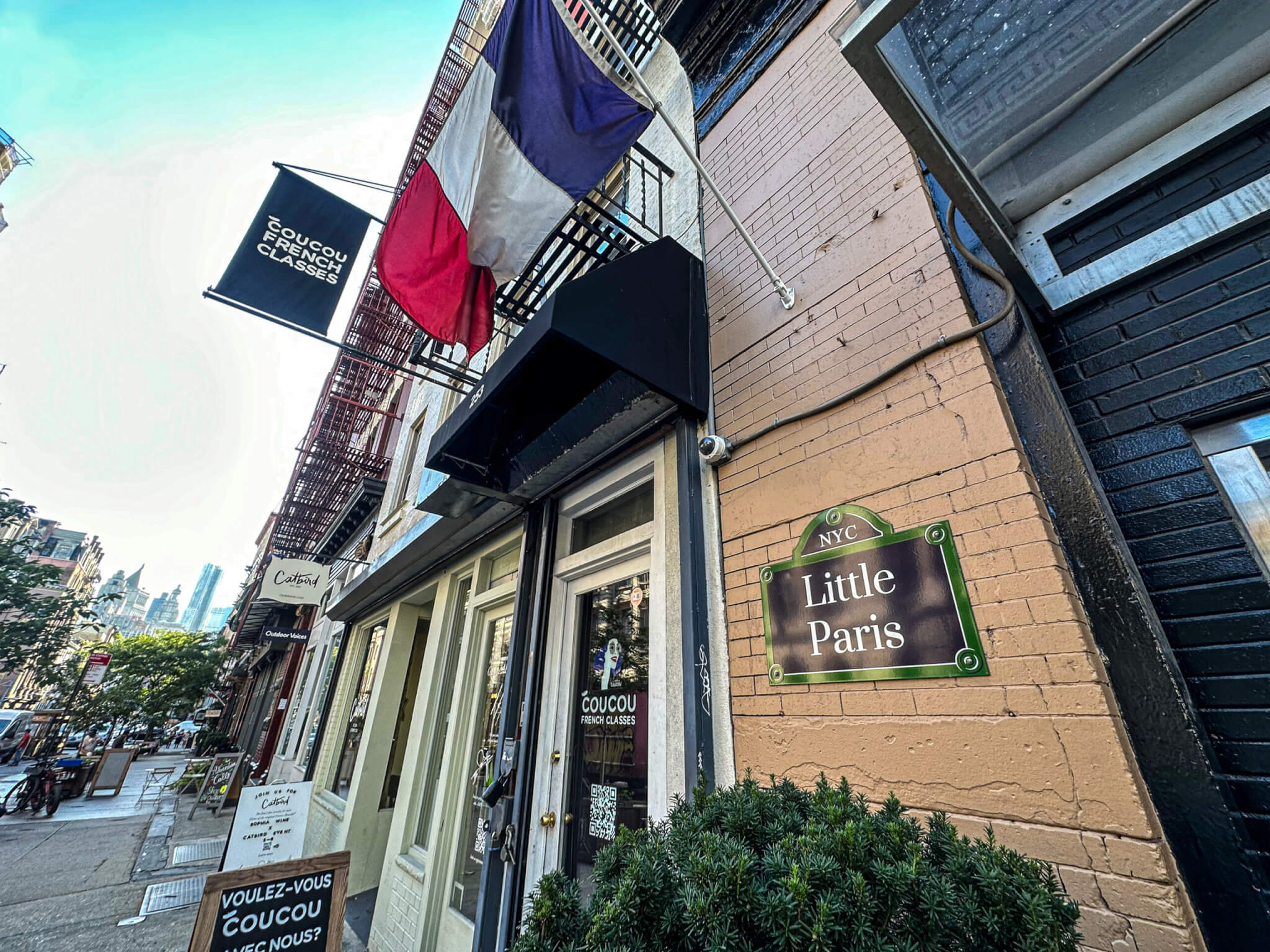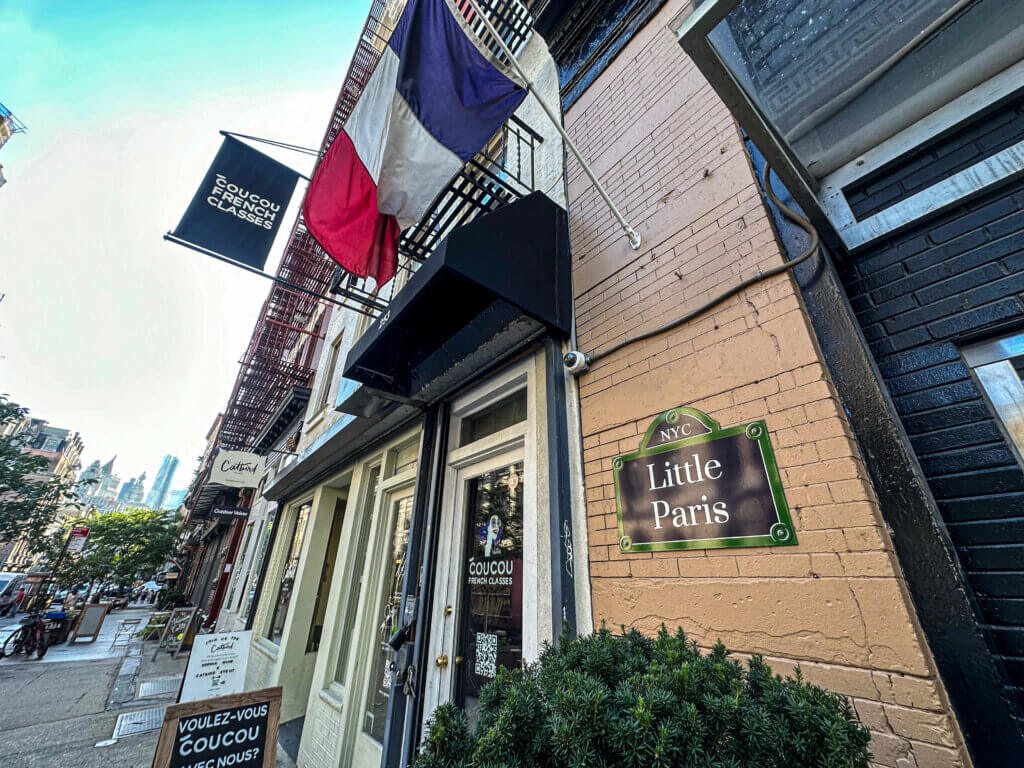 ---
A few other places to check out nearby…
Whilst this is about all you'll find in the tiny Little Paris neighborhood, there are some very famous French brands located a short walk away!
I've listed some of these below, so you can extend your visit to Little Paris to include some more shopping!
---
Diptyque: A famous place for candles and beautiful fragrances, this French brand is a must-visit if you're in the area. It's a little expensive, but they're products are beautifully crafted and worth the splurge.
---
Le Labo: Another beautiful fragrance specialist, this time providing gorgeous perfumes and scents for the body. Le Labo have an array of different scents, which you can try and sample in store. It's a beautiful place to visit!
---
ba&sh: And lastly, it's the French designer clothing brand, ba&sh. This stylish, minimalistic brand have the most gorgeous modern French clothing, perfect if you want to channel your inner Parisian goddess.
Address: 257 Elizabeth St, New York, NY 10012, United States
Website: https://ba-sh.com/
Walking time from Little Paris: 10 minutes
---
I hope that's given you plenty of idea for when you visit Little Paris in NYC!
These are all places I have visited myself and recommend, which I hope you'll find really valuable and helpful!
If you've got any questions about this beautiful mini neighborhood in NYC, just let me know!