Are you planning a weekend getaway at De Vere Tortworth Court? If so – this blog post might be helpful!
---
It looks like we'll only being on UK breaks during 2020, as neither of us is keen to fly anywhere for a while… So we're been planning some cute UK weekend getaways that we can enjoy together.
This weekend we spent 2 nights at De Vere Tortworth Court, so I wanted to write about the hotel, the general experience and the things we did during our time there.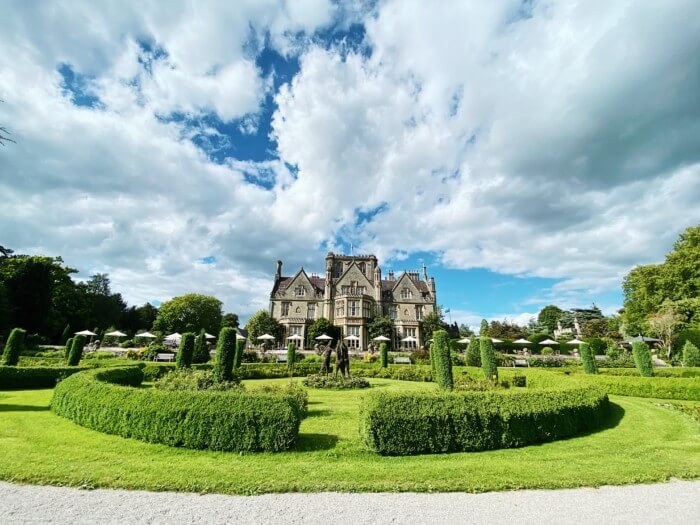 ---
First impressions of De Vere Tortworth Court
My husband picked the hotel (he kept it a surprise, which was lovely!) and he chose a gorgeous manor house about a 20 minute drive from Bristol city centre. This hotel feels like the perfect countryside getaway, it's in the middle of stunning UK countryside, rolling hills and farmland.
It was also a great location because it was within driving distance of several lovely places in the UK (like the Cotswolds and Bath) so we could pop in and out of those places too. I always worry when visiting UK manor house hotels that there won't be much to do in the daytime, but this wasn't really a worry here! On day one we went into Bristol (a 20 minute drive) and on day two we went into Bath (a 30 minute drive).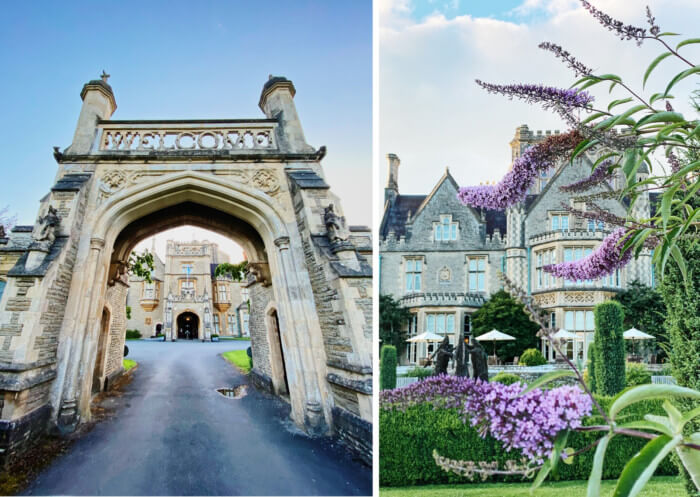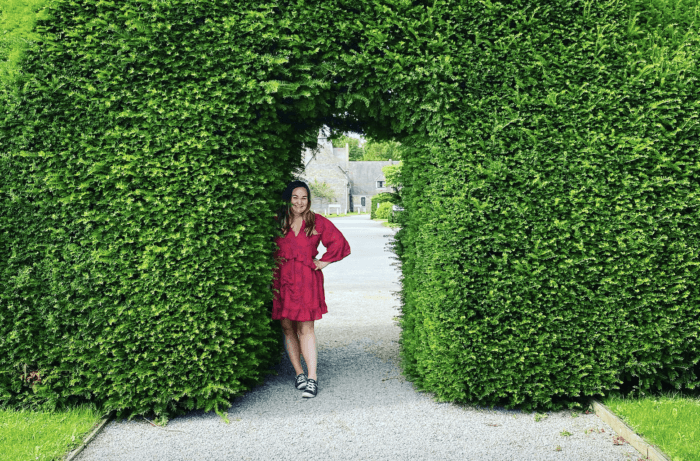 Tortworth Court Spa, is part of the De Vere group of hotels, I hadn't actually heard of them before arriving, but apparently they're known for their luxurious properties and hotels.
From the moment we pulled up, I was absolutely blown away – the grounds were lush and beautifully designed, and the manor house itself was just breath-taking.
Here's where the hotel is on a map, incase you were wondering…
---
What was it like visiting during the pandemic?
This next part of the At the time of visiting, it's July 2020. Hotels in the UK are allowed to open, but must have social distancing measures in place.
I was a little aprehensive of what to expect, but I was also really excited to visit somewhere new (for the first time in 6 months!). I know for many people, visiting a hotel so soon after lockdown finished is scary – and whilst we were aprehensive, we were also very sensible and careful the entire time (as were other guests and staff). One thing we noticed was how incredible respectful everyone is regards to social distancing and staying safe.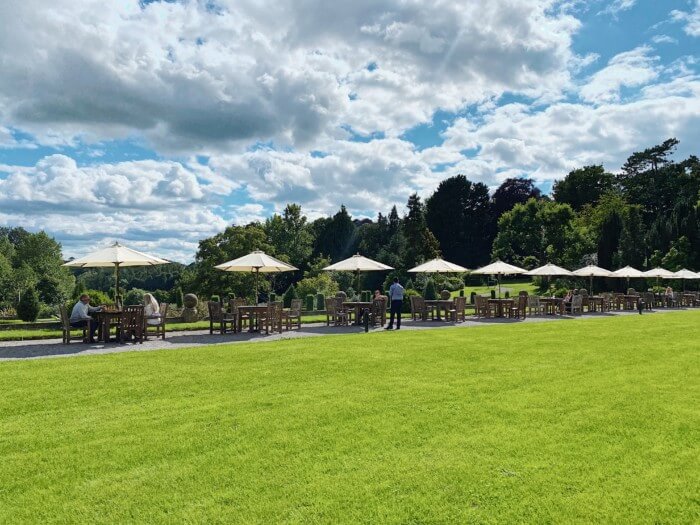 Tortworth Court had so many amazing measures in place to help with social distancing, it made me feel at ease immediately. Here are a few things they were doing to keep their guests and staff safe:
Drive-in check-in (you check-in whilst in your car, to avoid queues or waiting indoors).
Plastic screens and protective screens everywhere you would expect them to be.
Each guest received a 'safety bag' in their room containing a face mask, hand santiser, anti-bacterial wipes and socks.
One-way system through the hotel to avoid people having to cross paths unnecessarily.
Hand sanitising station throughout the hotel (I counted at least 5 in the lobby area, plus additional ones in the gardens, entrances, exits and restaurant).
Only the outdoor bar was open, and the tables were very spaced out with plenty of room.
All staff were wearing masks.
The restaurant capacity was reduced, so there was at least 2 meters between all tables.
All soft-furnishings (decorative cushions and throws) were removed from room to prevent cross-contamination between guests.
The breakfast buffet wasn't active, but breakfast was instead delivered in a little take-away hamper each morning directly to your room.
Any in-hotel charges were billed directly to the room, so no card machines or cash needed to exchanged.
I'm sure there was other stuff they were doing – but these were the things that stuck out to me. Knowing how much effort that the team had put into making everyone feel safe, made the entire so enjoyable and so relaxing.
---
What are the facilities like at Tortworth Court?
At the time we visited, because of the pandemic, certain facilities weren't open. For examples, the spa was still closed (due to government guidelines) so we didn't get to use the spa.
But we did get to use the beautiful outdoor bar service (3 days in a row, because it was so good!) and the restaurant. We also spent some lovely time exploring the grounds, and exploring the building itself (which has lots of fascinating history).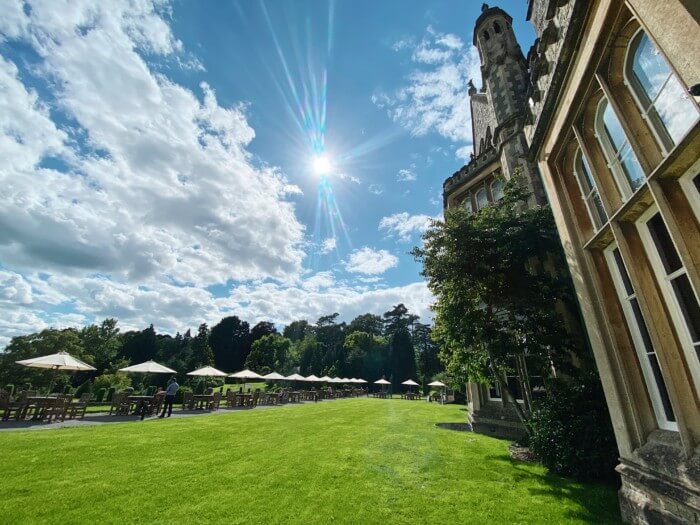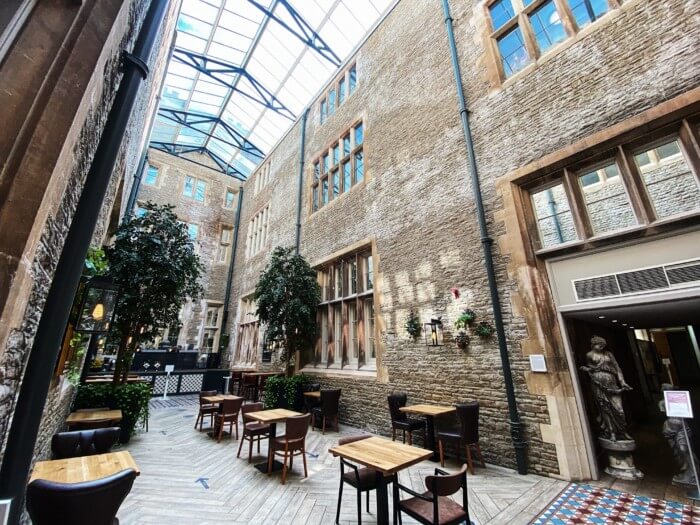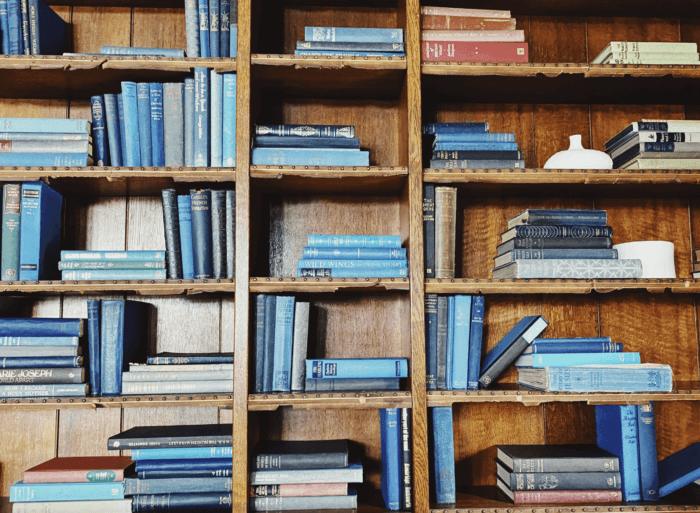 The hotel in general is huge, spacious, beautifully decorated – and feels really luxurious. I loved the unique spaces, the different rooms, and the amazing historical decor. If you're looking for that 'typical' manor house experience (like Downton Abbey) I feel like De Vere Tortworth Court would definitely tick your boxes.
---
What was the room like at De Vere Tortworth Court?
I fell in love with the room from the moment I stepped inside. It was STUNNING.
The perfect mix of traditional, but modern, clean but comforting.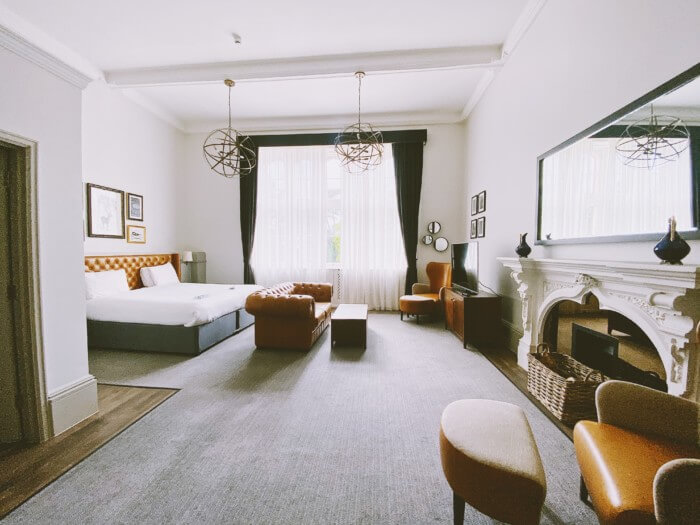 The leather accents (arm chairs, chesterfield sofa, and bedhead) really warmed the room tones up, and the general decor was simple but elegant – which gives the hotel a really luxurious feel.
As I mentioned, my husband actually booked the hotel as a surprise, so I didn't have much input on it, so when we arrived I was seeing everything for the first time. I assumed (because of how beautiful everything was) that the hotel must have been a five star hotel. Just the finishing touches and attention to detail felt like five star quality!
I was surprised to learn it's actually a four star, and I was gobsmacked when Pad told me how (surprisingly) affordable the prices were too. Honestly, for the quality of the rooms, the decor, the amenities and location – the hotel is incredible value.
Some things I loved about the room:
The super king-size bed! I love a big bed, and this one was huge!
The homely furnishings
The beautifully put-together bathroom with double sinks
The power over-head shower
The Dyson fan (there's no air conditioning as it's an old building, but the Dyson fan works wonders, so don't worry)
The beautiful high ceilings
Here's some photos of the room. Bear in mind, there is a lack of cushions and blankets (which they would normally include) because of the pandemic.
---
Useful links if you want to know more about the hotel
Hopefully this post has been useful, especially if you're looking to book a hotel stay soon! I really recommend the De Veres Tortworth Court, it was fantastic!