I recently visited the Aura Sky Pool in Dubai – Here are my thoughts, and whether I think it's worth the money.
The Aura Sky Pool in Dubai is a relatively new attraction in the city. But you've probably already come across it on Instagram or TikTok.
Because, honestly, this is one of the most hyped-up destinations in the UAE right now.
A sky-high infinity pool, with commanding views of the Dubai Marina skyline and the iconic Dubai Palm too.
Honestly, I was sucked in by the photos. This place looked like heaven, like the perfect hideaway from the chaos of the city below. So I booked for my husband and I to spend a few hours there this summer.
Disclosure: I pay for all my experiences myself. Reviews are never sponsored, or gifted. I am able to remain completely impartial, and able to be completely honest with my feedback.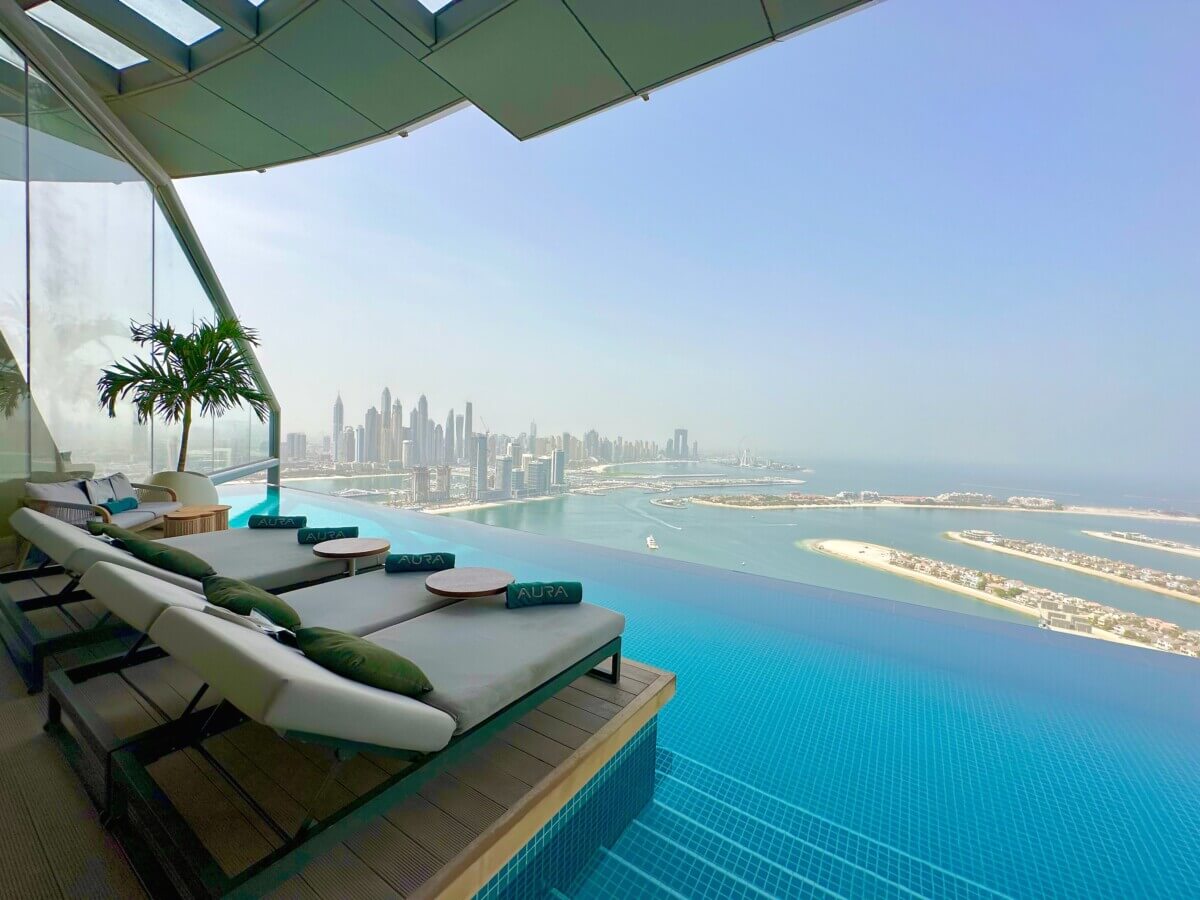 In this review, I'll talk about the positives, but also the negatives, and whether I think the experience is worth the money. I'll also suggest some alternatives (if you don't want to splurge quite so much).
The experience isn't cheap – so I think it's important to go into this with your eyes open, so you know exactly what you're getting.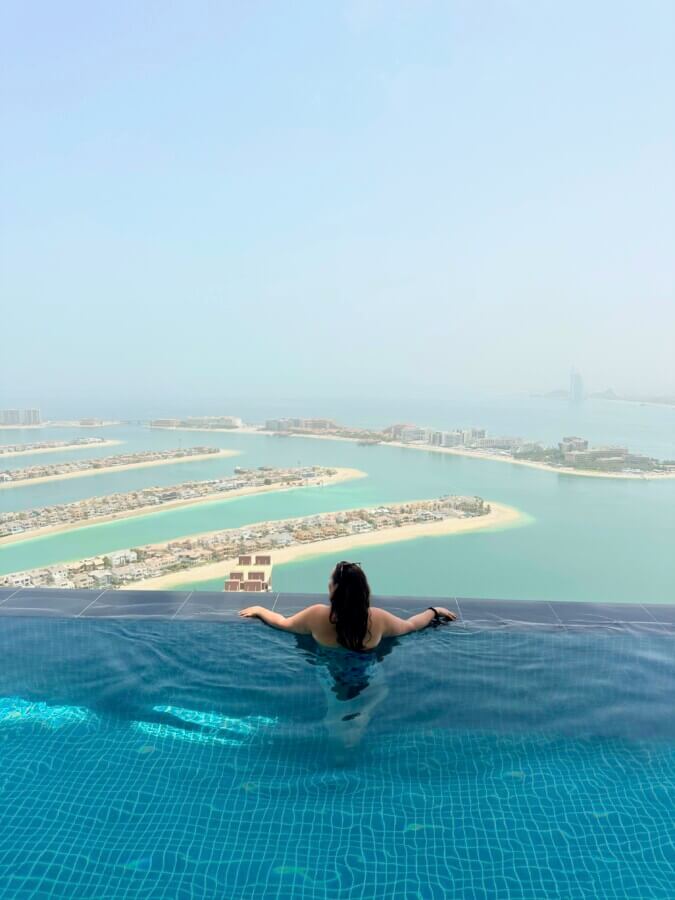 ---
Let's start with some helpful information about Aura Skypool
---
Ok, it's always helpful to know the basics before diving into a review, so here's what you need to know about the The Aura Sky Pool in Dubai before I get into the details.
Website: auraskypool.com
To enter, get dropped off at: The St. Regis Hotel, The Palm Tower, 50th floor, Palm Jumeirah, Dubai, UAE
Age Policy: Guests below 15 years old are not allowed access to AURA at any time of the day. After 7pm, guests below 21 years old are not allowed access to AURA.
Outlook: 360-degree views of Dubai
Opening hours: There are different experiences available, each with their own timings.
Rise with AURA – 6am-9am – Every Thursday and Sunday
Morning experience 10am-2pm – Every day
Afternoon experience 3pm-7pm – Every day
Evening Experience – 8pm-11pm – Every Tuesday and Friday
---
What package/seating is best?
When booking your time at The Aura Sky Pool in Dubai, you'll have to consider a few things. These include:
The time of day you want to visit
The type of bed / seating you want
The view of Dubai you want (remember the pool has 360 views)
The row you want to be on (the loungers have pool adjacent beds, and then rows that go further back away from the pool).
The price of your experience will vary depending on which combination of the following things you choose.
I believe for the cheapest combination, you'd want to choose one of these combinations:
3rd row sofa seating at sunrise / evening (palm view) @ 225AED
2rd row sofa seating at sunrise / evening (marina view) @ 225AED
2nd row lounger seating at sunrise or evening (city styling view) @ 250AED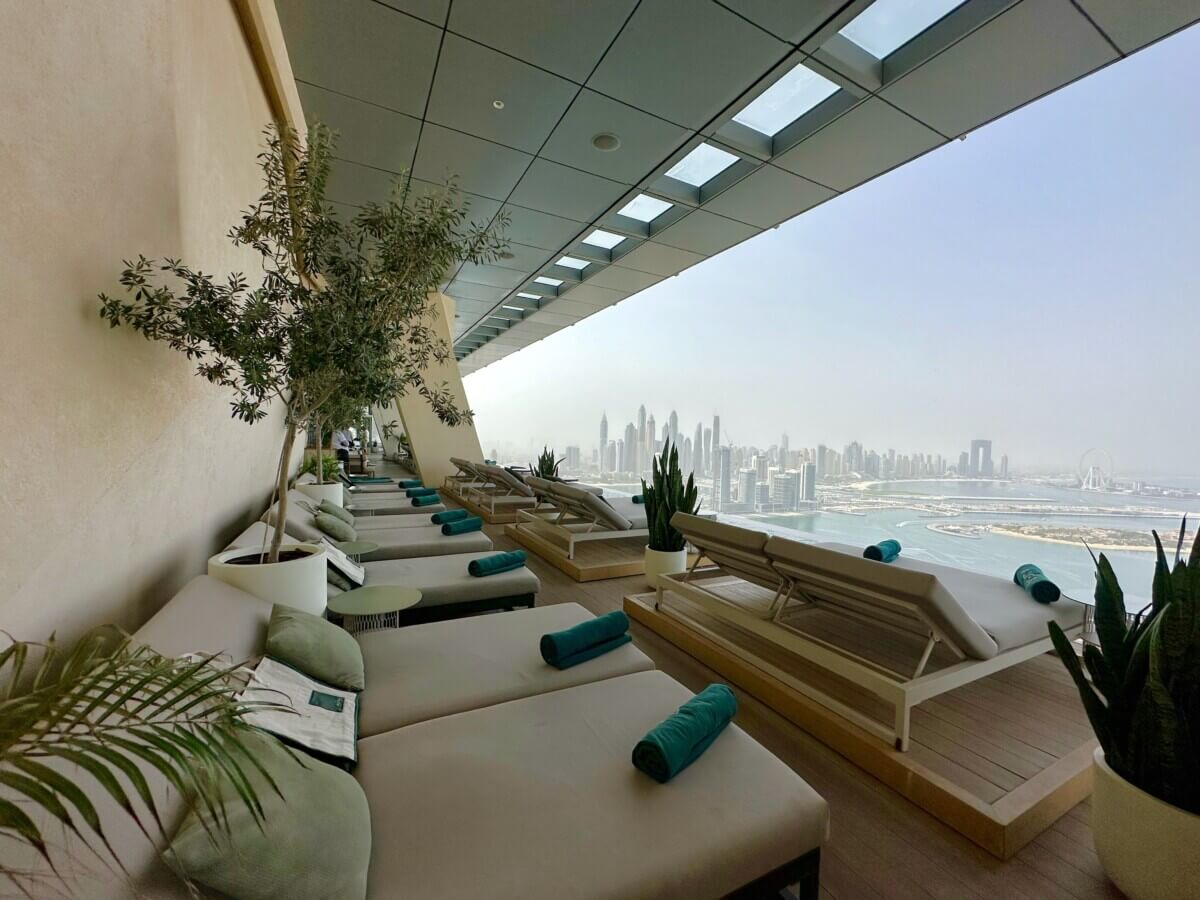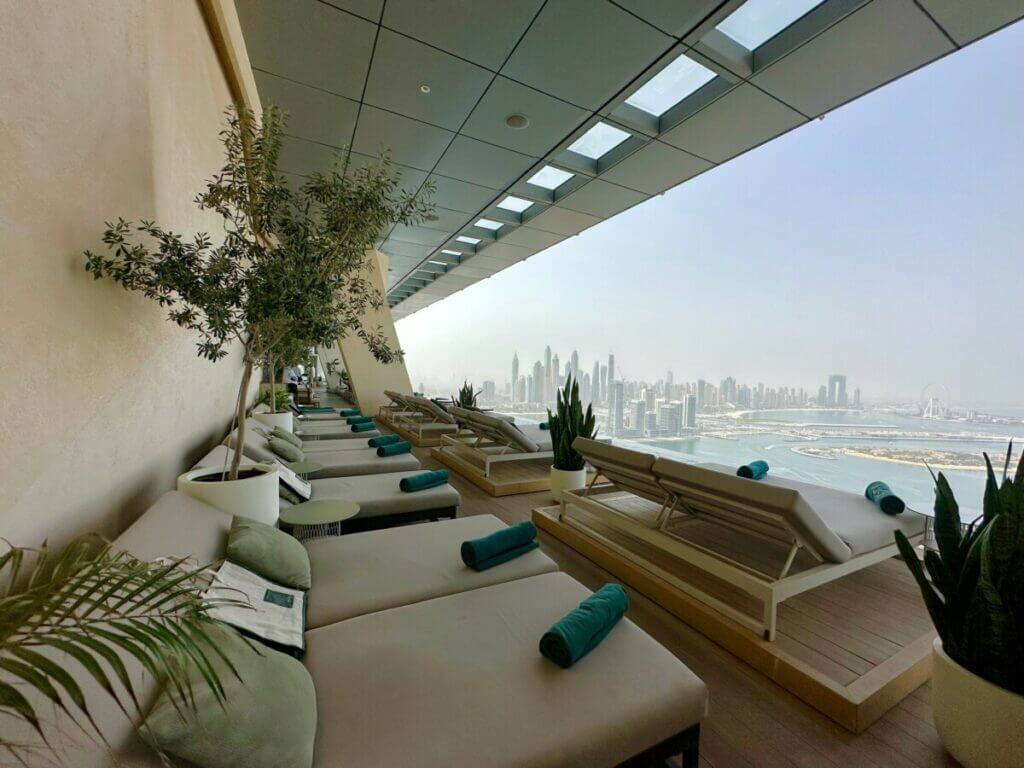 In the photo above you can what to expect from 2nd row seating.
Honestly, I wouldn't necessarily recommend these cheaper packages – as I felt the loungers and sofa were a bit cramped in, especially on the 2nd and 3rd rows.
However, if you're visiting for the views and to sit in the pool for the majority of your time – then the cheaper options may not be too bad.
---
Which side of the building is best?
The side of the building you choose to be based on will also have an impact on your experience.
In terms of which side of the building to opt for, here's my opinion on each side from when I visited:
Burj al Arab view: My favorite section of the pool. The views aren't quite as 'wow' as other areas, but it's much calmer, and quieter, less people in the pool overall, and it felt more private.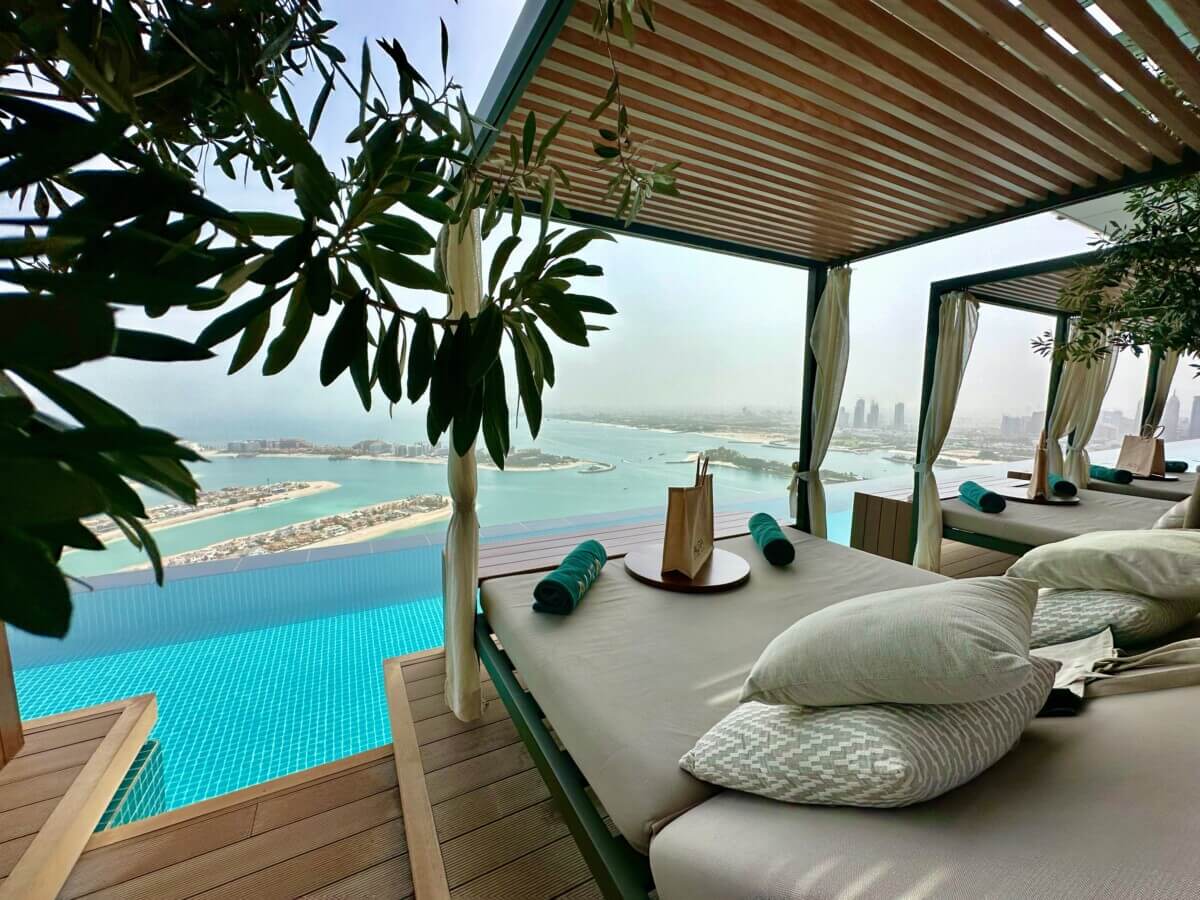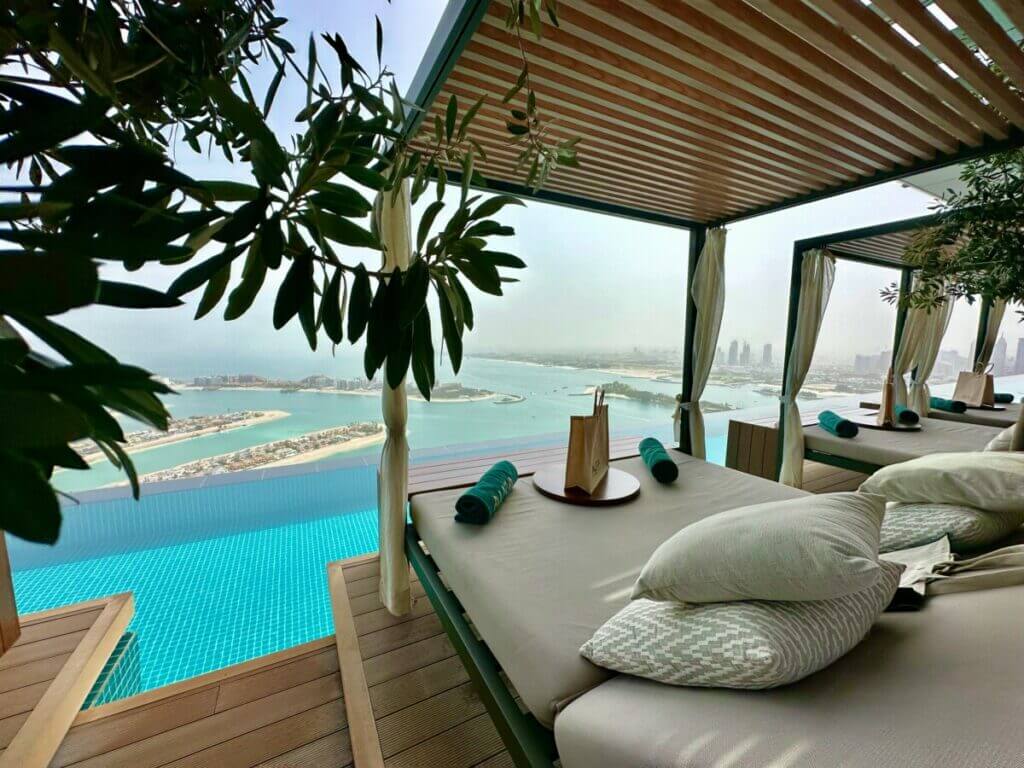 City Skyline View: My least favorite section of the pool. The views were great, but it felt very crowded and a bit dark. I didn't like how the beds were laid out here.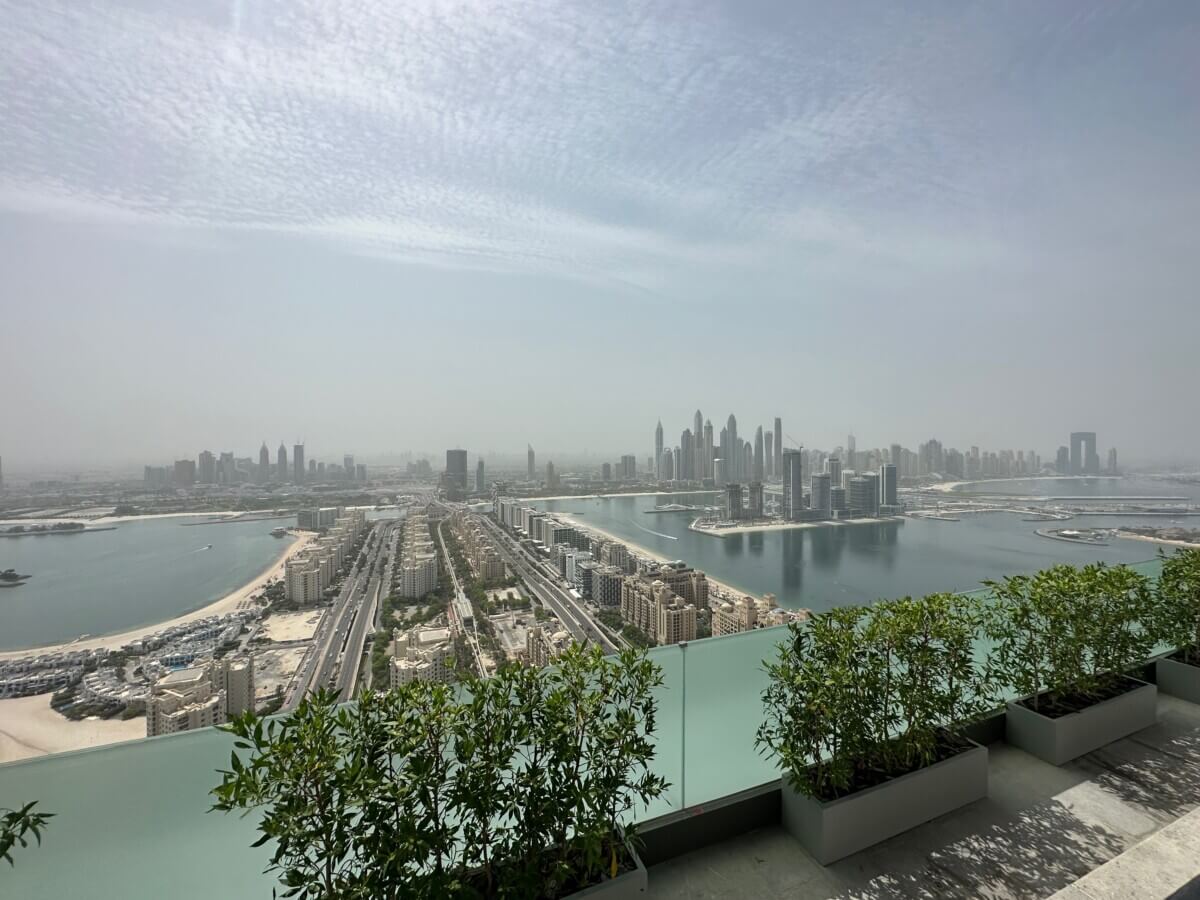 Marina & Ain Dubai view: Fantastic views from here (I think the best views). This was a busy area of the pool, but felt a little more spacious than above. This side of the pool also gets the sunshine for most of the morning and afternoon. And sunset will be visible from this side too.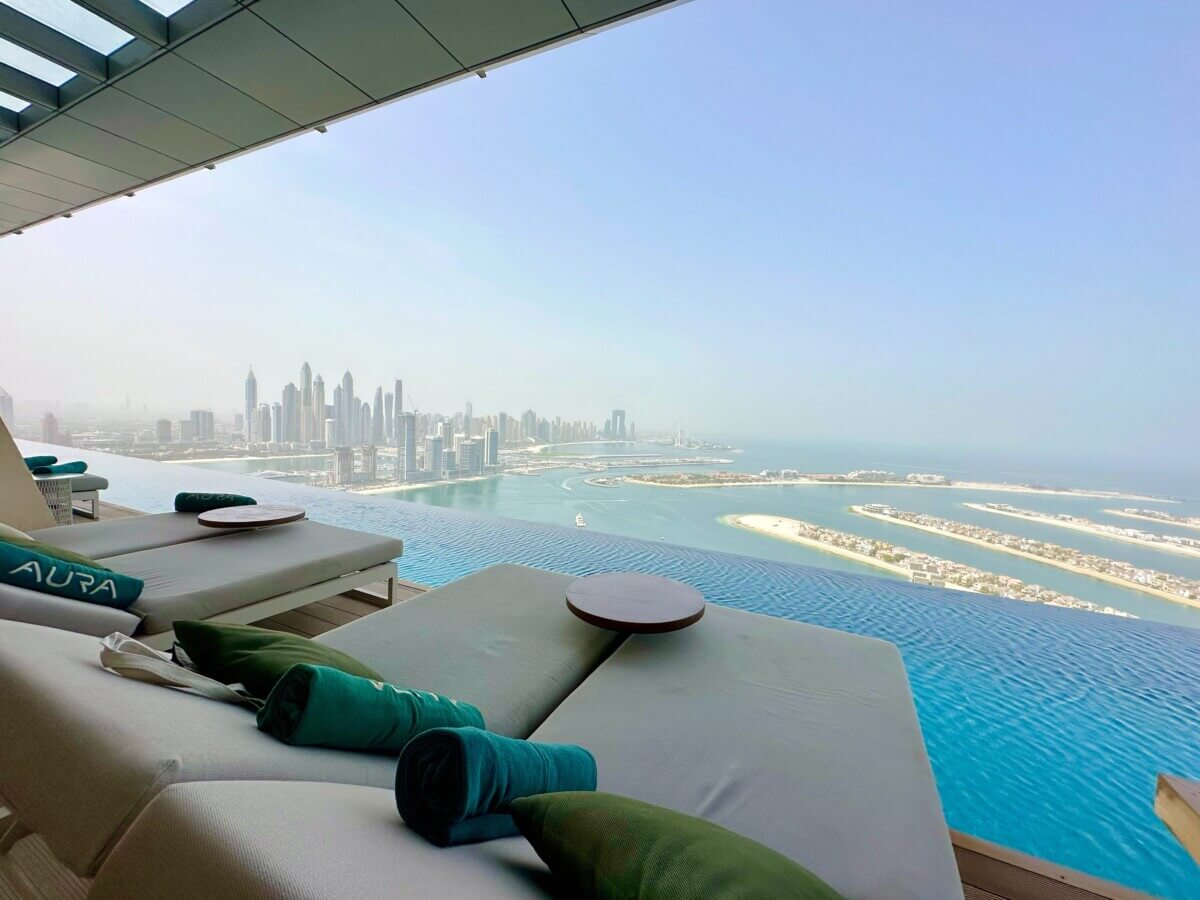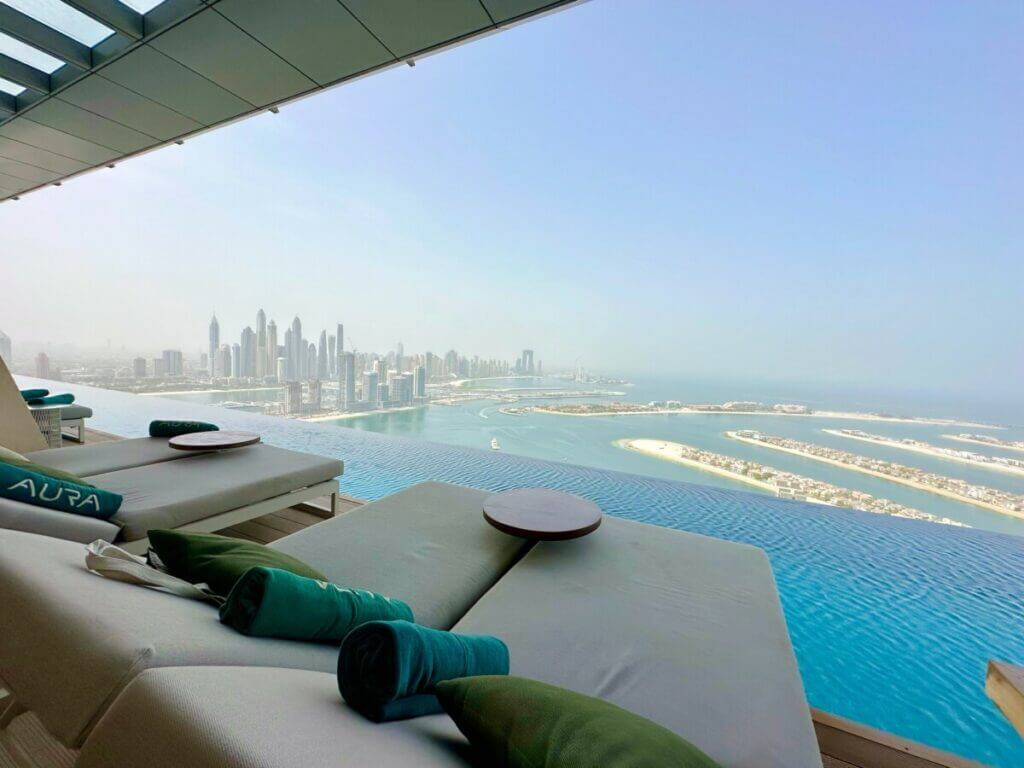 Palm view: Amazing views, but the pool area felt constantly busy in this area, lots of people wanted to stand here and take photos, etc. The seating area was also smaller (so it did feel slightly crowded at the back).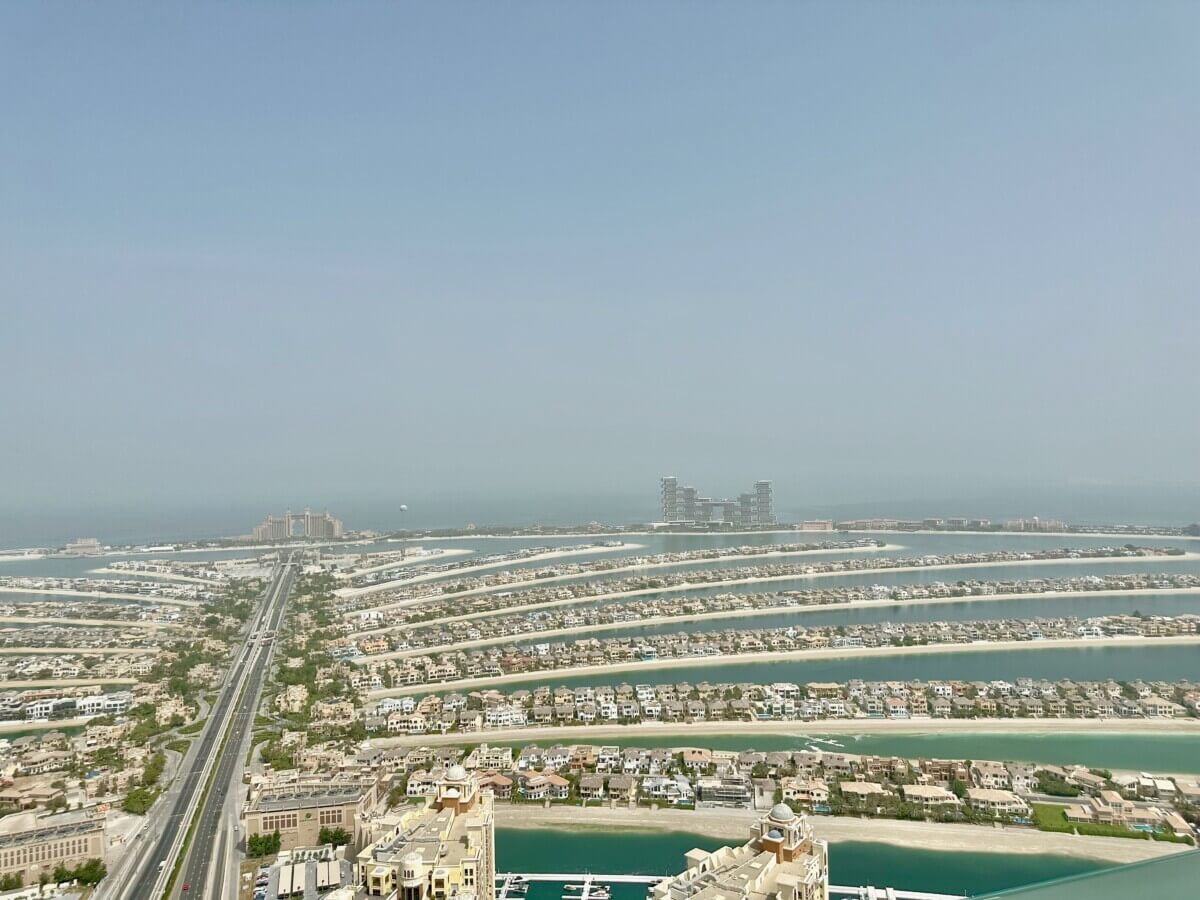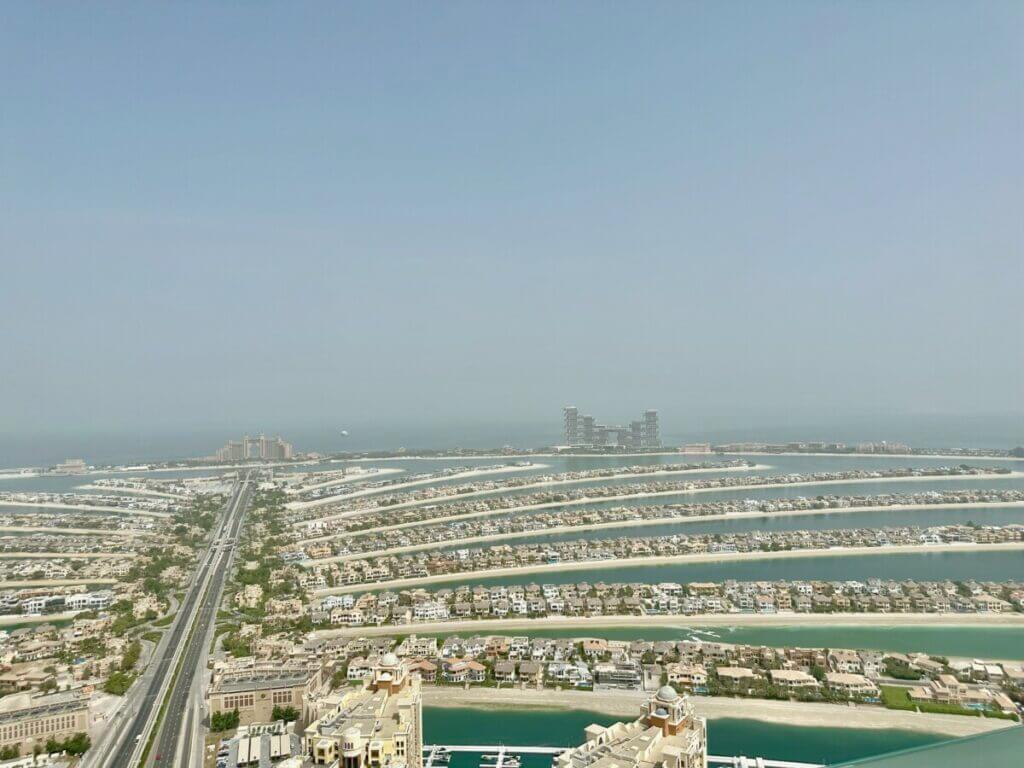 I've also included their floorplan below so you can kind of see what the layout of the building looks like, and how it's all laid out.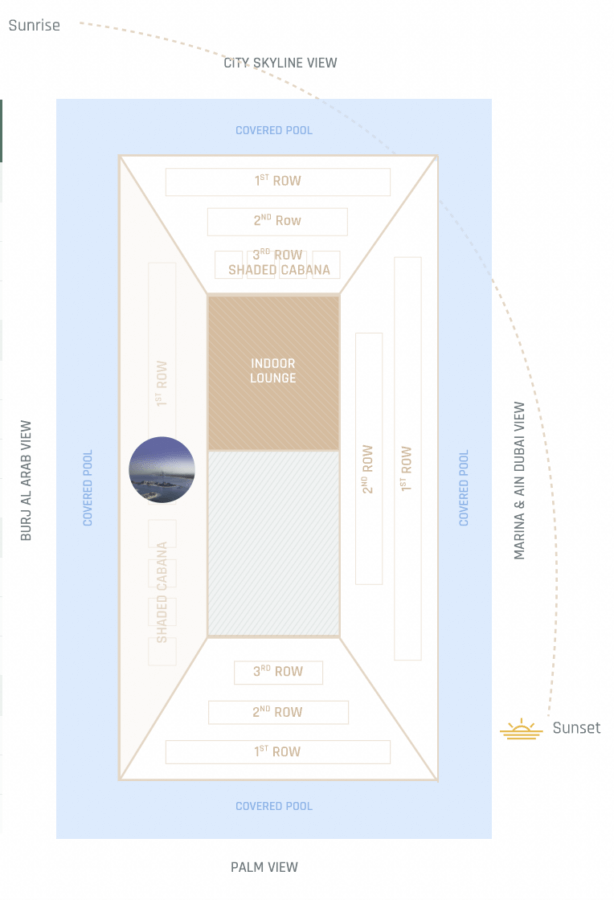 ---
Which seating or packages would I recommend?
If you're able to choose from the more expensive packages and seating, then I would recommend opting for cabana seating – as it gives you far more privacy and space.
When I visited, I had the 1st row cabana, with Burj al Arab view.
This is the seating that my husband and I paid for and experienced, and we found it to be super comfortable, and really luxurious.
There are curtains you can pull across on the cabana too, to ensure even more privacy from other guests.
Whilst the loungers in some parts of Aura Sky Pool felt cramped and chaotic, the cabanas on our side of the building (the Burj al Arab side) felt really calm, private and secluded in comparison.
Another advantage of the cabanas, was that we got dressing robes to use (which certainly came in handy).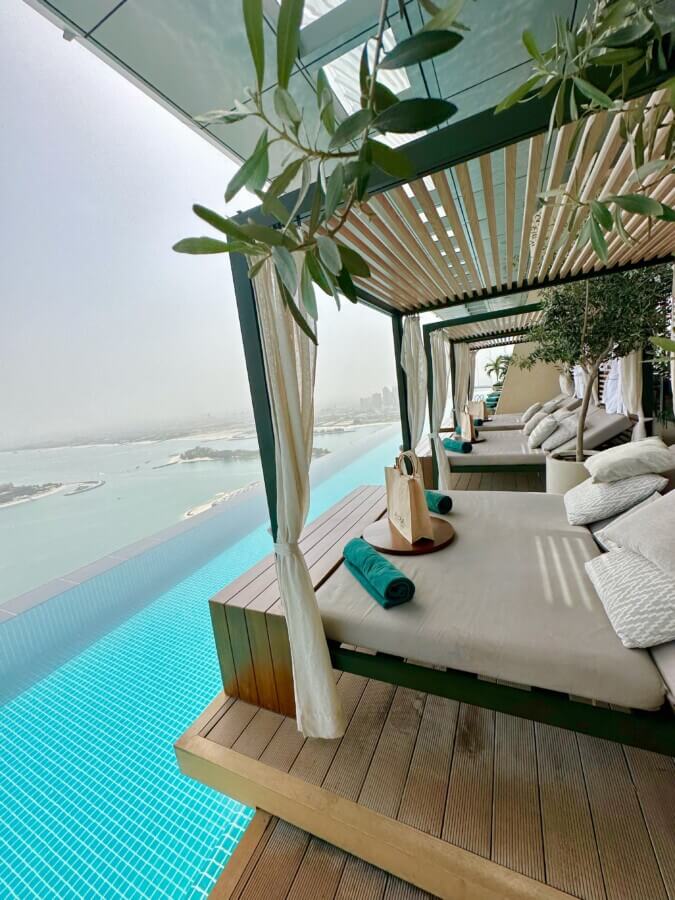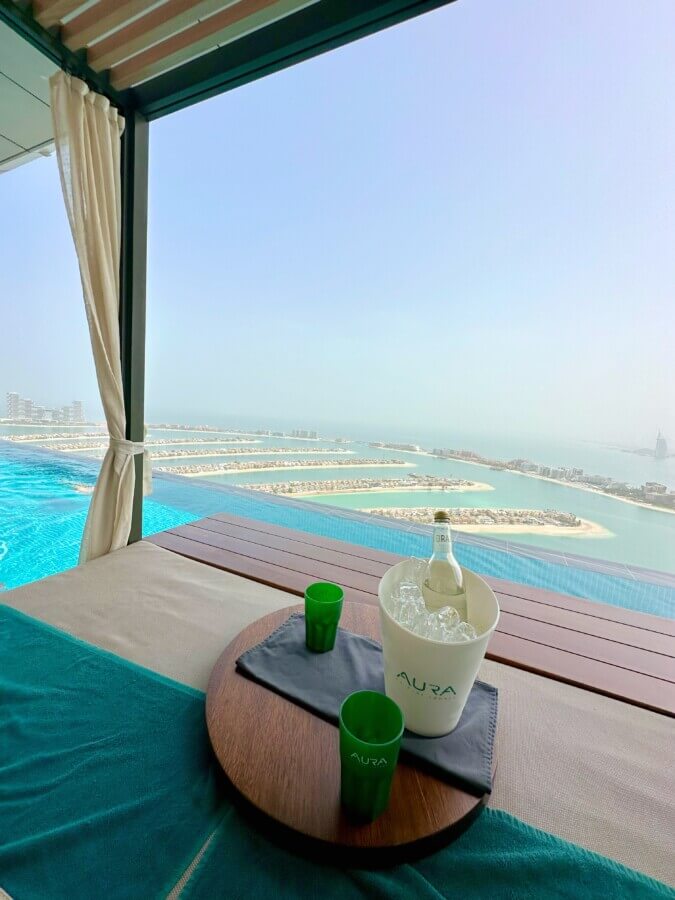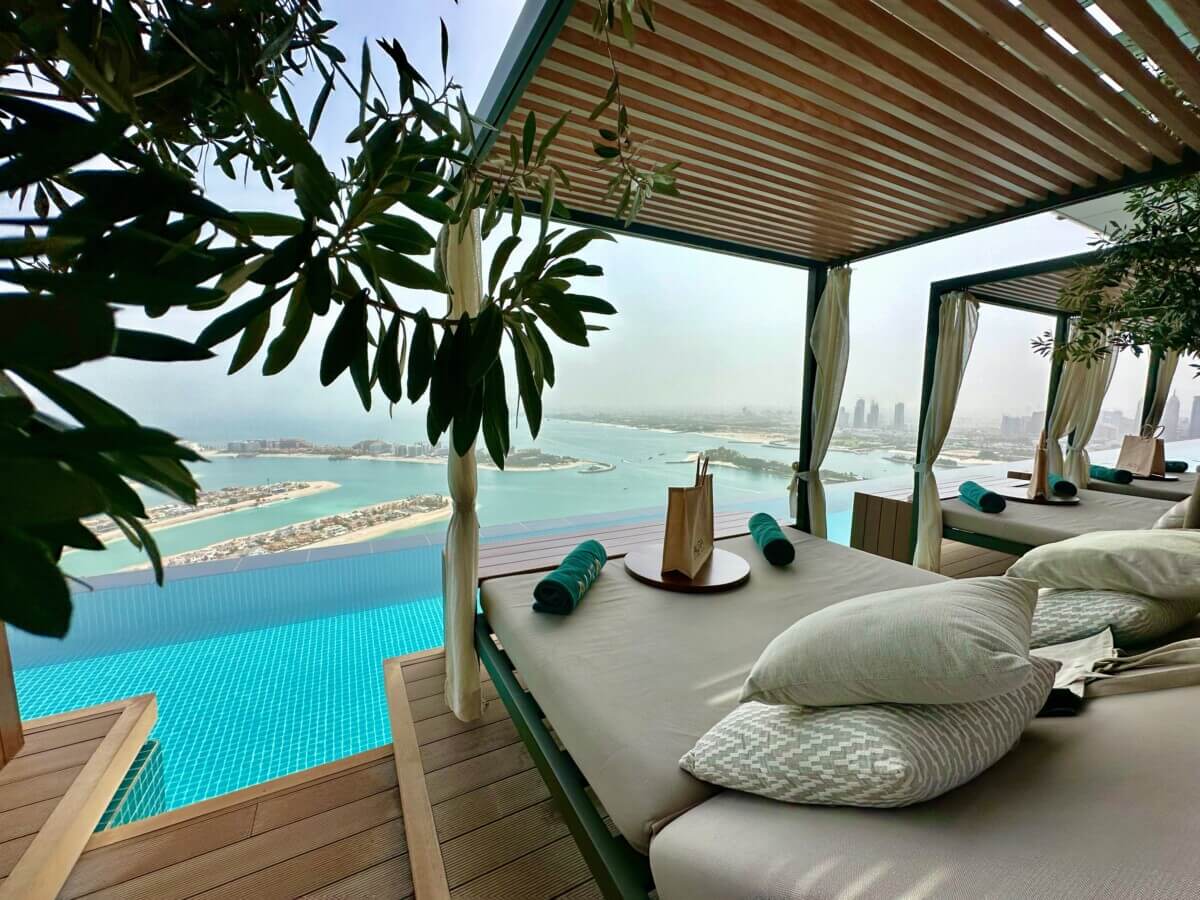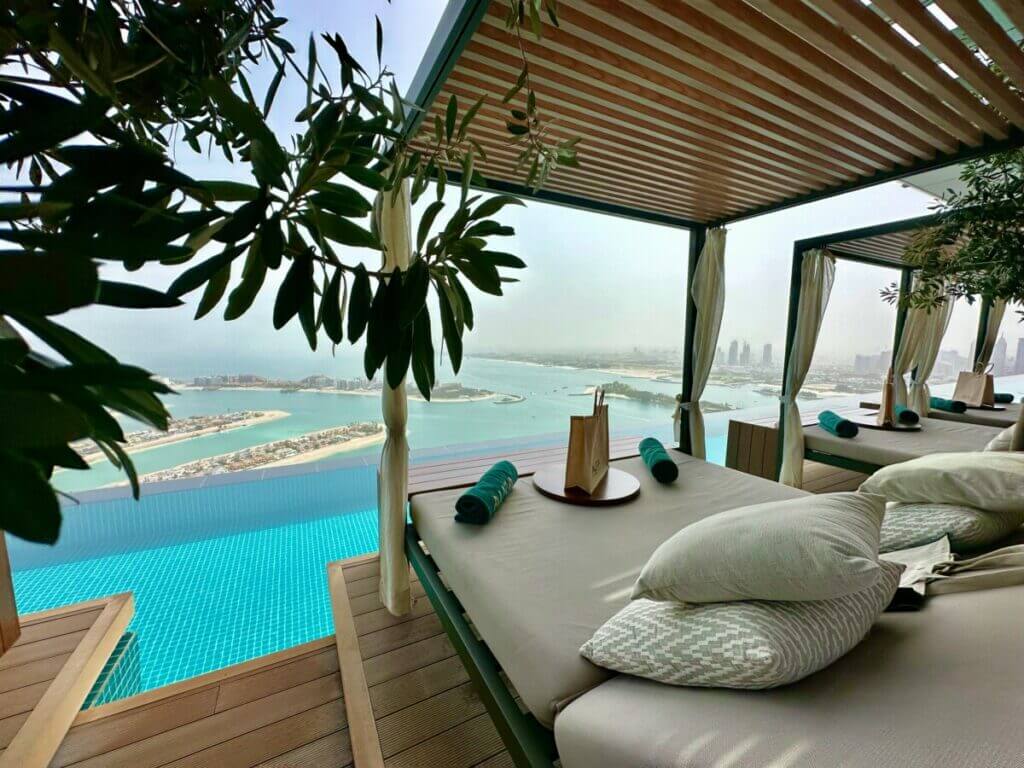 However, just as a warning, as good as our cabana seating was (right on the pool side) there were other cabanas that were located a few rows back, on the city skyline side of the building.
These cabanas felt super crowded to me – and I wouldn't recommend them at all. I've included a photo below.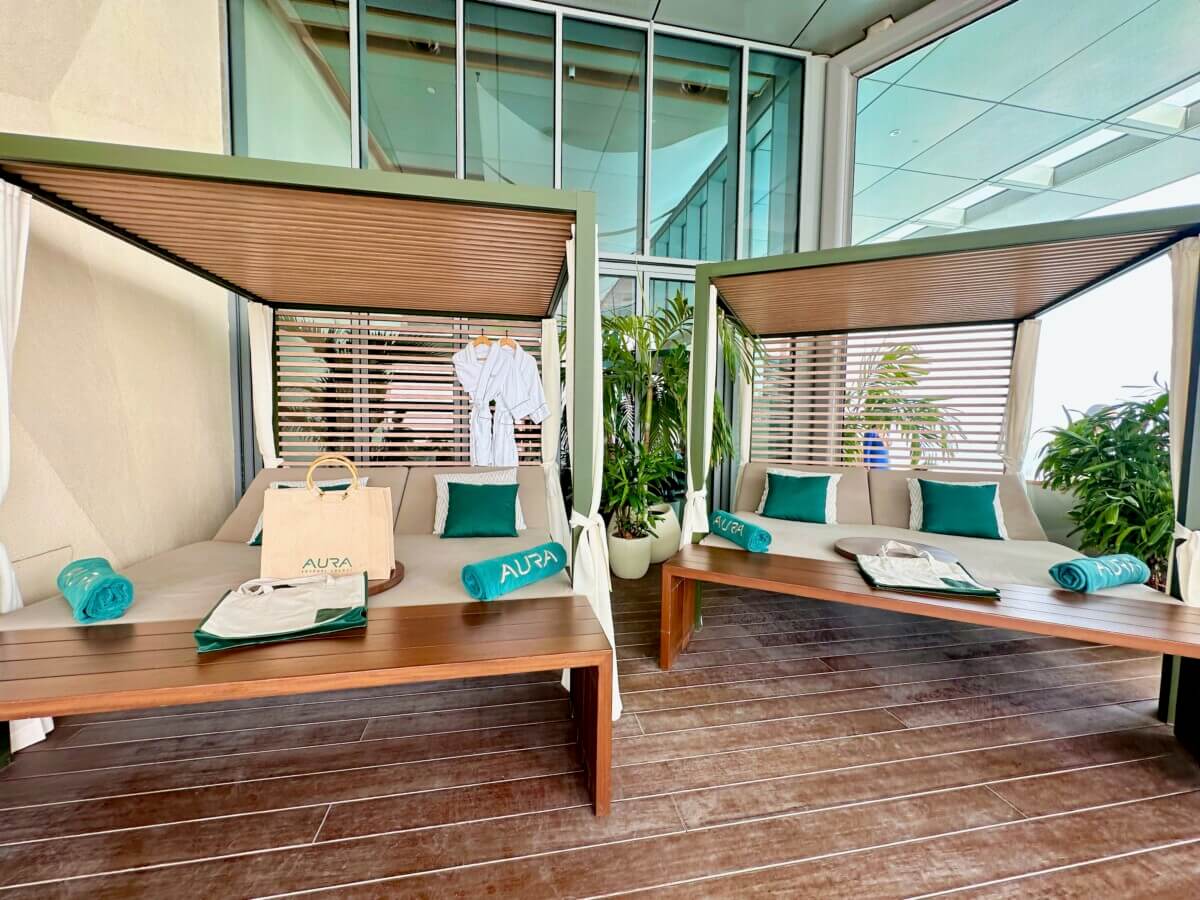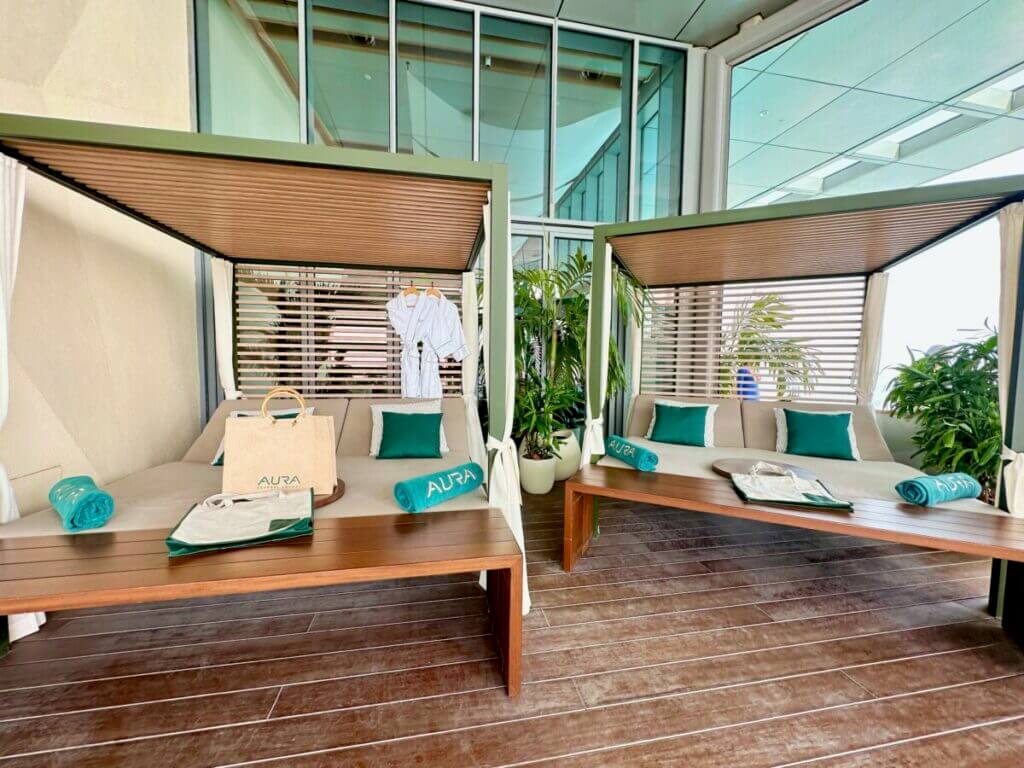 ---
Photos of the different seating options
As we were some of the first guests that entered in the morning session, I was lucky to be able to tour most of the pool area without guests in it.
This was just pure luck to be honest – we arrived a little early, so we were first in the queue.
Anyway – here are some photos of the other seating options, and what you can expect.
Photo 1) Sofa seating. The sofas looked pretty comfortable actually. And I liked that you had tables too, for eating at.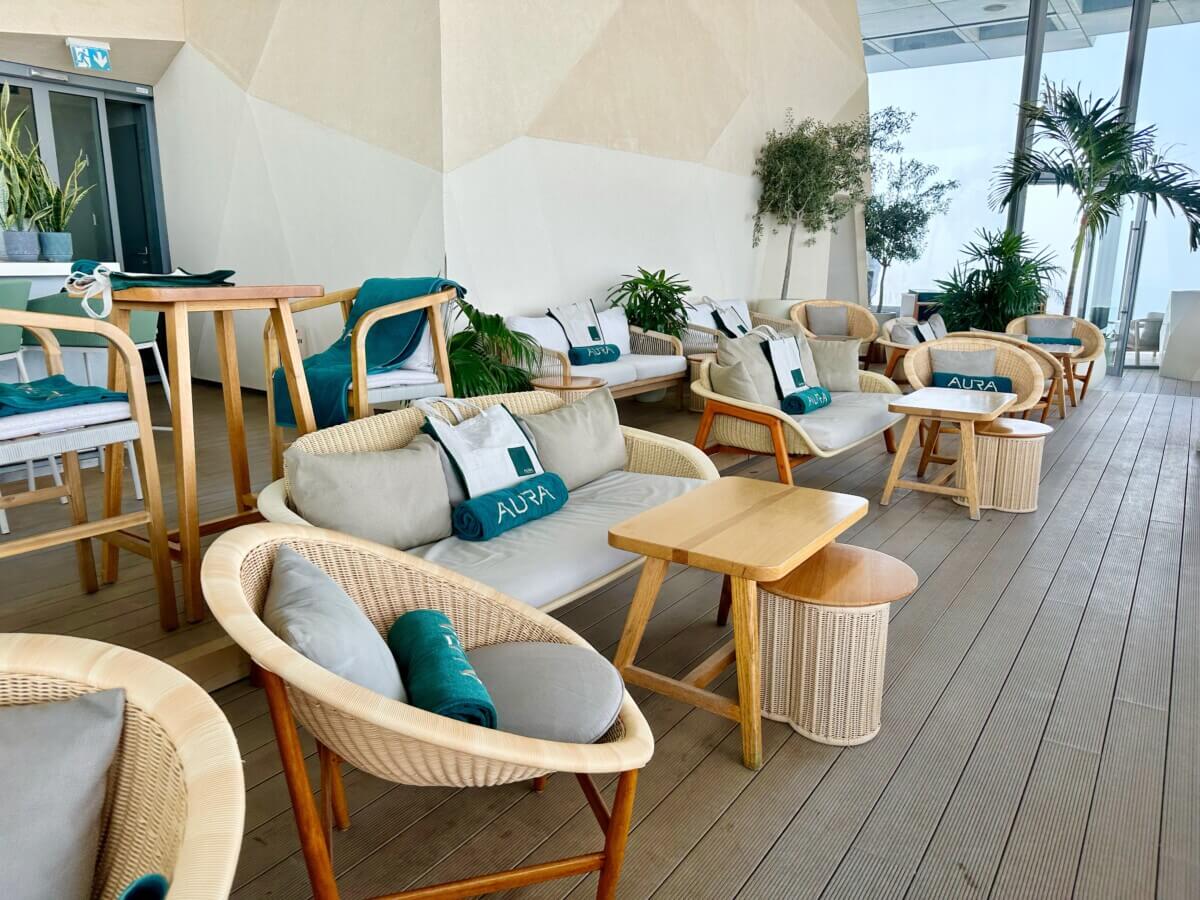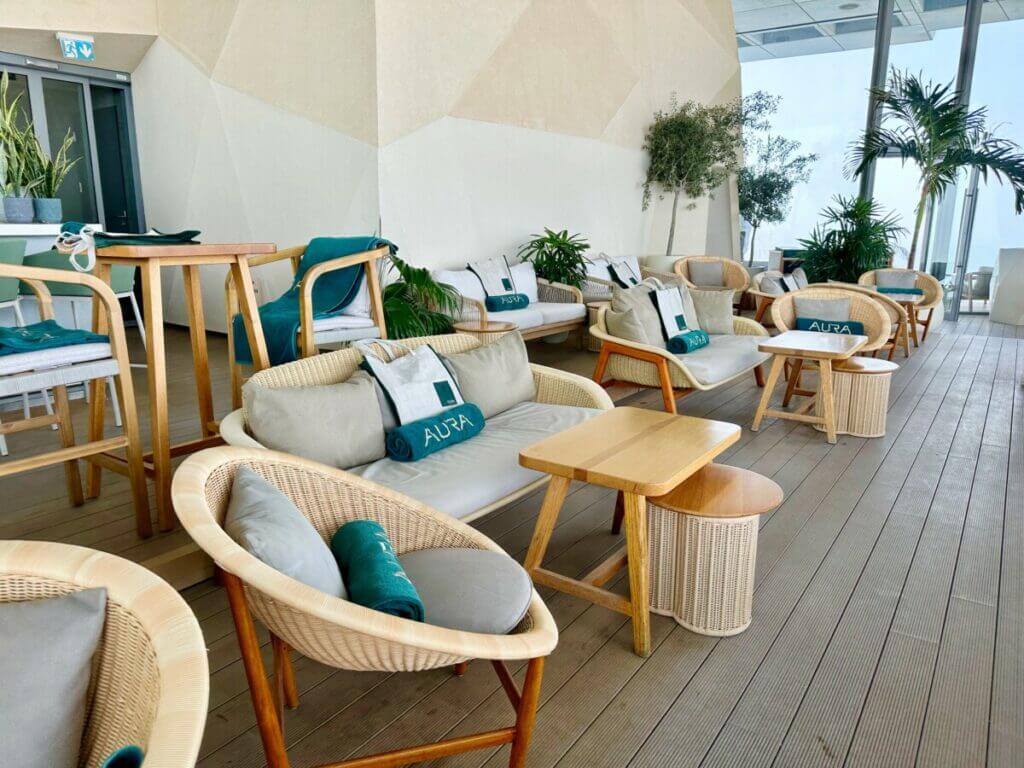 Photo 2) Indoor seating. I didn't see anyone using the indoor seating during my session, but it is an option you can choose online.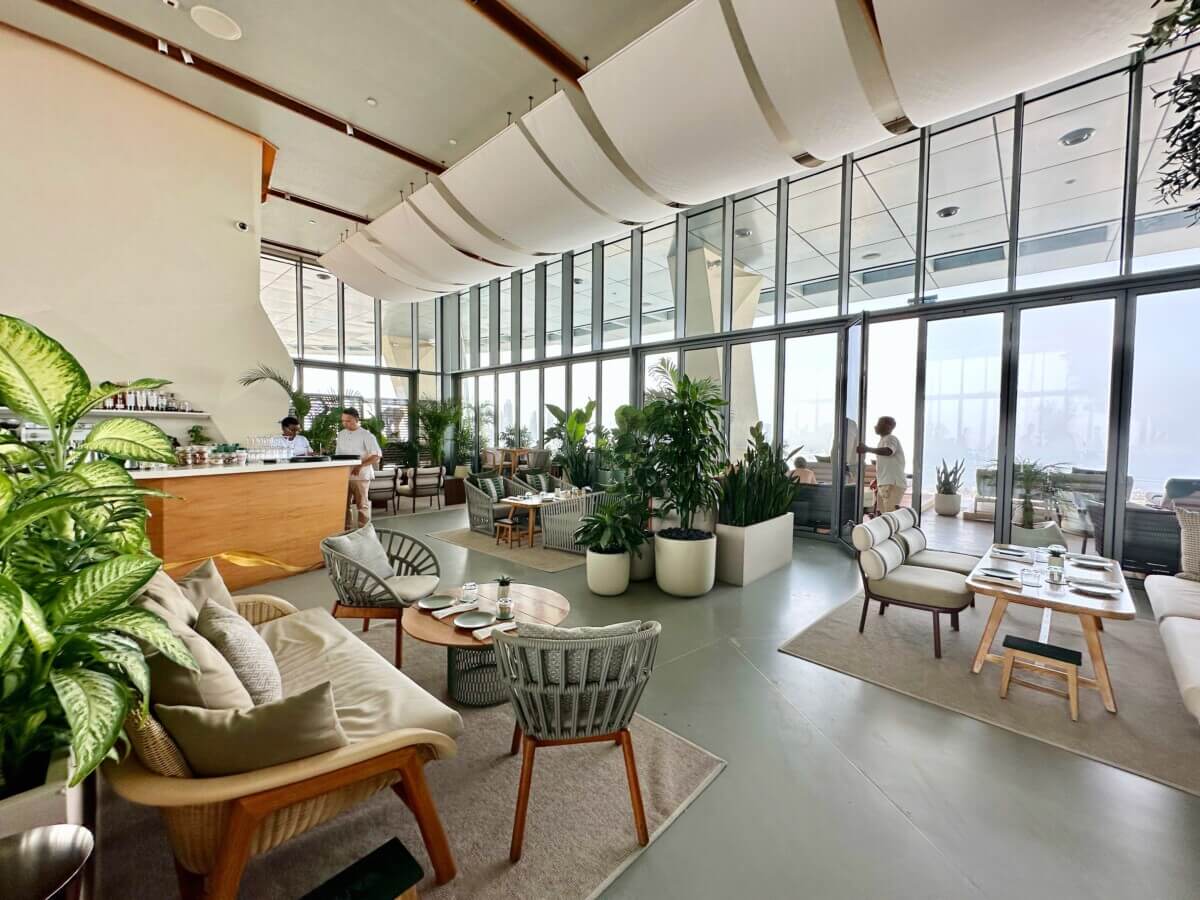 Photo 3) Second row loungers. Not a bad option, but it wouldn't be my first choice. It just felt a little bit crowded.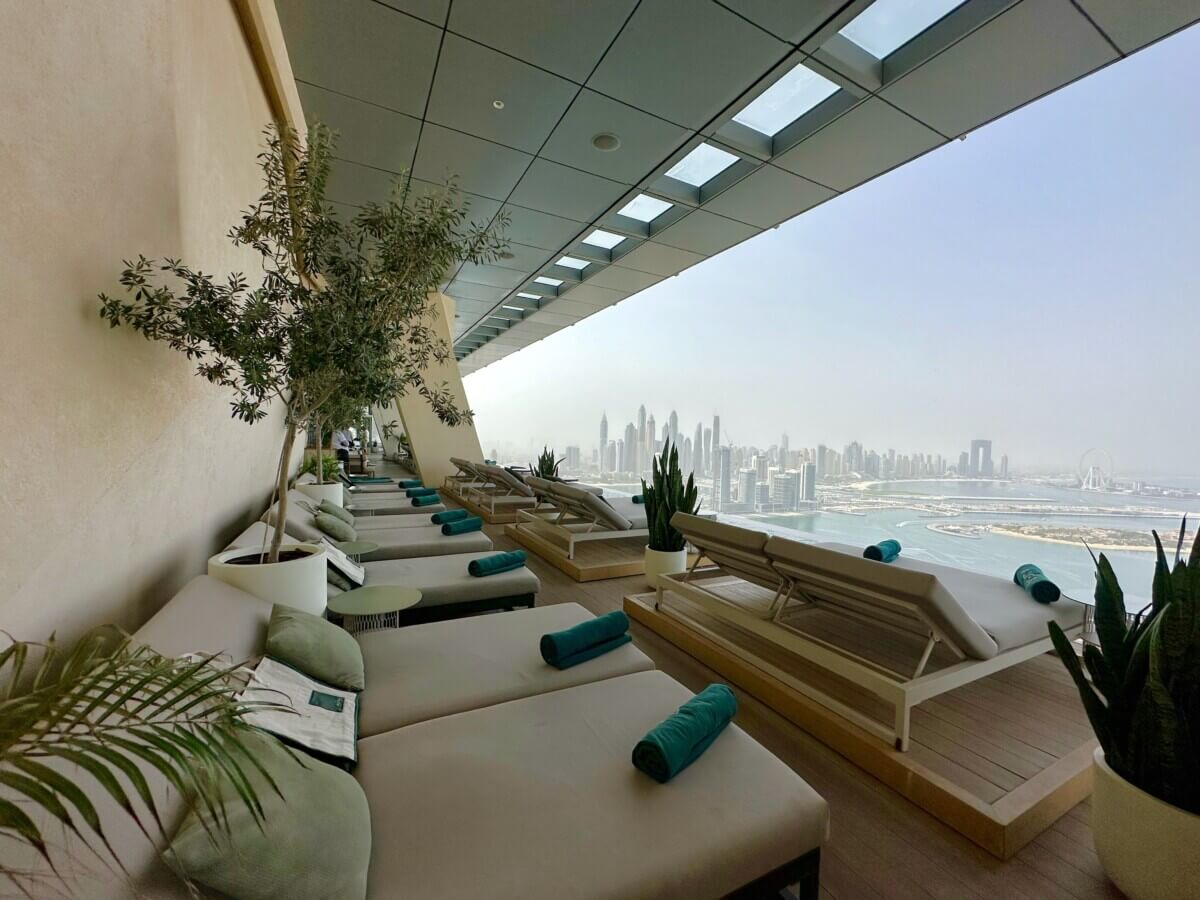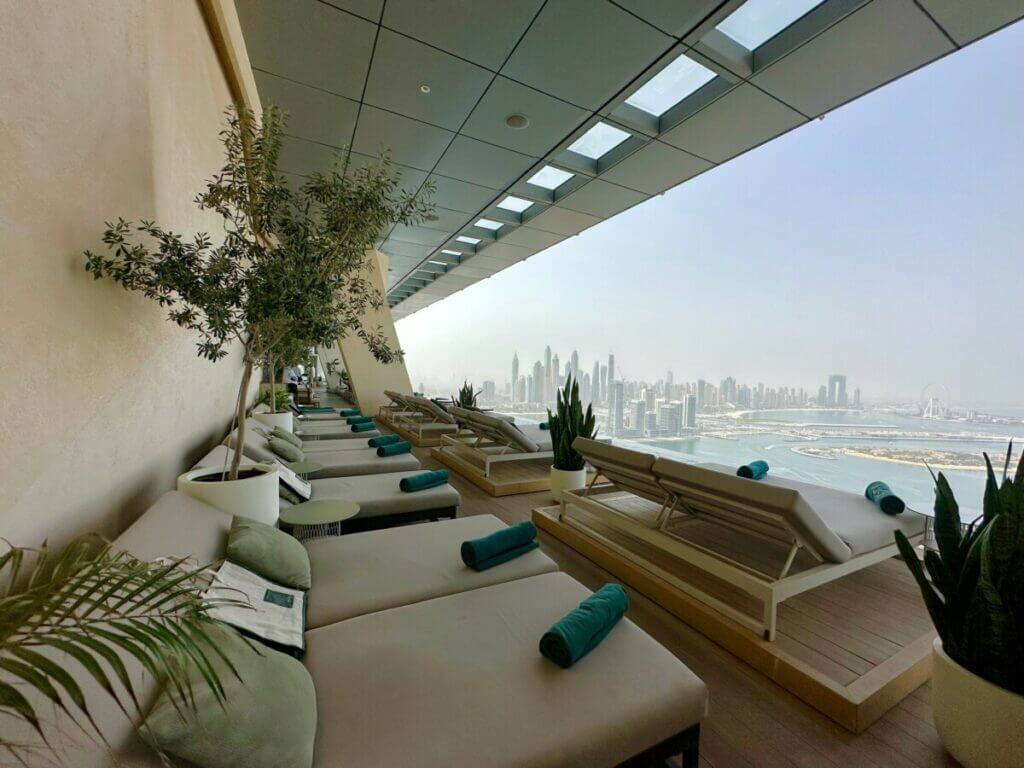 Photo 4) Another example of second row loungers. These are second row loungers on a different side of the building. Again, it wouldn't be my first choice.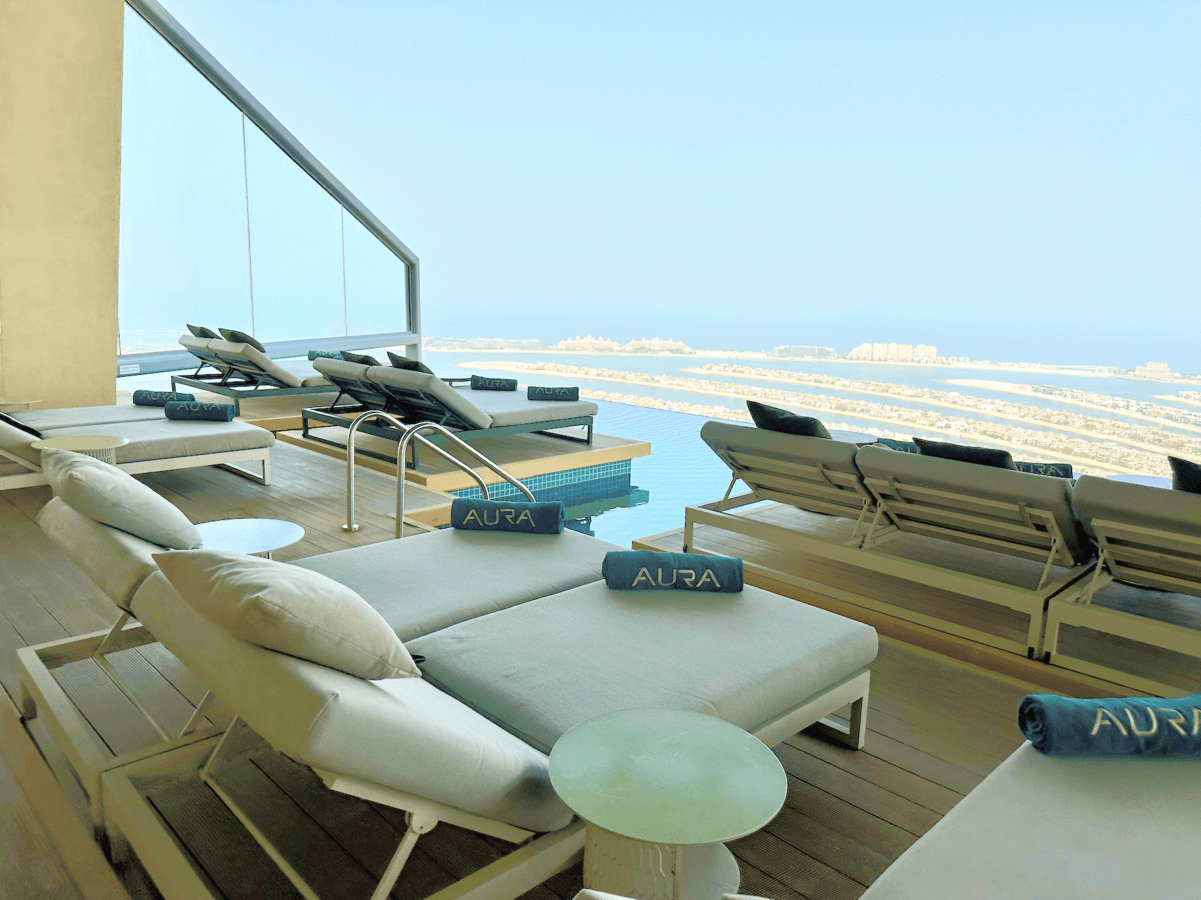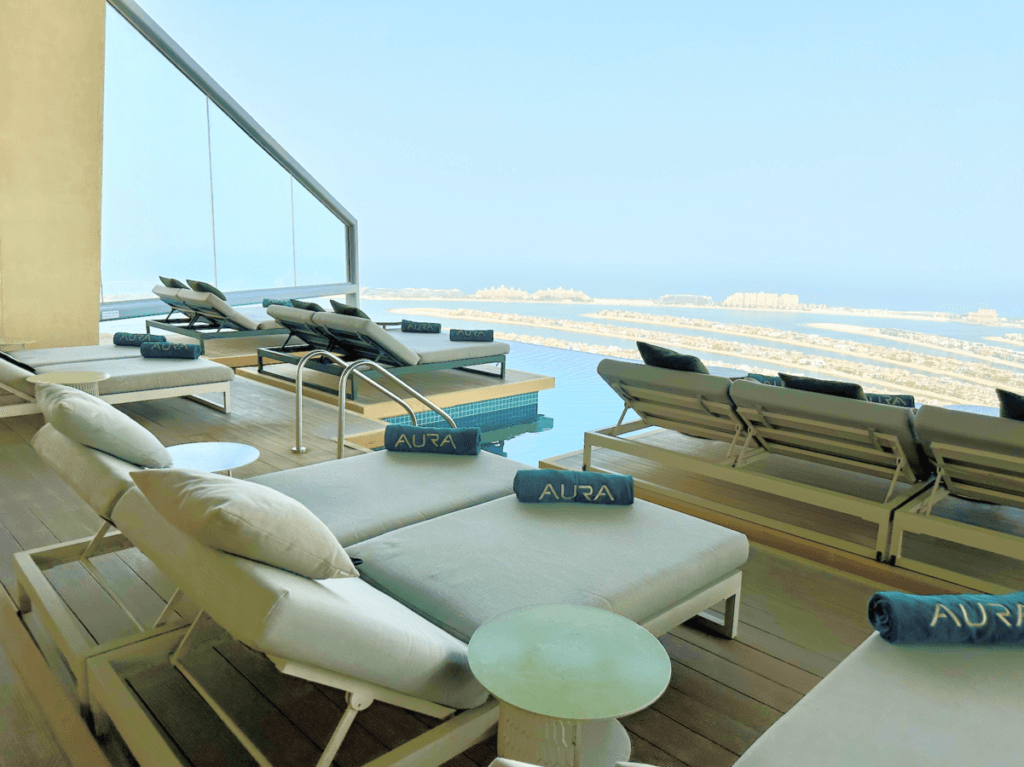 Photo 5) First row loungers. This is a great choice if you don't want to splurge on the cabana option. You get great views, and direct pool access.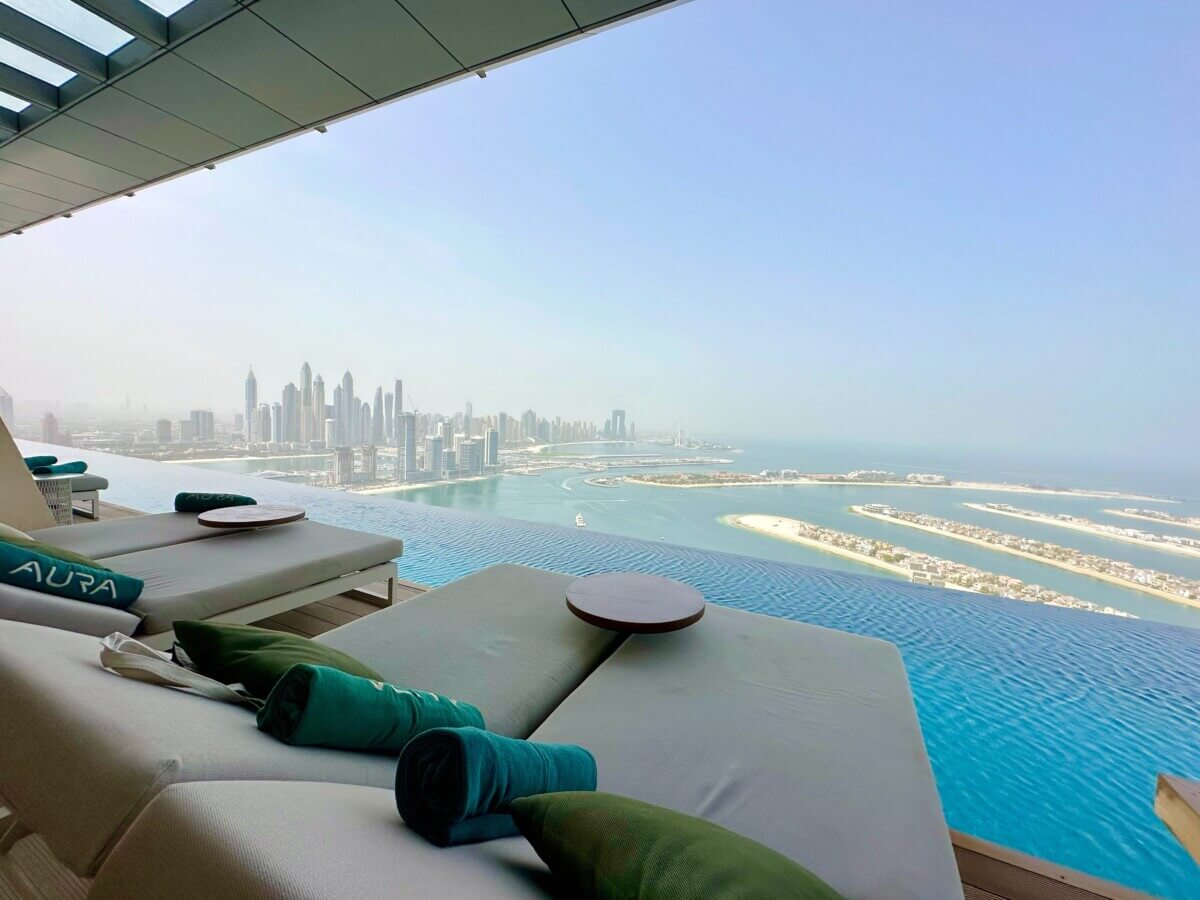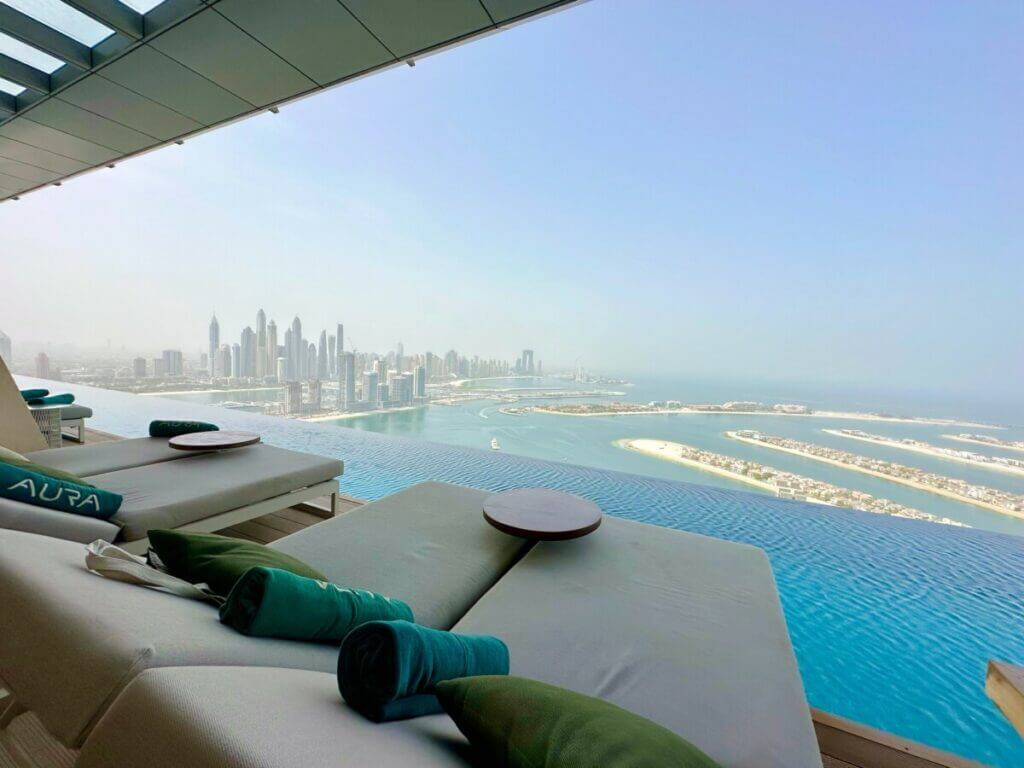 Photo 6) Another example of sofa seating. This is first row sofa seating.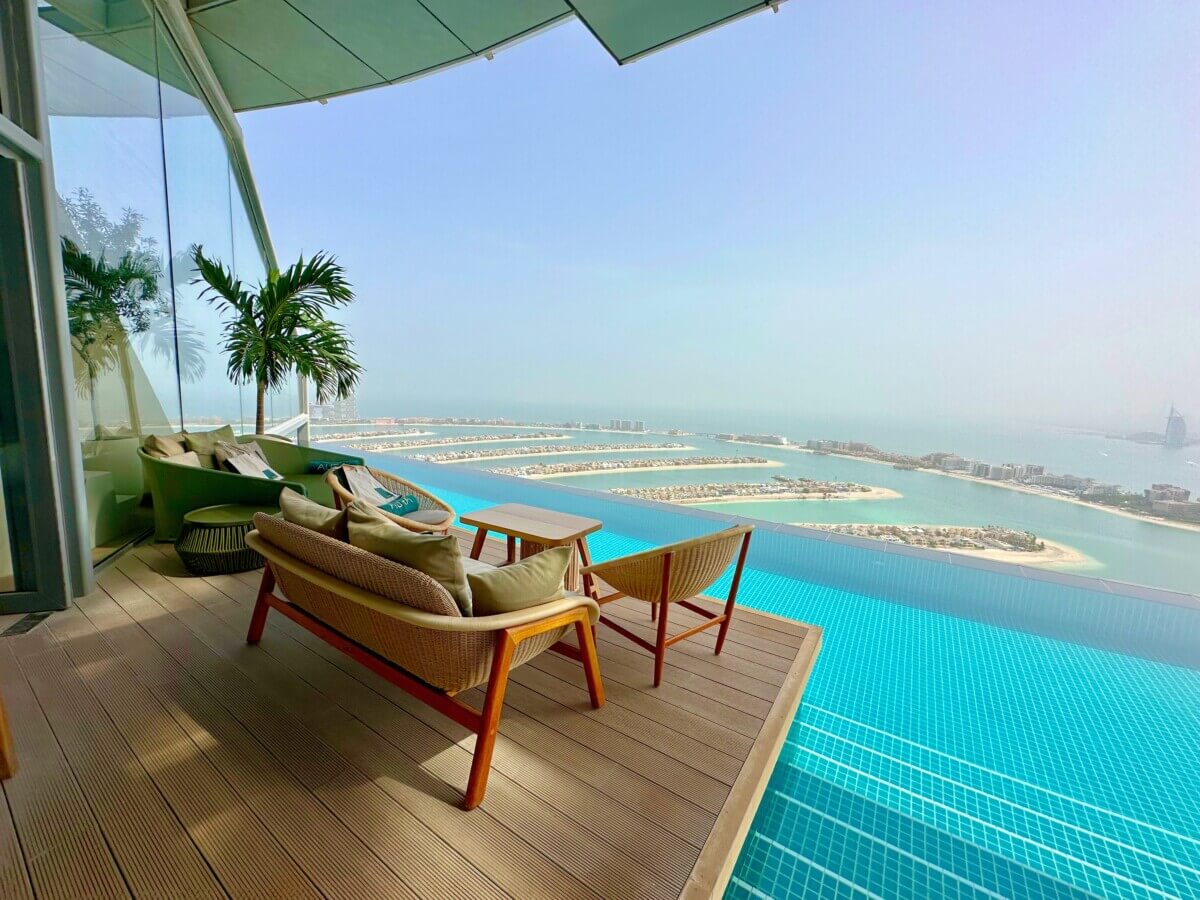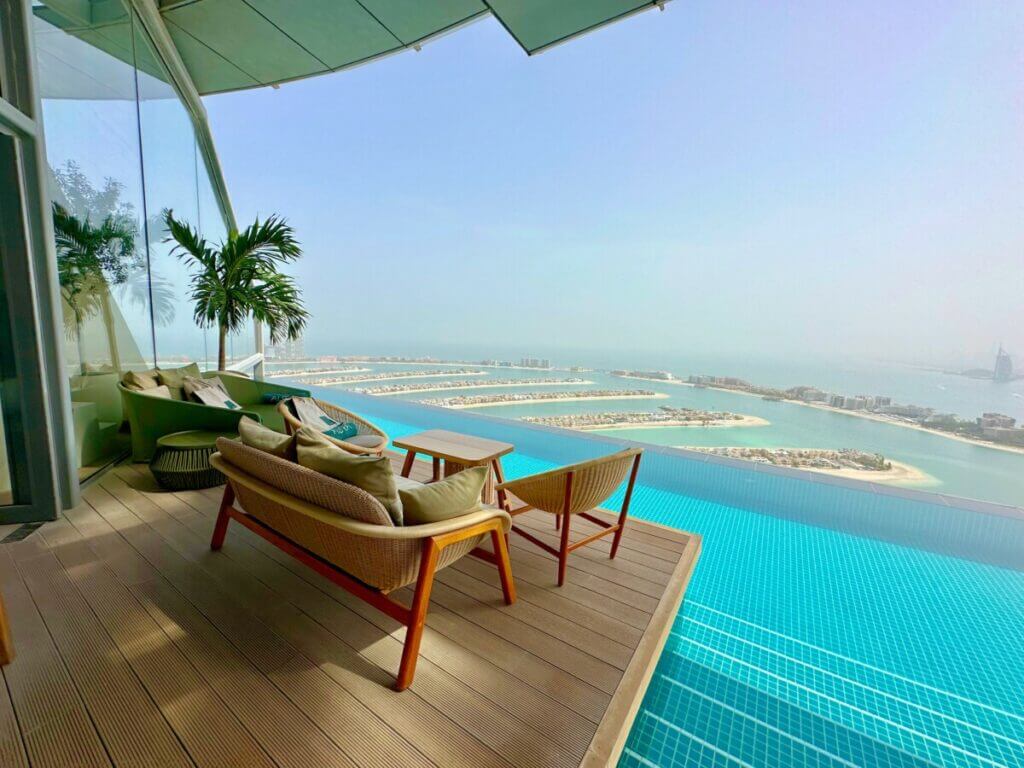 Photo 7) High table seating. I don't think many people opted for these, I think they're mainly for people wanting to enjoy some food, but not swim.
---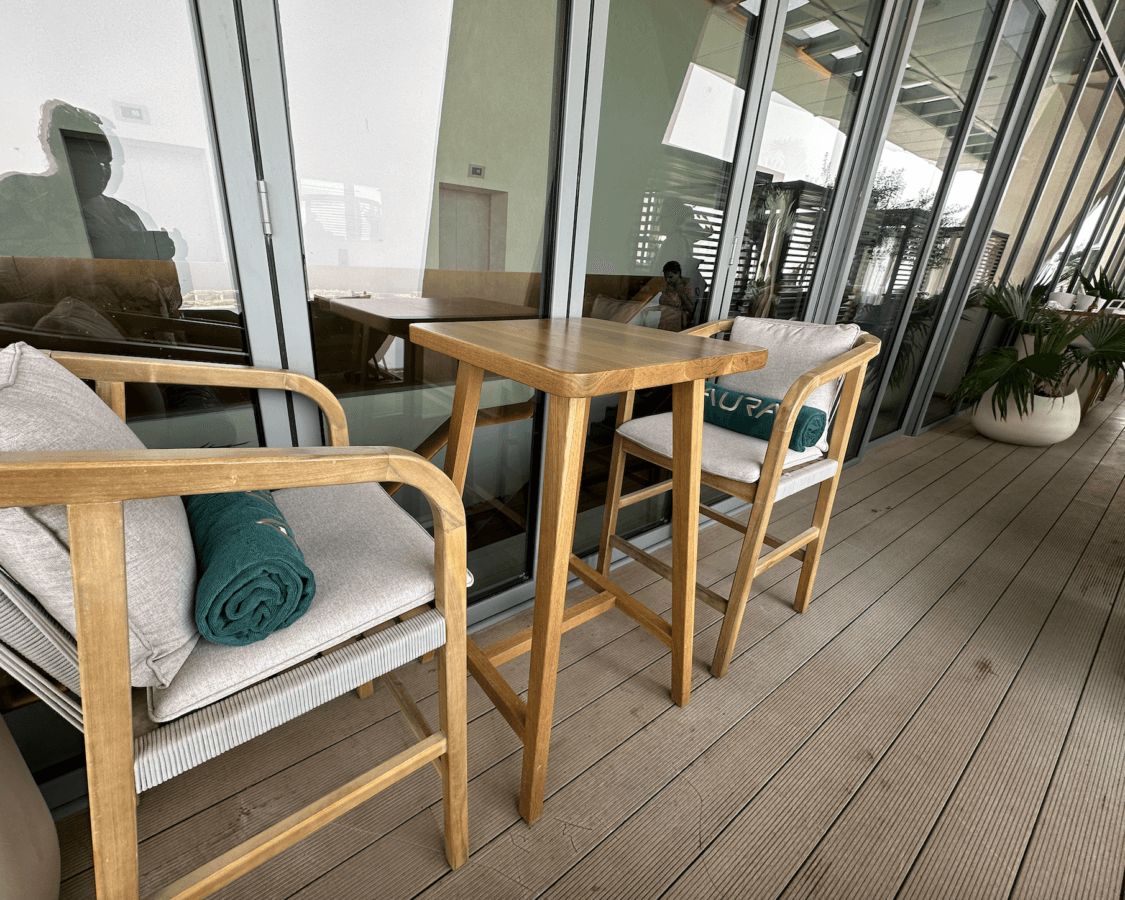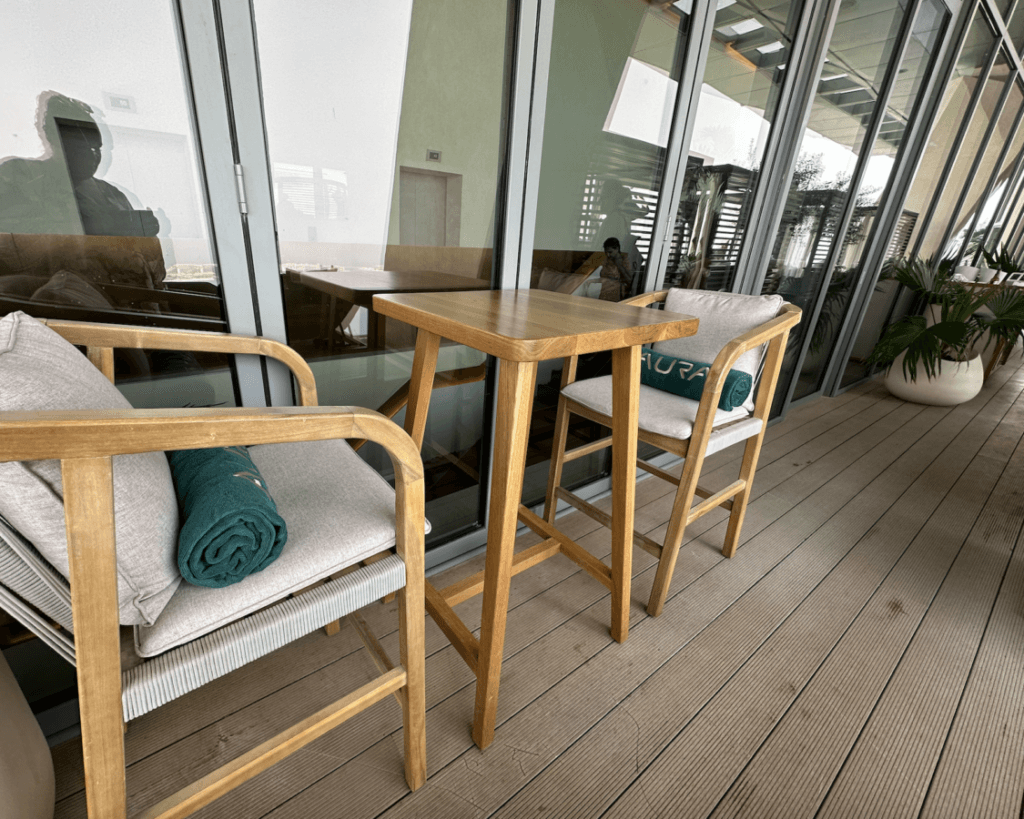 Was the experience busy / touristy?
Yes, it was.
There's no way around it, the experience is full most days, and people are there to take photos and TikToks, and it does feel touristy and busy.
As the experiences have set 'start times' throughout the day, the busiest time seems to be right at the beginning when everyone was desperate to get into the pool and explore.
But once the first hour or so has passed, people head back to their lounger to relax, and the whole experience starts to feel a bit calmer.
I did feel a bit self-conscious about being in the background of other people's photos multiple times, but that's a 'me issue' and not their fault. You can't expect people to visit somewhere like this, and not want to take lots of selfies and photos.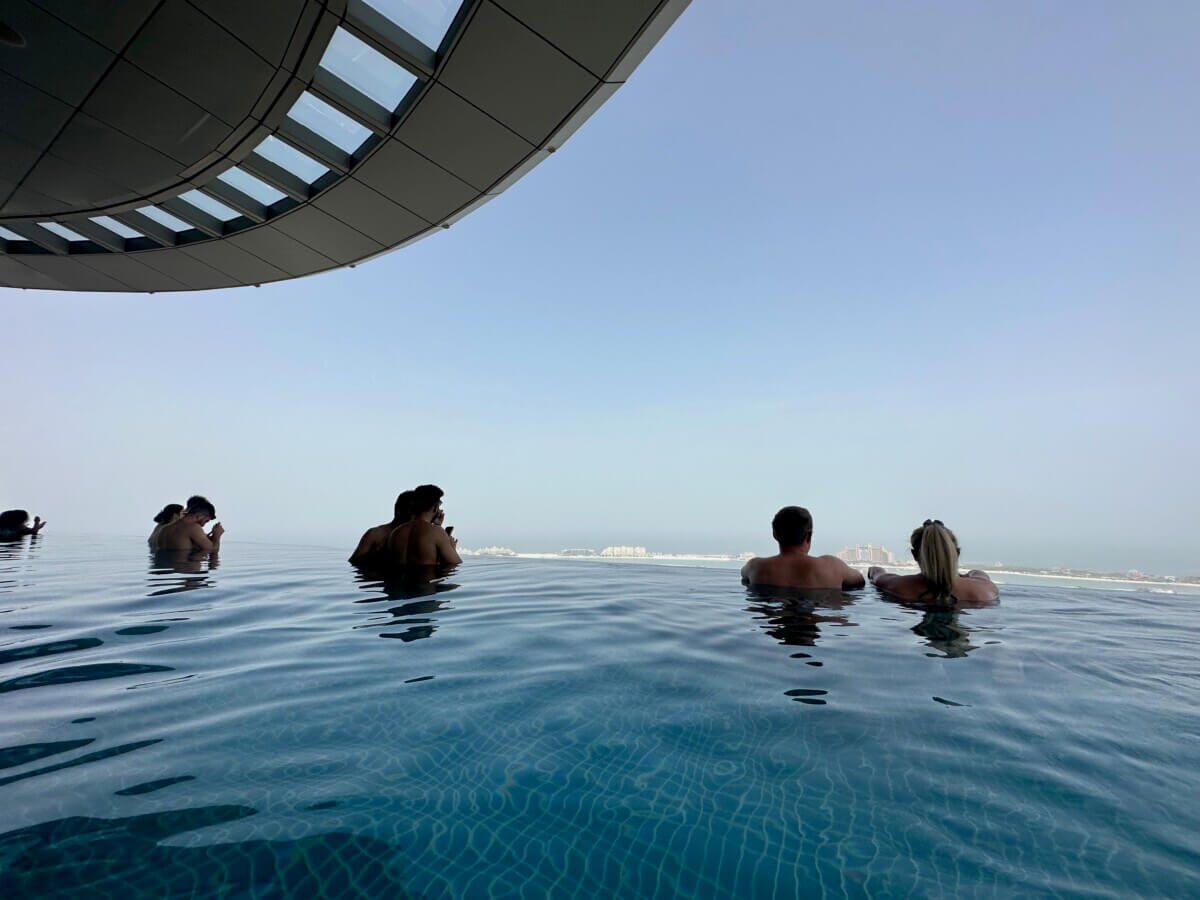 ---
How were the facilities at the Aura Sky Pool?
Ok, there are a few things I want to break down here. Because whilst I was impressed by the overall experience, and the views, there were a few things that let it down for me.
Let's start with the positives:
Obviously, the pool is stunning.
The views are unbelievable.
The decks and seating areas are all very clean and lovely.
Staff by the pool are very present, helpful and welcoming.
Check-in was easy and quick.
The toilets and changing areas were very clean.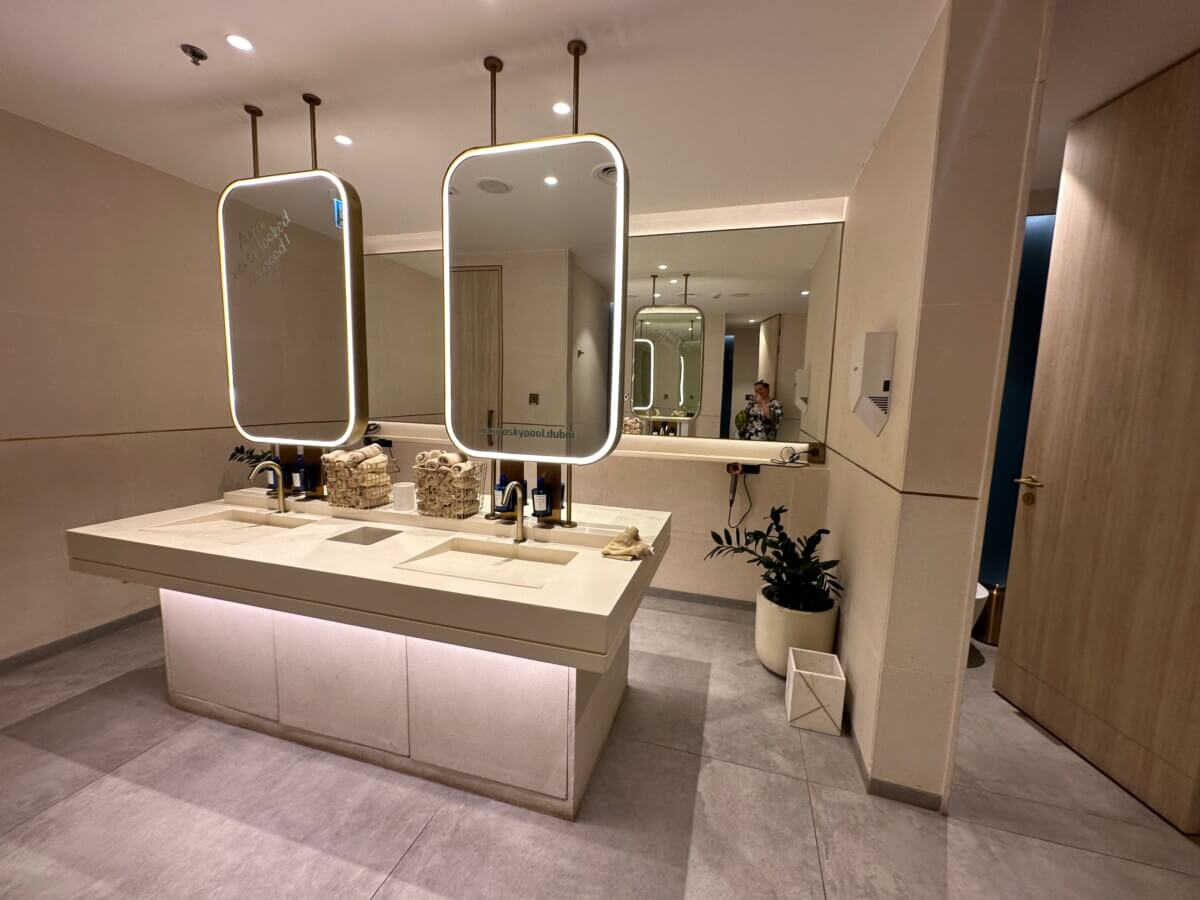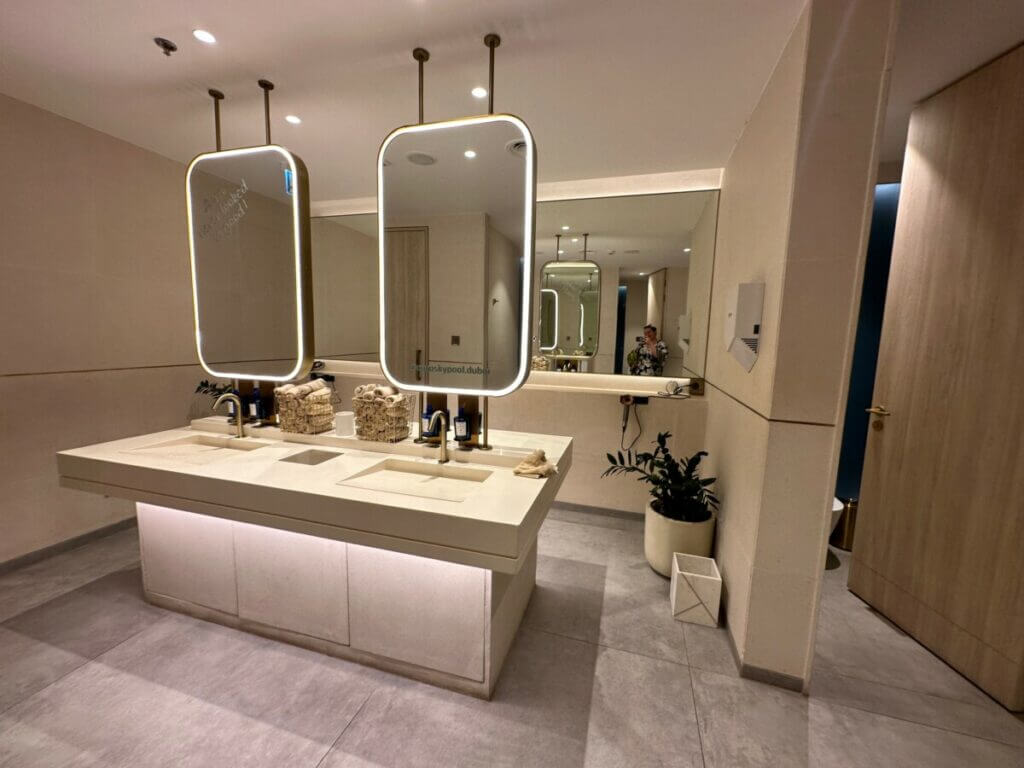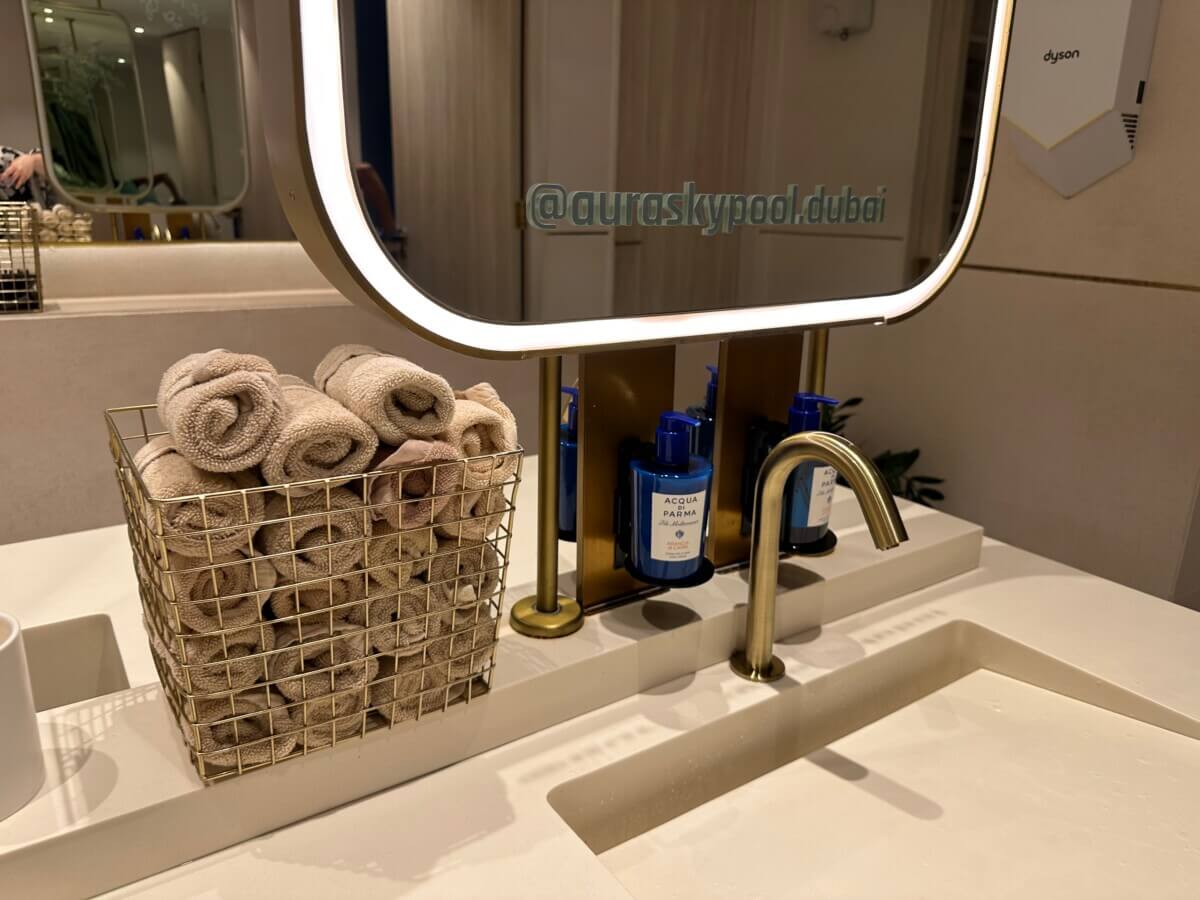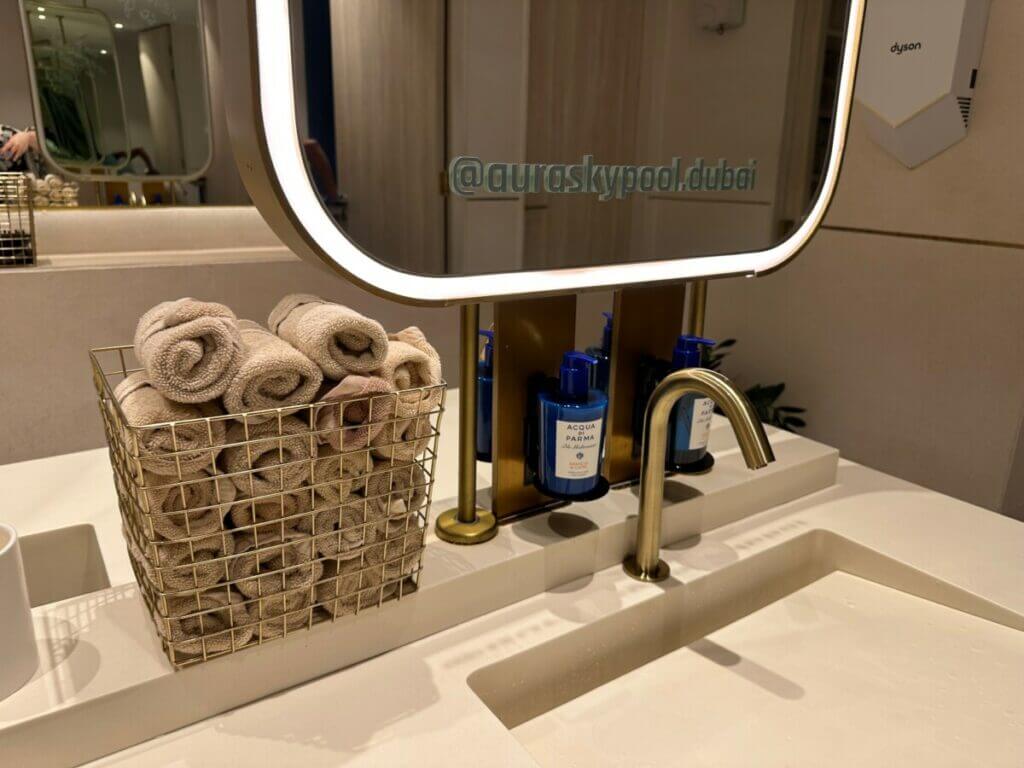 Now for the negatives:
The toilets were on a different floor to the pool. It's just a small thing, but I didn't like having to walk up and down multiple stairs in wet flip-flops.
The toilets and changing areas were small – considering there were over 150 up there needing to all get changed at the same time, the 4 changing rooms didn't seem enough. I ended up changing in a tiny toilet cubicle.
The men had even less changing facilities than the women. My husband had to wait quite a while, because there were lots of men waiting for just a handful of changing areas.
When the experienced finished, there was a big 'rush' to get everyone out. I felt very rushed, and it didn't feel luxurious.
The big rush to leave, was also made worse by the limited changing facilities.
It's a shame that most of the experiences only last for a few hours. Generally, I think pool passes should last for an entire day.
---
How was the food?
Unlike many pool passes in Dubai, the pool pass at Aura Sky Pool doesn't actually include any redeemable credit.
I thought this was a little disappointing – especially given the high price tag.
We had previously done an amazing pool day pass at the Burj al Arab – and even they had a big percentage of the admission cost redeemable against food and drink.
So, the food isn't included. Which is a shame.
But the food that we ate, was delicious. It felt like fantastic restaurant food – not just 'pool-side' food.
The food has an Asian twist to it, and it was tasty, fresh and beautifully presented.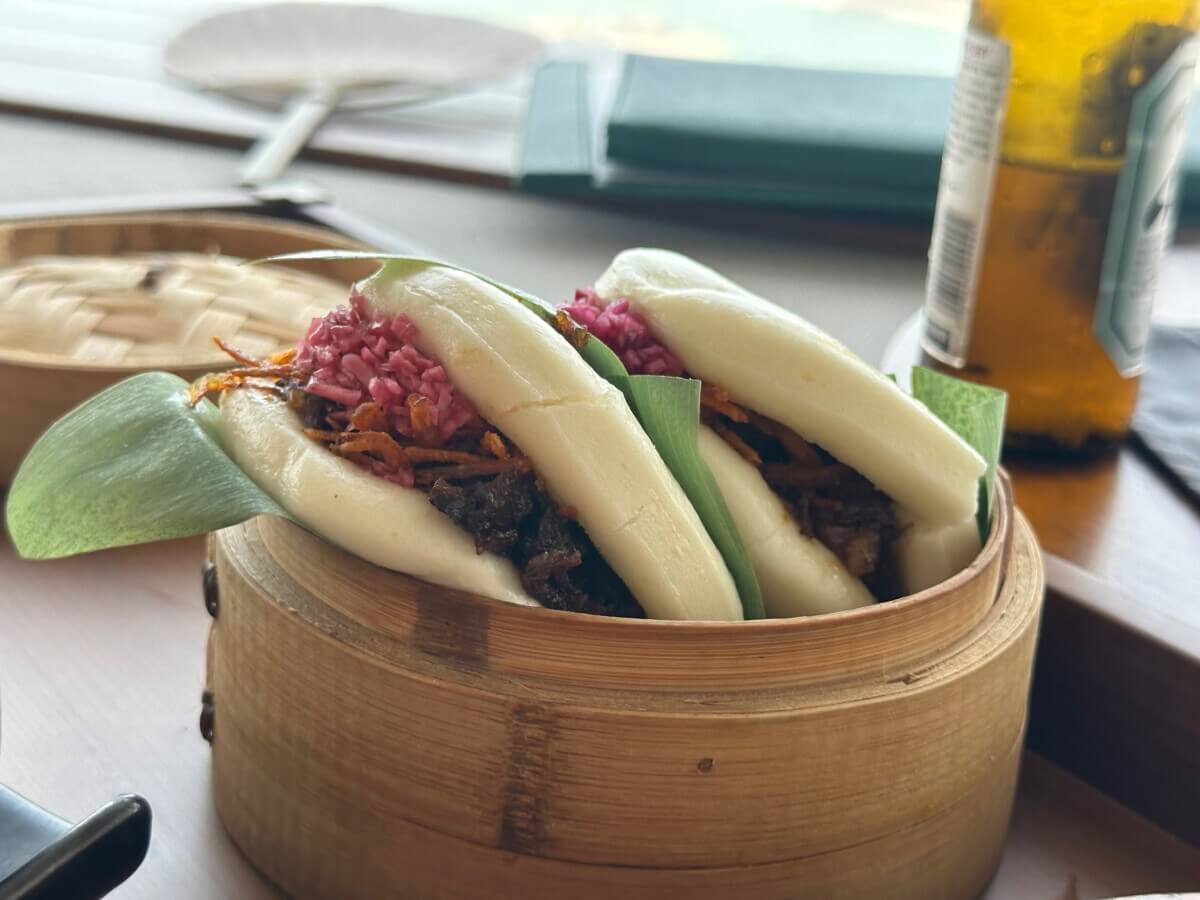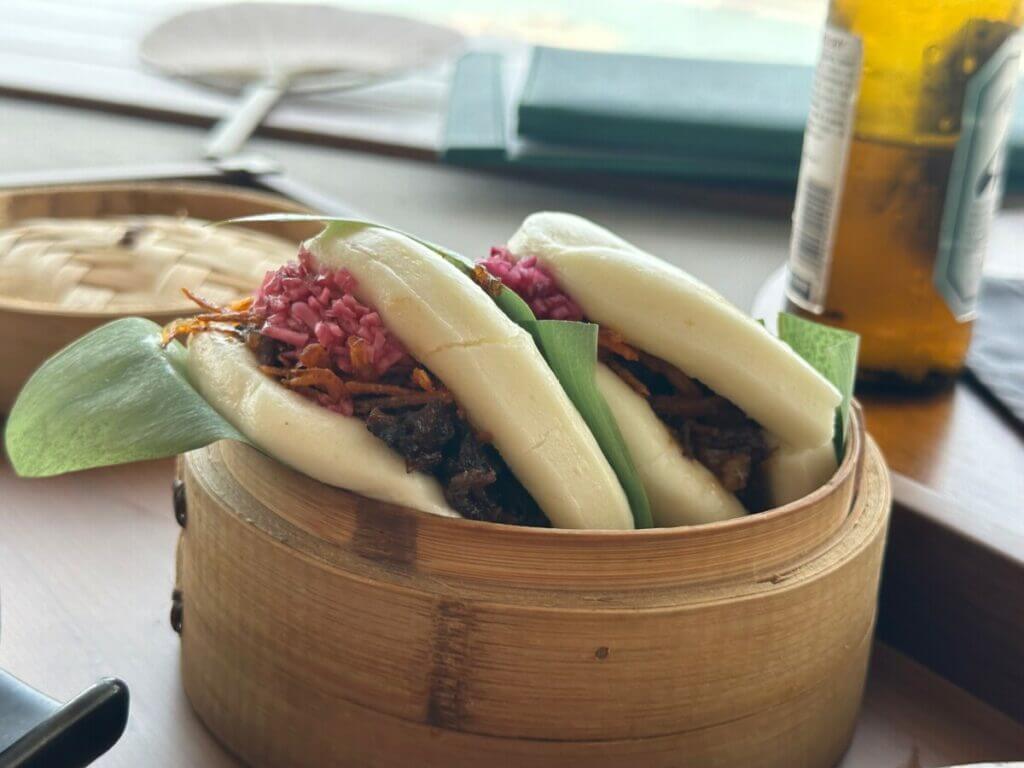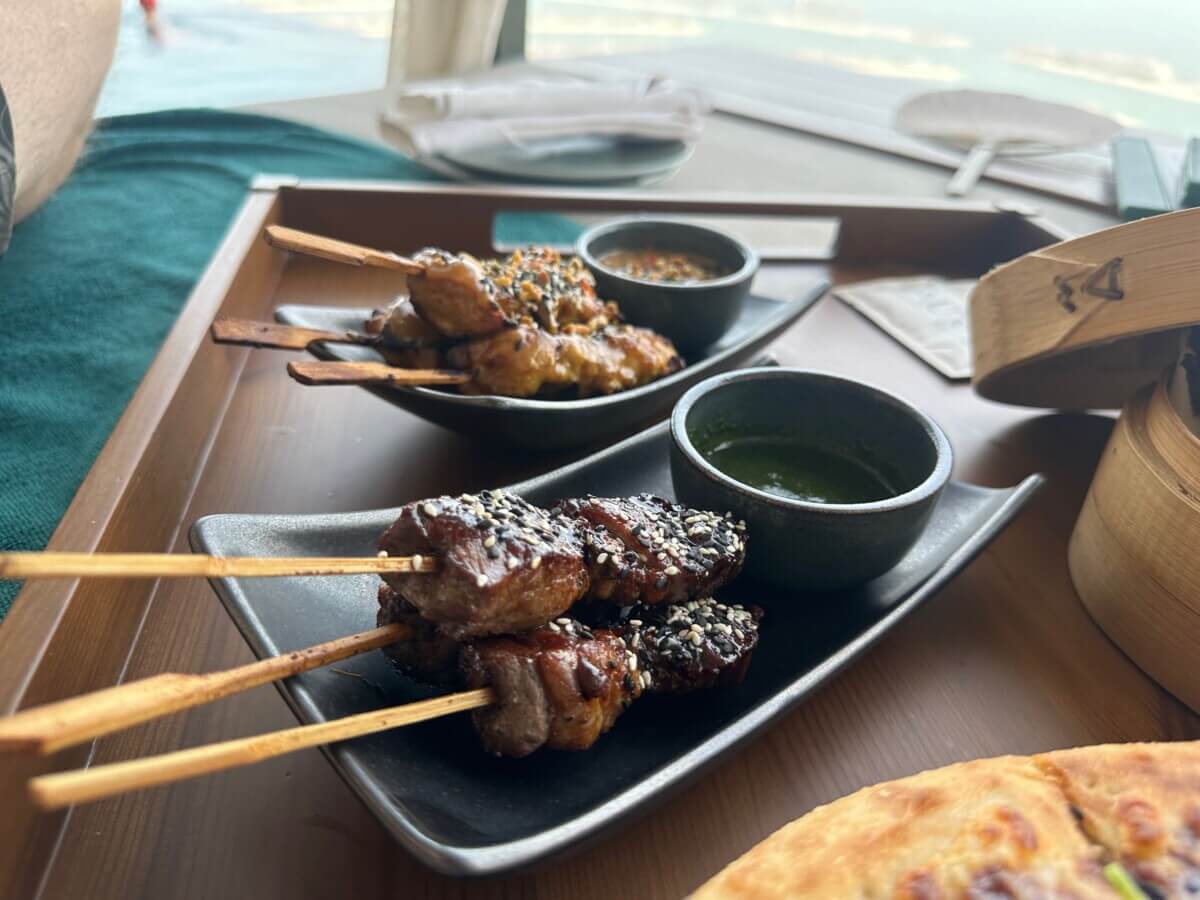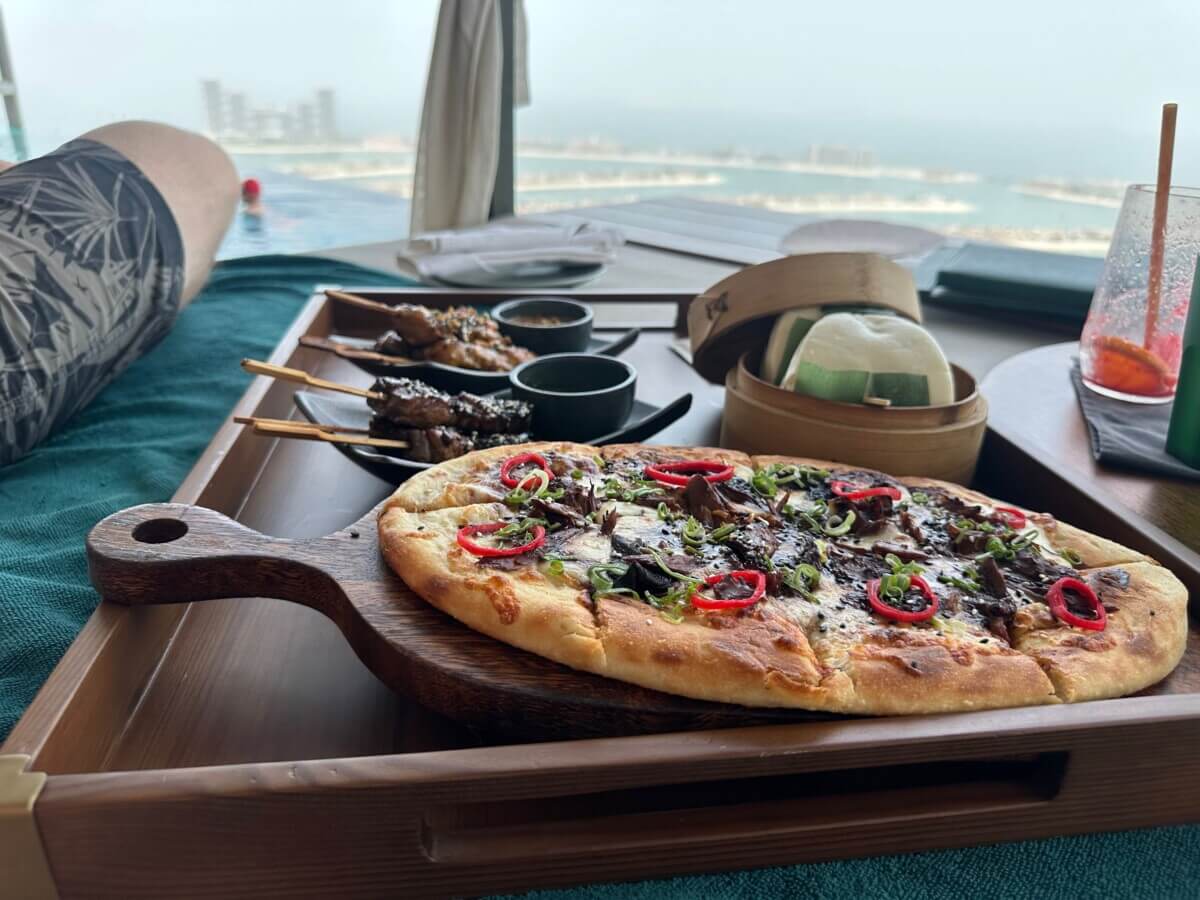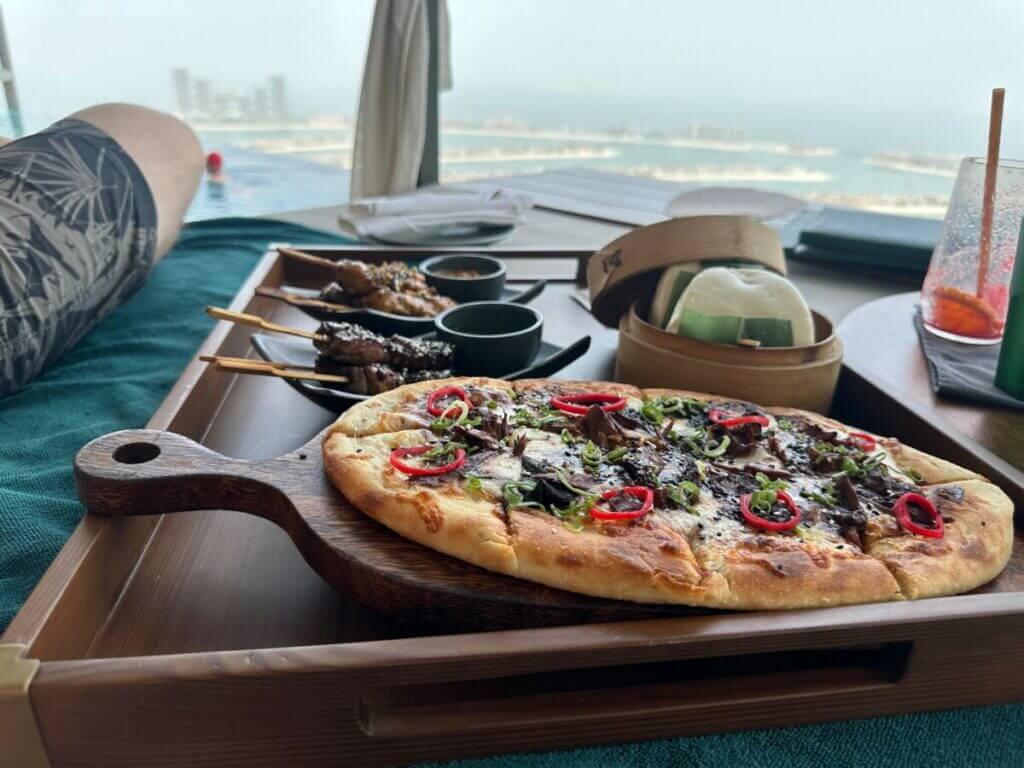 ---
So, would I recommend the Aura Sky Pool Dubai?
If money is no issue, and you want to do something a little bit different, then yes, I would recommend it.
However, if you're looking for a pool pass in Dubai, that offers value for money and equally good views – I think there are other options you should consider.
Because, truthfully, I don't think Aura Sky Pool offers the best product for the money you pay.
Remember, the majority of packages at Aura Sky Pool aren't for the full day. You pay just for a few hours.
This is kind of weird to me.
Don't get me wrong, there is the option to spend the whole day there – but the cost is way beyond what I would feel comfortable paying. Especially compared to the other options I have listed below.
I fully believe that if you're paying good money to use pool facilities – you should get access for the whole day, not just a few hours.
For example, the Burj al Arab offers a pool pass through the Sal Beach Club, which is a full day pass (with food credit redeemable against the entry fee), and I think I would rather do that experience over this one, any day of the week.
You can read my review of the Burj al Arab pool day by clicking here.
There are also lower-cost pool passes available through hotels like The Address Downtown and The Address Fountain Views. Both of these hotels offer similar infinity-style pools, with incredible city views – and come in much cheaper, for a full day, and with money redeemable against food.
---
Common FAQs about Aura Sky Pool
If you're planning to visit, you might have a few more questions about the experience.
I'll try and answer any questions I can here, to make things super easy for you!
---
Are towels included?
Yes, you get a single pool towel per person, during your experience. You don't get to keep the towel – just FYI!
If you're in a cabana, you also get the use of a dressing gown too.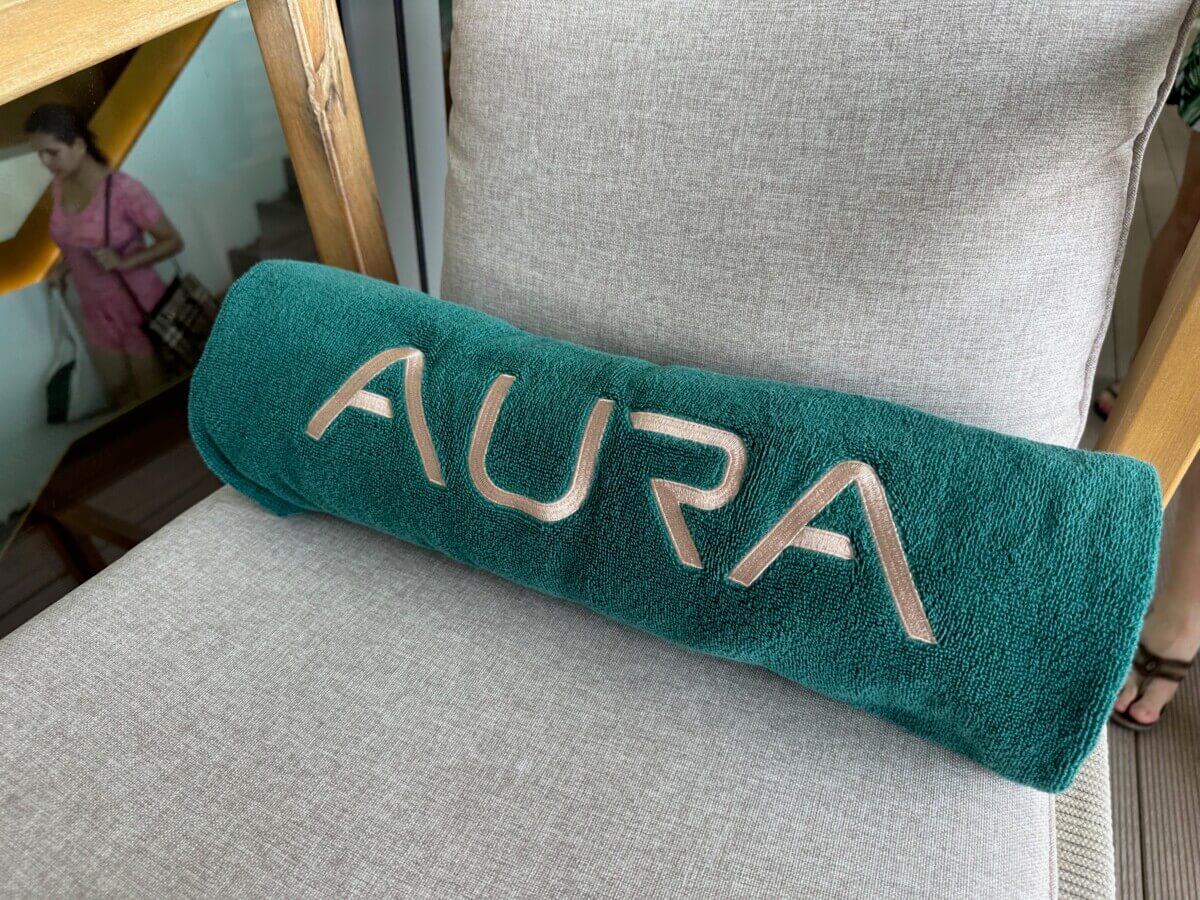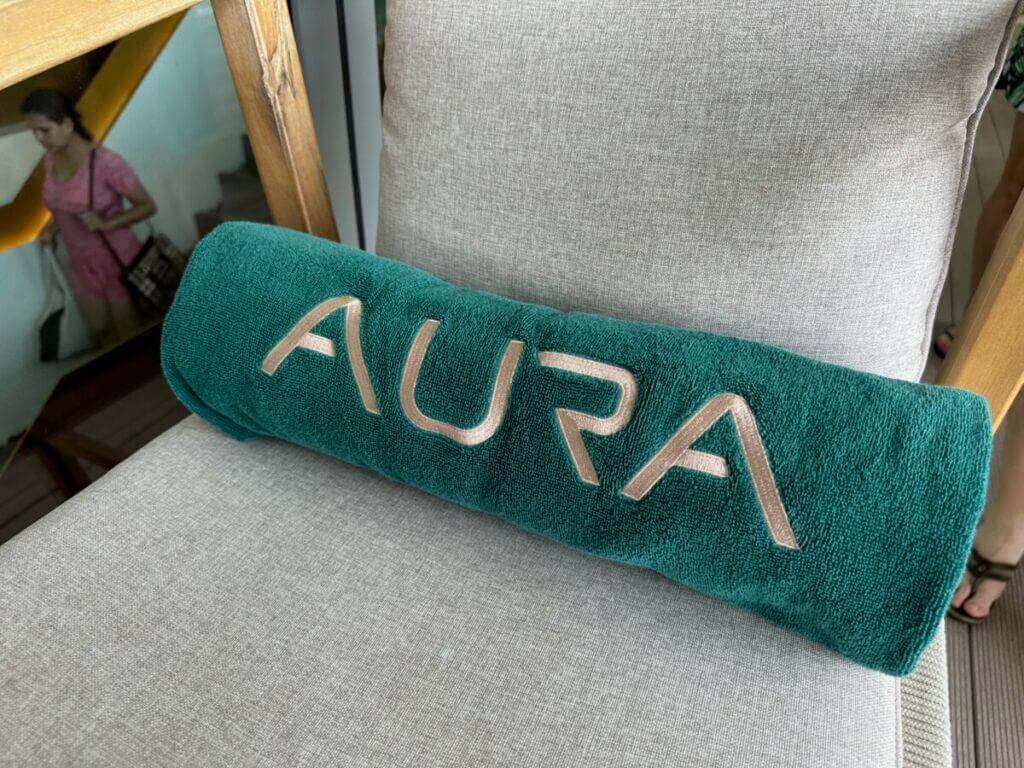 ---
Do I need to book ahead?
Yes I would recommend booking ahead. It's a popular location and it was fully booked even when I visited (off-peak in the height of their summer). So I imagine in peak season it's going to be even more packed.
If you want a cabana or one of the first-row loungers, you'll want to get your seat booked sooner rather than later.
The bookings portal opens 60 days ahead of time.
---
Can you only swim in the pool section near your seating allocation?
No, you can use the entire swimming pool, and swim in loops around the whole building.
The pool is a 360 pools, like a bit circle, so you can access all of it!
You can also walk around all the decks too, and fully explore the whole premises.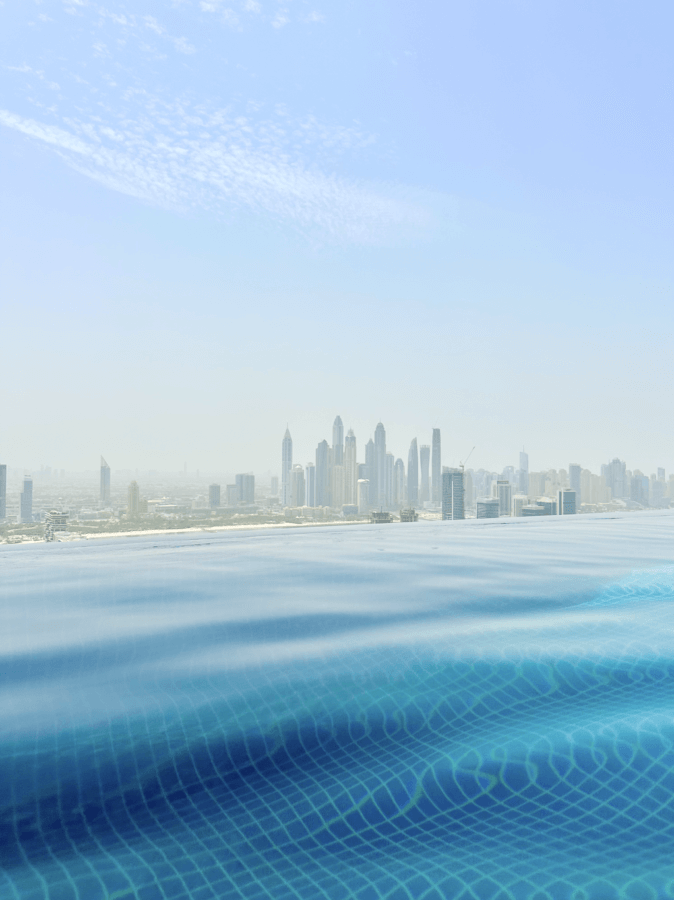 ---
Do you have to pay in advance?
Yes, you book your tickets online, and pay at the time of booking. You'll also pay any minimum spend ahead of time too (if that's a requirement for your specific booking).
Any food you order on the day, you pay for on the day.
---
Can you bring your own food or drink from outside?
Nope. They're pretty strict on this.
---
How deep is the pool?
The pool is the same depth all the way around, and it's a comfortable 'standing depth' of 1.25m / 4.1ft.
---
Is there a shop inside?
Yes there is! So if you forgot your swimwear, you will be able to buy some in their store. Might be a tad expensive though!
The shape also sells suncream, earrings, accessories, kaftans, flipflops, bags, and other pool-themed items.