---
Are you looking for real haunted buildings in NYC? Here are some of the spookiest locations in New York City!
---
Are you looking for creepy haunted places in NYC? If so, this list is going to give you 13 spooky suggestions to explore and check out.
Yes I picked the number 13 on purpose!
I don't know about you, but exploring haunted places always gets me curious. I grew up in a very old house in England, so I've always been a little curious about ghosts and spirits (I'm pretty sure the house I grew up in was haunted – but that's a story for another day).
New York is littered with spooky spots, and when I realized that, I knew I had to explore some of them.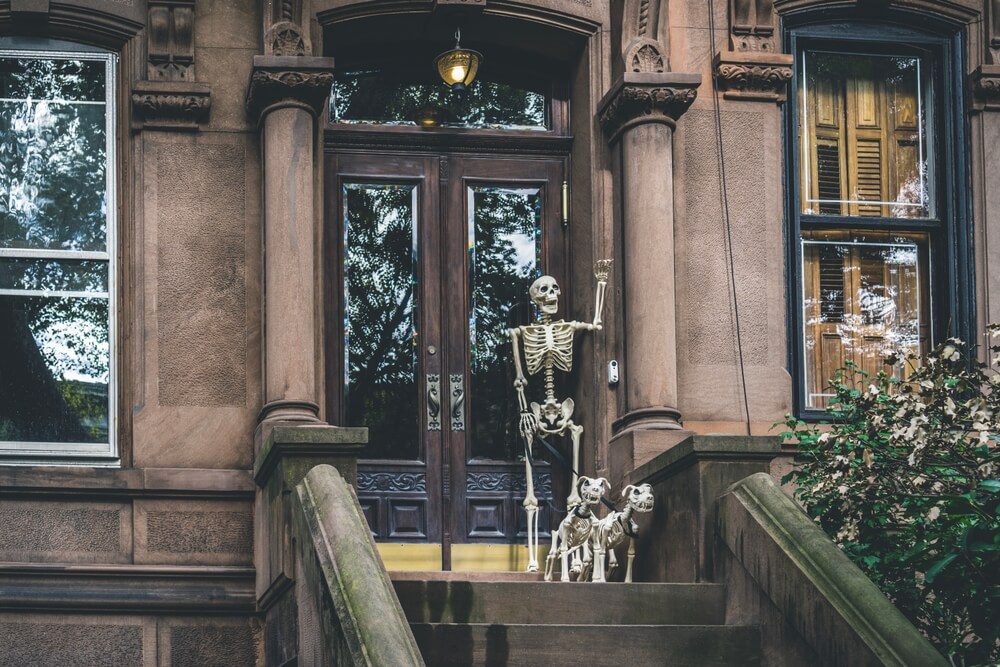 As soon as you start looking into it, I'm not exaggerating when I say that you're practically tripping over haunted buildings and properties in the city.
For example, there's this one place on Park Avenue that my husband and I always jokingly refered to as the 'haunted mansion'!
Whether you're a ghost-story fanatic or a hardcore skeptic, these real haunted buildings in New York City are bound to leave your bones rattling. 
---
Google map of all the houses on my list
I thought it'd be useful to plot all the haunted locations on a Google map!
This way, you can save the map to your phone, and have yourself a day of ghost hunting!
---
Van Cortlandt House
Address: 6036 Broadway, Van Cortlandt Park, Bronx, NY 10471, United States
This Georgian-style house is first on my list of real haunted places in NYC.
Van Cortlandt House has been standing since 1748 and was sold to the City of New York in 1887.
Occupied by several famous figures (Lafayette and George Washington to name just two), this place has long had a reputation for housing ghostly spirits. 
Though functioning as a museum these days, many have said that creepy dolls walk the halls whilst doors close on their own at the historic Van Cortlandt House.
A trick of churlish winds or the work of ghoulish spirits? It's for you to decide…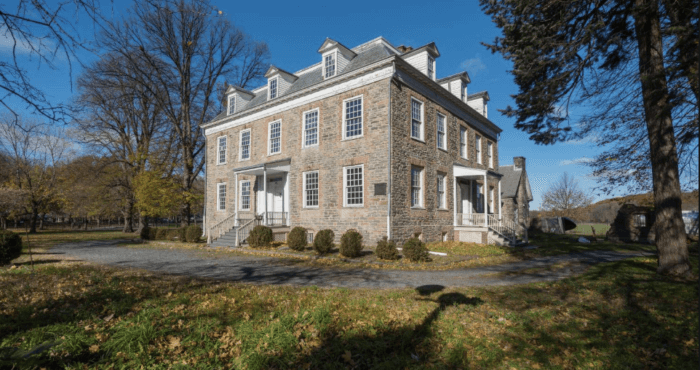 ---
The Belasco Theatre
Address: 111 W 44th St, New York, NY 10036
The Belasco Theatre was a prominent theater and music venue but is, most importantly known for, in this case… its haunted history.
Over the years, the Belasco Theatre has gained a reputation for being haunted by the spirit of its namesake, David Belasco. The alleged paranormal activity has fascinated both visitors and theater enthusiasts.
Witnesses claim to have seen apparitions resembling David Belasco, often described as a tall man wearing a long, flowing cloak. His presence is usually reported near the stage and backstage areas.
There have also been accounts of props and objects moving or rearranging by an unseen force, particularly at night when the theater is empty.
Sounds pretty creepy to me, I don't know about you?
---
Algonquin Hotel
Address: 59 W 44th St, New York, NY 10036
The Algonquin Hotel is a historic landmark known for its elegance, literary history, and reputed hauntings. Here's a brief overview of the hotel and its alleged paranormal activity:
The Algonquin Hotel opened its doors in 1902 and quickly became a hub for writers, actors, and intellectuals, meaning that iif ghosts do exist – there are some pretty smart ones milling around here.
The hotel's Round Table, a daily gathering of prominent literary figures, included luminaries like Dorothy Parker, George S. Kaufman, Robert Benchley, and more.
Over the years, the Algonquin Hotel has gained a reputation for being haunted, which is wy it makes my list. While the stories may vary, common themes involve apparitions, unexplained noises, and unusual occurrences.
One of the most famous stories centers around a ghostly presence in Room 1002, known as the "Blue Room." Guests and staff have reported eerie occurrences, including strange noises, flickering lights, and the sensation of being watched.
Due to these stories and numerous eyewitness accounts, the Algonquin Hotel has become a destination for ghost enthusiasts and paranormal researchers seeking to explore its haunted reputation.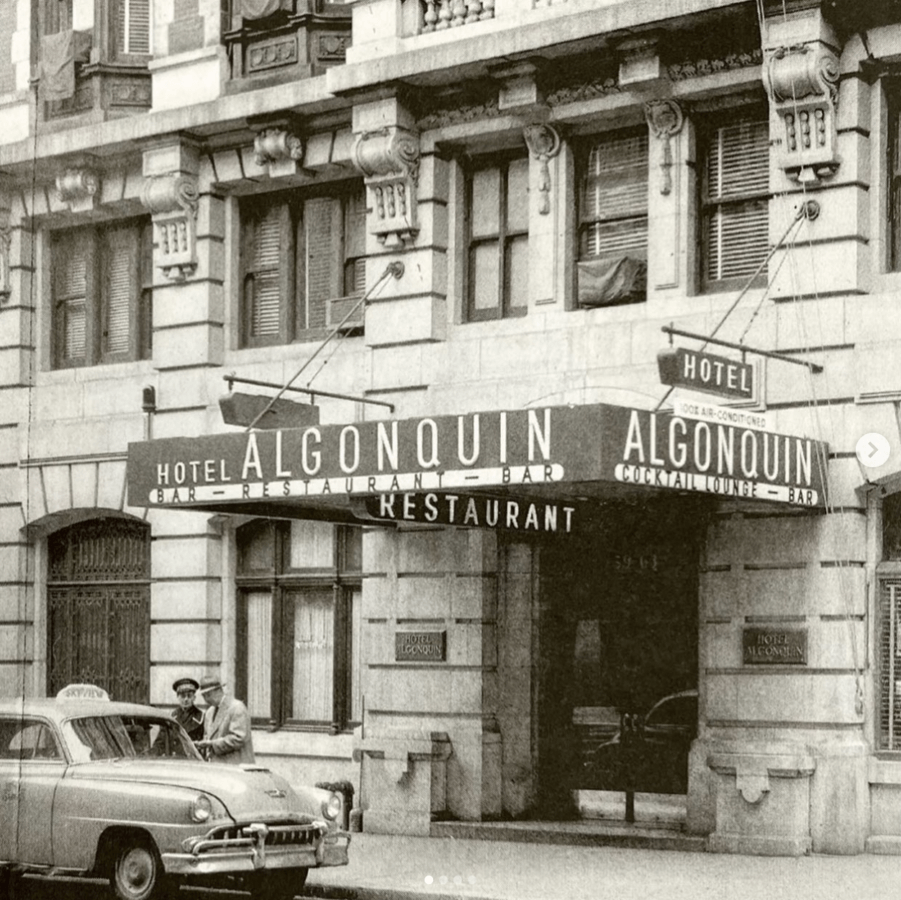 ---
---
The Ear Inn
Address: 326 Spring St, New York, NY 10013
The Ear Inn, located at 326 Spring St in SoHo, is one of New York City's oldest operating drinking establishments and has a very well-known reputation for being haunted.
This is one of the best haunted locations in NYC to check out because it's a local pub, and it's pretty easy to just rock up and enjoy a drink or two.
This place was originally known as the James Brown House, and it was built way back in 1817 and has a rich history that spans centuries. The building itself is a designated New York City Landmark and holds a special place in the city's cultural heritage.
But what about the haunted behaviors?
Well, some patrons and staff have reported unexplained movement of objects, such as glasses being knocked over or chairs being moved without any apparent cause.
Others have described a feeling of being watched or an eerie presence, especially in certain corners or rooms of the building.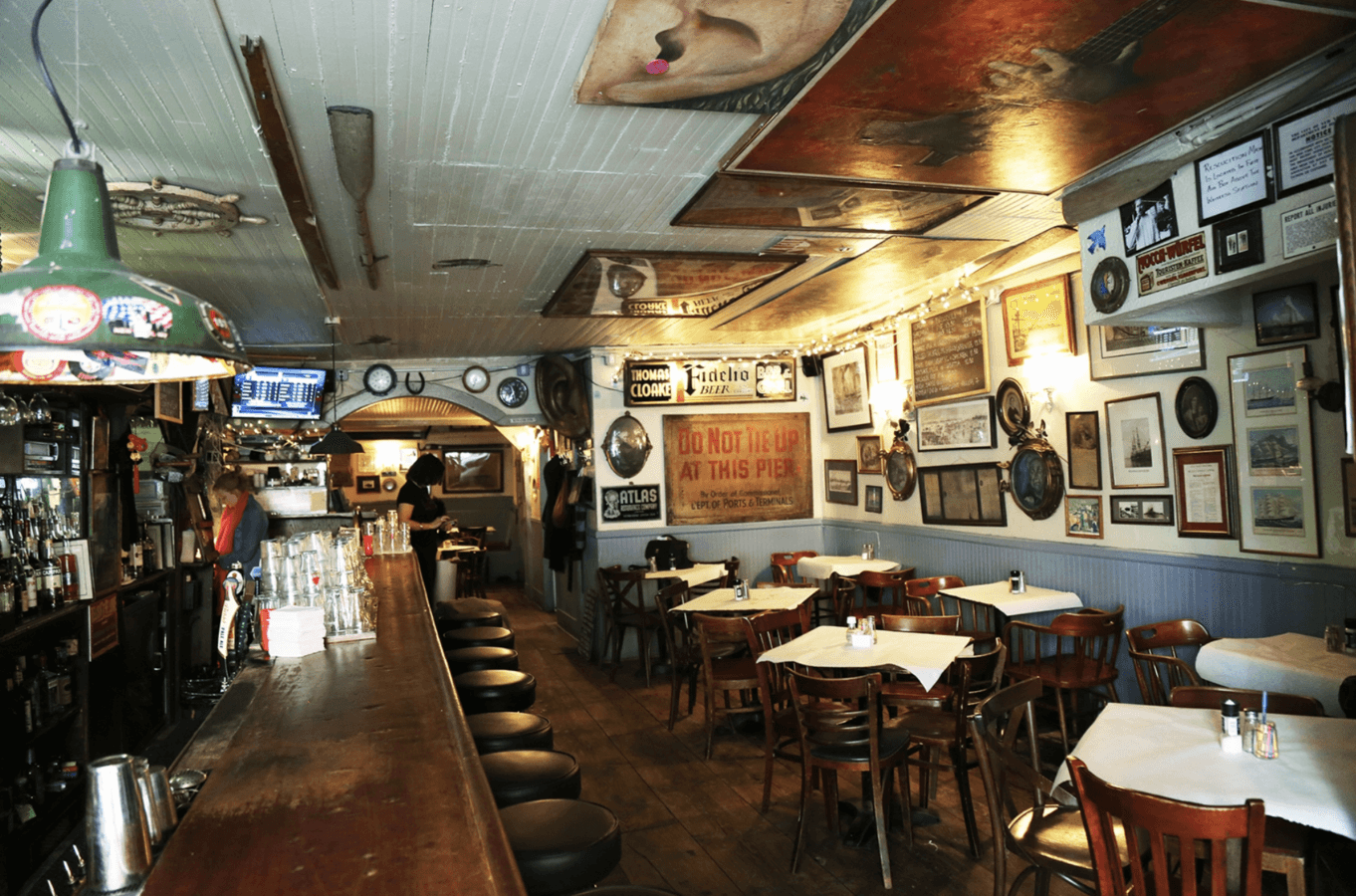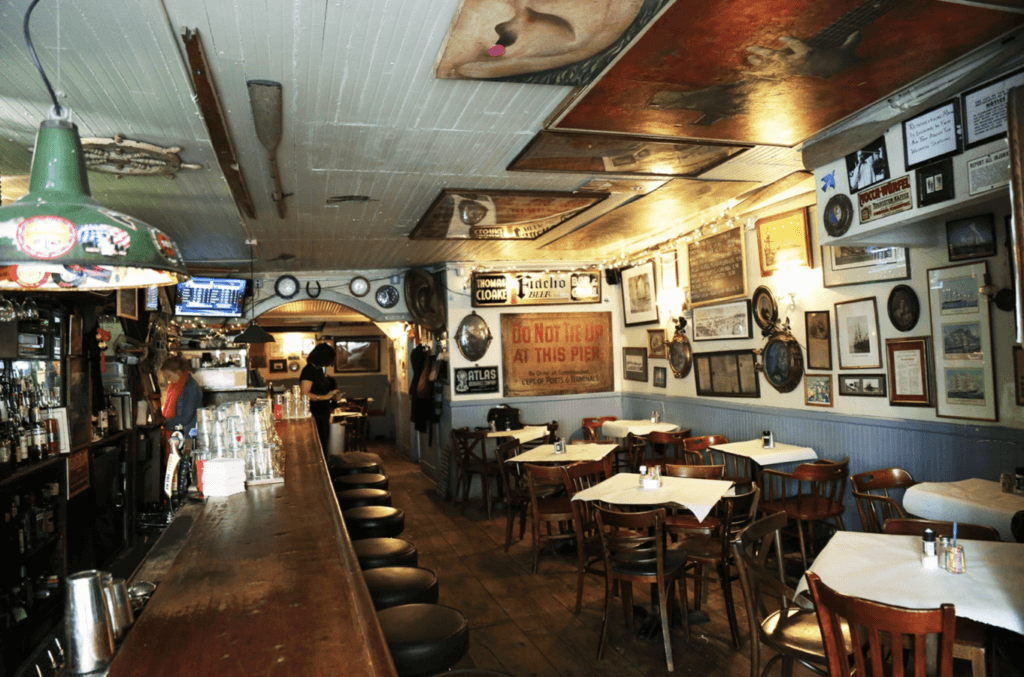 Image credit: http://www.theearinn.com/gallery
---
The Dakota
Address: 1 W 72nd St, New York, NY 10023, United States
The Dakota is my next pick of real haunted places in NYC.
Already a rather infamous property due to its featured role in Polanski's Rosemary's Baby and the unfortunate site of John Lennon's assassination, this building is supernatural both due to its cultural history and general passer-by reports. 
Guests have reported seeing a little girl dressed in old-fashioned garments. Not only this, but the ghost of the famous Beatle himself is said to stalk the halls of this establishment.
I mean, if you're a super-fan, it may be worth visiting just for a potential ghostly meet-and-greet.
Read more about New York State: 10 Beautiful castles in New York State
---
The Octagon
Address: 888 Main St, New York, NY 10044, United States
The Octagon, located on Roosevelt Island in New York City, is a historic building with a complex and intriguing history that includes alleged hauntings.
The Octagon was originally built in 1834 as the main building of the 'New York City Lunatic Asylum' – designed by architect Alexander Jackson Davis.
The asylum was one of the first mental health institutions in the United States and played a significant role in the treatment of mental illness during the 19th century.
Visitors and staff have since, in the many years since it closed, reported sightings of apparitions and hearing unexplained footsteps, whispers, and screams, suggesting a haunting presence within the walls of The Octagon.
One of the most famous alleged hauntings involves a ghostly woman dressed in red who has been seen wandering the halls. Some believe she may be the spirit of a former patient.
Paranormal investigators and enthusiasts have conducted investigations at The Octagon to capture potential evidence of the reported hauntings using techniques and equipment such as EMF detectors, EVP recorders, and infrared cameras.
This is one of those haunted locations in NYC that most locals will know about, and some may have even visited. It's certainly one with a dark, but interesting history.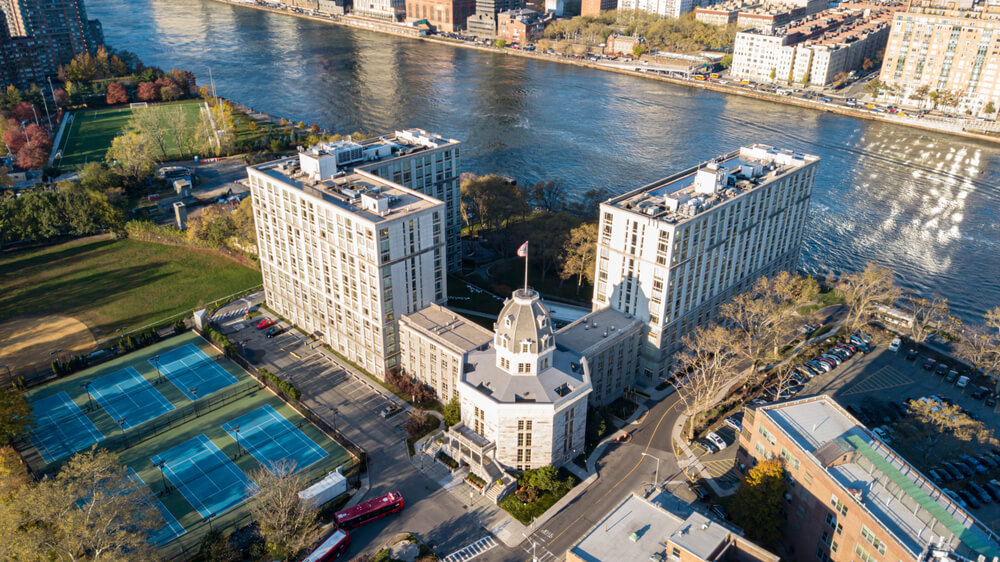 ---
The Morris Jumel Mansion
Address: 65 Jumel Terrace, New York, NY 10032, United States
Next on our list of real haunted places in NYC, it's one of Manhattan's oldest homes! This large mansion in Washington Heights was built way back in 1765.
Having served as a military headquarters for both sides of the Revolution, it's got some spooky, bloody American history at its core.
Bought by Stephen Jumel and his wife Eliza in 1810, it's said to have supernatural elements that persist in the present day.
The ghost of Eliza Jumel is said to stalk the halls and encourage quiet and tranquillity if things get too loud for her liking; shivers galore.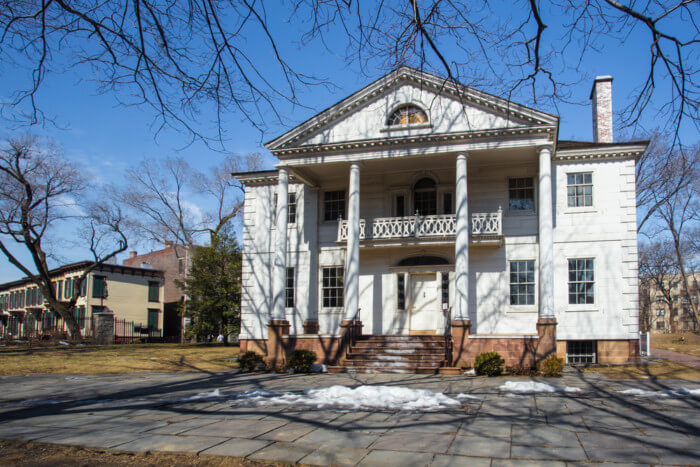 ---
Furman Hall at 85 West 3rd Street
Address: 85 W 3rd St, New York, NY 10012, USA
Next on my list of real haunted houses in NYC, is 85 West 3rd St. NYU is well-known for being haunted.
With a deserved spooky spot on this list, it's a concentrated speck of terror on New York's sizeable map. Occupied by Edgar Allan Pie for eight months in 1844 and 1845, it was here that "The Cask of Amontillado" was written.
Though the only part of the original construction that remains is the bannister, numerous students have cited seeing Poe's ghost climbing it.
Perhaps it's not only an excessive workload that keeps NYU's law students up at night.
---
14 West 10th Street
Address: 14 W 10th St
Next on our list of real haunted places in NYC, it's this ghouly choice. Deemed by some as the most haunted building in New York, it's said to have as many as 22 ghosts haunting its hallowed halls.
The site of several gruesome incidents throughout the 20th Century, 14th West 10th Street was witness to a murder-suicide and the death of six-year-old Lisa Steinberg by her adoptive father amongst others.
As Mark Twain lived here at the turn of the 20th century, the legend himself has often been seen ascending the fantastic staircase. 
Read more about New York State: 15 fun things to do in Woodstock, NY
---
Flushing Quaker Meeting House
Address: 137-16 Northern Blvd, Queens, NY 11354, United States
The Flushing Quaker Meeting House is my next choice for real haunted buildings in NYC. It was built in 1694 and is one of the oldest places of worship in New York.
Though its hauntings are not widely reported in literature, in 1884, an article in The Brooklyn Daily Eagle reported someone dressed solely in white with "an old-style sword hanging at its side". 
Though not an antagonistic spirit, this spooky presence is still said to lurk around the halls of the meeting house.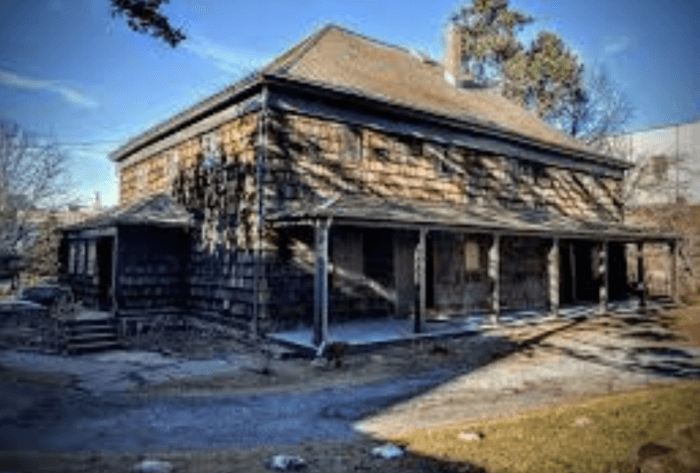 ---
Merchant's House Museum
Address: 29 E 4th St, New York, NY 10003, United States
And last on my list of real haunted places in NYC, it's the Merchant's House Museum. This place completely revels in its notorious haunted rep.
Built in 1822 by a wealthy merchant, this museum is a look into the personal lives of New York's elite back in the 19th century.
Supposedly, the ghost of the wealthy merchant is said to incessantly stalk these halls.
Having been unable to find a mate in life, she continues to live life as a spinster into the 21st century. Who knows, maybe she's searching for her perfect match amongst the museum's visitors.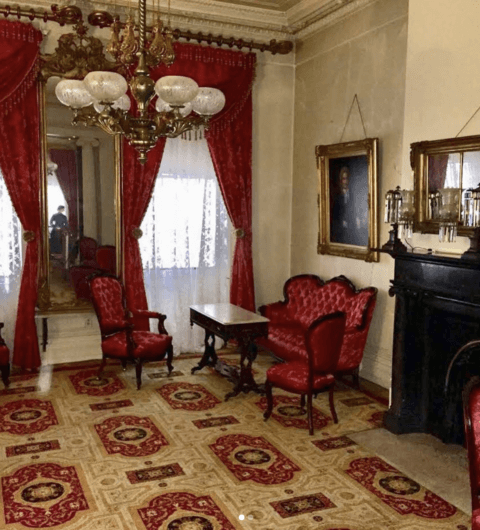 ---
White Horse Tavern, West Village
Address: 567 Hudson St, New York, NY 10014, United States
The White Horse Tavern, is another spooky historic tavern in NYC, that has been rumured to be haunted for decades.
Located in the West Village of Manhattan, there are plenty of ghostly tales associated with this iconic drinking establishment.
Again, what makes this place so easy to explore, is that it's super accessible. Head over and buy a drink, and you're ghost-hunting and supporting a local business!
Perhaps one of the most famous associations with the White Horse Tavern is the poet Dylan Thomas, who frequented the establishment during his visits to New York City. Thomas allegedly drank heavily at the tavern shortly before his death in 1953, cementing his connection to the establishment.
Some patrons and staff have claimed to witness the ghost of Dylan Thomas in the tavern, often described as a misty figure resembling the famous poet.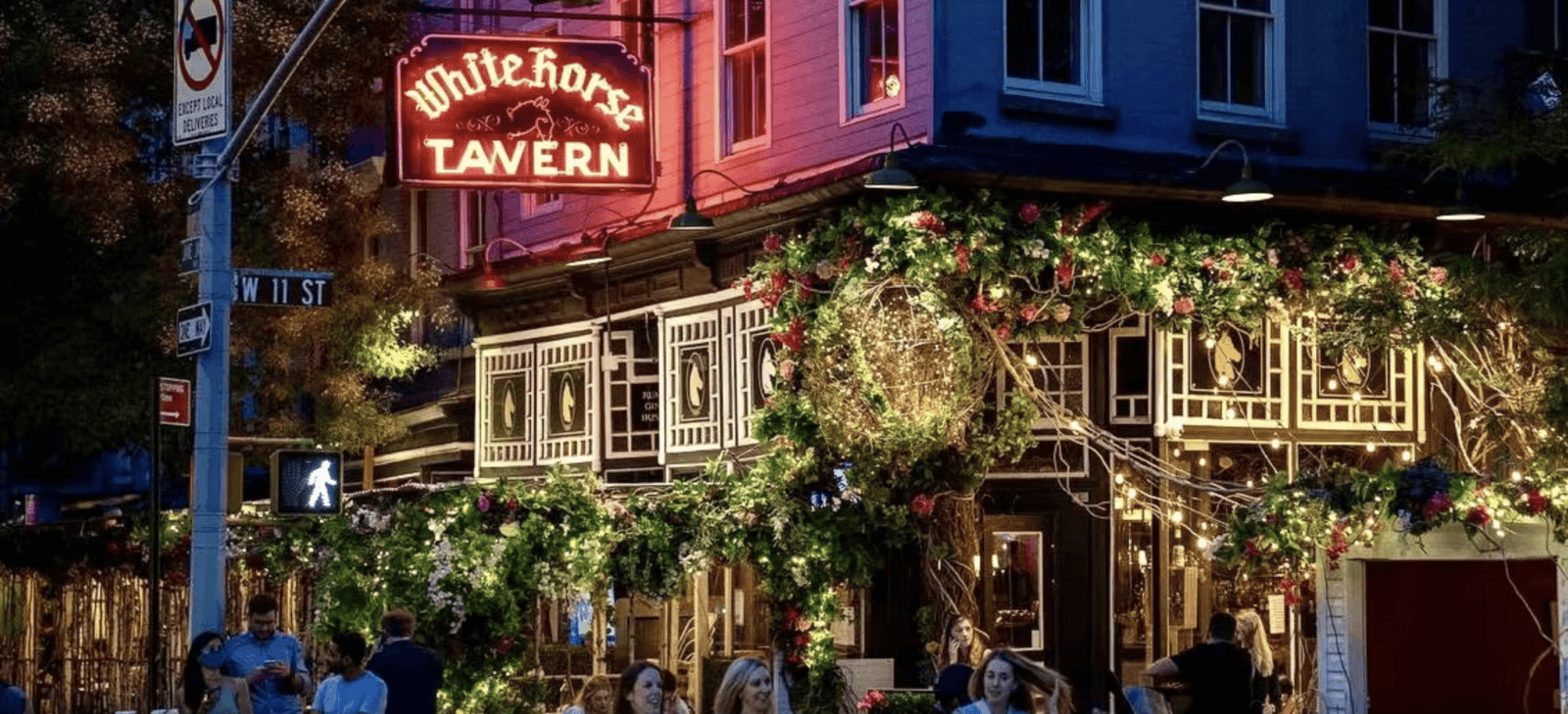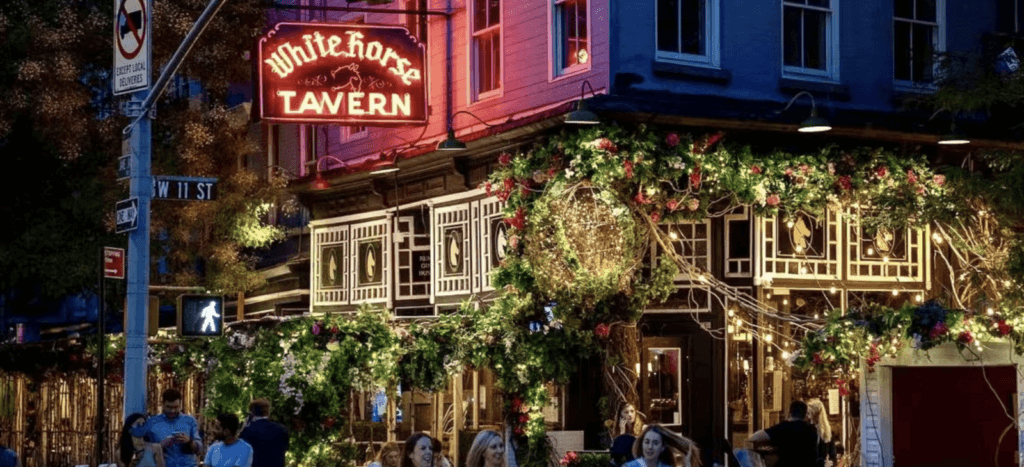 Image credit: https://whitehorsetavern1880.com/
---
Melrose Hall
Address: 7435 JFK Blvd E, North Bergen, NJ 07047, USA
Next on my list of real haunted places in NYC, it's Melrose Hall. A Colonial-era home that's riddled with secret passages and includes a mysterious dungeon, this grand manor has a long, ghostly history.
During the 19th century, many spoke of a female ghost named Alva who would haunt this stately home.
If you're wondering who Alva is, she was supposedly a woman locked in one of the rooms and left to die of starvation. Dark, we know.
Though the house was pulled down in 1903, its story remains. Previously located at Bedford Avenue in Flatbush, why not stroll down the street and see if you can sense Alva's mysterious ghostly presence?
Read more about New York State: 7 reasons you should visit mystical Lily Dale, NY
---
I hope that this list of real haunted places in NYC has piqued your interest in ghost-spotting!
Whether or not you believe in the supernatural, these historic spots are interesting enough to satisfy both thrill and culture seekers.
I guarantee that you won't be disappointed to feel your heart racing in these spots; let's say you'll get your money's worth.
There are lots of real haunted buildings in NYC to choose from, and these are 9 of the best!